No. 565 APRIL 2018 Edited by Peter Pickering
Precedence this month must be given to this most typical picture of DOROTHY NEWBURY who died on 13th February. Much more about her inside.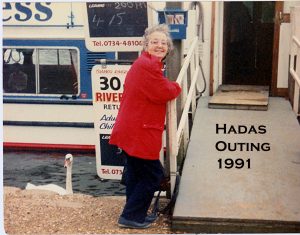 HADAS DIARY – Forthcoming Lectures and Events.
Tuesday 10th April 2018: The Greater London Historical Environment Record', by Stuart Cakebread. The Greater London Historical Environment Record was formerly known as the Sites and Monuments Record and is part of Historic England's Greater London Archaeological Advisory Service. Stuart has been its manager for over eleven years. The Record is the basis for all archaeological research in London. It is used constantly by professional and amateur archaeologists, by academic and other researchers and by consultants working for local authorities and developers. It has to be as accurate and up-to-date as possible. Stuart will tell us all about it.
Tuesday 8th May 2018: 'The archaeology of World war One" by Mark Smith.
Tuesday 12th June 2018: Annual General Meeting.
Monday 17th to Friday 21st September 2018: Trip to East Anglia. This is full, but there is a waiting list.
Tuesday 9th October 2018:'Unrolling Egyptian Mummies in Victorian London' by Gabriel
Moshenka.
Tuesday 13th November 2018: To be confirmed.
Lectures are held at Avenue House, 17 East End Road, Finchley, N3 3QE, and start promptly at 8pm,
with coffee/tea and biscuits afterwards. Non-members: £2. Buses 13, 125, 143, 326 & 460 pass nearby and Finchley Central station (Northern Line), is a 5-10-minute walk away.
POSSIBLE VISIT TO THE MITHRAEUM
Are you interested in a visit to the London Mithraeum? If so, please put Thursday 10th May 2018 in your diary. Entry is free but must be booked; and getting there is free to those with freedom or other passes. We could possibly meet in the morning for another nearby attraction, and visit the Mithraeum in the afternoon, which apparently takes about 45 minutes. Email dlbarrie@tiscali.co.uk if you would like to go. If enough people are interested, more definite details will appear in the May HADAS Newsletter. Here is the website: https://www.londonmithraeum.com/
Dorothy Newbury
As was reported in the March newsletter, Dorothy Newbury died on February 13th, the day before her 98th birthday. Many HADAS members attended her funeral at Golders Green Crematorium on 7th March and afterwards reminisced at the Five Bells in East End Road. Here is what our former
Chairman, Andrew Selkirk, had to say: –
Dorothy Newbury was born on the 15th February 1920 and christened Dorothy Adelaide Law. She
was born in Bishops Stortford where her father, who was always known as Bonar Law, was the company secretary of the Bishop Stortford and Hertfordshire Gas Company. He was very keen on bowls and she remembered him all dressed up going to the bowling club. Dorothy was the youngest of three. She had a sister who was 12 years older and a brother who was born in 1916: she suspected that she may have been a 'mistake'. Her two 2 elder siblings were both quite brainy and passed the scholarship exam, but she was always a bit of a rebel and didn't like school, so she didn't even take the scholarship exam and left school at 14.
She joined a wholesale grocer in Bishops Stortford, Alfred Button and Sons, who supplied groceries to Holland and Barrett and who were later taken over by Budgens, the supermarket group. She learnt shorthand and typing, and she learnt to operate the Burroughs adding machine, an early form of computer where you entered the amount on the keyboard, inserted a ledger card and pulled a handle.
From this sprang her knowledge of accountancy and her canniness with figures which stood her in
such good stead in her later business life and running the affairs of HADAS. She stayed there four years until she was sacked. She was still a bit of a rebel and when one day her boss spat into the waste paper basket she said, 'You dirty pig' and was sacked for her insolence.
She then went to work in a hatchery where eggs were placed under light to see if they were fertile: the ones that were went onto the hatchery and those that weren't were sold to the local canteen. Her best friend also worked in the canteen and she soon joined her. The war by this time had broken out and the canteen became a soldier's canteen and it was here that she met Jack.
Jack was six months older than she, was having been born in October 1919. He was born in
Bloomsbury and brought up in Golders Green where his father was a compositor on the Evening News and his sister worked on the News Chronicle. His father had begun life as a stand-up comedian and at one time worked with a partner called Charlie Chaplin. His partner suggested they should go off to America to seek their fortune, but Jack's mother insisted that he stay at home and complete his apprenticeship. So, Charlie Chaplin went off to Hollywood and fame, and Jack's father went off to printing and the News Chronicle. He was also very keen on sport, and at one time played football for Chelsea — admittedly during the First World War.
It was perhaps inevitable that Jack himself became a printer, so he served a 7-year apprenticeship for which his father paid £100 and emerged as a full-fledged compositor. When the war broke out, he was called up into the Royal Signals where he became a teleprinter operator.
He was notorious for being the scruffiest soldier in the army — Dorothy said that she never saw him in full uniform and he always seemed to be wearing sandals, which were not exactly proper dress for a soldier. What he did have however was a car, a red Morris 10 and he drove over from the camp at Much Hadham to the canteen at Bishop's Stortford. Dorothy fancied him from the start. She was at the time engaged to an airman, but the airman was soon thrown over and she became engaged to Jack instead.
Even though Jack never progressed beyond the rank of Private in the army, he was nevertheless
considered a good catch: he was lively, he was good company, he was very good at his job — and he
had a red Morris! (The car belonged to his father, but since his father never learnt to drive, Jack 'borrowed' the car.) Eventually however Jack was to be posted abroad and so in a great hurry they decided to get married in order, they said, to claim the marriage allowance. Neither dared tell their parents, and so they were married in secret in a registry office and their parents were not told till four years later at the end of the war. They had a very brief honeymoon, travelling up to London to see Blythe Spirit at the Savoy, Jack for once looking semi respectable in a green tweed suit. They then drove down to St Ives.
Jack had fitted up his car with two petrol tanks, the usual one being used for normal petrol — very hard to get — but at the back there was a special hidden tank which was filled with army pink petrol. The trip down to St Ives was made on army pink petrol. (Shortly before this, the pink petrol had caused some problems. One of the officers took umbrage to the fact that Jack had a car, and he only had a bike, so he instigated a search and found the tank and the army petrol. Jack was put under close arrest and marched through the streets of Bishops Stortford. Dorothy witnessed the whole procedure and didn't bat an eyelid, but Jack was fined 3 days' pay. However, some weeks later the officer asked if he could borrow the car to take his girlfriend back to London. Jack duly obliged, and thereafter continued to use Army petrol without fear or favour.)
After the honeymoon they parted. Jack was sent out to Singapore, but on the journey out, Singapore fell to the Japanese, so Jack went on to Ceylon where he spent the rest of the war. On the way, however, he stopped off in Durban where he was billeted on a family in the suburb of Hillary. The family treated him like royalty, which is why, when they came to set up their press, they called it the Hillary Press.
Back in England, Dorothy went to work on a farm. She had always wanted to work on a farm, but
her parents thought that farm work was demeaning, and the only proper work was office work. But
now freed from parental constraints, she was able to achieve her ambition and she worked on a farm in Harlow looking after pigs, boiling up pig swill on a solid fuel boiler. She always maintained that pigs are clean animals and are greatly maligned in popular parlance.
After that she moved to the Post Office. She took a course at Brentwood School and became a
telephone engineer. She also learnt to drive a little green Post Office van. She was given a week to learn to drive, which she duly did, and she spent the rest of the war maintaining telephones in Hertfordshire and Essex. On one occasion she went to fix up a phone for a colonel, but she arrived when the colonel was changing, and he opened the door stark naked. 'I've come to fix the phone' said Dorothy, nonplussed at seeing such a splendid figure of military masculinity. 'In there' said the colonel, waving to the study, impressed by the fine display of female fortitude. Dorothy duly installed his phone. She also fixed many phones in the American camps. At one she was accosted by a jet black American soldier wearing skin tight trousers. 'Would you like some chocolate?' he asked. Yes please, said Dorothy, but when he extracted the chocolate from his trousers, it had become moulded to the shape of his legs. Dorothy ate it notwithstanding.
Then in 1945 the war came to an end, and Jack returned from Ceylon and was put onto training
teleprinter operators. 'You are the scruffiest soldier I have ever seen' said the officer, 'but as you are a trainer, I suppose I will have to make you a lance corporal'. But his new rank only lasted a very short time, as he was demobbed soon after. Reunited once again, they finally confessed to their parents that they were, in fact, married, and went to live with Jack's parents in Golders Green. His mother saw to it that Dorothy slept separately in the room downstairs. It was not altogether a happy arrangement as his mother's bridge partners in Golders Green did not altogether approve of the secret marriage — and Dorothy was still considered to be something of a wild young thing.
But they determined to set up their own printing works and they opened a factory of one room behind a barber's shop in Cricklewood Broadway; they called it the Broadway Press. Downstairs they had a hand-fed Platen which Dorothy learned to operate, while Jack had a room in the loft approached by a ladder where he did all the composing. The business expanded, and they were able to buy a house in Dallas Road, Hendon. Then they moved the business to West Hendon Broadway where they acquired a second printing machine and they acquired their first employee — Harry Hill — an elderly compositor to whom Jack had originally been apprenticed. At first Jack had a partner, but the partner spent more time in the pub than at the press, so Jack and Dorothy bought him out for £125. 'You'll last three months — if you're lucky' was his parting comment. That was nearly 70 years ago.
Then came their big breakthrough: they secured the printing business of F W Kahn, a firm in St
Martins-le-Grand. The business was a good one, supplying programmes to cinemas. In those days,
cinemas supplied a programme to every customer describing the film, and this became a steady regular weekly run supplying programmes to cinemas all over north London.
In 1949 they moved into a small factory/stable in West Hendon belonging to the Gas Light and Coal
Company. Later they later bought it for £8000, but soon after the Council compulsorily purchased the site for £14,000 and knocked it down. The site is just being redeveloped- 70 years later. They looked around for new premises, and Dorothy spotted that the Hendon Times in Church Road, Hendon was moving out of its printing works, and that the premises were for sale. Dorothy bargained the price down to £45,000, which meant that they had to find £31,000. The bank refused a loan even though they had never had an overdraft and always paid their bills on time, but luckily the Eagle Star Insurance Co stepped in with a loan that took them 13 years to pay back. At the latest valuation, the site is now worth £2.75m.
It proved a wonderful move, with turnover up 100% in three months. They added machines and
equipment, always paying for the last before buying the next, with Dorothy keeping a firm hand on
the finances. They never had a salesman, but Dorothy flirted with all the customers — except when
they were late in their payments, when she turned into a dragon. The firm expanded rapidly until
eventually they employed some 24 people. It proved to be a highly successful partnership with Jack doing the printing and Dorothy looking after the financial side.
At first, they lived in a flat in Llanvanor Road, but soon they purchased their first house in Dallas Road. Then around 1963 Dorothy looked around for a house close to the factory, as Dallas Road was due to be compulsorily purchased for the 'new' Ml motorway embankment, and bought their lovely house in Sunningfields Road, a short walk away from the factory, but overlooking the Sunny Hill Park.
And then there was the family. In 1957 Christopher was born and attended Hendon Prep, then
University College School, then followed his father (a little reluctantly, he says) into the printing trade, studying at the London College of Printing, and since then maintaining all the equipment at the Hillary Press factory, and recently the business. He has one son and spends much of his time involved with the Air Training Corps and joint ownership and maintenance of an old electric train: 1198 "Linda the Lymington Flier".
In 1960 Marion was born. She was educated at South Hampstead High School and trained as a
physiotherapist, married a doctor, who is now a GP in Bishops Waltham and has become the proud
mother of three children, so Dorothy has four grandchildren in all.
This was a time when Dorothy bloomed and excelled as a director of Hillary Press, managing the
finances and collecting the cash. Woe betide any customer who was late paying without a good
excuse! She also found time to keep fit and Jack called her 'Max Wall' in her leotard and tights. She had a great love of cooking and collected all 72 issues of the Cordon Bleu cookery magazine. And she did her best to convert a 'meat and two veg man' to the joys of foreign cooking.
Then with the children growing up Dorothy entered into the third great part of her life when she joined HADAS, the Hendon and District Archaeological Society. HADAS was founded in 1961 to investigate the Saxon origins of Hendon, but it expanded steadily under the dynamic leadership of three remarkable women — Brigid Grafton Green, Daphne Lorimer, and then Dorothy.
Dorothy was associated with two activities in particular: the first was the Newsletter, which she, being a printer, soon took over the running and printing. The Newsletter came out monthly and continues to come out monthly, but with a different editor every month. And Dorothy undertook the crucial task of keeping all the editors in order.
And then there was the Minimart: the bring and buy sale held every year in the Autumn which was
vital for the financial side of the society, bringing in regularly £l,500 a year which made all the difference between profit and loss. Dorothy organised everything. She spent the year collecting materials until eventually both the garage and the front room of the house were taken over, and the family breathed a sigh of relief when the Minimart was over, and they could reclaim the space in the house. Then there was also the lunch supplied by members, with Dorothy contributing glorious quiches and unfeasibly huge meringues.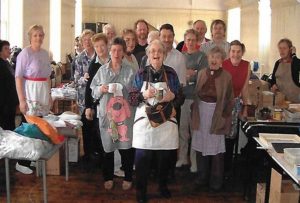 Dorothy at the Minimart
Dorothy also became the programme secretary, arranging the programmes and outings, notably the
three-day long weekend where every year HADAS visited a distant part of the country, going even as far as Orkney and the Isle of Man. There were Christmas outings too, and the fabulous Roman Banquet which she and others organised following a Roman cookery course. This was followed up by a Turkish banquet with belly dancers.
I only came in towards the end when the previous Chairman, Councillor Jarman retired and I was
parachuted in to become the Chairman. And Dorothy was absolutely wonderful, she looked after me,
and kept me in order, and told me what I ought to do. I don't know how I would have managed without Dorothy.
Eventually her life was crowned by the well-deserved award of an MBE for all her services to HADAS and to the community. She went up to the Palace escorted by a member of the Royal Household staff because of her poor sight. She remained slightly worried that the whole thing was a hoax, until she actually received her medal. At her retirement party she delighted us by saying how much she had enjoyed her 30 years at the Society and that she hoped she had not been too rude to too many people.
She continued to do the books for the business until failing eyesight and the increasing effects of dementia took hold. Jack 'stepped up to the plate', looking after her until his accident in 2011 when the amazing team of carers assumed his role, caring for both with Christopher and Marion keeping an eye on it all.
Good humour and a positive attitude made much of what was to follow bearable, and for a short
time, love seemed to blossom again as Dorothy forgot all the arguments and battles of the previous 72 years and she and Jack could be found dancing around the kitchen.
When Jack died in 2014, Dorothy's main carer Francesca assumed his role, fulfilling that task, ably assisted by Elvan and Grace beautifully until the end. Dorothy had a busy and productive life, a life filled with people who loved her, respected her, and enjoyed her wicked sense of humour (and her cooking).
Who can ask for more?
————————————————————————————————————
There is indeed not much more to say, except to emphasise the active role Dorothy took in HADAS's
digs, especially the epic ones of the Mesolithic site on West Heath, and of the two in Hendon – Church End Farm, and Church Terrace. It was in the course of the Church Terrace dig that human remains were found (and subsequently vandalised); the picture on the next page shows Dorothy looking quizzically at a piece of bone.
Now for some personal memories. Your editor will never forget being being reminded on several
occasions by Dorothy, with a twinkle in her eye, of the time when his wife and he drove to Hatfield for a mediaeval banquet because they thought they had missed the coach only to discover that they had got the date wrong.
Audrey Hooson remembers a Saturday evening telephone call during the West Heath dig:-
Dorothy – Audrey do you and John pass any shops on the way to the dig? We are nearly out of biscuits.
Audrey – No but I will bring some from my cupboard.
Dorothy – Plain biscuits, nothing special or they will eat too many and we can't afford it.
Sheila Woodward remembers when, on an outing, the HADAS party pulled up at Stonehenge for a
comfort stop. Dorothy insisted that that was the purpose and instructed members not to look at the stones.
If readers have any other reminiscences, the next editor would be happy to hear from you.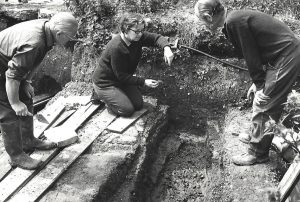 Dorothy at the Church Terrace, Hendon Dig 1972/73, discussing how to deal with the human
skeleton
Membership Renewal – Stephen Brunning (Membership Secretary)
The HADAS membership year runs from 1st April, so all memberships subscriptions are now due for
renewal, apart from those new members who have joined since January this year. Members who pay by standing order/Direct Debit need take no action. The rates remain unchanged.
Anyone who thinks they should have had a Membership Renewal Form or Standing Order Form but
hasn't received one, anyone who wants to make their membership under Gift Aid and hasn't already
done so, or anyone who has any question at all about their membership, please contact me (contact
details on back page).
Historic Victorian Milepost in Cricklewood Restored
(This article comes from a press notice by the Cricklewood Railway Terraces Residents Community
Association headed "A Heartening Victory for Local Residents" Does anyone know of other historic
milestones that could do with tender loving care?)
For years, sharp-eyed travellers on the A5 Cricklewood Broadway road might have noticed, as they
come over the rise by Beacon Bingo and the Travelodge, a humble monument set back on the grass
verge of the highway. You'd have had to look closely though – in its deteriorated state, rusting and overhung by a line of London plane trees, this Grade II listed structure didn't exactly stand out.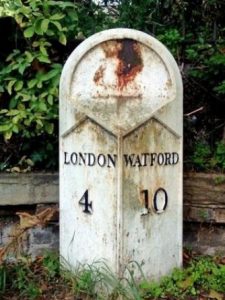 The Milestone before restoration
It's a roadside milepost – a surviving relic from the time of horse-drawn carriages. The A5 here is ancient, once part of a Roman road previously known as Watling Street. Approaching from the south, the milepost reads "Watford 10". From the north, it reads "London 4", indicating the distance in miles from the Victorian-era edge of London at Tyburn (modern day Marble Arch).
According to Mike Horne, who runs the historical research site Metadyne and on it keeps an inventory of London mile markers, this cast iron milepost is one of only two between London and Watford that exist in their original positions.
A few local residents from the Cricklewood Railway Terraces, a set of old workers' cottages which
occupy the land behind the milepost, approached Barnet Council in June 2017 in an effort to have the monument restored.
For a time, it seemed a bit of a lost cause. Jurisdiction was debated as to who at Barnet council was ultimately responsible for the milepost's upkeep.
Cartographer and local researcher David Wenk was brought in to help draft a letter to Barnet council, which aimed to clearly set out the council's responsibility for the milepost's maintenance. This letter was cosigned by Marlene Wardle, chair of the Cricklewood Railway Terraces Residents' Community Association, and Railway Terraces resident Ramsay Wood.
In the end, Brian Francis, an engineer at Barnet council, agreed to take on the project. A team from the Highways department set out in January of this year to restore the milepost. Adhering to guidance published by The Milestone Society (an organisation dedicated to the preservation and cataloguing of historic mile markers throughout England) Francis's team undertook a sensitive renovation. They cleared vegetation away, repaired the rusting portions of the milepost, and gave it a handsome new coat of paint.
The results speak for themselves. The milepost, now beautifully restored to its original, sharp black and white colour scheme, has regained its rightful prominence as an important historic marker on the A5 Cricklewood Broadway.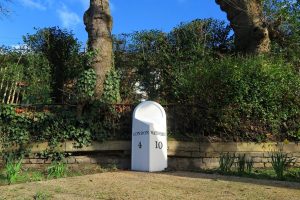 The milepost as seen from the footpath alongside the A5, January 2018.
Protecting the Roman Empire: understanding fortlets and frontiers –
lecture by Matthew Symonds: Sue Willetts
Studies of the Roman army throughout the Empire have understandably been concentrated on the more extensive remains of forts and their associated settlements which has overshadowed the role of smaller military installations such as fortlets and towers. Matthew's lecture concentrated on fortlets and he explained his ideas on their function but also something of the life of soldiers on duty within them.
Fortlets were small military installations with a masonry or turf and timber fortification (depending on location) which surrounded a yard containing a basic barrack block together with a shrine and lavatory.
They housed a limited number of infantry and cavalry – as small a number as thought necessary would be sent out from the main fort on a rotating duty for several months, possibly for up to a year at a time. These outposts were built according to the local security situation (which may have changed over time of course) and placed to give oversight of strategic positions, such as valleys and rivers. Fortlets were needed to curtail potential raiders / pirates on the frontiers but also within provinces too. In Britain there are examples of fortlets from Hadrian's Wall and the Antonine Wall usually built at a fixed distance between the forts and not always in the best strategic position! A fortlet in Devon, Martinhoe was however particularly well positioned.
In peacetime, fortlet life was probably dull, repetitive and to alleviate boredom the soldiers would most likely indulge in drinking, gambling (and using prostitutes) but there could be a risk of a raid and it might have been difficult to secure backup from a distant fort. It has been suggested that duties included collecting taxes but the evidence does not bear this out – it appears that the men could not have been trusted!
The survival of ostraca (inscriptions on broken pottery) from the site of al-Muwayh (ancient
Krokodilo), one of the stations along the Koptos to Myos Hormos in Egypt's Eastern Desert is an
important source of first hand evidence of daily life, somewhat similar to the material from the
Vindolanda tablets The documents, both official and private letters (most of them in Greek) include postal registers which show the frequent contact between soldiers in different stations – so not such a lonely life as we might have expected. Interesting details include the password of the day, the transport of fresh fish, mention of bribery, the theft of camels (possibly as many as 50) from a stone quarry, with a party sent to investigate which retreated as well as a lengthy account of an attack on another station.
Matthew's research has shown that the presence or absence of fortlets in the landscape is something of a barometer for the local security situation: abandonment indicating improved security whereas subsequent constructions imply deteriorating security. This was a very interesting talk which was wide ranging, entertaining and well-illustrated. For more details see his new book: Protecting the Roman Empire: Fortlets, Frontiers, and the Quest for Post-Conquest Security published in 2017 by Cambridge University Press
Other Societies' Events Eric Morgan
Wednesday 18th April. 7.30pm. Islington Archaeology and History Society. Islington Town
Hall, Upper Street, N1 2UD Rubbish or Ritual – Mediaeval treasure in the River Thames. Talk by
John Clark, who will ask whether items were thrown into the Thames as part of a ceremony. £1
Friday 20th April. 7pm. City of London Archaeological Society. St Olave's Church Hall, Mark
Lane EC3R 7BB The Rediscovery of Roman London from John Snow to William Stukeley. Talk
by John Clark about the later sixteenth century historians acquiring new knowledge of London's
origins. Visitors £3. Refreshments after.
Tuesday 24th April. 10.30 am. Enfield Society Jubilee Hall, 2 Parsonage Lane/junction Chase
Side, Enfield EN2 0AJ. The Enfield Brewery. Talk by Rahul Mulchandani. An independent
Brewery established in Edmonton in 2016; its challenges and successes and why the beer is called
'Enfield'. £1 Includes free tasting!
Wednesday 25th April. 7.45pm. Friern Barnet and District Local History Society. North
Middlesex Golf Club, The Manor House, Friern Barnet Lane N20 0NL. Ancient Woodland. Talk
by John Fleetwood (Woodland Trust). Visitors £2. Refreshments.
Thursday 26th April. 8pm. Finchley Society. Drawing Room, Avenue House East End Road N3
9QE Save our footpaths Campaign – Don't lose your way Talk by Roger Chapman on the work
currently under way by the Ramblers Association and local societies to ensure that the historic
paths in Finchley are on the definitive map by 2026. Non-members £2.
Wednesday 9th May. 7.45pm. Hornsey Historical Society. Union Church Hall, corner Ferme
Park Road/Weston Park N8 9PX. Mediaeval Pilgrims' BadgesTalk by Keith Fawkes. Visitors £2.
Refreshments, sales and information from 7.30pm.
Friday 11th May. 7.45pm. Enfield Archaeological Society Jubilee Hall, 2 Parsonage
Lane/junction Chase Side, Enfield EN2 0AJ. Roman Sarcophagus from Harper Road Southwark
Talk by Irene Gross (PCA). Visitors £1. Refreshments, sales and information from 7.30pm.
Saturdays 12th and 19th May. 10.30 am and 2.30pm Heath and Hampstead Society. Guided walks
of Hampstead's Historic Plaques. Led by Julia Male. Taking in the plaques including Ramsay
MacDonald, General de Gaulle, John Constable, George Romney, Marie Stopes, Daphne du Maurier
and John Galsworthy. The morning walks cover the area to the west of Heath Street and the afternoon walks the east and south of Heath Street. The meeting point for all walks is at the entrance to Hampstead Underground station. Each walk will take about two hours, the morning walks ending close to the station and the afternoon walks at Burgh House. The cost of each walk is £10 per person. To reserve a place email frankaharding@btinternet.com and send a cheque for made payable to The Heath and Hampstead Society to Frank Harding, 11 Pilgrims Lane, London NW3 1SJ. Include name, address, telephone number and email and note which walks to book.
Monday 14th May. 3pm. Barnet Museum and Local History Society. Church House, Wood
Street, Barnet (opposite museum). Mind the Gap. Talk by Terence Atkins. Visitors £2.
Wednesday 16th May 7.30pm. Willesden Local History Society. The Grange, Neasden
Roundabout, NW10. The History of the Grange, Neasden. Talk by Vijay Amin. Note venue.
Wednesday 16th May. 8pm. Edmonton Hundred Historical Society. Jubilee Hall, 2 Parsonage
Lane/junction Chase Side, Enfield EN2 0AJ Copped Hall – the Restoration of a Georgian
Mansion. Talk by Vic Knope Talk by Mike Brown. £1 (HADAS did some resistivity and
surveying work here.)
Thursday 17th May. 7.30pm. Barnet Museum and Local History Society. Pennefather Hall,
Christ Church, St Alban's Road Barnet EN5 4LA Battle of Barnet – More Bangs for your Groats –
Mediaeval Gunpowder and Weapons. talk by Dan Spencer £5 (members 33) on the door.
Refreshments Included
Friday 18th May. 7pm. City of London Archaeological Society. St Olave's Church Hall, Mark
Lane EC3R 7BB Septimus Severus, first hammer of the Scots. Talk by Dr Simon Elliott on the
story of the largest ever military campaign in Britain. Visitors £3. Refreshments after.
Friday 18th May. 7.30 pm. Wembley History Society English Martyrs' Hall, Chalkhill Road,
Wembley, HA9 9EW (top of Blackbird Hill, adjacent to church) Collecting Autographs at the
Willesden Hippodrome. Talk by Terry Lomas. Visitors £3. Refreshments
Tuesday 22nd May. 11am. Mill Hill Historical Society. Tour of Marlborough House, guided
through some of the fine rooms and given a history of the building which after being lived in by
dukes and royalty is now home to the Commonwealth Secretariat. Meet 10.50 am for 11 am at the
entrance gate of Marlborough House, Pall Mall, SW1A 1DD. Book by Tuesday 5th May, as
names have to be submitted in advance. Cost £7 (members £5). Send cheque (payable to Mill Hill
Historical Society) and stamped addressed envelope to Julia Haynes, 30 Marion Road, Mill Hill,
London NW7 4AN; contact her on 020 8906 0563, email haynes.julia@yahoo.co.uk, or book online
at www.millhill-hs.org.uk, (but still need to send cheque}. Members of National Trust,
English Heritage or Historic Houses Association should bring their membership cards. For
lectronic replies provide email address, otherwise give name and telephone number and number
of places requested.
Wednesday 23rd May. 7.45pm. Friern Barnet and District Local History Society. North
Middlesex Golf Club, The Manor House, Friern Barnet Lane N20 0NL. The Regent's Canal.
Talk by Roger Squires (London Canal Museum). Visitors £2. Refreshments.
With grateful thanks to this month's contributors: Andrew Selkirk, Deidre Barrie, Steve
Brunning, Don Cooper, Audrey Hooson, Eric Morgan, Sue Willetts and Sheila Woodward
Next Editor: –
Sue Willetts
Copy to her by April 16th, please.
———————————————————————————————————–
Hendon and District Archaeological Society
Chairman Don Cooper, 59 Potters Road, Barnet, Herts EN5 5HS (020 8440 4350)
email: chairman@hadas.org.uk
Hon. Secretary: Jo Nelhams, 61 Potters Road, Barnet EN5 5HS (020-8449 7076)
email: secretary@hadas.org.uk
Hon. Treasurer: Jim Nelhams, 61 Potters Road, Barnet EN5 5HS (020-8449 7076)
email: treasurer@hadas.org.uk
Hon. Membership Secretary: Stephen Brunning, 1 Reddings Close, Mill Hill, London NW7
4JL (020-8959 6419) e-mail: membership@hadas.org.uk
Website: www.hadas.org.uk
Discussion Group: http:/groups.google.com/group/hadas-archaeology