______________________________________________________________________________________________________________________________________
No. 607 OCTOBER 2021 Edited by Robin Densem
_____________________________________________________________________________________________________________________________________
HADAS DIARY – Forthcoming lectures and events
Please note that until further notice all HADAS lectures will be held online via Zoom due to coronavirus. We will be sending out an invitation email with instructions
about how to join on the day of each talk. Keep an eye open for them!
Tuesday 12th October
Vicki Baldwin
Looe: a Story of Sea, Sand and Sardines
Tuesday 9th November
Sam Wilson
Battlefield Archaeology: Barnet 1471
Some forthcoming lectures from other societies (I think it would be wise to check and confirm the details with the particular society before travelling)
Wednesday 13th October, 2.30pm. Mill Hill Historical Society at Trinity Church, 100 The Broadway NW7 3TB. John Norman: The Organ, this magnificent instrument and its history
Wednesday 27th October, 7.45. Friern Barnet & District Local History Society at North Middlesex Golf Club, The Manor House, Friern Barnet Lane, London N20 0NL. Dorrell Dressekie: An Act Of Faith: The Story of North London Hospice. Non-members £2
Thursday 28th October, 7.30pm. Finchley Society at Avenue House (Stephens House), 17 East End Road, Finchley, London N3 3QE. A special meeting to commemorate the Finchley Society's 50th Anniversary> Non-members £2 at the door, and also on Zoom.
LEGACY for HADAS Don Cooper
I was delighted, on behalf of HADAS, to receive in the post a cheque for £500. This unexpected gift has come from the estate of Denis Ross, a former long-term honorary secretary of HADAS. I am sure many of you will remember Denis and wife Shifra from the many HADAS outings and events they attended.
1
Some 19th century and later images and map extracts showing monuments and views around Marble Arch, Hyde Park Corner, and Buckingham Palace.
Robin Densem
This article locates and illustrates some of the visible, standing monuments at and near Hyde Park Corner in the City of Westminster in Central London. Not all the visible remains are mentioned or illustrated, there are just too many!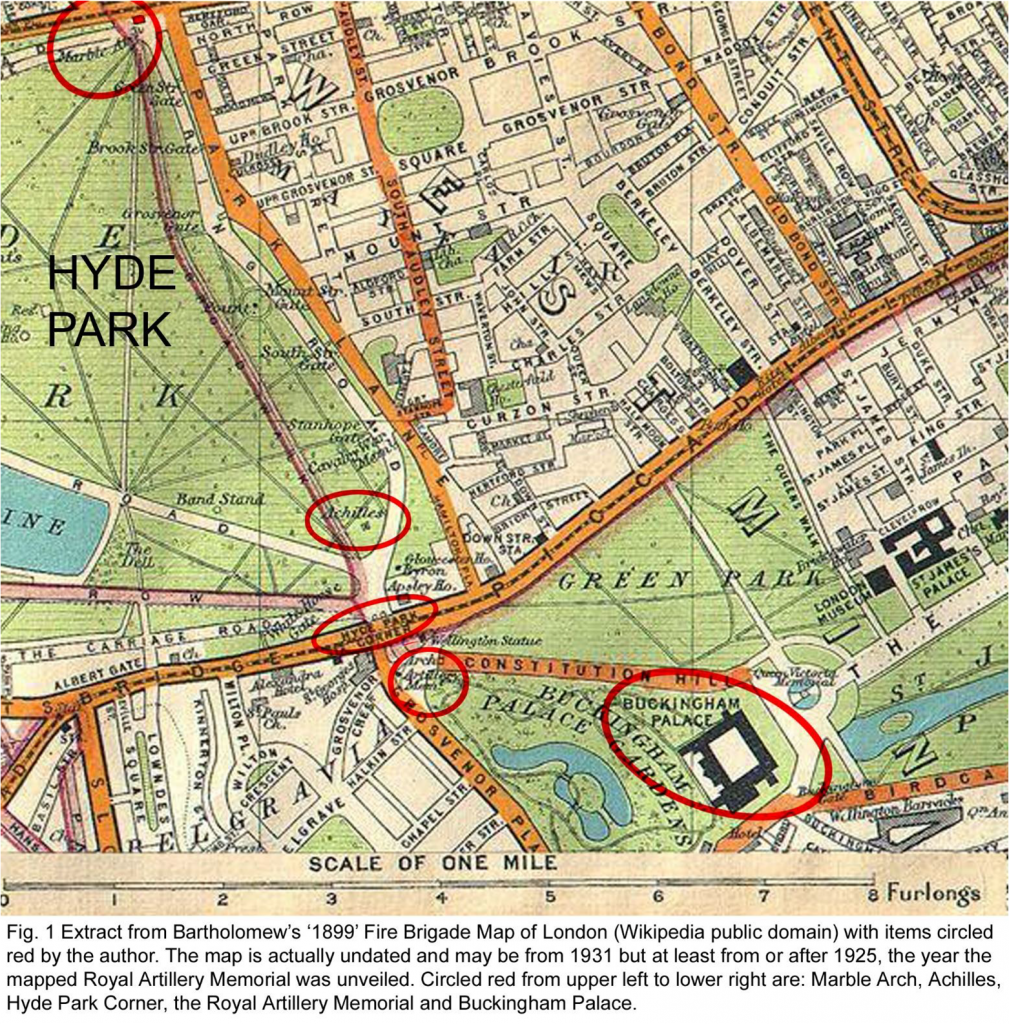 George IV (1820-30) had wanted to make Buckingham House, as it had been called, into a palace. The original part of the house dated from 1702-3 was aligned north-south and had been built by the Duke of Buckingham, as a country house on the west edge of London, facing down The Mall. The house was bought in 1762 as a family retreat for George III's Queen Charlotte and it became her chief home and the house was extended over the next 20 years. George IV wanted to turn the enlarged house into a palace and this work began in 1825 under his architect John Nash.
2
The building work and additions were incomplete when George died in 1830. More work resulted in a deep forecourt projecting east from the original eighteenth century north-south block that itself had been heightened and extended. The forecourt was enclosed to north and south by wings projecting eastwards from the original extended block. The east side was closed off with railings and a formal gateway, the gleaming white Marble Arch of 1827-33. A new eastern wing was built in 1846-50 to form the present rectangular building, and the new wing necessitated the removal of the Marble Arch to its present location at the north-east corner of Hyde Park, in 1851. The east wing holds the famous balcony, looking east, and where the Royal family can be viewed these days.
Alongside Royal desires to have a palace to rival those elsewhere in Europe, there was also a need to express patriotic pride in the achievements of the Duke of Wellington in the Napoleonic Wars that culminated at Waterloo in 1815. He had bought Apsley House in 1817 and held annual dinners there with surviving officers from the wars.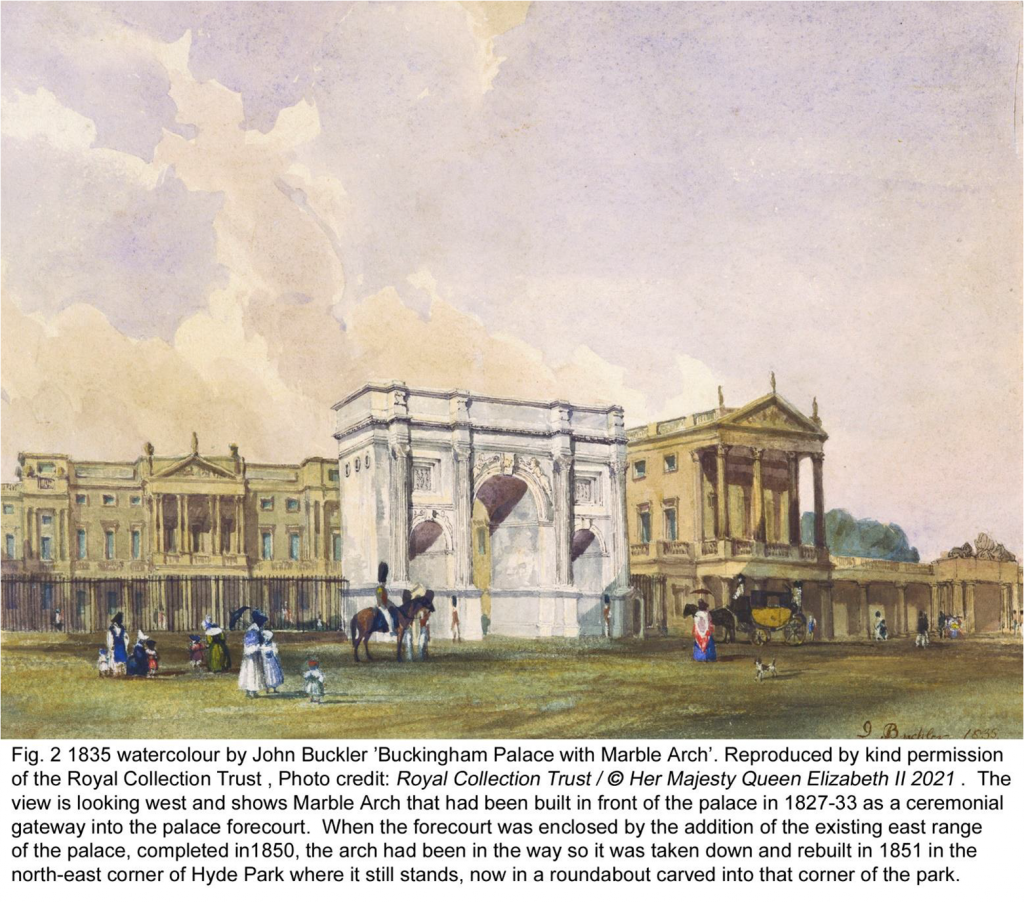 3
At Hyde Park Corner George IV wanted "some great ceremony outwork that would be worthy of the new palace that lay to its rear" (William Guy, 1990, Augustus Pugin Versus Decimus Burton, 50). Two monuments were built in 1826-9, the Wellington Arch, to celebrate his and British victories, and the Hyde Park Screen, and both to enhance the approach to the palace.

4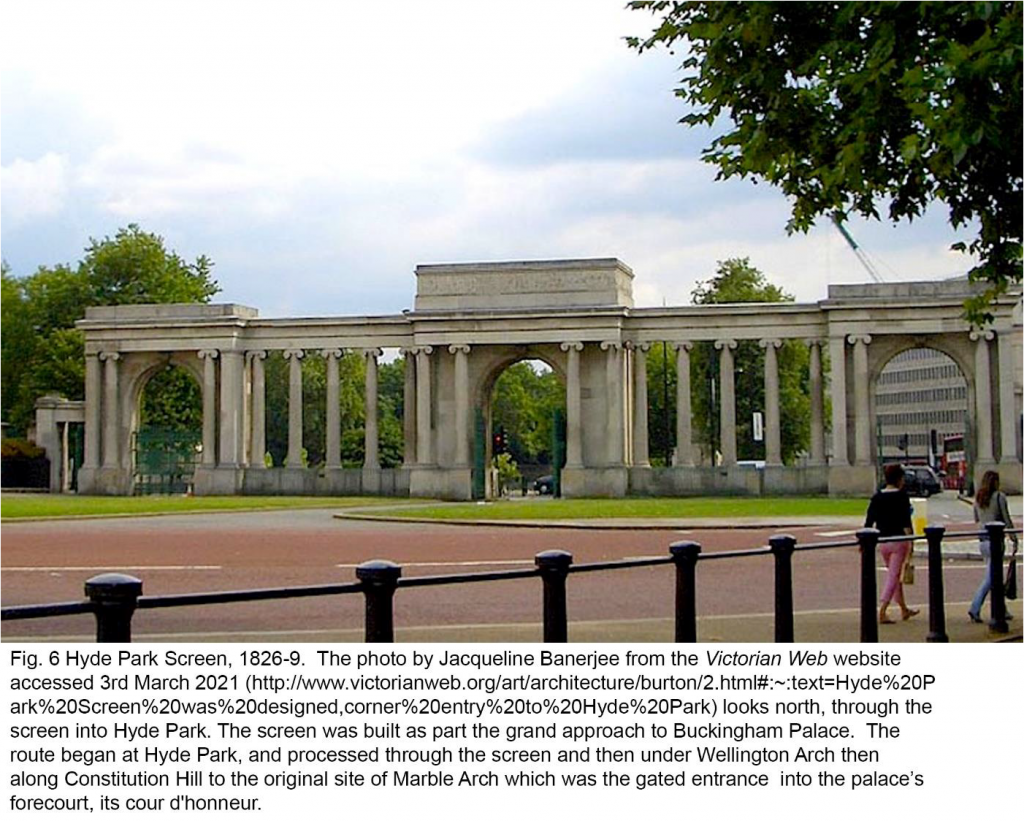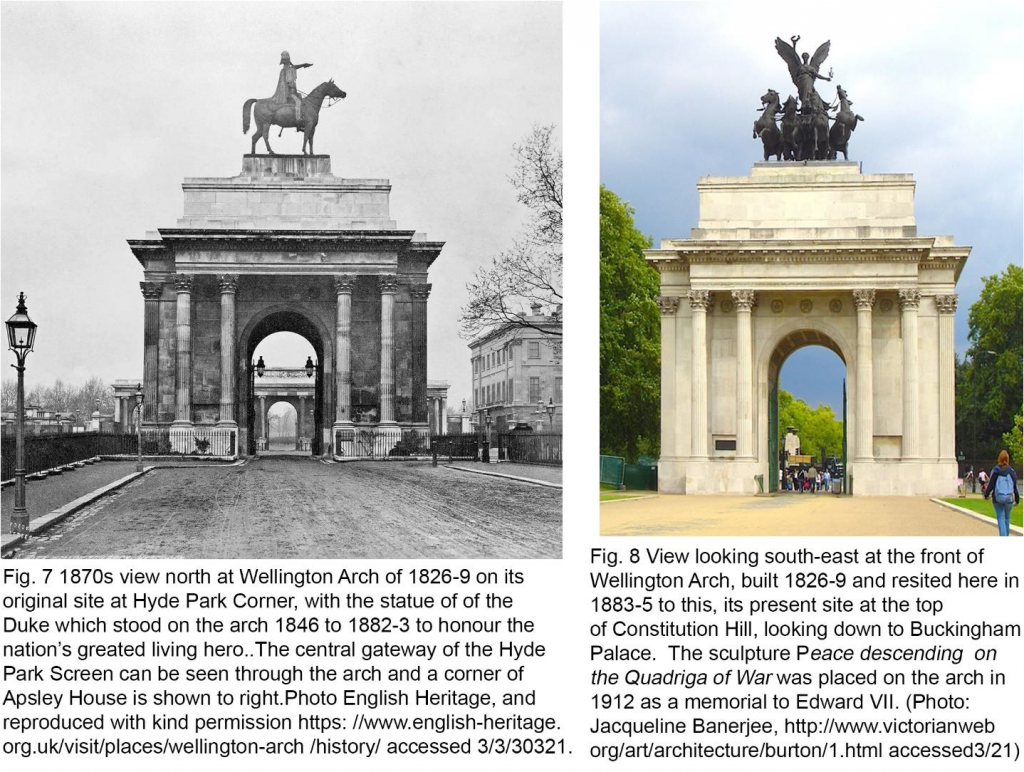 5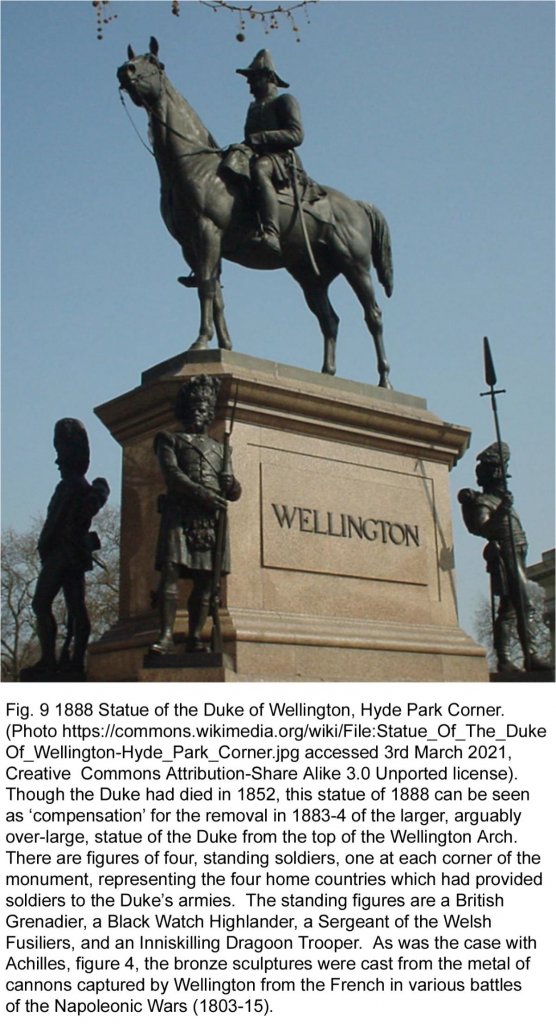 6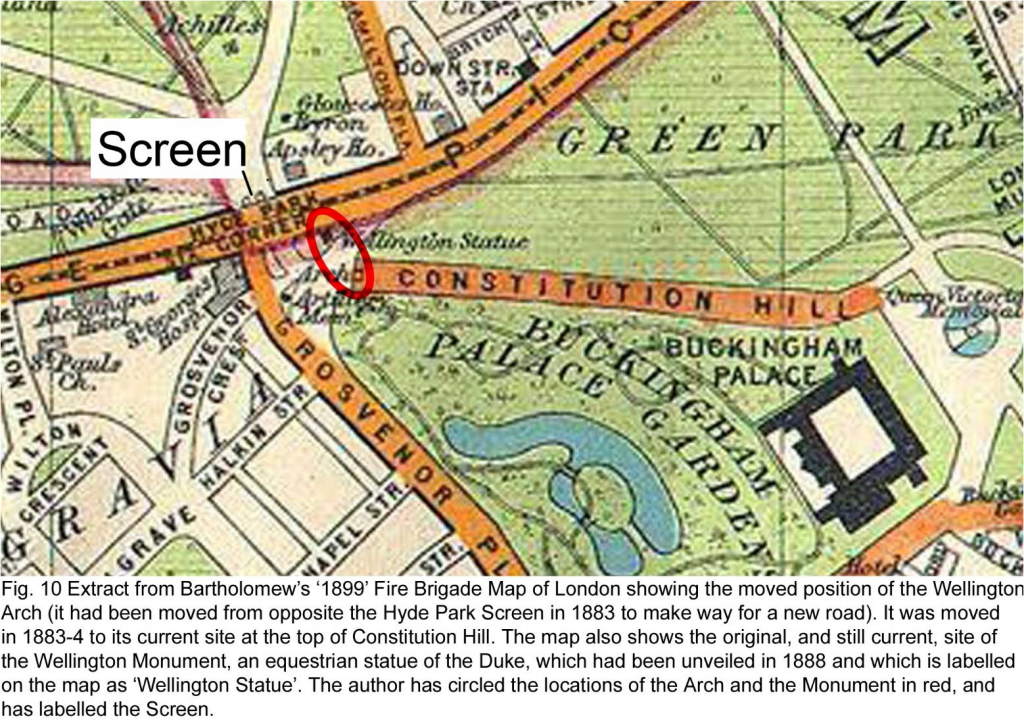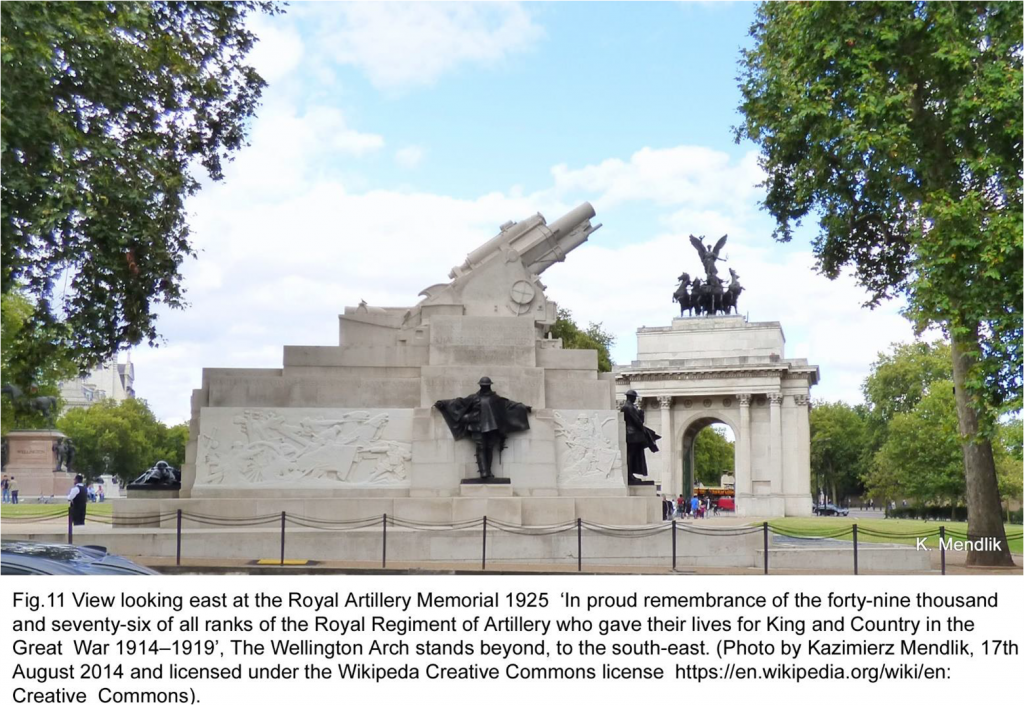 7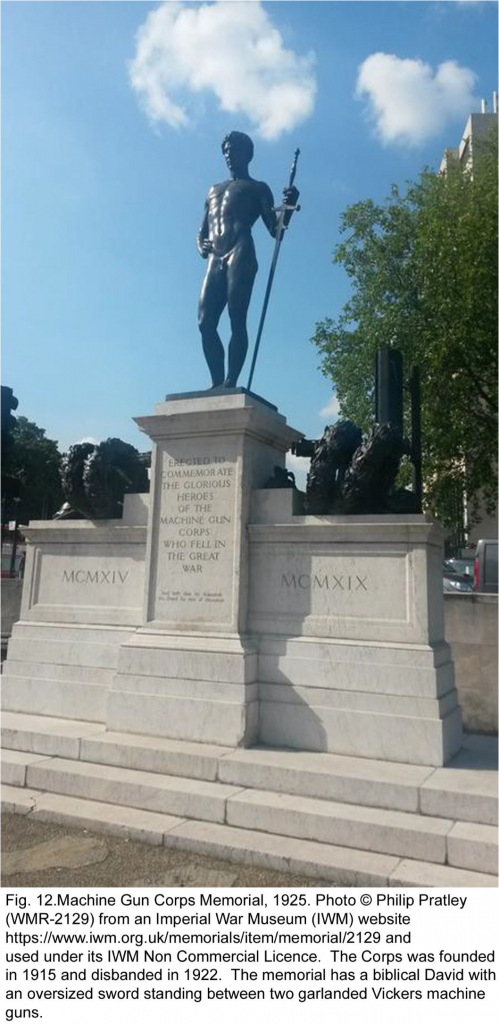 8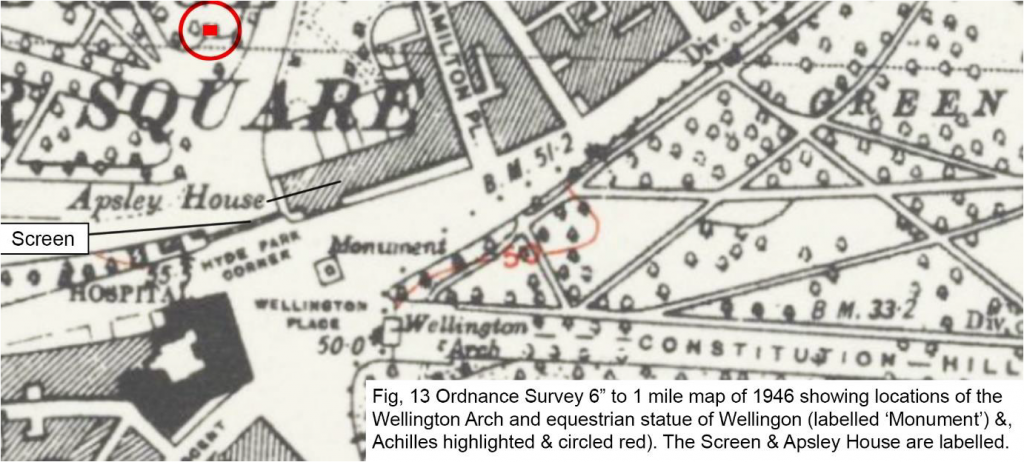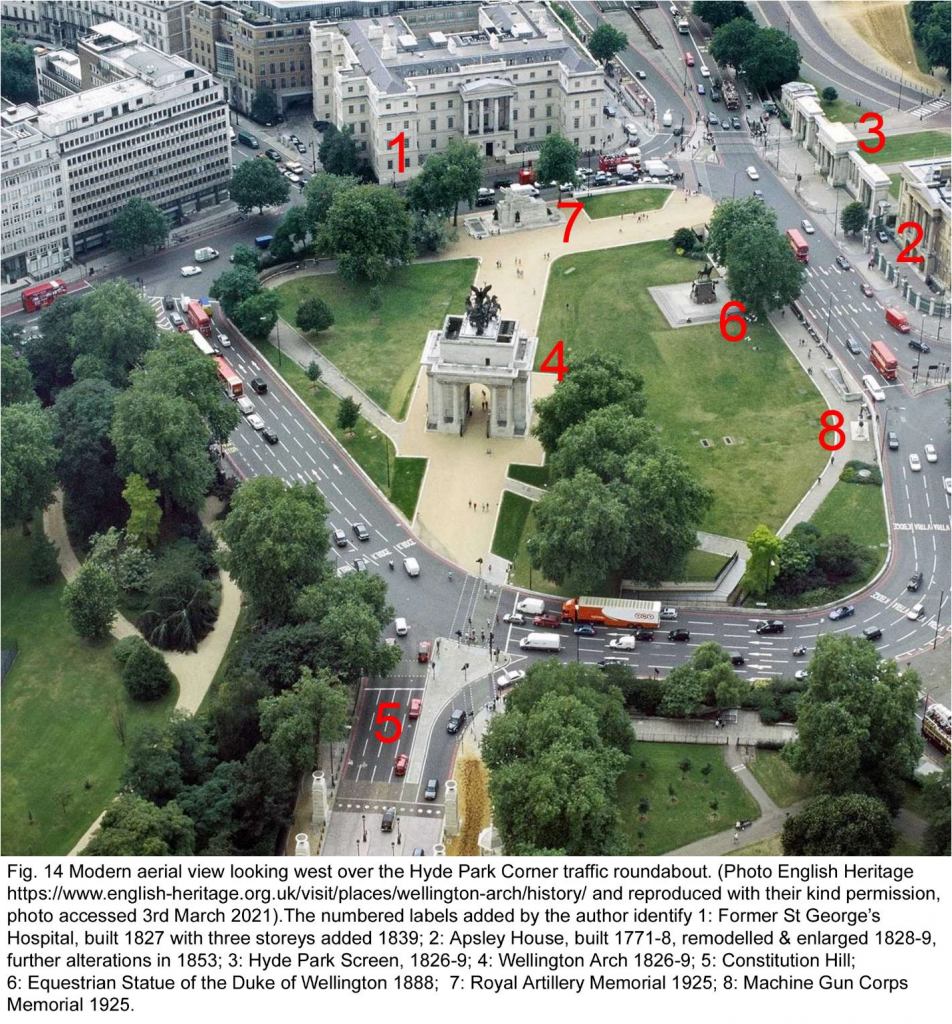 9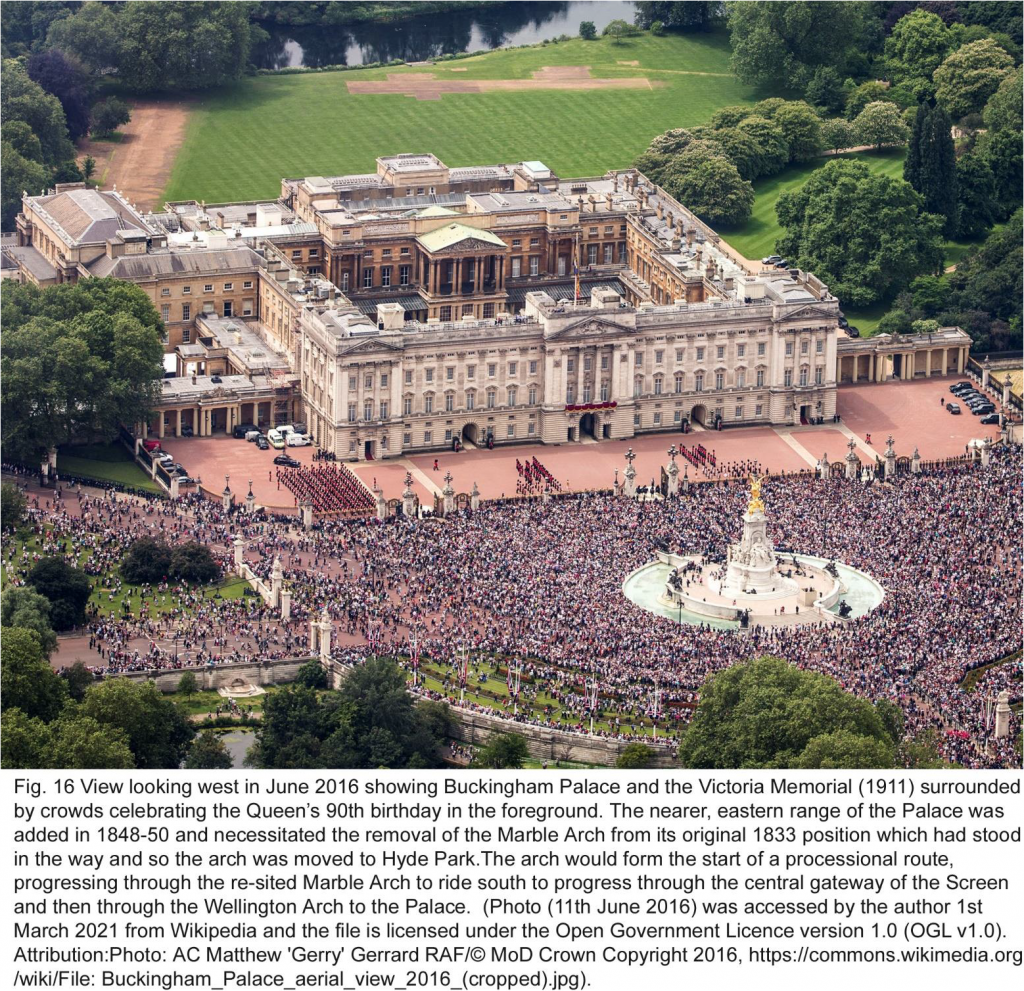 Conclusion
I had intended to make a study of 20th century war memorials in Barnet, but I was overcome by the power of the grand monuments and war memorials in and around Hyde Park. If one has the time, and the money for the admission charge, then a visit to Apsley House is wonderful if one wants to see an internationally important collection of paintings, silver and porcelain. Many of the items were presented to the 1st Duke of Wellington after Waterloo. He held annual dinners there with his surviving comrades to commemorate their victory at Waterloo in 1815. The Wallace Collection is not far away, and features free admission! Apart from Apsley House, the external elements of the monuments touched on above are all freely visible, in the open air, and a walking tour could make for an interesting excursion. And, of course, the exterior of Apsley House can also be seen. And there are other monuments in Hyde Park that could also be explored while a walk down Constitution Hill to Buckingham Palace would round off the trip!
10

Acknowledgements: I am grateful for help from English Heritage. Jim Nelhams and Rosemary Yeaxlee very kindly copy edited the article. Jim also provided much patient help in the latter stages, and I am very grateful to him. However, all errors are mine.
Postscript: Since writing the article in March 2021, Jim kindly reminded me of the Marble Arch Mound, a free admission attraction by Westminster City Council that opened on 26th July 2021 and that will close on 9th January 2022. " Commissioned by Westminster City Council, the Marble Arch Mound is a temporary landscape installation that brings a renewed excitement about the area and manifests the council's vision of a Greener, Smarter, Future, Together." (https://osd.london/marble-arch-mound/ accessed 19.9.2021).
11
************************************************************************************************
With many thanks to this month's contributors: Eric Morgan and Don Cooper.
************************************************************************************************
________________________________________________________________________________________________
Hendon and District Archaeological Society
Chairman Don Cooper 59, Potters Road, Barnet EN5 5HS (020 8440 4350) email: chairman@hadas.org.uk
Hon. Secretary Vacancy email: secretary@hadas.org.uk
Hon. Treasurer Roger Chapman, 50 Summerlee Ave, London N2 9QP (07855 304488) email: treasurer@hadas.org.uk
Membership Sec. Stephen Brunning, Flat 22 Goodwin Court, 52 Church Hill Road,
East Barnet EN4 8FH1 (020 8440 8421)
e-mail: membership@hadas.org.uk
Join the HADAS email discussion group via the website at: www.hadas.org.uk
12