Number 616 July 2022 Edited by Melvyn Dresner
HADAS DIARY – Forthcoming lectures and events
Due to the COVID-19 pandemic, until further notice lectures will be held online via Zoom
(apart from the AGM lecture), all starting at 8 pm, although we do hope to get back to face to
face lectures soon. We are exploring an option that could allow face to face meetings with an
option to view lectures on Zoom. This partly depends upon the broadband quality at Avenue
House. As ever, our apologies to those who are unable to see online lectures. We will be
sending out an invitation email with instructions about how to join on the day of each talk, so
please keep an eye on your inbox.
Tuesday 11 October
Dr Martin Bridge (UCL) Tree-ring dating and what it tells us about the old Barnet Shop.
Tuesday 8th November
Nick Card. Building the Ness of Brodgar
In anticipation of Nick Card's talk in November, you can explore the Neolithic at British
Museum's World of Stonehenge and Neolithic Orkney in particular, online and in person:
https://www.britishmuseum.org/exhibitions/world-stonehenge Exhibition closes on 17th July.
The photos taken by the editor at exhibition shows decorated stone including the 'butterfly'
motif. (see March 2022 newsletter for Deirdre Barrie's preview article)
This year's dig at the Ness of Brodgar begins in July more details here: https://www.nessofbrodgar.co.uk/
1
AGM and HADAS Digs Clitterhouse)
We held the HADAS Annual General Meeting on the 14th June 2022. President, Harvey Sheldon, was absent due to illness, so his role was taken by the Chairman, Don Cooper. All agreed to wish Harvey to get well soon. This was the first in-person meeting of members of HADAS since the lockdown started in March 2020. Attendees were pleased to be meeting in person and enjoyed the refreshments provided. We will continue to have Zoom based meetings while we working out how best to combine online and in-person meetings.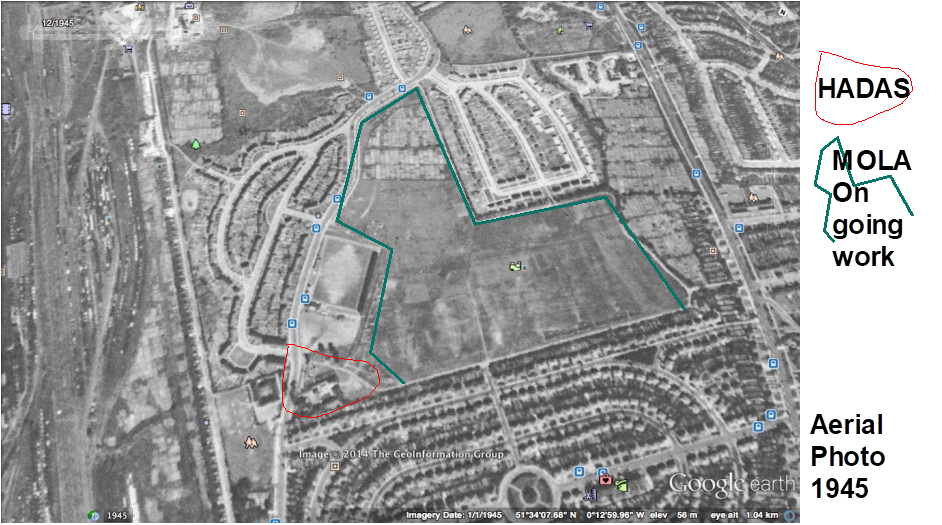 After the lecture, we had a summary of HADAS digging activity at Clitterhouse Farm over the period 2015 to 2019 and related community engagement. We mentioned that Museum of London Archaeology (MOLA) were undertaking investigations on the wider Clitterhouse Playing Fields on behalf of the developer, Argent Related.
Their report can be found on the Council website under planning reference: 21/0774/CON https://publicaccess.barnet.gov.uk/online-applications/
The MOLA dig found post medieval and World War Two finds during their investigation though nothing conclusively medieval. They cross reference HADAS digs. They did identify evidence of a Roman enclosure dated to early Roman occupation of Britain in the first or second century AD. They said this was of local importance.
As well as Roman building material, a total of 106 Roman pottery sherds were recovered by MOLA archaeologists. This included Verulamium/London region coarse white-slipped ware and Highgate Wood ware, plus limited imported wares from Gaul and Cologne area.
Much of this pottery was highly abraded, but presence of Roman roof tiles indicates potential Roman buildings in the immediate area. The pottery dating indicates an early Roman presence in this area. This site is about 500 metres from the putative Roman Road known as Watling Street or to us as Edgware Road or the A5. We look forward to hearing more from MOLA on their findings.
2
HADAS at Barnet Medieval Festival
HADAS had a stall at this years' medieval festival on the Old Elizabethans rugby field off Byng Road in Barnet as we have done over recent years. This is an opportunity to meet old friends, engage with the wider public and recruit new members.
Barnet Medieval Festival aims to engage people in the history of the Battle of Barnet and its significance within the Wars of the Roses. The battle was fought on 14th April 1471, and saw Edward IV lead his Yorkist army to victory against the Lancastrian forces led by the Earl of Warwick.
HADAS stall includes information about our recent dig at Hopscotch on Barnet High Street, and we were visited by the Hopscotch crew. The April 2022 newsletter includes an article by Bill Bass on the dig (see future newsletter for more information on our finds).
Site photos from Hopscotch dig February 2022 (site code: OPS 22) features, sections and finds.
3
Photos show the HADAS stall with some of our visitors over the two days of the festival on the 11th and 12th June 2022, including Michael and Alice Kentish of Hopscotch https://www.hopscotchessentials.co.uk/
4
As well as the human re-enactors, for the first time we saw horses in action recreating some sense of the medieval battle or tournament. One of the reasons Barnet is where it is because of the need to rest and feed horses after climbing Barnet Hill, hence the area's later association with coaching inns and Barnet Fair where horses and cattle were traded.
Medieval music, lighting and fire – many of the medieval re-enactors base their interpretation on archaeological and historical research bringing to life fragmentary remains. Also, the medieval festival reminds the archaeologists of the intangible that we can only infer such as sound and lighting. Though of course we may find musical instruments and we learn how to polish up tarnished metal and how to create artificial light to enhance its quality through the vessels fragments we find. This is brought to life at the festival.
Look forward to next year's festival, and don't miss the banners on Barnet High Street from the station to Hadley Green. Some are also displayed by Barnet Museum in a shop in the Spires.
5
East Finchley Festival
You can learn more about the festival here: https://www.eastfinchleyfestival.org/
The East Finchley Community Festival is held in Cherry Tree Wood. The festival has been held for there for nearly 50 years.
HADAS didn't have a stall at this year's festival, but we were able to visit colleagues with related interests including the Friends of Cherry Tree Wood and the Finchley Society. You can learn about the history of the community festival and more from a booklet produced by the friends that they were selling on the day.
In the booklet, Roger Chapman traces the various names by which the wood was known before its current name, such as Dirthouse Wood, Rail Fall Wood, Colefall or Finchley Colefall or Common and more. Some of these suggest how the wood was managed in the past. He suggests the woods had a prehistoric origin, with evidence for Roman and Saxon connections.
If you want to learn more of the history of Cherry Tree Wood, you can obtain a copy of a booklet written by Roger Chapman and illustrated by Nadia Savvapoulo, by contacting the Friends of Cherry Tree Wood via: friendsofcherrytreewood@gmail.com or by reading it here: https://bit.ly/3w6PjRs
6
Elsyng Revealed
Enfield Archaeological Society
You may have seen the HADAS lecture by Dr Martin Dearne in March 2022 and learnt what
they have found since digging started in 2004.
Another season of digging is commencing in the grounds of Forty Hall in Enfield during July,
to discover more about Elsyng Palace you can visit during the open days or contact Enfield
Archaeological Society for more info: www.enfarchsoc.org and order the publication.
Forty Hall and estate, a rare example of an intact 18th century landscape, is home to one of
the oldest Cedar of Lebanon trees in England. The parkland contains the archaeological
remains of Elsyng Palace, developed from a Tudor hunting lodge and medieval manor,
frequented by King Henry VIII, King Edward VI and Queen Elizabeth I. The site and
surrounding land is a Scheduled Ancient Monument and is the subject of annual
archaeological digs, which culminates in a public event in July.
7
Eric's Birthday photos
Andy Simpson
HADAS long serving member, Committee member and editor of the other society events, Eric Morgan, celebrated his 80th birthday at Avenue House, with special thanks to Liz for the cake, and Don for the toast, and to everyone who attended, and of course Eric for organising the food, drinks and venue, and for the staff of Avenue House for looking after us.
8
Photo Update (Another Stink Pipe?)
Hugh Petrie and Dudley Miles
Cast you mind back to January 2022 newsletter, we were unsure where this photo was taken, we now believe it was the south west of Coppetts Wood, between the wood and Coppetts Close. Now you know, but still a stink pipe! Phew….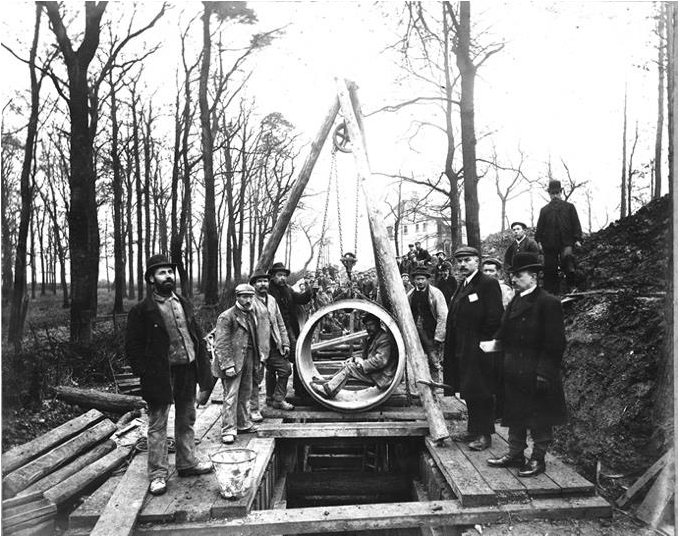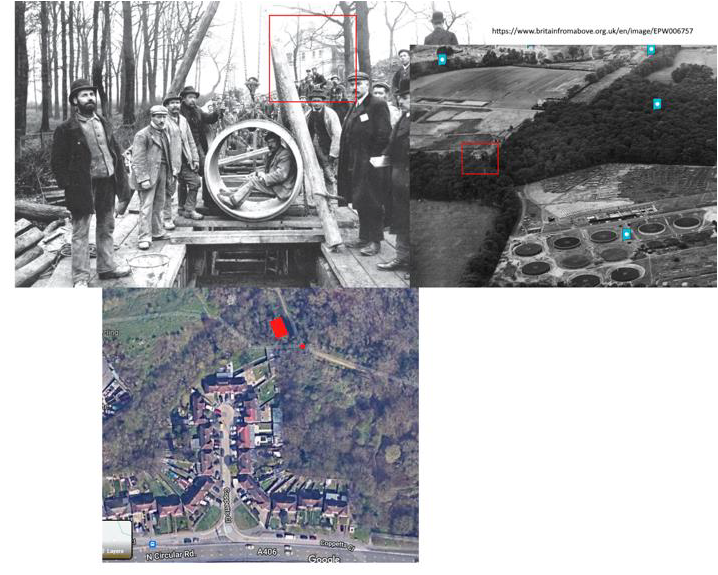 EPW006757 ENGLAND (1921). Finchley Urban District Council Sewage Farm near Coppetts Wood, Colney Hatch, 1921. https://britainfromabove.org.uk/en/image/EPW006757
Other societies' events
Eric Morgan
Please check with the Society or Organisation before setting out, in case of any changes or cancellations.
Proms at St. Judes Music and Literary Festival Heritage Walks. Each walk must be booked in advance via the Proms website www.promsatstjudes.org.uk/2022 walks. …….
9
Saturday 2nd July, 10.30 am. The Wyldes of Hampstead. Marilyn Greene (guide) and former curator of Hampstead Museum (Burgh House) explores Hampstead's once rural northern edge, including the hamlet of North End, with its famous residents, hostelry, (Old Bull and Bush) and C17th Wyldes Farmhouse. We'll learn how farmland augmented the Heath and provided the site for Hampstead Garden Suburb, returning to Golders Hill Park café via the enchanting Hill Garden. (Lord Leverhulme) and pergola.
Sunday 3rd July,10.30 am. Punks, Priests and Poseurs- The Hampstead Set. Julia Male (guide) takes us in the footsteps of Hampstead's famous (and infamous) residents, many of whom have been commemorated on English Heritage or Heath and Hampstead Society plaques. N.B. – part of the route involves steep steps.
Saturday 2nd and Sunday 3rd July, 12-6pm East Barnet Festival Oak Hill Park, Church Hill Road, East Barnet, EN4. Lots of stalls including craft and food stalls, bar, and music stage. and Classic Cars on Sunday.
Saturday 2nd and Sunday 3rd July, 11am-6pm.East Finchley Open Artists Open House Weekend in and around East Finchley. Great art to view and buy. For details please visit www.eastfinchleyopen.org,uk/openhouse Paintings, prints, sculpture, ceramics, glass, photography, jewellery, basketry and textiles. Free entry.15 houses.
Sunday 3rd July, 2-5pm.Hampstead Summer Festival. Keats Community Library and Keats House, Keats Grove, NW3 2RR. Art Fair. Open exhibition of paintings and sculptures, craft stalls, food and wine bar. Free admission. In the gardens. Heath and Hampstead Society will have a stall there. Please check www.hampsteadsummerfestival.com for latest info.
Also Wednesday 6th July, 7.30pm. Shelley; A Poet for our times on the bicentenary of Shelley's death. With readings of his poems and discussion of his life and works and his belief in poetry as an agent for political change. With Judith Chermaik (writer), George Szirtes, (poet) Shelley editor Kelvin Everest and other guests. tickets £10 from the library or online at www.wegottickets.com
Tuesday 5th July, 1-2pm. Society of Antiquaries. Hans Eworth, a Netherlander in London and Antwerp. Talk by Hope Walker. Currently also on zoom. Please visit www.sal.org.uk/events for details and bookings. Free, but donations accepted.
Saturday 9th July, 12-6pm.Kilburn Festival. Grange Park, Grange Way/ Messina Ave. (off Kilburn High Rd.) NW6. Lots of stalls.
10
Sunday10th July-Sunday24th July. Enfield Archaeological Society. Excavating Elsyng, 2022 season on the site of Elsyng Tudor Palace, Forty Hall, Forty Hill, Enfield, EN2. On the identification of the inner gatehouse. To join the dig please contact Martin Dearne. Email martin.dearne@talktalk.net and visit www.enfarchsoc.org.
Also Saturday16th and Sunday 17th July 11am-4pm. Open Days. including. finds identification.
Tuesday 12th July, 7.45pm. Amateur Geological Society. Finchley Baptist Church Hall, 6, East End Road/(corner Stanhope Avenue), N3 3LX. Building Stones of London. Talk by Mike Howgate (Chair).
Friday 15th July, 7pm. COLAS. A City Graveyard Guided Walk. Meet 6.50pm., Exit 2, St. Paul's Tube Stn. Led by Bob Stephenson (Vice chair).
Saturday16th-Sunday31st July. 2022 Festival of Archaeology. Theme is Journeys. For more info. please visit www.archaeologyuk.org/festival.html.
Saturday 16th July. Barnet Physic Well. Corner Well Approach/Pepys Cres., Barnet. Open Jubilee Hall, Day.
Sunday17th July, 12-6pm. Neasden Festival. Neasden Circle/ Cainfield Ave., NW2. Lots of stalls.
Sunday17th July, 12-4pm.Stephens' House and Gardens (Avenue House) 17, East End Rd., Finchley, N3 3QE. "There and Back Sunday". Trains are steaming into the gardens on the "There and Back" miniature railway. Visit the Bothy Gardens to view model railways and dioramas. Tickets £5. For more info. and booking please visit www.stephenshouseandgardens.com.
Monday18th July, 8pm. Enfield Society. Jubilee Hall,2, Parsonage Lane/(junction Chase Side), Enfield, EN2 OAJ. Running Rings around London. Talk by Joe Studman. Looking at the Roman Wall, C13th Chains, C17th Earthworks and Roads, Railways and Footpaths, and some that never happened. Visitors £1.
Wednesday 20th July, 6pm. Willesden Local History Society. Roundwood Park to Willesden Bus Garage. Guided walk led by Irina Porter (Chair). After a short exploration of this first municipal park in Willesden, will stroll down Robson Avenue and Pound Lane, revealing the secrets behind the street names and places of historic interest-past and present. Meet at entrance to the Round Park café in the park off Robson Ave./Harlesden Rd. NW10. For more info. please visit www.willesden-local-history.co.uk.
Sunday 24th July, London Canal Museum. New Wharf Road, Kings Cross N1. "Ice Sunday". Part of Festival of Archaeology. Descents into Victorian Ice Wells. Additional Ice related activities above ground. Normal Museum entrance charges and opening hours. Please visit www.lcm.me.uk/ihw.
______________________________________________________________________________________________________________________________
With thanks for newsletter contributions this month to: Andy Simpson, Roger Chapman, Janet Mortimer, Dudley Miles, Hugh Petrie, and of course, Eric Morgan
____________________________________________________________________________________________________________________________________________________________________________________________________________________________________________________________
11
Hendon and District Archaeological Society
Chairman Don Cooper 59, Potters Road, Barnet, Herts. EN5 5HS
Tel: 020 8440 4350. E-mail: chairman@hadas.org.uk
Hon. Secretary Janet Mortimer 34 Cloister Road, Childs Hill, London NW2 2NP
Tel: 07449 978121. E-mail: secretary@hadas.org.uk
Hon. Treasurer Roger Chapman 50 Summerlee Ave, London N2 9QP
Tel: 07855 304488. E-mail: secretary@hadas.org.uk
Membership Secretary Stephen Brunning, Flat 2 Goodwin Court, 52
Church Hill Road, East Barnet EN4 8FH1
Tel: 020 8440 8421. E-mail: membership@hadas.org.uk

Web site www.hadas.org.uk
12