No. 571 OCTOBER 2018 Edited by Robin Densem
_________________________________________________________________________________________________________________________
HADAS DIARY – Forthcoming lectures and events
Lectures, the finds group course, and the film are held at Avenue House, 17 East End Road, Finchley N3
3QE. Buses 13, 143, 326 & 460 pass close by, and it is five to ten minutes' walk from Finchley Central
Station (Northern Line). Tea/coffee and biscuits follow the lecture.
Wednesday 3rd October – Finds Group Course recommences. The weekly meetings are on Wednesdays,
from 6.30 to 8.30pm. There may be one or perhaps two places available. Please contact Don Cooper if
you would like to discuss and learn availability– if there is space it is possible to enrol after the course has
started.
Tuesday 9th October 2018 7.45pm for 8pm: Motor Launch M.L. 286-The Not So Silent WWI Movy
Hulked at Isleworth Ait by Suzanne Marie Taylor
The talk/lecture will describe Motor launch M.L. 286-also known as a Movy, a veteran of World War I
and World War II. Built for speed in 1916, she began her adventurous life as a spirited submarine chaser
as a part of The Grey Patrol in World War I. In World War II, M.L. 286 was one of the Dunkirk Little
Ships, which took part in Operation Dynamo in 1940-by which time, she was named Eothen. In the 1980s
Eothen was a houseboat until she was abandoned on the Thames foreshore at the back of BJ Wood & Son
Boatyard at Isleworth Ait. In the present, it would seem that M.L. 286 lies stationary in the boatyard of
Isleworth Ait. Yet, is she stationary? This talk will examine M.L. 286 as vibrant material culture which is
continuously moving and evolving, and becoming a dynamic part of the boatyard landscape. This talk
will highlight how M.L. 286 continues to evolve through the dedicated volunteer work of The Thames
Discovery Programme, and what the future could possibly hold for her. This talk will aim to highlight
how M.L. 286, is still very much a Movy.
Thursday October 11th – Quiz at Avenue House – 7:30 – £15 including a cooked supper.
HADAS regularly fields a team. Contact Stephen Brunning if you would like to be involved.
Tuesday 13th November 2018: The Rose – Shakespeare's Secret Playhouse – a film made by Suzanne
Marie Taylor, Anthony Lewis and Siegffried Loew-Walker. The documentary film will be introduced by
one of the filmmakers, Anthony Lewis. The film's highlight is HADAS member Suzanne Marie Taylor's
interview with one of the world's greatest and most respected actors, Ian McKellen, who speaks about his
own personal experience during the 1989 Save the Rose Campaign when the Rose was partially excavated
by the Museum of London. The film was premiered at Canada House on February 2nd 2017.
Sunday 9th December – HADAS Christmas Lunch at Avenue House. 12:30 – 4 p.m. £30 including full
Christmas dinner.
CHARING CROSS Stewart Wild
Jim Nelhams pondered in the last newsletter, with reference to Charing Cross station and the nearby
Eleanor Cross, on the origin of the name Charing. I must say, I think an etymology of "chère Reine" (dear
Queen) is rather ludicrous.
The Oxford Dictionary of London Place Names (2001) may be more helpful: Charing Cross
Westminster. The first part of the name is recorded early, as Cyrringe c.1100, Cherring 1198, La
Cherryng 1258 and' La Charryng 1263. Derivation Old English c(i)erring (turning or bend), which may
refer either to the bend in the River Thames here, or to the well-marked bend in the old main road from
London to the West (Akeman Street, the Great West Road).
Personally I prefer the river derivation, as the Thames at this point makes a spectacular 90-degree turn
from a northerly to an easterly course which would have been unmissable, and significant, to eleventhcentury
Londoners settled nearby.
CHARING CROSS, AND THE EQUESTRIAN STATUE Robin Densem
Jim Nelhams wrote in the last issue (no. 570) that the folk etymology is that the place-name was perhaps
derived from "Chère Reine". I took his mention of folk to be a warning that the derivation may or may
not be reliable – as it was folk etymology. It post-dated earlier variations of the place-name for the place.
The site (Site) of the original wooden Eleanor Cross is where the equestrian statue of Charles I stands, at
the south end of Trafalgar Square. The stone replacement cross on the Site was destroyed in 1647.
There is a story about the statue, cast by Le Sauer in 1633, and said to be the earliest equestrian statue in
England. The bronze statue had been ordered by Charles I's Lord High Treasurer, Richard Weston, for
his garden at Roehampton. In 1649, John Rivett, a brazier or bronze-smith, was ordered to destroy the
statue, but instead he buried it in his garden. Rivett made a fortune by selling fragments of bronze,
purportedly from the statue. These were purchased by Roundheads and Cavaliers, respectively to either
rejoice in the destruction of the image of the king, or to have and treasure a memento of him.
Following the restoration of the monarchy in 1660, eight of the regicides who had signed the death
warrant of Charles I were executed at the Site. The Site was chosen so these regicides would look south at
the Banqueting House on Whitehall where their order to execute Charles I had been carried out in 1649.
Meanwhile also in 1660 the equestrian statue was unearthed by Rivett from his garden. He refused to give
the statue up to Lord Weston's son, and by gift or purchase it came into the hands of Charles II, and was
erected on the Site in 1675, where it still stands, the earliest equestrian statue in England.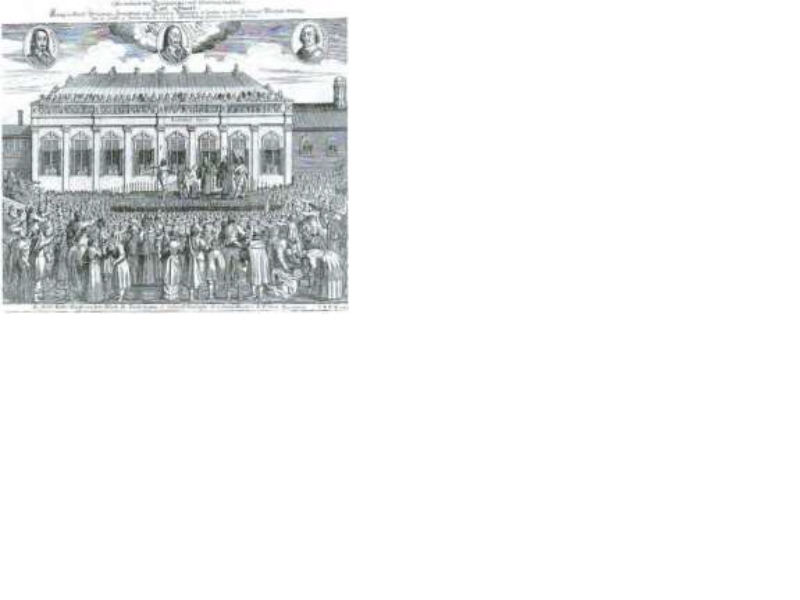 The execution by beheading of Charles I on a makeshift scaffold in front of Banqueting House in January1649. The king called for two shirts so he wouldn't shiver in the cold. He
is reported to had said "the season is so sharp as probably may make me shake, which some observers may imagine proceeds from fear. I would have no such imputation."
SOME EARLY DAYS IN ROMAN SOUTHWARK Robin Densem
I arrived again at Montague Close, SE1 one Sunday in late May 1972 to volunteer on what would have
been a third season for me on the local Southwark and Lambeth Archaeological Society excavation on a
17th century delftware pottery site. Their site was full, but they thought there might be space down the
road at Harvey Sheldon's site at 207 Borough High Street (207BHS). There I was set to work shovelling
what I later realised was natural sand and gravel! I asked about coming back another day, and there was
some discussion in the background, out of my earshot – the site supervisor said they would be open again
on Wednesday, so I returned. The site supervisor was the late Eric Ferretti who was to be my mentor for
the next fifteen months. Apparently there had been some concern I was too noisy but he had felt I might
just be useful. This site was being excavated on behalf of the Southwark Archaeological Excavation
Committee, SAEC, founded in 1962, for which Harvey was their Field Officer. Later I discovered that
Harvey led a band of archaeologists who had excavated several Roman sites, including Highgate Wood
(with A. E. Brown), and various rescue sites, in advance of redevelopment, in the East End of London, a
site in Clapham, another in Cambridge, and a major site, Toppings Wharf, in Southwark, by London
Bridge. I eventually realised much of this work was funded by grants from the Directorate of Ancient
Monuments and Historic Buildings (DAMHB) of the Department of the Environment, working in liaison
with the Inspector and Assistant Inspector of Ancient Monuments for London, and by grants from the
county archaeological society, the London and Middlesex Archaeological Society.
At 207BHS we had other volunteers on site on the weekends, working alongside a few full-timers who
were funded, and on Wednesdays to Fridays there were far fewer, if any volunteers, apart from me! So,
after a few days Eric said he would like me to open a trench, and it was suggested I should purchase a
double-sided notebook, with graph paper alternating with lined paper.
We worked in imperial scale and drew plans at one inch to two feet, so at 1:24. I remember being worried
that it was difficult to record relationships, as we generally only drew the extents of features, not layers –
all this was to change in the early 1980s with our adoption of the 'single context recording system' that
involved the planning of all layers and features, so plans could be overlain to discern relationships.
My trench, and I was so proud to have a role, was trench 4 and it contained the eastern edge of the gravel
metalling of the Roman bridge approach road, Stane Street, and its underlying 'agger' or bank of dumped
sand and silt, laid of a raft of timbers. The seriousness and commitment to recording was all-present, and I
began to learn about the complexities of archaeological stratigraphy, and a little about finds.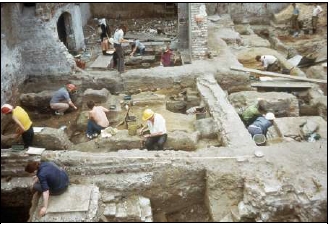 207BHS on a week-end day in summer 1972. I am sitting on the end of the far trench
wearing a white helmet, and writing in one of my notebooks.
BARNET IN CONTEXT: DATA FROM THE GLHER Robin Densem
Archaeology Advisors and Greater London Historic Environment Record (GLSMR) staff at
Historic England Greater London Archaeology Advisory Service (GLAAS). Photo: Robin Densem.
I had great plans to study the historic environment record (HER) data for the extent of the London
Borough of Barnet, but have only just started! My idea was to quantify the HER entries by period, and
see what this told me about the archaeology and history of Barnet. This idea goes back to 1976 when
Harvey asked me to look after the archaeology of Lambeth for his archaeological unit, the Southwark &
Lambeth Archaeological Excavation Committee, and I began researching local archaeology then.
Meanwhile in the City, John Schofield and Brian Hobley of the Museum of London's Department of
Urban Archaeology began from 1978 "suggesting to every developer that they should pay for the
necessary archaeological work on their redevelopment site." (John Schofield 1998 Archaeology in the
City of London 1907-91 (Museum of London). Harvey established the Museum's Department of Greater
London Archaeology in 1983, having been instrumental in establishing the Greater London Sites and
Monuments (GLSMR) record that saw the employment of its first staff member, Pete James, in 1982.
We had achieved some developer funding for prominent sites from 1983, and then, largely George
Dennis, developed the use of archaeological planning conditions in Southwark from 1985, including for
the Rose Theatre in 1989. That year saw several sites in the news, as archaeological excavation work
found sites that needed preservation. In the reorganisations that followed, the GLSMR was taken into
English Heritage and is now the GLHER that is a marvellous and essential source of archaeological
information.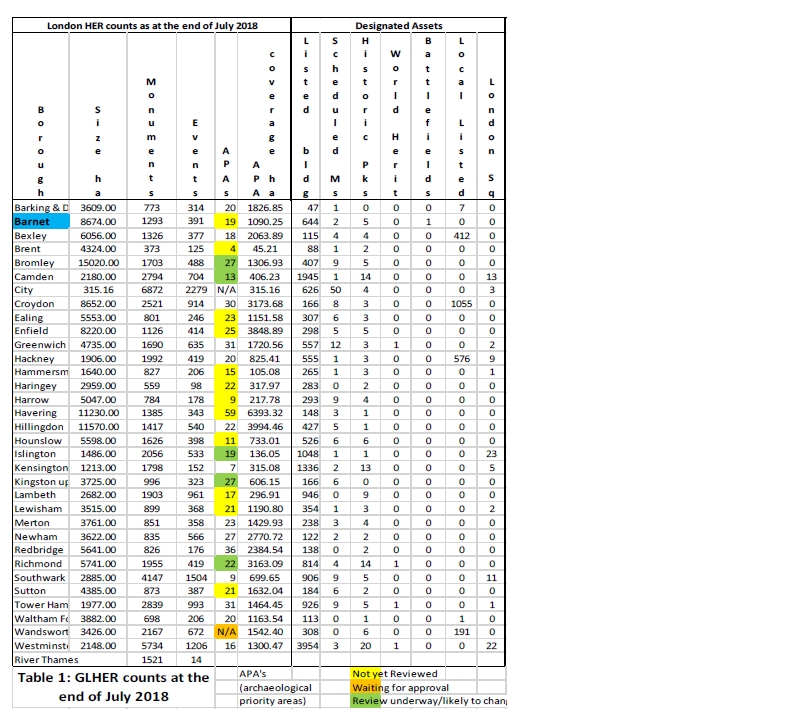 There is some information about GLAAS and its constituent GLHER on the internet at:
https://historicengland.org.uk/services-skills/our-planning-services/greater-london-archaeology-advisoryservice/
. The website explains "The GLHER is a comprehensive and dynamic resource for the historic
environment of Greater London. From the earliest human occupation to the present day, its data supports
the work of the Greater London Archaeological Advisory Service. Our computerised record contains over
87,000 entries providing data on archaeological sites, historic buildings, historic parks and landscapes,
finds and heritage features, and supporting sources of information." (accessed 22nd September 2018).
My hope is to use the GLHER data for Barnet to identify historic houses and mansions, and maybe to
give some lectures about them. Some of the buildings still stand today.
As part of my background reading I counted the number of archaeological projects in each London
borough from 1972, the first year for which the London Archaeologist magazine took to publishing an
annual round up of archaeological fieldwork. The full table is a bit too big to publish here but if you email
me, robindensem@btinternet.com, then I should be able to email the table to you. Some extracts:



My conclusion is that I have more work to do. I have been a great believer in a theory that there is more
archaeology on sands, silts and gravel then on London Clay, but is this true? And how much of Barnet is
on London Clay? A problem is that such theories can become self-reinforcing, as if sites on London Clay
are rarely investigated, then the truism that there isn't much there appears proved! And I haven't started
looking at Rocque's map of London and Ten Miles Round of 1746 that I expect covers at least part of
Barnet. And there are many more maps that I hope to look at. Meanwhile I am very grateful to Laura
Hampden of the GLSMR for providing Table 1, and to her colleague Rebecca Seakins for my visit.
HADAS AT THE HENDON PAGEANT Don Cooper
HADAS had a stall at the Hendon Pageant which was held at the Royal Airforce Museum on Saturday
15th September 2018. It was a well-attended event. Andy Simpson, Bill Bass and I were there to represent
HADAS. The highlight of the event was a fly-past by the last surviving airworthy Lancaster Bomber in
Britain – a splendid sight.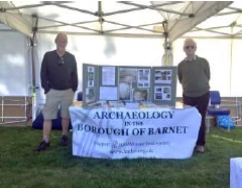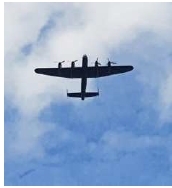 QUEEN ELEANOR'S JOURNEY – PART 2 Jim Nelhams
When Queen Eleanor died in Harby in Northamptonshire on 28th November 1290, King Edward decreed
that her body be carried back to London for burial. The procession could only move in daylight, so it took
12 days to reach London. The King also ordered that a cross be erected at the places where they stopped
for the night, the first now being in Lincoln. There being not that many suitable stopping points on the
journey south, most were at religious establishments. In Lincoln her body was embalmed, probably at
the Gilbertine Priory. Parts of her body were sent to the Angel Choir of Lincoln Cathedral for burial,
where they still rest, and part of the cross which was erected is now in the grounds of Lincoln Castle.
Next stop was Grantham, though no part of this cross remains. Following this, stop three was in
Stamford.
Stamford's cross stood for approximately 350 years, and to confirm this we have two eye-witnesses. The
first was Captain Richard Symonds of the Royalist army, who visited Stamford briefly on his way from
Newark to Huntingdon on Saturday August 22nd 1645. He wrote the following in his diary,
'In the hill before ye into the towne stands a lofty large cross, built by Edward I in memory
of Eleanor whose corps rested there coming from the north.'
The cross was probably destroyed by Cromwell's forces during the commonwealth.
On January 16th 1745 William Stukeley wrote to a fellow antiquarian:
'Our surveyor of the turnpike road opened up a tumulus half a mile north of Stamford on the brow of a
hill by the roadside and there discovered the foundations of the Queen's Cross, the lower most tier of the
steps intact and part of the second, tis of Barnack stone, hexagonal, the measure of each side thirteen feet
so the diameter was thirty feet. It stood on a grassy heath called by the towns people Queens Cross'.
Stukeley also noted that the Grantham Cross decoration almost certainly contained Eleanor's coat of
arms.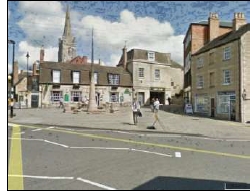 In the 1960s, a stone spire was erected at Castle Dyke, Stamford. Is this connected?
Stop 4 was at the village of Geddington, in Northamptonshire, where there was a Royal hunting lodge.
The cross is the best preserved of the remaining crosses and is unusual having 3 sides.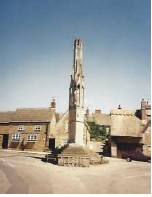 (Hadas visit to this
cross is recorded in
Newsletter 257 –
August 1992.)
EXPLORING THE OCEANS (PART 2) Jo Nelhams
James Cook's Second Voyage
Having returned safely from his first voyage, much of the praise was directed to Joseph Banks, a useful
passenger and wealthy landowner from Lincoln and an amateur botanist. He had provided most of the
scientific personnel for the first voyage.
A second voyage was planned and the Admiralty's instructions were to sail south from the tip of Africa to
search for the Great Southern Continent. Cook needed the summers in the Antarctic and suggested
circumnavigation in the higher latitudes in the winter months.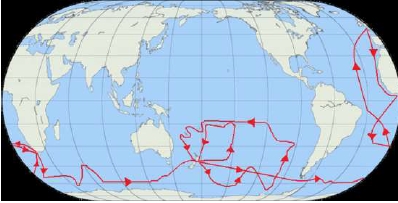 Joseph Banks was very keen to go on a second voyage and this time two ships would sail. The ships
selected were the Resolution, 462 tons and a smaller one the Adventure, 336 tons. Since the Resolution
had been selected, Joseph Banks wanted modifications to be made for his large party of naturalists,
scientists and the artist Joseph Zoffany to be accommodated. After some work had been done on the ship,
it proved to be unstable. Joseph Banks also thought that he should be in charge on the ship. After these
disagreements, Joseph Banks and his party withdrew and the Resolution and the Adventure, with
replacement naturalist, artist and draughtsman left Plymouth on July 13th 1772.
An artist and astronomer were included with those aboard. The artist was William Hodges and the
astronomer a Yorkshire man named William Wales. He took care of the chronometer, a copy of the
invention of John Harrison, which gave accurate time for the calculation longitude. Harrison's
chronometer had been used on other ship's voyages and had proved to be very successful. In later life
William Wales became a tutor at the Royal Mathematical School, located within Christ's Hospital School
in the city. He was the first master there to have had considerable practical experience of navigation at
sea, which needed real mathematical knowledge.
Wales had kept a detailed logbook on board. One of his students at Christ's Hospital was Samuel Taylor
Coleridge, and his poem, "The Rhyme of the Ancient Mariner", has significant parallels with Wales'
descriptions of the voyage.
The Antarctic waters were very different from the Arctic waters. In 1773 Cook sailed across the Antarctic
Circle, the first man ever to do this. Penguins, seals and whales were not good for eating. Visibility was
often poor and there was much ice and the area of sea free to sail gradually decreasing. He had come as
far as a sailing man could go. In the poor weather the Resolution and Adventure lost contact. They knew
that a possible parting was long foreseen and the Adventure, if adrift, had her orders to make for Queen
Charlotte Sound, New Zealand.
When the Resolution reached Queen Charlotte Sound the Resolution and Adventure were reunited. The
Adventure had scurvy aboard the ship. Cook made sure that they consumed fresh food and the Adventure
was restored to being scurvy free.
The circular plan was an ideal method of investigating the South Pacific. They sailed to the east of the
longitude of Tahiti. From first crossing the Antarctic Circle in January 1773, Cook spent the next 2 years
exploring the southern oceans. On March 21st 1775 the Resolution anchored at the Cape of Good Hope.
During that time he had discovered new groups of islands in both the Atlantic and Pacific. The Resolution
had not lost a single man to scurvy or anything else avoidable. Three were lost by drowning and one from
a disease brought aboard. After 5 weeks at the Cape of Good Hope Cook sailed for England and in July
1775 dropped anchor off Spithead, but "Terra Australis" was still a mystery so there was great
disappointment at the results from this second voyage.
To be continued: Third Voyage next newsletter.
OTHER SOCIETIES & INSTITUTIONS EVENTS, compiled by Eric Morgan
Until 4th November 2018, Museum of London Bluecoats in the City: 350 Years of Christ's Hospital, a
small, free display open daily at the Museum of London, London Wall, London EC2 5HN, 10am to 6pm.
October 2018 is Huguenots Month in Spitalfields, London. For programme visit:
http://www.huguenotsofspitalfields.org/walks-events.html or contact: Charlie de Wet at
info@huguenotsofspitalfields.org or telephone 020 7247 0367. Huguenots of Spitalfields is a registered
charity promoting public understanding of the Huguenot heritage and culture in Spitalfields, the City of
London and beyond.
Wednesday 10th October 2018, 2.30pm. Mill Hill Historical Society, Supporting Churches for 200
Years, The National Churches Trust, by Eddie Tulasiewicz, Head of Communications and Public Affairs.
The talk will be held at Trinity Church, 100 The Broadway, London NW7 3TB.
Saturday 13th October 2018. Local London Guiding Day. There are free walks, lasting up to 60
minutes by guides from Camden, Clerkenwell and Islington and Westminster.
Friday 19th October 2018, 7.30pm. Wembley History Society, 7.30pm, Power Play, a tale of Victorian
values (the life and times of Mary, Dowager Duchess of Sutherland), by Bruno Bubna-Kasteliz. The talk
will be at English Martyrs Hall, Chalkhill Road, Wembley,HA9 9EW. Visitors £3.
Thursday October 25th 2018, 8pm. Finchley Society, Major Cartwright's obelisk … and other fine
tombs in Finchley Churchyard by Dr Roger Bowdler. Major Cartwright was an early advocate of
American independence, universal (male) suffrage, the abolition of slavery and many other causes. The
talk is at 8pm in St. Mary-at-Finchley Church, Hendon Lane, London N3. Visitors £2.
Thursday 1st November 2018, 8pm. Pinner Local History Society, Watford's Bronze Age Hoard, by
Laurie Elvin, a local archaeologist. The talk will be in the Village Hall, Chapel Lane Car Park, Pinner
HA5 1AB. A £3 donation from visitors would be appreciated.
Saturday 3rd November 2018, 10am to 6pm. Aldenham Transport Spectacular, an indoor transport fair,
held at Allum Manor House & Hall, 2 Allum Lane, Elstree and Borehamwood, WD6 3PJ. Admission £3.
Saturday 3rd November 2018, 10.30am – 4.30pm. Geologists' Association Festival, including exhibitors
from the world of geology, including fossil and mineral displays. University College London, Gower
Street, London WC1 6BT. Free event.
Saturday 3rd November 2018, 1.30-3.30pm. Barnet 1471 Battlefields Society, The Knights Templar, by
Robert Stephenson. The talk will be held at St John the Baptist, Barnet Church, Junction of High Street
and Wood Street, Chipping Barnet, Hertfordshire, EN5 4BW. Visitors £5, and the Society asks for
donations/money in the hat towards tea/coffee and cake.
Wednesday 7th November 2018, 8pm, Stanmore and Harrow Historical Society, The Ellen Burgin
Lecture: Historic Greenwich, by Diana Burnstein. The talk will be held at the Wealdstone Baptist
Church, High Street, Wealdstone, Harrow, HA3 5DL. Visitors £3.
Friday 9th November 2018, 8pm (doors open 7.30pm), Enfield Archaeological Society, Walbrook
Mithras Temple Reconstruction, by Sophie Jackson, MoLA. The talk will be held at the Jubilee Hall at
the junction of Chase Side and Parsonage Leane, Enfield, EN2 0AJ. Visitors £1.50.
Wednesday 14th November 2018, 2.30pm. Mill Hill Historical Society, The Oldest House in London, by
Fiona Rule. The talk will be held at Trinity Church, 100 The Broadway, London NW7 3TB.
Wednesday 14th November 2018, 7.30pm for 8pm, Hornsey Historical Society, The Folklore and
Traditions of the Tidal Thames, by Mark Lewis. The talk will be held at Union Church Hall, (corner of
Ferme Park Road/Weston Park) N8 9PX. Doors open at 7.30pm for the sale of refreshments and
publications and talks start promptly at 8pm.
Thursday 15th November 2018, 7.30pm, Barnet Museum and Local History Society, How to Capture a
Castle by Julian Humphrys, from the Battlefields Trust. The talk will be at Pennefather Hall, St Albans
Road, EN5 4LA. Tickets on the door: member £3, visitors £5; 18 & under free. Refreshments included.
Thursday 15th November 2018, 8pm, Historical Association (Hampstead and Northwest London
Branch), Harold Godwinson: his family and career, by Dr Ann Williams, FSA, FRHistS. The talk will be
held at Fellowship House, 136A Willifield Way, NW11 6YD and are followed by free refreshments.
Visitors £3.00. "There is no difficulty with parking."
Friday 16th November 2018, 6.30pm for a 7pm start, City of London Archaeological Society, A
Sarcophagus and a Roman Road in Southwark, by Ireneo Grosso. The talk will be held at St. Olave's
Church Hall, Mark Lane, London EC3R 7BB. The lecture is followed around 8.30pm with an opportunity
to chat with the lecturer and fellow members over tea and biscuits, with an optional extension to an
adjacent pub. Visitors are asked to sign the visitors' book and to donate £3 toward expenses.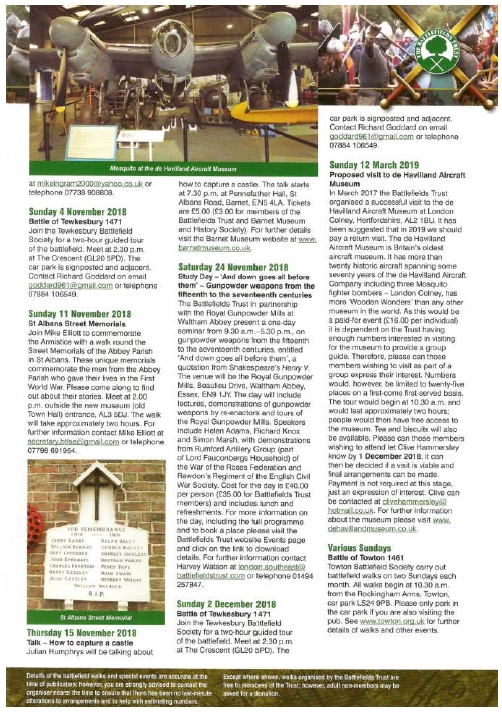 Saturday 17th November 2018, London & Middlesex Archaeological Society, 10.30am to 6pm,
53rd Local History Conference: "An Emporium for many Nations": London shaped by trade. Various
speakers. The conference will be held in the Weston Theatre, Museum of London, London Wall, London
EC2Y 5HN. Tickets £12.50 until 31st October 2018, and £15 from 1st November 2018. Tickets can be
purchased using PayPal via the LAMAS website http://www.lamas.org.uk/conferences/localhistory/
local-history-conference-2018.html or by post from Patricia Clarke, 22 Malpas Drive, Pinner,
Middx. HA5 1DQ, and do provide your name and address, a cheque for the requisite amount, and a
stamped addressed envelope so your ticket(s) can be posted to you.
Saturday 17th November 2018, North London & Essex Transport Society, 11am to 2.30pm, Enfield
Transport Bazaar. The bazaar will be held at St. Paul's Centre, 102, Church Street, Enfield EN2 6AR.
There will be no bus display at this event, but up to forty selling stalls. Light refreshments available.
Admission £3, accompanied under 16 years of age free.
Wednesday 21sat November 2018, Willesden Local History Society, 7.30pm, First World War in
Willesden, by Margaret Pratt. The talk will be held in St Mary's Parish Centre, St Mary's Parish
Centre. Neasden Lane NW10 2TS. There is limited parking in Church Path.
Saturday 24th November 2018, Amateur Geological Society-North London, 10am to 4pm, Mineral,
Gem & Fossil Show. The show will be held at Trinity Church, Nether Street, Finchley, London N12 7NN.
Admission £2, accompanied children under 12 years of age free.
---
With many thanks to this month's contributors:
Don Cooper, Eric Morgan, Jim Nelhams, Jo Nelhams, and Stewart Wild
---
Hendon and District Archaeological Society
Chairman Don Cooper 59, Potters Road, Barnet EN5 5HS (020 8440 4350)
e-mail: chairman@hadas.org.uk
Hon. Secretary Jo Nelhams 61 Potters Road Barnet EN5 5HS (020 8449 7076)
e-mail: secretary@hadas.org.uk
Hon. Treasurer Jim Nelhams 61 Potters Road Barnet EN5 5HS (020 8449 7076)
e-mail: treasurer@hadas.org.uk
Membership Sec. Stephen Brunning Flat 22 Goodwin Court, 52 Church Hill Road,
East Barnet EN4 8FH (0208 440 8421) e-mail: membership@hadas.org.uk
Join the HADAS email discussion group via the website at: www.hadas.org.uk