No. 589 APRIL 2020 Edited by Sue Willetts
HADAS DIARY – No forthcoming lectures and events!
For information: Lectures, the finds group course, and the film are held at Avenue House, 17 East End Road, Finchley N3 3QE. Buses 13, 143, 326 & 460 pass close by, and it is five to ten minutes' walk from Finchley Central Station (Northern Line). Tea/coffee and biscuits follow the lecture.
Due to the Coronavirus pandemic, it has been agreed that there is no need to list any events for May. For members to be aware the HADAS talks for April & May were Signe Hoffos – Lost City Churchesand Tim Williams – Archaeology of the Silk Roads – to be re-arranged when possible. The proposed bus pass outing to the Docklands Museum is also on hold.
This newsletter can also give notice that the AGM in June is postponed, and the committee will remain in place for the time being.
September 2020 trip, 20th – 24th September
The long trip to Stoke in September is still planned, and you can still sign up. No money has been paid to the hotel or to Galleon Coaches, and I am not banking any cheques at present.
This trip will be based at The Best Western Stoke City Centre Hotel, 66 Trinity Street, Stoke on Trent, ST1 5NB. This was previously a Quality Hotel. Do not confuse with the Best Western Plus Stoke on Trent Moat House which is currently rebranding and considerably raising their prices.
We have tried to keep costs unchanged for several years, normally making a small profit, but prices have gradually risen and in 2019 we made a loss, so this year we are having to adjust. The price will be £580 for a single room and £530 per person sharing a room (double or twin). Costs include dinner, bed and breakfast and we will provide a packed lunch each day except the Sunday.
HADAS COMMITTEE
When it takes place – at the Annual General Meeting Don Cooper will be standing down as Chairman after many years of service, also Jo Nelhams as Secretary and Sue Willetts, responsible for overseeing the Newsletters and arranging printing. Please give some serious thought how you can help the Society to function as it has done successfully for many years. At present we have four Committee meetings each year.
1
2019 Trip: Our last day
Jim Nelhams
It's Friday and time to head homewards. The weather does not look wonderful, so keeping an eye on it, we head to the far side of the Neath valley to visit Aberdulais. Aberdulais means the mouth of the River Dulais – in this case where it reaches and flows into the River Neath. The valley has steep sides, so there are waterfalls immediately above the junction. David & Beverley take up the story.
Aberdulais Tin Works and Falls
Beverley Perkins & David Bromley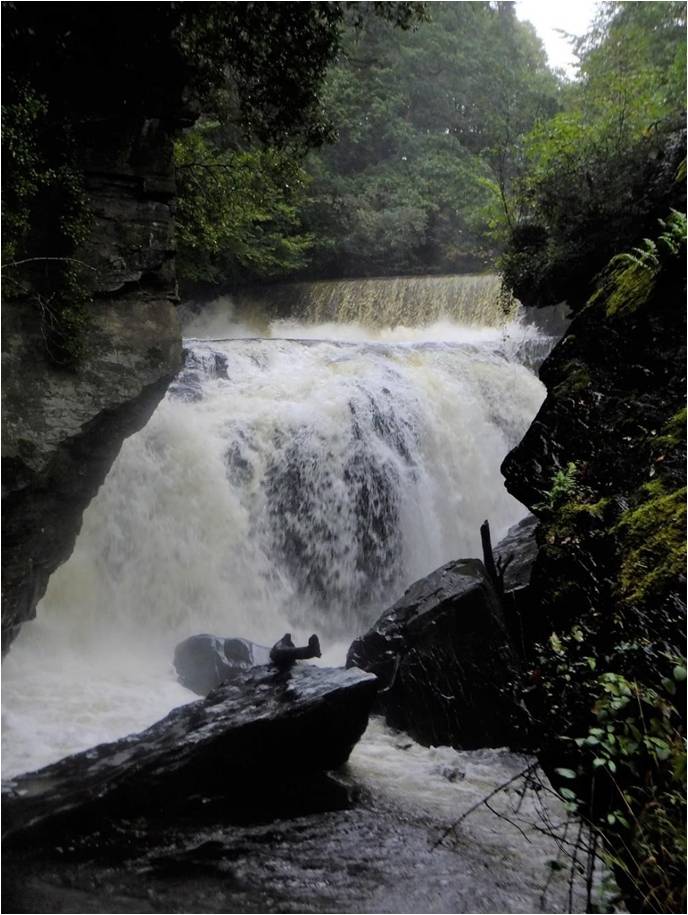 It is hard to imagine that the now peaceful site of Aberdulais once rang with the din of metal-working. The waterfall still thunders over the sandstone ridge – impressively so when we visited after a prolonged spell of rain – but the noise and smells of industry vanished when the site was abandoned in the 1930s.
Aberdulais works began its industrial life in 1584, when a German engineer, Ulrich Frosse, pioneered a method of turning copper into coins. These coins were needed by Queen Elizabeth I to fund the
2
construction of ships to fight the threat of Spanish invasion. The site, well hidden in the gorge of the river Dulais, lent itself perfectly to metal smelting, as it had a ready access to water, wood, charcoal – and later coal – and metal ore. However, copper ore became increasingly scarce and copper smelting ended here in 1605.
The works were then used successively for the fulling or tucking of wool (1631-1653); as an iron forge (1667-1713); and as a corn mill (1715-1810). The picturesque location attracted Victorian travellers, among them Ruskin and JMW Turner, who painted the site – with some artistic licence – in 1796. His watercolour, now in the National Library of Wales, shows two waterwheels powering a flour mill. However, the gorge is no longer quite so picturesque, having been dynamited in the 1820s to provide stone for building the canal to Swansea.
In 1832 the works were acquired by William Llewellyn, who initially operated an iron works but then converted it to the production of tinplate. By 1835 he had also established the Lower Works further down the valley. In 1842 there were 138 people working on the two sites, including 34 children. Llewellyn, a Quaker, looked after his workforce, building a schoolroom, library, Baptist church, stores and providing instruments for the brass band. Tinplate workers were highly paid compared with agricultural workers, so jobs were sought-after in spite of the heat, noise, pollution, 12-hour working days and gruelling conditions.

The widespread development of cheap tinplate revolutionised food preservation. Tinned products became readily available, improving people's diets, and sailors no longer had to endure the appalling effects of scurvy. Tinplate had many other uses, including toy-making, miner's lamps and household goods. While America pioneered the tin can industry, tinplate produced in the South Wales valleys was widely regarded as the best in the world. In 1887 Britain exported nearly 500,000 tons of tinplate. By 1891 there were 205 tinworks in South Wales.
The Aberdulais works was among the first to use rollers rather than noisy and less efficient trip hammers. Iron ingots were brought to the site by horse-drawn carts on rails or, later on, by barge along the canal. The ingots were heated in a furnace, then repeatedly passed through the rollers, after being folded in two between each pass. The result was a stack of eight thin plates which were cut at the base to separate them into sheets. These sheets were then "pickled" in acid before being annealed to temper the metal and make it less brittle. The trimmed sheets were then hand-dipped three times in the tinning house. Following this, the sheets were dipped in oil by "grease boys", polished with bran or lime, usually by young girls, and then packed into crates for transport. Young boys also had to clean the ashes out of the cooled furnaces.
In 1891 America imposed heavy taxes on Welsh tinplate to encourage local production, knocking the bottom out of the Welsh industry. While the works struggled on well into the 1930s, many tin-workers emigrated to the USA to work in their growing industry.
3
Aberdulais tinworks site is now managed by the National Trust, who use the former schoolroom as their tearoom and shop. The modern waterwheel, which is 8.2m in diameter, turns in the original wheel pit and is Europe's largest hydro waterwheel. It provides enough electricity to run the site, feeding the excess into the National Grid.
Caerleon
Jim Nelhams
Leaving Aberdulais and joining the M4, we headed eastwards towards Caerleon. By now, light rain had caught up with us.
At the time of our visit, The National Roman Legion Museum, another of Wales' National museums, was closed because of problems with the roof, so we headed to the Caerleon Fortress Roman Baths partly to keep out of the rain. The baths, which were in Roman times outdoors but are now covered, included a large swimming pool which originally held 80,000 gallons of water. The pools have been enhanced by modern lighting and projection, so that among other things, you can see a legionnaire taking a swim.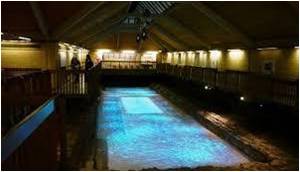 For most of us, a walk back to the coach, though the more adventurous diverted across the wet grass to visit the assorted impressive ruins.

4
Finally, back home to complete our busy 5 days. Our thanks to Paul, our driver for his hard work and smooth driving.
Note from Ed. Recent heavy rain in Wales made the amphitheatre (above left) look like a swimming pool!
Ted Sammes Clay Pipes – Additional Notes
Andy Simpson
Since publication of the original Ted SammesPipe collection notes in the August, October and November 2019 editions of the newsletter, further excavation of the archives held in the basement room at Avenue House has yielded a few more.
Firstly, there are three more fragments to record from Hill Close, NW11 (off Hampstead Way) in addition to the two bowls of 1740-1780 and 1840-1880 recorded in the November 2019 newsletter.
The label with them records a more precise finds spot and date for all of them – 'from back garden of Mrs Ansett, 2 Hill Close Golders Green NW11 March 1986'
There is a single short length of unmarked stem, a nice early bowl of type AO9 but with a damaged rim which retains traces of milling, dated 1640-1660, and a small fragment of even earlier spur/bowl possibly of type AO6, 1610-1640.
The other newly uncovered bag of clay pipe fragments is from 44 Erskine Hill (off Addison Way) Temple Fortune NW11.
This contained 21 short, unmarked lengths of pipe stem of varying diameters, plus an unusual length of stem with a flattened side or base. There is also a badly damaged bowl of probable type AO29, dated 1840-1880 with broken spur and missing top.
It is accompanied by another early bowl, again of type AO9, dated 1640-1660 with a damaged rim.
Although overall a useful collection of finds spots, it does also reflect the distribution of active HADAS members in the 1980s!
In addition to these, recording is ongoing of the long-held clay pipe bowls, and a few sherds of post-medieval pottery, from the Old Bull excavation in High Barnet in 1982. This may also feature in a future newsletter.
Open day by Pre-Construct Archaeology
Bill Bass
Several HADAS members visited an open day by Pre-Construct Archaeology (PCA) in Tottenham Hale in February. PCA were digging a redevelopment site on Chestnut Road when they came across medieval archaeology in the form of pottery and animal bones etc found in drainage ditches, which they were half expecting. Then unexpectedly lithic scatters including blades came to light and then a hand-axe which dated to the mesolithic period.
5
All this material was displayed for us to inspect with members of PCA to explain it. Excavation was carrying on for a few more weeks and then post-ex will take more research to specify the dating further. A selection of photographs provides a good overview of the day.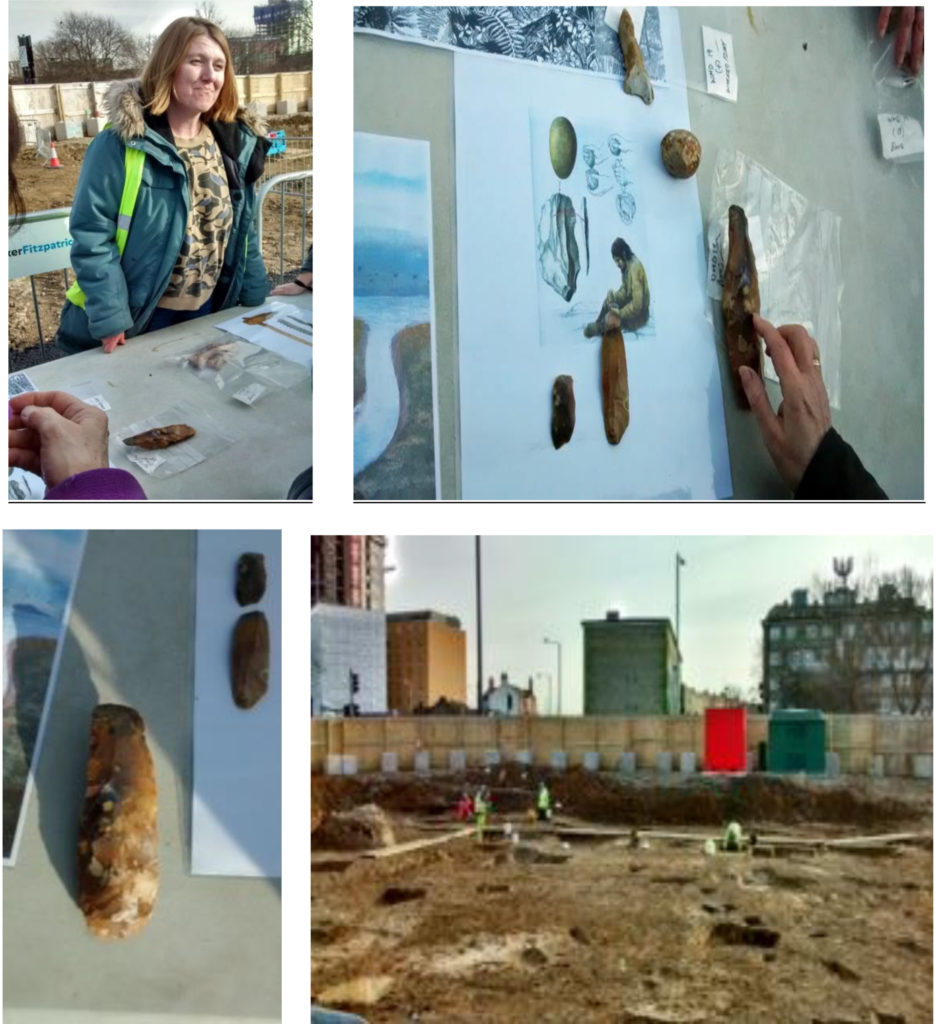 Pioneering Courage: Housing and the Working Woman 1919-1939.

Exhibition planned to be shown at the London Metropolitan Archives 1st -30th April
Jennifer Taylor
About three years ago, Women's Pioneer approached the U3A to provide volunteers to research their archives, and this initiative has developed into a Heritage Lottery Project, whose first findings are published at the LMA exhibition in April.
6
The archive, which is now housed at the LMA, consists of papers covering the inter-war years, setting out the development of the Association, its investors, and includes a valuable cache of original architectural drawings by Gertrude Leverkus, one of the first women to qualify as an architect in the UK. Women's Pioneer bought large houses in West London that had been built to house large families with servants and which became surplus to requirements after the First World War. These houses were converted into small flats for 'single women of moderate means. One of the four volunteer researchers on the project is basing a PhD on this part of the archive. Two others have been researching the tenants who lived in the flats, finding details of the first women scientists employed by the Natural History Museum as well as the many women who moved into the new areas of work that were opening up in the 20s and 30s.
As the fourth volunteer researcher, my digging has taken place amongst dusty papers of management committees and shareholders records, finding out more about the many well-known ex-suffragettes, early professionals and capable women who ran Women's Pioneer. They had incredible networks that allowed the Association to raise the capital needed for its establishment and growth. Individuals featured range from Lady Astor, the first woman to take up a seat in Parliament, through in-laws of the Bloomsbury Group, to Charles Rolls, co-founder of Rolls-Royce.
You will find out a lot more detail in the exhibition itself – when it can be held. The plan was for an exhibition at the London |Metropolitan Archives and also four London libraries.
Archaeology news:
Sue Willetts
Council for British Archaeology in March announced Neil Redfern would succeed Mike Heyworth as Executive Director of the CBA. Neil has had a distinguished career in heritage, most recently as Development Advice Team Leader and Principal Inspector of Ancient Monuments for Historic England. While at Historic England Neil led teams delivering award-winning development advice in Yorkshire, and their response to major environmental threats as part of the National Heritage Protection Plan. He also initiated a major project on the Yorkshire Wolds to address monuments at risk from cultivation, amongst other achievements.
Beatrice de Cardi Lecture November 2019. Richard Osgood gave a lecture at the British Academy on 'The healing bones: Archaeology as wellbeing' about Operation Nightingale This is an initiative to assist the recovery of wounded, injured and sick military personnel and veterans by getting them involved in archaeological investigations. This lecture is available to watch on You-tube using this link Beatrice De Cardi lecture 2019 by Richard Osgood
OTHER SOCIETIES' & INSTITUTIONS' EVENTS compiled by Eric Morgan
This section is temporarily on hold due to the coronavirus outbreak. When it is possible to advertise events again, this section will return.
For information: An event planned for Saturday 6th June was to have been the British Association for Local History. Local History Day at the Institute of Historical Research, Malet St, London, Senate
7
House, WC1E 7HU [Closed until further notice] Annual lecture by Prof. Andrew Hopper on 'The Human cost of British Civil Wars'. This lecture was to have examined how wounded soldiers, war widows and other dependants negotiated with local and national authorities to obtain pensions and welfare. Also planned was a talk from Prof. Catherine Cooper (IHR) 'What is local history?' as well as Local History awards, AGM, bookstalls, society displays. Cost £25 members of BALH or £30 for non-members and includes tea/coffee/lunch. Wait and see if / when this might be re-arranged.
@@@@@@@@@@@@@@@@@@@@@@@@@@@@@@@@@@@@@@@@@@@@@@@@@@@@
With many thanks to this month's contributors:
Bill Bass, Jim Nelhams, Beverley Perkins & David Bromley,
Andy Simpson and Jennifer Taylor
@@@@@@@@@@@@@@@@@@@@@@@@@@@@@@@@@@@@@@@@@@@@@@@@@@@@
Hendon and District Archaeological Society
Chairman Don Cooper 59, Potters Road, Barnet, Herts. EN5 5HS
(020 8440 4350) e-mail: chairman@hadas.org.uk
—ooOoo—
Hon. Secretary Jo Nelhams 61 Potters Road Barnet EN5 5HS
(020 8449 7076) e-mail: secretary@hadas.org.uk
—ooOoo—
Hon. Treasurer Roger Chapman 50 Summerlee Ave, London N2 9QP
(07855 304488) e-mail: treasurer@hadas.org.uk
—ooOoo—
Membership Sec. Stephen Brunning, Flat 22 Goodwin Court, 52 Church Hill Road,
East Barnet EN4 8FH1 (020 8440 8421)
e-mail: membership@hadas.org.uk
—ooOoo—
Web site: www.hadas.org.uk
8