No. 566 MAY 2018 Edited by Sue Willetts
HADAS DIARY – Forthcoming Lectures and Events.
Tuesday 8th May 2018: 'The archaeology of World war One" by Mark Smith.
Mark Smith is a military museum curator and specialist in military medals. He started collecting British medals in 1969 and owns an extensive private collection that he has amassed over the years; he started dealing in Militaria in 1983 in Islington, London – a hobby which has become a life-long passion. He is a well-known expert on the Victoria Cross, but flying clothing and RAF log books are also his specialist areas. He is a member of The Western Front Association, The Orders and Medals Research Society and a member of The Guild of Battlefield Guides. Mark's notable appearances on BBC's Antiques Roadshow include valuing a large collection of World War One German memorabilia at Walthamstow town hall and a toy panda mascot that flew on the famous "Dambusters Raid" in 1943 when the Roadshow visited RAF Coningsby. Mark's talk looks at field finds over the last 30 years in France, Belgium and the UK.
Tuesday 12th June 2018: 7.30 pm Annual General Meeting. (Papers enclosed / attached) This is a good opportunity to meet Committee members. There will be a follow up talk by Jacqui Pearce about the Lant Street excavation which the Finds Group have been studying again this year.
Monday 17th to Friday 21st September 2018: Trip to East Anglia. Now full, but there is a waiting list.
Tuesday 9th October 2018:'Unrolling Egyptian Mummies in Victorian London' by Gabriel Moshenka.
Tuesday 13th November 2018: The Rose – Shakespeare's Secret Playhouse. Documentary film introduced by Anthony Lewis.
Lectures are held at Avenue House, 17 East End Road, Finchley, N3 3QE, and start promptly at 8pm, with coffee/tea and biscuits afterwards. Non-members: £2. Buses 13, 125, 143, 326 & 460 pass nearby and Finchley Central station (Northern Line), is a 5-10-minute walk away.
FREEDOM PASS VISIT TO THE MITHRAEUM, Thursday May 10th.
10.30 Meet in the entrance of the Guildhall Gallery (nearest station Moorgate), there is seating near the cloakroom. Visit the small exhibition on the City's copy of the Magna Carta and the Roman Amphitheatre. Possibilities for afterwards: City Painting Collection, Guildhall and nearby Churches.
12.15 Lunch at the Prêt à Manger in Coleman Street. Walk to the London Bloomberg Mithraeum, 12 Walbrook, EC4N 8AA for our booked tour at 1.30.
All City sites are liable for closure at short notice so we may need to adapt. Members who wish to join us just for the Mithraeum should use Exit 8 from Bank Station. Our booking is in the name of Audrey Hooson. Any additional members welcome – e-mail dlbarrie@tiscali.co.uk or phone 020 8367 0922
Exhibition at Museum of London, Docklands 25th May – 28th October
Roman Dead: This exhibition looks at where and how Roman Londoners buried their dead, funerary rituals and beliefs and burial practices. NB Displays, include human remains. Events page gives details of related family events starting 25th May.
New Book: London's waterfront 1100-1666. Published by Archaeopress and written by John Schofield, Lyn Blackmore and Jacqui Pearce with Tony Dyson. This is an account of the Medieval and Tudor waterfronts and their buildings excavated on four sites in Thames Street in 1974-84 including Billingsgate. The text can be downloaded free from the Open Access area of the Archaeopress website: http://bit.ly/2pcVAsl or purchased as a hardback for £90.00 (Information from LAMAS Newsletter, issue 153, May 2018)
Roman London's First Voices – The New Bloomberg writing-tablets Lecture by Dr Roger Tomlin, HADAS 13 March 2018. Paul Wernick, augmented and emended by Dr. Tomlin
Many of us might have walked past the Temple of Mithras in its old location on Queen Victoria Street; a few of us might already have visited it after its return to its original location under the new Bloomberg headquarters building in London. The site was first excavated in the 1950s as the late unlamented Bucklersbury House was being built; the Mithraeum was moved to Queen Victoria Street. With the demolition and rebuilding came an opportunity for MOLA archaeologists to re-excavate the site, and the Mithraeum has now been restored to its original position and is open to visit; it's free, although you may have to book. But perhaps the most interesting aspect of the Bloomberg site was only revealed during the re-excavation – fragments of 400 writing tablets dumped by the Romans in the Walbrook, 80 of which are still readable and provide a series of insights into aspects of Roman London. The tablets, which seem to have been discarded as trash near the mouth of the then-open Walbrook as it flowed into the Thames, were the subject of a lecture by Roger Tomlin, retired Lecturer in Late Roman History at Oxford, editor of 'Roman Inscriptions of Britain' and widely published on inscriptions, writings and graffiti of the Roman period, who was invited by MOLA to examine and interpret the retrieved tablets.
Dr Tomlin first introduced us to wax tablets and how they were used in the Roman Empire. A wooden frame of a fairly standard size and form – a flat piece of wood 140mm x 100mm was covered with wax darkened with lamp black to form a writing surface which was inscribed with an iron or steel stylus. This writing scratched through the black wax to reveal letters inscribed in the lighter wood; the writing was light-on-dark. The wooden sheet had a raised edge provided with holes to allow two of them to be hinged with string or wire into a single item. The hinge-holes were also used to tie two or more tablets together, depending on format; a mid-19th C letter records that a block of "about ten" tablets tied in this way was found in Trawsfynydd, North Wales, but the originals are lost except for the first 'page'.
The wood most typically used for these tablets is silver fir, which splits easily into thin layers perfect for this use. This wood originated in Gaul, showing that it was imported into Britain. It was also used for barrel-making, and the use for tablets may have been an early example of reusing materials no longer required for one purpose into another, particularly as some of the texts were written by coopers and brewers.
The damp silt into which the Bloomberg tablets were thrown has preserved organic material much better than is typically the case, not just the wooden tablets but a wicker basket found almost intact. However, the wax has in almost all cases been lost over time, and we must rely on the tendency of scribes to incise strongly into the wax, resulting in scratches identifiable as letters and words indenting the wooden support. Dr Tomlin noted that a Carthaginian commander would send secret messages by scratching them on to the wood of a tablet and then cover this text with wax to produce what would look to the unsuspicious observer like merely an unused table with no secret significance.
Tablets were erased and reused by using a broad spatula warmed to help the wax melt and flatten into a 'new' writing surface, so whilst the writing in the wax may have been clear the scratches into the wood from repeated use overwrite each other and often result in a mess which makes tablets unreadable by current technology. However, Dr Tomlin was sometimes able to recover both texts when a word or two, or even a line, had been re-written and he has been able to reconstruct some or all of the text of 80 tablets.
In addition to the tablets, about 200 styli were found – implements about the size of a pencil, with one end sharpened on a stone to a point for writing on a wax tablet and the other shaped like a narrow spatula or fishtail to allow errors to be smoothed out and corrected. This is another aspect which makes interpreting the marks in the wood difficult, although it also reveals scribes correcting themselves as they wrote, and humanises their work. This stylus could also be a personal weapon, although Julius Caesar was unsuccessful in his attempt to defend himself with one – his only weapon – when the conspirators surrounded him on the Ides of March.
Tablets of the form found in the Bloomberg excavations have been found in Egypt, Italy, Romania and Switzerland, often with more of the wax surviving than the Bloomberg examples. The wide use of this technology is shown in the wall-painting of Terentius Neo the baker of Pompeii, who is shown holding a papyrus roll while his wife sits holding a pair of wax tablets. A stone relief from Rome depicts a butcher cutting meat and a woman using a wax tablet and stylus, perhaps keeping the business records.
As the wax coating is now lost, interpretation of the tablets has to be based on reading scratches in the wood. To assist in this, they were photographed using raking light from four angles. Combining the resulting images in Photoshop allowed Dr Tomlin to examine on a computer virtual 3D views of the tablets. This was augmented by his more traditional use of a flexible artificial light source, and drawing the tablets on the basis of their outline in the photos; Dr Tomlin included examples of his very clear sketches in his presentation. He also noted that as he reproduced with a pencil the movements of the scribe's stylus he could "feel the fingers" of the latter's original writing movements. The process of reading the tablets was described by Dr Tomlin as Sudoku-like puzzle-solving, from scratches to letters to words to phrases and finally to a meaningful text.
The letter forms used by the scribes are much less formal than the chiselled inscriptions to which we are more accustomed. Their writing was constrained by the stabbing and scratching actions needed to write on a fairly hard tablet. The resulting script is identical to that found in Egyptian and Pompeiian tablets. Some pairs of letters can be difficult to distinguish, such as b/d and e/u, which makes interpretation more challenging, but the use of standard forms of address, salutation and legal formulae as well as typical names have allowed a considerable amount of interpolation. Informal spelling, dropping of the final letter from a word in one specific case,1 and other 'vulgar' uses of written language in unpolished rather than literary use are also observable, which again brings us closer to daily life than formal writing. Some tablets were seemingly dictated to literate slaves; one scribe records that he is writing "by order of my master" the receipt of two payments towards a farm – whether as rent or part payment for purchase is not known.
This is the 'm' in the '-um' accusative ending, which we also know was hardly sounded in ordinary speech. So what did the tablet speak of? The Bloomberg tablets were used for legal documents relating to loans and transactions, as well as for less formal letters. They can be dated from information such as the consular names from a few years before the burning of London by Boudicca to some years after that destruction. Some of these document were legal or commercial, recording trading and transactions of businessmen, craftsmen and import/export merchants. The earliest financial document found, dated to six days before the Ides of January (8 January) 57 CE, records a debt of 105 denarii "from the value of goods delivered and sold" (followed by "or the person whom the matter will concern", a legal form of words found elsewhere in the Empire). This amounts to 6 months' pay for a Roman soldier, a considerable sum.
The 'first financial document' – a note of indebtedness, see below.
Bloomberg Tablet 44: Drawn by R.S.O. Tomlin. Copyright: R.S.O. Tomlin and MOLA.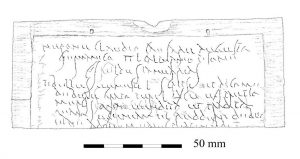 A tablet of 50-60 CE records the value of about five deliveries of beer received by Crispus, including one of over 100 gallons. Records such as this show that London was economically active and that a business community was already active at that time, as merchants traded into the new province. A slightly later tablet records a transfer of foodstuffs from Verulamium to London on 21 October 62 CE, a date only 18 months after Boudicca burned both cities, reflecting the resilience in rebuilding both to a state at which commerce had restarted. Interestingly, despite the Roman and Pompeiian representations, no women are mentioned in any of the commercial records.
Legal tablets, such as one describing a preliminary judgement in a legal case, dated to 22 October 76, also reflect the growing importance of London as a trading centre, and the moving of institutions such as law courts from the capital (Colchester) to the main trading centre. Legal contracts and records of transactions on wax tablets, being written in a form which could be easily erased and rewritten, needed to be protected. To achieve this, three tablets were hinged together, the first two being bound together by a cord which ran down a wide flat groove where the witnesses placed their seals. The sealed-up text was written on the two inner faces, and a duplicate text written on the third tablet, before all three tablets were tied up with strings to which the seals of the witnesses to the agreement were applied. This meant that a text was available for consultation, but the master-text was sealed up, to allow it to be compared with the visible text in the event of claims that the latter had been altered. The names of the witnesses would then be scratched into the border of the set. This practice has enabled Dr Tomlin to conclude that at least a significant minority of Roman soldiers could at minimum write their name and unit; a tablet records this information from three witnesses written in three distinctly different hands.
Wax tablets were also used for less formal communications. Letters would have been written on the two wax faces of a pair of hinged tablets which, like a legal document, was then closed to protect (or hide) the writing of the message; the address of the recipient was then scratched on to the wooden outside of the pair. In one example, the recipient was warned that people were going round the forum boasting that he had lent them money. Dr Tomlin suggested that was perhaps an admonition to the recipient to be more careful in selecting to whom to lend money, and observed that this item of economic history, perhaps an early example of financial imprudence, was received with amusement by Bloomberg staff when he presented his findings to them! Another tablet, documenting both commercial and more personal concerns, is a complaining report that whilst the writer was away from home somebody else came and took away his transport animals, a loss which could not be replaced in less than three months.
A historically significant tablet records the name of Classicus as commander of the VIth cohort of Nervii after the Boudicca rebellion. Not only does this provide additional evidence of the presence of auxiliary troops from this tribe in Britain, also recorded in an inscription at a fort at Brough-by-Bainbridge, Yorkshire. The same cohort is also attested by inscriptions of different dates at Greatchesters and Rough Castle. Only one officer of the equestrian order with this name (Julius Classicus) is recorded, a man descended from Gallic kings who in 69 CE was in the Rhineland where, after the death of Nero, he threw off his Roman allegiance and almost-successfully rebelled against Roman rule. This revolt is recorded by Tacitus, who noted that Classicus wore the cloak of a Roman general when he received the surrender of legionaries.
To summarise, the Bloomberg tablets interpreted by Dr Tomlin reveal a history of business transactions, legal disputes, military aspects and personal letters at a turbulent time in British history, a history far more human than buildings or commemorative epigraphy can provide. They also unite the activities of people, citizens and slaves throughout the Roman Empire. Our thanks to Dr Tomlin, both for his lecture and for his corrections and improvements to this report.
Dorothy Newbury – memories Alec Jeakins
It's over 20 years since my family and I lived in London. I last saw Dorothy when I came up to London for her lunch party in September 2007 but prior to that she was a significant person in my life.
As a freelancer I had gaps between jobs and Dorothy would help me out by booking me to make deliveries for the Hillary Press and also to drive her on her recces for HADAS outings – Dorothy's outings always went like clockwork thanks to her advanced planning – that way I visited both Royal Holloway College and Holloway Prison! On some of these trips we were accompanied by my young son, Adrian who would be in his car seat singing the folk songs my wife often sang. Dorothy was always amazed how he segued from one tune to another. She would say "I thought he was singing X but now he's singing Y. How does he do it?" (He did later become a chorister at Gloucester Cathedral.)
I recall only going on one of the long weekend trips that she organised and that was to Hadrian's Wall. On the first night we were told to bring down our thermos flasks so that they would be ready next morning. There was Dorothy with everybody's names on typed labels and a roll of sellotape to stick them on. Talk about covering every detail.
I always think of her as a busy person. If I called round to Sunnyfield Road in an evening, there she was in the kitchen – doing accounts, cooking, planning trips, working on preparations for the famous Minimart (storage for which took over the entire front room); she had no time for sitting in front of the television unlike Jack who always seemed glued to it.
Andrew Selkirk's tribute filled in gaps for me and recalled detail I'd forgotten, as he wrote she had 'a busy and productive life' – what more could you wish for?
Dorothy Newbury memories Frances Radford
Dorothy was the vital force behind the Minimart to raise funds for HADAS. Dorothy was shown in the photograph in last month's newsletter assembling the 'troops' stallholders (myself one of them) ready for her to blow her whistle to start the action. We all shot into position behind our respective stalls waiting for the customers and in they came, in droves, dashing from one stall to another as they could – a lively scene! When a lull came, Dorothy made sure we took it in turns to refresh ourselves downstairs with lunch or snacks and very good they were. A chance, too, to buy jams and fresh vegetables and plants. I also picked up cards, notebooks and offcuts from the Newbury's printing press, in fact I have some still – so useful.
We owe much to Dorothy Newbury; she gave such energy to the Society and was an inspiration to others.
Other Societies' Events Eric Morgan, Suzanne Taylor and Sue Willetts
Correction: Alteration to event posted in last month's newsletter: Friday 18th May. 7.30 pm. Wembley History Society English Martyrs' Hall, Chalkhill Road, Wembley, HA9 9EW (top of Blackbird Hill, adjacent to church) Lecture by Lomas on autographs cancelled due to illness and replaced by Middlesex: a forgotten county by Colin Oakes Visitors £3. Refreshments
Correction to Mill Hill History Society tour of Marlborough House on Tuesday 22nd May. Booking date should be Tuesday 8th May not 5th May. The address should be 38 Marion Road, Mill Hill NW7 4AN
Thursday 10th May 8.00 pm. Highgate Literary and Scientific Institution. 11, Southgate, Highgate, N6 6BS. Air battles of 1940. Talk by Jim Lloyd Davies (ex RAF) The RAF Centenary Lecture.
Saturday 12th May. Church End Library, Finchley 2.00 – 4.00 pm. Free talk by Hugh Petrie, Barnet's Heritage Officer. A North London Railway, inc. Finchley sections of the Northern Line. For more details and to book a place contact the speaker at Hugh.petrie@barnet.gov.uk or Tel: 020 8359 3961
Saturday 12th May 9.45 am-5.25 pm. Shipbuilding on the Thames. Docklands History Group Symposium. Weston Theatre, Mus. of London, 150 London Wall, EC2Y 5HN. £30-35. For more details
Thursday 17th May. 6.30 pm Wine reception. London archaeologist. UCL Institute of Archaeology, 31-34 Gordon Sq., WC1H OPY. Slippery when wet. Annual lecture & AGM 7.00 pm given by Jessica Bryan (MOLA) on continuing work on the 7 year Thames Tideway tunnel project. RSVP for reception email Secretary at becky.wallower@dial.pipex.com or write to her at 44 Tantallon Road, London, SW12 8DG Friday 18th May. Mortimer Wheeler House, 46 Eagle Wharf Road, London, N1 7ED. Drinks at 6:30pm for a 7.00 pm start. Free Tideway Community Lecture for The Thames Discovery Programme. More information here Monday 28th May – Sunday 3rd June. Enfield Archaeological Society. Whitsun Dig at Elsyng Palace (Forty Hall) Enfield, EN2 9HA. If you are interested in getting involved contact Field Work Director: Dr Martin Dearne at martin.dearne@tesco.net. Also http://www.enfarchsoc.org/
Thursday 31st May. London History Day – Heritage England event. More than 70 of London's museums, galleries and cultural spaces will open their doors to reveal special behind the scenes tours, rarely seen exhibits and one off events, celebrating the capital's unique identity. 2018 is the year of courage, with many special events for London History Day touching on the pioneering spirit, heroism, initiative and kindness layered in our history. Venues include: Barnet Museum (activities related to 1471 Battle of Barnet), British Library, Jewish Museum, London Canal Museum and St. Pancras Int. Station.
Thursday 7th June, 8.00 pm. Pinner Local Hist. Soc. Village Hall, Chapel Lane Car Park, Pinner, HA5 1AB Becoming Metroland: How the railways shaped Pinner. Talk by Oliver Green (L.T.Mus) £3.00
Friday 8th June. 8.00 pm. Doors open 7.30. Enfield Archaeological Society. Jubilee Hall, Junction of Chase Side and Parsonage Lane Enfield, EN2 OHJ. Southwark, London, Britannia and Rome's north-west frontier: some threads to connect? Presidential address by Harvey Sheldon (Also HADAS President) Visitors £1.50 Refreshments
Saturday 9th – Sunday 10th June. Barnet Museum. Barnet Elizabethans R.F.C. Byng Rd, Barnet. Barnet Medieval Festival with a living history camp, battle demonstrations, medieval traders and activities. Local organisations and food stalls. Time to be confirmed.
Saturday 9th – Sunday 10th June. 10.00 am – 5.00 pm Open Garden Squares Weekend. Visit gardens not normally open to the public http://www.opensquares.org Organised by London Parks & Gardens Trust. Includes Myddleton House Gardens, Bulls Cross, Enfield, EN2 9GH. Ticket holders get free audio tour. (HADAS did resistivity survey here) Advance tickets £15.00 which includes all gardens for both days.
Monday 11th June. Barnet Museum & Local History Society, Church House, Wood Street, Barnet. The High Street: a stroll down memory lane.3.00 pm Talk by John Lynch. Visitors £2.00
Wednesday 13th June. 8.00 pm. Hornsey Historical Society. Union Church Hall, corner of Ferme Park Rd and Weston Park. The Deer Park of the Bishops of London in Highgate. Talk by Malcolm Stokes. Non members £2.00. Refreshments from 7.40 pm. Latecomers not admitted after 8.00 pm.
Thursday 14th June. 7.30 pm. Barnet Museum. Pennefeather Hall, Christchurch, St. Alban's Road, Barnet EN5 4LA. Battle of Barnet: right to bear arms, early handguns. Talk by Helen Adams. £5.00 on the door. (Members £3.00) Refreshments
Thursday 14th June 8.00 pm. Highgate Literary and Scientific Institution. 11, Southgate, Highgate, N6 6BS. Scientific advances in archaeology. Talk by Keith Sugden.
Friday 15th June. 7.30 pm Wembley History Society. English Martyr's Hall, Chalkhill Rd, Wembley, HA8 9EW. Conservation areas at 50 years. Talk by Lester Hillman. Visitors £3.00
Wednesday 20th June. 7.30 pm. Islington Archaeology and History Society, Islington Town Hall, Upper Street, N1 2UD. Fantasy Islington. Talk by Lester Hillman on imaginings through the 18th –19th centuries. Visitors £1.00 AGM at 7.00 pm
Saturday 23rd June. 7.00 pm Barnet Museum & Local History Society. Coach outing to Wallingford and Dorchester-on-Thames Abbey. Wallingford is one of England's oldest market towns, a Saxon Burh and important Thames crossing with a medieval bridge. There are 3 medieval churches, a museum and castle remains. Boat trips are available and there is a steam train, Coach leaves Wallingford at approx. 3.00 pm to visit Dorchester Abbey which has c.14th century wall paintings, medieval font, Jesse medieval stained glass windows and carvings and shrine to St. Birinuis. There is a church museum / tour, tea, driver's tip incl. in cost of £31.00 Depart from Barnet Everyman Cinema at 8.30 am. Return from Dorchester Abbey c.5.30 pm. Contact Dennis Bird 020 8449 0705. Send cheque to him, payable to Barnet Museum and Local History Society, 87 Hadley High-Stone, Barnet, EN5 4QQ with name, address, phone number and he will ring to confirm.
Tuesday 26th June. 1.50 pm. Mill Hill Historical Society. Guided tour of the Grade 1 listed building, House Mill, Bromley-by-Bow, built in 1776. This is the world's largest surviving tidal mill. A riverside gem of the early industrial revolution. £5.00 (members £3.00) Meet 1.50 for 2.00 pm at House Mill, Three Mills Lane, Bromley-by-Bow, E3 3DU. Book by 19th June. Send cheque payable to Mill Hill Historical Society & SAE to Julia Haynes, 38 Marion Road, London, NW7 4AN. Contact Julia on 020 8906 0563 or haynes.julia@yahoo.co.uk or book online at www.millhill-hs.org.uk – (send cheque) For email reply inc your email address, phone no, and no of places reqd.
Wednesday 27th June. 7.45pm. Friern Barnet and District Local History Society. North Middlesex Golf Club, The Manor House, Friern Barnet Lane N20 0NL. In the footsteps of the famous in Barnet. Talk by Paul Baker. Visitors £2. Refreshments. Thursday 28th June. 8.00 pm. Finchley Society, Drawing Room, Avenue House, 17 East End Rd, N3 3QE. Annual General Meeting. Non members £2.00 Refreshments
Friday 29th June. 11.00 am Bentley Priory Museum. Mansion House Drive, Stanmore, HA7 3HT.
Secret War: RAF Tempsford and the S.O.E. (Special Operations Executive) Talk by Debbie Land £3.00
With grateful thanks to this month's contributors: Deidre Barrie, Alec Jeakins, Eric Morgan, Jim Nelhams, Frances Radford, Suzanne Taylor, Paul Wernick
Next Editor: –
Melvyn Dresner
Copy to him by May 18th, please.
———————————————————————————————————–
Hendon and District Archaeological Society
Chairman Don Cooper, 59 Potters Road, Barnet, Herts EN5 5HS (020 8440 4350) email: chairman@hadas.org.uk
Hon. Secretary: Jo Nelhams, 61 Potters Road, Barnet EN5 5HS (020-8449 7076) email: secretary@hadas.org.uk
Hon. Treasurer: Jim Nelhams, 61 Potters Road, Barnet EN5 5HS (020-8449 7076) email: treasurer@hadas.org.uk
Hon. Membership Secretary: Stephen Brunning, 1 Reddings Close, Mill Hill, London NW7 4JL (020-8959 6419) e-mail: membership@hadas.org.uk
Website: www.hadas.org.uk
Discussion Group: http:/groups.google.com/group/hadas-archaeology