No. 614 May 2022 Edited by Jim Nelhams
HADAS DIARY – Forthcoming lectures and events
Due to the COVID-19 pandemic, until further notice lectures will be held online via ZOOM, all starting at 8 pm, although we do hope to get back to face to face lectures soon. We are exploring an option that could allow face to face meetings with an option to view lectures on Zoom. This partly depends upon the broadband quality at Avenue House. As ever, our apologies to those who are unable to see online lectures. We will be sending out an invitation email with instructions about how to join on the day of each talk, so please keep an eye on your inbox.
Tuesday 10th May
James Wright. The Folklore and archaeology of historic buildings.
Tuesday 14th June
Annual General Meeting with a talk (tba). Agenda and reports with this newsletter for members.
THIS IS A FACE-TO-FACE MEETING.
Tuesday 11 October
Dr Martin Bridge (UCL). Tree-ring dating and what it tells us about the old Barnet Shop.
Tuesday 8th November
Nick Card. Building the Ness of Brodgar
Fame for HADAS
Eric Morgan
Last Sunday, while I was sitting in the cafe at Avenue House, after our Sunday morning session in the basement room, a lady came by and spotted my copy of London Archaeologist. She inquired, and I mentioned HADAS to her. She knew about HADAS. She told me her son was a pupil at Hendon School when HADAS was digging there. It must have inspired him. He is now the Finds Liaison Officer for Kent, based in Maidstone. He covers a big area, apart from parts of London, travelling as far away as Dover and Margate.
And more
Channel 4's programme "The Great British Dig", series 3, episode 3 – Kings Lynn – included a brief section using enactors – including HADAS member Robert Michel demonstrating the use of the pike.
The programme is available on More 4 at https://www.channel4.com/programmes/the-great-british-dig-history-in-your-garden/on-demand/72396-007 – the extract is in the third segment at 30.00 minutes from the start of the programme and lasts 3 minutes and 30 seconds.
1
MY WAR
Stephen Gerald Moore D.S.M.
(As written by daughter Janet Mortimer)
I was 14 when war was declared. My parents and sister Zena were visiting our older half-sister, Lily, and her family in Chelmsford at the time. We listened to the announcement on the wireless and I can't remember if it was my sister or my mother who started sobbing. My parents and Zena returned to our house in Paddington in London, but it was decided that I would stay with Lily and her family. Lily's son Archer was only a couple of years younger than me and we were great friends. In those days you were allowed to leave school at 14 so I got a job in a munitions factory. I stayed with them for a while, but as there was little bombing in London at the beginning of the war, I later returned to London to be with my parents.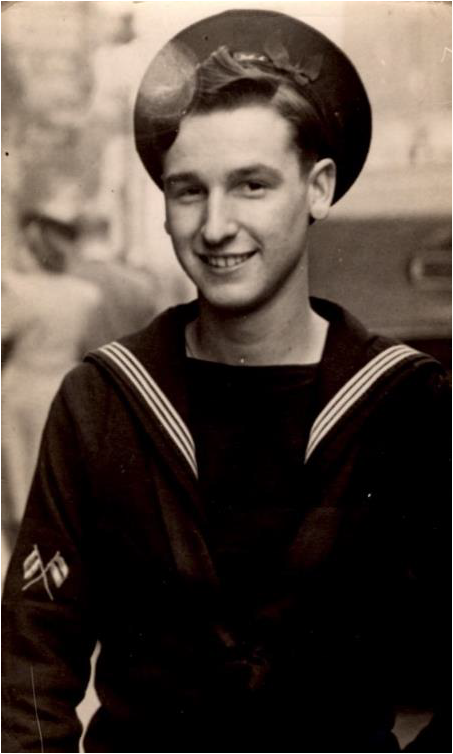 I was in London during the Blitz and had a few narrow escapes. My mother was claustrophobic and didn't like going into the air raid shelters, so we stayed home. On one occasion an incendiary bomb landed nearby and blew out our windows. Thankfully it didn't catch fire and the heavy black-out curtains saved us from being showered in glass, but we were all shook up! Life continued as normally as it could under such circumstances and one of our favourite amusements was going to the local "flea pit" cinema. Whenever there was an air-raid, instead of sounding a siren, a message would come up at the bottom of the screen to tell those who wanted to leave to go to the shelters, but not many did – most wanted to see the end of the film! Once I was coming out of the cinema when someone shouted that Germans were parachuting down. There had been an air raid and parachutes could be seen. Thinking it was Germans who had bailed out of their aircraft after having been shot down, some people ran towards the direction of the parachutes to try to capture them. Unfortunately it was not Germans but parachute bombs, and many of them were killed.
In 1942 when I was 17-and-a -half, I signed up to join the Royal Navy. I can't remember much about my basic training, but following this I was sent up to Ayr in Scotland to train to be a signalman. I then went back to Portsmouth to wait for a commission and was then sent to Malta to join HMS Liddesdale, We were teamed up with HMS Termagent and HMS Tenacious and joined forces to sink and capture the crew of the German submarine U453 in May 1944. I shone our searchlights into the water and helped rescue some of the u-boat crew from the sea, although some of my crew members were not so generous and threw them back in the water as they clambered up the ropes onto our ship. Nevertheless all but one was rescued, and they were taken back to shore, blindfolded and marched around for a while to disorientate them before being shipped off to a prisoner of war camp. I believe they were eventually sent to Canada.
2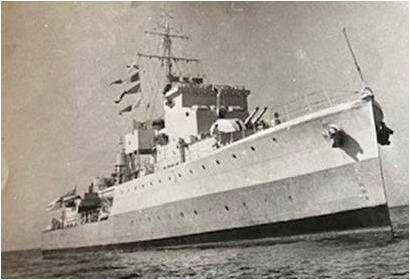 In September 1944 we were patrolling the Greek Islands. Some had been captured by the Germans and they often carried out raiding parties to nearby islands to steal crops and animals to feed their troops. We were trying to prevent this. We were deployed with HMS Brecon and HMS Zealand and on the 28th we entered Pegadia Bay, Scarpento and saw Germans loading a small boat with ammunition. We fired on it, blowing it up, but came under fire from the shore, with a total of 3 shells hitting our ship. I was on deck signalling and one of the shells whizzed past me, missing me by only a couple of yards and went down into the engine room, killing two crew members instantly. Another one was fatally injured and he came up on deck where I wrapped him in my duffel coat and called for help. I then continued signalling to warn the other ships not to enter the bay due to the ambush, and for this I received the Distinguished Service Medal, with a letter from the King. As was the custom in the Navy, the dead sailors were buried at sea with full military honours, weighted down with two metal shells and the coordinates of the place they were buried were sent back to their families.
Although I saw some horrific sights, I also saw some amazing ones and had some good times. I saw the Aurora Borealis (Northern Lights) in Scotland, I saw the spurt of a whale, we had schools of porpoises following the ship and whenever I was on watch on the deck at night, trying not to fall asleep, I was treated to the sight of the Milky Way with accompanying shooting stars, all without the light pollution you get today due to the blackout. We had some shore leave in Gibraltar and Egypt, but as I can't remember much about either, I don't think I was overly impressed. We also had some laughs on the ship. We slept in hammocks, strung up on a pipe and sometimes rats would run along the pipe. Some of the pranksters would wait until everyone was nodding off , then shout "Rat!" and throw a rolled up sock into someone's hammock. The ship's cook was a real character. He would always get steaming drunk when he went on shore leave, then would come back and throw potatoes at the clock. We never found out why but had to hide the clock before he got back. He also came back one night riding a donkey which he tried to ride up the gang-plank, until the Captain stopped him.
So there were good times and bad times, but for a young lad, it was actually an exciting time and the experiences made me grow up to be the man that I became.
THE BEASTS OF AVILA
David Willoughby
One long weekend, when I lived in Madrid, I went on a trip with friends to explore the Province of Avila in central Spain. On the trip, on the hill of Guisando, close to the village of El Tiemblo, we happened upon four zoomorphic sculptures hewn from granite. Each was about four feet high and have variously been interpreted as representing pigs or bulls. As there appear to be sockets in the heads, where horns could have been inserted the latter interpretation is usually accepted and the figures are referred to as Los Toros de Guisando (The Bulls of Guisando). There are inscriptions on three of the bulls of which only one is still legible.
3
The sculptures are examples of verracos, granite sculptures which are to be found throughout the provinces of Avila and Salamanca and are thought to variously represent pigs, cattle or even bears. They are associated with the Vettones tribe, a people of perhaps Celtic ancestry, to whom livestock was of prime importance and who were incorporated into the Roman Empire from around 134-133BC. Verracos are particularly numerous around walled Celtiberian communities known to the Romans as oppida. They are often found around the livestock enclosures of oppida and are thought to date from the mid-fourth to the first centuries BC with the Bulls of Guisando most likely dating to the 2nd century BC.
Verracos have variously been interpreted as boundary markers, victory commemorations, grave markers or protective and fertility totems for livestock. The fact that they are often associated with livestock enclosures or are situated in prominent positions and that they often sport carved genitalia, supports the latter. However, many bear funerary inscriptions in Latin. The only legible inscription at Guisando reads LONGINUS PRISCO – CALAETQ PATRI F.C. "Longinus had (this monument) made for his father Prisco, of the Calaeticos". However, these inscriptions may have resulted from the reuse of ancient verracos for later Roman funerary practices.
The Bulls of Guisando gave their name to a treaty signed there in 1468 between Henry IV of Castile and his half-sister Isabella that brought an end to a Castilian civil war. They also feature in Spanish literature, appearing in Don Quixote by Cervantes and in a poem by Federico García Lorca.
4
As for the Vettones, it took a while for them to become romanized and they retained a martial tradition. After 134 BC they continued to raid more romanized regions to the south and provided auxiliary troops to the army of Suetonius in the Roman civil wars of 77-76 BC. They were crushed by Julius Caesar in 61 BC but later rose up and fought in the Pompeian army against Caesar at the battle of Munda in the province of Hispania Baetica. The Vettones were progressively assimilated into the Roman world and around 27-13 BC were incorporated into the newly created province of Lusitania. They nevertheless retained their identity and provided the Roman Army with an auxiliary cavalry unit (Ala), the Ala Hispanorum Vettonum Civium Romanorum which took part in the Claudian invasion of Britain of AD 43-60.
New stamps for Old
Jim Nelhams
Royal Mail is adding barcodes to all our regular 'everyday' Definitive and Christmas stamps. Unique barcodes will facilitate operational efficiencies, enable the introduction of added security features and pave the way for innovative services for their customers.
Definitive stamps are the stamps that will be very familiar to most people. They feature the profile of HM The Queen. The barcodes match the stamp colour and sit alongside the main body of the stamp, separated by a simulated perforation line. The new barcode is an integral part of the stamp and must remain intact for the stamp to be valid.
Non-barcoded stamps will be phased out but will remain usable until 31 January 2023. Customers are encouraged to use their non-barcoded stamps before this date. Alternatively, non-barcoded stamps can be exchanged for the new barcoded version through Royal Mail's 'Swap Out' scheme.
The 'Swap Out' scheme opened on 31 March 2022. Forms are available via a variety of channels, including local Customer Service Points; the Royal Mail website and via the Customer Experience team. Customers will be able to use a Freepost address. Further details will be announced shortly.
5
New Barcoded Definitive Stamps

Royal Mail has also recently issued a set of stamps to mark the 150th Anniversary of the FA Cup.

Bear Statues
by Ted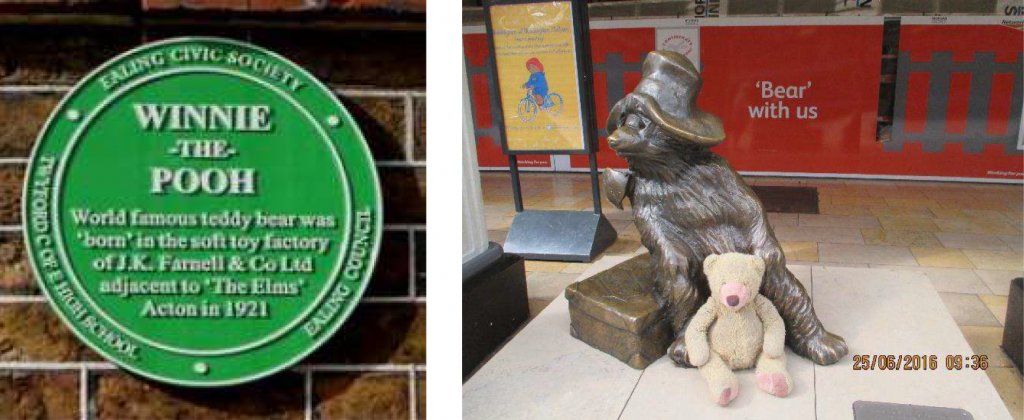 6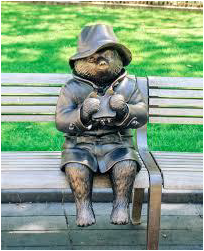 The family firm of J. K. Farnell & Co Ltd were teddy bear manufacturers based in Acton. The factory has now gone and Twyford High School stands on the site. Farnells are best known for introducing the teddy bear to the UK in 1906, and also because their 'Alpha Bear' is said to have been the inspiration for AA Milne's stories of Winnie the Pooh. Ealing Civic Society have placed a plaque at the site.
Paddington Bear also has a number of statues including on Platform 1 of Paddington Station, and on a bench in Leicester Square. If you know of others, please let me know so that I can visit them. Thanks.
Other Societies' Events
Eric Morgan
Please check with the society or organisation before setting out in case of any changes or cancellations.
Monday, 9th May, 3pm. Barnet Museum and Local History Society. St. John the Baptist Church. Chipping Barnet, corner. High St./ Wood St., Barnet. EN5 4BW.William Booth. Talk by John Hall. Please visit www.barnetmuseum.co.uk.
Tuesday, 10th May, 6.30pm. LAMAS.joint with Prehistoric Society. Hidden Depths; Revealing New Insights into the Archaeological Human Remains from the London Reaches of the River Thames. Talk by Nichola Arthur. Will be held on zoom. Book at www. lamas.org.uk/lectures.html (Lectures (lamas.org.uk) via Eventbrite Non-members charge £2.50.
Wednesday, 11th May, 8pm. Hornsey Historical Society. On zoom. North Bank; A Window on Muswell Hill Life. Talk by Jill Simpson. Please email hornseyhistoricalchairman@gmail.com for link.
Thursday, 12th May, 8pm. Pinner Local History Society Village Hall, Chapel Lane Car Park, Pinner, HA5 1AB. Grim's Dyke; the story of a House and its Inhabitants. Talk by Claudia Mernick. Please visit www.pinnerlhs.org.uk. Preceded by A.G.M.
Friday, 13th May, 8pm. Richmond Archaeological Society. Talk on zoom. National Trust's Sites in London. By Nathalie Cohen (N.T.) Followed by A.G.M. For link please email alexander.stephen@gmail.com.
Wednesday, 18th May, 7pm. Burgh House. New End Square, Hampstead, NW3 1LT. The Heath; My Year on Hampstead Heath. Talk by Hunter Davies (Author). about its natural wonders, history, monuments and memories, people and places. Cost £8 (£7 members). Doors open 6.30. Please visit www.burghhouse.org.uk for tickets.
Wednesday, 18th May, 7.30.pm. Willesden Local History Society. St. Mary's Church Hall, bottom of Neasden Lane, NW10 (round corner from Magistrates' Court) Postcards of Old Willesden. Talk by Irina Porter (Chair) Please check www.willesden-local-history.co.uk.
7
Thursday, 19th May, 7p.m. London Archaeologist. Annual Lecture and A.G.M. Will be held online. A.G.M. will be followed by Annual lecture. From Riches to Rags; 2,000 years of Settlement at Landmark Court, Southwark. Given by Antonietta Lerz (MOLA),Looking at recent excavations and previous ones on site. Join from 6.45pm. via zoom Please book free on www.londonarchaeologist.org.uk.
Saturday, 21st May, 10.30am. – 5p.m. Docklands History Group. Weston Theatre, Museum Of London, 150, London Wall, EC2Y 5HN. Conference. London's Sailortowns' People, Communities and the Thames. For further details and tickets please visit www.docklandshistorygroup.org.uk/page-40.html.
Saturday, 21st May. Barnet Physic Well. Corner. Well Approach/ Pepys Crescent, Barnet. Open Day.
Wednesday, 25th May, 7.45pm. Friern Barnet and District Local History Society. North Middx. Golf Club, The Manor House, Friern Barnet Lane, N20 0NL. Friern Barnet on Film. Preceded by A.G.M. Please visit www.friern-barnethistory.org.uk and click on programme, or phone 020 8368 8314 for up-to-date details (David Berguer, Chair) Non-members £2. Bar available.
Thursday, 26th May,7.30pm. Finchley Society. Drawing Room, Avenue (Stephens') House, 17, East Road, N3 3QE. The Wonderful World of Almshouses. Talk by Simon Smith. Non-members £2 at the door. Also on zoom. Please visit www.finchleysociety.org.uk. Also to register for zoom link. Refreshments in interval.
**********************************************************************************************************
With many thanks to this month's contributors: Eric Morgan, Janet Mortimer, Jim Nelhams,
David Willoughby and Ted.
**********************************************************************************************************
Hendon and District Archaeological Society
Chairman Don Cooper 59, Potters Road, Barnet, EN5 5HS
(020 8440 4350) e-mail: chairman@hadas.org.uk
Hon. Secretary Janet Mortimer 34 Cloister Road, Childs Hill, London NW2 2NP
(07449 978121) e-mail: secretary@hadas.org.uk
Hon. Treasurer Roger Chapman 50 Summerlee Ave, London N2 9QP
(07855 304488) e-mail: treasurer@hadas.org.uk
Membership Sec. Stephen Brunning, Flat 2 Goodwin Court, 52 Church Hill Road,
East Barnet EN4 8FH1 (020 8440 8421)
e-mail: membership@hadas.org.uk
Web site: www.hadas.org.uk
8