HADAS DIARY – LECTURE AND EVENTS PROGRAMME 2020
Lectures are held at Stephens House & Gardens (Avenue House), 17 East End Road, Finchley, N3 3QE, and start promptly at 8 pm, with coffee/tea afterwards. Non-members admission: £2; Buses 13, 125, 143, 326 & 460 pass nearby and Finchley Central station (Northern Line), is a 5-10 minute walk away.
Members are welcome to visit and view progress on post excavation and research work at Stephens House – we are working there in our basement room most Sunday mornings from 10.30 till 1.00pm
Tuesday 11th February 2020 The Dorothy Newbury Memorial Lecture –
Jon Cotton Prehistory in London – some Problems, Progress and Potential
Tuesday 10th March 2020 Lyn Blackmore From Crosse and Blackwell to Crossrail – MOLA excavations at Tottenham Court Road 2009–10
Tuesday 14th April 2020 Signe Hoffos Lost City Churches
Tuesday 12th May 2020 Tim Williams Archaeology of the Silk Roads
Tuesday 9th June 2020 ANNUAL GENERAL MEETING
September 2020 trip. 20th – 24th September.
We are happy to announce our proposed 5-day trip for 2020.
This will take place from Sunday 20th September to Thursday 24th September and will be based at The Best Western Stoke City Centre Hotel, 66 Trinity Street, Stoke on Trent, ST1 5NB. This was previously a Quality Hotel. Do not confuse with the Best Western Plus Stoke on Trent Moat House which is currently rebranding and considerably raising their prices.

We have tried to keep costs unchanged for several years, normally making a small profit, but prices have gradually risen and in 2019 we made a loss, so this year we are having to adjust. The price will be £580 for a single room and £530 per person sharing a room (double or twin). Costs include dinner, bed and breakfast and we will provide a packed lunch each day except the Sunday.
Please let Jim or Jo Nelhams (020 8449 7076 or by email) know as soon as possible if you are interested in joining the trip.
We need to confirm numbers with the hotel in March, so we would request a deposit of £195 by Friday 13th March. Cheques payable to HADAS should be sent to 61 Potters Road, Barnet, EN5 5HS or payment can be made direct to the HADAS bank account at Cafbank, sort code 40–52-40, account number 00007253. Balances will be required by Wednesday 15th July.
HADAS Christmas Party Jim and Jo Nelhams
A little belated account, but we had our annual Christmas Party at Avenue House on Sunday 1st December 2019, a week earlier than previous years. The number of members attending was a little disappointing, but this may have been due to clashing with other events.
We had a two- course meal cooked by the staff at Avenue House, which seemed to be enjoyed by all, plus mince pies and coffee a little later in the afternoon as well as pieces of two splendid cakes baked by Liz, the Chairman's wife.
To test their grey matter, the entertainment consisted of 2 quizzes with clues for identifying British towns and parts of the body. Also, a reading relating the story of the Inn Keeper in Bethlehem called 'Round the Back'. A pleasant afternoon and thanks to all those who attended.
HADAS COMMITTEE Jo Nelhams (Secretary)
You will have read in last months' Newsletter the Chairman Don Cooper notified you that he is standing down as Chairman at the Annual General Meeting in June. It is also my intention to retire as Secretary. I will have been Secretary for 12 years and it is time for a change.
Jim and I, as many of you will know, are organising another long trip this year in September, which will be the twelfth year with which we have been associated.
(It goes without saying that we all owe Jo, Jim and Don a huge debt of gratitude for all their extremely hard work, efforts and time spent on behalf of the society over many years now-
This also means that it is VITAL to recruit new members of the committee NOW to fulfil essential roles and ensure that your society is still able to function for the benefit of its members.
YOUR COMMITTEE NEEDS YOU!!)
AVENUE HOUSE (STEPHENS HOUSE AND GARDENS) EVENT;
Thursday 13 February. 7.30pm QUIZ NIGHT Cost £15 including supper and cash bar.
HADAS do have a regular team, but are looking for some new members, as they have lost some of their former members recently.
Starts at 19.30. Telephone 020 8346 7812 to reserve a ticket.
Welsh trip day 3 Jim Nelhams
Wednesday started with a short coach ride around the bay to Swansea, where we dismounted by the Swansea Museum. The quayside must have been very busy, because there are lots of railway tracks crossing the area and even running under some of the buildings.
We made our way along the quayside to find the narrowboat which was to take us for a short cruise. After this, a choice of places in the area to visit. (There really was something for everyone-Ed)
Boat Trip at Swansea Liz Tucker

The Welsh name for Swansea is Abertawe, the estuary of the river Tawe, and this position, as well as the availability of superior-quality coal nearby, made the city a centre of commerce for centuries. Some of the coal was exported, but much of it was used to smelt copper, which was brought in by ship; Swansea was therefore nicknamed "Copperopolis".
The docks were created in the 1800s by canalising the river, but much later became redundant when copper production moved to Australia, where many Welshmen then emigrated. The area was then dedicated to heritage, and now contains a marina, a couple of museums (one a former potato warehouse), various restaurants, and a sculpture of Dylan Thomas.
As we boarded the "Copper Jack" for a 90-minute trip upriver, the sun came out. Dave, our very informative guide, took us through the history of the area. He handed round a heavy copper ingot.
Originally, copper was mined in Anglesey, but as demand rose, it was imported from Cornwall, and later from Cuba and Chile. In the 1800s, most of the world's copper was smelted here. Over the next 100 years, the city's population rose from under 10,000 to 100,000. The ships' captains had a reputation for fairness, but it was still a perilous voyage for sailors. They might be wrecked while sailing round Cape Horn, or contract tropical diseases; mosquitos brought back from Cuba escaped from the ship and caused the only yellow-fever epidemic in a British city. If the ship carried coal, it might combust spontaneously!
Our voyage, however, was peaceful. We entered the marina, where the boats we saw ranged from an old rust-bucket, once a light-ship, to the state-of-the art "Mary Anning", a university research ship. We passed through a lock, into the river, where wildlife can often be seen – kingfishers, cormorants, seals, herons and swans (although Swansea is actually called after a Viking called Swein). The river is aerated through a pipe, for the sake of the fish.
The wildlife must have been hiding in the undergrowth on the banks, which is rather stunted because of poisoning from copper spoil – all I noticed was a couple of ducks!
We passed an old ice-house, the towers of the old railway bridge, an anti-aircraft gun, and White Rock, an old copper-smelting site with dock, where the Time Team have done a dig. We turned back to Swansea at the bascule bridge.
The local Vivian family made a fortune from copper, and then became distillers. One of them visited the Chile mines, and discovered some huge copper bells, abandoned after a tragic church fire. He planned to melt them down, but was persuaded to donate them to a Swansea church, where they remained for many years; recently they were returned to Chile.
Copper was, and is, very much in demand for all kinds of purposes. Ships were "copper-bottomed" to avoid damage. Slave traders, some of whom owned White Rock, made tokens to pay for their purchases, and equipment for distilling molasses.
And, of course, copper is used for electrical wiring, and for kitchen ware. I remember a music-hall song which ends "If I can't have a proper cup of coffee from a proper copper coffee-pot – I'll have a cup of tea!"
A Transport of Delight Andy Simpson
It was Wednesday so it must be Swansea…
These HADAS trips have always managed to get me to locations I have wanted to visit but am unlikely to have got to otherwise, and this was no exception.
The Tram Shed in Dylan Thomas Square in the marina area being a case in point. This modern two-story building is run by Swansea Museums – https://www.swansea.gov.uk/swanseamuseum
Having recently written an article for the historical quarterly journal Tramway Review on the erstwhile Swansea and Mumbles railway, I was keen to see the one remaining section of one of its trams (usually operated as two-car 'trains') still on public display. This railway ran around the edge of Swansea Bay to Mumbles Pier, its route being distantly visible from the seafront by our hotel.
It originated as a horse-drawn mineral line opened to Oystermouth in 1804 (!) and in 1807 became the first passenger railway in the world, using a horse drawn coach. Steam passenger operation began in 1877 and was extended to Mumbles Pier by 1898.
The line was electrified in 1929 using thirteen huge red double deck cars, the end of one of them, car 7 being in the tram shed. When the line closed despite local opposition in January 1960, this end was cut off and initially displayed in the open at the rear of the nearby Swansea Royal Institution, now Swansea Museum, which a number of us also visited on the day.
Also displayed there is the delightful yellow-painted 1954 Swansea and Mumbles Railway built replica of the original 1807 Oystermouth Tramroad Company horse-drawn coach ('Llewellyn's coach'), built to commemorate the 150th anniversary of the line; it incorporates parts, including the wheels, of the former shunting loco, 1929 0-4-0 Hardy Railmotors petrol-electric loco Swansea and Mumbles Railway No 14, formerly used for limited freight traffic on the line.
On show also is the restored Brush-built Swansea Tramways Co double deck car 14 of 1923, built by Brush to a 'lowbridge' design originally used by Cardiff Corporation Tramways and operated until closure of the Swansea Tramways in January 1937. Like many recent restorations (this one by a 1980s Job Training Scheme following initial rescue of the lower saloon in 1977), it is actually a composite car using the top deck of classmate car 12, also rescued from a local farm after many years use as a store, resting on a truck from Belgium. It is missing many fittings but still looks impressive.
Due to severe Swansea Museums budget cuts of up to 50%, the Tram Shed is now only open on Wednesdays and Saturdays, staffed by very friendly, though elderly, volunteers. My chat with them generated much interest when I showed my article.
A curator was summoned and the article copied, with much interest shown in my revelation that the bogies of another Swansea and Mumbles car survive in store in the Peak District, The complete car number 2 went to the pioneer heritage Line the Middleton Railway in Leeds for preservation in June 1960, but after severe vandalism and decay after a decade stored outside was burnt for scrap in June 1970, the tramway museum at Crich (visited on a previous HADAS trip) purchasing the rusting bogies from a muddy field in early 1973.
The Tram Shed also houses railway items including signs, rails, and the nameplate and classic 'copper-capped' chimney from GWR Castle Class express passenger locomotive 7008 'Swansea Castle', withdrawn from Old Oak shed, London, in September 1964.
For more on the Swansea and Mumbles railway see http://www.welshwales.co.uk/mumbles_railway_swansea.htm
The budget cuts were obvious viewing the sadly decaying state of the council-owned historic tug, lightship and pilot boat moored outside the adjacent Museum of Wales operated National Waterfront Museum, the council having stopped paying the mooring fees for their access pier, meaning visitors can no longer board the three vessels, as explained by the understandably upset volunteers, One of them was a retired railway signalman, and he even gave me a copy of an article on local mechanical signal boxes and semaphore signals.
The National Waterfront Museum Andy Simpson
Formerly the Swansea Maritime and Industrial Museum, this is part of the National Museum of Wales, and an excellent example of how a modern museum in a purpose-built modern building can appeal to diverse audiences as a 'Community Hub' in modern parlance.
It is autism friendly and has ' Chill Out room for those needing space to take time out' and even monthly 'Quiet Hours' for those wanting to avoid noise and crowds and STILL have lots of interesting actual exhibits (around 2000 on display) rather than the stripped-out approach favoured by rather too many modern museum design teams.
It features chunky large sized exhibits such as the working replica of Richard Trevithick's Penydarren Steam Locomotive of 1804 that ran in Merthyr Tydfil and the original Cardiff-built Watkins CHW 'Red Robin' monoplane of 1909, similar to the English-Channel crossing Bleriot of that same year which was flown extensively until 1916 – one of the earliest examples of an aircraft in the UK, two examples of the infamous 1980s battery – powered Sinclair C5 and a Benz motor car of 1904 donated to the Science Museum by its Chepstow owner in 1910 and with the National Museum of Wales since 1911!
See https://museum.wales/articles/2019-09-17/Wheels-in-Wales/
There is of course a pleasant café and shop selling local products, a community garden maintained by volunteers and schools, and in 15 galleries art and social history displays covering 300 years of more recent Welsh industrial history (leaving the archaeology to the nearby Swansea Museum), temporary exhibitions, a whole room full of wonderful transport models, and a pleasant outside verandah with views over the marina.
And, of course, that essential for modern life – free wi-fi!
Swansea Museum Jim Nelhams
Leaving the Tram Shed and passing alongside the Dylan Thomas Theatre took us back to the Swansea Museum. You are able to visit Swansea Museum at four locations – the Museum itself on Oystermouth Road, the Tram Shed in Dylan Thomas Square in the Marina, the Museum Stores in Landore and the floating exhibits in the dock by the Tramshed.
This museum building concentrates on the local area, with some archaeological finds and a splendid display of Welsh ceramics.
There are also temporary exhibitions and one had just opened when we visited, titled "50 years of Music", a journey through Swansea's musical heritage since 1969 including its venues, influential people, stand out gigs as well as local and visiting musicians. A few nostalgic moments listening to recordings from the past.
The Dylan Thomas Experience Claudette Carlton
Dylan Thomas was born in 1914 in Swansea and died in the USA in 1953, at the age of 39 years.
The Dylan Thomas Centre is close to the river in Swansea and is home to a permanent exhibition "Love the Words", which opened on Dylan's 100th Birthday. The exhibition takes the form of a timeline of his life, with a wealth of archive material from the University of Swansea. There are photographs and documents from his childhood.
Edith Sitwell was an early champion of his poetry: T. S. Eliot refused to publish him at Faber: and as he became famous, he knew EVERYBODY. Mervyn Peake was a friend. Stravinsky wanted him to collaborate on an opera: he knew Salvador Dali: Augustus John painted his portrait – and so on.
And while he was smoking and drinking and marrying Caitlin, working as a journalist and in the theatre, and never having any money, he was writing the most extraordinary, beautiful poetry. There is audio-visual material in the exhibition (Richard Burton reading 'Under Milk Wood'); and then the lecture tours in America which were too long and too demanding, and his death.
There is a short video at the end of the exhibition of his funeral, the male mourners walking at the front of the procession, then Dylan's coffin, then the women: and finally a shot of his mother, alone. She had lost her husband, son and daughter in one year.
Among many obituaries in the archive, one announced "Adonis is dead". And who did he write for? In his own words,
"I write on these spendthrift pages
For the lovers, their arms round the grief of ages
Who pay no praise or wages
Nor heed my craft or art."
5 Cwmdonkin Drive Kevin McSharry
"Come Tell Me How You Live"
If HADAS should ever be in need of a motto or strap line perhaps "Come Tell Me How You Live" would more than suffice.
The words are those of Agatha Mallowan, better known as Agatha Mary Clarissa Christie, Lady Mallowan DBE the writer of detective novels and the wife of Sir Max Mallowan , distinguished archaeologist .
Agatha took a full part in every one of Max's excavations in Syria and Iraq; and wrote about her experiences in her archaeological memoir: Come Tell Me How You Live
(A young Agatha Christie) (Dylan Thomas)
Claudette Carlton, another of our group, and I, in visiting "The Dylan Thomas Exhibition", sought through the wealth of archive material to answer how the poet, and tortured soul, Dylan Thomas had lived, loved and worked. The exhibition was opened by President Jimmy Carter. Dylan is President Carter's favourite poet, a fact which reflects Dylan's huge popularity in the United States.
President Carter regretted that it had not been possible for him, while in the city, to visit 5 Cwmdonkin Drive, The Uplands, Swansea, Dylan's birthplace.
I sought to achieve what had not been possible for President Carter; and after a phone call seeking permission, took a taxi, with two other intrepid companions, Pauline and Malcolm, to the semi-detached house where Dylan had been born and brought up. What a wonderful visit. A pure delight!
5 Cwmdonkin Drive, now in private ownership, is furnished in the style of the period when the Thomas family lived there. It was Dylan's home for 23 years; more than two thirds of Dylan's published works came from material created during his time living at 5 Cwmdonkin Drive. With the help of a friendly and knowledgeable Korean guide, completing a Master's in Tourism and Marketing at the city's University, we visited each of the rooms in turn: here the sitting room (used only for visitors and festive occasions), here Dylan's tiny bedroom and so on.
An impressive video, recorded in America by President Carter, welcomed us to the house.
The house is open daily for visitors except when used for functions or as a B&B. Yes, a B&B! Yes, one can actually stay there.
"Love of Words" Exhibition should be combined, if possible, with a visit to 5 Cwmdonkin Drive. The two complement each other and thoroughly immerse one in the life and times of Dylan Marlais Thomas and in the words of Agatha Christie Dylan told us how he lived.
Postscript Jim Nelhams
Finally, our group re-assembled by the museum for our ride back to the hotel after a day incorporating a variety of interesting places.
The Tower of London's Ravens Stewart Wild
I was playing around with collective nouns, as one does (who isn't intrigued by a murder of crows or a murmuration of starlings?), when I found that ravens collectively are known as a congress, conspiracy, an unkindness, or even a treachery.
My curiosity piqued, I decided to dig deeper, and alighted on the country's most famous ravens, Corvus corax, those at the Tower of London.
These magnificent birds, members of the genus Corvus, the crow family, have been associated with the Tower for many centuries, perhaps even since its founding in the eleventh century.
A well-known superstition is that if the ravens were ever to leave, the White Tower would crumble and a great disaster would befall the monarchy. For this reason, the ravens have been protected, it is said, by royal decree since the reign of Charles II.
Some doubtful historians, however, think that the original birds may have just been Yeoman warders' pets and that the superstition may only date from Victorian times, although Astronomer Royal John Flamsteed (1646–1719) does mention ravens in his diaries.
Numbers vary
There are usually at least six ravens kept at the Tower, the responsibility of the Ravenmaster, one of the senior ex-servicemen (and women) known as Beefeaters. As they are captive-bred at the Tower (the birds, not the Beefeaters), there are often more than six, and any birds surplus to requirements are given an exit visa and posted (not literally) to a zoo or bird sanctuary.
The birds have names, sometimes reflecting their character or origin. Recent names have included George, Odin, Thor, Merlin, Hugine and Munin. Each bird has a differently coloured band clipped around one leg to aid identification.
The ravens are well cared for. Like all Corvidae, they are eaters of carrion and are fed on roadkill, dead mice, chicken and the like. They get a medical check-up once a week, dietary supplements like cod liver oil if thought necessary, and can live up to forty years.
Occasionally a bird will escape, but is usually recaptured or flies back on its own. To prevent them flying too far, the feathers on one wing are slightly trimmed, and as a result the birds tend to hop around the Tower's lawns rather than take to the air. The ravens are always popular with visitors, who are warned not to get too close to them since they have a tendency to attack if scared.
Sometimes an individual bird will fall out of favour because of "inappropriate behaviour". A few years ago, for example, a raven named George lost his appointment to the Crown, and was retired to Wales for attacking and destroying TV aerials.
The Tower is always worth another visit; next time look out for the remarkable ravens.
Other Societies' Events Eric Morgan
AMENDMENTS TO HADAS JANUARY NEWSLETTER
The time for Monday, 17th February Enfield Society shown as 10.30am should be 7.30PM.
The date for the Historical Association, shown as 25th February, should be Thursday 20th February, and the postal district shown as NW6 should be NW11.
The date for Finchley Society shown as 25th February, should be Thursday 27th February.
NEW EVENTS
As ever, please check with the organisations before setting out in case of any changes or cancellations.
Thursday 20 February, 7.30pm Camden History Society Burgh House, New End Square, NW3 1LT Camden's Parish Maps, 1720-1900. Talk by Simon Morris. Visitors £2.
Friday 21 February, 7.00pm COLAS St Olave's Church, Hart St, London EC3R 7NB AGM and Lecture 'Excavations at the Adrian Boult Music Centre, Westminster Abbey; Joe Brooks, Pre Construct Archaeology. Lecture followed by Wine and Nibbles. Visitors £3.
Sunday 1st March, 10.30am Heath & Hampstead Society Meet at Burgh House, Hampstead – address as above. The History of Hampstead Heath Ponds. Walk led by Marc Hutchinson (chair) Donation £5. Lasts approximately two hours.
Wednesday 4 March, 8.00pm Stanmore & Harrow Historical Society Wealdstone Baptist Church Hall, High St, Wealdstone, HA3. Codebreaking Outstations Talk by Richard Koorm. Visitors £3.
Thursday 5 March, 8.00pm Pinner Local History Society. Village Hall, Chapel Lane Car Park, Pinner HA5 1AB Building Pinner – Talk by Research Group. £3.
Wednesday 11 March, 2.30pm Mill Hill Historical Society. Trinity Church, 100, The Broadway NW7 3TB Trent Park; Its History & Involvement in WW2 Dr Helen Fry.
Preceded by A.G.M.
Thursday 12 March, 6.00pm Gresham College, Barnard's Inn Hall, Holborn, EC1N 2HH Corpse Roads; Digital Landscape Archaeology Talk by Stuart Dunn. Exploring how modelling can help unlock the secrets of Britain's Ancient pathways, focussing on those taken by coffin bearers over the countryside before the enclosures. Free.
Thursday 12 March Highgate Society Time not stated. 10A, South Grove, N6 6BS Shopping Parades; Our Undervalued Heritage Talk by Delcia Keate Visitors £5.
Monday 16 March, 8.15pm Ruislip, Northwood & Eastcote Local History Society
St Martin's Church Hall, High St, Ruislip, HA4 8DG
Brentham Garden Suburb. Talk by Sue Elliott (Brentham Society) Visitors £2.
Wednesday 18 March, 7.30pm Willesden Local History Society St Anne's Church Hall, Neasden Lane, NW10 2TS (Nr. Magistrate's Court) Britain's First Supergrass Talk by Dick Weindling (Camden History Society) Discovering a tale about a shady local character.
Thursday 19 March, 8.00pm Historical Association: Hampstead & N.W. London Branch Fellowship House 136A Willifield Way, NW11 6&D (off Finchley Rd in Temple Fortune) Cromwell – A Talk by Alan Marshall, Visitors £3. Refreshments available.
Friday 20 March, 8.00pm Wembley History Society English Martyr's Hall, Chalk Hill Road Wembley (top of Blackbird Hill, Adj. to Church) The B to Z of Street Furniture in London Talk by Robert Kayne. Visitors £3. Refreshments in interval.
Friday 20 March, 7.00pm COLAS – address as above, 'CRaFT To DATE; – Recent fieldwork and research on the project to investigate the Causeways, Riverstairs and Ferry Terminals of the tidal Thames. Various speakers.
Saturday 21st March, 11am – 5.30pm LAMAS Annual Conference of London Archaeologists The Weston Theatre, Museum of London, 150 London Wall, EC2Y 5HN. Morning session Recent Work till 1pm, Lunch. Afternoon session Monastic Archaeology in London from 2pm. Tea 3.30-4.30pm, & Displays of work and publications upstairs in Clore Room. Cost (inc. tea) early bird (before 1 March) £15, full price £17.50. Tickets from Jon Cotton c/o Curatorial Dept, MoL, London Wall EC2Y 5HN joncotton1956@gmail.com
Saturday 21 March, 10am – 4.30pm West London Local History Conference University of West London The Paragon, Boston Manor Road, Brentford TW8 9GA. Celebrations in South and West London. Please see the Richmond Local History Society's website for more info, www.richmondhistory.org.uk
Wednesday 25 March 7.45pm Friern Barnet & District Local History Conference
North Middx Golf Club, The Manor House, Friern Barnet Lane, N20 0NL The Palace of Westminster – 1834 to date. Talk by Barry Hall. Visitors £2. Bar/refreshments available.
11
Thursday 26 March 7.30pm Finchley Society Drawing Room, Avenue House (Stephens House) 17, East End Road, N3 3QE Finsbury Freehold Society & The Creation of Finchley Park. Talk by Stephen Yeo (Fin. Soc) Visitors £2. Refreshments available.
END PIECE Andy Simpson
Work continues at 'Avenue House' most Sunday mornings, usually 10.30-11 (ish)
We have recently concentrated on the post-excavation analyses of the finds from last summer's dig (our third) at Clitterhouse Farm. Lots of Victorian and later pottery and glass, with a few pieces of 18th pottery and glass seemingly concentrated in one corner of the site.
And most unusually, not a single coin of any date. But an awful lot of brick and tile!
We will shortly be starting to work on the HADAS response, in archaeological terms, to the latest Barnet Local Development Plan which has identified 67 individual sites throughout the borough for development work, mostly residential and often consisting of massive blocks of flats, over the next 15-20 years. Some of these sites HADAS has dug at or near to in the past.
Feel free to pop along and see what we are up to!
With thanks for newsletter contributions this month to; Claudette Carlton, Kevin McSharry. Eric Morgan, Jo Nelhams, Jim Nelhams, Liz Tucker, Stewart Wild
Hendon and District Archaeological Society
Chairman Don Cooper 59, Potters Road, Barnet, Herts. EN5 5HS (020 8440 4350) e-mail: chairman@hadas.org.uk
Hon. Secretary Jo Nelhams 61 Potters Road Barnet EN5 5HS (020 8449 7076) e-mail: secretary@hadas.org.uk
Hon. Treasurer Roger Chapman 50 Summerlee Ave, London N2 9QP (07855 304488) e-mail: treasurer@hadas.org.uk
Membership Sec. Stephen Brunning, Flat 22 Goodwin Court, 52 Church Hill Road, East Barnet EN4 8FH1 (020 8440 8421)
e-mail: membership@hadas.org.uk
Web site: www.hadas.org.uk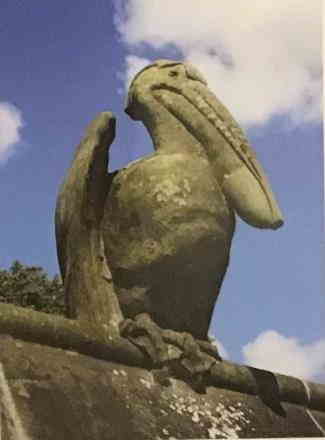 No.586 January 2020 Edited by Peter Pickering
---
HADAS DIARY – LECTURE PROGRAMME 2020

Except for the January one, which is in the afternoon, lectures start at 7.45 for 8.00pm. They are in the Drawing Room, Avenue House, 17 East End Road, Finchley N3 3QE. Buses 82, 143, 326 & 460 pass close by, and it is five to ten minutes walk from Finchley Central Station (Northern Line). Tea/coffee and biscuits follow the talk.

Tuesday 14th January 2020 at 2.30pm
Ian Jones
Shelters to Shrapnel, surviving traces of Enfield At War, 1939-1945
A look at the World War II monuments in Enfield including those that survive, those that have been demolished since earlier recording in the 70s and 80s, sites excavated and some of the finds made.
Ian Jones began as a schoolteacher, and later joined Harlow Museum ending as curator. Since leaving, has become a part-time adult education lecturer, local historian and author and is currently Chairman of the Enfield Archaeological Society, which he originally joined in 1958.

Tuesday 11th February 2020. The Dorothy Newbury Memorial Lecture
Jon Cotton
Prehistory in London – some Problems, Progress and Potential

Tuesday 10th March 2020
Lyn Blackmore From Crosse and Blackwell to Crossrail – MOLA excavations at Tottenham Court Road 2009–10

Tuesday 14th April 2020
Signe Hoffos
Lost City Churches

Tuesday 12th May 2020
Tim Williams
Archaeology of the Silk Roads

Tuesday 9th June 2020
ANNUAL GENERAL MEETING

From the Chairman

I will be retiring as chairman of HADAS, after 16 enjoyable years, at the next AGM in June 2020. Tempus fugit and at 83 years old it is time for someone perhaps younger to take the reins. I am making this announcement now, to give reasonable notice to plan my replacement.

The role of HADAS chairman includes chairing four committee meetings during the year, writing an annual report for the AGM on the year's activities, assisting the secretary to produce agendas, head the committee in making decisions for the benefit of the society and its members.

ANDERSONS AND ACK ACK: the 20th Century Conflict Archaeology of London –

The October Lecture by Andy Brockman Deirdre Barrie

The First World War is now scarcely within living memory, and even witnesses of the Second World War are fast diminishing. For instance, there now remain only four Battle of Britain air crew out of an original total of 300. Thus (says Andy Brockman) the archaeology of this modern conflict is one of the newest and fastest-moving disciplines in archaeology.

Andy began with the first ever blitzkrieg by the Germans during the First World War in 1915-1916. A slide of a German propaganda poster showed matchstick people scattering in terror from an aerial attack on Trafalgar Square.

The earliest anti-aircraft battery was built in 1913, but by 1915 there was serious zeppelin damage. One infamous incident in 1917 was the bombing of Upper Norwood School in Poplar, where 18 children aged 4-6 and their teacher were killed.

Enemy airships were based in Southern Germany, and once over here they navigated by following railway lines. German airships would send back weather reports in Morse code to bases in Southern Germany, which by triangulation allowed us to locate the bases.

Another slide showed an idealised view of a German airship, with the commander on a speaking tube to the engine room. Because of the high altitude, airship crew needed to be dressed like sailors in winter. There were no parachutes; thus dark conversations took place at German crew bases as to whether it was better when your airship caught light to jump, or to go down in flames.

Zeppelins flew so high that crew often passed out, though later they used liquid oxygen to help them breathe. The zeppelins were driven by marine diesel engines, whose fumes caused the crew nausea and migraines. This was one of the most dangerous ways to go to war, especially for one unprotected wretch, the lonely machine-gunner high on the prow of the ship. When German airships crashed, the British copied their designs. By the beginning of 1916, Kapitanleutnant Heinrich Mathy of the Navy Airship Division in Germany confessed that things were in a bad way. He himself was killed at the site of the L3 crash at Potters Bar by jumping from the airship.

During the Second World War, there was a ring of defences all round London to deter the invaders. In his talk Andy commented mostly on Shooters Hill, which happens to be on the main road to London from Kent and the coast, and a height of tactical importance. Even if the enemy had got past some of the defences, the navy could have steamed up the channel, cut off their supply lines and left them stranded.

The area is still littered with the remains of defences. A former farm at Shooters Hill was a prisoner-of-war camp within living memory. The concrete and iron anchoring points for barrage balloons are still
discoverable in Eaglesfield Park. On the hill itself were "pill boxes", anti-tank devices and at least one fiery booby trap, an anti-tank device called a flame fougasse.

A Shooters Hill local, Peter James, described how in the 1930s/1940s he was told that a big metal circle at the top of Shooters Hill was the site of an anti-aircraft gun.

Andy commented that it was advisable always to take two geophysics readings of an area and compare them. The first geophysics reading of this anti-aircraft gun site showed two First World War anti-aircraft guns – well built, with the bases immaculately level. But at some time in the Second World War a different weapon had been on the same site – not such a careful job. Metal detecting revealed conduits leading back to Whitehall or Woolwich. A cut-out French coin was also found – perhaps a keepsake from France?

RAF photos are invaluable for research. They show building losses, anti-aircraft gun sites and field boundaries, (as well as lots of much earlier archaeology!)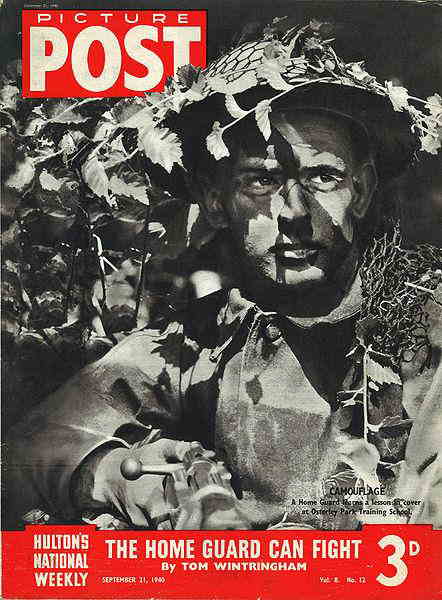 As early as 1938, Tom Wintringham, (soldier, military historian and politician) was campaigning for home defence units, which would eventually become the Home Guard. We are now used now to the "Dad's Army" and Compton Mackenzie's view of the Home Guard as bumbling and incompetent. But with Wintringham's influence, "Picture Post" published an edition with a photo on the cover of a very heroic-looking member of the Home Guard.

The Home Guard were trained at the neo-classical Osterley Park, an Adam house now run by the National Trust. "Do what you want, but don't damage the house!" the Home Guard were told. To join the Home Guard, volunteers over 41 would sign up at a local police station. However, for various reasons, some would soon resign.

Only now are we beginning to realise the importance of these wartime sites, which are disregarded all around us and need to be investigated and recorded before it is too late. Andy stressed that local archaeological groups and heritage projects now have a significant role to play in discovering and understanding the conflict archaeology of their communities.

[Andy Brockman has a MA in archaeology from Birkbeck College and directed the excavation of the anti-aircraft gun site at Eaglesfield Park, and a survey of the former POW Camp 1020, both on Shooters Hill. A regular contributor to "Britain at War" magazine and other publications, he has also appeared on Channel 4's "TIME TEAM" and conducted research for, as well as appearing in, the Channel 5 documentary "WHAT THE DAMBUSTERS DID NEXT."]
Here are the links. The Time Team Shooters Hill episode: Time Team S15-EO8 Blitzkreig on Shooters Hill, London https://www.youtube.com/watch?v=Z4J-iIrtVoc .The Potters Bar Zeppelin: http://www.hellfirecorner.co.uk/pottersbar/pottersbar.htm

NEXT STOP SEATON! 66 years of Modern Electric Tramways Limited By David Voice Published by Adam Gordon 2019 ISBN 978-1-910654-23-1 Price £25.00, soft back. Reviewed by Andy Simpson

The publication this autumn of the new and expanded fourth edition of the book reviewed below is an opportunity to revisit and expand the review of the second revised and enlarged edition originally published in the HADAS newsletter of October 2003.

Why review a book about a three-mile long narrow-gauge tourist tramway running along a river estuary in Devon (and visited by HADAS on a long weekend in September 2006)? Well, read on. This book is full of Barnet, Hadley and Hendon connections. The 2003 edition celebrated the golden jubilee in 2003 of the Modern Electric Tramways Company, formed 19th May 1953 by Claude Lane to run his trams; and the Seaton Tramway founded by him happily thrives to this day.

Claude Lane was born in 1908 in Totteridge, the son of William Lane, joint manager of Manor Farm Dairies, Highgate; having introduced pasteurisation he became a director. In 1911 the family moved to Finchley, where the infant Claude, fascinated by trams, would persuade his nanny to take him to the tram depot off Rosemont Avenue to watch them entering and leaving the depot. As a young boy he would travel to Hendon to watch the trams at the depot/workshops on the Edgware Road, where the now rebuilt Merit House later stood – of which more later. At school he developed a flair for electricity and mechanics and served his electrical engineering apprenticeship at Stoke Newington power station. Aged 22, he formed the Barnet based 'Mobile Welding and Workshop Company', and opened a small workshop in Lancaster Road, New Barnet, renamed the Lancaster Electrical Company, after the road. Here he repaired batteries, radios and the like.

A growing interest in battery vehicles led to his building a workshop at 77-79 Brookhill Road, New Barnet, whilst spending his summer holidays driving trams in Llandudno and Blackpool. From the Second World War his company produced many battery-operated vehicles such as the 'Lecar' for local deliveries by traders. In early 1949, he produced his first own 15-inch gauge scale model tram, number 23, based on a modern double decker then running in Llandudno; he built a test track in the Barnet works and locals soon got used to this little tram peeping out of the Brookhill Road entrance and running around the yard, through the sawmill, and around the open area at the rear of the works, giving rides to local children. As news spread, invitations to local fetes, using portable overhead and track, grew; one such being the Hadley House Conservative Association Fete on 2nd July 1949, followed by South Mimms on 23rd July, when the tram was filmed by British Movietone News. Summer weekends saw the tram travel as far as Hitchin and Uxbridge, often with '19 Barnet' on its destination blinds – the pre-1938 route via Finchley to High Barnet. In 1950 a second tram was completed in New Barnet, based on the 'Blackpool Boat' open top single deck design, and numbered 225. In 1951 the two trams moved to a new sea-front miniature tramway at St Leonards, Hastings, as a holiday attraction. They were supplemented in 1952 by a third Barnet-built tramcar, a traditional four-wheel open topper, number 3, but local complaints had seen an end to the Hastings operation after a few months. Also built at Barnet in 1952 was a four-wheeled battery-operated tram for the Air Ministry, which in rebuilt form remains at Seaton as a works car. In 1952 the whole set-up moved to a park at Rhyl. A planned move to Eastbourne in East Sussex saw trams 225 and 3 move back to Barnet for refurbishment. The Rhyl operation was leased out and the Barnet works produced a fourth tram, open 'toastrack' number 6, in 1954 to help maintain services there. The Rhyl operation closed in 1957.

Operations in Princes Park, Eastbourne began in 1954, with the track gauge increased to two feet. Barnet works produced a second 'boat' car, No.226 to help work the line that year. In 1960 the chassis was modified as a works car and later served as a mobile shop and even as a café and ticket office; it is currently stored out of use at Seaton. Car number 238, based on the double-deck Blackpool 'Balloon' design was built at Barnet in 1955. Toastrack number 6 was rebuilt at Barnet 1955/56 as a traditional bogie open top car using parts from original full-sized trams – controllers from Southampton and top deck seats, wire mesh, headlights, gongs, bells and circuit breakers rescued from the scrapman at Llandudno which lost its street tramway in March 1956, and remains in service at Seaton. The last tram partially built in East Barnet, in 1958, was similar tram number 7, again using full-sized components such as more electrical gear rescued from recently scrapped Llandudno trams, and seats from Leeds trams; it also remains in service at Seaton.

The Barnet works closed shortly afterwards, and were sold in 1959; now demolished, a field visit kindly undertaken by Bill Bass in November 2019 showed that the site is now covered by a large modern three-story block of flats, 'Ludlow Court'- see photos by Bill below.

Tramway operations moved entirely to Eastbourne, where the tramway was partly lit by ex-Hendon UDC gas lamps! Also built at Barnet in 1957 was a miniature Edwardian L.G.O.C- 'B' type open top bus, based on the 1929 chassis of a Swift car, registration LA 9927, which is currently undergoing restoration. In 1963, three of the Barnet built trams – 3, 225, and 238 – were sold to a collector in America and shipped out in November; sadly, their current location is not known. Barnet built Cars 6 and 7 remain in operation at Seaton, where the tramway moved to in 1969. In October 1964 the former Metropolitan Electric Tramways tram/trolleybus depot and works in Hendon, where Merit House now stands opposite the oriental shopping complex, was being demolished, following closure in 1962, and Claude Lane rescued two sets of depot gates, for use at Eastbourne and, later, Seaton. Another local link at Seaton is tram 14, originally Metropolitan Electric Tramways 94 of 1904, later London Transport 2455, rescued in 1961 from an orchard near Waltham Cross, and now cut down to single deck, of the type once common around Hendon, Finchley and Barnet until the local tramways converted to trolleybus operation c.1935-1938.

This is a splendid book. Though not cheap, it is well written with plenty of 'human interest' and lots of pictures of the Barnet works and its advertising literature, Hadley Fete, and the Hendon depot gates! Well recommended for transport and local history enthusiasts.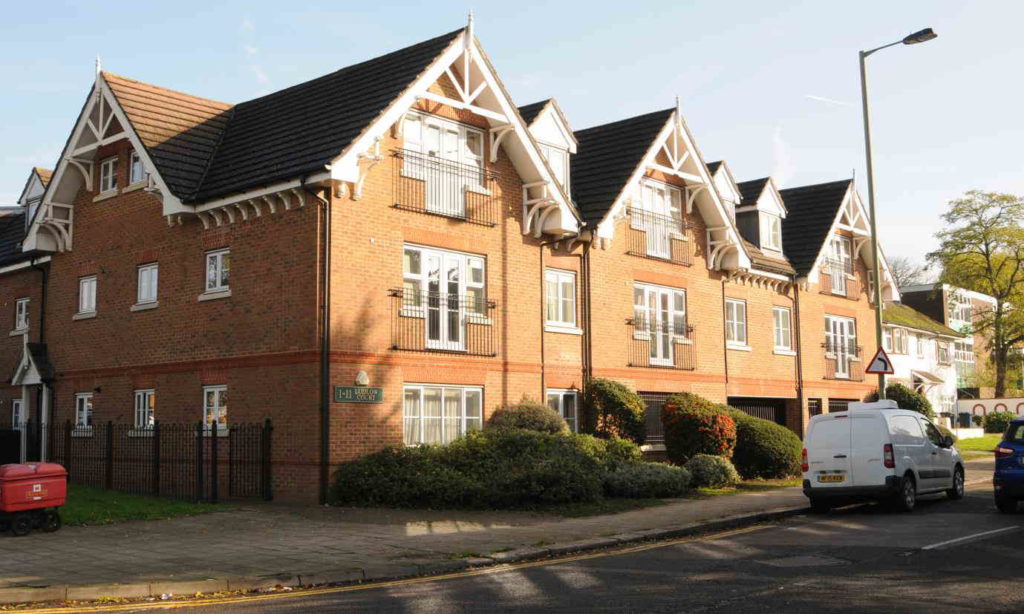 HADAS TRIP Day 2 (continued) Jim Nelhams
Leaving Llandaff, our coach took us into the centre of Cardiff, dropping everybody by the walls of Cardiff Castle. The castle has lots of steps, particularly in the keep, so some opted to visit the museum and art gallery or local shops.

CARDIFF CASTLE Dudley Miles
The first building on the site was a Roman fort, built to subdue the warlike tribe of the Silures, which controlled south-east Wales. A stretch of Roman wall survives in the basement of the visitor centre. William the Conqueror invaded south-east Wales and in 1081 he built a motte-and-bailey castle with a wooden keep on the site. Around 1135, this was replaced by a stone keep, considered the finest in Wales, by Robert of Gloucester, probably in response to a Welsh rising.

In the fifteenth century the castle began its transformation into a comfortable residence with the construction of a mansion built into the western wall of the bailey. Three hundred years later, the mansion was refurbished and extended, while Capability Brown's vision of a fashionable landscape led him to demolish many important ancient buildings and the wall which divided the inner and outer bailey. In the late nineteenth century, the 3rd Marquess of Bute, then the richest man in Britain, employed the architect William Burges to transform the mansion into an outstanding example of Gothic Revival architecture. Some rooms in the mansion are open to the public and others can be seen on a fascinating guided tour.

THE ANIMAL WALL AT BUTE PARK Audrey Hooson

On our visit to Cardiff Castle I was keen to see the highly decorated rooms in the Victorian Gothic castle apartments. These were designed by architect William Burges for the 3rd Marquis of Bute, with the project started in 1866 and continued by the 4th Marquis. The rooms are famous for the amount of decoration they contain with many animals, plants etc. and depict historical and mythical stories.

We did not have to wait very long for our first sight. As we stepped from the coach, we saw the Grade 1 listed Animal Wall at Bute Park. This was planned by Burges and built in 1890, after his death; it was originally located in front of the castle. Road widening as the Centre of Cardiff became busier necessitated re-positioning to the west around Bute Park. For people who are used to animals in heraldic representation or relief panels inserted into walls they are quite a surprise. They all look as if they are looking over the wall from Bute Park and possibly trying to escape. The first nine designed by Thomas Nicholls in 1890 have glass eyes and were originally painted. In 1931, six further animals were sculpted by Alexander Carrick.
During the 1930s the animals featured in a children's cartoon in the South Wales Echo; they are still a very popular sight in the centre of Cardiff.
Cardiff Museum of Natural History & National Museum of Art
A short distance away from the castle stand a number of civic buildings dating from 1906 and including the City Hall. Next to this stands the museum building, at the time of our visit undergoing roof repairs. Like many city centre museums, it has run out of space, so historic and archaeological exhibits have been transferred in recent years to new buildings at St Fagans, which we would visit later in the trip.

On the ground floor is the natural history section – imaginatively displayed – covering the geological and historical development of Wales and including a woolly mammoth which moves and trumpets.
Much of the first floor is devoted to art, including the work of a number of Welsh painters, but also a display of Welsh ceramics.

Llandaff postscript Jim Nelhams
While returning from Llandaff Cathedral to our coach, we found a small excavation underway near the Bishop's Castle at the top of the hill. The following is reprinted by kind permission of 'Wales Online'. "A Medieval dwelling dating back to the 1400s has been discovered under a derelict toilet block in Cardiff . "An excavation of the site in Llandaff in September revealed the building, which expert archaeologists believe was home to someone important. "It is quite a high-status building, it includes a Bath Stone fire surround which was imported from the Bath area and it is not really known as a stone in Llandaff," said Dr Tim Young, the archaeologist leading the dig. The ground floor of the house remains fully intact, and it is believed the first floor was demolished in the 17th century when the land was then used for an animal pound.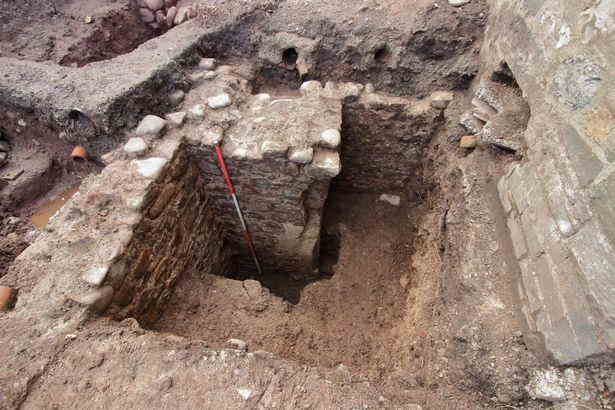 Among the finds were animal bones, pots, and a counting token called a Jetton, which is believed to have been struck in Paris in the 1300s.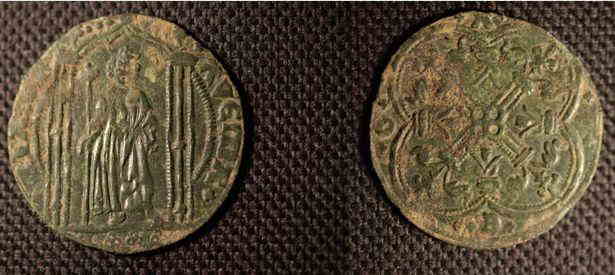 There are a number of theories behind who may have lived in the dwelling next to the 13th Century Old Bishop's Castle; one includes a housekeeper for the nearby Manor of Llandaff or an official of the Llandaff Cathedral "The site is known as the pound as it was the animal pound for Llandaff and we have evidence of that dating back to about 1607. It had always been assumed that the area was also the pound before that so the discovery of a medieval dwelling on the site was quite unexpected," said Dr Young, who is a teaching associate at Cardiff University. Finds from the dig will now be sent to experts at Cardiff University and other national museums in order to learn more about the site. "It won't be for another six months or even a year until we could come to any sort of conclusion," said Dr Young. Dr Young added they were very surprised by the find as there was no evidence from any of the surviving maps from that time to suggest there had been a building there. The dig was part of a community project set up by Llandaff 50+ as part of a transfer of community assets by the council to the club, who intend to turn the disused toilets into a new community venue. The club was granted funding from the National Heritage Lottery Fund and Cardiff YMCA Trust to run the community project and refurbish the toilets. More than 250 children from nearby schools helped with the dig which ran from September 16 to 27. A local storyteller was able to bring history alive for the children, which helped make the community dig a real success, said Yvonne Apsitis, chairwoman of the Llandaff 50+ club. "We have never really done much with children in the community before so this seemed the perfect opportunity. We had people as old as 80 work at the dig. It was a really enjoyable experience," said the 79-year-old. The site will now be filled back in as work continues on restoring the area.
Two new books of interest 1. How Hampstead Heath was saved. Review by Andrew Bosi, (first published in News Forum, the newsletter of the London Forum)

Helen Lawrence's new book has been published (by the Camden History Society, £14.95, order online through the Camden History Society website) to coincide with the latest twist in the history of the Heath – the return of sheep grazing. She charts in great detail the long struggle over ownership of the Heath and the rights and easements granted or withheld. There is a critique of earlier publications and this book brings together the full story to date, acknowledging that it will continue to evolve and urging vigilance on readers who might be faced with challenges in the future.

Hampstead has always been inhabited by more than its share of the great and the good and it is interesting to speculate, as you read the book, how Epping Forest might have fared if it had fallen into the same ownership. The book is sub-titled a Story of People Power and although legislation has changed out of all recognition there are echoes of the petitioning of Parliament over the Channel Tunnel Rail Link in the account of how successive Bills in Parliament designed to permit unwanted development were rebuffed.

Surprisingly, the coming of the Railways did not pose a threat to the heath and the Hampstead Junction railway skirting the southern edge of the heath strengthened the argument that this is a London wide resource. None of the radial routes to the north come anywhere near.

Changes to local government on the other hand posed more difficulties. Within the living memory of most readers, the abolition of the Greater London Council and the long drawn out debate about how its functions were to be administered involved twists and turns that are faithfully recorded here.

In places the left justification of the text results in some confusing spacing: one or two errors have escaped the proof readers. The book is copiously illustrated and very reasonably priced. A rather limited print run may mean first editions become a much sought after investment in years to come. Anyone with an interest in the history of the Heath, or needing to fight for open space elsewhere, will want to make that investment now.
Londinium: a Biography – Roman London from its origins to the Fifth Century
By Richard Hingley, Professor of Roman Archaeology at the University of Durham Bloomsbury Academic 2018 Price £17.50 paperback
'Archaeological work', writes Professor Hingley, has since the mid-1990s, entirely transformed the comprehension of London's Roman past . . . particularly with regard to the characters and lives of its occupants and the later history of Londinium'. He attempts in this book a current synthesis, dividing the life of Roman London into some six periods, and looking one by one at aspects of London's life in each period. For instance, under 'Peak of Development from AD125 to AD200' there are sections 'People and status' 'Monumental buildings and infrastructure' 'Occupation', and 'Marking the boundaries'. Professor Hingley indicates scrupulously when the evidence for any conclusion is uncertain or ambiguous. He does not think the decline of Londinium during the third and fourth centuries was anything like as marked as we are often told.

The book will be invaluable as the basis for research or study of anything relating to Roman London – though of course everything in it must be provisional as new discoveries continue to be made. The illustrations are full, but can be murky – in a reasonably priced paperback they are in the text, not on separate plates.

OTHER SOCIETIES' EVENTS compiled by Eric Morgan Please check with the organisations before setting out in case of any changes / cancellations. Many organisations expect a small contribution from visitors. Tuesday 14th January 6.30 pm London and Middlesex Archaeological Society Clore Learning Centre, Museum of London, 150 London Wall, EC2Y 5HN Which Bottles are 'Witch' Bottles? Talk by Nigel Jeffries, exploring Ralph Merrifield's legacy in the field of early modern bottle magic in England. Refreshments from 6 o'clock
Tuesday 14th January 7.45 pm Amateur Geological Society Finchley Baptist Church Hall 6 East End Road opposite Avenue House Milankovitch Cycles and other cosmic influences on our climate Talk by Professor Alan Aylward.
Wednesday 22nd January, 7.45 pm Friern Barnet and District Local History Society. North Middlesex Golf Club, The Manor House, Friern Barnet Lane N20 0NL. All Over by Christmas: the Home Front in the First World War Talk by David Berguer
Thursday 30th January 2.30 pm. Finchley Society. Drawing Room, Avenue House Talk by Helen Fry on Trent Park in the Second World War and other buildings used for interrogation. NOTE AFTERNOON MEETING
Sunday 2nd February. 10.30 am Heath and Hampstead Society. Laughter in the Landscape; a walk to celebrate Grimaldi Sunday. Explore 'Appy 'Ampstead with Lester Hillmany Marc Hutchinson. Meet at the Old Bull and Bush North End Way NW3 Lasts about two hours. MUST BOOK – www.heathandhampstead.org.uk or 07941528034. Donation £5.
Thursday 6th February 8pm Pinner Local History Society Village Hall, Chapel Lane car park, Pinner HA5 1AB. Behind the scenes at the Battle of Britain. Talk by David Keen, including Bentley Priory's place in history.
Wednesday 12th February. 2.30 pm Mill Hill Historical Society Trinity Church 100, The Broadway NW7 3TB French Horticultural Gardens and current influences. Talk by Chelle Price
Wednesday 12th February 7.45 pm Hornsey Historical Society. Union Church Hall, corner Ferme Park Road/Weston Park N8 9PX. Beating the Bounds Talk by Mark Lewis
Monday 17th February. 8.00 pm. Enfield Society Jubilee Hall, 2 Parsonage Lane/junction Chase Side, Enfield EN2 0AJ. Lost buildings of Enfield Talk by Joe Studman. (including Enfield Palace, Enfield Assembly Rooms, Zion and Chase side Chapels, Gentleman's Row Bothy, Cecil Road Farm as well as inns and cinemas) (Wrongly entered as 10.30 am in print version)
Monday 17th February 8.15 pm Ruislip, Northwood and Eastcote Local History Society St Martin's Church Hall High Street Ruislip HA4 8DG Excavations at Eastcote House Gardens. Talk by Les Capon (AOC Archaeology).
Wednesday 19th February. 8pm. Edmonton Hundred Historical Society. Jubilee Hall, 2 Parsonage Lane/junction Chase Side, Enfield EN2 0AJ The Bayeux Tapestry. Mike Brown.
Wednesday 19th February 7.30pm. Willesden Local History Society. St Mary's Church Hall, Neasden Lane, NW10 2TS (nr Magistrates Court) The Willesden Green Library Story Talk by Philip Grant, celebrating the 125th anniversary – the Library opened in 1894 and has been at the heart of the local community.
Thursday 20th February 8pm Historical Association – Hampstead and NW London branch. Fellowship House, 136A Willifield Way NW6 6YD Jews in the Roman Empire Talk by Dr David Nay on their flourishing in many parts of the empire until changes under fourth century Christian emperors. (Wrongly entered as 27th February in print version)
12
Friday 21st February. 7.30 pm. Wembley History Society English Martyrs' Hall, Chalkhill Road, Wembley, HA9 9EW (top of Blackbird Hill, adjacent to church) The Home Front during the Second World War Talk by Christine Coates.
Wednesday 26th February. 2.30 pm. Enfield Society Jubilee Hall, 2 Parsonage Lane/junction Chase Side, Enfield EN2 0AJ.Lavender Hill cemetery Talk by Joe Studman, looking at some of the graves to reveal a potted history of late Victorian and Edwardian Enfield.
Wednesday 26th February, 7.45 pm Friern Barnet and District Local History Society North Middlesex Golf Club, The Manor House, Friern Barnet Lane N20 0NL. London Film Locations Talk by Diane Burstein
Thursday 27th February 2.30 pm. Finchley Society. Drawing Room, Avenue House, West Finchley Neighbourhood Plan Talk by Kieran Kettleton. NOTE AFTERNOON MEETING
Friday 28th and Saturday 29th February. Current Archaeology Live 2020. Conference in the University of London Senate House, Malet Street WC1E 7HU. Wide range of expert speakers sharing the latest archaeological finds and research. For details and tickets visit www.archaeologylive.co.uk or ring 020 8819 5580.

With many thanks to this month's contributors:
Bill Bass, Deidre Barrie, Don Cooper, Audrey Hooson,
Jo and Jim Nelhams, Dudley Miles, Eric Morgan and Andy Simpson.

Hendon and District Archaeological Society
Chairman Don Cooper 59, Potters Road, Barnet EN5 5HS (020 8440 4350)
e-mail: chairman@hadas.org.uk
Hon. Secretary Jo Nelhams 61 Potters Road Barnet EN5 5HS (020 8449 7076)
e-mail: secretary@hadas.org.uk
Hon. Treasurer Roger Chapman 50 Summerlee Ave, London N2 9QP (07855 304488) e-mail: treasurer@hadas.org.uk
Membership Sec. Stephen Brunning 22 Goodwin Court, 52 Church Hill Road, East Barnet EN4 8FH (0208 440 8421) e-mail: membership@hadas.org.uk
---