No. 588 MARCH 2020 Edited by Deirdre Barrie
HADAS DIARY – Forthcoming lectures and events
Lectures, the finds group course, and the film are held at Avenue House, 17 East End Road, Finchley N3 3QE. Buses 13, 143, 326 & 460 pass close by, and it is five to ten minutes' walk from Finchley Central Station (Northern Line). Tea/coffee and biscuits follow the lecture.
The March talk has been changed due to other commitments by our advertised speaker Lyn Blackmore.
Tuesday 10th March 2020: Adam Corsini – Layers of London. This is a free online map-based resource. By overlaying historic maps and data sets, users can fade them in and out to discover how their area has developed. The project also encourages anyone to contribute their own local histories, memories, images and stories, building records and collections that enrich this unique historical resource for the future. This talk will give a background to the project, focusing on the site's archaeological information, and demonstrate how you can be part of the project.
Tuesday 14th April 2020: Signe Hoffos – Lost City Churches
Tuesday 12th May 2020: Tim Williams – Archaeology of the Silk Roads
Tuesday 9th June 2020: ANNUAL GENERAL MEETING
September 2020 trip, 20th – 24th September.
A reminder that the proposed 5-day trip for 2020 will take place from Sunday 20th September to Thursday 24th September and will be based at The Best Western Stoke City Centre Hotel, 66 Trinity Street, Stoke on Trent, ST1 5NB. This was previously a Quality Hotel. Do not confuse with the Best Western Plus Stoke on Trent Moat House which is currently rebranding and considerably raising their prices.
We have tried to keep costs unchanged for several years, normally making a small profit, but prices have gradually risen and in 2019 we made a loss, so this year we are having to adjust. The price will be £580 for a single room and £530 per person sharing a room (double or twin). Costs include dinner, bed and breakfast and we will provide a packed lunch each day except the Sunday.
HADAS COMMITTEE
At the Annual General Meeting in June, Don Cooper is standing down as Chairman after many years of service, and Jo Nelhams as Secretary is standing down as well, as is Sue Willetts. Please give some serious thought how you can help the Society to function as it has done successfully for many years. At present we have four Committee meetings each year.
1
PREHISTORIC LONDON, SOME PROBLEMS, PROGRESS AND POTENTIAL The second Dorothy Newbury Memorial lecture – Jon Cotton Peter Pickering
This, the second Dorothy Newbury Memorial Lecture, was given on 11th February (four days before what would have been her hundredth birthday) by Jon Cotton, now a freelance archaeological consultant after more than thirty years at the Museum of London. Jon's subject was 'Prehistoric London, some Problems, Progress and Potential'. To make his subject manageable, he passed over the Palaeolithic, and covered the long period from the Mesolithic to the pre-Roman Iron Age. Even though the evidence for prehistoric activity in the London region has been reduced by ploughing and by Roman and subsequent development, and by the concentration of antiquarians and, until fairly recently, archaeologists, on Roman remains, there is still a lot more than I, for one, had realised. Most of that comes from gravel terraces and from the Thames itself, but recently it has become clear that there was prehistoric activity on the large areas of clay that had been thought neglected.
Antiquarians had seen and recorded prehistoric constructions, but tended to believe they were Roman – for instance William Stukeley in the early eighteenth century had recorded earthworks on Hounslow Heath (now under Heathrow airport) but called them 'Caesar's Camp'.
The Thames in pre-history was a multi-channel meandering river, with gravel highs that became eyots; boreholes during the construction of Crossrail have elucidated a lot about ancient land surfaces. The river divided north from south London, and the limit of tidal activity divided west from east. Its flood plains were an enduring feature until modern embankment – some believe that the name 'Londinium' derives from something like 'Plowonida', meaning 'the flooding one'; the view from Richmond Hill makes it evident how flat the Thames Valley bottom is. For much of the twentieth century the Thames was biologically dead, but it now teems with fish. The river was immensely important to prehistoric people, and a large number of artefacts have been found, many probably consigned to the water for religious reasons. The river was full of bronze spearheads – though some might be accidental losses or the consequence of battles, the prime motive might be showing off a person's disposable wealth or the appeasement of an elemental force – perhaps gifts to the river would buy off floods.
The construction of Heathrow Terminal 5 enabled the archaeological investigation of a wide area of land, and greatly increased knowledge of how it was developed and occupied before the Roman invasion. There were field systems, neolithic houses, and great earthworks, one with a raised bank over two miles long – vivid evidence of the availability of manpower and good project management. Similarly, the remains of an aurochs with six arrowheads in it was vivid evidence of prehistoric hunting – wisely, the fearsome beast had been shot from behind. The Bronze Age apparently saw a reduction in population.
Tributary valleys of the Thames have produced much evidence of mesolithic activity. Besides HADAS's important dig on West Heath, with which Dorothy Newbury was greatly involved and the second instalment of whose publication is well under way, significant mesolithic finds have been made recently in Carshalton, and Uxbridge in the Colne Valley. The crossing of the Colne valley by HS2 may very well produce further discoveries.
It was clear that there was no Iron Age precursor in the City of London. But there had been an important settlement in Woolwich, and Uphall camp in Ilford was a major site, whose excavation has still to be written up. Investigations relating to the Thames Tideway Tunnel were revealing an important Iron Age crossing between Fulham and Putney. A remarkable find had been a Bronze Age anchor. Evidence was emerging of an Iron Age oppidum at Barn Elms.
2
Even within the City there were some hotspots for prehistoric finds: Cornhill, Ludgate Hill, and most recently Principal Place. Particularly interesting were a neolithic axehead turned into a pendant and found in a Roman context, and neolithic pottery which had absorbed animal fats and milk products. One sherd was impressed with the hoof mark of a roe deer fawn.
Jon finished by looking forward to some new techniques. Baysian analysis could produce much more precise dating that had hitherto been possible. DNA analysis was very promising – enabling the colour of a person's eyes and hair to be identified from their bones. He also emphasised the ways in which people could take part in ongoing research – including Citizan. He inspired us all to want to see the Havering hoard exhibition shortly to open in the Museum of docklands.
====================
Enfield at War – 1939 – 1945 Jim Nelhams
As an experiment, this year's lecture was held in the afternoon rather than the evening.
Our speaker, Ian Jones, is Chairman of the Enfield Archaeological Society, our two groups both having Harvey Sheldon as President. Ian has extensively researched the history of Enfield in both world wars and is a published author on the subject, but also a keen photographer, as demonstrated by the numerous pictures shown.
Ian told us that Enfield was quite well prepared in 1939 and quite a few structures, or evidence of them, remained, though their wartime use may not be apparent. Others had gone but records of them existed.
A wartime pill box at Trent Park is being recorded and preserved, and the history of the main building is well documented. (HADAS had a lecture from Dr Helen Fry on this subject in March 2017.) The pill box may have been intended to keep prisoners in rather than defend the main building.
A large number of air raid shelters, both public and private, still exist partly because they are expensive to demolish, though some that are below ground have had the tops removed for safety and have been filled in, as that excavated by HADAS at the Martin School in East Finchley. Ian listed a number with illustrations.
Some buildings had been used as centres for the ARP (Air Raid Precautions) but these had mainly gone.
A gas decontamination centre similar to that excavated by HADAS near Cromer Road School, Barnet exists in Broomfield Park and is one of four that survive within the Borough of Enfield.
Signs of some air raid sirens could still be seen.
The only remaining anti-aircraft battery in the area is at Slades Hill, with associated buildings to store ammunition and to provide rest areas for those manning the guns.
Some efforts had been made to protect the railways, with pill boxes. Most of these were safe as it was expensive and pointless to remove them. Large moveable concrete blocks to provide obstructions against tanks and other vehicles had been positioned at various points on the railway.
In addition to the various buildings, smaller evidence, such as shrapnel, was still being found. A number of walls constructed from air raid rubble had been identified including repairs to the banks of the New River.
Ian noted that many people would not now recognise much of the evidence he had listed. It was increasingly important that these should be fully recorded. A fascinating, informative and enthusiastically delivered presentation which was met with a warm round of applause.
3
BURIED BONES AND HORNS
Bill Bass
In the August 2019 Newsletter, mention was made of finds including bone, pot and clay pipe found in service trenches and pavement widening on the west side of Barnet High Street, in the vicinity of "The Spires" shopping centre. Since then, an article seen in a cutting from the "Barnet Press" in April 1939, retyped below, may give some background and context to this. Thanks to Alan Last of the Barnet – A Trip Down Memory Lane website, and to Barnet Museum for flagging the article.
BONES BENEATH THE HIGH STREET – Relics Rescued by Museum Curator
A number of oxen bones and horns were unearthed on Thursday afternoon by an employee of Barnet District Gas and Water Company when excavating a pit on the west side of Barnet High Street, outside the premises of Messrs. W.H. Smith & Sons.
The pit was in the roadway, about four feet from the kerb, and the bones were found about three feet below the road surface. Their condition indicates that they had been buried for well over a century. Mr. W. McB Marcham, Hon. Curator of Barnet Museum, was told of the discovery, and he straight away visited the scene and "claimed" the relics for the Museum.
Seventy Years Ago
This is not the first occasion on which such a discovery has been made in the vicinity. A similar find was recorded in the "Barnet Press" on June 19th, 1869, and was referred to by the Editor in a talk on the history of the "Barnet Press" which he gave to the Barnet Record Society a year ago. The report recorded the discovery of the bones in front of Battenburg House, (now occupied by Smith's bookshop and the offices of Messrs. Vyvyan Wells and Son), and stated: "They were principally the bones of oxen, and one explanation is that the shops adjoining were occupied by a butcher and a tallow chandler at a period when the Barnet side of the High Street was marked by a row of trees, where now is a row of shops, and that these bones, which were refuse from the butcher's and tallow chandler's shops, were buried in a hole at a time when the value of bones had not developed as it has now. But who can say these bones are not the remains of a great feast held by the victorious soldiers after the Battle of Barnet?"
Harts' Horns?
A correspondent, in the same issue of the paper, mentioned several suggestions: (1) that the spot where the bones were discovered was, some hundreds of years old, a rinderpest* pit, and that the bones were all that was left of the animals slaughtered under an Order in Council of that period, and (2) that they were not bones of oxen but harts' horns, for which Hertfordshire was noted, though the writer dismissed the second suggestion as one coming probably from somebody who had just come out of the "Harts' Horns" public house, which stood on the northern corner at the junction of High Street and Union Street.
(hand-written) Barnet Press 15/4/39 * rinderpest: an infectious viral disease of cattle
Wales Trip – DAY 4
Jim Nelhams
The Royal Mint
The Royal Mint was for many years within the Tower of London. As the UK Government prepared to introduce a decimal currency in the 1960s, the decision was taken to move The Royal Mint out of London.
4
A larger site was needed to cope with the production of the new coins as well as the increased demand for coinage from international markets.

The Royal Mint in Llantrisant, South Wales was opened by Her Majesty the Queen in December 1968. After decimalisation in 1971, all UK coin production moved from London to Wales, with the last coin struck at Tower Hill in 1975.
When the mint moved, Llantrisant was given the soubriquet "the hole with a mint".
There is limited space for tour groups, so, on arrival, we were divided into two groups, each with its own guide and escorted through security and across a road to the main building. We were guided through the production process with the different metals including the stamping and milling processes before viewing the main production area, with a splendid view of all the machinery involved. The Royal Mint can produce 90 million coins and blanks a week – almost five billion coins a year, many for overseas governments.
The site operates round-the-clock for 52 weeks a year.
In recent years, more coins have been produced for collectors, especially 50p coins which they sell for £10 though some do get into normal circulation. See newsletter 582 of September 2019. Recently a set of coins minted to celebrate leaving the EU in 2019 had to be melted down when it did not happen. New coins were minted for the end of January 2020.
At the end of the tour was a splendid museum covering the history of coin production, followed by the inevitable shop.
A brief stop for a coffee before making the short trip in the coach to St Fagans.
St Fagans National Museum of History
St Fagans opened in 1948 as part of the National Museum of Wales network. In 2019, it was voted the Art Fund Museum of the Year.
In the main building is a museum with some archaeology, though its main purpose seems aimed at interesting children in history. There is also some military history. Readers may be familiar with other museums where buildings have been collected from surrounding areas to give an idea how people lived worked and entertained themselves. St Fagans is similar, with over 40 buildings of different types from all parts of Wales, but unusual in that most of the building are built of stone, not wood which would have given some interesting problems in moving them. Further buildings are still being added. It is located in the grounds of St Fagans
5
Castle, only a small part of which is open to the public.
Staff in some of the buildings demonstrate the skills which they would have supported. Looking at everything would probably require a couple of days.
The medieval church of St Teilo at St Fagans
Graham Javes
Little did I expect the scene which greeted me when I stepped through the door of the little church of St Teilo at the open-air museum at St Fagans National Museum of History, a part of the Welsh National Museum. Every wall is covered with brilliant devotional paintings. For me, the use of fine line and vivid colour was stunning. What a contrast to whitewashed walls!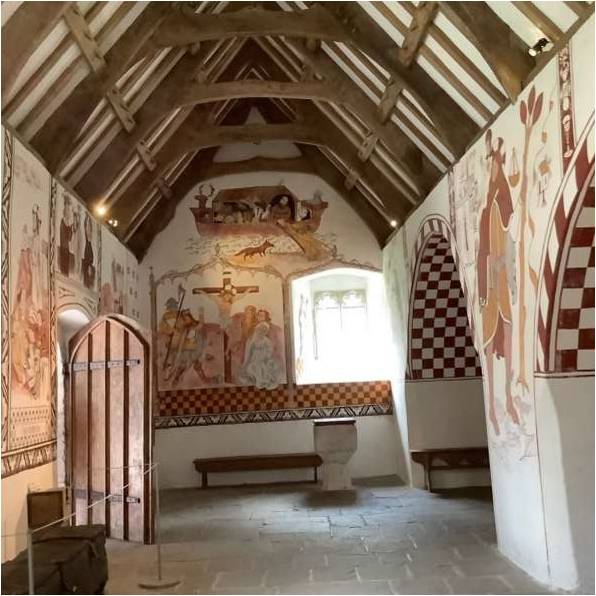 St Teilo's was formerly the parish church of Llandeilo Tal-y-bont, near Pontarddulais, only one of about 24 churches in west Wales with this dedication), which had become progressively redundant from the 1850s onwards until it was offered to the museum. The building had survived largely unscathed at the hands of the Victorians and later restorers, remaining principally in the original state when it was built – thought to be in
6
the 12th or 13th century. As such it meets the judicious collecting policy of the museum: being common and typical, representative of others of this area, and not too far gone to be capable of restoration to something like its former glory. As an artefact (heavily restored and repainted) it shows the sheer brilliance of Welsh Christian art, if not when it was built but at the eve of the Reformation.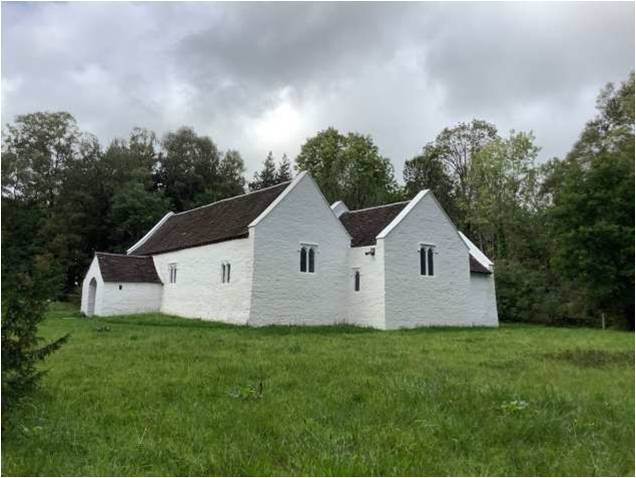 So who was St Teilo?
St Teilo was a 6th-century Welsh monk and bishop whose importance in Wales was second only to St David. When he died at Llandeilo Fawr a dispute arose between three places – Penally, (his birthplace), Llandaff, (his bishopric) and Llandeilo (where he died), over which should have his body. This was resolved when it was miraculously multiplied into three over-night, so that each could have it! HADAS members may have spotted the 'supposed' tomb of St Teilo in the chapel of St Teilo in Llandaff Cathedral.
Reference was made to G. D. Nash, (ed.) Saving St Teilo's: Bringing a medieval church to life (2009) National Museum of Wales; D. Farmer, Oxford Dictionary of Saints, (5th edn, 2003) OUP.
Photographs by Graham Javes.
Membership Renewals Stephen Brunning
The HADAS membership year runs from 1st April to 31st March, and so all members who pay by cheque will now be required to renew (except those people who have joined since January this year).
Members who pay their subscription by standing order need take no action.
7
Please therefore find enclosed a renewal form, and I would ask that you fill it in and return it to me along with the appropriate amount as soon as possible. The current rates and where to send your payment are on the form. Many thanks.
If the renewal form is not enclosed and you require one, please contact me (details on back page).
INVESTIGATING THE PERIVALE WOOD EARTHWORK
Bill Bass
Members of HADAS have been assisting Kim Wakeham of the Selbourne Society to investigate a large ditch and bank feature near Perivale Wood in Ealing. The society (which is involved in nature conservation) owns the wood and an adjacent strip of land.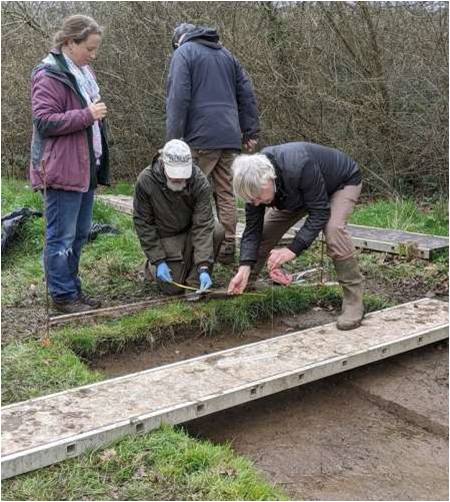 Photo by Melvyn Dresner – shows Kim and HADAS members.
Kim who is an archaeologist, noticed an earthwork crossing the strip of land (and beyond) and started some research using maps, documents, aerial-photos, LiDAR and such like. The results have been inconclusive, so last year Kim put in a trench to test several theories e.g. is it pre-historic or maybe a boundary or encampment of some sort?
The fieldwork reveals the tops of a bank and at least two ditches with medieval roof-tile, other finds are post-medieval in date, there may also be some struck flint. As the trench has grown to 2 x 14m and the ditches have yet to be fully excavated Kim asked if HADAS could help in this task during February, unfortunately the weather was not kind to us that week but we managed to tidy up and clean the trench, record features including post-holes and do some finds processing, but with trench underwater a lot of the time we could not excavate the ditch fills, so that will be work for another day.
8
Thanks to Kim for her hospitality and HADAS members for making their way to Perivale.
TROY: MYTH OR HISTORY?
David Willoughby
Notes from the lecture by Michael Wood at the British Museum on 6th December 2019
The first person to excavate Troy was British consulate official Frank Calvert, who had previously offered the site at Hisarlik to the British Museum for £100. Seven years later he teamed up with Heinrich Schliemann, a German business man turned archaeologist. Schliemann was a showman with a penchant for telling dubious stories. Schliemann's destructive excavation methods involved driving a deep ditch into the mound down to the lowest levels. This caused him to fall out with Calvert, who suspected he had excavated clear through the contemporary Mycenean levels. At the lower levels Schliemann discovered 'Priam's treasure' which dates from about 2,200 BCE. He claimed to have discovered the treasure with his wife, despite her being out of Turkey at the time.
As Schliemann's account has been discredited, this brings into some doubt that all the articles were found together in situ. Schliemann also excavated at Mycenae, and discovered the royal gold funerary masks, one of which became known as the 'mask of Agamemnon'. These in fact pre-dated the likely date of the Trojan War, and doubters at the time questioned the similarity of the mask to the face of Bismarck. These masks are now believed to be genuine.
From 1932, the American archaeologist, Carl Blegen excavated at Hisarlik on the opposite side of the mound from Schliemann's excavations, to reveal the sloping walls of Troy VIh (destroyed by earthquake
c. 1,300 BCE) and Troy VIIa (sacked c. 1,200 BCE), which are the most likely candidates for the Troy of the Iliad, as they are contemporary with the height of Mycenean power, and pre-date the collapse of Mycenean palace culture around 1,200 BCE. More recent excavations of Troy have revealed an extensive lower town surrounded by a large defensive ditch.
There was a large inlet in front of Troy, but this has since dried up. It is most likely that the Greek ships were beached at the smaller Besika Bay to the South. This would fit in with the Iliad that describes the location as out of sight of Troy and requiring the Greeks to cross rivers to reach Troy. Also here is one of the sites of the 'Tomb of Achilles' (Sivri Tepe) in which high status Mycenean burials have been discovered. Harbour installations have also been found here. Bore-holes drilled at the location reveal the beach was backed by a lagoon at the time of the Trojan War. This also ties in with the Iliad. The Iliad describes the Greeks as sleeping on 'battle bridges' under the stars. These are thought to be military dykes constructed to cross the marshy ground.
Michael Wood has constructed a possible timeline for the Trojan War around 1250 BCE based on the Hittite texts of King Muwatallis. This is the king who fought the Egyptians at Kadesh in 1300 BCE, which resulted in the first-ever recorded peace treaty. These texts deal with Hittite relations with a people called the Ahhiyawā (Achaeans). In the Hittite text can be found the names of Ilium (Wilusa), Troy, Alexander (Alakshandu), Paris and Priam. Also can be found the name for Apollo, and the archaic Greek God of war, Enyalius, who is also mentioned nine times in the Iliad.
Apollo appears to have been initially an Anatolian god later adopted by the Greeks. Early versions of the Iliad open with the 'Wrath of Apollo' rather than the 'Wrath of Achilles', creating the possibility that the Iliad may have been influenced by Anatolian myths. Also in the Iliad the mention of boar tusk helmets and tall shields clearly derives from an earlier period. Ajax also seems to be from an earlier story.
9
Troy, Asia and Enyalius also feature in Mycenaean Linear B tablets. Asian women appear as slaves picking flax in tablets from Pylos (flax was still being picked around Pylos until the 1950s). Only a single Luwian seal has been found at Troy, and it is likely that the Trojans spoke Luwian. The Hittite tablets were discovered at Hattusa, the Hittite capital. However, the capital was moved (probably for religious reasons) to Tarhuntašša in the early 2nd millennium BCE. Although well documented, the site and its presumed written archive are yet to be discovered.
OUTINGS
Barnet Museum: Dennis Bird is arranging two Barnet Museum Outings later this year. The first is on Saturday 27th June to Bletchley Park; and the second on Saturday 5th September to Winchester. HADAS members will be welcome to join if they are interested. Cost will be about £35, coaches leaving the Everyman Cinema at 8.30am and leaving for return trip at 5.30pm. Make a note of the dates.
Tour of 2 Temple Place: book by Friday 20th March for a tour of this extraordinary late Victorian mansion built by William Waldorf Astor, which is located near the Temple Station and the Embankment.
It was originally designed for use as Astor's estate office by the foremost Neo-Gothic architect of the late 19th C, John Loughborough Pearson, with work taking place from 1892-5. It contained the largest strong room in Europe, as well as two enormous fortified safes. In addition to the 45-minute tour focusing on its history and architecture, there will be an opportunity to visit the exhibition "Unbound – Visionary Women Collecting Textiles."
Members of the Mill Hill Historical Society £12, non-members £14. Meet outside the house at 1050 am for the 11am tour. Please send a cheque and SAE to Julia Haynes, 38 Marion Road, London NW7 4AN.
Cheques to be made payable to Mill Hill Historical Society. Tel: 020 8906 0562, email Haynes.julia@yahoo.co.uk. [Website: www.millhill–hs.org.uk]
Heritage Alliance:
Sue Willetts
HADAS members might like to know about the organisation Heritage Alliance which has membership fees and unites over 130 independent heritage organisations in England and isa powerful, effective and independent advocate for heritage.Organisations include theNational Trust, English Heritage, Canal & River Trust and Historic Houses Association, as well asmore specialist bodies representing visitors, owners, volunteers, professional practitioners, funders and educationalists. They have a free fortnightly electronic newsletter which you can sign up for using this link
OTHER SOCIETIES' & INSTITUTIONS' EVENTS
compiled by Eric Morgan
Friday 6th March, 7.45 pm, Enfield Archaeological Society, Jubilee Hall, 2 Parsonage Lane, Chase Side, Enfield, EN2 OAJ, Layers of London – Get Involved With Mapping London, talk by Adam Corsini (UCL) Visitors £1.50, refreshments.
Wednesday 11th March, 7.45 pm, Hornsey Historical Society, Union Church Hall, Ferme Church Road/ corner of Western Park, N8 9PX, Ernest Shackleton and the 'Endurance' Expedition, talk by Carol Harris, visitors £2, refreshments. Sales and information from 7.30 pm.
Wednesday 18th March, 7.45 pm, Edmonton Hundred Historical Society, Jubilee Hall, address as above. London's Lea Valley – Home of Britain's Growing Food and Drink Industry – talk by Jim Lewis, preceded by AGM.
10
Thursday 19th March, 7.30 pm, Avenue House (Stephens House and gardens) Quiz Night. Drawing Room, East End Road, N3 3QE. Cost £15 including supper and cash bar. HADAS do have a regular team. (Please see February HADAS Newsletter for further details.)
Saturday 21st March. 11.00 – 17.00 Museum of London. Lamas conference. Monastic archaeology in London. Details and booking Cost includes registration / tea in the afternoon break
Monday 23rd March, 6.30-8 pm, Finchley Church End Library, Regents Park Road, N3 2LN. Hidden London – a Journey into Some of London's Most Secret Spaces. Talk by Siddy Holloway (L.T. Museum) on the London Underground, about the Hidden London Programme which takes visitors behind the scenes of the London Transport Network into disused stations and tunnels to discover a different side of the tube, questioning why they get abandoned, and what happens to them. Talk lasts 45 minutes, followed by Q&A, with a mystery prize for the best question. Tickets on email: libraryevents@barnet.gov.uk FREE.
Monday 30th March, 6.30-8pm, Finchley Church End Library, address above. Jewish London, talk by Rachel Kolsky (Blue Badge Guide), Mile End to the West End and Beyond, including synagogues and soup, Radicals and Rothschilds, not forgetting bakeries, the big screen and the printed page.
Wednesday 1st April, 8 pm, Stanmore & Harrow Historical Society, Wealdstone Baptist Church Hall, High Street, Wealdstone, HA3. The Manchester Ship Canal, talk by Richard Thomas, visitors £3.
Thursday 2nd April, 8 pm. Pinner Local History Society, Village Hall, Chapel Lane car park, Pinner HA5 1 AB, The Devil's Acre. Talk by Charlie Forman on A Victorian slum near Westminster Abbey. Visitors £3
Friday 3rd April, 7.45 pm, Jubilee Hall, address as 6th March. The Excavations and Fieldwork of Enfield Archaeological Society, 2019. Talk by Dr. Martin Dearne (EAS), preceded by AGM. Visitors £1.50, refreshments.
Tuesday 7th April, 8 pm. Historical Association: North London Branch. Jubilee Hall, address as 6th March, The First World War's Effect on the British Monarchy. Talk by Heather Jones, visitors £1.
Wednesday 8th April, 7 pm, Hornsey Historical Society, address as 11th March above, Entertainment in the Second World War, talk by Mike Brown. Visitors £2, refreshments. Sales and information from 7.30 pm.
Saturday 11th April, 11am-2.30 pm, North London & Essex Transport Society, Barnet Transport Fair. Pennefather Hall, Christ Church, St Albans Road, Barnet, EN5 4LA. Railway, military and aviation transport with books, photographs, DVDs, timetables, maps, and memorabilia, etc. Admission £2, refreshments available.
Wednesday 15th April, 7.30 pm, Willesden Local History Society, St Mary's Church Hall, Neasden Lane, NW10 2TS (near Magistrates' Court), St. Paul's Square and Kilburn High Road, talk by Alan Hovell on the past High Road scene. Please note the venue shown for the 18th March talk was shown as St Anne's in error.
Friday 17th April, 7 pm. COLAS, St Olave's Church, Hart Street, EC3R 7BN. Londinium, Britannia and the Rhine Frontier, talk by Harvey Sheldon (HADAS President). Visitors £3.
Monday 20th April, 8.15 pm, Ruislip, Northwood and Eastcote Local Historical Society, St Martin's Church Hall, High Street, Ruislip HA4 8DG. Roman Leicester, Life in the Roman World. Talk by Malcolm Morris (Leicester University). Visitors £2.
11
Wednesday 22nd April, 7.45 pm, Friern Barnet & District Local History Society, North Middlesex Golf Club, The Manor House, Friern Barnet Lane, N20 ONL, Alexandra Palace, speaker TBA. Visitors £2, refreshments and bar. Please note that the title for the 25th March talk was shown as "Conference" in error instead of "Society."
Friday 24th April, 7 pm. E.M.A.S Archaeological Society, Clore Learning Centre, Museum of London, 150 London Wall, EC2Y 5HN. A Viking Age Funeral – an Eyewitness Account. Talk by David Beard, visitors £3. LAMAS and E.M.A.S members free.
Amendments to February Newsletter: please note the time for the 12th March Highgate Society should be 7 pm; and that for the 20th March for the Wembley Historical Society should be 7.30 pm.
====================
With many thanks to this month's contributors:
Bill Bass, Stephen Brunning, Melvyn Dresner, Graham Javes, Eric Morgan, Jim Nelhams, Peter Pickering, Sue Willetts and David Willoughby.
====================
Hendon and District Archaeological Society
Chairman Don Cooper 59, Potters Road, Barnet, Herts
(020 8440 4350) e-mail: chairman@hadas.org.uk
————0————
Hon. Secretary Jo Nelhams 61 Potters Road Barnet EN5 5HS
(020 8449 7076) e-mail: secretary@hadas.org.uk
————0————
Hon. Treasurer Roger Chapman 50 Summerlee Ave, London N2 9QP
(07855 304488) e-mail: treasurer@hadas.org.uk
————0————
Membership Sec. Stephen Brunning, Flat 22 Goodwin Court, 52 Church Hill Road,
East Barnet EN4 8FH1
(020 8440 8421) e-mail: membership@hadas.org.uk
————0————
Web site: www.hadas.org.uk
Discussion group: http://groups.google.com/group/hadas-archaeology
12