Number 594 September 2020 Edited by Stephen Brunning
HADAS DIARY – LECTURE AND EVENTS PROGRAMME 2020
Tuesday 13th October 2020: From Medieval Houses to Community Archaeology: Excavations at Eastcote House Gardens, 2012-17. Lecture by Les Capon.
Tuesday 10th November 2020: To the confirmed.
As yet, no decision has been made concerning a Christmas gathering.
Please note that until further notice all lectures will be held online via Zoom due to coronavirus. We will be sending out an invitation email with instructions about how to join on the day of each talk. Keep an eye open for them!
______________________________________________________________________________
Membership Renewals – a reminder. Stephen Brunning.
Many thanks to those who have already paid their subscription. If you intend to renew this year and have not yet done so, I would be grateful to receive payment by 15th October 2020 at the following rates: £15 (Full), £5 (each additional member at the same address), and £6 (student). My address is on the last page of this newsletter.
It is not necessary to return the renewal form enclosed with the March newsletter. A piece of paper with your name, postal address, telephone number and email address (if applicable) will suffice. I will then be able check the details we hold are still correct. If you have not already done so, it would also be helpful if you could indicate your willingness to
receive the newsletter by email. This helps to keep our costs to a minimum. Thank you.
_________________________________________________________________________________________________
1
Annette Bruce
It is with great sadness that we learn that Annette Bruce died on 1st August at Charing Cross Hospital following a stroke.
Annette joined Hadas in 2016 and regularly attended our lectures. She also joined and thoroughly enjoyed our 2019 trip to South Wales.
Annette had a remarkable zest for life and learning. She loved being able to attend exhibitions and concerts and visited the Troy exhibition at the British Museum shortly before lockdown. She challenged herself with Japanese and Welsh classes and performing in piano concerts with fellow students, and she enjoyed travelling the world on historic and cultural lecture tours.
Outings in the newsletter Jim Nelhams
Jo and I have a big gap in our diary for September where normally we would have a 5-day long trip with HADAS members. We have always aimed to visit unusual places and places that you would not visit on your own. While we did visit a number of likely places before the lockdown, our list was not complete so more work was needed, and some we had already checked have not yet re-opened or have problems with larger groups and social distancing.
The first trip we organised with help from Don Cooper before he became unwell, was in 2009 to Hereford. In earlier times, each trip was written up by a small number of members, usually just four. We asked for volunteers on each trip to cover just one location and serialised the articles in our newsletters over the winter months. This year, we will not be so fortunate and will leave gaps.
Counting back, the 11 outings from Hereford onwards have provided 223 articles from 44 different authors. It has given people the chance to note something that has interested them, and the variety of styles has added to the interest. Our thanks to them all.
______________________________________________________________________________
Church end farm 1961-66 – additional details on surviving ceramic building material, pottery and clay pipe Andy Simpson
I was interested to read the note on Dr Brian Robertson in the August newsletter and the involvement of himself and his late brother Ian in the Church End Farm excavations in the 1960s. This has prompted me to forward this review of additional Church End Farm material located in the HADAS archives over the past five years or so, since the original publication of 'The Last Hendon Farm'
Following publication of the original Church End Farm book, 'The Last Hendon Farm – The Archaeology and History of Church End Farm' by the HADAS Finds Group and edited by Jacqui Pearce, when clearing out the former 'garage store' an additional four boxes of previously unrecorded ceramic building material (CBM) were found amongst the stored HADAS artefacts. These are additional to the two boxes that were initially available for study when the book was originally researched. These four boxes contained in total two fragments of possible chimney pot, one small piece of Roman tile, one substantial piece of post-medieval pottery, three complete lengths of field drain, two pantiles, two small pieces of grey roofing
2
slate, a short single length of one-inch diameter wooden wattle, three peg tiles, three curved roofing tiles, two nibbed tiles, and nine 'house' bricks and seven paving bricks, the latter with an average width of four inches.
In February/March 2016 the opportunity was taken to sort and fully record them and attempt to match them with relevant sections of the above published account. Not all could be matched with the published account, but those that could be identified with some confidence are listed below.
They represent both Site 1 (The Farmhouse, dug in 1961, 1962, 1964 and 1966) and Site 2 (The Paddock, south–west of site 1 and dug in 1964 and 1966; it happily still survives as an area of open ground used by Middlesex University), often with quite detailed card tag labels attached.
One additional pottery item was identified; a large English brown salt-glazed Stoneware pot or jar lid, slightly chipped on one side, with a diameter of 7.5 inches/180 mm, weighing 1263g, with three finger holes in top to aid grip. Dated 1700 – 1900, It is marked CEF64, box code AA.
Two further clay pipes have also been found in material left by the late Ted Sammes.
One is a plain, reconstructed bowl of type AO25, dated 1700-1770, with bottered rim. It has no maker's mark but does retain 148mm of surviving stem and has splashes of yellow glaze on the right-hand side bowl and stem. It is marked 'CEF N'. The HADAS publication 'The Last Hendon Farm' records in the coins and tokens section on page 71 that context N was dated 1680-1700 – so just about matches – and also contained a Charles 1 farthing.
And over 50 years on, we are STILL finding items from the Church End Farmexcavations recorded some years ago in the HADAS publication 'The Last Hendon Farm'
From further material recorded in 2019, Sammes Clay Pipes List CFM 30 is another one of these – an unmarked bowl of type AO25, 1700 – 1770,finely burnished with a cut top and marked with trench/context details CEF64 K2 30, suggesting it is from the main farmhouse site, on the west side of the west wall area.
The Last Hendon Farm, p.71, gives a date of 1640-1660 for the context, so perhaps this is a residual item.
A major find when studying the additional CBM was a small corner fragment of Roman hypocaust combed Box-Flue tile, weight 65 grammes and with sides 0.5 inches/13mm thick, complete with surface combing. It was with the marked box code CE, and goes with the very limited Roman pottery finds from the site – single sherds of the ubiquitous in Hendon Alice Holt/Farnham Ware, plus sand-coloured coarseware and Gaulish amphora (Op cit p.42)
There are numerous items from Site 1.
From the first 18 inches depth of rubble Trench C in the area of a brick drain and step, there is for some reason a single piece of grey slate retained, labelled with the dates 24/6-1/7.
From Trench H, which lay across the foundations of the demolished south wall of the farmhouse, we have a single brick, 5 x 2 x 1.25 inches, labelled 15 July 1962, 30 inches down (23 inches below burnt layer); 35 inches north from top of well.
3
Brick and tile drains have been a feature of many sites excavated by HADAS, from Church End Farm to Burroughs Gardens to Clitterhouse Farm. The CEF book illustrates a fine example – Fig. 23, on page 32, from Site 1 Trench 18. Deeply laid, it ran north-south and was constructed of two courses of brick on a tile base; another similar drain underlay the south extension wall. Parts of one of these, possibly the former were retained and were reconstructed in 2016, helped by careful numbering of the bricks by the original excavators. There are two peg tiles, each measuring 10.25 x 5.75 x 0.5 inches, with heavily mortared inner face and upper surface mortared at each end where the bricks were laid on top of the bricks, there are three identical 9 x 4 inch bricks and weighing some 2kg.
In 1964, trench 1 was excavated along the line of the former west wall of the farmhouse. From it, we have a single brick, 6 x 1.75 x 2.5 inches, marked 28 July, mortared on four sides.
Another 1964 find is a 14.5 x 7.5 x 0.75 inch nibbed/flanged tile labelled 'from small boiler house of the old greenhouse 30/8/64', with interlocking flange and notably sooted interior and weathered external/upper face.
Two bricks of similar size bundled together are labelled 'from Herringbone (floor) over Trench 12'. A third, smaller brick measuring 4.5 x 4 x 2.75 inches from Trench 12, layer 5 is dated 29 /8/64, and is marked with the box code KS.
There is at least one fragment of chimney pot, heavily sooted on its curved inner face, diameter 15 inches/360 mm, with a raised pecked ridge and leaves decoration.
From site 2 – The Paddock – we have two lengths of typical coarse red fabric field drain of probable nineteenth century date, excavated in 1966, from squares 6B and 6C. This tallies with the account on page 7 of the CEF book mentioning drains seemingly from the same system found in these two trenches. Both recovered lengths are 12 inches long with a two-inch bore; one has a moulding seam and flattened side, the other, strangely, bears evidence of sooting on one side.
A third length of field drain is also 12 inches long with a two-inch bore, with the box code CEF64 AO.
______________________________________________________________________________
From Peter Pickering
The Government has just published a White Paper 'Planning for the Future' which proposes a complete reform of the planning regime. Very briefly, it would divide the whole of England into 'Growth' 'Renewal' and 'Protected' areas; in Growth areas there would be automatic outline planning permission for the principle of development; in Renewal areas there would be a general presumption in favour of development; and in Protected areas (including Green Belt and conservation areas) there would be the same requirements for planning permission as at present.
These proposals have only just appeared and are out for consultation until the end of October; they are controversial and there is a lot of significant detail in them. The main concern for archaeologists is whether they will weaken the power to impose conditions requiring archaeological investigation in advance of development. For Archaeological Priority Areas are not of themselves protected areas (though in towns and cities they may often be protected as conservation areas).
I expect this matter, and the related implications for the Barnet Local Plan (on which we are awaiting the Council's next move) to take up much of my time in the autumn.
4
HADAS Hand-axes Bill Bass
Through the good offices of Chris Newbury and his late mum Dorothy, we have received several boxes of assorted finds, files and maps etc from members past and present. Amongst these is a wonderful collection of 10 hand-axes. While there's not really a HADAS connection (?), they were given to us at some point in the past. The newspapers they are wrapped in date to 1990 and the plastic bag they are in relates to 'SHUTLERS' in Temple Fortune Lane (Home and Garden goods). A tag tied to the bag says "Flint axes given me by David St George. Exact provenance unknown, but found in the area of Diss."
The hand-axes appear to include a mixture of ovate, triangular and pointed shapes, all unmarked. Diss in Norfolk is nearby to Hoxne which is a well-known 'type site' for this sort of material, The Great Interglacial – the Hoxnian is named after it, if so this may make the hand-axes possibly 400,000 years old. A site currently being excavated is at Barnham, Suffolk about 18 miles west of Diss, by a team from the British Museum which is part of the Pathways to Ancient Britain project (see 'British Archaeology Jan/Feb 2020'). This site has similar material as well as wealth of environmental evidence.
Could any of the earlier HADAS members shed any more light on this collection?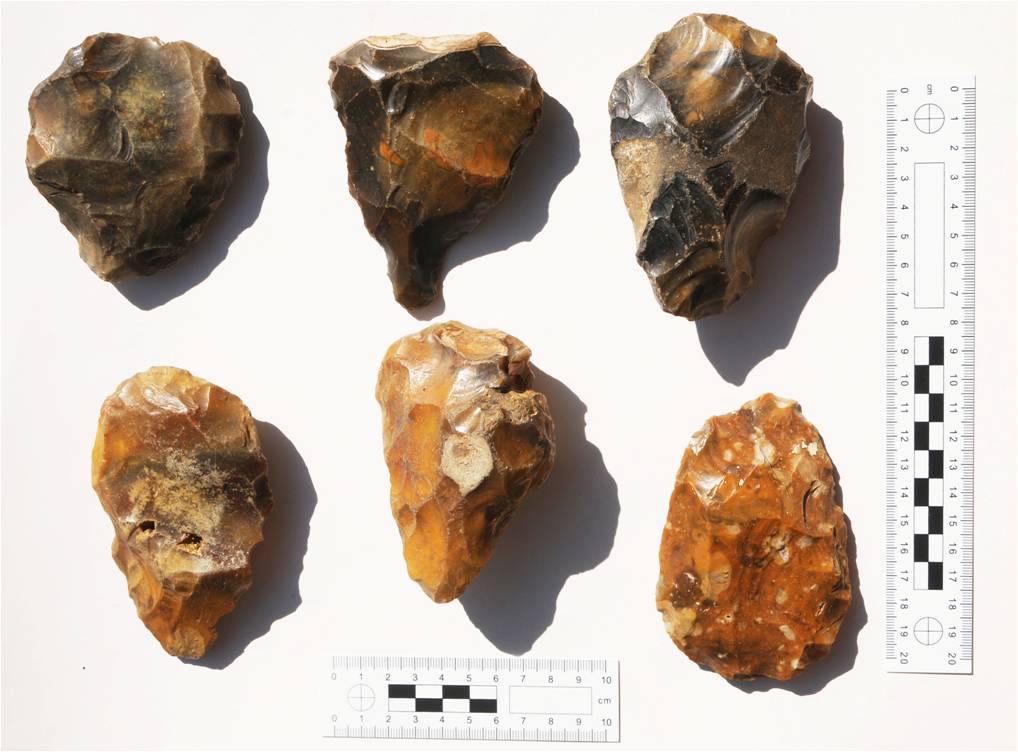 5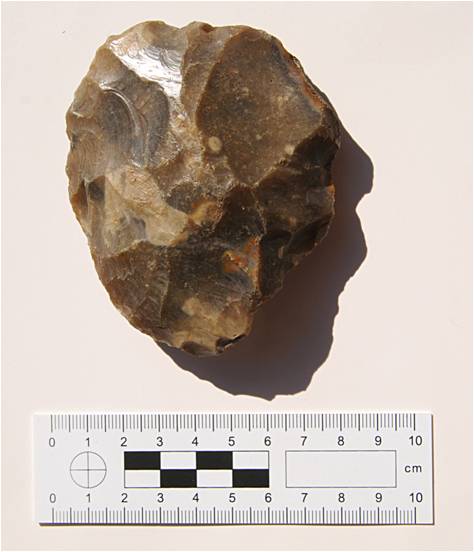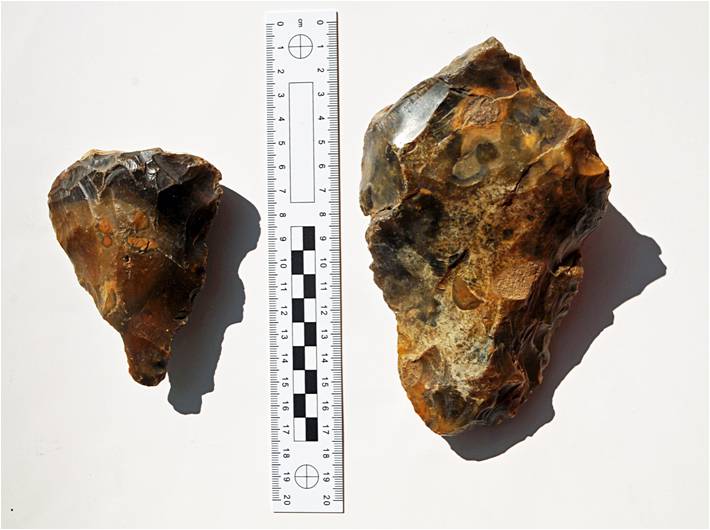 6
Old tram track rediscovered in Colindale Andy Simpson
Sometimes roadworks have rediscovered tram track underneath the road surface, exactly as it was when the tramways were abandoned and the concrete had just been put on top. But in some locations the track was removed and cut up into smaller sections to then be used to strengthen the road surface. One such location was Edgware Road in Colindale, where recent utility work by Affinity Water replacing large water mains has rediscovered these small sections of track once more.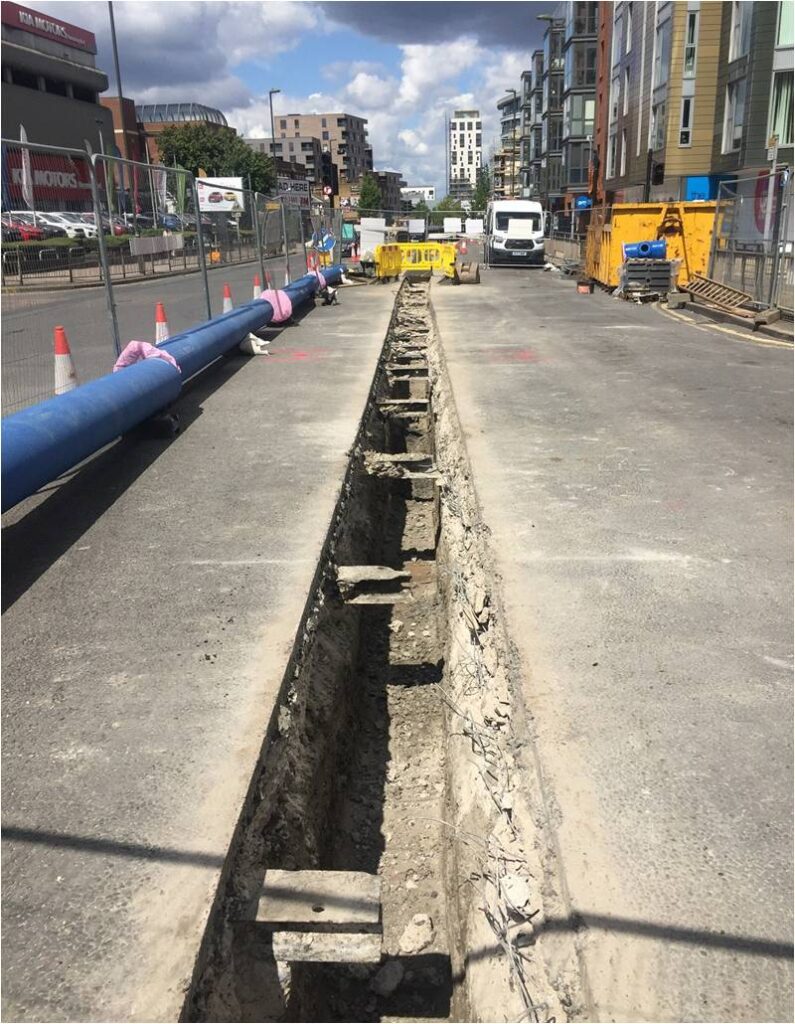 7
Trams last ran along the Edgware Road through Colindale and Burnt Oak to Edgware/Canons Park in 1936 when they were abandoned in favour of trolleybuses (which were themselves replaced by motorbuses in January 1962) but the tracks remained in place until during the Second World War when their removal was approved by Middlesex County Council who originally owned the tracks in the area, to be undertaken by Hendon Council sometime after November 1941 and presumably at that point cut into smaller sections and used to strengthen the road surface rather than simply going towards the wartime scrap drive which saw the removal of hundreds of miles of abandoned tram tracks throughout the country at this time.
Back in the early 2000s the same arrangement was seen by your scribe a mile or so south of this location during similar works near the junction with Kingsbury Road. The current works started around the Burnt Oak area and are gradually proceeding southwards towards this point it seems from conversations with the contractors, who had been warned of the presence of the tracks and were finding them very hard to remove where occasionally necessary. By early August 2020 work had reached the junction with Colindeep Lane.
I have also been examining the trenches for any sign of the original Roman road surface of Watling St. Near the junction of Colindeep Lane (see picture below) in particular there are two bands of gravel and small cobbles within the London clay visible in the trench sides but I am not sure they are thick enough for a road surface – certainly not comparable to the thick and regularly repaired road surfaces seen in urban excavations at any rate.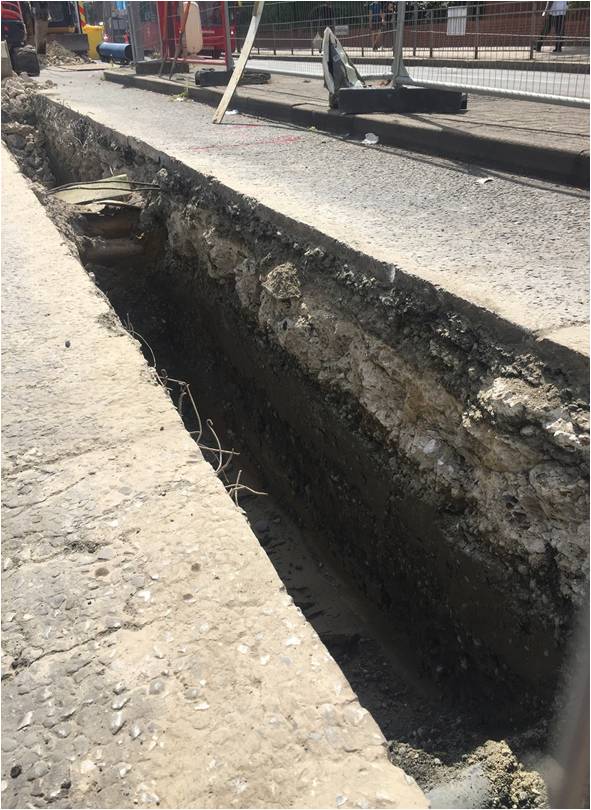 8
Elsewhere in the Borough, as previously recorded by Bill Bass, much of the double tram track and cobbled road surface remains in place up Barnet Hill, last used in 1938.
______________________________________________________________________________
HADAS taking the Waters Jim Nelhams
Water and our waterways were an essential building block for the Industrial Revolution so we have visited a number of canals and canal-side places. And a boat trip supplies a chance to relax and rest your feet, as well as seeing the area from a different angle. We have also been to a number of water mills and waterwheels.
Many of the places we have taken in demonstrate the ingenuity of our predecessors, and many of these places have been restored and are now run by volunteers. Long may they continue.
Starting from our Hereford excursion, we visited the National Waterways Museum in Gloucester Docks followed by a 45-minute trip on the Gloucester & Sharpness Canal.
2010 saw us based in Norwich and we included a boat trip from Great Yarmouth to the Berney Arms Windmill and pub, located in The Broads, and only accessible by boat. To make this journey, traffic on the road bridge carrying the A47 had to be stopped so that we could pass through.
One lesson we learned here was that some summer services stop when children return to school after their holidays. However, when we ask for a trip for 30+ people, the service magically re-appears JUST FOR US.
In 2011, we were based on the Isle of Wight, so our out and back journeys included the ferry between East Cowes and Southampton. Again we were able to arrange a boat, this time from Yarmouth, so that we could visit Hurst Castle, one of Henry VIII's forts on the mainland protecting the entry to the Solent.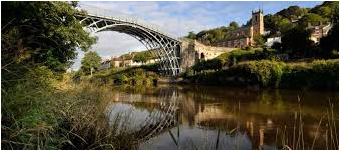 Ironbridge was our base in 2012, and what better way to see the bridge but a specially arranged boat trip on the River Severn going under the bridge. And our outing to the Blists Hill Victorian Town through which runs the Shropshire Canal provided the chance to walk along the towpath to The Hay Inclined Plane, effectively a funicular railway for specially adapted narrowboats, so that they could descend from the top of the hill to the River Severn below. And on our return trip to London, we stopped at the Canal Museum at Stoke Bruerne on the banks of the Grand Union Canal. Some of the party had a short boat trip up to and just into the start of the Blisworth Tunnel.
2012 took us to Buxton and during our visit to Cromford Mill, we had a brief chance to visit the end of the Cromford Canal, which is being gradually restored to Derby. Our next stop
9
was rather wet, but by the time we reached Foxton Locks on the Leicester section of the Grand Union, the sun was out and we were able to visit the small museum, help a couple of boats through the staircase of locks, and investigate another inclined plane. There are 10 locks in two groups of 5. Passing is only possible between locks 5 and 6, otherwise you travel directly from one lock into the next.

Unlike the Hay Plane at Ironbridge, this worked by moving a caisson full of water. Full size canal boats would drive into the caisson and then be moved up or down the slope, thus bypassing the staircase of locks and saving the boat up to 3 hours on their journey. Sadly no longer working though restoration is planned.
Our trip to Canterbury in 2014 did not have any planned water excursions, though Andrew and Liz Tucker managed a trip on the River Stour, and we did visit lifeboat stations at Dungeness and Whitstable, and we saw the Dover bronze age boat. Lyndhurst in the New Forest was our base in 2015. Our first stop on the way was the Crofton pumping station on the Kennett and Avon Canal, and we had arranged for this to be in steam and operation while we were there. This Edwardian pumping station was built to pump water to the highest point of the canal, and while most of the time this task is performed by electric pumps when the station is in steam, it performs the task for which it was built, and the electric pumps are turned off. When on one occasion the electric pumps both failed, the volunteers were called in since without the supply of water the canal cannot function.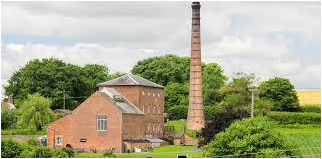 Later in the trip, we visited Bucklers Hard and had a boat trip on the Beaulieu River. Our final stop on our way home was to Whitchurch Silk Mill on the River Test, giving us the chance to see the waterwheel in operation.
2016 saw us further along the Kennet and Avon, based at Bradford on Avon. Our journey down included a stop at Devizes, with a small Canal Museum among the options to visit. Then via the brewery on the canal bank, to stop briefly to view the Caen Hill Flight of locks. There are a total of 29 locks raising the canal 237 feet in 2 miles, but the flight contains 16 close locks in a straight line, with only passing places between them.
10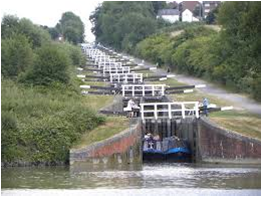 Bradford also boasts a splendid Tithe Barn right next to the canal.
The highlight of this trip was a visit to the pumping station at Claverton. Then under restoration by volunteers, and now operational, it uses a waterwheel on the River Avon to pump water from the river to the canal – completely green energy. The pumping station is not accessible by coach, so we chartered a narrowboat in Bath to make the hour and a quarter trip each way to Claverton, with a cream tea on the return leg.
Frodsham was our base in 2017, in a hotel with a splendid view across the Mersey, and the Manchester Ship Canal to Liverpool. A stop on route at Redditch to visit a needle mill, powered by another waterwheel. From Frodsham, we went to Norton Priory on the banks of the Bridgewater Canal, the first to be built in Britain, so that coal could be taken to Manchester. We continued to the Lion Salt Works near Northwich, on the banks of the Trent and Mersey Canal. Salt from here was exported round the World, initially by barge which would have used the Anderton Boat Lift, our next visit. This double lift raised/lowered boats between the canal and the River Weaver, giving a faster way to the Mersey. We rode the lift downwards with a full commentary.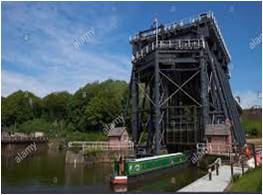 11
Our trip home included a stop at the Cheddleton Flint Mill on the side of the Caldon Canal. Here, nodules of flint arrived by boat to be ground by the two still working waterwheels for inclusion in the clay for potteries in nearby Stoke.
Our planned boat trip in 2018 while we were at Brome had to be cancelled because of high winds, but we did manage to visit the tidal mill at Woodbridge and see it working. At high tide, the river fills a small reservoir. This is emptied at low tide to drive the mill to grind flour..
Last year, we were based at Aberavon on the shores of Swansea Bay, and started our day in Swansea with a trip on the River Tawe. The Welsh name for Swansea in Abertawe which means the mouth of the River Tawe. And our first trip on our final day was to a different type of water – the waterfalls at Aberdulais in the Neath Valley. Aberdulais, the mouth of the River Dulais where it joins the Neath River, has had a number of industrial uses, but today the waterwheel driven by the falls is, at 27ft diameter, the largest wheel in Europe generating electricity.
Quite a selection of places. Most are written up in more detail in our newsletters which can be searched on our website www.hadas.org.uk. If anybody would like further information on any of them and may want to visit, please contact Jim Nelhams (020 8449 7076).
______________________________________________________________________________
************************************************************************
With many thanks to this month's contributors:Bill Bass, Jim Nelhams, Andy Simpson and Peter Pickering.
===============================================================================
Hendon and District Archaeological Society
Chairman Don Cooper 59, Potters Road, Barnet EN5 5HS (020 8440 4350)
e-mail: chairman@hadas.org.uk
Hon. Secretary Jo Nelhams 61 Potters Road Barnet EN5 5HS (020 8449 7076)
e-mail: secretary@hadas.org.uk
Hon. Treasurer Roger Chapman 50 Summerlee Ave, London N2 9QP (07855 304488)
e-mail: treasurer@hadas.org.uk
Membership Sec. Stephen Brunning 22 Goodwin Ct, 52 Church Hill Rd,
East Barnet EN4 8FH (020 8440 8421)
e-mail: membership@hadas.org.uk
12