No. 561 DECEMBER 2017 Edited by Don Cooper
Doesn't time go quickly, here we are in the middle of November looking forward to that end-of-year holiday period again!! Do the years go faster as you get older? It seems like only yesterday that I edited the last one!
May we take the opportunity to wish all our readers and their families, a happy holiday and a healthy and prosperous 2018
HADAS Diary
Sunday 10th December 2017 HADAS Christmas Party at Stephens House and Gardens (formerly Avenue House) from 12.30 to 4.00 pm Tuesday 9th January 8pm: Professor Christopher Scull The Anglo-Saxon princely burial at Prittlewell, Essex. Tuesday 13th February at 8pm: To Be Confirmed. Tuesday 13h March at 8pm: Dr. Roger Tomlin Roman London's First Voices: Roman writing-tablets from Bloomberg, London.
Tuesday 10th April 2018 at 8pm: Stuart Cakebread The Greater London Historical Environment Record.
Tuesday 8th May 2018 at 8pm: Mark Smith The archaeology of WW1 (PROVISIONAL).
Tuesday 12th June 2018: ANNUAL GENERAL MEETING
Tuesday 9th October 2018 at 8pm: Gabriel Moshenska Unrolling Egyptian mummies in Victorian London
Tuesday 13th November 2018: TO BE CONFIRMED All Lectures are held at Stephens House & Gardens (Avenue House), 17 East End Road, Finchley, N3 3QE, and start promptly at 8.00 pm, with coffee & tea served afterwards. Non-members welcome (£2.00). Buses 13, 125, 143, 326 & 460 pass nearby and Finchley Central Station (Northern line) is a 5-10-minute walk away.
URGENT
Newsletter editors required. We are in urgent need of additional newsletter editors for the HADAS monthly newsletter. Just once a year, each Editor puts together one Newsletter, using information and reports sent to them mainly by email and preparing the newsletter to a general format/style guide. The assembled newsletter is then sent to the newsletter co-ordinator (a member of HADAS committee, currently Sue Willetts). If you are just thinking about volunteering and want to know more, please e-mail or phone chairman@hadas.org.uk or 0208 440 4350
2018 Long Trip Jim Nelhams
We are pleased to announce that our long trip next year will be based at the Best Western Brome Grange Hotel (www.bromegrangehotel.co.uk) from Monday 17th to Friday 21st September 2018. The cost is expected to be around the same as this year with deposits due at the end of February and the balance in July.
The Hotel is at Brome, just south of Diss, and close to the border between Suffolk and Norfolk. The hotel is slightly smaller than some we have used, so if necessary, we will run a waiting list. To register your interest, please contact Jim or Jo Nelhams by email or phone as soon as you can, so that we have an indication of the number of rooms required.
Contact information is shown at the end of this newsletter.
Search for the Battle of Barnet Chantry Chapel Bill Bass
As members may be aware there has been a wide ranging archaeological survey and small-scale test-pitting excavation over the last couple of years to test the theory that the Battle of Barnet took place further north than the accepted area of Hadley Green. The survey is being undertaken by Glenn Foard of Huddersfield University and Sam Wilson of Cotswold Archaeology with Barnet Museum organisation and volunteers. Part of that search is to try and locate the Chantry Chapel said to have been built after the conflict possibly over or near burial pits containing the dead.
There have been many theories where the chapel may have been but Brian Warren, a local historian, has conducted extensive research on the matter and believes he may have identified the area of the chapel based on various maps and documents and evidence in the Manor of South Mimms records. The moated area known as 'Hermitage Cottage' is a likely candidate which lies in the vicinity of Wrotham Park north of Hadley.
The 2017 campaign included a further metal-detecting survey and a range of test-pits over the possible site of the chapel. This area has been previously surveyed with geophysics, but this had been inconclusive. The land had also been built over by subsequent owners, perhaps masking earlier archaeology. On this occasion HADAS were involved by supplying volunteers from our Fieldwork Team together with digging tools. Volunteers from Barnet Museum were also involved, all overseen by battlefield specialist Sam Wilson.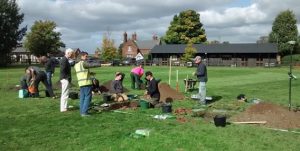 A total of 16 1x1m test-pits were dug within the moated area. Most of the finds were post-medieval brick and tile demolition rubble. A substantial brick built 'culvert' was seen at the bottom of one trench and nearby the cut/edge of a large ditch feature was excavated, possibly something to do with the culvert, or something else. Mixed in with all of this was some pot, animal bone, some glass and so forth, mostly dating to 1700-1800 period? Many of the trenches were dug down to the sandy natural – which had a large amount of decayed root material; a bit confusing at times.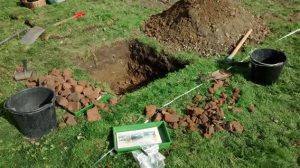 Other finds included a dressed stone block found near the existing moat arm, some dressed flint and small amounts of lead (to hold stained glass), a possible decorated strap-end/book clasp (?) and some buckles, coins, lead-weights and other metal finds found by a metal-detectorist. The date of this material needs investigating.
So, unfortunately, as yet no real sign of the chapel foundation and not much late medieval material (so far), but the finds will undergo cleaning and processing which may reveal further evidence. Also, we have only looked at a smallish area of a large site in and out of the moated area. Hopefully the project will continue next year to find the elusive Battle of Barnet Chantry Chapel.
Further reading:
Reappraisal of The Battle of Barnet 1471 by Brian Warren.
Geoffrey de Mandeville and London's Camelot by Jennie Lee Cobham.
The Shipway Tobacco Clay Pipe Makers of Bermondsey Susan Trackman
Thomas Shipway
He lived and worked as a tobacco pipe maker from a house in Thomas Place (renamed 1901/2 Caffrey Place in Great Suffolk Street) from at least 1832. He may have been born in Shoreditch c1798. Thomas had a wife Catherine. They had six children. The eldest, Charles, was born in 1820 and the youngest, Elizabeth, was born in 1836. All six were christened on the 30th June 1837 at St Mary Magdalene, Bermondsey. Thomas Shipway died in 1839. The Museum of London (MOL) database gives Thomas' working dates as 1832-1840, so presumably his moulds continued to be used for a short while after his death. His pipes were marked TS. He may have been working in partnership or employed a member of the Longworth family (see below).
Catherine Shipway
Catherine Shipway was born in Herefordshire in 1798. She and Thomas probably married about 1819-1820. Their elder son, Charles, was born in 1820. Presumably, she helped her husband in the business as she took it over after his death. The MOL database gives her working dates as 1844-1858, but she was already working as a pipe maker by 1841. The 1841 Census lists Catherine and her elder son Charles as tobacco pipe makers but the enumerator (by ditto marks) indicted that all her six children were involved in the business. A journeyman, Thomas Port, is listed as part of Catherine's household. Presumably, he was employed by her. Catherine marked her pipes CS. None of her children appear in the MOL database.
The 1841Census also shows that another pipe maker, Thomas Longworth (aged 26) his wife and two children, were living at the same address. The MOL database states that Thomas, John and Robert Longworth all worked in Southwark. Their pipes were marked TL. One member of the family (son or nephew) later worked in Highgate. According to the 1861 Census, a John Longworth (aged 20) worked at the Tobacco Pipe Manufacury in Muswell Hill Road.
Catherine remained in Thomas Place for at least another ten years. The 1851 Census shows that Catherine was still working as a pipe maker. Charles had left home but her younger son William (aged 20) was still living with her and was working as a tobacco pipe maker. Her daughters, although living at home, were not involved in the business. The oldest had become a dressmaker. Catherine's household also included a fifteen-year-old apprentice, George Laywood.
At some time, between 1851 and 1861(possibly about 1858) Catherine Shipway and her son William moved from Thomas Place to a house in Wynford Terrace, Rotherhithe. Whilst, the 1861 Census, states that William Shipway was still working as a pipe maker, Catherine had embarked on a new career as a linen draper. By 1871 William had joined his mother as a draper's assistant. An eighteen-year-old granddaughter, Maryann Shipway (presumably the daughter of the elder son, Charles) was also employed in the business. The 1861 Census shows that business was doing well enough for Catherine to employ a sixteen-year-old live-in domestic servant. By 1861 Charles Shipway was also no longer a pipe maker. Catherine Shipway died in 1878 aged 82.
A new publication from Barnet Museum and Local History Society (BMLHS)
Don Cooper
BMLHS have published a fascinating journal of history articles from Barnet. There are nine articles in this the first volume of BMLHS journal, ranging from a theft at an East Barnet Tennis Tournament in 1475, connections with the Church Farm Boys Home in East Barnet, Zeppelins over Barnet in WWI, memorials from the Second Boer War, the effect of bombing in WWII, The Jesus Hospital Alms-houses as well as an article about a sampler from the 18th century. It is an informative read. This is a promising start to a new publication series from BMLHS.
The Barnet History Journal, Volume 1 (2017) can be obtained from Barnet Museum at the reasonable cost of £4 per copy.
Another new publication Don Cooper
An Atlas of English Parish boundaries by T C H (Tim) Cockin is published by Malthouse Press. This whopping 900-page volume is an atlas of old English parishes for local historians and genealogists. The 19th Century Ordnance Survey 6-Inch County series maps have been traced over at 16.8mm (0.6619 inch) to 1 mile with readable text, combined with information from tithe maps and other sources. The book is available at £45 from timcockin@yahoo.com or phone 0178 237 2067
LAMAS Local History Conference – Part 1 Don Cooper The 52nd LAMAS (London & Middlesex Archaeological Society) Local History Conference took place on Saturday, 18th November in the Weston Theatre at the Museum of London. The conference was reasonably well attended with the theatre about half full. The theme of the conference this year was "Pastimes in Times Past: Entertainment in London". The first speaker was Dr. Michael John Law (a research fellow in History) and his topic was "London Roadhouses in Fact and Fiction". In the 1930s, Roadhouses were built mostly on the western side of London outside the area covered by the Metropolitan police. They were built beside the new arterial roads which had been constructed after the First World War. They provided massive and around the clock entertainment. The two largest were the "Ace of Spades" on the Kingston by-pass and "The Thatched Barn" on the Barnet by-pass. They relied for customers on the motor car (no speed limits, no drink driving laws). Those who had cars in the city could speed down the arterial roads with their companions and have a great time swimming (the Thatched Barn had a 60m pool!), eating and drinking. The advent of petrol rationing, and the start of WWII killed them off. However, they live on in fiction with many detective and spy stories (Graham Greene and J. B. Priestley included) featuring them. It was used as a location for the TV series "The Saint" and, later, "The Prisoner". The original building was demolished at the end of the 1980s and is now a hotel. There are all sorts of myths about the Thatched Barn, probably brought about by its proximity to the MGM studios nearby, and the fact that it was used by the Special Operations Executive during WWII. I was left thinking I must find out more, especially about "The Thatched Barn". Then Dr Michael Peplar talked about "Cultural Capital: London and the making of Modern Public entertainment" The talk's premise was that a distinctly modern culture centred on London developed in Britain between the late 17th c and the early 20th c. with London's emergence as the largest city in the world with a population that wanted to be entertained. The growth of London can be ascribed to the industrial revolution and colonial growth, giving its citizens more disposable time and money. This opportunity was satisfied by the new kinds of public and semi-public spaces – commercial theatre, pleasure gardens, coffee shops, music halls, shopping arcades, and sporting venues that became available. The keynote lecture was by Lee Jackson. It was entitled "The way of the Whirled: Commercial dancing in Victorian London". Londoners loved to dance, from the polka mania of the 1840s to the Hammersmith Palais of the twentieth century. The Hammersmith Palais which opened after the First World War only closed in 2007. Lee traced the history of commercial dancing through this period from the upper-class ball through the highly respectable late-Victorian town hall to the seedy prostitute-ridden dance academies. Ultimately none of these establishments could compete with the music hall and modern alternative entertainments. Lee Jackson has written both fiction and non-fiction about London. He also runs a vast website on Victorian London – www.victorianlondon.org well worth a visit. This was fascinating talk. To be continued in the next newsletter
FRODSHAM Trip – Day 2 Jim Nelhams
Tuesday and we are up to the full complement of 40 on the coach. A leisurely day was planned with not too much walking and an early return to the hotel. Our first visit was to Norton Priory, where staff had kindly agreed to open early so that we could fit in our later visits. Then to the Lion Salt Works in Northwich followed by one of my highlights of the trip, a ride in the Anderton Boat Lift. But let others expand.
Norton Priory Museum and Gardens Claudette Carlton
Since 1134, this site has housed an Augustinian Abbey, a Tudor House and a Georgian Mansion. The present museum was opened in 2016, and provides a spacious light-filled entrance to the archaeological remains of the monastery, via the virtually intact monastic undercroft.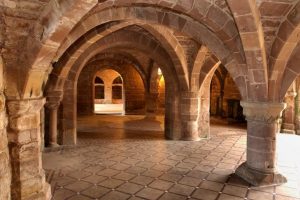 Only foundations remain of the monastery. The Abbot's herb garden has been re-created, and there is a seat in the gardens with sculptures of a Green Man on one arm and a Corn Goddess on the other. Four bays of the monastic cloister have been re-created in the museum.
Norton Priory has a large tile collection, which must have been beautiful in situ, with their colours and patterns. There is information in this display about tile-making in medieval times.
One of Norton Priory's treasures is the 14th century double life-size statue of St Christopher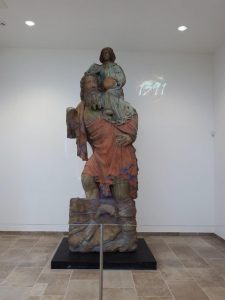 Exhibits in the museum include objects discovered in the midden, which was used by the servants of the Tudor house as a rubbish dump: leather shoes and glazed pottery bottles. There are also objects from the Georgian mansion – buttons and jewellery and more personal items.
A walled garden was built in the 1770s and restored in the 1980s. Though past its summer best at the time of the visit, it was still elegant, with herbaceous borders and rose beds, a pergola, and a beautiful tree of life gate. The garden is the National Collection holder of Tree Quinces. (But let Emma and David add more on this.)
This was a very enjoyable visit.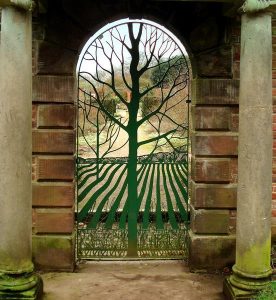 Norton Priory Georgian Walled Garden Emma and David Robinson
It was an unexpected pleasure that this reconstructed Georgian walled garden surrounded by a woodland garden (which contains the ruins of an Augustinian priory) was included on the HADAS trip itinerary. The garden was built between 1757 and 1770 for the Brooke family, the owners of Norton Priory. The Georgian house became derelict in1921 and the garden then went to sleep until in 1984 it was awoken. Unfortunately, the original plans of the garden were destroyed in a fire. Much of its fascination today rests in its sensitive recreation by the Gillespies as a kitchen garden which would have supplied the sophisticated culinary needs of the Brooke family. In doing so the Gillespies drew on records of other Georgian walled gardens and some surviving photographs and drawings.
We were fortunate to be able to talk to some of the gardeners – including a few of their fantastic team of volunteers. They explained something of what they did at the garden, the activities which went on and that some of the garden produce was used in their cafes. We were also fortunate to be shown some of the surviving images of the original garden. It sadly did not prove possible to recreate all of the buildings including glasshouses.
Since Emma started her career as a botanist and we had both looked after an English Heritage listed garden open to the public we were fascinated by the collection of fruit and vegetables varieties typical of the 18th and 19th centuries and used for culinary purposes. The garden is the home of the National Collection of Tree Quince (Cydonia oblonga) which is native to the rocky slopes and woodland margins in countries of the eastern Mediterranean and Asia. The trees are quite diverse and are dotted around the garden. Quince trees in England are first recorded in about 1275, when Edward I had some planted at the Tower of London. Other notable fruit collected include medlars (Mespilus germanica); historic varieties of apples and pears; black, red and white currant varieties; and, diverse rhubarb cultivars. Today there is an orchard, a fruit garden, a vegetable and herb garden, various ornamental borders and a traditional Rose Walk.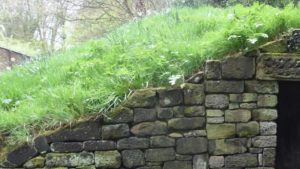 Outside the garden, in the woodland, stands a remarkable ice house where ice was stored in the winter for use in the kitchen – including making those famous iced puddings so much enjoyed by the Georgians.
We had a fascinating walk from the Norton Priory Museum mostly through broad leafed woodland. It was a wonderful season for toadstools and we saw an outstanding clump of the fly agaric (Amanita muscaria).
We could have spent much longer in the garden and woods but had to find time to visit the ruins and Museum.
Lion Salt Works Stewart Wild
Our next visit was to a major site of industrial archaeology, the former Lion Salt Works, in Marston northeast of Northwich. There had been activity on the site since the early nineteenth century, but the works sadly closed in 1986 and became derelict.
After the buildings were purchased by the local council to prevent their demolition, a charitable trust was formed in 1993. Money was raised from English Heritage and government agencies; a conservation plan was published; most of the buildings became Grade II listed, and the Heritage Lottery Fund (HLF) put in nearly £5 million towards the cost of restoration (the site scored highly in 2004 in the popular BBC tv programme Restoration).
Now a Scheduled Ancient Monument, the Lion Salt Works finally opened as a museum and major visitor attraction in June 2015, and what a marvellous site it is.
What the Romans did for us
Salt of course has been important throughout history, not only for improving the taste of food but also as a preservative. The Romans exploited underground salt and brine pools in the area, but the knowledge seems to have departed with the legions, not to return until the seventeenth century.
The first salt works on the site began in 1857, a family business. Shafts were sunk to extract brine, machinery installed, salt pans built to evaporate the water, and salt was shipped out via the adjacent Trent and Mersey Canal.
Temperature is important
The Lion Salt Works began under new ownership in 1894. Within ten years a new stove house and larger evaporating pans had been installed and markets developed not only locally but as far away as America, Canada, Australia and NZ, India and West Africa (apparently Cheshire salt was better able to withstand the high temperatures and humidity of the Tropics). Later, salt was sold to Denmark as their bacon industry developed.
Our self-guided tour through an array of buildings showed how different types of salt were produced by varying the temperature in the giant salt pans. Fine-grade table salt is produced at 110 degrees C; common salt for industry and defrosting roads at 93º C, while low-grade salt used for preserving fish and meat requires only 38º C.
Decline and fall
The company survived two world wars despite increasing competition from solar-evaporation salt pans around the world and improving technology (vacuum evaporation) in this country. By 1950 almost all of Lion's production went to West Africa but having all its eggs in one salty basket was to spell doom as a result of the Biafran War (1967–70) and later unrest in Nigeria, and exports rapidly declined.
Despite investment and modernisation, the works was unable to compete on price and by 1980 was little more than a working museum, finally closing for good in 1986. How fortunate we are that the site, now owned by Cheshire West and Chester Council, has been preserved thanks to ardent conservationists and volunteers and a shedload of HLF money.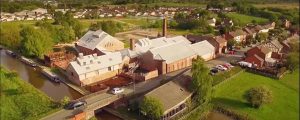 It was hot work touring the buildings, up and down stairs and reading all the excellent storyboards, but fortunately there was time before our next visit to take refreshment in the friendly on-site cafe or to visit the nearby Red Lion Inn to enjoy the excellent local ale.
The Anderton Boat Lift Vicki Baldwin
"Remember 252 tons. It's important." At least that's what we were told.
One of only two operating boat lifts in the UK, and by far the more venerable (Falkirk opened in 2002), Anderton was first opened in 1875 to create a link between the River Weaver and the Trent and Mersey Canal.
By the end of the 17th century, salt mining had become a major industry around Northwich, Middlewich, Nantwich and Winsford. The River Weaver Navigation, completed in 1734, provided a link between Winsford and Frodsham where it joined the River Mersey.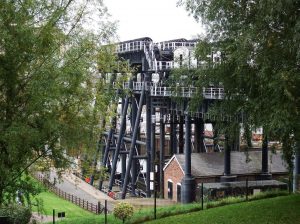 The Trent and Mersey Canal, opened in 1777, provided another route which ran further south to the coal and pottery industries around Stoke-on-Trent. The operators of both waterways decided it was more profitable to co-operate and in 1793 a basin was created at Anderton on the north bank of the River Weaver. However, as this was 50 feet below the Trent and Mersey Canal it was necessary to use cranes, salt chutes and an inclined plane to tranship the cargoes. In 1831 another quay and entrance were added to the basin, and by 1870 Anderton had become a major interchange for the transhipment of goods between the two waterways. This was time-consuming and expensive. A more convenient solution would be to move the boats complete with their cargoes. There was no suitable location for a flight of locks to be constructed and a boat lift was proposed. Chief engineer Edward Leader Williams designed an efficient hydraulic ram system working a counterbalanced pair of water-filled caissons. Each wrought iron caisson measured 75ft (22.9m) long, 15ft (4.72m) wide and 9ft 6in (2.90m) deep. The two hydraulic rams were 50ft (15.2m) long and 3ft (0.90m) diameter pistons in 50ft (15.2m) long, 5ft 6in (1.68m) diameter cylinders. The cast iron superstructure provided guide rails for the caissons and was connected to the Trent and Mersey Canal by a 165ft (50.3m) aqueduct with gates at either end. At the top of the lift structure an accumulator primed by a 10 horse-power steam engine enabled adjustments to either cylinder at the start or end of the lift. Independent operation of each cylinder was also possible.
Construction took 2½ years and the lift opened on 26 July 1875. After operating for 5 years, the cylinder of one ram burst with a loaded caisson at the top of the lift. The rapid descent was cushioned by the water escaping from the cylinder and the water filled dock at river level. Fortunately, no one was injured and the superstructure sustained no major damage. Inspection revealed the necessity to replace both cylinders and the pipework. The hydraulic system was not a sealed one and both waterways contained pollutants which led to corrosion and "grooving" of the pistons. Copper was used to effect repairs but created more problems. By 1904 the prospect of having to close the lift for extensive repairs caused the operators to consider alternative methods of operation. Installation of an electric motor and changes to the superstructure to support the added weight took place between 1906 and 1908. During that period the boat lift was only closed for a total of 49 days, reopening on 29 July 1908.
The lift continued to run for another 75 years, although post WWII the decline of commercial canal usage meant that by the 1970s most traffic was recreational and seasonal. In 1983 during repairs, extensive corrosion was discovered and the lift was closed. A restoration plan was launched in the 1990s and the £7 million required was raised. Work started in 2000 to restore the lift using an hydraulic oil system. In March 2002 the lift was reopened to boats. A trip on a boat using the lift is a fascinating experience.
Oh, I nearly forgot, but you didn't, did you? The reason 252 tons is important is that it is the operating weight of each caisson. 252 tons full of water and, due to displacement, 252 tons including a boat.
Other Societies Events Eric Morgan
Monday 8th January, 3pm Barnet Museum and Local History Society, Church House, Wood Street, Barnet (Opposite Barnet Museum). The Festival of Britain – the left overs Talk by Rob Kayne. Visitors £2
Wednesday 10th January 2.30pm Mill Hill Historical Society, Trinity Church, The Broadway, NW7. The Golden Age of Folk Song Collecting Talk by Laura Smythe.
Wednesday 10th January 7.45pm Hornsey Historical Society, Union Church Hall, corner of Ferme Park Rd/Weston Park, N8 9PX. The Influence of Effluence: Tottenham Sewage Works & The Markfield Beam Engine Talk by Ken Brereton. Visitors £2 refreshments.
Monday 15th January, 8pm Enfield Society/ Joint Meeting with Edmonton Hundred Historical Society. Jubilee Hall, 2 Parsonage Lane/ Junction Chase Side, Enfield, EN2 0AJ. Enfield Power Station: A Century of Generation Talk by Grant Browning.
Advance Notice
Friday 23rd to Saturday 24th February. Current Archaeology Live 2018, at UCL, Senate House, Malet Street, WC1E 7HD, Wide range of expert speakers sharing latest archaeological finds and research, Current Archaeology' awards at drinks reception and Current World Archaeology photographic competition. Tickets on sale at early bird rate of £89 for subscribers (available until Monday, 15th January 2018 and standard price of £139 for non-subscribers. To book call 02088195580 and quote "Canf 18 mc" or visit www.archaeologylive.co.uk .
Acknowledgements & Thanks: Susan Trackman, Stewart Wild, Jim Nelhams, Bill Bass, Vicki Baldwin, Emma and David Robinson, Claudette Carlton, Eric Morgan.
HADAS
Chairman: Don Cooper, 59 Potters Road, Barnet, EN5 5HS Tel: 020 8440 4350
Email: chairman@hadas.org.uk
Hon. Secretary: Jo Nelhams, 61 Potters Road, Barnet, EN5 5HS Tel: 020 8449 7076
Email: secretary@hadas.org.uk
Hon. Treasurer: Jim Nelhams, 61 Potters Road, Barnet, EN5 5HS Tel: 020 8449 7076
Email: treasurer@hadas.org.uk
Hon. Membership Sec. Stephen Brunning, 1 Reddings Close, Mill Hill, NW7 4JL Tel. 020 8959 6419
Email: membership@hadas.org.uk
Web site: www.hadas.org.uk/
Discussion group: http://groups.google.com/group/hadas-archaeology