No. 597 DECEMBER 2020 Edited by Don Cooper
______________________________________________________________________________
Wishing you all a happy and cheerful Christmas.
HADAS DIARY – Forthcoming lectures and events
Please note that until further notice all lectures will be held online via Zoom due to coronavirus. We will be sending out an invitation email with instructions about how to join on the day of each talk. Keep an eye open for them!
Belated AGM
The Annual General Meeting (AGM) for HADAS is normally held in June two months after the Society's year end on 31st March of any given year. However, the June AGM for 2020 had to be postponed due to the Covid-19 lockdown.
The society is required to submit its report and audited accounts to the Charity Commissioners by the end of January 2021, hence a proforma AGM will be held on 12th January 2021 to approve the report and accounts.
************************************************************************
The agenda for the revised AGM is follows:

Hendon and District Archaeological Society

Notice of the delayed 59th Annual General Meeting of the Society, due to the Coronavirus pandemic, from Tuesday 9th June 2020 to Tuesday 12th January 2021, which will be conducted as an event using Zoom at 7.15 for 7.30pm.

AGENDA
Chairman's welcome and opening comments.
1) Apologies for absence.
2) Approve the minutes of 11th June 2019.
3) Approve the Committee's reports and audited accounts.
4) Approve the appointment of Stewart Wild as Independent Examiner of the Society's accounts
1

The lockdown has restricted our activities this year. As we look forward, it would benefit the Society to have more and perhaps newer members on the committee to help build our future. We are currently below full strength as permitted by our constitution and rules.

Anybody considering becoming a member of the Committee can complete a nomination form below and send it to the Secretary by post or email to arrive by 5th January.
Jo Nelhams (Secretary)
____________________________________________________________________________________________________________________________________________________________
Hendon and District Archaeological Society

Nomination Form

I_____________________________of_________________________________________________________________
Nominate_________________________of___________________________________________________________
for the office of_________________________as a member of the Committee*.
Signed_______________________________Date________________________

I_____________________________________________consent to nomination.

Signed______________________________Date_________________________

*Delete as appropriate.

The details should be returned to the Hon. Secretary, Jo Nelhams, 61 Potters Road, Barnet Herts EN5 5HS by post or email to be received not later than 7 days before the Annual General Meeting.

__________________________________________________________________________________________________________________________________________________________________________________________________
Following the AGM there will be a talk by Dr Bly Straube – Senior Curator at Jamestown Settlement, Virginia, USA. Entitled "Surprises from the Soil: Archaeological Discoveries at 17th-Century Jamestown, Virginia." Most of the primary source materials for 17th-century Virginia in the way of maps, manuscripts, and other documents have been identified through the centuries and have been used by historians to interpret life in England's first successful transatlantic settlement that began at Jamestown in 1607. Archaeology, especially excavations over the past quarter century, has been providing new and compelling information that has prompted fresh ideas about the past. This presentation will focus on the archaeological discoveries at Jamestown since 1994 and the true "surprises from the soil."


HADAS October Lecture BY ZOOM
Jim Nelhams
Since the lockdown began in March, we have not been able to stage lectures at Avenue House. The lecture on Tuesday 13th October by Les Capon came as a first – being delivered by Zoom. Apologies to those members who do not have the technology to watch, but it is surely preferable to reach as many of our members as we can. Also, the lecture was recorded and is
2
available on the HADAS YouTube channel which is available to HADAS members only. The lecture URL should not be passed to any non-members but is available to those members that were unable to view the original lecture.
As a singer, I've taken part in many concerts and on occasions have suspected that the critics were not actually there, so I must confess that I was not at the first showing, and this write-up is only possible because of the recording.
The subject of the evening was "Excavations at Eastcote House Gardens: 2012 – 2017" and the lecturer was Les Capon of AOC Archaeology Group.
The excavations were possible with lottery funding to allow digging for a month each year for 5 years. There was no work in 2013. Volunteers came from Friends of Eastcote Gardens and other local groups and schools. Over the years, more than 300 volunteers took part with up to 40 at any one time.
The first records of a house were in 1494 in a will, but pottery indicates a start date between 1200 and 1350. Most of the residents since 1494 are known. The will mentions two closes, Hopkytts (later Hopkyttes) and Droker.
Around 1600, Hopkytts had been flattened and a new larger Eastcote House built on the site. Eastcote House was declared derelict in the 1960s and demolished with the demolition rubble bulldozed into the cellars. A medieval stable block remains, which was converted in the 1960s to become a snooker hall, with the upper floor being removed nicely showing the timber frame of the building.
Of Eastcote House, some pictures remain, and a helpful floor plan had been drawn during a survey in 1936 by the Royal Commission on the Historical Monuments of England.
The cellar spaces proved to be rich in remains of the building structure including a large number of nails. Some finds from Hopkytts were found dumped in a ditch. Most of the finds will be housed in a new museum in Hillingdon.
In the later digs, a further building was found within the park area. Was this Droker? It gave the appearance of being a smithy.
The park staff have laid out the footprint of Eastcote House using brick and stone so that people can see the location. More historical information can be found at https://eastcotehousegardens.weebly.com/history.html There are also some pictures of the digs in Photos section.
The "attendance" at this meeting was similar to our face-to-face lectures, and some members who might not normally be able to reach Avenue House were able to join in.
An Interesting Tree – Update
Sylvia Javes
Last year when we visited South Wales for our HADAS trip, I was intrigued by a wonderful tree at Margam Park near Port Talbot. I researched it and wrote about it for the HADAS newsletter –published in the December edition. This was a Cut-leaf or Fern-Leaf Beech situated in the ruined Chapter House of Margam Abbey. The tree is enormous and takes up most of the space of the Chapter House.
Fast forward to summer this year, when the Woodland Trust were inviting members of the public to vote for the 'Tree of the Year' for England, Wales, and Scotland. I noted that the Margam Abbey tree was nominated for Wales, so I voted for it. I am delighted to say that it won.
3
Llinos Humphreys from the Woodland Trust Wales said:
'An historic fern-leaved beech enveloping the remains of one of the first Cistercian abbeys in Wales has been crowned Wales Tree of the Year 2020.
The Chapter House Tree beat off competition from five other finalists in an online vote run by Coed Cadw, the Woodland Trust in Wales.
Located within Margam Park, Port Talbot its canopy has provided shelter to visitors for many years – from Victorian tea parties to a favourite summer picnic spot for present day visitors.
David Elward, who nominated the tree, said:
"I've been visiting Margam Park since I was a schoolboy, and this famous beech tree has been a reliable constant. Standing under its sweeping canopy, adjacent to the 12th Century Cistercian monastery and ruins, feels like you're in a secret and magically historic space – nature's version of a 'cwtch'*. It's one of my favourite places to photograph."
It seems David isn't alone, with the tree providing an atmospheric backdrop featuring in TV and film productions from Dr Who and Songs of Praise with Sir Bryn Terfel to the recent Netflix blockbuster series Sex Education.
The winning tree will receive a £1000 Care Award thanks to players of People's Postcode Lottery. This can be spent on work to improve its health, signage or a public celebration.'
* cwtch- a cuddle or hug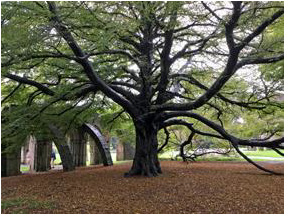 4
Finchley Way Open Space
Bill Bass
The Friends of Finchley Way Open Space (FoFWOS) have been in touch with us on proposals to landscape an area where 'Brent Lodge' once stood near Nether St and Finchley Way, West Finchley. The space is owned by Barnet Council and FoFWOS help to maintain it.
In the past HADAS have done fieldwork there digging several trenches in the 1970s in an effort to discover evidence for a building which predated the lodge. This earlier structure was built c1612 and demolished c1807. Early 17th century pottery was found to indicate this structure lay nearby.
Brent Lodge itself was built in 1810 by a local benefactor, being pulled down in 1962. The site also contains a 'wooded' area which once formed a kitchen garden and orchard that later became allotments.
So FoFWOS have borrowed the HADAS files to copy and digitise them.
There is an idea for HADAS to return for further fieldwork next year in lieu of the landscaping. The proposal leaflet and more of the interesting history of this site is available here (www.fofwos.org).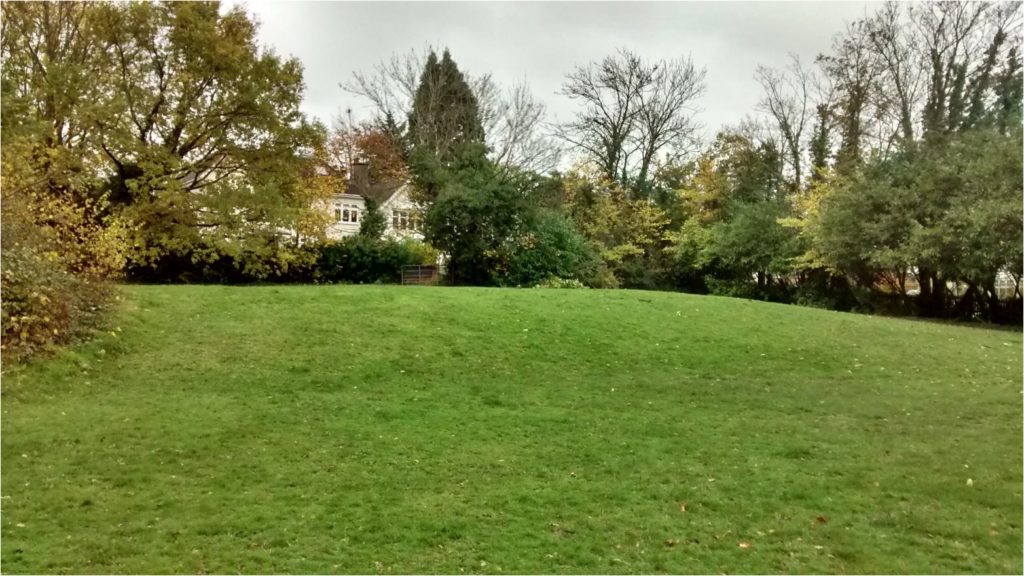 The site today looking east, the houses of 'The Drive' are visible with Nether St beyond them. This shows the Brent Lodge 'house-platform' with the wooded area to the left. Note the fairly sharp change in levels – should be interesting to survey.
5
But is it Art? David Willoughby
Scholars of the Aegean Bronze Age often discuss whether Bronze Age people had the concept of art in the same sense that we do. The Collins dictionary concisely defines the term 'art' as 'consisting of paintings, sculpture, and other pictures or objects which are created for people to look at and admire or think deeply about'. We know that Aegean bronze age peoples produced objects and paintings that we today admire and think deeply about such as the grave goods from the shaft graves at Mycenae or the frescos found in Minoan and Theran 'palaces' and buildings but we have no way of knowing that these peoples regarded them in the same light. It is entirely possible that Bronze Age 'art' was produced solely for ritualistic or religious purposes or to merely reflect the status of an individual or group of people.

The Bronze Age texts that we can read (Mycenaean Linear B, Hittite cuneiform tablets for example) are for the most part to do with administration or religious rituals and do not touch on abstract concepts like "art".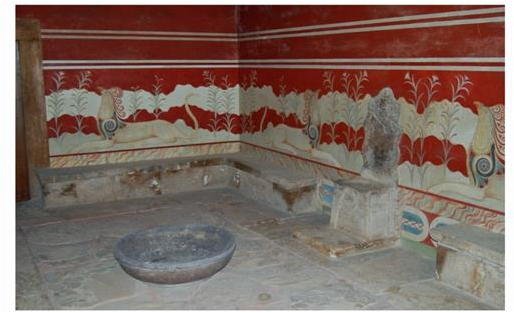 6
Excavations in Greece at Pylos by the University of Cincinnatti commencing 2015 have uncovered the 'Grave of the Griffin Warrior' (so called because of the griffin iconography on some the grave goods). This early Mycenaean grave of a 5ft stocky warrior dating from the 15thC BCE is unusual for the area in being a shaft grave rather than a beehive shaped Tholos tomb and for this reason it has remained untouched by tomb robbers.
This grave is remarkable not only because of the richness and quantity of grave goods but also because of the how they demonstrate the influence that Minoan culture and beliefs had on Mycenaeans at this time. Many of the objects although beautiful, clearly depict religious motifs but there is one seal stone that is exquisite and depicts three warriors in combat.
Although a practical object which perhaps this warrior used to mark his ownership or approval by impressing into clay tablets or seals attached to jars, it is surely something that would have chimed with his position in society, something perhaps he used to hold up and admire and ponder over ……. so is it art?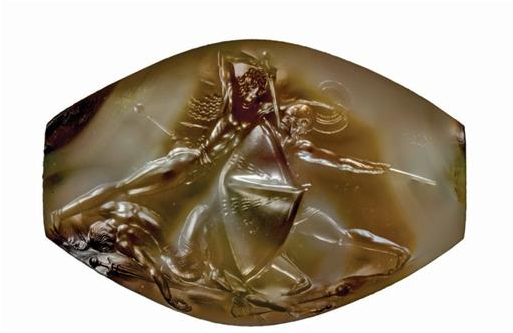 ❖❖❖❖❖❖❖❖❖❖❖❖❖❖❖❖❖❖❖❖❖❖❖❖❖❖❖❖❖❖❖❖❖❖❖❖❖❖❖❖❖❖❖❖❖❖❖
With many thanks to this month's contributors: David Willoughby, Sylvia Javes,
Jim Nelhams, Jo Nelhams, Bill Bass
❖❖❖❖❖❖❖❖❖❖❖❖❖❖❖❖❖❖❖❖❖❖❖❖❖❖❖❖❖❖❖❖❖❖❖❖❖❖❖❖❖❖❖❖❖❖❖
7
______________________________________________________________________________
Hendon and District Archaeological Society
Chairman Don Cooper 59, Potters Road, Barnet EN5 5HS (020 8440 4350)
e-mail: chairman@hadas.org.uk
Hon. Secretary Jo Nelhams 61 Potters Road, Barnet EN5 5HS (020 8449 7076)
e-mail: secretary@hadas.org.uk
Hon. Treasurer Roger Chapman, 50 Summerlee Ave, London N2 9QP (07855 304488)
e-mail: treasurer@hadas.org.uk
Membership Sec. Stephen Brunning 22 Goodwin Court, 52 Church Hill Road,
East Barnet EN4 8FH (0208 440 8421)
e-mail: membership@hadas.org.uk
Website at: www.hadas.org.uk
______________________________________________________________________________