Number 575 FEBRUARY 2019 Edited by Andy Simpson
HADAS DIARY – LECTURE AND EVENTS PROGRAMME 2019
Tuesday 12th February 2019: Dorothy Newbury Memorial Lecture.
Prehistory in London – some Problems, Progress and Potential by Jon Cotton
Having taken early retirement from the Museum of London in 2011 after 33 years as an archaeologist and curator, Jon is now a freelance researcher with a long-standing interest in London's early past and the archaeology of the river Thames. He will be drawing on these interests for his talk on 'London's Prehistory; Problems, progress and Potential'
Tuesday 12th March 2019: Lost and Found: The Rediscovery of Roman London by John Clark
Tuesday 9th April 2019: The CITiZAN Project by Gustav Milne
Tuesday 14th May 2019 50 years of recording London's Industrial Heritage by
Professor David Perrett
Tuesday 11th June 2019. ANNUAL GENERAL MEETING
HADAS 2019 Long Trip. Monday 23rd to Friday 27th September 2019
We have booked the hotel for our long trip in 2019. Details will follow in due course.
The hotel is: Best Western Aberavon Beach Hotel, Aberavon Beach, Port Talbot, SA12 6QP
Tuesday 8th October 2019: From Crosse and Blackwell to Crossrail – MOLA excavations at Tottenham Court Road 2009–10 by Lyn Blackmore
Tuesday 12th November 2019: Shene and Syon: a royal and monastic landscape revealed by Bob Cowie
Lectures are held at Stephens House & Gardens (Avenue House), 17 East End Road, Finchley, N3 3QE, and start promptly at 8 pm, with coffee/tea afterwards. Non-members admission: £2; Buses 13, 125, 143, 326 & 460 pass nearby and Finchley Central station (Northern Line), is a 5-10 minute walk away.
Avenue House Quiz Nights Steve Brunning
Good at quizzing? If so, HADAS needs you! We field a regular team at Avenue
House but require more members to make up a table of ten people.
The cost is £15 which includes supper, plus a cash bar. All the money raised goes
towards the upkeep of the house and gardens. The advertised dates so far this year
are Thursday 14th March and Thursday 23rd May at 7.30pm.
If you are interested please email membership@hadas.org.uk and I will add you to
the list for further information.
Andrew Selkirk writes:
Reluctantly and sadly, I am resigning from the Committee of HADAS. We have
moved from North London to West London, and I fear it is not really feasible to
attend committee meetings any more. We are downsizing, so we are giving up our
wonderful family home in North London, where we spent 47 happy years and are
moving to a cottage in Kew where we will be nearer our grandchildren – indeed we
hope to have them only 200 yards away.
It has been a bit of a struggle to get rid of all the junk that we have accumulated over
the years, especially with my books. I calculated that I had nearly 7,000 books and I
have got rid of nearly 2,000 of them, but it means that the remaining 5,000 are all
packed up in cardboard boxes in the garage – I am longing to get some shelves up so
that I can get my library back!
But I shall be sorry to leave HADAS behind. I will still of course remain a member
and I shall be proud to continue to be a Vice-President, but you will only see me
occasionally. But HADAS has been a great experience for me. I was Chairman for
17 years (1986 to 2003), indeed I was parachuted in from the top as Chairman. I
had a hard act to follow as my predecessor, Councillor Jarman, was an influential
member of the Barnet Council and did a brilliant job representing the interests of
HADAS on the Barnet Council, which alas I could not do.
At the time the Society was run by three formidable ladies who between them
organised the great excavation on Hampstead Heath. There was Bridget Grafton
Green, who was a journalist and publicised the Society. There was Daphne Lorimer
who studied animal bones and who eventually retired with her husband to Orkney
when she invited the Society for a memorable outing. And there was Dorothy
Newbury, the baby of the trio who was a printer who printed the Society's Newsletter
– her son still does – and also ran the Minimarts which kept the Society afloat
financially – and were great fun.
And I was very fortunate in having a wonderful support from Brian Wrigley and
Victor Jones, from Denis Ross and Ted Sammes and Peter Pickering, from Bill Bass,
Andy Simpson, Eric Morgan and many others, thanks to whom the society ran
remarkably smoothly. I was sometimes at a disadvantage as I did not actually live in
the borough, but in Hampstead, but I got to know the London Borough of Barnet
fairly extensively by chasing round all the excavations the Society carried out.
I have been very fortunate to have been succeeded by Don Cooper who has now been
Chairman even longer than I was, and I know that I am leaving the Society in very
good hands. I have joined a new local society, the Richmond Archaeological Society
who also seem very lively, but I hope occasionally to make my way back to North
London and keep in touch with HADAS. My thanks to you all!
(I am sure the whole of HADAS will wish to note their appreciation to Andrew for all
his years of support to the society – ED)
Below – Andrew and Wendy Selkirk at the ancient Greek city of Paestum, southern
Italy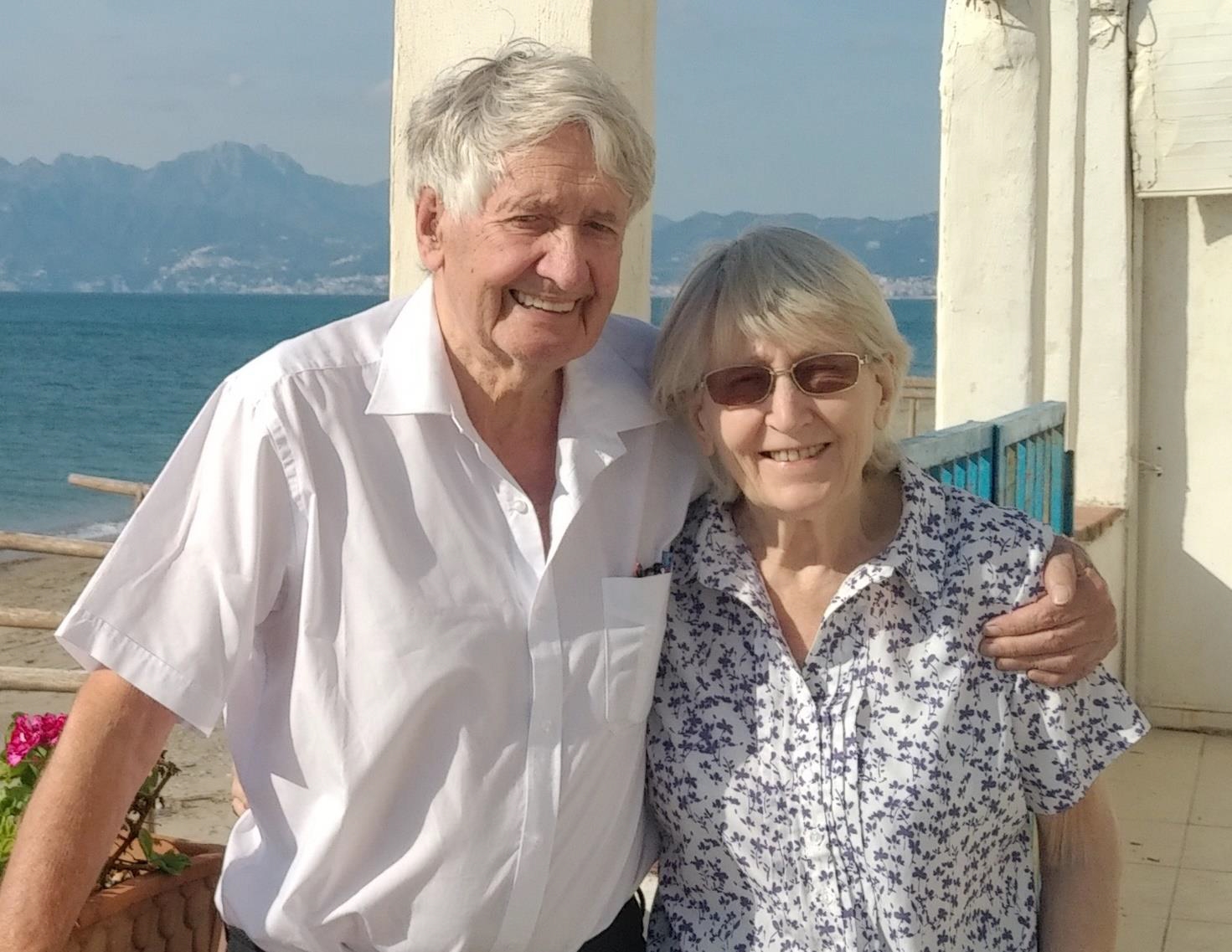 Barnet Medieval Festival 2019
The organisers of this year's Barnet Medieval Festival are calling for the local
community to support the return of the Festival on 8th-9th June 2019. This two-day
family festival will feature living history camps, re-enactments of the Battle of Barnet
(1471), firepower displays, have-a-go archery, medieval traders' market, community
stalls, children's activities, food and drink.
Volunteers and donations are both needed to make this event happen again – we
welcome all offers of help, especially with fundraising, publicity and stewarding.
Please get in touch with Susan Skedd at barnetbattleproject@gmail.com.
(HADAS attended this event last year, and a great time was had by all- Ed)
Brome Trip day 4 Jim Nelhams
After the previous day's panic over the cancelled boat trip replaced by a trip to
Orford Castle, Thursday was to follow our schedule. Another castle, this one at
Framlingham, interesting to contrast with Orford, the first having a keep with no
curtain walls, and Framlingham with curtain walls but no keep. Then onwards to visit
the East Anglia Transport Museum, as recommended by Andy Simpson, followed by
the Aviation Museum at Flixton.
Framlingham Castle Claudette Carlton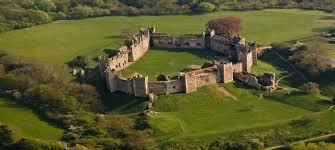 Framlingham Castle is built on a high point overlooking the town. It was built about
1190 of local flint and a soft limestone material often used in East Anglia. An entry in
the Domesday Book (1086) noted that Framlingham was held by Hugh Bigod, who
came to England in the army of William the Conqueror.
The Bigods and their successors had a part in many dramatic events in the country's
history. In the war of succession between Stephen and Matilda, one Hugh Bigod was
made Earl of Norfolk. When the Barons forced King John to accept the Magna Carta,
two Bigods were among those listed as its enforcers. They married very well, and in
1397, Norfolk became a Duchy. The Howards inherited it in 1488.
Later Dukes were exiled for treason, executed for treason, one commanded Richard
III's troops at the Battle of Bosworth and died in the front line, one led the English
forces to victory at the Battle of Flodden Field in 1513, one was executed in 1547 on
Tower Hill for annoying Henry VIII.
In 1553, Mary Tudor rallied her army at Framlingham, and rode to London, being
crowned Queen on 1st October. Another Howard Duke was executed in 1572 for
harbouring ambitions to marry Mary Stuart and overthrow Elizabeth.
In 1635 the castle was sold by an indebted Howard to Sir Robert Hitcham, and when
Sir Robert died in 1636, the castle and its estates went to Pembroke, his old college at
Cambridge University. His will instructed that "all the castle saving the stone
building be pulled down and a poorhouse be set up. The castle passed to English
Heritage in 1984.
The castle has a defensive deep dry ditch around it. What's left of the castle is the
curtain wall, some 10m high and 2.3m thick. The wooden door at the entrance of the
castle dates from c1513, and above it are the arms of the Howard Dukes of Norfolk.
The curtain wall has 13 towers, with arrow loops at two levels. There are two stone
chimneys dating from about 1150. Other decorative chimneys are from the Tudor
period. The castle well, near the gate, is 30m deep.
The only building remaining with the castle walls today is Framlingham's poorhouse,
which provided work and lodgings for the town's poor from the 17th to the 19th
century. There are five medieval stone heads set into its façade. The wall walk
provides wonderful views of the castle park, its mere which is fed by the River Ore,
and the countryside. The huge space within the walls is now used for concerts and
events.
East Anglia Transport Museum Andy Simpson
Readers will be unsurprised to hear that this was a much-anticipated visit for me. I
know the EATM very well, visiting it two or three times a year for tramways group
meetings, but its multitude of London connections and friendly atmosphere always
make it a pleasure to visit. This museum originated in 1961 when four local
enthusiasts acquired the body of a Lowestoft tram for restoration after 30 years as a
summerhouse.
The collection grew, and the museum was founded on its present site – then a disused
meadow- in 1965, the first tram running in November 1970, extending 'into the
woods' in 1982, and the trolleybus route, since extended, first ran in January 1971 –
the first museum trolleybus to run under trolleybus overhead anywhere in the
country. The narrow gauge 'East Suffolk Light Railway' was added in 1973, and land
has now been purchased at the rear of the site to virtually double the size of the
museum.
The site has been developed as a museum of street transport, designed to show the
development of mechanical transport over a century or more, with an emphasis on
local items, plus housing the extensive collection of the London Trolleybus
Preservation Society (LTPS) – the only place in the world where four London
trolleybuses can be seen on one site – that's a third of the total survivors of an
original fleet of over 1800 vehicles! Currently all four are operational. Three more
can be seen in London – one at the London Transport Museum at Covent Garden and
two at the LT Museum Acton Depot large object store opposite Acton Town tube
station.
Our own steed for the standard three circuits around the site – one of just four in the
country where a trolleybus ride is still possible, the others being Sandtoft, Dudley,
and Beamish – was London Transport Number 260. This is one very lucky
trolleybus! It is officially a London Transport Class C2 with an AEC664T chassis and
Metropolitan Cammell Carriage and Wagon Works body, delivered new on 2 July
1936 at a cost of £2,286.3s.8d.
It spent all its operational life at Stonebridge depot, until withdrawn on 27 August
1959 for inclusion in the former British Transport Commission Museum of Transport
at Clapham to represent the 'standard' London trolleybus.
However, two years later it was decided that the more original condition No 1253
should be preserved instead – this now being at the LT Museum at Covent Garden.
Poor old 260 was sold to George Cohen's '600 Group' for scrap on 18 July 1962, two
months after the last London trolleybus ran in the Wimbledon/Fulwell area. From
1959, Cohen's scrapped all London trolleybuses in an area behind Colindale
trolleybus Depot (the last in September 1962) and 260 was virtually their last such
purchase. As she was being coupled up to Cohen's vehicle at Clapham, she was
purchased by two founder members of the LTPS and stored in Reading, from where it
made enthusiast tours of the Reading and Bournemouth trolleybus systems. Its tour of
Bournemouth on 30 June 1968 made it the last London trolleybus to run under power
on public streets! We were lucky to get her for a run, as she had been specially
cleaned up for the annual EATM Trolleybus event the following weekend.
After a most enjoyable couple of hours, it was time to move on from road transport to
air transport…
Norfolk and Suffolk Aviation Museum, Flixton Andy Simpson
As it says on the museum leaflet; '65 Historic aircraft, 25,000 exhibits, covering civil
and military aviation in East Anglia from the pioneer years, through World Wars I
and II to the present day. Special displays on Boulton & Paul, World War II decoy
sites, aviation archaeology, Link Trainers, Home Front, model aircraft, aero engines,
uniforms and equipment'
And what displays! A large, and much extended, main display building, smaller
buildings covering RAF Bomber Command, 446th Bomb Group USAAF, Royal
Observer Corps and RAF Air-Sea Rescue and Coastal Command.
Every nook and cranny of the eight-acre site is crammed from floor to ceiling, and
usually into the roof, with items, and with captions covering the people as well as the
equipment. Plus a handy cafe and well stocked bookshop AND second hand books.
Plus a number of aircraft on outside display, some admittedly showing the effects of
prolonged outdoor storage. And all free! It is tended by a committed band of
volunteer enthusiasts. And even a nature walk down to the River Waveney, as
explored by one or two of our group. A real aviation enthusiast could probably spend
all day there to properly take it all in!
The museum is handily placed behind the Buck Inn, which has limited opening hours
as another of our group found out…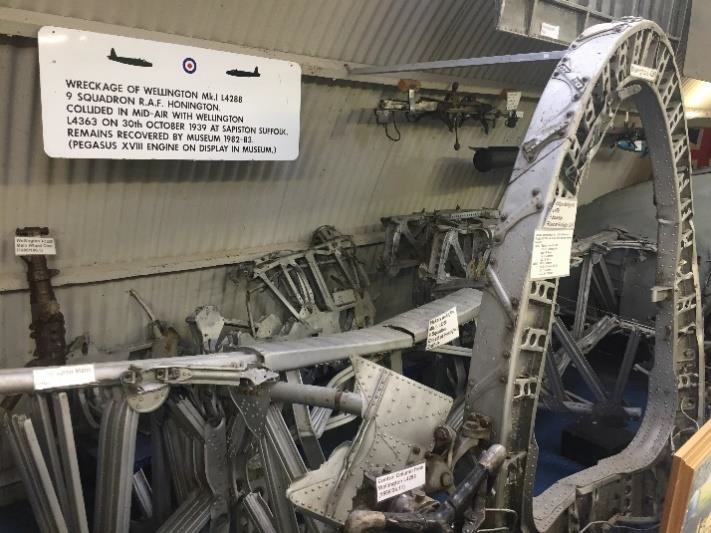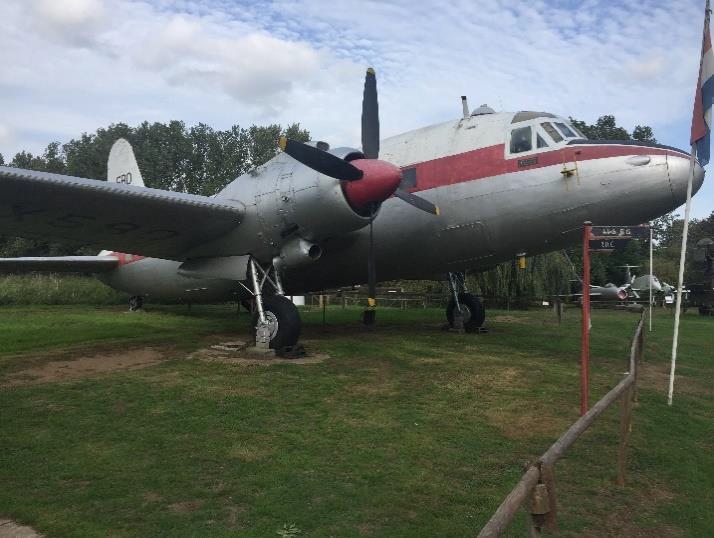 I had long wanted to visit this museum. One thing top of my list to see was the
excavated crash site remains of Vickers Wellington Mk 1 bomber L4288 which came
to rest in a river bank near Bury St Edmunds following a mid-air collision with
another No. 9 Squadron Wellington in October 1939, sadly killing both crews, nine
men in all, and was recovered in 1982/3.
This is one of the largest chunks of airframe I know of from any such excavation –
virtually the entire centre section, with engines, nacelles and wing spar. An
impressive memorial.
The basic Wellington wings, engines and undercarriage went on to be used in the
post-war Vickers Viking airliner, as remembered by one or two of our group. The
military version of this was the Vickers Valetta, the C.2 VIP version of which is
displayed at Flixton.
A number of us were able to board the aircraft and be expertly shown round by
enthusiastic new volunteer 'Naval Pete' proudly wearing his Royal Navy aircraft
carrier Lanyard. VIP seats – and the cockpit seats – were duly sampled.
Also of interest to me were the Boulton and Paul exhibits – two of which, the
Overstrand bomber nose and P6 biplane replica, were worked on by my late father
and myself at their original home with the Boulton Paul Association at the former
Boulton Paul factory in Wolverhampton.
The museum originated with a meeting of local enthusiasts in 1973, with aircraft
arriving on site from 1974. I must return one day! I've already promised them a bit of
the former RAF Museum Blackburn Beverley transport that I 'souvenired' when she
was scrapped back in 1990.
This seems a logical place to sneak in my usual….
'Transport Corner' Andy Simpson
I have been spending much time lately as a reader at the British Library, St Pancras,
mainly researching Birmingham area electric tramways for publication in that
dentist's Waiting Room favourite, the quarterly historical journal Tramway Review
(available on prescription, sorry subscription, only). The odd more local snippet of
gen does appear along the way however.
Under the heading 'Middlesex Tram Lines To Go' the November 8 1941 edition of
the 'Transport World' weekly journal records that as part of the wartime scrap drive
for high-quality steel, Middlesex County Council had approved schemes by Hendon,
Southgate, Twickenham, Ealing and Tottenham councils for taking up redundant
tram lines in their areas, which would realise a total scrap value of £10,000.
The tracks in question in Hendon would presumably be those along the Edgware
Road, which had been formally abandoned on 24 October 1936, following closure of
Hendon tramcar overhaul works in April 1936 and conversion of the route to
trolleybus operation on 23 August 1936 and use of the Hendon works yard for
scrapping of redundant tramcars for a few months afterwards, just as with the
trolleybus scrappings there 26 years later mentioned earlier.
I always keep an eye on Edgware Road roadworks just in case, and have seen short
lengths of tram rail re-laid crossways as road supports and the cut-off bases of
trolleybus poles in front of the former depot site, but no in-situ tracks – unlike those
on Barnet Hill which appear to be largely intact and buried today, at least around the
railway bridge at the foot of the hill.
Some years ago, pavement relaying outside the site of the former Hendon
tram/trolleybus depot uncovered the cut-of bases of the former overhead support
traction poles.
Progress at Stephens/Avenue House Andy Simpson
The Sunday morning gang continue to make good progress with the post-excavation
work on the dig held last summer on the outbuildings, with some unusual small finds,
including an interesting couple of fossils, and a few coins – 1986 and 1991 two pence
pieces and a Spanish 50 cent coin dated to 2000! It says a lot for the corrosive state of
the soil, or the poor quality of the coins, when you see how corroded these 30 yearold
coins have become.
Nearly all of the finds are now washed, marked, bagged and recorded on the
appropriate record sheets.
We seem to specialise in CBM – (ceramic building material) – brick, tile, concrete and
pitch, which once coated the outer walls. We use MOLA standard recording sheets to
record the pottery, clay pipe, glass and CBM.
Although most of the pottery and glass, and a few scraps of clay pipe stem, are
Victorian or modern, there is some older 'background' material, including yellow
borderware and Metropolitan slipware covering the period 1550-1700.
Members are welcome to visit and view progress- we are there most Sunday
mornings from 10.30 till 1.00pm
Institute of Archaeology Graduate Open Evening
Start: Feb 20, 2019 5:00 – 7.00 PM UCL Institute of Archaeology, 31-34 Gordon
Square, London WC1E OPY
The UCL Institute of Archaeology will hold its next Graduate Open Evening for
those interested in masters courses or research degrees, as well as for those students
already accepted onto a programme. During the evening Institute staff and current
students will be on hand providing talks, tours and information about masters and
doctoral opportunities at the Institute as well as advising on course content and the
admissions process.
Programme 5.30pm: Introduction and welcome to the UCL Institute of
Archaeology: a world leader by Andrew Reynolds, Graduate Admissions Tutor 6pm:
Tour of the Institute building including the Archaeology Collections; Wolfson
Archaeological Science Laboratories; Conservation Laboratories and Archaeobotany
Laboratories. Refreshments will be available throughout the evening.
Registration This event is free, however registration is essential. Please register
using Eventbrite
The UCL Institute of Archaeology is the largest and one of the most highly regarded
centres for archaeology, cultural heritage and museum studies in Britain, as
evidenced by its top position in university league tables and National Student Survey
results. It is one of the very few places in the world actively pursuing research on a
truly global scale and has an outstanding record of training doctoral and postdoctoral
researchers. Its degree programmes offer an unrivalled variety of courses on a diverse
range of topics, fieldwork and placement opportunities.
Any enquiries about the event may be directed to Lisa Daniel. –
ioa-gradadmissions@ucl.ac.uk
Other Societies' Events Eric Morgan
Monday 11th February, 3pm. Barnet Museum & Local History Society St John
the Baptist, Barnet Church, Jcn High St/Wood St, Barnet EN5 4BW Festival Gardens
Battersea Park, 1951 – The Leftovers. Speaker T.B.A. Visitors £2. Please Note new
venue.
Wednesday 13th February, 2.30pm Mill Hill Historical Society Trinity Church,
100, The Broadway, NW7 3TB Votes For women; Challenging the Mythology Talk
by Dr Mary Sawnsky
Monday 11th March 3pm Barnet Museum & Local History Society Address as
Above. Hop on a Bus Speaker T.B.A. Visitors £2, but please note new venue.
Also Barnet Physic Well, Corner of Well Approach & Pepys Cres, Barnet EN5 3DY
is reopening, monthly, on Saturdays from February. For opening times and dates
please visit http://www.barnetmuseum.co.uk/ – also for names of speakers.
Wednesday 13 March, 2.30pm Mill Hill Historical Society Address as above.
From Philadelphia to Mill Hill – Talk by Letta Jones on the story of botanists Peter
Collinson and John Bartram. Preceded by A.G.M.
Friday 15 March COLAS, 7pm St Olave's Hall, Mark Lane, EC3R 7BB London's
Waterfront from the C12th to the Great Fire of 1666. Talk by Dr John Schofield, FSA
on how four excavations of Medieval & later waterfront in the City led to
understanding the people of Medieval & Tudor London. Visitors £3.
Friday 15 March, 7.30pm Wembley History Society English Martyr's Hall, Chalk
Hill Road Wembley (top of Blackbird Hill, Adj. to Church) The Museum of All
Brent Life – London Borough of Culture, 2020 – Camilla Churchill & Stephanie
Wilson. £3.
Saturday 16 March, 11am – 5.30pm LAMAS Conference of London
Archaeologists Weston Theatre, Museum of London, 150 London Wall, EC2Y 5HN.
Morning session Recent Work till 1pm, Lunch. Afternoon session The Thames & its
Tributaries from 2pm. Tea 3.30-4pm, & Displays of work and publications upstairs in
Clore Room. Cost (inc. tea) early bird price (before 1 March) £15, full price £17.50.
Tickets from Jon Cotton c/o Curatorial Dept, MoL, London Wall EC2Y 5HN
joncotton1956@gmail.com
Wednesday 20 March, 6pm Gresham College at Museum of London. Addr. As
above. Art & Power in the English Aristocratic House. Talk by Prof. Simon Thurley
FREE. Shows how from the c.16th Aristocratic families deployed their collections &
their buildings.
Thursday 21st March, 8.15pm, Hampstead Scientific Society Crypt Room, St.
John's Church, Church Road NW3 6UU The Roman Water Pump Talk by Dr
Richard Stein. This talk is part of Science Week. Refreshments in Interval.
Wednesday 27th March, 7.45pm, Friern Barnet & District Local History Society
North Middx. Golf Club, The Manor House, Friern Barnet Lane, N20 0NL The
Palace of Westminster – The First 1000 Years. Talk by Barry Hall. Visitors £2.
Tuesday 28 March, 7.30pm, Finchley Society Drawing Room, Avenue House
(Stephens House) 17, East End Road, N3 3QE Village Life in Finchley Talk by
Helen Allen on The Story of Finchley Garden Village. Visitors £2. Note early time.
Saturday 30 March, 10am – 4.30pm West London Local History Conference
University of West London The Paragon, Boston Manor Road, Brentford TW8
9GA. Entertainment. Please see the Richmond Local History Society's website for
more info, www.richmondhistory.org.uk
With thanks for newsletter contributions this month to; Stephen Brunning;
Claudette Carlton; Don Cooper; Eric Morgan; Jim Nelhams; Andrew Selkirk;
Sue Willetts
Hendon and District Archaeological Society
Chairman Don Cooper 59, Potters Road, Barnet, Herts. EN5 5HS (020 8440 4350)
e-mail: chairman@hadas.org.uk
Hon. Secretary Jo Nelhams 61 Potters Road Barnet EN5 5HS (020 8449 7076)
e-mail: secretary@hadas.org.uk
Hon. Treasurer Jim Nelhams 61 Potters Road Barnet EN5 5HS (020 8449 7076)
e-mail: treasurer@hadas.org.uk
Membership Sec. Stephen Brunning, 1, Reddings Close, Mill Hill, London
NW7 4JL (020 8959 6419) e-mail: membership@hadas.org.uk
Web site: www.hadas.org.uk
Discussion Group; http://groups.google.com/group/hadas-archaeology