No. 570 September 2018 Edited by: Sandra Claggett
HADAS DIARY 2018/19
Thursday September 13th – Quiz at Avenue House – 7:30 – £15 including a cooked supper.
HADAS regularly fields a team. Contact Stephen Brunning if you would like to be involved.
Saturday September 15th. RAF Centenary event. Hendon Pageant. See p.2 for details
September 17th – 21st – Long trip to East Anglia staying in Brome.
Wednesday 3rd October – Finds Group Course recommences.
Tuesday 9th October 2018: STOP PRESS: Gabriel Moshenska has moved from the UK and will be unable to give the lecture on Unrolling Egyptian Mummies in Victorian London. Membership Secretary will arrange for another speaker on a different topic to be announced.
Thursday October 11th – Quiz at Avenue House – 7:30 – £15 including a cooked supper.
HADAS regularly fields a team. Contact Stephen Brunning (see p.12) if you would like to be involved.
Until 12th October – Bluecoats in the City – FREE Exhibition at Museum of London.
Until 28th October – "Roman Dead" at London Docklands Museum.
Tuesday 13th November 2018: The Rose – Shakespeare's Secret Playhouse – a film made by Suzanne Marie Taylor, Anthony Lewis and Siegffried Loew-Walker. The documentary film will be introduced by one of the filmmakers, Anthony Lewis. In the film Ian McKellen speaks about his own personal experience during the 1989 Save the Rose Campaign when the Rose was partially excavated by the Museum of London. The film has been shown at Canada House and the Birkbeck Archaeology Society in 2017.
Sunday 9th December – HADAS Christmas Lunch at Avenue House. 12:30 – 4 p.m. £30 including full Christmas dinner, quiz. Application form to follow with next newsletter
Until 30th December 2019 – Star Carr exhibition at the Museum of Archaeology and Anthropology (MAA) in Downing Street, Cambridge. See article below.
All Lectures are held at Stephens House & Gardens (Avenue House), 17 East End Road, Finchley, N3 3QE, and start promptly at 8.00 pm, with coffee /tea and biscuits afterwards. Non-members welcome (£1.00). Buses 82, 125, 143, 326 & 460 pass nearby and Finchley Central Station (Northern line) is a short walk away.
RAF Hendon Pageant Saturday 15th September 2018 11am – 5pm Free
The pageants of the past drew huge crowds and were a chance for spectators to see aircraft fly, to experience technology they had never seen before and to see the Royal Air Force in action.
This Centenary year we they will be bringing this tradition back to the Hendon Aerodrome, which is now home to the newly transformed Museum. This family festival will capture some of the magic of the past with re-enactors, traditional fairground games, live music from the 1930's and much more! The Battle of Britain Memorial Flight will be flying the Dakota ZA947 over the Museum, times are still to be confirmed and the flypast is subject to change. It is possible that HADAS will have a display stall. https://www.rafmuseum.org.uk/london/whats-going-on/events/hendon-pageant/
Fifty years of archaeology in London
This year marks the 50th anniversary of London Archaeologist magazine and there is a conference to celebrate. Speakers include Harvey Sheldon, Peter Marsden, Jane Sidell and Jelena Bekvalec. The venue is the Waterloo campus of King's College from 10.00am to 5.30pm on Saturday 6th October. Ticket details and the outline programme are at: https://www.eventbrite.co.uk/e/50-years-of-londons-archaeology-tickets-45718893441
London and Middlesex Archaeological Society Conference
Saturday 17th November. 10.30 – 6.00 pm. "An emporium for many nations: London shaped by trade" Tickets before 31st October are £12.50, thereafter £15.00. Also Local History Societies will have displays. Afternoon tea / biscuits included. www.lamas.org.uk.conferences/local-history
Forthcoming exhibition: Sue Willetts
The British Library have announced Anglo-Saxon Kingdoms: Art, Word, War which will run from Friday 19th October until Tuesday 19th February 2019.
The following text is taken from their website: Treasures from the British Library's own collection, including Beowulf and Bede's Ecclesiastical History, sit alongside stunning finds from the recently discovered Staffordshire Hoard. Domesday Book offers its unrivalled depiction of the landscape of late Anglo-Saxon England while Codex Amiatinus, a giant Northumbrian Bible taken to Italy in 716, returns to England for the first time in 1300 years.
Read some of the earliest-surviving words inscribed in English on objects large and small. Come face-to-face with manuscripts of Old English poetry and prose and the first letter written in English. Wonder at the wit and wisdom in the Anglo-Saxon kingdoms. Encounter handwritten books intricately decorated. Discover finely crafted metalwork and sculpture unearthed in recent times. See the deep artistic connections between Anglo-Saxon England and its European neighbours. Glimpse into the past through original manuscripts to explore the corners of the kingdoms. Many books were produced, but few survive – this is your opportunity to follow the journeys of these magnificent manuscripts, brought together for a major landmark exhibition.
Full Price: £16.00; Senior 60+: £14.00; Concessions £8.00; National Art Pass Full member £8.00 and Senior National Art Pass rate: £7.00; Child 0-4: Free; Child 5-17: £5.00
Finds in Focus
Hendon & District Archaeological Society Finds Group
Course tutor: Jacqui Pearce BA FSA MCIfA
A 22-week course in post-excavation analysis to be held at Stephens House (formerly
Avenue House), East End Road, Finchley N3 3QE on Wednesday evenings, 6.30–8.30, starting on 3 October 2018
This year we will conclude our recording of the finds from the Birkbeck training excavations at Lant Street in Southwark (LNT99). Some pottery and other finds remain, and we will aim to produce a short article summarising the work of the Finds Group on this site over the past two years. Regular presentations and professional tuition will be provided throughout the course. This is an ideal opportunity to gain – or increase – your experience of working with and handling a wide variety of archaeological finds. We will also embark on the recording of smaller new sites in Barnet, excavated by HADAS. The aims will be the same – to introduce the various types of finds and provide opportunities to become more familiar with post-excavation procedures, while working toward publication.
All are welcome – it doesn't matter whether or not you have experience of working with archaeological finds! There are only a couple of places left on the course.
Course fee: £295 for 22 sessions. To book, contact Don Cooper (olddormouse@hotmail.com; tel. 020 8440 4350) or Jacqui Pearce (pearcejacqui@gmail.com; tel. 020 8203 4506). Please make cheques payable to HADAS and send to Don Cooper, 59 Potters Road, Barnet EN5 5HS.
Hornsey Historical Society
This organisation has a local history surgery for those conducting their own local history research. This takes place on the first Saturday of every month from 10.30 am – 2.30 pm. Members of the public are invited to attend as well as HHS members. Please phone 07531 855714 or email hornseyhistoricalsurgery@gmail.com to book a half hour appointment.
The Old Schoolhouse, 136 Tottenham Lane, Hornsey, N8 7EL
Further details at www.hornseyhistorical.org.uk/whatson.
Exploring the Oceans Jo Nelhams
An exhibition of the achievements of Captain James Cook was recently displayed at the British Library. The story of Cook's three round the world voyages was told through original journals, maps and artwork, which were the records compiled while on board the ships.
The first voyage was from 1768 to 1771 in the Endeavour. The Endeavour was a Whitby Coal Cat, the type of boat in which Cook learnt his skills sailing down the east coast to London delivering coal. They were strong, comparatively shallow draught, good carriers with plenty of room for men and stores, which was Cook's description.
The Endeavour set sail carrying 94 people in the 109-foot vessel, also loaded with supplies.
Cook had instructions from the Admiralty and the Royal Society to observe the Transit of Venus across the face of the sun in Tahiti in June 1769. The route was to sail south through the Atlantic Ocean, round Cape Horn across the Pacific and search for land in the South Pacific.
Although there had been many previous explorers who had sailed to the Pacific, half of it remained quite unseen and wholly unexplored. Cook had experienced sailing across the Atlantic, but the voyage of the Endeavour was far longer than anything he had done before.
Supplies need to be replenished and many naval ships would stop over in Madeira. The Endeavour stopped here for six days and replenished supplies taking on fresh fruit that would keep well, water and a large quantity of Madeira wine. The voyage continued round Cape Horn and on to Tahiti.
Cook was not only a very competent sailor, but a navigator and astrologer, which qualified him to understand the significance of the Transit of Venus. Also, on board were scientists and artists who were to document information of wildlife and flora and fauna.
Leaving Tahiti and sailing south, after six weeks on October 6th 1769 land was sighted. This was the beginning of Cook's circumnavigation of both main islands of New Zealand. New Zealand's coast was familiar to no man. One of Cook's skills was cartography and his maps have proved to be extraordinarily accurate. It took over six months to chart the coasts of both islands.
They sailed on westwards and came to the east coast of 'New Holland' (Australia) and turned northwards following the coast. The only way to properly examine this was by using smaller boats and going ashore frequently. As the coast was about 2,000 miles, to do this would take years. Much was missed such as Jervis Bays and Sydney Harbour. He landed at Botany Bay (first called Stingray Bay and then Botanists Bay), which was not the best harbour.
Further north off Queensland, the Endeavour became grounded on the coral. She began to leak but at the top of high water she floated again. Although leaking she was gently sailed to a harbour to beach and somehow to repair the ship. A large piece of coral broken from the reef was found. It took many weeks to make the hull sound again and eventually leave the Great Barrier Reef. The passage had been a nightmarish, nerve-wracking experience for months. In his subsequent voyages Cook never approached the area again.
They made their way via the Cape of Good Hope back to England arriving in July 1771 having been away for nearly 3 years
To be continued: Second voyage next newsletter.
++++++++++++++++++++++++++++++++++++++++++++++++++++++++++++++++++
The Star Carr Mesolithic exhibition at the (maa) Sandra Claggett
Although not a large exhibition the Star Carr Mesolithic exhibition at the Museum of Archaeology and Anthropology in Cambridge is very interesting. It focuses on the Mesolithic site of Star Carr (in Yorkshire) on the shore of Lake Flixton from around 11,500 years ago. This site has remarkable preservation due to waterlogging which means there is more than the typical lithic remains and it has preserved bone, antler and wooden objects. This makes Star Carr one of the most important Mesolithic sites in Europe.
This link to the Wikipedia page shows the location of the site. It was discovered in the late 1940s by John Moore and then excavated by Grahame Clark from 1949-1951. There were more excavations between 2003-2015, directed by Conneller, Milner and Taylor who were investigating the nature of the site and its use. They found evidence that the site was in use for Figure.1 shows the location of the site. It was discovered in the late 1940's by John Moore and then excavated by Grahame Clark from 1949-1951. There were more excavations between 2003-2015, directed by Conneller, Milner and Taylor who were investigating the nature of the site and its use. They found evidence that the site was in use for around 800 years despite climate change during this period. Structures for houses and three large wooden platforms were found along the lake edge and lithic activity areas with intensive manufacture and tool repair.
Mesolithic people made use of the natural environment such as iron pyrite for making fire at Star Carr. Iron pyrite would be struck with flint to make sparks. Bracket fungus that grew
naturally on trees was also used as tinder when dry it becomes flammable. Tightly wound birch bark rolls could be used as portable tinder, one showing signs of burning. Birch bark can also be
heated to make resin to fix flint arrowheads and barbed points to wooden shafts. Another use of the natural environment is flora, a drink which can be made from pine and other plants could also be eaten such as crowberry, yellow water lily and bogbean. Tools were made from animal bones; Antler harpoons were used to hunt pike and perch. Other animals hunted in the landscape were deer, elk, wild boar and aurochs which were large cattle now extinct. The animal bones and hide were used for food, clothing and tools such as pins from elk antlers. A wooden paddle has survived from a boat. Another famous find from Star Carr was the Antler headdresses made from deer skulls with holes bored into them. Twenty-four have been found these are thought to be used for hunting and or ritual Shamanic purposes. More than 90% of all European prehistoric headdresses come from Star Carr.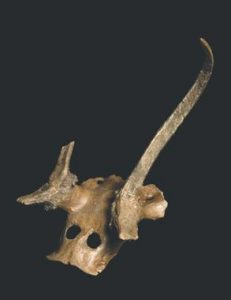 Fig. 1 Antler headdress from Exhibition Fig 2. Author's photograph of engraved pendant Both mages reproduced with kind permission from the Museum of Archaeology and Anthropology (maa)
There have been other recent examples of the use of Antler headdress including from about 100 years ago by shamans of the Orochen culture of Inner Mongolia.
The earliest Mesolithic art in Britain is found here in an engraved pebble of shale with a deliberate perforation. As in Figure 2. Other engraved motifs on Mesolithic pendants are rare and found only in Amber pendants from southern Scandinavia. The engravings were hardly visible until computer imaging techniques were used. Analysis shows barbed lines typical of Danish motifs and it is suggested that the lines may have been made visible by the use of pigment as possibly for the Danish amber. Near Star Carr at Seamer Carr and Flixton School House an ochre crayon and pebble have been found. An ochre crayon measuring 22mm has been discovered with heavy striations caused by scraping to remove the red powder.
According to Dr Needham the tip is faceted and has gone from a rounded to a sharpened end through use. https://www.bbc.co.uk/news/uk-england-york-north-yorkshire-42831463
Why not make a trip to Cambridge and go along to the MAA, there is plenty of time to plan your trip as the exhibition is on until the 30th December 2019!
Links to Star Carr information and publication details for further reading:
Milner N., Taylor B., Conneller C., Schadia-Hall., T. (2013) Star Carr: Life in Britain after the Ice age. (Archaeology for all) Council for British Archaeology.
Exhibition details are entitled 'A survival story- prehistoric life at Star Carr on until the 30th of Dec 2019. http://maa.cam.ac.uk/a-survival-story-prehistoric-life-at-star-carr/
Here is a link to the Star Carr website where it is possible to download the two monographs produced for the site for free. http://www.starcarr.com/
An academic article on the pendant. http://intarch.ac.uk/journal/issue40/8/index.html
An academic article on the analysis of the Red Deer headdress from Star Carr. http://journals.plos.org/plosone/article/file?id=10.1371/journal.pone.0152136&type=printable
An academic article on the fish remains. https://www.sciencedirect.com/science/article/pii/S2352409X1630044X?via%3Dihub
Charing Cross Jim Nelhams
When Jo was teaching, each year she would take her class on an outing into London. One year, it was decided to take all three classes from Year 1 (5/6 years old) to investigate Queen Eleanor, Eleanor of Castile, the wife of King Edward I as part of a history project.
When Queen Eleanor died in Harby in Northamptonshire on 28th November 1290, King Edward decreed that her body be carried back to London for burial. The procession could only move in daylight, so it took 12 days to reach London. The King also ordered that a cross be erected at the places where they stopped for the night, the first being at the Castle in Lincoln and the last at what we now call Charing Cross.
Eleanor's tomb is in St Edward the Confessor's chapel at Westminster Abbey, behind the High Altar, as is that of her husband, so Westminster Abbey was the start of our self-guided walk.
From there, we crossed Parliament Square and Westminster Bridge stopping to admire the statue of Boadicea on the north east corner of the bridge, then along by the river in front of the old County Hall, now the London Aquarium, to have lunchtime sandwiches on the grass on the old site of the 1951 Festival of Britain where the London Eye now stands. A quick toilet stop at the Royal Festival Hall before crossing Hungerford Bridge to reach Charing Cross Station and look at the stone cross in the forecourt. Those that have been on our HADAS trips might recognise that we try to know where there are toilets available, though the children on our trips are a little older.
Finally, we went back to the Embankment to re-join our coach by Cleopatra's Needle. Quite a distance for 5/6-year olds. In fact, one mother was concerned that her daughter was not good at walking and came with us. To our surprise, we discovered later that she and her daughter had so enjoyed themselves that the following weekend they repeated the walk with the rest of their family.
The original wooden cross stood on an island at the south end of what is now Trafalgar Square which is occupied by an equestrian statue of Charles I see Figure 1.
If you look at the street names at that point, there is a short section of road named Charing Cross between Northumberland Avenue and Whitehall. It must be one of the shortest roads in England, though it was at one time longer.
The cross was replaced by a stone cross which was demolished in 1647.
Charing Cross Station and the Charing Cross Hotel were built in 1864, and it was decided as a marketing initiative to erect on the station/hotel forecourt a replica of the stone cross based on drawings in the British Museum. See Figure 2. It is 70 feet tall and octagonal. Next time you are in the area, why not take a closer look.
Opinion about the place name varies. Some say that there was a small village named Charing at the spot, very near to the Palace of Westminster. Folk etymology is that it was actually named "Chėre Reine" – 'dear Queen' in French. The royal court at that time spoke Norman French and the inscription on Queen Eleanor's tomb is in this French dialect. But we cannot ask those involved.
What about the other crosses? Well they are the subject of another article to be published later.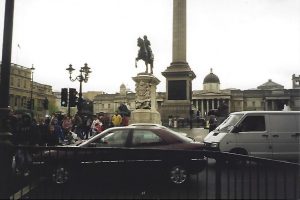 Figure 1 Author's own photo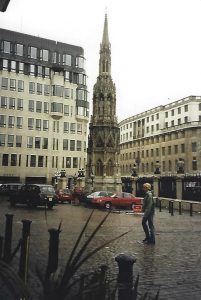 Figure 2 Author's own photo
Below is some information from the Historic Buildings and Conservation Committee
We have spaces open – come and find out what we do!
The historic built environment disappears – sometimes by outright demolition, at other times by disfigurements by new owners; or adjacent redevelopments ruin the setting of a building or a whole area. Important internal as well as external features of Listed buildings can be at risk. Does this cause you concern?
LAMAS has many new members and we hope some may be interested in assisting the Society with one of its important activities – the work of the LAMAS Historic Buildings and Conservation Committee. This Committee reviews applications for listed building consent and seeks to ensure a sustainable future for vital aspects of London's built heritage.
The Committee's remit fills the gap between amenity societies working within boroughs and national amenity societies who consider only the more high-profile cases.
The Committee is composed of individual members of LAMAS, or members of its Affiliated Societies, and meets monthly to consider cases. The meetings take place on a Tuesday evening from 6.30 to 8.30 pm and are held at 75 Cowcross Street, close to Farringdon Station. The Committee secretary sends an agenda out in advance.
This is one of LAMAS's important activities and cannot work without the co-operation of its members in bringing their knowledge of buildings across London, and particularly in areas with which they are familiar.
An interest in historic buildings is all you need. Although some Committee members have an architectural or heritage background, others are just ordinary interested people who will give some time to the matter.
If you wish you could come to a meeting to see how it works. If you are interested please contact Vicki Fox (e-mail: vickifox2011@hotmail.co.uk) for more information.
Details of other societies' events Eric Morgan
Tuesday 11th September, 7.45pm. Amateur Geological Society, Finchley Baptist Church Hall, East End Road, N3 3QL. Sharks in the desert, Laboratory and ocean by Charlie Underwood.
Tuesday 15th September, 10.50am. Mill Hill Historical Society visit to the London Transport Museum Depot, Acton Town, 118-20 Gunnersbury Lane, W3 9BQ. A behind the scenes private tour of over 370,000 objects including rare road and rail vehicles spanning over 100 years. Members £13.50, Non-members £15.50 to book send a cheque payable to Mill Hill Historical Society and s.a.e. to Julia Haynes, 38 Marion Road, Mill Hill London, NW7 4AN. Contact Julia Haynes on 020 89060063 or Haynes.julia@yahoo.co.uk (see also 22-23 Sept, Open weekend.
Wed. 19th September, 6pm. Gresham College at the Museum of London, 150 London Wall, EC2Y 5HN. Painting, patronage and politics under the Tudors by Professor Thurley. Free.
Friday 21st September, 7pm. CoLAS St. Olives Hall, Mark Lane, EC3R 7BB. The archaeology of Fulham Palace by Alexis Haslam. Visitors £3. Light refreshments after.
Friday 21st September, 7.30pm. Wembley History Society, English Martyr's hall, Chalkwall Road, Wembley, HA9 9EW talk on the Shree Swaminorayan Mandir building by Somar Savani. Visitors £3. Refreshments.
Saturday 22nd – Sunday 23rd September,11am-5pm. London Transport Museum Depot, W3 open weekend admission £12, concessions £10. https://www.ltmuseum.co.uk/whats-on/museum-depot/open-weekends
Saturday 22nd and Sunday 23rd September. Open House weekend buildings not normally open will be open and it is free. Local buildings included are Myddelton House Gardens and the Old Vestry House both in Enfield.
Saturday 22nd September, 11:00 – 4:00pm. Barnet Museum and Local History Society with Barnet 1471 Battlefields Society – St John the Baptist Church, Wood Street, Barnet EN5 4BW. Day conference including –
 12:00 "Warwick & Edward IV" with questions at 1:00. By David Santuiste.
 1:30 Lunch break
 2:30 "Richard III, man or Myth". Gillian Gear memorial lecture by Alison Weir with questions.
Tickets on door – £3, non-members £5.
Wednesday 26th September, 7:45pm. Friern Barnet & District Local History Society, North Middlesex Golf Club, Friern Barnet Lane, N20 0NL. "Hendon School Excavations" by Don Cooper (our chairman). Non-members £2.
Saturday 29th September, 11.30am-4.30pm CoLAS and Totally Thames, Fulham Palace, Bishops' Avenue, SW6 6EA. A day of family archaeology activities as part of the Mayor's Thames Festival.
Thursday 4th October, 8pm. Pinner Local History Society, Village Hall, Pinner, HA5 1AB. Pinner's old roads and paths, tracks, travellers, turnpikes and tarmac. By the research group. Visitors £3.
Saturday 6th October, 2pm. London Parks and Gardens Trust. Humphry Repton and the Wembley Park Barn Hill landscape. Wembley Park and Barn Hill guided walk by Leslie Williams and
Susan Darling. Details on www.londongardenstrust.org This is part of Repton 200 and is one of the events planned in and around London to celebrate landscape designer Humphry Repton who died 200 years ago.
Sunday 7th October, 2.30-4.30pm. Heath and Hampstead Society. Flagstaff, Whitestone Pond, Heath St. Hampstead Heath from the 1820's to the 1920's. Guided walk by Thomas Radice. £5.
Monday 8th October, 3pm. Barnet Museum and Local History Society. Church House, Wood St, Barnet, EN5 4BW. Katebrygge: 100 years of East Finchley by Richard Selby. Visitors £2.
Monday 8th October, 6.20-7.50pm. Finchley Church End Library. 318 Regents Park Road, N3 2LN. An evening with Dr Fraser in association with the RAF Museum Hendon. The story of the established British Jewry's involvement with the royal flying corps in WWI. A mystery prize for the best question after the talk. Book by email on libraryevents@barnet.gov.uk
Saturday 13th October, 1.30-3.30pm. Barnet 1471 Battlefield Society. St John the Baptist, Barnet Church, High St, Wood St, Barnet, EN5 4BW. English fashion and art of the 1470's by Mario Carvana. Non-members £5.
Monday 15th October, Museum of London Docklands, Canary Wharf. Finds of the dead in roman London and beyond. Roman finds group autumn conference with MoLA. Info at www.romanfindsgroup.org.uk email sigreep@romanfinds.org.uk Details were in the HADAS August newsletter.
Friday 19th October, 7pm CoLAS. Address as above. Respect your elders: old swords in Anglo-Saxon England by Dr Brunning. Visitors £3.
Wednesday 24th October, 7.45pm. Friern Barnet and District Local History Society. North Middx Golf Club, The Manor House, Friern Barnet Lane, N20 0NL. The history of almshouses by Simon Smith. Non-members £2.
Thursday 25th October, 8pm. Finchley Society. Major Cartwright's obelisk … and other fine tombs in Finchley Churchyard. Dr Roger Bowdler NB venue is St. Mary-at-Finchley Church, Hendon Lane, Discussion and tea. Visitors £2. Free for members – but if you join at the same meeting, the charge is waived.
Thursday 25th October, 8pm. Heath and Hampstead Society. Burgh House, New Square, NW3 1LT. John Constable and Hampstead Heath: in the foot-steps of a contemporary artist. The Springett lecture by Lindy Guinness exploring Constable's passion for Hampstead Heath. Free.
Saturday 27th October, 10.30am. Enfield Society. Relaunch of Pymmes Brook trail. Part 1: High Barnet to Arnos Grove. Guided walk by Colin Saunders. Meet at High Barnet Station to depart at 10am. 6-mile linear walk ending at Arnos Park.
Sunday 28th October, 10.30am. Part 2 of above. Arnos Grove to Tottenham Hale by Colin Saunders meet at Arnos Grove Station. 7-mile linear walk ending at Tottenham Hale Station.
Thanks to this month's contributors Jo and Jim Nelhams, Don Cooper and Eric Morgan, Sue Willetts
Apologies for the late arrival of this newsletter, which was due entirely to Sue Willetts's holiday from 18th August – 3rd September with very limited access to email / computer.
Hendon and District Archaeological Society
Chairman: Don Cooper, 59 Potters Road, Barnet, EN5 5HS Tel 020 8440 4350
E-mail: chairman@hadas.org.uk
Hon. Secretary: Jo Nelhams, 61 Potters Road, Barnet EN5 5HS. Tel 020 8449 7076.
E-mail: secretary@hadas.org.uk
Hon. Treasurer: Jim Nelhams, 61 Potters Road, Barnet, EN5 5HS Tel 020 8449 7076.
E-mail: treasurer@hadas.org.uk
Hon. Membership Sec: Stephen Brunning, 1 Reddings Close, Mill Hill, London NW7 4JL.
E-mail: membership@hadas.org.uk Tel 020 8959 6419
Web site: www.hadas.org.uk
Discussion group: http://groups.google.com/group/hadas-archaeology