Number 564 MARCH 2018 Edited by Deirdre Barrie
SAD NEWS
I regret to announce that Dorothy Newbury died at about mid-day on February 13th one day before
her 98th birthday. Funeral Wednesday, the 7th of March 2018 at 2pm at Golders Green Crematorium
see www.thelondoncremation.co.uk/golders-green-crematorium for directions, parking etc.
R.I.P. Dorothy. Please send memories / photos of Dorothy to the next editor who will compile a
special tribute in the next issue. Best wishes, Don Cooper.
HADAS DIARY – LECTURE PROGRAMME 2018
Tuesday 13 March at 8pm; Dr Roger Tomlin Roman London's First Voices; Roman
writing-tablets from Bloomberg, London. 'Roman London's First Voices' are the City's first
documents, writing-tablets found on the site of the new European headquarters of Bloombergs when
it was excavated by Museum of London Archaeology. The site is famous as that of the Roman
temple of Mithras, which was demolished in 1954, but has now been rebuilt by Bloombergs. It is on
the west bank of the Walbrook, which the Romans crossed as they expanded from Cornhill towards
Ludgate Hill. The deep river-silts have preserved a wealth of organic material, notably stylus tablets
which have lost their waxed coating but can still be read from residual scratches in the wood. These
Bloomberg tablets are scraps of business correspondence and memoranda from the first half-century
of Roman London, including a promissory note dated 8 January 57, the earliest financial document
from the City of London.
Roger Tomlin, retired Lecturer in Late-Roman History at Oxford, has for many years been editor of
'Roman Inscriptions of Britain', in which capacity he has published new discoveries – not only
stone inscriptions, but graffiti of all kinds and writing-tablets like these from Bloomberg. He has
published them as Roman London's First Voices: Writing tablets from the Bloomberg excavations,
2010–14 (2016), but has also just published Britannia Romana: Roman Inscriptions and Roman
Britain (2017). He has never been to Hendon, but he was attracted by the Society's invitation
because his father was born there, a century ago. NB p.9. LAMAS conference – afternoon session
Tuesday 10 April 2018 at 8pm: Stuart Cakebread The Greater London Historical
Environment Record.
Tuesday 8 May 2018 at 8pm: Mark Smith The archaeology of World War One
Tuesday 12 June 2018 at 8pm; ANNUAL GENERAL MEETING
Monday 17th to Friday 21st September – HADAS Trip to East Anglia. The trip is
now full, but there is a waiting list.
Tuesday 9th October at 8pm: Gabriel Moshenka Unrolling Egyptian mummies in
Victorian London (Gabe is well known to HADAS through his help with various
fieldwork projects)
Tuesday 13 November 2018: TO BE CONFIRMED
Lectures are held at Stephens House & Gardens (Avenue House), 17 East End Road, Finchley, N3 3QE, and start promptly at 8 pm, with coffee/tea afterwards. Non-members admission: £2; Buses 13, 125, 143, 326, 382 & 460 pass nearby and Finchley Central station (Northern Line), is a 5-10 minute walk away.
Subscriptions for the year 2018/19 are now due If you pay by cheque, please find a renewal form with this newsletter. Members who joined after 1st January 2018 need take no action as your payment is good until 31st March 2019.
January Lecture – " The Anglo-Saxon princely burial at Prittlewell, Essex" by Professor Christopher Scull Write-up by Jim Nelhams
Prittlewell is on the north side of Southend-on-Sea. When widening a road in 2003, an archaeological survey was carried out by MoLAS (now MoLA) on a barrow. This discovered a wooden chamber containing many archaeological finds and a high-status burial.
The chamber measured four metres square with a depth of about one and a half metres. It was lined with oak, with a wooden floor covered by rush matting and with metal hooks around the wall. The oak roof had partly collapsed and some flooding had occurred.
The exact date has not been determined, but is late 6th or early 7th century. A number of other high-status Saxon burials from this period are known, the most prominent being at Sutton Hoo, which is of a very high status person. Prittlewell is slightly lower in status but thought to be of a young, as-yet-unidentified prince.
Two unique gold foil crosses, which would have covered the eyes, indicated that this was a Christian burial, possibly the earliest found in Britain. The date is almost certainly before St Augustine arrived in Canterbury.
It is planned to exhibit a reproduction of the chamber, possibly in a bespoke museum, in Southend. The full analysis by MOLA is scheduled for publication later in 2018.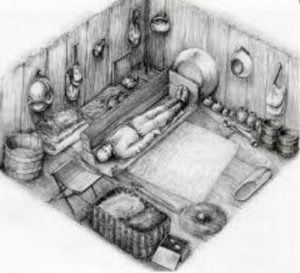 Reconstruction of the burial chamber showing many of the items found, many in situ, which include the coffin made of ash boards, which had been covered in textiles, the burial clothing with some metal fittings, a sword and shield, two spears and an arrow, a spoon, an iron folding stool with a leather seat, and assorted crockery and drinking vessels.
Preparation for a training day to be provided by HADAS to members of the Birkbeck Archaeological Society – Robin Densem
Through the good offices of Melvyn Dresner, Bill Bass has helped prepared a programme for a practical archaeology training day to be provided by HADAS on 24th March 2018 for members of the Birkbeck Archaeological Society (BAS).Some members of HADAS assembled at Stephens House on 11th February 2018 to prepare for the training day.
The photograph shows the HADAS team making preparation "in the field", at Stephens House gardens.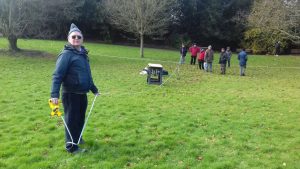 It is envisaged that HADAS will include material on at least some of the following:
 The work and role of HADAS
 How one can get involved in archaeology
 The archaeology of Barnet and Hendon
 Archaeological fieldwork techniques including practical sessions on surveying on site and carrying out a resistivity survey
 Post-excavation work including finds, reports and archiving.
The programme is subject to finalisation and will to some extent be weather dependent!
Are the boundaries right? Number 1 East Finchley Roger Chapman
When Barnet Council determines whether archaeology is likely to be a consideration in determining a planning application in the Borough, one of the key maps the planners use is the proposals map of the Local Plan which has marked on it 'Local Areas of Special Archaeological Significance'. You can find this map at: http://barnet.devplan.org.uk/map.aspx?map=12&layers=all
Barnet, with assistance from English Heritage (via the Greater London Archaeology Advisory Service – GLAAS), the Museum of London and the Hendon and District Archaeological Society (HADAS), has identified five prehistoric, four Roman and thirty medieval sites containing archaeological remains of more than local importance. These have been grouped into nineteen 'Local Areas of Special Archaeological Significance'.
The Local plan will be reviewed in the next few years. Development pressures will increase markedly, with a forecast 20% population increase by 2041.
HADAS needs to know if the areas identified are the correct ones, and also to build up evidence to support a case where we think boundaries should be changed. Over coming months we will look at all of the areas of special archaeological significance in the borough, and this month we start with East Finchley.
East Finchley
This Area of Special Archaeological Significance (ASAS) (now known as Archaeological Priority Areas APAs) consists of two sections:
a) East End (western area):
A medieval hamlet is located here, which is believed to have developed in the 14th century. The East End Road was an ancient road connecting the hamlet with the hamlet at Church End.
b) Park Gate (eastern area):
East End and Park Gate, mentioned respectively in 1365 and 1375 AD, together formed a scattered hamlet where the East End Road met the Great North road. The traditional village centre was located at Market Place, which held a hog market in the 18th century.
Fig: 2 The designated ASAS for East Finchley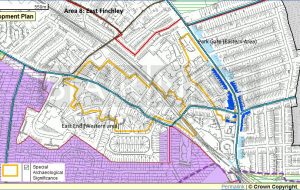 Source: http://barnet.devplan.org.uk/map.aspx?map=12&layers=all accessed 29.10.2017.
Looking at historic mapping such as John Roques 1754 map (see below), it looks like the 'Park Gate (eastern area boundary) needs to be redrawn, as it does not cover the historic Market Place core. Historic Mapping.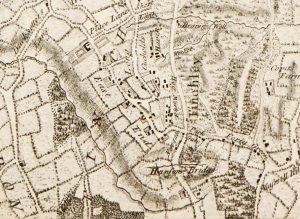 A topographical Map of the County of Middlesex by John Roque 1754
Would you agree? Do you know East Finchley? Have you got any more information we could
use to develop the evidence base for the importance and boundaries of this ASAS?
If you do agree, please let me know by sending me an email: roger.chapman99@btinternet.com
Frodsham Trip – Last day Jim Nelhams
After lots of time on our feet in Chester and Liverpool, time to head homewards and rest our legs with Dave Ketley at the wheel of our Galleon. Quite a long way to London, so three stops on route – a mill with two working water wheels, an unusual church and a battlefield.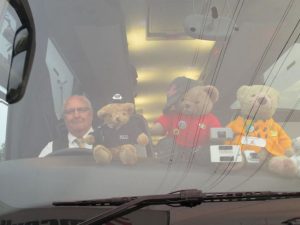 Driver Dave Ketley, with HADAS mascot Ted, and his friends
Archie and PC Edward Bruin Walker.
Thanks to everybody on the trip for your support, humour and patience. Judging by the number signed up for 2018, it cannot have been too bad.
Thanks also to all those who have taken the time to provide interesting and comprehensive notes and photos covering the places visited – Jon and Vicki Baldwin, Deirdre Barrie, Jean Bayne, Claudette Carlton, Don Cooper, Audrey Hooson, Sylvia Javes, Kevin McSharry, Dudley Miles, Brenda Pershouse, Peter Pickering, David and Emma Robinson, Andy Simpson, Liz Tucker, Micky Watkins, Stewart Wild and Simon Williams
Cheddleton Flint Mill by Don Cooper
I was particularly looking forward to visiting the Cheddleton Flint Mill, because of its association with the North Staffordshire potteries. Although crushed flint seems to have been added to early medieval pots to help them to survive in the kilns, calcified crushed flint came into its own in the 1700s or thereabouts. Calcination is the process of heating, in this case flint, to a temperature of 1100° degrees plus, to break down its crystalline structure to make it easier to crush and grind. The crushed flint was not only added to the clay to improve its strength and quality, but because its purity meant it was very white it was used as a slip for coating red earthenware vessels.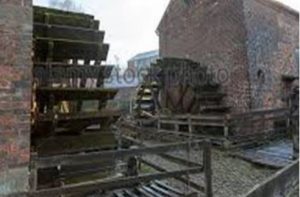 The two working waterwheels at Cheddleton
The process at Cheddleton started with the delivery of nodules of flint. The flint mostly came from the South-East of England often from the beaches under the white cliffs of Dover. The nodules were then taken by ship to the ports served by the Trent and Mersey Canal and its offshoot the Caldon Canal which passes the Cheddleton Flint Mill.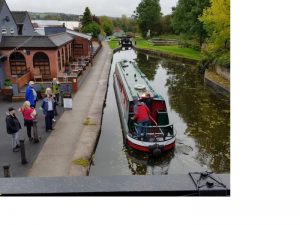 Narrowboat on the Caldon Canal with HADAS onlookers
The flint was unloaded and placed in the kiln (there were three kilns at Cheddleton) and heated until it was calcified.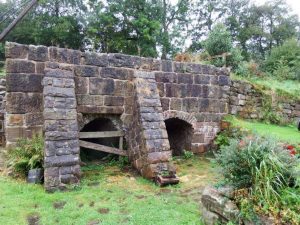 The remains of the kilns at Cheddleton © Vicki Baldwin
The flint nodules were then placed in a grinding pan filled with water to keep the dust down. The base of the grinding pan was paved with chert stones and the waterwheel drove around arms (called "Runners") attached to a spindle to effect the grinding action.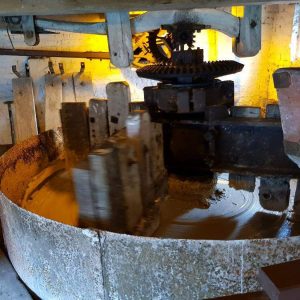 The grinding pan
After the flint has been ground to a slurry, the water is drawn off and the resultant "paste" is shipped to the potteries by narrowboat for use in the body of ceramic vessels, and also as a slip to produce the characteristic white ware of the time.
The above is a simplified account of the process carried out at Cheddleton Mill during roughly a century from 1720. However, the Cheddleton Mill has a much longer history. In 1253 there is a water mill recorded there; and in 1580 there are two mills under one roof, one for grinding corn and one for fulling (washing woollen cloth). The mill operated under various guises up until 1963. It came under the Cheddleton Flint Mill Industrial Heritage Trust in 1967. Much of the information in this article is taken from their February 2002 publication.
During our visit the grinding pan was working, albeit driven by an electric motor, and our very knowledgeable guide told us the history of the mill. What an excellent visit!
Bibliography: "The Story of pottery Materials" published by The Cheddleton Flint Mill Industrial Heritage Trust (February 2002).
St Giles Church Cheadle (Staffordshire) Peter Pickering
To those of us who think of churches as basically grey stone buildings, enlivened by some stained-glass windows and perhaps a statue or two or a faded wall painting, St Giles Cheadle was an unexpected – and maybe even unwelcome – revelation. It is covered in colourful decoration. We gasped as we trooped into the church as the last but one stop on our return to London.
There was another party being taken round by a talkative guide; some tacked on for a bit, while others left the church in short order to slake their thirst. But most stayed to marvel at the opulence of a building dating not all that long after Catholic emancipation, the wealth of its patron the Earl of Shrewsbury, and the single-minded and very knowledgeable evocation of the mediaeval church by its architect, Augustus Welby Pugin (who among so much else in his short life designed the fixtures and fittings of the Houses of Parliament).
How different the architecture of this church, all intended to evoke mystery and adoration, from that of the Catholic cathedral we had seen the previous day with its central altar; Pugin would have abominated that, and if he had known that Catholic services were to be in English, …..
Bosworth Battlefield Heritage Centre and Country Park Deirdre Barrie
The site of the Battle of Bosworth has come a long way since the far-off days when an understandably irritable farmer used to ask devotees of Richard III please to get off his fields. At a first glance the multi-award-winning Centre looks like an isolated group of farm buildings.
However, it contains a compact exhibition with interactive exhibits, dramatically lighted costumed figures, an array of weapons, and a film about the battle, as well as a café, conference room, shop and car parking. Gone are the days of typed tickets in dusty glass cases. There is something here to interest everyone, from young children to serious historians.
The family trees and relative claims of Richard III and Henry VII are analysed. Short films of actors playing various 15th C characters tell of their experience of the battle and how they fared afterwards. There is a dramatic, short film about the battle itself. We had no time for the circular Battlefield Trail, which leads to attractive and historic villages in the area.
Apparently Henry VII later raised an alabaster tomb over Richard's grave – it is suggested that by leaving the king's body at Leicester, Henry was avoiding a cult.
The battlefield site itself was lost and rediscovered "after several years of careful study and fieldwork" as not being on Ambion Hill as was long thought, but 2.5 km to the west. The exhibition ends with an account of the peaceful 118 years of Tudor rule after the Battle.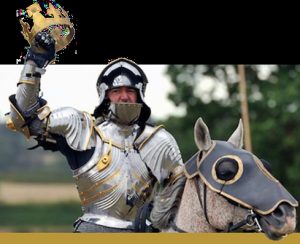 OTHER SOCIETIES' EVENTS compiled by Eric Morgan
Saturday 10th March 2018, Museum of London. Morning session: Recent Work, and Afternoon session: The Bloomberg Site Tickets on sale now. £15.00 before 1st March, then £17.50 Programme
Wednesday 14th March, 7.45 pm, Hornsey Historical Society, Union Church Hall, Ferme Park Road/ Weston Park N8, 9PX, Archaeology and Technology in London's Lea Valley – Did One Influence the Other? Talk by Dr Jim Lewis. Visitors £2.
Monday 19th March, 8 pm, Enfield Society, Jubilee Hall, 2 Parsonage Lane/ Chase Side, Enfield EN2 OAJ, Enfield's Railway History Part 3: Trains and the Piccadilly Line. Talk by Dave Cockle.
Wednesday 4th April, 8pm. Stanmore & Harrow Historical Society, Wealdstone Baptist Church Hall, High Street, Wealdstone. Cassiobury Park. Talk by Paul Rabbitts. Visitors £3.
Thursday 5th April, 7.30 pm Camden History Society, Burgh House, New End Square, NW3 ILT, Tunnels Under Holborn. Talk by Antony Clayton. From some of the earliest tube tunnels and the "ghost" station of British Museum, to WWII tunnels and modern bunkers, including Kingsway Telephone Exchange and some of the so-called "secret" tunnels in the area, will be explored. Visitors £1.
10
Monday 9th April, 3 pm. Barnet Museum and Local History Society, Church House, Wood Street, Barnet (opposite Museum) Who Put the "Bath" in Bath Place? Talk by Andrew Beach, Visitors £3.
Friday 13th April, 7.45 pm. Enfield Archaeological Society. Jubilee Hall, 2 Parsonage Lane, Enfield EN2 OAJ. Excavations and Fieldwork of E.A.S. 2017. Talk by Dr Martin Dearne (Enfield Archaeological Society), preceded by AGM. Visitors £1. Refreshments/sales/info, 7.30 pm.
Saturday 14th April, 1.30 pm, Barnet Museum & Local History Society, Pennefather Hall, Christchurch, St Albans Rd., Barnet EN5 4LA. Battle of Barnet: Painting the Roses at War. Talk by Graham Turner. Tickets in advance from Barnet Museum, 31 Wood St, Barnet, EN5 4BE. Tel. 020 8440 8066, or e-mail enquiries@barnetmuseum.co.uk ; or on the door, £5 (members £3) refresh-ments included.
ALSO Saturday 14th April, Barnet 1471 Battlefields Society Medieval Banquet, Church House,
2 Wood St. Barnet. Four-course meal, opportunity to re-enact and dress up in medieval costume (prize for best-dressed). To book, e-mail Liz at barnet1471battlefieldssociety@outlook.com. Tickets £49.50 each.
Wednesday 18th April, 6 pm, Gresham College at the Museum of London, 150 London Wall, EC2Y 5HN. The Birth of Modern Theatreland – Covent Garden and the two Theatres Royal. Talk by Simon Thurley, looking at the significance and impact of these great institutions on the development of London since since Charles II. Free.
With big thanks to this month's contributors: Vicki Baldwin, Bill Bass, Roger Chapman; Don Cooper, Robin Densem, Eric Morgan; Jim Nelhams; Peter Pickering.
Hendon and District Archaeological Society
Chairman: Don Cooper 59, Potters Road, Barnet, Herts. EN5 5HS (020 8440 4350)
e-mail: chairman@hadas.org.uk
Hon. Secretary: Jo Nelhams 61 Potters Road Barnet EN5 5HS (020 8449 7076)
e-mail: secretary@hadas.org.uk
Hon. Treasurer: Jim Nelhams 61 Potters Road Barnet EN5 5HS (020 8449 7076)
e-mail: treasurer@hadas.org.uk
Membership Sec: Stephen Brunning, 1, Reddings Close, Mill Hill, London NW7 4JL (020 8959 6419) e-mail: membership@hadas.org.uk
Join the HADAS email discussion group via the website at: www.hadas.org.uk
——————————————————————————————————-