No. 567 JUNE 2018 Edited by Melvyn Dresner
HADAS ANNUAL GENERAL MEETING
The AGM is on Tuesday 12th June at 7.30pm and the relevant reports and papers have been circulated with the MAY Newsletter. Please take the time to read them and come to your Society's AGM meeting, it is important. If you are unable to attend, please send your apologies to the Secretary before the meeting.
The current Committee is rather depleted in numbers and the Society cannot exist without the volunteers who deal with all the administrative work, accounts, organising field and digging activities, outings and responding to numerous enquiries. In earlier days there were a number of members, not necessarily Committee members, who were happy to research and arrange a day outing, but unfortunately these members are no longer able to do this, or have moved away or passed away. Your current officers have been in their positions for nearly ten years or in the case of Don and Jim 15 and 14 years respectively. The long outing this year will be the 10th one organised by Jim and Jo. It has also become more difficult to find members willing to do write ups for lectures, which is really a once a year contribution. The current people, Chairman, Treasurer, Secretary and Membership Secretary took over these positions when they were relatively young, in their 60s, and retired from full time employment, but we are all much older now and do not have quite the same stamina.
Your Society needs more volunteers to help spread the load as well as thinking about all the roles needed to run the Society. Without that the Society will die.
There will be followed by Jacqui Pearce giving a talk about the Lant Street excavation (undertaken by Birkbeck students in 1999) which the Finds Group have been studying again this year.
Upcoming Dig Bill Bass
HADAS are planning an excavation in Avenue House Gardens from Saturday 23rd June to Sunday 1st July. The site is the Water Tower, Laundry and Greenhouse complex adjacent to East End Road. We have dug here a couple of times previously and this will be a continuation of the project to define the limits of the complex and the nature of it. All HADAS members are welcome, further details in due course. Contact: Bill Bass bill_bass@yahoo.com.
HADAS DIARY
9th and 10th June from 10.30am – 4.30pm, Free Entry: HADAS will be at the Barnet Medieval Festival (Barnet Museum) a living history camp; battle demos; medieval traders; archery and gunnery displays; Battle of Barnet reenactment; food stalls; children's area; beer tent or two, Barnet Elizabethans Rugby Football Club, Byng Rd, Barnet.
Monday 17th to Friday 21st September 2018: Trip to East Anglia is full. There is a waiting list.
Tuesday 9th October 2018: Unrolling Egyptian Mummies in Victorian London by Gabriel Moshenska, Senior Lecturer in Public Archaeology, UCL
Tuesday 13th November 2018: The Rose – Shakespeare's Secret Playhouse – a film made by Suzanne Marie Taylor, Anthony Lewis and Siegffried Loew-Walker. The documentary film will be introduced by one of the filmmakers Anthony Lewis. The film's highlight is HADAS member Suzanne Marie Taylor's interview with one of the world's greatest and most respected actors-Ian McKellen, who speaks about his own personal experience during the 1989 Save the Rose Campaign when the Rose was partially excavated by the Museum of London. The film was premiered at Canada House, 2nd February 2017.
Lectures start at 7.45 for 8.00pm in the Drawing Room, Avenue House, 17 East End Road, Finchley N3 3QE. Buses 13, 143, 326 & 460 pass close by, and it is five to ten minutes' walk from Finchley Central Station (Northern Line). Tea/coffee and biscuits follow the talk.
Historic Environment Record Melvyn Dresner
Stuart Cakebread has one of the most important jobs in London's archaeology as manager of Greater London Historic Environment Record, part of the Greater London Advisory Service, Historic England. He provided an overview of his career and development of the Historic Environment Record (HER) and his famously inebriated relative. He has held this job for 11 years. Before that he worked for 18 years for the National Trust in the south-west and south-east England. Cakebread explained how the HER (and its predecessors) had been an important part of planning and archaeology since the 1960s. These records are the responsibility of each county, except in London, where it is funded directly by central government. The earliest card index was developed in Oxfordshire in the 1940s. The original Sites and Monuments Records were a drawing together of County, Museum and other archives into one place. The advent of PPG16 in 1990 and preserving archaeology by recording accelerated the creation of such records. By the 1980s and 1990s, the card index began to be replaced by computer records. Terminology used varied from one county to another county for similar objects. The need for standardisation was based on three concepts: monument, event and source in the 2000s – "The Historic Environment: a force for our future" and "Power of Place: the future of the historic environment" set the scene for this change. The HER brought together the whole historic environment of landscape and built heritage into one record. In the 1970s, there was no London-wide record; it was under the control of such bodies as Greater London Council (GLC) and Museum of London. The GLC Historic Buildings Department had a particularly good record of buildings. By 1990s there were 65,000 records. The HER today covers all of London apart from the City of London and Southwark. He explained what they are working on now includes classifying information on a four-tier system across London: large major; major; minor and very minor inside and outside Archaeological Priority Areas. They are also working on the role of volunteers, recording people and event-based records such as the First World War or the Great Beer Flood of 1814. He told the story of his distant relative Jane Cakebread, renowned drunk, who was arrested more than 200 times under the Inebriates Act. Finally, he spoke of the new generation of software being developed by the Getty Conservation Institute and World Monument Fund's Arches Project https://www.wmf.org/project/arches-project which provides open source web-based software to open heritage information to all – being piloted in Lincoln; launch May 2018 and can be applied more widely.
The Archaeology of First World War Roger Chapman
Mark Smith, who is a military museum curator and specialist in military medals, gave a lecture on the archaeology of the First World War, allowed members to handle material from both the First World War and Second World War including a piece of a Spitfire shot down over Woolwich, south-east London. He is a member of the Guild of Battlefield Guides and a regular expert on the BBC's Antiques' Roadshow. He presented stories from the First World War in an engaging and effective manner and from his extensive collection of battlefield artefacts circulated many objects round the audience, which members were thrilled to handle. He started with a gruesome story of bullet wounds. During the Boer War bullet wounds from the German made Mauser rifle frequently passed straight through British soldiers. Medics treated the entry and exit wounds with disinfectant, dressed them and the soldier went away to recover. The same Mauser rifles and bullets were being used on the Western Front in 1914 and Medics treated them in the same way and yet four days later the soldiers started to die. The cause of death was soon identified. In the heat and dry of the South African sun the bullets carried no infection. In the damp, the mud and manure, the fields of northern France farmland, the bullet took dirt and infection deep inside the soldiers' bodies leading to their death. The solution was to use a rifle rod, a three-foot-long metal cleaning rod, dipped in disinfectant by the medic and passed through the soldiers wound from entry to exit to clear out any of the muck. Mark illustrated this point with a rifle rod he had found on a trip to France and to make clear to his audience that before making the cup of tea at the end of the lecture they should, after handling the objects from the battlefield, be sure to wash their hands. Mark explained that he first visited the battlefields in 1986. He didn't realise that metal detecting was banned at the time. He went with his girlfriend and while she went off to have a wee in the woods he started to metal detect – finding scraps of metal on every sweep of the detector. His girlfriend came back with two steel helmets. There was so much material of destruction used in such a concentrated area over four years that there is still a massive amount to be found lying in the fields. Indeed, the French Army have estimated that it will take them 600 years to clear the battlefields of the material used. Much of that material is dangerous. Even today six people a year, on average, are killed fiddling around with live ammunition. Mark took the audience through the early months of the war explaining the Schlieffen Plan, which sent German troops around the French fortress line by violating the neutrality of Holland, Belgium and Luxembourg to drive into northern France. The British Expeditionary Force marched to Mons – the join between the Belgium and French Armies and near here John Parr (of North Finchley and the Middlesex Regiment) became the first British soldier to die. He is buried in the St Symphorien Military Cemetery some six paces away from George Ellison the last British Soldier to die in the war. The closeness of the first and last burials is symbolic of the concentration of this war in such a small area. Throughout numerous stories of a similar nature that Mark used to illustrate this enthralling lecture he circulated more objects from the battlefield including the following: bayonets; High Explosive Shells (not live, fortunately); three pronged spikes used to maim horses and men; and cap badges from many British regiments. Mark took us through the battles of the Marne, the Somme, Thiepval, Verdun and many more ending with the final German surge in early 1918 and their retreat and final surrender on the 11th hour of 11th day of the 11th Month 1918. To finish Mark led us back to Britain but this time to the Second World War and the Spitfire that crashed outside Woolwich Barracks in 1940. At 5.51pm on Saturday 31st August 1940, thirteen Spitfires of No.603 (City of Edinburgh) Squadron took off from their base at Hornchurch, on a defence patrol. Over London they engaged Messerschmitt Bf 109E's of Jagdgeschwader 3 and in the ensuing dogfight Spitfire, Serial No.X4273 was either in collision with, or shot down by Lieutenant Walter Binder, of 1 Staffel Jagdgeschwader 3. The pilot, Flying Officer Robin McGregor Waterston, was possibly already dead when his Spitfire crashed at Repository Road, near the Royal Artillery Barracks, on Woolwich Common, at 6.30pm. Through extensive research Mark had pieced together the story and following its broadcast on TV he received, a year or so later from Canada, a letter from the relatives of the guard on duty that day at Woolwich Barracks which also contained a piece from the Spitfire with, written on it, a short explanation from the Guard about how he came by it. Mark circulated the piece of the Spitfire.
Freedom Pass Outing Harriet Sogbodjor & Terry Dawson
To encourage members to engage with London's history and archaeology Harriet Sogbodjor and Terry Dawson gives their account of this May's Freedom Pass outing to the London's newest museum, London Mithraeum. The morning was spent at the historic Guildhall, which has been the centre of civic government for over 1,000 years. First we visited the remains of the Roman Amphitheatre, which was discovered in 1988 beneath the Guildhall Yard. Unlike most amphitheatres it was built within the city walls. It had seating for 6,000 to 10,000 people and was built in the 2nd century to replace an earlier wooden theatre. The Guildhall Art Gallery houses an interesting collection of late 18th and 19th century paintings. The Guildhall itself contains many 19th century monuments – as the policy of the Common Council of the City of London was to erect monuments to honour national figures of outstanding achievement. After lunch we walked to the London Mithraeum in the Bloomberg 'Space.' At ground level there is a large wall display of finds from the site, including the earliest example of a writing tablet found in London, which was referred to in Dr Roger Tomlin's recent HADAS lecture. By clicking on a picture of one of the finds, on a digital interactive tablet lent for the visit, one could learn more about the object and a swipe lead to further information about that type of object. On the mezzanine floor there were displays providing more information about the Mithraeum, the God Mithras and Mithraism. This included a map showing sites around the Roman Empire where pictures or statues of Mithras slaying the sacred ox had been found. These included sites in Italy, Syria and Germany, as well as in York and London. Finally we entered the Temple of Mithras, 7 metres below modern pavements. We saw a recreation of the Temple as it was on the last day of excavation in 1954. Through haze, light and sound the experience of attending a ceremony in the Temple was evoked before the lights came on for us to explore the ruined Temple. We learned that women did not actually attend the Temple when it was in use. We would like to thank Deidre and Audrey for organising a great day out. Sadly only 5 other HADAS members were there to experience it.
Photos: Head of Mithras (left), first written record of London (left) and sole of a Roman shoe (right)
Italian style in the British Neolithic Samantha Brummage
I was born in Hillingdon, I grew up in Ruislip, and I now live in Uxbridge, Middlesex. My Father is from the northern Italian mountains, and my Mother from the west London suburbs via the East End. My choice of PhD research could have been Roman archaeology, the Italian Renaissance or even the Etruscans or Terramare of the Po Valley, but I decided to keep it matrilineal and closer to home with the slightly less exotic Mesolithic-Neolithic of the Colne Valley, West London and Western Home Counties (depending on your perspective!). My project is using Historic Environment Records as a gazetteer of published and unpublished excavations, and chance finds for the area, which falls roughly within what would have been the Colne Valley landscape between 8,500 and 2,200 BC. The range of material available in these archives is crucial for understanding early prehistoric life in Britain because it looks at patterns on a landscape scale; it involves studies of isolated finds, artefact scatters and pit clusters as much as house or monument plans or geographically bounded features. People travelled widely at this time and occupied a variety of places in diverse ways, and this is something that site-specific archaeology would have trouble picking up. A recent visit to the wonderful Spelthorne museum in Staines highlighted to me just how widely some people were moving, and the sorts of long-distance connections that were being established even then.
Photo: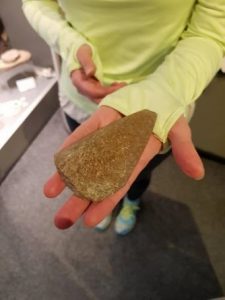 Jadeite axe-head found by Mr Frank Wood on Staines Moor 1981
The moor itself has been common land since 1065 and has never been ploughed due to its low-lying position in the valley and resultant flooding. This axe could only have ever been picked up as a chance find. Apart from the specifics of this location, Neolithic axes don't tend to be found very often in stratified deposits, and jade axes have most often been recovered from water. It has lost the vibrant green colour of some of the other axes found elsewhere in Britain but, according to research carried out by the French-led Projet Jade, it will have come from one of only two sources in the high Alpine region of Italy; the Mont Viso south-west of Turin, or the Mont Beigua near to Genoa. These axes were unlikely to have been made for practical purposes such as felling trees, but their exact purpose is open to interpretation. Similar axes from these sources have turned up all over Britain, from Scotland to Canterbury to Dorset, and in several locations within the central and greater London area. This brings my northern Italian and north-west London ancestors into contact even earlier than I had supposed! See the National Museums Scotland for more details on Projet Jade: https://www.nms.ac.uk/explore-our-collections/stories/scottish-history-and-archaeology/stone-age-jade-from-the-alps/
Guernsey pre-historic and historic sites and happenings Sandra Claggett
Guernsey, nestling in the Channel Islands 30 miles west of Normandy so close to France and yet a part of Britain has a lot to offer and is full of history. Although it is only 12 miles long there is a lot is to see as well as beautiful bays, sunsets and food but I will concentrate on a few examples of the pre-history and history which is crammed into Guernsey.
The Prehistoric period
Starting from around 4,500 BC there are long mounds such as Les Fouaillages in L'Ancresse Common in the north of the island. The first phase dates back to this time and it is stated as one of the largest and earliest monuments in Europe. There were over 35,000 finds excavated from 1976, which are now in Guernsey museum in Candie Gardens, St Peter Port. Another early site is Le Dehus – a prehistoric passage grave about 10 meters in length dating from 3500 BC. It is amazing to go inside this monument and specially to see on one of the capstones which has a humanoid face with beard, arms, hands and what looks like a strung bow carved into the roof as in Photo 1, below. There are also standing stones such as Castel Menhir dating from the late Neolithic 2,500BC and La Gran'mère du Chimquiere from the same period. Both are shaped into the female form; the latter has two phases as it is thought the Romans later modified the face to be framed by curls. Today she is still revered by locals who put garlands around her neck for good luck before weddings and sometimes place coins on her head.
The Romans
There were Roman settlements and a Romano Celtic or Gallo-Roman ship that sank because of a fire onboard around AD 280 that has been partly preserved. Coins found on board are used to date the sinking. The fire burned the deck, which then collapsed into the hold containing over half a tonne of pine tar. This would burn with a black smoke and be visible for miles and when the ship sunk the tar set into a solid lump trapping over 1,000 objects. A reconstruction is shown in Photo 2.
Photo 1: Le Dehus – a prehistoric passage grave; and Photo 2: Romano Celtic or Gallo-Roman ship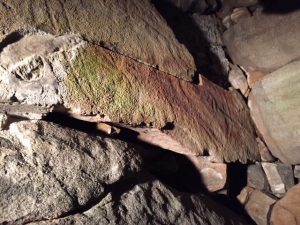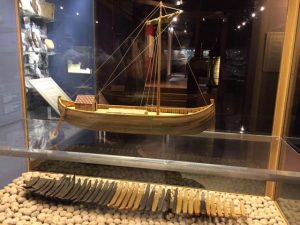 Castle Cornet
This guards the main bay of St Peter Port and dates from 800 years ago although the site had earlier Neolithic and Bronze Age pottery remains. A plan of Castle Cornet is shown in Photo 3, below. It has had a long and interesting history and I will mention a few instances here. King John lost the Duchy of Normandy in 1204 but kept the strategically important Channel Islands and since then there has been a fear of invasion by the French. Our history of war with France includes The Hundred Years' War and during this in 1338 the French managed to hold the castle while it was sieged for seven years. The French also invaded in 1372 and the Guernsey militia fought against them. A later gruesome story is of religious intolerance. The protestant martyrs Catherine Cauches and her two daughters Perotine Massey and Guillemine Guilbert burnt at the stake. Perotine's husband, a protestant minister, had been banished in 1554 when Roman Catholic Mary I came to the throne. The women were accused of non-attendance at church and being found guilty they were burnt in 1556. While on the pyre Perotine gave birth to a boy child, which was saved but then ordered to be put back into the flames. During the English Civil War, the royalists captured the lieutenant governor colonel Russell and the three parliamentary commissioners for Guernsey, Jurats Peter de Beauvoir, Peter Carey and James de Havilland. The three commissioners were told that there was urgent news for them on board a ship called the George ship. Once on-board they were sent as prisoners to Castle Coronet where after being imprisoned for 43 days they cut a hole through the floor of their room and made three ropes from old musket match. They escaped despite being fired at by muskets and just before the governor of the castle had received a writ to execute them! There were six forts built on Guernsey, most from the eighteenth century. An example of the continual use and adaptation of these sites to current needs is Fort Grey. This was built on the ruins of an earlier castle in 1803 as part of the coastal defence against possible French attack. It had 12-14 guns protected by a 10-foot-thick wall. The Guernsey militia used the fort during World War I and during the German occupation in World War II as an anti-aircraft battery.
The First World War
The oldest air force squadron was formed in 1914 in Guernsey as No.1 Royal Navy air service and was renumbered 201-squadron on the formation of the air force in 1918. Although men and women joined the war effort from the beginning the island wanted to send its own regiment so the Royal Guernsey Light Infantry Regiment was formed in 1916. The regiment fought in the battle of Cambrai in 1917, a reconstruction is shown in Photo 4. During and after the war the cost of living on Guernsey rose steeply with many families managing on the pay sent by their soldier husbands or on an army widowers' pension. A lot of men had been badly wounded during the war and were discharged back to the island, unfit for work.
Castle Cornet and Photo 4: reconstruction battle of Cambrai in 1917
The Second World War
This war had a different effect on the island as it was invaded and occupied for five years by the Germans. It was a difficult time with many families being separated. There is a very good occupation museum and the occupation is the time period to a new film out called the 'Guernsey literary and potato peel pie Society'. Curfew was 9pm if the islanders were not inside they could be shot. People were very hardy and survived food deprivation, having meals of fried onion and substitute food including tea made from bramble leaves, coffee from acorns, sugar from beef syrup and flour from potatoes. There was a ban on swimming and fishing in case they used this opportunity to help the resistance somehow. Occasionally the rules were relaxed so that locals could include the fish in their diet. As well as suffering from the loss of freedom and food deprivation some were working behind the scenes with the resistance even if not actually fighting. One of my favourite passive resistance stories is of a flour machine imported from France, which had a deliberate fault in the electrical starter, which meant that it regularly failed melting the fuses. The Germans asked Mr Lambert a French electrical engineer to repair it promising 100kg of flour. He deliberately sabotaged it to ensure that the starter failed every two or three months so that the Germans would continue to call him in on a regular basis to fix it and he got paid in flour. People have lived on Guernsey for 12,000 years and nowadays Guernsey is a peaceful and popular tourist destination. It is well worth a visit, with lots of interest for archaeologists and historians as well as those seeking a relaxing break.
Brown Stout: the rise and fall of the "City of London Brewery" Melvyn Dresner
As part of a Community Lecture programme sponsored by Thames Tideway and organised by Thames Discovery Programme I gave a talk on the City of London Brewery. This is a summary of that talk.
As a member of Foreshore Research and Observation Group (FROG), I visit the foreshore at Cannon Street on a monthly basis observing erosion, deposition and exposure of archaeology on the foreshore. The most dramatic erosion is to the east of Cannon Street railway bridge. This is the site of the City of London Brewery, known as the Hour Glass Brewery, and during the early 19th century one of the greatest breweries in the world in terms of scale of production. On the foreshore today, we can see exposed wooden piles, coarse Victorian concrete and pipe work from the late 19th century brewery. We can also see evidence of much earlier water-supply in the form of elm water pipe below the level of the current wall. This material is exposed by erosion in the last 10 or so years and over the last 2-3 years is being fairly rapidly being eroded away, much of the early 20th century barge beds in this area has been washed away around 1.5 metres depth of material has disappeared. This erosion continues to expand in area under Cannon Street railway-bridge.
Photos: features on the foreshore
We know from documentary evidence that by the early 15th century there was brewing activity on site. Self-organisation of the brewers probably dates to the late 12th century to the Guild of Our Lady and St. Thomas Becket. The brewers were granted right to regulate their trade in 1406. This documentary evidence is supported by the archaeology of sites along the waterfront showing stone hearths/furnaces used for heating water for dyeing or brewing, see further reading below. Later in the 16th century, the site was associated with Henry Campion, who became Queen Elizabeth's brewer. The area adjacent to the site was called the Steel Yard, which was the German trading community in London, also founded in the early 15th century. Today, Hanseatic Walk sits above the brewery site. We still find German stoneware on the foreshore today and that tells of trade across the southern North Sea and Novgorod in the eastern Baltic. By the Great Fire of London in 1666, there were 16 breweries around Thames Street that were destroyed in the fire, as well as the Brewers' Hall. Brewing was re-established on site after the Great Fire and by the early 18th century, we see the development of London porter, and the development of stronger, Brown Stout, and for export, Russian Imperial Stout. The Calvert family came to dominate brewing from the 18th century through to the 19th century. London reached the zenith of porter production by 1823 with 1.8 million barrels with the Calvert family as the leaders; peak porter to coin a phrase. The Calvert family acquired the Hour Glass Brewery in 1759 making them London's foremost brewers in 1760. They consolidated production in 1821 at the Hour Glass Brewery. By the 1850s they were eclipsed by other London brewers, such as Barclay Perkins directly opposite on the Southwark bank. In 1860, the City of London Brewery was formed to take over the Calvert's Hour Glass brewery. By 1866, Cannon Street Station opened next to the brewery. During the 1860s the brewery invested in new technology such as refrigeration. The brewery was rebuilt in the 1880s. The existing river wall is all that remains of the last brewery. It is possible to see the base of the two towers at each end of the building facade, as well as lintels from the doors and windows. We can see pads where cranes would have been fitted; pipe-works; and the corbels that protected the structure from barges. By 1922, the Hour Glass brewery stopped brewing beer ending at 500 years of continuous brewing on the site. The last two decades of the building's history was as a warehouse. And briefly during the 1930s, as Decca's Thames Street recording studio from here: Django Reinhardt, Stefan Grappelli, George Formby, Peter Pears (his debut later leading to his collaboration with Benjamin Brittan) and BBC Symphony orchestra all recorded at the former brewery. German bombs hit the building in 1940 and 1941, with the building finally being demolished in 1942.
Further reading
L Fowler and A Mackinder, Medieval Haywharf to 20th-century brewery: excavations at Watermark Place, City of London, (MOLA Archaeology Studies Series 30), 2014
Lyn Pearson, The Brewing Industry, Brewery History Society for English Heritage, Feb. 2010
John Schofield, Lyn Blackmore and Jacqui Pearce, with Tony Dyson, London's Waterfront 1100–1666: excavations in Thames Street, London, 1974–84, Archaeopress Archaeology, 2018
Birkbeck Archaeological Society: Training Day Bill Bass
Stephens House and Gardens in Finchley, East End Road, London N3 3QE
Birkbeck Archaeological Society (BAS) and current Birkbeck students at Avenue House
On the 24th March HADAS conducted a 'Training Day' on behalf of BAS, the idea being that not all students attending Birkbeck courses get a lot of 'hands on' experience of fieldwork such as, planning in 'Archaeological Priority Areas', finds processing, resistivity surveying and so on. As HADAS has a certain amount of experience in these matters it was thought a good idea to arrange a day where students could partake in and gain an insight into a variety of similar activities and learn about the activity of the society. Melvyn Dresner worked with BAS committee members to discover what students might want to learn and pulled together a Handbook for the day. The day started in the Dining Room of Avenue House with a PowerPoint presentation and talks by Roger Chapman and Robin Densem on various methods and practice in the local council planning process, the meaning and use of 'Archaeological Priority Areas', tracking sites through the likes of 'Historical Environmental Records', co-operation with the Greater London Archaeological and Advisory Service (Historic England) and the differences between professional units and volunteer archaeology. Vicki Baldwin and Peter Nicholson later used the same space to explain the HADAS archaeological archive, our reports, books, maps and the publishing of sites. The HADAS Basement Room supervised by Andy Simpson and Janet Mortimer was used to explain finds processing techniques e.g. handling, washing, marking, recording and packaging of finds, there was also a display of a couple of past HADAS digs. The Garden found itself being the base for practicing 'resistivity surveying', the laying out of base and grid lines, the methods of 'levelling' with the use of a 'dumpy level', finding benchmarks, mapping and so forth overseen by Don Cooper, Tim Curtis and myself.
Bill explaining the principals of site survey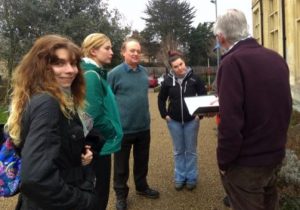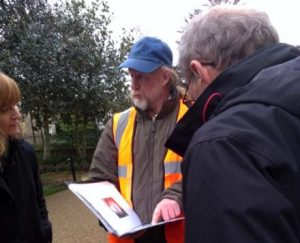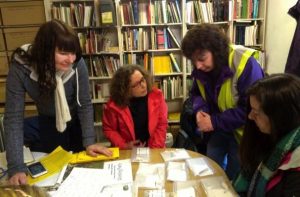 Don and Tim explaining Earth resistivity survey (left), and Janet explaining finds processing (right)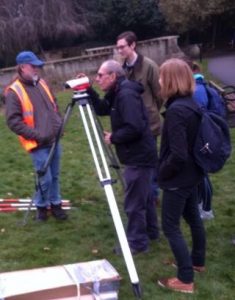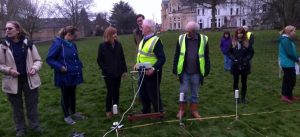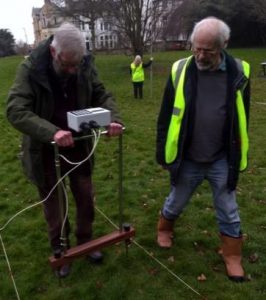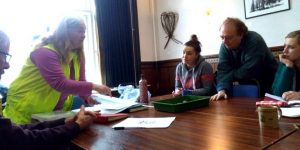 Bill overseeing the use of the dumpy level (left), Vicky explaining on site recording (middle) and Tim overseeing geophysical survey (right)
The outcome of the days work was not only a learning experience for Birkbeck students, it was also a great learning experience for HADAS members, and provided archaeological results that we can add to the record for the site. The results of earth resistance survey undertaken by Birkbeck students with Hendon and District Archaeological Society (HADAS) – using a 10 by 10 metres grid is shown below (left) and photo (right) shows extent of grid:
Initial feedback appears to indicate that it was a worthwhile exercise for the 15 or so students who could apply some 'hands on' knowledge to their classes or further afield with several joining the ranks of HADAS membership. The event was free to participants being seen to be an experimental basis for possible further such 'training days'. A couple of weeks later heavy rain "recreated" the ornamental pond (10th April 2018).
The Art of Hedge Laying and Ancient Hedgerows Melvyn Dresner
Hedges and hedge-laying has a long history. Hedge-laying probably goes to the 18th and 19th century (Pollard, Hooper and Moore 1974) – although the craft may have much earlier origins. Hedges are laid to create a stock proof barrier, regenerate an overgrown and dying hedge, as habitat for small field and hedgerow animals as well as birds, wind protection, prevent soil erosion, or to thin an overgrown hedge to gain more space in the field. At Barnet Environment Centre, we had the pleasure of looking after 7.5 acres for educational and environmental purposes and have many types of hedges. Earlier this year (February), we had a training session hedge-layer with Stephen Gibson – a Hertfordshire based hedge-layer. He learnt the art of hedge laying from Middy Page, who he describes as "… a well known local character, of the like that only comes along once in a life time."
Middy was from Romany Gypsies from Welham Green area of Hertfordshire. Gibson describes on his website some of Middy's work along the Great North Road, towards Brookmans Park, Hertfordshire, laid, during World War Two, by Middy, his father and the Land Army Girls, to help increase the food yield.
Hedge-laying at Barnet Environment Centre, February 2018
Hedge-laying is part of hedgerow management. Hooper's Hypothesis is that species diversity will increase over time, as bird-ferried or windblown seeds take root in the shelter of the hedgerow. Regular trimming will help new species establish, by controlling existing species. The formula may also work for other reasons e.g. because of remnants of mixed woodland, or due to hedges before about 1700 tending to be plants of mixed species. The formula can assist in dating hedges back to the Anglo-Saxon period, with reasonable degree of confidence. There is archaeological evidence for hedgerows in Britain in the Roman period at Bar Hill Roman Fort in Dumbartonshire, and Farmoor in Oxfordshire. Modern types of billhooks were in existence before the end of the Iron Age. Evidence for hedges during the Bronze and Neolithic ages can be found. The Enclosure movement got underway in the 16th century, changing forever the open landscape of most of the country. Enclosures continued to the mid 19th century: c.200,000 miles of hawthorn hedge was planted in the Parliamentary Enclosures during the 18th and 19th centuries (Mabey 1996).
Sources
Friends of Barnet Environment Centre, http://www.fobec.org.uk/wp/
Stephen Gibson's website http://www.hedgeandhazel.co.uk/homepage
Hedgelink www.hedgelink.org.uk/index.php
The Conservation Volunteers https://www.conservationhandbooks.com/hedging/the-hedgerow-landscape/hedges-in-history/
Richard Mabey 1996, Flora Britannica, Sinclair-Stevenson
E Pollard, M D Hooper, and N W Moore 1974, Hedges, Collins New Naturalist
South of England Hedge Laying Society http://sehls.weebly.com/why.html
Plane Wall: an Installation by David T. Waller and John R. Waller
21st April to 29th September 2018, In the basement of Stephens House, you can visit a special exhibition that explores ideas of nostalgia and memory a type of archaeology of childhood, you can enjoy it as an exploration of the world of model aircraft. Entry is free entry and they are collecting for a charity called Combat Stress. Open 10am – 5pm Saturdays and Sundays only, except 29th July, 5th August and bank holiday weekend, Stephens House and Gardens, East End Road, Finchley, London N3 3QE.
Other Societies' Events Eric Morgan
Sunday 24th June, 12 noon-6pm, East Finchley Community Festival has been held in Cherry Tree Wood for nearly 40 years, lots of stalls, entertainment, food and a bar.
Saturday 30th June, 100 years of Roe Green Village, Village Green, Roe Lane NW9 (opp. Entrance to Roe End), Centenary Village Day, 12 noon – 11.00pm, stall, live music, arts and craft.
Tuesday 3rd July, 5.30pm, LAMAS walking tour of the Inner and Middle Temple, led by Marion Blair, Cost £10 members, £12.50 non-members, book via jane.sidell@btinternet.com
Thursday 5th July, The Jewel in the Post-War Crown: a Retrospective for the 70th Anniversary of the NHS: Kevin Brown, Camden Local Studies and Archives Centre, Holborn Library, 32-38 Theobalds Road London, WC1X 8PA UK Visitors £1
Friday 6th July, Enfield Archaeological Society, 8pm Geoffrey Gillam Memorial Lecture: Geoffrey of Monmouth's London: from New Troy to Lud's Town, John Clark, Jubilee Hall, Parsonage Lane Enfield (close to Chase Side). (EAS digging at Elysng Palace (Forty Hall) from 11th July contact fieldwork director, Dr. Martin Dearne martin.dearn@tesco.net and http://www.enfarchsoc.org/lectures/
Thursday 12 July, 7.30pm Street Fight 1455: 1st Battle of St Albans, Harvey Watson, Pennefather Hall, St Albans Rd, EN5 4LA
Sunday 15th July 12:00 – 17:00, Centenary Garden Fête – Inky's Place 100 years, 2018 sees the 100th anniversary of Henry Inky Stephens bequest of the House & Gardens.
Thanks to our contributors: Bill Bass, Roger Chapman, Harriet Sogbodjor, Terry Dawson, Eric Morgan, Sandra Claggett, Suzanne Marie Taylor and Samantha Brummage
Hendon and District Archaeological Society
Chairman: Don Cooper, 59 Potters Road, Barnet, EN5 5HS Tel. 020 8440 4350
chairman@hadas.org.uk
Hon. Secretary: Jo Nelhams, 61 Potters Road, Barnet, EN5 5HS Tel. 020 8449 7076
secretary@hadas.org.uk
Hon. Treasurer: Jim Nelhams, 61 Potters Road, Barnet, EN5 5HS Tel. 020 8449 7076
treasurer@hadas.org.uk
Membership sec: Stephen Brunning, 1 Reddings Close, Mill Hill, NW7 4JL membership@hadas.org.uk
Web site: www.hadas.org.uk
Discussion group: http://groups.google.com/group/hadas-archaeology
Facebook: https://www.facebook.com/groups/102507436381/