No. 573 DECEMBER 2018 Edited by Don Cooper
May we take the opportunity to wish all our readers and their
families, a happy holiday and a healthy, happy and prosperous 2019
HADAS Diary
Tuesday 8th January 2019: NO LECTURE
Tuesday 12th February 2019: Dorothy Newbury Memorial Lecture. Prehistory in London – some Problems, Progress and Potential by Jon Cotton
Tuesday 12th March 2019: Lost and Found: The Rediscovery of Roman London by John Clark
Tuesday 9th April 2019: The CITiZAN Project by Gustav Milne
Tuesday 14th May 2019: 50 years of recording London's Industrial Heritage Professor David Perrett
Tuesday 11th June 2019 ANNUAL GENERAL MEETING
HADAS 2019 Long Trip
We have booked the hotel for our long trip in 2019. Details will follow in due course.
The hotel is: Best Western Aberavon Beach Hotel, Aberavon Beach, Port Talbot, SA12 6QP
Dates Monday 23rd to Friday 27th September 2019
Tuesday 8th October 2019: From Crosse and Blackwell to Crossrail – MOLA excavations at Tottenham Court
Road 2009–10 by Lyn Blackmore
Tuesday 12th November 2019: Shene and Syon: a royal and monastic landscape revealed by Bob Cowie
Lectures start at 7.45 for 8.00pm in the Drawing Room, Avenue House, 17 East End Road, Finchley N3
3QE. Buses 82, 143, 326 & 460 pass close by, and it is five to ten minutes walk from Finchley Central
Station (Northern Line). Tea/coffee and biscuits follow the talk. Visitors £2.
MEMBERSHIP MATTERS – AN IMPORTANT UPDATE
At the time of writing there are 25 members who have not paid their subscription. If this applies (or think it
may apply) to you, please contact me using the details on the last page of this newsletter.
I will assume that you have decided not to renew if no reply is received by 31st December 2018. After this
date your details will be taken off our membership database and you will not receive any further newsletters.
Stephen Brunning, Membership Secretary (see contact details on the last page below).
Lant Street, Southwark – an update by Melvyn Dresner
Jacqui Pearce's talk at this year Annual General meeting brought together a year of work with the HADAS
finds group on finds from Lant Street dig, Southwark in 1999. This work continues this term in the dining
room at Avenue House with an enthusiastic group of volunteers recording finds under Jacqui expert
guidance.
The site is south of the river Thames in Southwark, not far from Borough tube station on the Northern Line.
We are lucky enough to be able to handle material from Roman and medieval period, though most material
from site is post medieval from the 16th century onwards. In Jacqui's talk we are able to understand the
social history of the area. She recounted Robin Densem's work to relate the site to historic maps such as
John Roque's 1746. Even maps from late 18th century showed large areas of open ground. In the early 19th
century a row of terraced houses was built. These were pulled down in 1960s as slums. In their early years
they would have been single homes with kitchens in the basement. Later in their life the houses were sub
divided multi-family occupation used by poorer people.
We have pottery that pre-dates the houses built on site from 16th and late 17th century. This includes pottery
made on the Hampshire/ Surrey border, which is known as borderware. This includes tripod pipkins with
hollow handles. These cooking vessels were in later periods replaced by metal cooking pots. Metal rarely
survives in archaeological context in London as either metal rusts or it is recycled into new vessels. As we
move into the 18th century cooking vessels with clear lead glaze and no feet appear and from the kitchen we
have mixing bowls for settling milk or fish.
Also associated with eating we have plates and platters in borderware from the 16th century. This can be
based on a red or white fired body with clear (lead), red (iron) or brown (magnesium) glaze. We see more
decorative features with geometric slip patterns. By 1660s, we have Staffordshire slipware in London,
including at Lant Street – patterns that reminds us of Bakewell tarts, which were made using a feather to
ripple the slip. At Lant Street, we are not far from the Rotherhithe pothouse. We have tin glazed ware are
from 1630s – 1670s. In this pottery, tin glaze ware was made by Dutch potters, who were influenced by
Chinese porcelain. Designs included "Chinaman in the grasses." We have Portuguese tin glaze that copies
Dolphin-design from late Ming dynasty designs. The Ming dynasty ruled China from 1368–1644. Other
vessels from the 18th century include Nottingham stoneware and white salt glaze ware from 1720 to 1780s,
including porringers with small handles for spoon foods such as porridge. For utensils we have knife handles
from 18th century with pistol grip. We can see indirect evidence of metal from staining and location of the
tang in the middle of the handle.
We have evidence of drinking vessels and jugs from the 17th century. Brown glaze is associated with
drinking. We have drinking jugs with green slip that were characteristic of vessels used at the Inns of Court.
We have Staffordshire type slipware with red blob slip and trailed slip with light blobs given a jewelled
effect such as an example saying "TURNER", maybe the owner's name? We also have indirect evidence of
metal, with a hole in the handle to attach a pewter lid. Frechen stoneware imported from Germany may have
been used to serve wine or spirits. On this ware we have a pub sign for George and the Dragon. We have
punch bowls from the early to mid-18th century. Most evocatively represented in William Hogarth's A
Midnight Modern Conversation (1732), the bowl sits at the centre of a group of drunken men in disarray,
wigs askew and sprawling on the floor, smoking and drinking. We have faceted wine glass that would have
captured candlelight beautifully. We have a complete quarter bottle with "JUSC" upon it. This post-dates
1827 as it relates to Junior United Service Club, which was located near Regents Street. According to
Charles Dickens (Jr.), Dickens's Dictionary of London, 1879, first child of Charles Dickens, the author and
former resident of Lant Street:
"Junior United Services Club, Pall Mall, consists of the princes of the blood royal, commissioned officers of
the Navy, Army, Marines, Royal Indian Forces, and Regular Militia, Lieutenants of Counties, sublieutenants
in the Army and midshipmen in the Navy."
Source: http://www.victorianlondon.org/entertainment/juniorunitedservicesclub.htm accessed 12th
November 2018
Evidence to changing ideas about drinking in the late Victorian period include "R White" bottle that would
have contained ginger beer or lemonade.
There are decorative teapots in white salt glaze stoneware and cream ware including a spout with an arm
wrestling a serpent and another from a pineapple form, as well as handles and lids. Tin-glaze ware though in
design following Chinese porcelain examples are not good for hot liquids – tea bowls. We have examples of
clobbered decoration applied in London or Amsterdam to blue and white Chinese porcelain and fired in
enamelling kilns. We also have late 18th century pearl ware – saucers and fluted tea bowls.
We have also pharmaceutical stoneware and tin glaze ware. Dark blue glass was used for poison such as
laudanum and arsenic. In another Charles Dickens' association, we have a blacking bottle in English
stoneware. As a twelve-year-old boy, Dickens worked in Warren's blacking factory.
Evidence for hygiene are chamber pots from various ceramic types, in yellow ware, white tin glaze and
mocha slipware. Also we have a toilet dish for soap, dress accessories, buckles, a needle case in bone and
part of a bone fan. Bone combs dating from the 17th century and bone buttons from the early 19th century.
For clay tobacco pipes these are mainly 18th or 19th century. We recorded 259 pipes, which were marked.
These include pipes related to the Hudson Bay Company, Watermen's Company and Royal Inniskilling
Fusiliers' as well as giraffe pipe. We have gardening represented in the form of a glass cloche and red-ware
flower pots. For architecture we have lead from windows and decorative tin glaze tiles, as well as Victorian
fireplace tiles. We have glass waste possibly associated with the Falcon Glass works, Bankside or the wider
glass industry in Southwark. The work on the Lant Street material will continue into 2019.
Monument to Major John Cartwright, St Mary at Finchley Churchyard, Hendon Lane N3
Hidden behind hoardings for nearly two decades because of its dangerous condition, in the churchyard of St
Mary at Finchley, is the monument to Major John Cartwright. This Grade II Listed building is currently on
the Historic England Register of Buildings at Risk but is now in the process of being restored. Not all the
funds required for the restoration have been raised and it is now your chance to contribute and make the
difference.
Major John Cartwright was born on 28 September 1740 and died on 23 September 1824. He was a political
reformer and radical spokesman of national importance who is known as the Father of Reform having
championed universal suffrage and the introduction of secret ballots. He also founded the Society for
Constitutional Information.
Although he is not so well known today his ideas contributed to a century of social and political change. It
was not only his thinking that was important, the way he conducted himself made him a model of good
political debate. He was noted for his generosity to all people and his lack of self-interest. Contemporary
accounts refer to his "unceasing benevolence and affectionate disposition", his "public integrity and
uprightness". His qualities of character were praised by Thomas Jefferson, the third President of the United
States of America. Indeed, it is a measure of the high regard in which he was held by his contemporaries that
his memorial was funded through public contributions rather than an act of private glorification.
The monument was erected in 1835. It is built of yellow oolitic limestone, with a square tapering obelisk and
armorial and portrait roundels. The monument was dismantled in 2008 (under the watchful eyes of our own
Vicki Baldwin and Don Cooper – see report in HADAS newsletter 460 July 2009) due to its dangerous
condition.
A condition survey was carried out in 2017 with funding from Historic England. Faculty Consent was
granted in 2018 for the conservation and repair of the vault and obelisk. Works to repair the Monument are
in progress with funding from Historic England. The Rector of St Mary at Finchley, Phillip Davies, has set
up a Crowdfunding page to help raise the final £1000 required to complete the project. They are halfway
there but HADAS members could be the ones to push it over the top. Please contribute if you can at:
https://www.justgiving.com/crowdfunding/heritage-of-finchley-at-risk
Report on the October Lecture
At a well-attended lecture, Suzanne Marie Taylor gave us an interesting talk on the fate of Motor Launch
M.L. 286-The Not So Silent WWI Movy. Hulked at Isleworth Ait she described Motor launch M.L. 286-
also known as a Movy, a veteran of World War I and World War II. Built for speed in 1916, she began her
adventurous life as a spirited submarine chaser as a part of The Grey Patrol in World War I. In World War
II, M.L. 286 was one of the Dunkirk Little Ships, which took part in Operation Dynamo in 1940-by which
time, she was named Eothen.
In the 1980s Eothen was a houseboat until she was abandoned on the Thames foreshore at the back of BJ
Wood & Son Boatyard at Isleworth Ait. Suzanne's talk highlighted how M.L. 286 continues to evolve
through the dedicated volunteer work of The Thames Discovery Programme, and what the future might hold
for her.
After fielding a number of questions, Suzanne was thanked for a very interesting talk.
Brome Trip Day 2
The first and last stops on Tuesday were at churches. The reports on these are recorded together so that
contrasts can be drawn.
St Peter's Church, Forncett St Peter Micky Watkins
To Londoners, the high round tower seems very remarkable, but there are 185 round towers surviving, 124
of them in Norfolk, 38 in Suffolk. A thousand years ago when these towers were built in East Anglia there
was a fear of Viking raids and the high towers provide a good look-out and possibly some defence. The
reason why they are round is that there was a lack of building stone in East Anglia so knapped flint was used
and corners are difficult to construct in flint. Even the youngest children were set to work picking stones
from the fields to ease the ploughman's work so there was plenty of flint.
The round tower of St Peter's is complete with a crenelated top and is probably the highest in the country.
Just below the top are four gargoyles and below that eight small circular openings, there are several other
openings and a small Norman doorway.
The original Anglo-Saxon church was a small church covered with thatch. In the 14th century it was rebuilt
and enlarged with three aisles. In the 17th century it was severely damaged by puritans who were very strong
in East Anglia. In the mid-19th century there was restoration work and some stained-glass memorial
windows were added.
We were all fascinated by the oak pew ends. These originated in the 15th century but severely mutilated by
Puritans who decapitated all the heads. They were very well restored in 1857. They illustrate the calendar,
symbols of morality and the saints. (Pictures by David Bromley.)
There are large stone memorials set into the floor of the aisle and an unusual alabaster tomb in memory of
Elizabeth and Thomas Drake who died in 1485. Incised on the top are portraits of them both.
ST. MARY THE VIRGIN CHURCH, WORTHAM Jean Bayne
Hidden by trees, Wortham Church is one mile away from the village it serves rather than at its centre.
Doomsday suggests there were 2 churches/parishes originally in the area but in 1769 they were combined
into one. The most striking feature of this church is its round tower, with the largest diameter in England at
about 10 metres and a height of nearly 19 metres.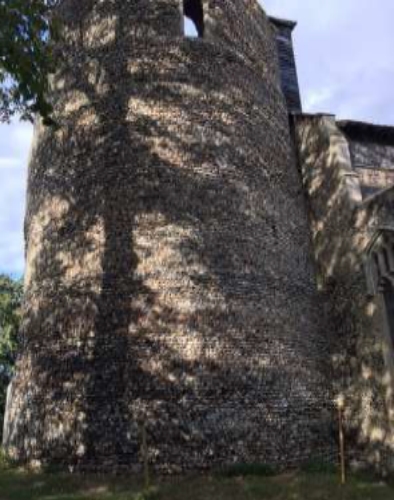 This has led to speculation about the site of the church. A
partly buried black stone, The Sacred Stone, near the
tower may have been an object of pagan veneration so the
church may have been built there to counteract and
dominate the old beliefs of local people. Moreover, the
tower, all seeing but unseen, may have also been used as a
defensive structure. This view is reinforced by the fact
that a navigable river existed nearby at the time of the
Vikings—-now it is just a brook.
It is now generally accepted that this tower was built
c1160 at the same time as an earlier church, although
some claim Saxon origins. The tower is probably Norman
as are some of the existing footings in the This suggests
that a church was built at the same time as the tower: not
just added onto it but integral to it. The building we see
today is mainly in the 14th century, perpendicular style
with the addition of a splendid clerestory in the 15th
century. This has geometrical designs between the
windows and various holy signs and symbols including
the first three letters of Jesus' name in Greek. (IHS)
The tower is an impressive example of early flint work. You cannot go inside it but parts of its interior are
clearly visible from outside through a large arched opening. It is open to the sky as the roof and bell tower
containing 4 bells collapsed in 1789 and were never replaced. A bell turret was added, though, in the 18th
century, and, more recently, in 2005, a weather vane with a horse and hounds was placed on top. There is
some evidence of internal floors and what may have been a fireplace.
The interior of the church is light- filled and welcoming. The entrance porch, with its lists of incumbents and
patrons starts at 1259 but the new porch gates were installed in 2001 to commemorate the millennium. You
experience this church as a well-loved vibrant, living institution, changing and adapting over centuries and
linking the church closely to the parishioners' lives and experiences. Most recently, the North aisle windows
were installed in 2012 to commemorate 100 years of the Diocese of St Edmundsbury and Ipswich and they
reflect different areas of Wortham and celebrate faith through time from daybreak to sunset. Lilies of the
valley symbolize the Virgin Mary. Other windows are in memory of various significant figures in the past
life of the parish including a local farmer in 1986 with delightful roundels of the seasons. Black stone floor
slabs also commemorate past rectors and prominent families and individuals. A little medieval glass has
been preserved in the east window alongside the Victorian additions.
The greatest amount of restoration took place in the 19th and early 20th centuries. The porch, pulpit, choir
stalls, organ and timbers and roof, for example were all restored. There was some defacement of the stone
corbel heads on the wall posts in the nave in Cromwell's time but in 1882 they were re-carved: they were of
14 monarchs from Edmund to Victoria. The loveliest carvings, however, are to be found on the bench ends
of the pews. Texts taken from Psalm 104 are charmingly illustrated by a range of different animals,
including an owl, a turtle, a deer and a walrus. This was done in 1890 when the seating was restored.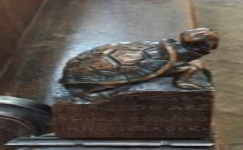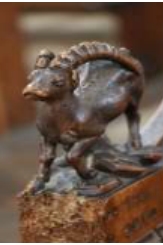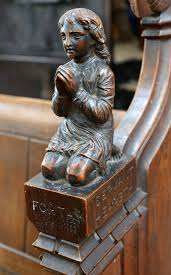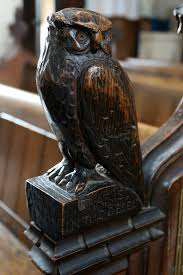 However, older features remain, among them, the highly decorated 14th century font, and a Royal Coat of
Arms from William and Mary's time besides two 18th century hatchments. A piscina with detailed stone
carving is to be found near the altar and an old wooden vestry door stands opposite.
Outside, the tranquil graveyard is maintained as a wild life sanctuary, planted with yews, conifers, limes,
hawthorn, cherry and crab apple trees and it sits close to open fields. The lychgate, rebuilt in 1911 and
restored in 2010 is testament to the continuing investment and involvement of its parishioners and rectors.
Norfolk Tank Museum Simon Williams
The approach was flanked by 3 bad boys: namely a Scorpion (of the light variety & recent), Chieftain Mk5
(main battle tank of yesteryear), & a Walker Bulldog. No doubt the greatest draw was the replica World
War One tank: star of the recent Channel 4 documentary, 'Guy Martin's WWI Tank'
Altogether there was a magnificent collection – ranging from 50/60's main battle tanks & heavy armoured
cars, such as a mighty Saladin APC & big wheeler Ferret (Scout vehicle — 6 reverse gears??) to two
Wermacht field guns and large anti-aircraft gun and (rather amazingly) a 1970 Russian missile launcher (in
decent war livery!) to a double- tracked articulated troop carrier. In the hangar there were 2 loaded standard
backpacks, which one could handle & lift (if one could) impossibly heavy to lift, let alone march/fight
with!!)
The display was of exhibits, all in battle-ready excellent condition. One was encouraged to make a hand's-on
experience & climb aboard them. As a spin-off there was a Nissen-hut communications display.
Bressingham Jim Nelhams
Bressingham is situated on the A1066. It provides a number of attractions mainly aimed at nostalgia. It has
three separate railways of different gauges though only one, the Fen Railway, was active during our visit.
Most members chose to take a ride on this, a two-foot gauge, today diesel-hauled for the 15-minute trip out
into the countryside.
"The Gallopers" is a traditional roundabout with horses and an organ. This also attracted most of us, even
those nonagenarians in the group.


There are also a number of sheds housing railway engines and carriages and a Dads' Army museum with
parts of Wilmington High Street. My favourite was the Royal Mail railway coach still with its sorting racks.
Bressingham Gardens Liz Tucker
While browsing in the steam engines and Dad's Army museum, I noticed that they had been founded by
Alan Bloom (1906-2005), the plantsman and designer whom I'd frequently come across in garden
magazines. His work has been continued by his son Adrian. We therefore allowed an hour to explore the
famous gardens.
There are two main garden areas. The "Foggy Bottom" garden, designed by Adrian, has a winding path
through it. There were some flowering plants, but the characteristic island beds mainly contained conifers
and grasses of every possible size, shape, colour and texture, which would look beautiful at any season. Next
to that garden, Adrian planted a wood of exotic trees, such as giant redwoods.
The Summer garden opposite was designed by Alan Bloom himself. Luckily it was a lovely sunny day, as
we kept being drenched by sprinklers, and could dry off easily!
We did not have time for the plant sales area; probably a good thing, as we had enough plants to carry from
Cressing Temple!
Eleanor Crosses – Journey's end Jim Nelhams
We have been following the route of the funeral procession of Eleanor of Castile, wife of Edward I, after her death in
1290.
Leaving Dunstable, the procession continued southwards along Ermine Street to St Albans. Here they were met by
monks and the coffin was sheltered overnight in the Cathedral. The stopping place was at the south end of The Market and is marked by a plaque on the clock tower.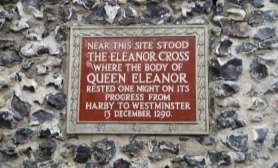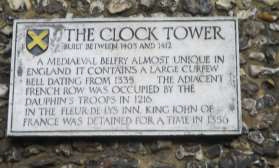 Thence they headed east to Waltham Abbey, where another of the original crosses remains (at Waltham Cross). The
statues on the upper section of this cross have been replaced, but a notice advises that the originals are in Cheshunt
central library. A number of buildings and roads in the area pay recognition to the journey, including Geddington
Court and Hardingstone Court (both named after other crosses) and Castile Court all in Eleanor Way.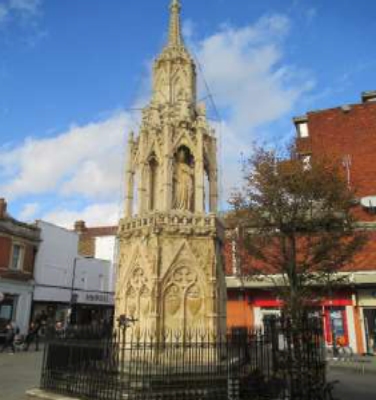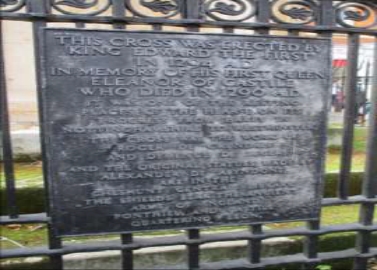 The next stopping point was in Westcheap (now Cheapside in the City of London) A few fragments of this cross
survive in the Museum of London. The cross was damaged in religious upheavals. It does appear in old pictures
showing the coronation procession of King Edward VI.
Thence to Charing Cross, where the Victorian stone cross on the forecourt of the station was erected to publicise the
Charing Cross Hotel. Further recognition can be found in murals on the platforms of the Northern Line stations.
After this final rest, the journey was completed to Westminster Abbey.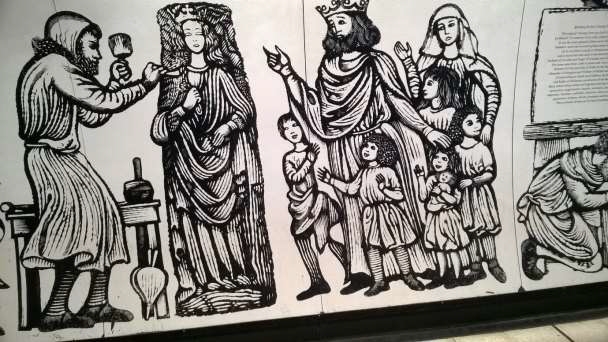 When Edward I died in 1307, his embalmed body also reached Westminster after a stop at Waltham Abbey. Both he
and his much-loved Queen have tombs in St Edward the Confessor's Chapel behind the High Altar of Westminster
Abbey.
Exploring the Oceans (part 3) Jo Nelhams
Cook had been at sea throughout six of the preceding seven years and had completed two tremendous
voyages such as had never been made before. There remained one more great unknown, the North Pacific.
The possibility of a North West Passage had only been investigated without success from the North Atlantic.
If there was any such passage, then it was likely there was a link to the North Pacific.
Cook accepted command of the third voyage. He was now 47 years and had been at sea more or less
continuously for 30 years. On July 6th, 1776, barely a year after completing the second voyage, he set sail
again on the Resolution from Plymouth accompanied by the Discovery. Some of the crew had had
experience with Cook on his previous two voyages.
The Resolution had had a refit while in the dockyard, but Cook was not able to observe the work being done
very often. Some of the work was of poor quality. They sailed south towards the south of Africa. At the
Cape, there were repairs to the ship, where work was more thoroughly done.
They continued on towards Tasmania with some very rough weather with the ship rolling violently.
Tasmania had good harbours and some of the best shipbuilding timber. Here they found fine trees for new
masts. Sailing on to New Zealand he was in seas which were familiar to him and continued on to the South
Pacific islands and Tahiti. Here they were able to replenish supplies for the journey.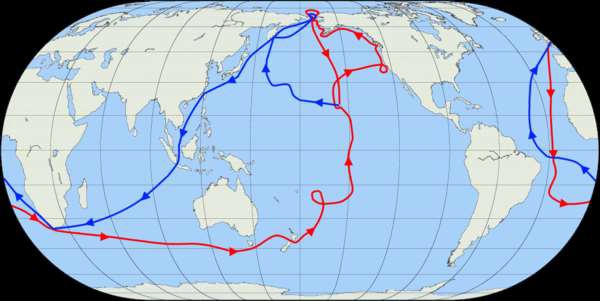 (The red line shows Cook's passage. The blue line shows the boat's return after his death)
It was time to leave familiar places and sail north. Cook was pioneering this route, which was to become
greatly used later. On route to the North Pacific having been at sea for nearly 2 years he came across the
Hawaiian Islands. They were the first European vessels known to have been there.
They reached the coast of Alaska, but then had to find a channel through the Aleutian Islands. There were
some puffs of smoke, which indicated volcanic activity among the mountains. The ice was becoming more
impassable and great floes ground together in the swell. Cook reached nearly 71 degrees north, but it was
no use, there was no way through, nor hope of any and so he turned back to head southwards. He sailed
down from the Arctic towards the Hawaiian Islands. He eventually found a shallow bay on the western side
of the Big Island, which is the biggest island and is called Hawaii. This was January 1779.
The inhabitants appeared to be friendly and welcoming. After some months the ships were ready to sail
again, with their sails and rigging repaired as well as they could be and stores on the ships replenished. It
was now early February and the Resolution set sail again.
They had not sailed very far when the ship suffered some more damage from some submerged coral. Cook
was reluctant to return to the islands but there was no other option.
The islanders were not so welcoming. Cook had been mistaken on the first landing as being 'Lono', a god,
but on returning so quickly the attitude was different. Thieving from their ships had happened before but
now it was excessive. Fighting between the islanders and the crew began and Cook tried to return to the
water's edge, but he was attacked, and he then fired a shot with pellets. He was violently clubbed by a
warrior and then stabbed many times and there he died.
Captain Clerke from the Discovery took Cook's command and Lieutenant Gore from the Resolution took
command of the Discovery.
It was tragic that James Cook, who elsewhere on his travels had established good relationships with the
Polynesians, should end his extraordinary life of exploration and caring for his crews, never having a case of
scurvy on any of the ships that he had captained on his years of sailing the oceans.
Captain Clerke after leaving Hawaii pressed on to the Arctic again for one more effort, but the ice fields
were larger and further south so no hope of getting anywhere.
It was October 1799, when the ships finally started the journey homeward, down the western side of the
Pacific and across the Indian Ocean, but it would be October 1780 before the Resolution and Discovery
arrived back in England, very quietly, after a voyage of 4 years and 3 months.
The search for the North West passage would continue well into the Victorian age.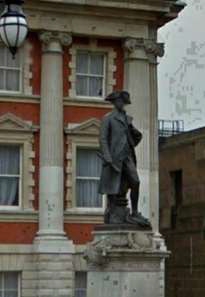 The above statue of Captain James Cook stands at the eastern end of The Mall close to Admiralty Arch.
OTHER SOCIETIES & INSTITUTIONS EVENTS, compiled by Eric Morgan
Please check with the organisations before setting out in case of any changes / cancellations
Tuesday, 8th January, 6.30pm, LAMAS. Clore Learning Centre, Museum of London, 150 London
Wall, EC2Y 5HN. "From the Romans to the Saxons – Results from the archaeological fieldwork at the site
of St Martin-in-the-fields Church, Trafalgar Square" Talk by Al Telfer (MoLA). Refreshments 6pm Nonmembers
£2.
Tuesday, 8th January, 1pm. Society of Antiquaries, Burlington House, Piccadilly, W1J 0BE "The Pope as
Pontifex Maximus. Tracing a Title from Numa Pompilius to James1" Free public lecture by Dr Oren
Margolis and Dr Graham Barrett. Spaces are limited, and reservations recommended at www.sol.org.uk
Wednesday, 9th January, 2.30pm. Mill Hill Historical Society. Trinity Church, 100 The Broadway, Mill
Hill, NW7 3TB. Talk "The Blue Plaque Scheme for London." By Cathy Powers (English Heritage Manager)
Friday, 18th January, 7pm. CoLAS, St. Olave's Hall, Mark Lane, EC3R 7BB. "A conversation about
conservation: 20 years of caring for museum collections" by Andy Holbrook (Collection care manager at the
Museum of London). Visitors £3.
Friday, 18th January, 7.30pm. Wembley History Society, English Martyrs' Hall, Chalkhill Road,
Wembley, HA9 9EW (Top of Blackbird Hill, adj. to the Church). "Brent, London and the Anti-Apartheid
Struggle". By Suresh Kamath. Visitors £3
Acknowledgements & Thanks: Jean Bayne Melvyn Dresner, Eric Morgan, Jim Nelhams, Jo Nelhams,
Liz Tucker, Micky Watkins, Simon Williams,
HADAS
Chairman: Don Cooper, 59 Potters Road, Barnet, EN5 5HS Tel. 020 8440 4350
chairman@hadas.org.uk
Hon. Secretary: Jo Nelhams, 61 Potters Road, Barnet, EN5 5HS Tel. 020 8449 7076
secretary@hadas.org.uk
Hon. Treasurer: Jim Nelhams, 61 Potters Road, Barnet, EN5 5HS Tel. 020 8449 7076
treasurer@hadas.org.uk
Membership Sec: Stephen Brunning, Flat 22, Goodwin Court,
52 Church Hill Road, East Barnet, EN4 8FH Tel: 02084408421
membership@hadas.org.uk
Web site: www.hadas.org.uk/
Discussion group: http://groups.google.com/group/hadas-archaeology
The January Newsletter Editor will be:
Peter Pickering: send contributions to him by 14th December please.