No. 590 MAY 2020 Edited by Dudley Miles
The Annual General Meeting on Tuesday 9 June 2020 will not now take place due to the situation created by the coronavirus. At the present time we do not know when it will be possible to arrange another date. There will also be no Tuesday lectures until further notice. The monthly Newsletters should continue as usual. Keep well and safe until we meet again.
Squires Lane Railway Sign Bill Bass
This photo is of a cast-iron sign adjacent to the north-east corner of a road bridge on Squires Lane, Finchley. The bridge crosses over what is now the Northern Line between East Finchley and Finchley Central. But the sign dates to the London and North Eastern Railway (LNER) period 1923-1948 when the railway was steam operated, with passenger and goods trains running between the likes of High Barnet and Edgware to Finsbury Park and beyond. In the late 1930s, the Northern Line was extended from Highgate to join at East Finchley and in 1940 the system became part of the Northern Line. Steam and diesels were still used to deliver goods until the early 1960s.
LNER NOTICE
ANY PERSON FOUND TRESPASSING OR THROWING RUBBISH OF ANY KIND ON TO THE RAILWAY COMPANY'S PROPERTY WILL BE PROSECUTED.
Sadly, we have to report that this remarkable survivor disappeared, probably in early March 2020. Whereabouts unknown?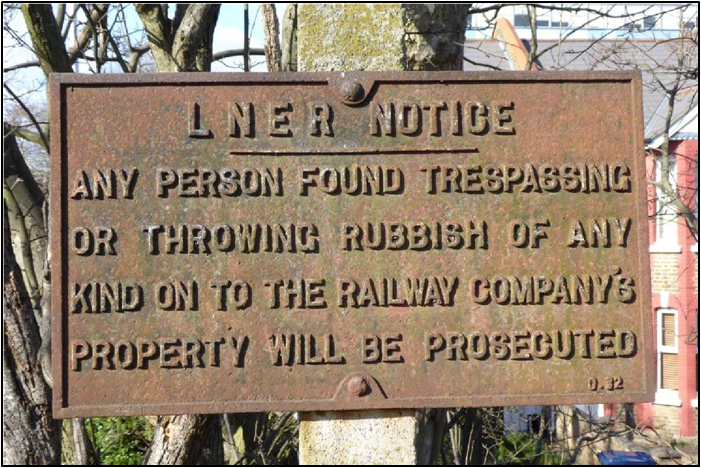 1
What did you do during the Lockdown? Roger Chapman
What's the link between the HADAS 2020 Accounts, COVID 19 and the discovery of a new brickworks in North Wales?
Well, in these strange COVID times, I find myself as HADAS Treasurer, with my wife, helping to shield her 93-year-old mother in her mountainside house above Llangollen in North Wales. We are likely to be here some time.
Putting the HADAS accounts together is a joyful task and has helped to pass the time in the Dee Valley, but every now and again I need a break. The house I am staying in has a large, and recently neglected, garden so there is scope for many projects. Vegetable beds have been dug and planted, a small pond created and most recently some paths widened. The current house was built in 1913 but tithe maps and historic Ordnance Survey plans show development on the site back to at least the early 19th century. This has been reflected in the numerous bits of Victorian and early 20th century pottery and glass coming up during these works. Widening the paths involved removing bricks set on edge. One of these (see photograph below) was different. It had a crude handwritten name – Tower Bk. Wks inscribed on one face. I thought this looks interesting and decided to see what more I could find out about it.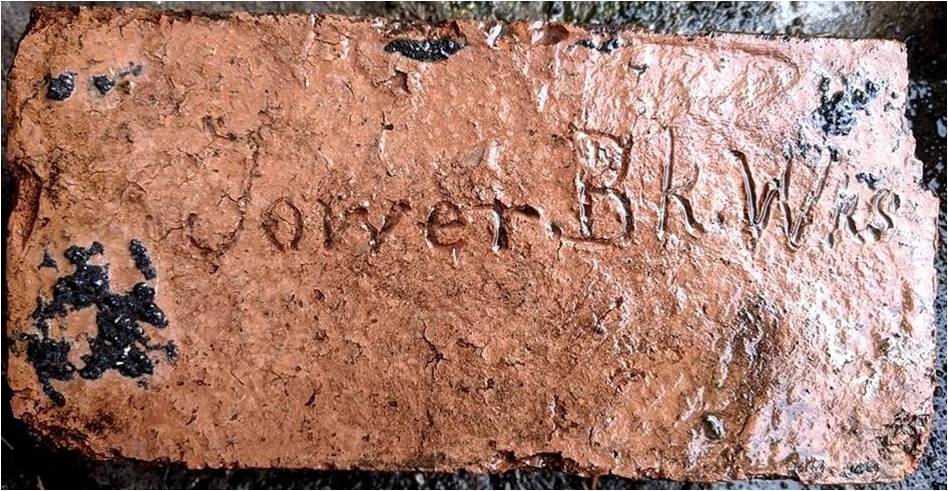 Closing the HADAS accounts spreadsheet on my laptop I opened up Google and searched for bricks in north Wales. I have to say I did not appreciate beforehand how many websites and people are devoted to bricks e.g. http://www.industrialgwent.co.uk/bricks.htmhttp://www.brocross.com/Bricks/Penmorfa/Pages/wales1.htm But however hard I looked I could find no reference to Tower Brickworks. There is a Tower Farm within half a mile of where I am staying, and North Wales had numerous brickworks. I checked out the National
2
Library of Scotland and its extensive collection of Ordnance Survey maps but nothing showed up. The next step was to put a message up on the local history Facebook page to see if anyone had heard of such a brickworks. A couple of responses suggested a place a few miles away, but further research showed this was known by another name.
I emailed the owner of one of the websites above and sent him a picture – not expecting to hear back for a while. In under 12 hours I had my answer. He replied, "What a cracking brick, a most unusual find!" He had spent some hours web searching without success but had then turned to mapping evidence.
He found that the 1898 revision of the 1:10,560 and 1:2,500 Ordnance Survey maps shows what looks like a small brickworks just north-east of Tower Farm under half a mile away from the house. "There appears to be a brick preparation building with signs of a claypit to the east. There is also a single circular kiln. By the 1910 map the kiln has disappeared and I would guess that the works had already closed." How did I miss that? Easy – the National Library of Scotland didn't have a copy of that specific map edition. It was on the Old Maps website, which I hadn't checked – I'm not sure I would have recognised a brickworks anyway.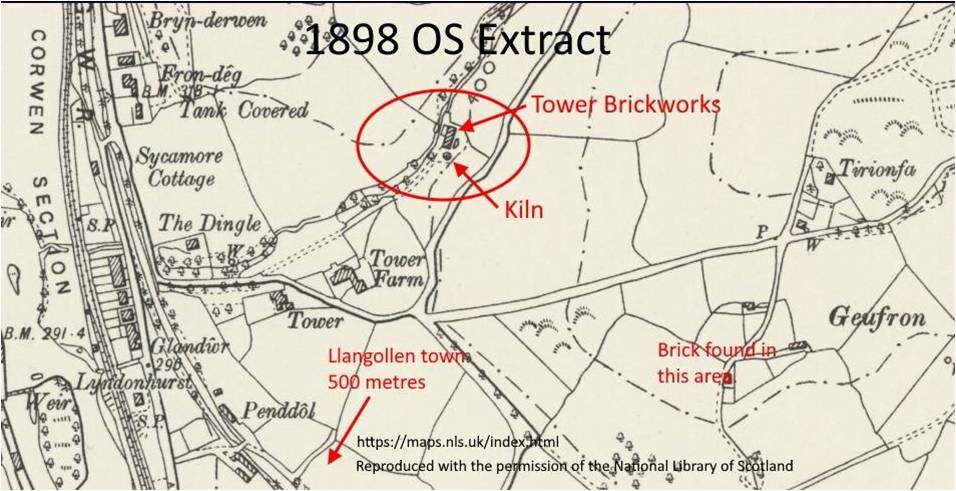 So, as a result of COVID 19 and finding myself during a break in working up the HADAS 2020 accounts in North Wales I managed to find a brick which has led to the rediscovery of a short-term brickworks business in Llangollen and the discovery of a wealth of websites on bricks. Strange times indeed.
I hope you are staying safe and well.
Hendon Hall Hotel Bill Bass
This substantial Grade II listed building with extensive grounds on Ashley Lane, Hendon, built c. 1757 as Hendon Manor House, is being redeveloped as a care home. Whilst it is not in
3
an Archaeological Priority Area (APA), its closeness to other APAs in the Hendon area, and also information from HADAS member Roger Chapman, indicated that that there might be traces of pre-existing building(s), and made it worthwhile that an Archaeological Evaluation be undertaken.
The evaluation was done by Archaeology South-East on behalf of the RPS Group during Nov/Dec 2019, opening up three trenches. The trenches showed the existence of a possible post-medieval house and garden pre-dating Hendon Manor House. The later evidence (post 1757) revealed walls that are believed to be from Hendon Manor House's stable block, which matches well with the OS Mapping.
Many thanks to Peter Pickering for monitoring planning applications on behalf of HADAS.
Bibliography: Archaeology South-East, Archaeological Evaluation Report, Hendon Hall Hotel, Ashley Lane, Hendon NW4 1HF.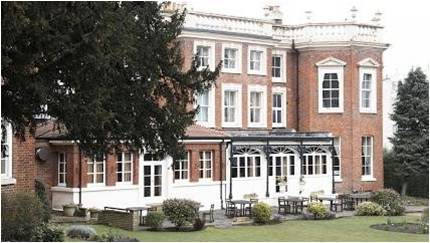 Roman Bathing Peter Pickering
Last month's newsletter included a note by Jim Nelhams about Caerleon and an evocative picture of the baths. Those who were on the South Wales trip may remember being told that men and women used the baths at different times. The November 2019 issue of Britannia produced evidence for this in the form of rules inscribed on bronze tablets from Vipasca, a mining town in Portugal. The rules provide that whoever wins the contract to manage the baths there must keep them heated and open to women from dawn to the seventh hour and to men from the eighth hour of the day to the second hour of the night. I wonder if this means that women got the cleaner water, while men came to the baths after a hard day at the mines, or, in Caerleon, on military exercises? (In some periods, mixed bathing was allowed. Marcus Aurelius tried to prohibit it. DM)
The article, incidentally, is primarily about a copper-alloy fragment of unusual shape found at Vindolanda in 2008. The fragment is apparently part of a calendar; it is inscribed with 'SEPTEMBER', 'K' for Kalends (the first day of a Roman month) 'N' for Nones, in September the fifth day, 'ID' for 'Ides', the thirteenth day, and 'AE' for Aequinoctium, the equinox, which of course falls in September.
4
And now for something completely different… Stewart Wild
(A report on one of the odder visits during our trip to South Wales)
In an investigation as far removed from conventional archaeology as could be, about half the members of our group accepted an invitation to visit the National Baked Bean Museum of Excellence, only a bean can's throw from our hotel in Port Talbot.
This, Trip Advisor's Number One attraction in the area, is the creation and pride of Captain Beany, and is located in his small third-floor council flat. The Captain, born in September 1954 and thus qualifying for his state pension next year, is well known in South Wales for his eccentricity and massive charity fundraising.
The National Baked Bean Museum of Excellence
The Captain's small kitchen is sponsored by the Heinz Company, with brand-name stickers on every surface; the kitchen clock displays Greenwich Bean Time. His bathroom is similarly sponsored by Branston. In the lounge area, a wide variety of baked bean cans, toys, artefacts and bean-related memorabilia on display has grown exponentially since the museum opened in 2009.

How has he bean managing?
Our host, who was originally known as Barry Kirkbut, changed his name by deed poll in May 1991 to Captain Beany; he showed us his passport to prove it. His motive for such a change in lifestyle was "to raise money for the beanifit of others less fortunate" and his dedication over three decades has so far raised well over £100,000.
Stunts to raise money have included sitting in a bath full of baked beans for 100 hours (that's nearly four days, a world record!); having his bald head tattooed with sixty baked bean images, each bean containing the initials of a sponsor (which raised £3,600); and running a dozen marathons (seven in London, five in the US) attired in baked bean costume, gloves and boots, a bit like Superman (that should be Superbean, Ed.).Participating in marathons became a habit when he was invited to become a runner bean for the CLIC Sargent children's cancer charity and raised £5,000. His best time is just over three hours – beantastic!
5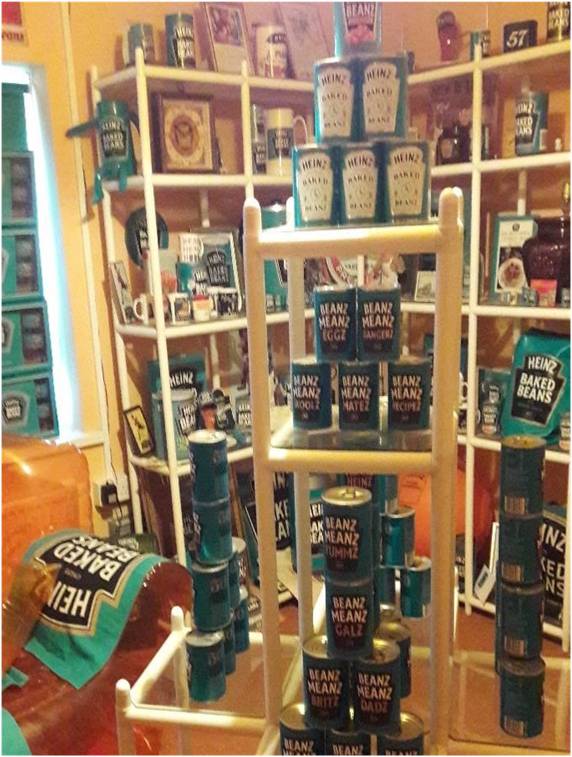 Our hero has stood many times in local and general elections throughout Wales, often as a Real Bean Independent candidate, and usually coming last despite winning the votes of several hundred supporters.
In 2000, he formed the New Millennium Bean Party and stood as their only candidate in Aberavon the following year. He came last but one with 727 votes (a respectable 2.4%); the candidate he beat was too embarrassed to mount the platform when the results were declared and was dubbed a has-bean!
Having made a donation, we thanked this eccentric and entertaining Welshman for the visit and made our way back into the real world.
Sir Thomas Lipton Memorial Home, Barnet: watching brief. Graham Javes
I've just heard of this watching brief undertaken way back in October/December 2017 and August 2018 by Archaeology South-East, (the commercial wing of the Institute of Archaeology, UCL.) on the Ice House at Sir Thomas Lipton Memorial Home, Barnet, on the edge of Southgate. See the report, which the London Borough of Barnet has recently put up on its website:
https://publicaccess.barnet.gov.uk/online-applications/files/AD0C26065CB1F1765C2BDDD60C0501E5/pdf/20_1196_CON-HISTORIC_BUILDING_RECORD_AND_ARCHAEOLOGICAL_WATCHING_BRIEF–4721437.pdf
My thanks to Rob White, hon. secretary, East Barnet Residents Association (EBRA.) for drawing our attention to this.
Judging by the large number of similar residences in the borough there must be other extant ice houses. Perhaps one for HADAS members?
______________________________________________________________________________
My maternal grandfather was a laundry designer and he designed Lipton's laundry. He was the oldest member of Finchley Victoria Bowling Club in Victoria Park, and was given a silver napkin ring with FVBC on it in tribute. It was my only memorial of my grandfather, but was unfortunately stolen by a caller to my flat. He died in the Great Smog of 1952. Dudley Miles
______________________________________________________________________________
6
Denis Ross Jim Nelhams
Some newer members may not know Denis. He was born on 10th July 1923. Sadly, he died on 29th March 2020 aged 96.
During World War II, Denis served as a Captain in the Royal Artillery (112th Wessex Field Regiment) and afterwards, in 1952, qualified as a solicitor, becoming a Senior Partner in his law firm. His son Jonathan has followed in his footsteps as a solicitor.
At the end of 1988, he joined HADAS, and from 1998 to 2008 served on the committee as Hon. Secretary. His legal advice was invaluable, particularly when negotiating our lease for our rooms at Avenue House.
He also created a script still used today to direct our Annual General Meeting. On his retirement from the HADAS committee, Denis was elected a Life Member. Denis and his wife Shifra were keen supporters and even spent their Golden Wedding anniversary on our long trip based in Plymouth in 2006.
Outside HADAS, Denis served on the Hampstead Garden Suburb Trust from 1977 to 1984 and was also Chairman of the PTA at Garden Suburb School. He was also Chairman of Reynolds Close Residents Association for many years. Our sympathy goes to those that Denis leaves behind.
Knap Hill Dudley Miles
Summary of a Wikipedia article by Mike Christie
Knap Hill earthwork is on the northern rim of the Vale of Pewsey in Wiltshire, a mile north of Alton Priors. It dates to about 3450 BC and it covers around 2.4 hectares. Its main claim to fame is that it was the first structure to be identified as a causewayed enclosure, an area surrounded by a ditch and bank which is frequently interrupted by gaps or causeways. It is one of the most common types of early Neolithic site in western Europe, with about a thousand known examples, including over seventy in Britain. The archaeologist Roger Mercer considers Knap Hill to be "the most striking of all causewayed enclosures".
The enclosure is surrounded by a ditch, with a bank inside it, which runs along the north-western side, and part way along the south-western and north-eastern sides. No ditch or bank has been found on the steeply sloping southern edge of the hill. There are seven stretches of ditches and bank, separated by six causeways. Knap Hill is unusual in that the causeways on the ditches and banks correspond, whereas in most sites there at least three times as many gaps in the ditch as the bank. The ditches and banks were constructed in a short period of time, which implies considerable organisation and a large labour force.
Knap Hill was mentioned by John Aubrey in 1680, and John Thurnam investigated barrows on the hill in the 1850s, but the site was first identified as a causewayed enclosure by Benjamin and Maud Cunnington, who excavated it in 1908 and 1909. Maud's published reports pointed out the gaps in the ditch and bank surrounding the enclosure. By the late 1920s, it had become clear that causewayed enclosures were characteristic monuments of the Neolithic.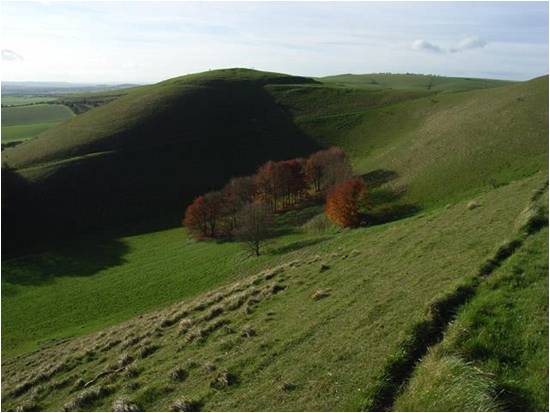 Graham Connah excavated the site again in 1961, and some his finds were analysed in the Gathering Time project, which produced radiocarbon dates by Bayesian analysis for Knap Hill causewayed enclosure almost forty British causewayed enclosures. Connah had got radiocarbon dates on two samples, and due to his excellent stratigraphic records the Gathering Time researchers were able to analyse another five samples associated with the construction of the ditch. They concluded that there was a 90% chance that Knap Hill was constructed between 3530 and 3375 BC, and that the ditch had silted up between 3525 and 3220 BC. The researchers concluded that a lengthy use was possible, but "we believe that a short duration, probably of well under a century, and perhaps only a generation or two, is more plausible".
The purpose of causewayed enclosures is unknown. An early suggestion was that the inhabitants lived in the ditches! However, this was soon abandoned in favour of a proposal that people lived in the enclosures. It has also been proposed that they were intended for defence, but in that case it is difficult to explain the frequent causeways. Other suggestions are that they were ritual sites, seasonal trading centres, headquarters for tribal chiefs, or venues for funerals.
A smaller site known as the plateau enclosure adjoins the Neolithic site. It was occupied before and during the Roman occupation of Britain, and pottery was found including Samian ware. There is evidence of an intense fire, which may mean that it came to a violent end. The plateau enclosure was also occupied in the seventeenth century, perhaps by shepherds. Other finds included an Iron Age burial and a sixth-century Anglo-Saxon sword.
7
OTHER SOCIETIES'AND INSTITUTIONS' EVENTS
This section is temporarily cancelled due to the coronavirus outbreak.
************************************************************************
With many thanks to this month's contributors: Bill Bass, Roger Chapman, Graham Javes, Jim Nelhams, Peter Pickering, Stewart Wild
************************************************************************
Hendon and District Archaeological Society
Chairman Don Cooper 59, Potters Road, Barnet, Herts. EN5 5HS
(020 8440 4350) e-mail: chairman@hadas.org.uk
—ooOoo—
Hon. Secretary Jo Nelhams 61 Potters Road Barnet EN5 5HS
(020 8449 7076) e-mail: secretary@hadas.org.uk
—ooOoo—
Hon. Treasurer Roger Chapman 50 Summerlee Ave, London N2 9QP
(07855 304488) e-mail: treasurer@hadas.org.uk
—ooOoo—
Membership Sec. Stephen Brunning, Flat 22 Goodwin Court, 52 Church Hill Road,
East Barnet EN4 8FH1 (020 8440 8421)
e-mail: membership@hadas.org.uk
—ooOoo—
Web site: www.hadas.org.uk
______________________________________________________________________________
HADAS COMMITTEE
At the Annual General Meeting, which will be held on a date to be decided, Don Cooper is standing down as Chairman after many years of service, and Jo Nelhams as secretary is standing down as well, as is Sue Willetts. Please give some serious thought to how you can help the Society to function as it has done successfully for many years. At present, we have four committee meetings each year.
______________________________________________________________________________
8