No. 593               AUGUST 2020           Edited by Jim Nelhams
Reminder: Our Annual General Meeting could not take place in June due, of course, to the coronavirus situation and we still do not know when it will be possible to arrange another date. Meanwhile, the committee remains in place. There will also be no Tuesday lectures until further notice. However, the monthly Newsletters should continue as usual.
Your Newsletter needs YOU
This is your newsletter – it is for you and about you, your interests and your Society. In the last twelve years, many members have volunteered to write-up parts of our Autumn trips, giving interesting and varied material for newsletters over the winter months. This year, it will not happen, nor do we have any lecture write-ups, so we have gaps to fill.
You can help put this right by sending in your articles about places or things of interest.
The editor of the next newsletter is always shown at the end of the last page. You can send things to them, or to Jim Nelhams (jim_nelhams@hotmail.com). If you need a little help, you can talk to Jim on 020 8449 7076.
*****************************************************************************
The Next Finds in Focus Course                                   Don Cooper
Hendon & District Archaeological Society Finds Group Course Tutor: Jacqui Pearce BA FSA MCIfA
A 22-week course in post-excavation analysis to be held at Avenue House, 17 East End Road, Finchley N3 3QE on Wednesday evenings, 6.30–8.30, starting on 7th October 2020
****************************************************************************
All are welcome – it doesn't matter whether or not you have experience of working with archaeological finds!
Course fee: £295 for 22 sessions. To book, contact Don Cooper olddormouse@hotmail.com; tel. 020 8440 4350) or Jacqui Pearce (pearcejacqui@gmail.com; tel. 020 8203 4506). Please
1
make cheques payable to HADAS and send to Don Cooper, 59 Potters Road, Barnet EN5 5HS.
Reopening
As the lockdown is loosened, places are gradually re-opening though with appropriate precautions. At this time, you may be unwilling to travel on public transport, but there are some places you can reach by car, and you can start planning future trips.
All the following museums/galleries appear to be open but check because the situation may change.
Foundling Museum
London Transport Museum's Depot in Acton will reopen for visitors to explore for its first ever summer season! This trove of transport treasures will now be open for 10-days of summer family fun from Wednesday 19 to Sunday 23 and Wednesday 26 to Sunday 30 August 2020. (The main museum in Covent Garden remains closed.)
Museum of London
Museum of Docklands
National Army Museum,
National Gallery
Natural History Museum (closed Bank Holiday 31st August)
Royal Academy
Science Museum from 19th August.
Tate Britain and Tate Modern
Victoria and Albert (selected galleries open from 6th August)
Most of these will have one way systems and may need to be pre-booked and will not have any catering facilities available – so you may need to take your own food.
English Heritage – South East sites
Open now
Battle Abbey and Battlefield
Carisbrooke Castle
Dover Castle
Eltham Palace
Home of Charles Darwin
Kenwood
Marble Hill House
Osborne
Pevensey Castle
2
Richborough Roman Fort
St Augustine's Abbey
Walmer Castle and Gardens
Opening 1st August
Apsley House
Deal Castle
Jewel Tower
Lullingstone Roman Villa
Medieval Merchant's House
Portchester Castle
Ranger's House – The Wernher Collection
Wellington Arch
National Trust
Most gardens are now open, and houses are being added to the open list.
Epping Ongar Railway
Getting Back on Track – Fridays, Saturdays, Sundays and Bank Holiday Monday in August
Take a scenic ride through the Essex countryside and into the ancient Epping Forest on board our diesel multiple unit, which offers panoramic views. See how much wildlife you can spot, and if it's sunny you might be able to get a great view over London as you pass over what was formerly the highest point on the London Underground network!  (Bookings needed)
For more information see https://www.eorailway.co.uk/events/getting-back-on-track/
Museum of London Move
From their website – "The Museum of London is on the move. We want to tell the extraordinary story of London and Londoners in a new museum in West Smithfield, which is itself a deeply fascinating and historic area.
We want to engage Londoners and visitors with their city and its history, giving them the means to participate as citizens in all sorts of new ways. We want to display many more objects in a more meaningful way."
The new museum site, which will be nestled in London's potentially transformational Culture Mile development, has been conceived as a way to attract new audiences and connect a greater number of visitors with the institution's London Collection.
Planning approval comes four years into the project, with work to this point having been led by Museum of London's design team, architects Stanton Williams and Asif Khan, and conservation architect Julian Harrap. The local community, museum visitors and London residents have been consulted at every stage as the plans were formulated.
3
Excavations at Clitterhouse Farm, Cricklewood by HADAS in 2019 (Part 9)                                                          Bill Bass and Melvyn Dresner
This is a collection of photos from the excavation mostly by Melvyn, please see Newsletter June 2020 (591) for the full report, the dig took place August 2019.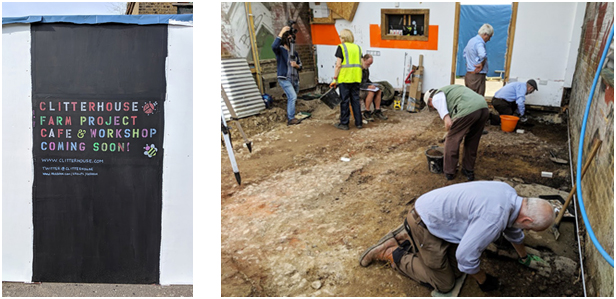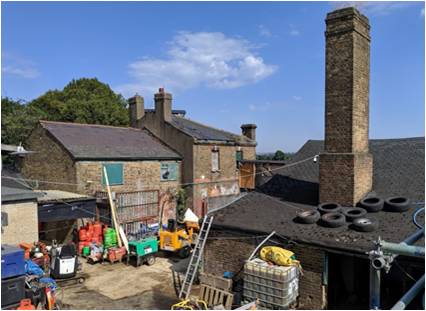 4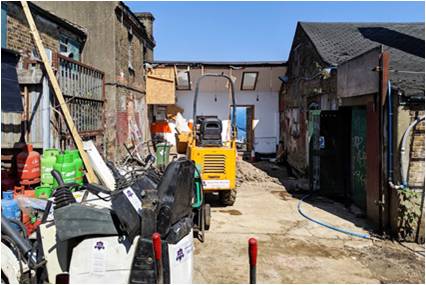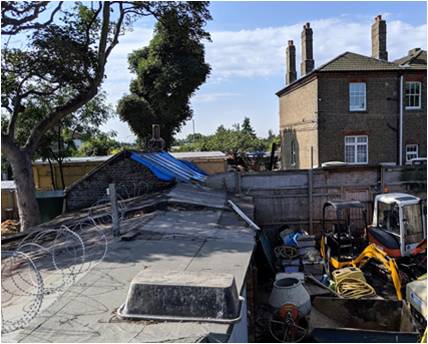 5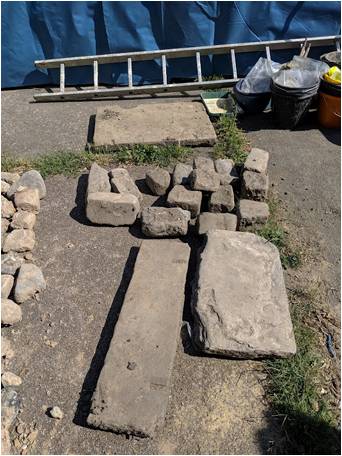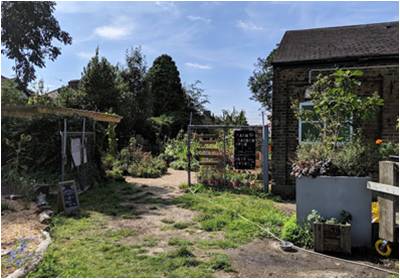 6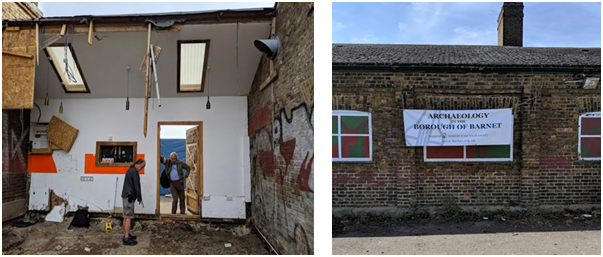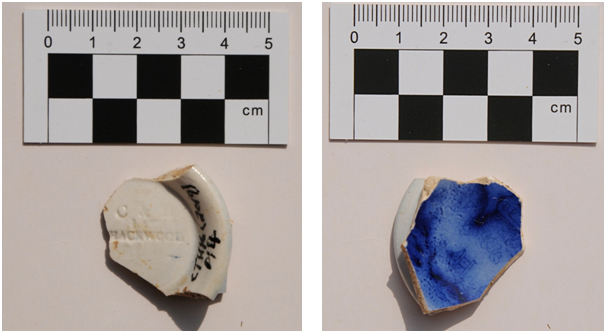 7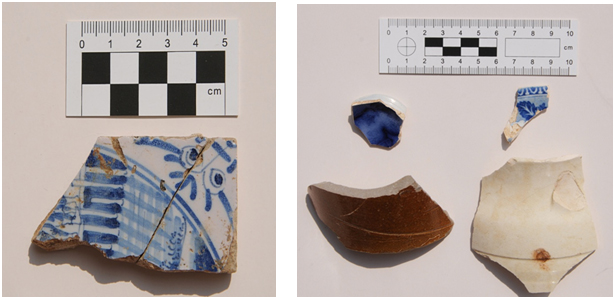 Dr Brian Robertson                                                                             Jim Nelhams
Always nice to hear information about past members.
Earlier this month, our Secretary received an email from Dr Brian Robertson OStJ, TD, MICPEM. Dr Robertson explained that he had stumbled across our website while looking for something else related to Hendon. A past HADAS member, he had noticed that the 1964 excavation at Church End Farm, Hendon was not included in the list of past excavations. (Omission now rectified).
The various digs at the Church End Farm site are documented in "The Last Hendon Farm" published by HADAS. Copies of this are available through Don Cooper (contact information on back page of newsletter) and a copy has been sent to Dr Robertson. The first, in 1961, was directed by Ian Robertson, brother of Brian, Their father was an Army officer.
8
Ian held a number of posts, ending as Director of the National Army Museum in Chelsea. He also served as an infantry officer in the Territorial Army, serving in the 7th Middlesex Regiment, and later the 4/5th Essex Regiment. He died in 2003. He also had an interest in postal history and served on the Post Office Heritage Board.
Brian also shared interests in both archaeology and postal history. He directed the digs in Hendon in 1964 and 1966, though archaeology was not be to his career. He has kindly sent us copies of publications covering some of his archaeological work, including one on what he describes as his major personal piece of work, "The Investigation and Excavation of Roman Road No. 167 in Copthall Fields". These will be added to our library at Avenue House.
In 1970, he moved to Medical School, subsequently joining the Army and serving abroad in British Army on the Rhine. He was Squadron Commander of the Ambulance Train Squadron, Royal Army Medical Corps(V) between 1985 and 1994, responsible for ten such trains.
He is documented as recently lecturing to the Forces Postal History Society on the subject of Ambulance and Hospital Trains, going back as early as the Crimean War in 1855. Sounds like an interesting topic.
Down the Tubes at Christ's Hospital.                                            Jim Nelhams
"Down the Tubes" has different meanings for different people, but for pupils and alumni of Christ's Hospital, it particularly refers to a series of underground tunnels linking all of the 16 main boarding houses and most of the other major buildings which make up the school.
Christ's Hospital was founded in 1552 and granted a Royal Charter by Edward VI in the following year with St Thomas' Hospital and Bridewell Hospital and was on the north side of Cheapside in the City of London, initially occupying the disestablished Greyfriars Monastery.
When St Thomas' moved in Victorian times to new buildings in Lambeth, opposite the Houses of Parliament, the architects took into account the "pavilion principle" espoused by Florence Nightingale in her "Notes on Nursing". This meant that the hospital was built in 6 blocks 125 feet (38m) apart and joined by low level tunnels. This was intended to improve overall ventilation and to separate and segregate patients with infectious disease.
In 1902, the school moved to a new location two miles south of Horsham in North Sussex, with new appropriately designed buildings.  To each side of the main school buildings runs an avenue some half mile long, on the north side of which stand the eight main boarding blocks, each containing two boarding houses. These are appropriately spaced following the example of St Thomas' and are all joined by underground tunnels. The tunnels also lead to nearly all of the main school buildings from that era. When I was there, these could be used to reach the Dining Hall, Chapel or Classrooms in inclement weather. During WW2, they also served as air raid shelters.
9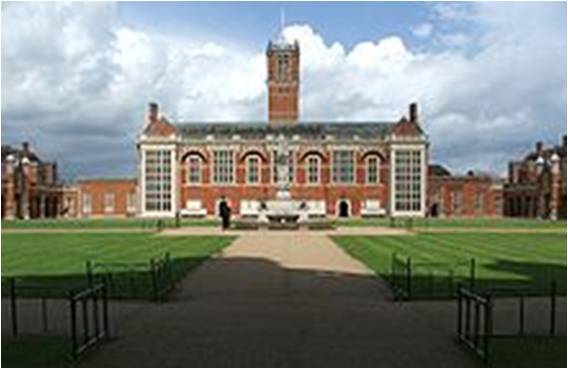 When asbestos was discovered in the tunnels, most of them were closed off while it was removed and they are still officially inaccessible to pupils.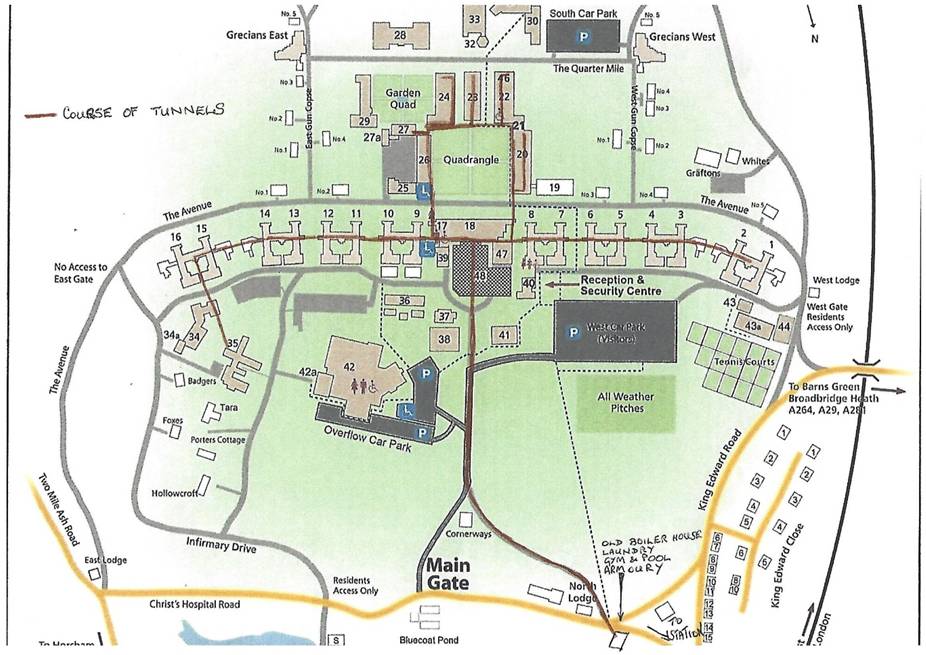 10
The tunnels still serve as the main service ducts throughout the school, carrying water gas and electricity cables and more recently, internet connections. This saves a large sum of money since repairs can be made without the need for any digging from the surface. At one time, the water supply came from the school's own underground reservoir on a nearby hill. Connecting tunnels also led to the school infirmary, and a longer one to the boiler house which provided hot water and heating to all the buildings, with a short extension to nearly reach the school's railway station.
Last year, we discovered that Stewart Wild's father-in-law had been head boy ("Senior Grecian") at the school and I was able to obtain some information about him from the school's museum and archive. When a chance occurred, Jo and I took Stewart to visit the school. Knowing that Stewart was a member of Subterranea Britannica (Sub Brit), an organisation dedicated to things underground, we told him about the tunnels and watched his eyes light up. We also gave him a contact at the school.
While tours are not normally available, the reputation of Sub Brit enabled them to arrange a special group tour which took place earlier this year in the February half-term break. Our group of 6, plus two members of the school's museum staff who had never been down the tunnels, was conducted through parts the system by Building Maintenance Manager Neil Manning for two and a half hours, during which time, we travelled about one mile underground, but had seen less than half of the network. The trip was written up with many pictures in Sub Brit's, April edition of their magazine occupying nearly 6 pages with a picture on the front cover.
It was very revealing to see what services are needed to run a large boarding school of some 850 pupils.
Weekly News Sheets

     
The weekly news sheets have been discontinued. These were intended to pass on tips for use during the lockdown. For reasons of cost, they were not posted to people for whom we had no email address on file.
The news sheets included a number of Lockdown Jimericks including some of the following:

11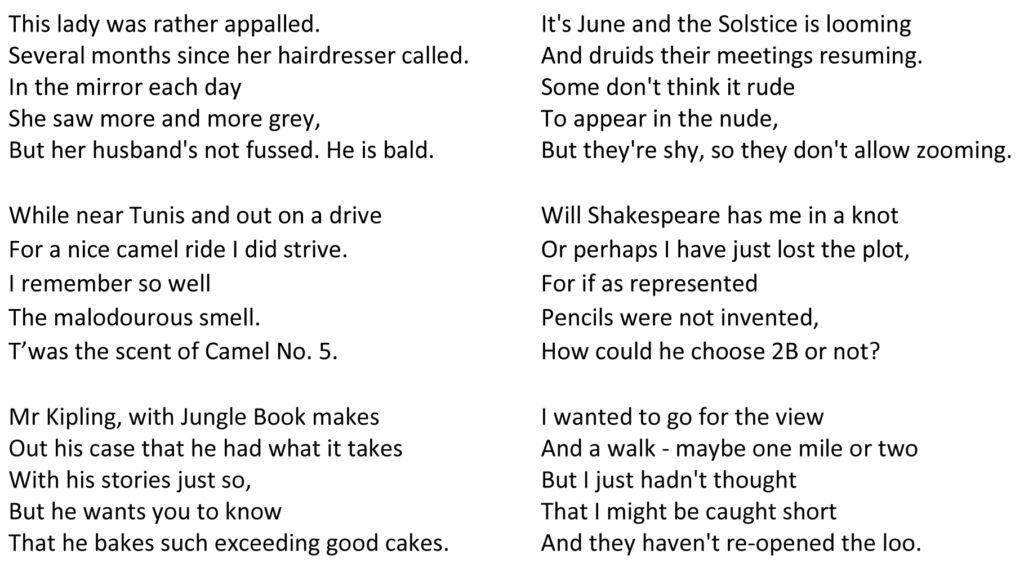 ************************************************************************
With many thanks to this month's contributors:
Don Cooper, Bill Bass, Melvyn Dresner
************************************************************************
Hendon and District Archaeological Society
Chairman                   Don Cooper        59, Potters Road, Barnet, EN5 5HS
(020 8440 4350)           e-mail: chairman@hadas.org.uk
———————
Hon. Secretary           Jo Nelhams          61, Potters Road, Barnet, EN5 5HS
(020 8449 7076)           e-mail: secretary@hadas.org.uk
———————
Hon. Treasurer          Roger Chapman   50, Summerlee Ave, London N2 9QP
  (07855 304488)           e-mail: treasurer@hadas.org.uk
———————
Membership Sec.       Stephen Brunning   Flat 22, Goodwin Court, 52 Church Hill Road,
East Barnet  EN4 8FH
(020 8440 8421)            e-mail: membership@hadas.org.uk
———————
HADAS Web site –      https://www.hadas.org.uk/