No. 595 OCTOBER 2020 Edited by Robin Densem
______________________________________________________________________________
HADAS DIARY – Forthcoming lectures and events
Tuesday 13th October 2020, 8pm: From Medieval Houses to Community Archaeology: Excavations at Eastcote House Gardens, 2012-17. Lecture by Les Capon.
Tuesday 10th November 2020, 8pm: London's Roman and Medieval Wall. Lecture by Dr Jane Sidell.
As yet, no decision has been made concerning a Christmas gathering.
Please note that until further notice all lectures will be held online via Zoom due to coronavirus. We will be sending out an invitation email with instructions about how to join on the day of each talk. Keep an eye open for them!
54a Barnet High Street – a timber framed building
Bill Bass
A site visit was made to 54a Barnet High St (currently named 'Chudy's) in August by interested parties including HADAS, Barnet Museum and others. We were guided by Architectural consultant, Sherry Bates and by the owner who is asking for planning permission and listed building consent to covert the 1st floor to a dwelling with the ground floor kept for commercial premises.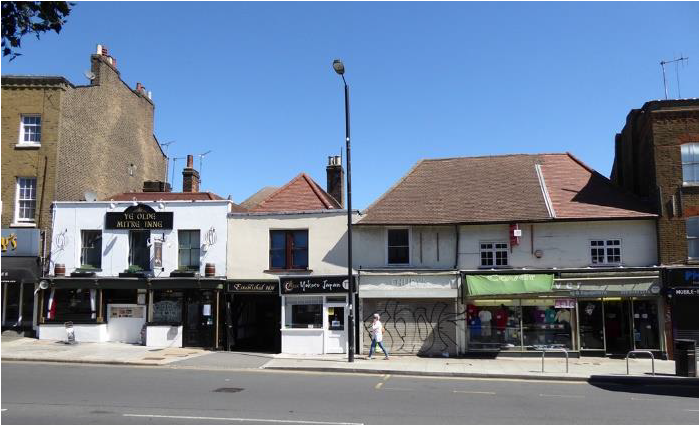 A very full Heritage Statement has been produced on this Grade II listed structure. 54a is part of a group of listed buildings here which includes The Mitre Inn complex, these buildings were at one point 3 separate inns but eventually grouped together as The Mitre in 1633 with evidence of interconnecting doors and other features. HADAS dug at the rear of The Mitre in 1990 finding medieval and later pottery, these finds have recently been reviewed as part of the HADAS evening class system.
1
The modern wall coverings had been stripped away which had revealed much more of the timber-framing than had been expected, it has been found to be largely intact. The timbers (mostly oak) were laser-scanned to produce accurate drawings. Dating of the structure is open to debate at the moment but it's thought to be quite a lot earlier than the 17th century. There are possible moves afoot to get a tighter date through stylistic and dendrochronological (tree-ring dating) methods especially as many of the timbers are accessible at present.
The idea is to keep as much of the original timbers as possible and sympathetically restore other infilling fabric and so forth. There are also several later additions – roller shutter door, steel beams, staircase etc which will also be kept because to remove them would cause to much disruption and destabilisation.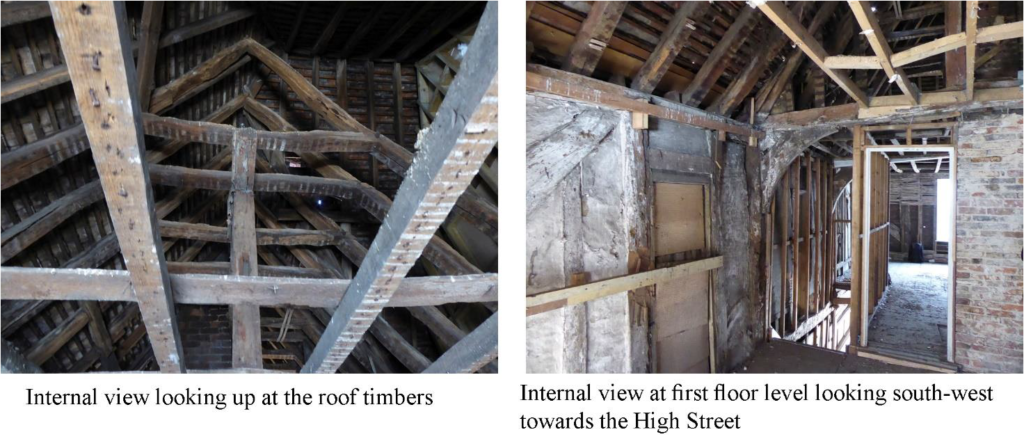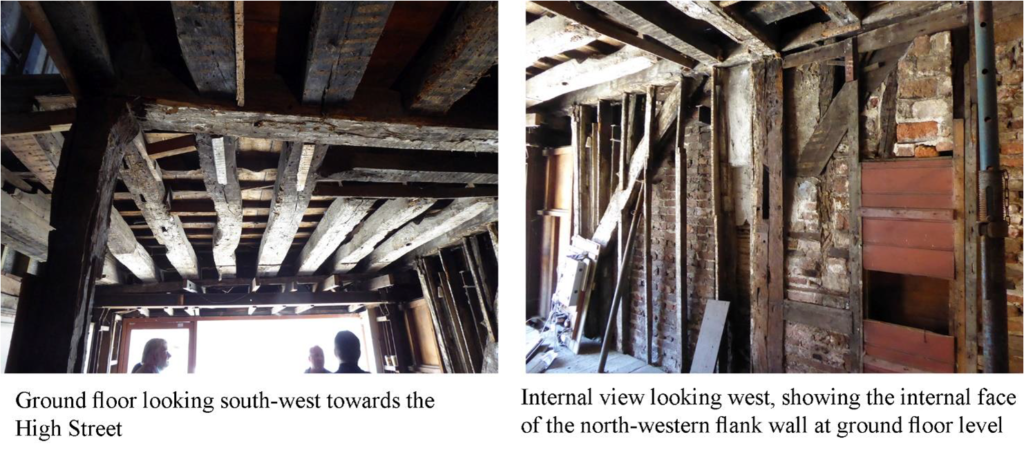 2
Aspects of Roman Richborough
Robin Densem

The most obvious remains are of the late third century walls of the Saxon Shore fort which still stand in places to a height of 8m. Saxon Shore forts were heavily defended later Roman military installations located exclusively in south east England. They were all constructed during the third century AD, probably between c.AD 225 and AD 285. They were built to provide protection against the sea-borne Saxon raiders who began to threaten the coast towards the end of the second century AD, and all Saxon Shore forts are situated on or very close to river estuaries or on the coast, between the Wash and the Isle of Wight. Saxon Shore forts are also found on the coasts of France and Belgium. The most distinctive feature of Saxon Shore forts is their defences which comprised massive stone walls, normally backed by an inner earth mound, and wholly or partially surrounded by one or two ditches (https://historicengland.org.uk/listing/the-list/list-entry/1014642).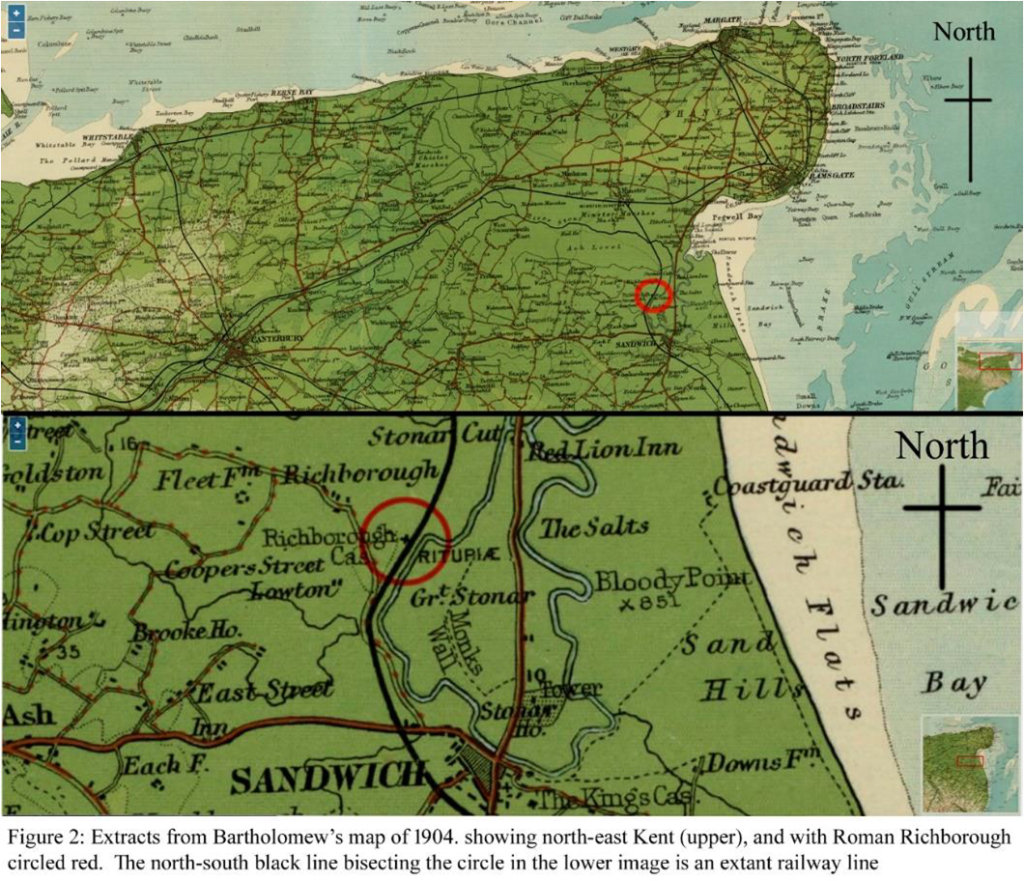 3
The site at Richborough now lies about 2.5km inland from the coast, but in Roman times in was on the western bank of a natural navigable channel. Some plans of the ancient topography, including fig 3 here, show the site as lying on an eyot in the channel.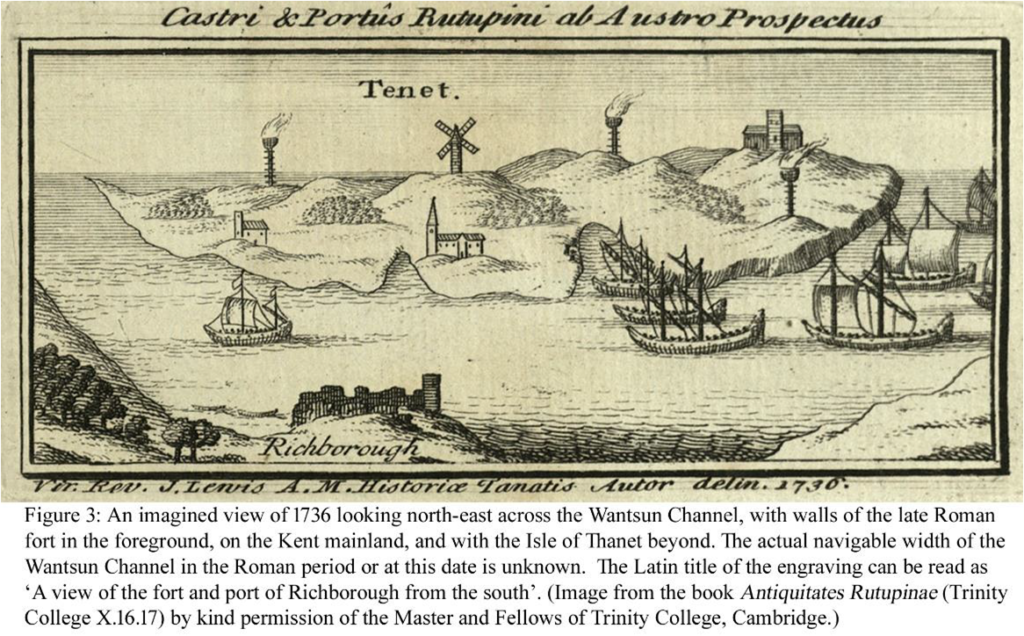 The navigable width of the Wantsum Channel in Roman times is unknown but it is shown as being wide in 1736.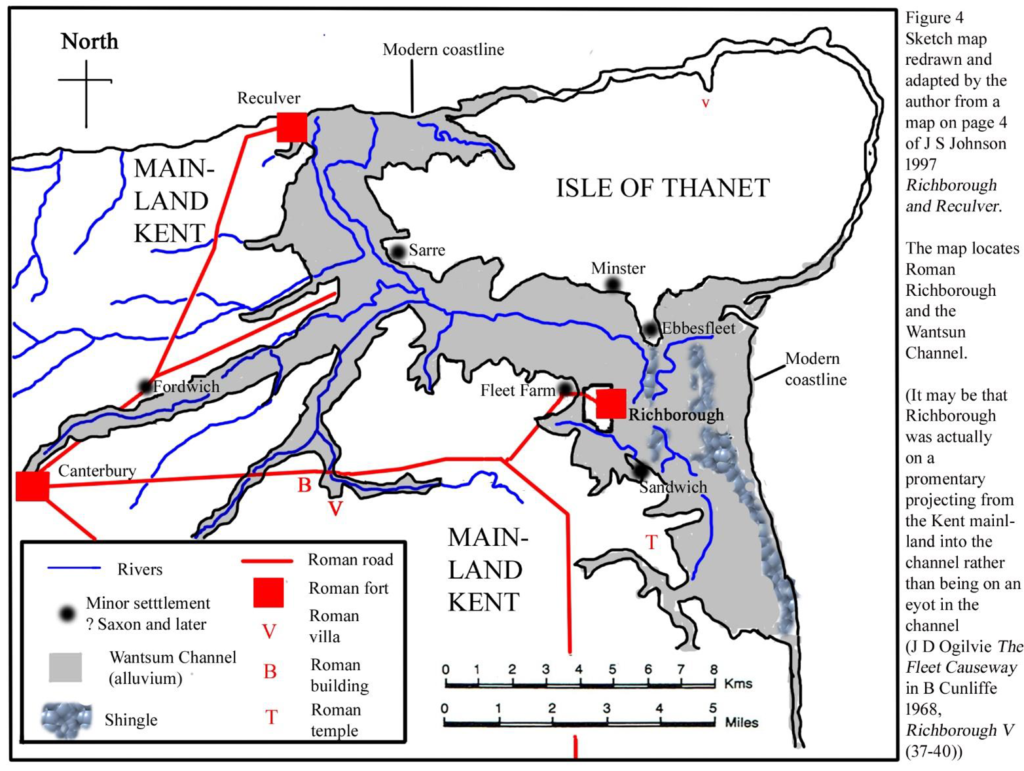 4
The Richborough site includes an area of c.40ha containing a variety of archaeological components dating from the Iron Age, Roman and medieval periods.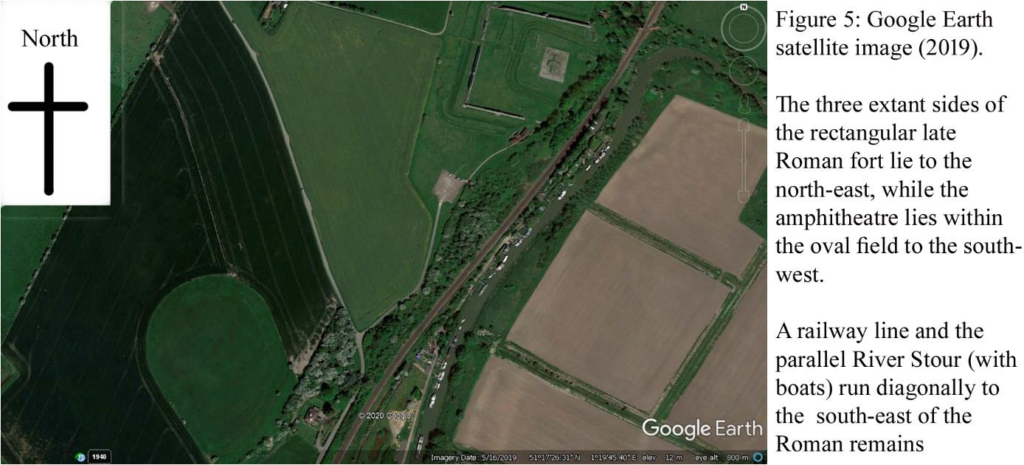 The Roman site is multi-phased and includes evidence for a mid 1st century AD Roman military style double ditch with an opening/gatewey that is thought to be connected to the Roman invasion of Britain under the emperor Claudius in AD 43. The ditches extend for a length of 700m but their northern and southern ends have been destroyed by erosion and their original, longer, length is unknown. It seems unlikely that the enclosed area could have been large enough for all the Roman invasion army in AD 43, and a defence to defend the natural harbour and a beach/landing place in the Wantsum Channel seems more likely, though still involved with the early stages of the Roman invasion. As the Historic England 2012 guidebook Richborough and Reculver by Tony Wilmott mentions, there have been more than one landing place for the 40,000 strong invasion force in AD 43.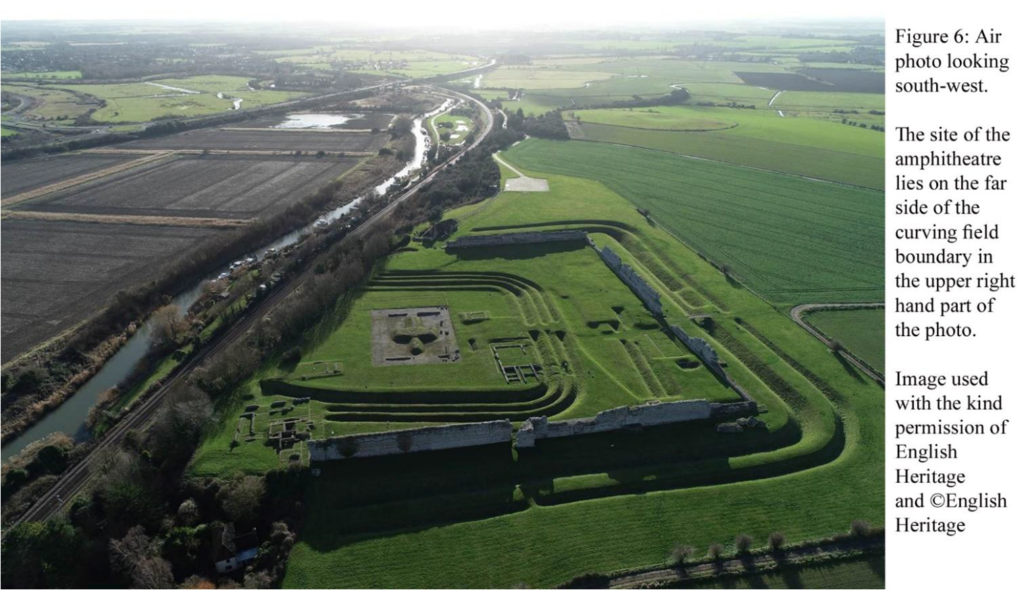 5
The large masonry rectangle is the base of a 25m high monumental arch, shown to have 10m deep foundations. Much knowledge of the Roman site comes from archaeological excavations carried out the Society of Antiquaries of London between 1922 and 1938 and published in four research reports of the Society by Bushe-Fox, along with a fifth by Barry Cunliffe. All five volumes are available online from Archaeology Data Service (archaeologydataservice.ac.uk).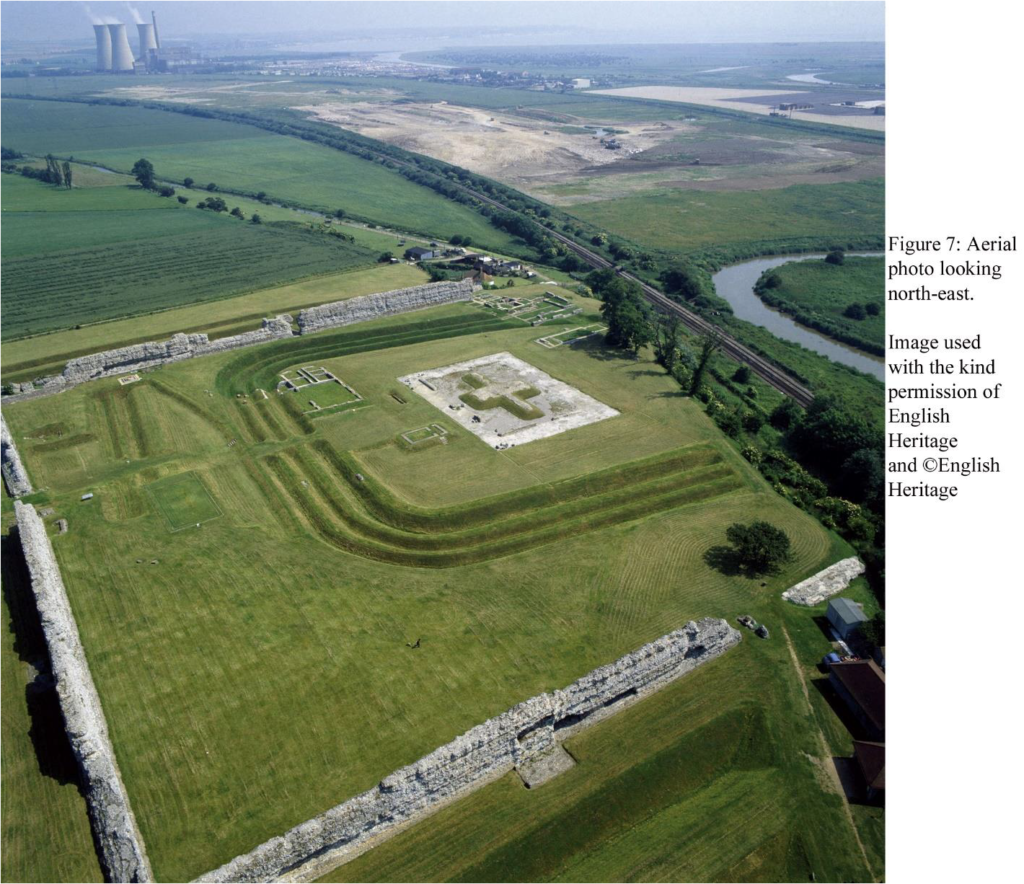 The invasion camp was used for a period of less than ten years before being levelled to make way for the construction of a military and naval supply base. This helped store and distribute the supplies needed by the Roman forces during their rapid conquest of southern Britain. Part excavation during the 19th and early 20th centuries revealed that the base extended westwards beyond the ditches of the earlier invasion camp and was constructed on a grid pattern. The base survives in buried form and includes traces of timber buildings alongside metalled roads. (https://historicengland.org.uk/listing/the-list/list-entry/1014642 accessed 17th May 2020).
6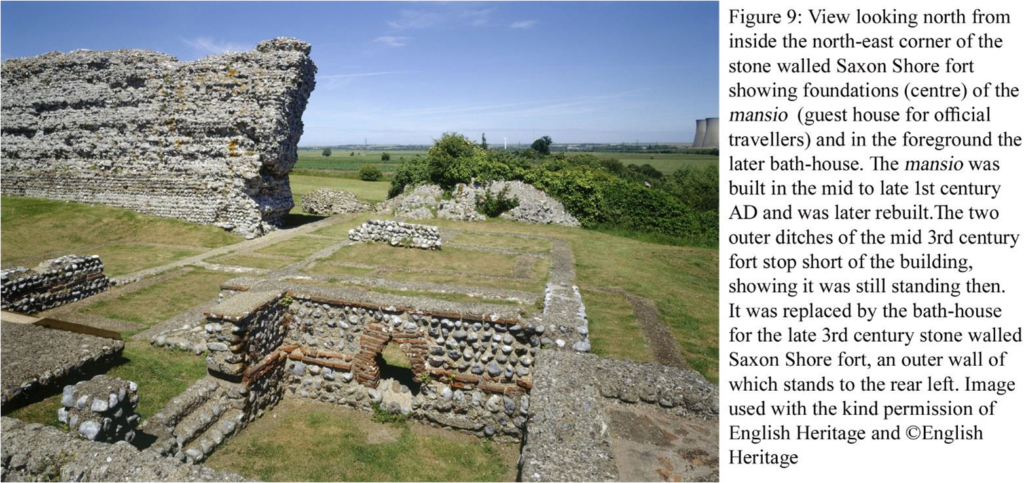 Recent archaeological work by English Heritage and then by Historic England has shown that the civilian settlement that developed around the early Roman 1st century invasion period base extended over some 20ha and included a grid of roads, shops, warehouses and a mansio, or rest house for travellers on the Roman imperial courier service.
It is hoped that archaeological investigations will be carried out to learn more about the amphitheatre.
There is so much Roman archaeology to see at Richborough that it is a bit of a feast, but rather confusing, as laid out for display within walls of the late third century Saxon Shore fort are the lengths of the mid 1st century invasion period Roman military ditches, a 1st century shop, the base of the quadrifons, early 3rd century defensive ditches dug to defend the monumental arch when it became a look-out station within the earth fort, and then the earth fort ditches were backfilled in the later third century, the arch was demolished and the walls of the Saxon Shore fort were built. A fourth century Christian font is displayed,
7
reflecting the adoption of Christianity as the official religion of the Roman empire from the early fourth century AD.
It is thought that there were some ten Saxon Shore forts in Britain, all built in the later third century AD. The term 'Saxon Shore' is known from only one contemporary source, the Notitia Dignitatum.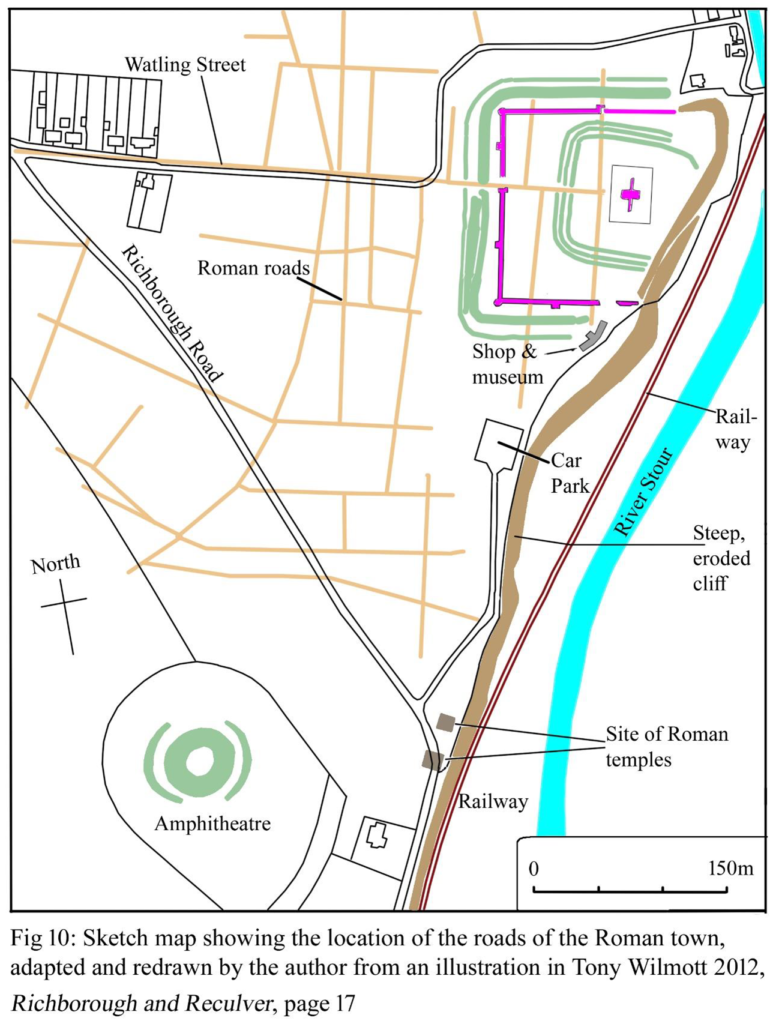 The forts on the Saxon Shore, popularly associated with defence against Saxon raids, lie on the coast from the Wash to Portsmouth Harbour. One of the forts, on the coast at Walton in Suffolk, has been washed away by the sea The other nine forts each have at least some remains standing (https://historicengland.org.uk/images-books/publications/iha-saxon-shore-forts/heag232-saxon-shore-forts/ ) and most of these can be visited but best to check access, times, and admission prices before travelling. Lympne is on private land.
Harvey Sheldon's 1995 article London and the Saxon shore was published in volume 46 of the Transactions of the London and Middlesex Archaeological Society (pages 59-68)
8
(http://www.lamas.org.uk/transactions-archive/Vol%2046.pdf ) . He wrote (p. 66) The forts are situated on or close to the coast, often at the confluence of major rivers coming from the interior and could have functioned as guarded warehouses where supplies arriving from the interior could be stored before being transported, perhaps in convoy, across the Channel and the North Sea to the Continent.
A good clue to this, Harvey mentioned to me recently, is the remark of the emperor Julian of convoys from Britain supplying his Roman troops campaigning across the Rhine in the later 4th century AD.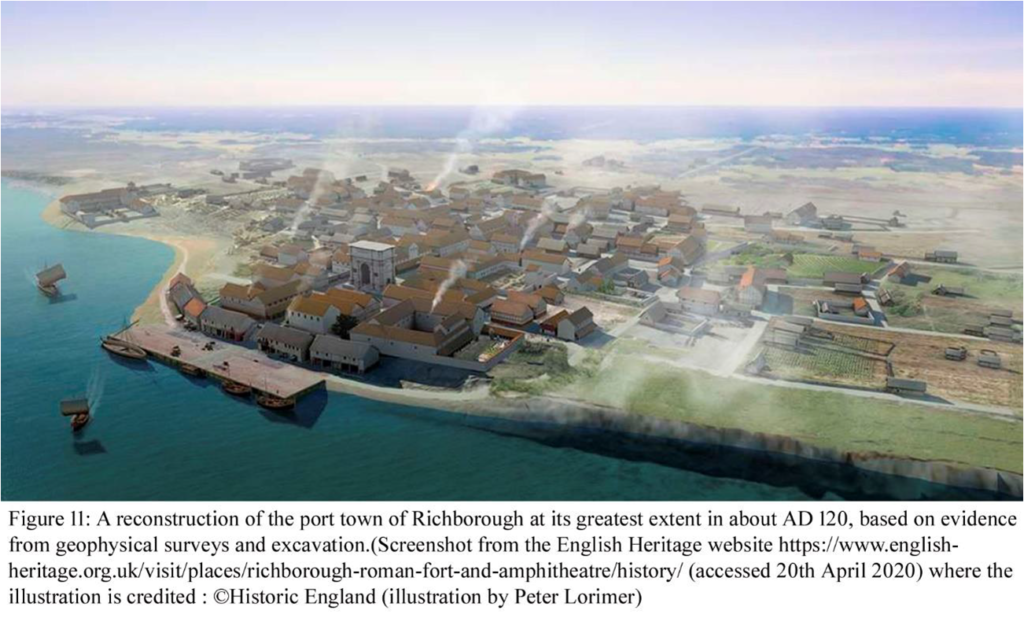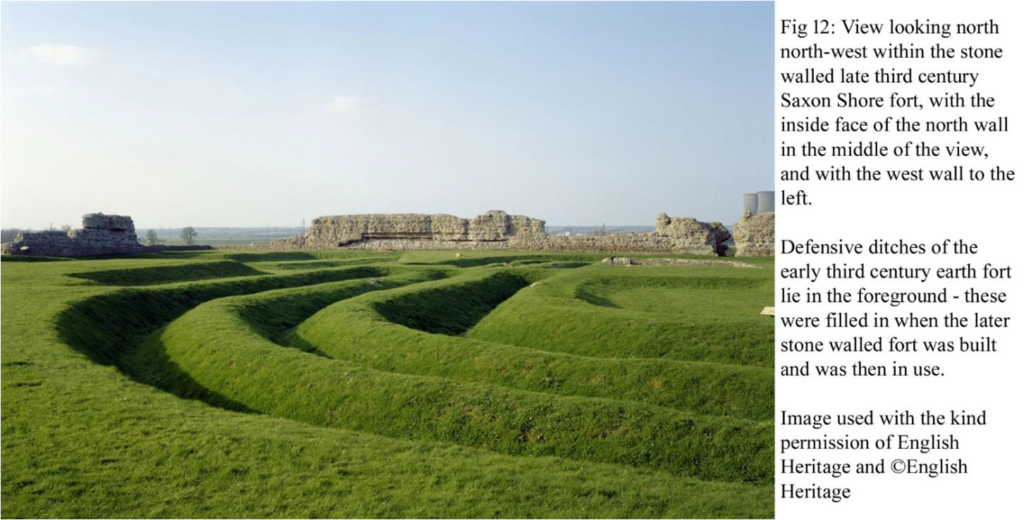 9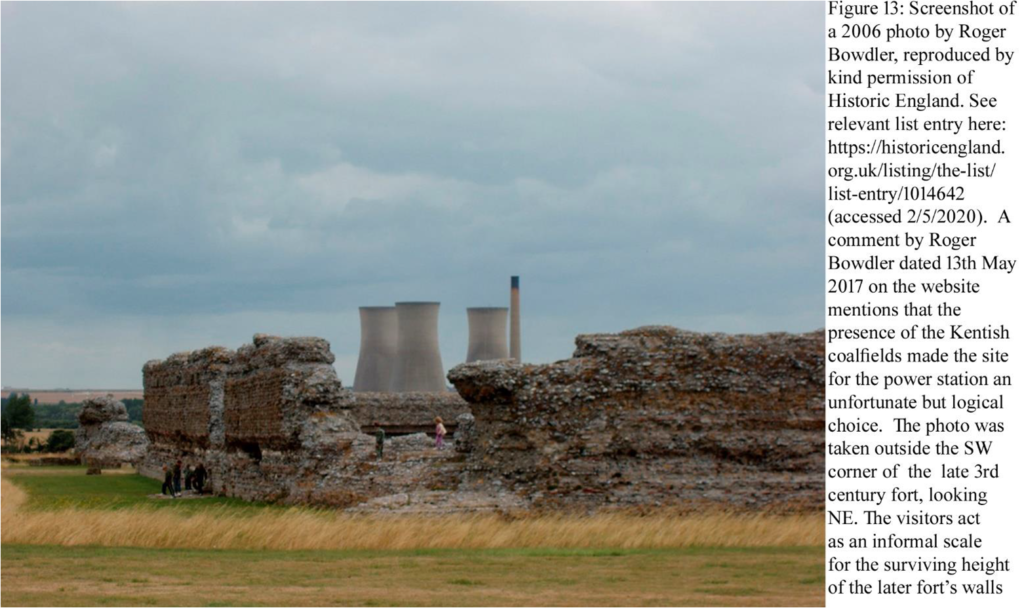 All in all Richborough is a wonderful site to visit. Years ago I used to lead adult education classes on weekend trips to Roman Kent from London. We used to stop off at Lullingstone Roman Villa, then go on to a ruined Roman mausoleum in a field at Stone-by-Faversham, then on to the Saxon Shore fort at Reculver where a pub was also visited. Richborough in the afternoon and then we stayed overnight in Canterbury. Sunday started at the Roman lighthouse in Dover Castle, then the wonderful Roman Painted House also in Dover, and if time we visited Dover Museum which then featured model figures of the invasion army with Claudius astride an elephant! The final stop was the wonderfully beautiful site of the Roman Saxon shore fort at Lympne. I have a handful of successive editions of guide books to Richborough and Reculver, representing visits over perhaps 20 years. The current (2012) Historic England version by Tony Wilmott titled Richborough and Reculver is an absolute cracker, it is marvelous! I don't think there is public access to the amphitheatre at Richborough at present but it can be glimpsed, I think, from a footpath.
10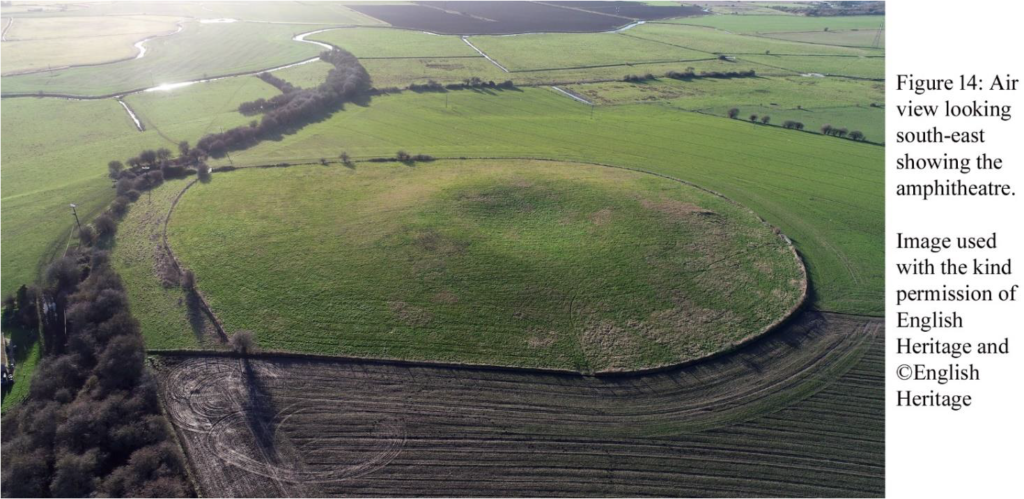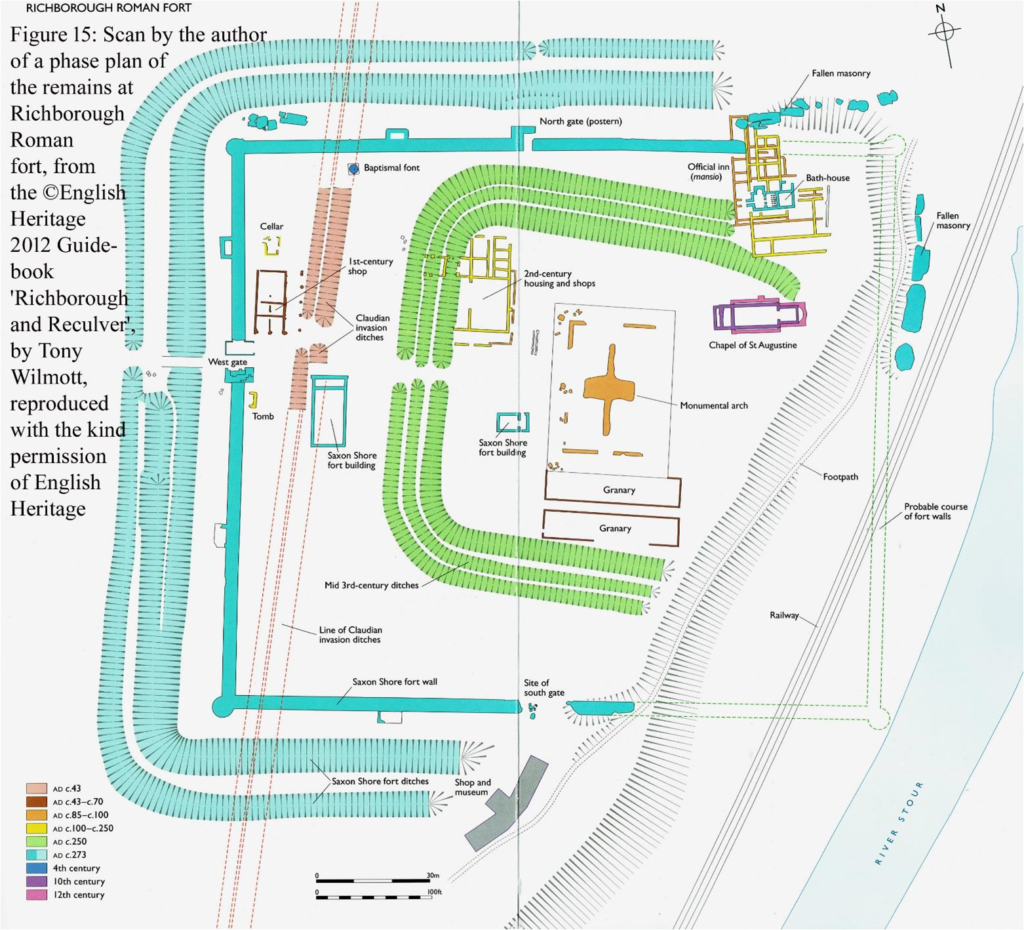 11
Richborough Roman fort is in the care of English Heritage and there is an admission charge to visit the site if it is open, so best to check. People may need to book their visit.
Acknowledgements:: I am grateful for help from Joe Abrams , Duncan Butt, English Heritage, Historic England, Jim Nelhams, Sandy Paul, Harvey Sheldon, and Tony Wilmott. All errors are mine.
A Footnote to HADAS taking to the Waters (Newsletter 594)
Robert Michel
Further to Jim Nelhams' piece 'HADAS taking the Waters' (Newsletter 594), Andy Simpson and other rail enthusiasts will be delighted to hear that the Berney Arms windmill near Great Yarmouth is not only accessible by boat. Norwich to Yarmouth trains via Reedham will stop at the mighty Berney Arms Halt if you give the Conductor sufficient warning. The mill is only a short walk across the marshes from the halt's modest platform, but take Wellington boots if it's been raining. This all pre-supposes the rail company hasn't discontinued this service – in the best journalistic tradition I haven't checked before taking to the keyboard!

❖❖❖❖❖❖❖❖❖❖❖❖❖❖❖❖❖❖❖❖❖❖❖❖❖❖❖❖❖❖❖❖❖❖❖❖❖❖❖❖❖❖❖❖❖❖❖❖❖❖
With many thanks to this month's contributors: Bill Bass and Robert Michel
❖❖❖❖❖❖❖❖❖❖❖❖❖❖❖❖❖❖❖❖❖❖❖❖❖❖❖❖❖❖❖❖❖❖❖❖❖❖❖❖❖❖❖❖❖❖❖❖❖❖
Hendon and District Archaeological Society
Chairman Don Cooper 59, Potters Road, Barnet EN5 5HS (020 8440 4350)
e-mail: chairman@hadas.org.uk

Hon. Secretary Jo Nelhams 61 Potters Road, Barnet EN5 5HS (020 8449 7076)
e-mail: secretary@hadas.org.uk
Hon. Treasurer Roger Chapman, 50 Summerlee Ave, London N2 9QP (07855 304488)
email: treasurer@hadas.org.uk
Membership Sec. Stephen Brunning 22 Goodwin Court, 52 Church Hill Road,
East Barnet EN4 8FH (0208 440 8421)
e-mail: embership@hadas.org.uk
Join the HADAS email discussion group via the website at: www.hadas.org.uk
12