No. 596 NOVEMBER 2020 Edited by Sue Willetts
______________________________________________________________________________
HADAS DIARY – Forthcoming lectures and events
Please note that until further notice all lectures will be held online via Zoom due to coronavirus. We will be sending out an invitation email with instructions about how to join on the day of each talk. Keep an eye open for them!
Tuesday 10th November 2020, 8pm: London's Roman and Medieval Wall. Lecture by Dr Jane Sidell.
December – As yet, no decision has been made concerning a Christmas gathering.
Tuesday 12th January 2021 Surprises from the Soil: Archaeological Discoveries at 17th-Century Jamestown, Virginia. Talk by Dr Bly Straube – Senior Curator at Jamestown Settlement, Virginia USA.
HADAS using "new" technology
The pandemic has seen a great increase in the use of technology, not just in business. Prime among these is the use of Zoom (or equivalent) for online meetings. Families split by lockdown are able to see each other and talk, but there are so many other uses. Zoom can be run on laptops, desktops, Ipads or even phones.
The use of Zoom means that we are not restricted by geography in choosing our lecturers. Our January lecture will be coming from the other side of the Atlantic. Suggestions for other lecturers outside our normal area would be welcomed by Steve Brunning (membership@hadas.org.uk).
The Lecture by Les Capon on 13th October was entitled Medieval Houses to Community Archaeology: Excavations at Eastcote House Gardens, 2012-17. This was our first lecture using the Zoom facility (thanks to David Willoughby for organising this) and there were 29 households "tuning in" to hear about the excavations at Eastcote House Gardens. An important aspect of the project was the successful involvement of local volunteers.
1
Afterwards, there was time for a few questions and for those who were not able to listen live, the lecture is available via the HADAS website for members only on the HADAS YouTube channel using this link: https://youtu.be/NQDsWrp8KNk Note that lectures can only be recorded with the express permission of the lecturer.
A write-up of the lecture will appear in the December newsletter.
Before the start, there was an opportunity for some online socialising which was very welcome.
On 22nd September, David Willoughby organised a trial run with Zoom for members in the form of a quiz. There were rounds on history, London, archaeology and general knowledge. An enjoyable event and a good test of the technology and seeing others of course including those who have moved away from London.
Are you missing out? We can only send you the information needed to connect to our Zoom events if we have your email address. If you are receiving your newsletter by email, then we already have it. If your newsletter comes by post, we may still have your email address, but maybe not. If you are in doubt, please send your email address to membership@hadas.org.uk, preferably by email so that we can be certain to record the correct punctuation. Adding your email address to our system means that any circulars we issue should reach you promptly.
Malcolm Stokes, 1933-2020
Eric Morgan
Malcolm Stokes sadly died in July after a long stay in hospital. He was a long-standing member of HADAS. He had a lifelong interest in history and archaeology. In fact he met his future wife, Isobel on an archaeological dig in Canterbury in 1965.
He was a long-time committee member of the Hornsey Historical Society and had an interest in the Bishop of London's connection with Highgate and wrote on the Bishop's Deer Park and Hunting Lodge. He had given HADAS a lecture on this in recent years.
He had an abiding interest in boundaries and wrote A walk along the ancient boundaries of Kenwood in 1995 of which HADAS had many copies for sale. He also led a walk for HADAS around Kenwood pointing out all the boundary stones to us, some years ago. Malcolm died in the Whittington Hospital on 19th July 2020 and will be very much missed.

HADAS Basement Room HQ
Bill Bass
We have been meeting on Sunday mornings again at Avenue House. Unfortunately we've had to limit them a bit due to the Covid situation. We have been mostly re-organising the archive files, photos/slides and HADAS business papers and accommodating older material once held by Chris Newbury including files from Bridget Grafton-Green, Ted Sammes and other stalwarts of the society.
We have also tidied-up the tool room to make it more accessible and are continuing re-order the book collection. There are a number of finds that need cataloguing and storage.
The team have attended two events at Clitterhouse Farm, Cricklewood with our display of HADAS excavations held there since 2015 up to our last dig in 2019.
2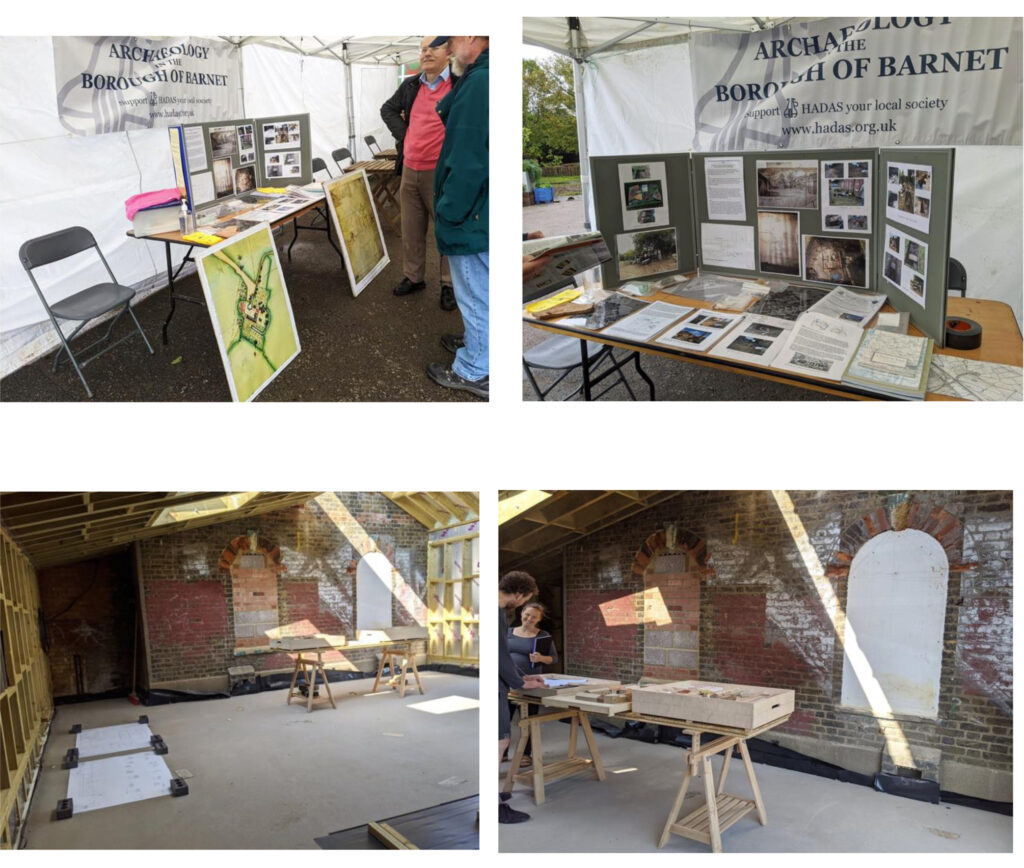 Air Raid Shelters and Medieval Farms
Roger Chapman
Every now and again HADAS receives a request to look at a feature, a structure or building to see what we think. The recent mediaeval building in Barnet High Street which Bill Bass wrote about in the October newsletter is one example.
In August 2020 HADAS received an email from a resident in Mill Hill about a structure in her garden and whether we would like to examine it. The resident said that:
"The house had a deep crater in the front garden when we moved in (15 years ago) and a lot of debris (glass, roof tiles etc) in the back-garden soil. There was a structure covered over with wooden planks in the back garden which we were curious about, it appears to be sealed/covered. We have been told that it's a WWII bunker and that probably a bomb fell near the house during the war, accounting for the crater and debris."
This tempted me as, along with a friend who also has a keen interest in Military History, I have been working on an idea to set up a Facebook page called 'Barnet at War' to identify
3
military objects, structures, memorials etc. that still exist in Barnet and make sure that they are recorded before, as so often happens, they are lost to development.
Before going I did some research and found that this garden could be have greater interest than just a Second World War air raid shelter. Using the 1912 historic OS map from the National library of Scotland and laying it over a modern satellite image it looks like the garden could contain structures from Dole Street Farm. This farm appears on Whishaw's 1812 map of Hendon and features on the 1754 John Roque map. The surrounding roads of Wise Lane and Dole Street can be traced back to this time and may well be mediaeval in origin.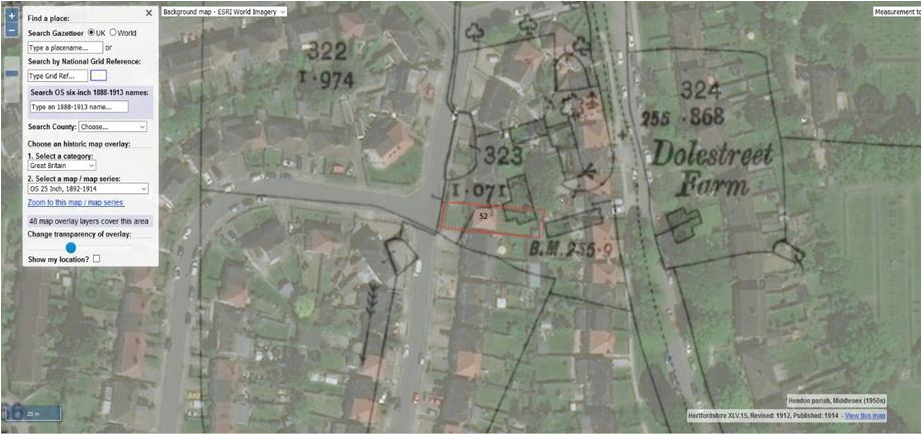 My friend and I arrived early so we decided to visit Mill Hill Cemetery, just over the road. Here we found The Netherlands Field of Honour, established in 1965. The plot contains the graves of more than 250 servicemen of the Netherlands, many of them having been brought to the cemetery from other United Kingdom burials grounds. Most of the graves are those of Merchant seamen. We didn't know about this Field of Honour so that gives us another 'Barnet at War' story. https://www.cwgc.org/visit-us/find-cemeteries-memorials/cemetery-details/2094634/mill-hill-cemetery/
The resident, who is extremely keen on local history gave us a warm welcome and showed us around her back garden and it most certainly does look like there is a shelter of some kind from the Second World War but as yet we have been unable to find reference to it in the Barnet archive or on aerial photos.
4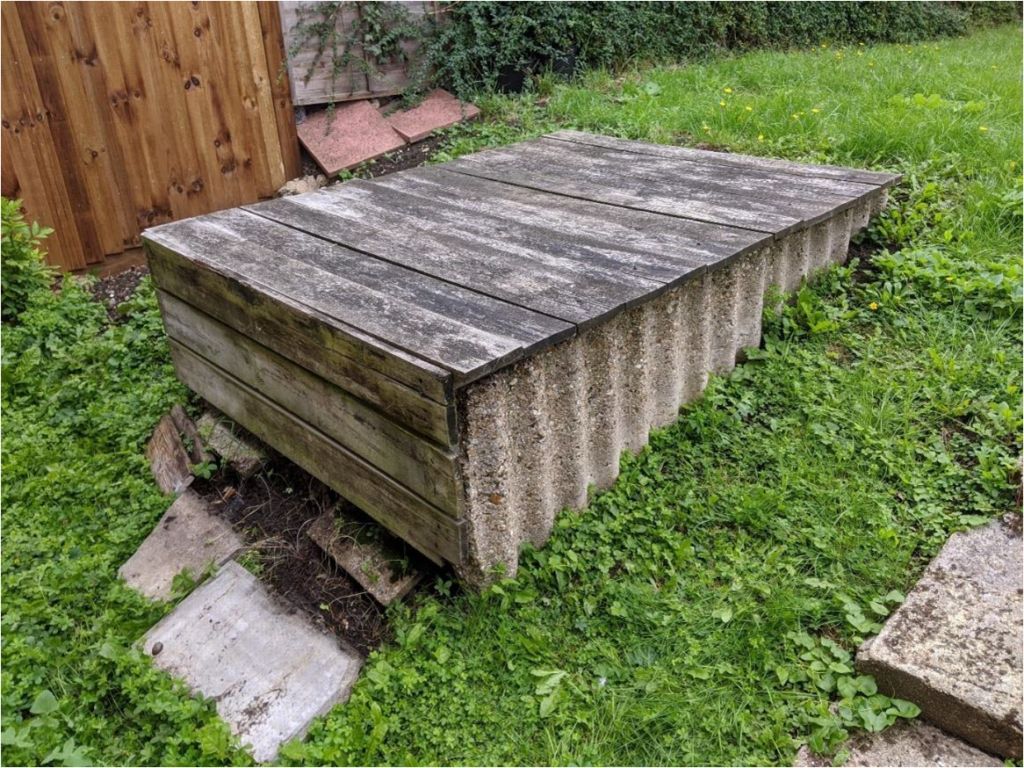 The rest of the garden is flat and the terrain suggests that there could be structures underneath towards the rear of the garden.
With the resident's consent and COVID willing, we hope that HADAS will be able to undertake a quick test pit dig next year to ascertain firstly: what the concrete structure shown in the photograph above is and secondly to see if there is any evidence of farm buildings in the garden.
In the meantime, if you know of any military structures/memorials lurking away in hidden corners of the Borough do drop me an email and let me know. Roger.chapman99@btinternet.com
History beneath us – Parch marks at Cherry Tree Wood, East Finchley
Roger Chapman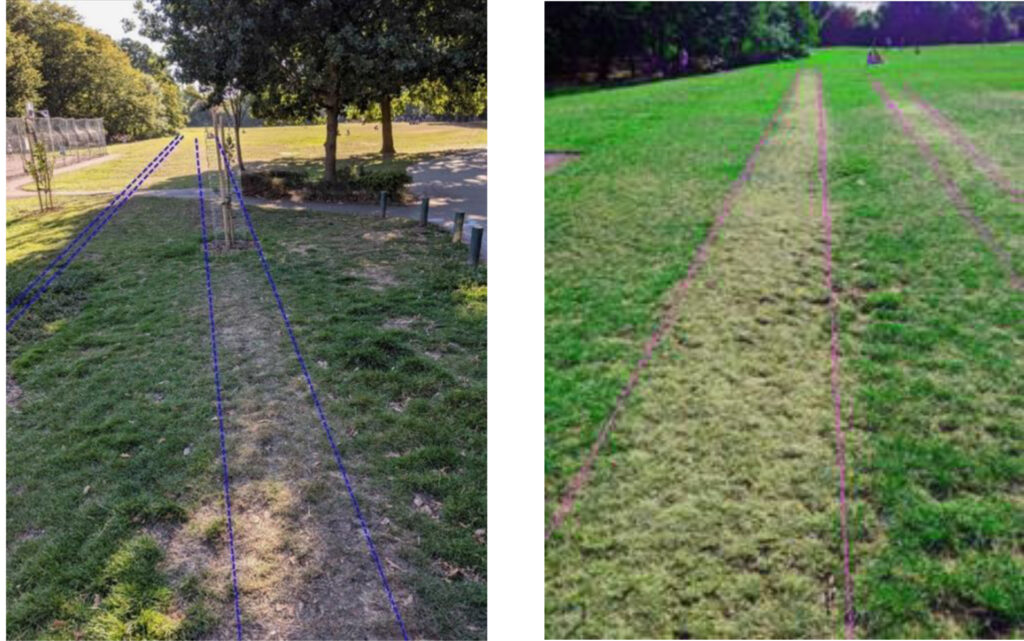 5
The dry weather in August 2020 began to reveal a lot of activity at Cherry Tree Wood in East Finchley. A range of parch marks started to appear and began to tell the story about what lies beneath the surface of this small Barnet park and remnant ancient woodland.
Parch marks are mostly caused by buried structures such as walls, pipes and drains or paved areas. The structure inhibits the grass roots in the overlying topsoil and the result is an area of weak growth that can show as a white or brown mark reflecting the shape of the structure underneath.
The photographs above show two parallel lines which I think are underground water pipes – the exposed metal sign part way across the field which reads "pipe" is a good giveaway.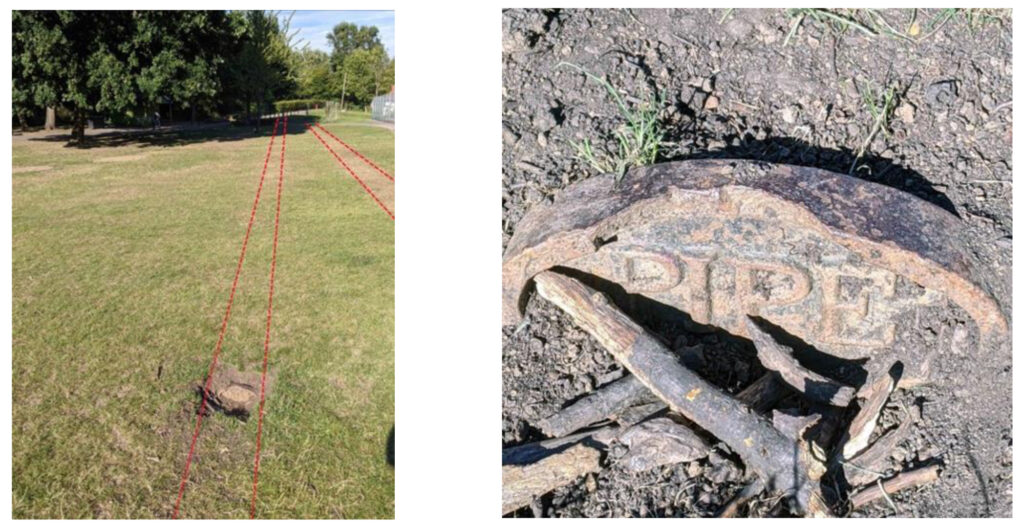 A few years ago, another sign was exposed reading MWB or Metropolitan Water Board. Between 1906-08 the Metropolitan Water Board built two covered reservoirs at Fortis Green. They were supplied from the Staines reservoirs (fed from the River Thames) some 17miles away and conveyed in a 42-inch diameter pipe which crosses Cherry Tree Wood as you can see in the photos. I believe there was a second pipe constructed in the 1920's, as indicated by the parallel parch marks, but I am still researching to confirm this.
In addition to these marks a regular diagonal pattern of parch marks also appeared, coinciding with large cracks in the earth, some as wide as 9 inches, which are on the line of field drains laid to drain the central grassed area of the park when it was in use as a football pitch. Cherry Tree Wood also has an interesting northern boundary being part of the Bishop of London's hunting park boundary dating from at least the fourteenth century.
My introduction to re-enactment
Bob Michel
Historical re-enacting – what's the point? On August bank holiday back in 1991 my wife-to-be and I arrived at Boscobel House near Worcester to see Sir Marmaduke Rawdon's Regiment of Foote show us. Rawdon's, for short, is part of the King's Army of the English Civil War Society. In spite of the following account of my afternoon I must have been convinced, as I remain an active member to this day. Why? Read on…………………
6
It had all started so promisingly. Boscobel House was easy to find, the sun was shining and the regiment's Quartermaster seemed pleasant enough. Carried away by this, I allowed our tentative first visit to watch Rawdon's do what they do best to become something altogether different.
My comfortable holiday-making clothes were soon exchanged for last-in-the-kitbag pikeman's togs. Not being a stock size I was used to clothes fitting where they touched, but this was something else. The metal helmet would have been even more uncomfortable had it not been a couple of sizes too big. However in the calm of the campsite this mismatch with my head didn't seem terribly important…………
The Quartermaster asked if I'd played rugby. On receiving an affirmative, he explained that being a pikeman was similar to being in a maul; that is, trying to gain ground at the opposition's expense. Only here instead of carrying a ball you lugged a 16 foot pike (or spear-like thing) around. I can't now recall what I thought about that at the time, but I did receive a crash-course in how to manoeuvre said pike. I was now a fit-for-purpose pikeman!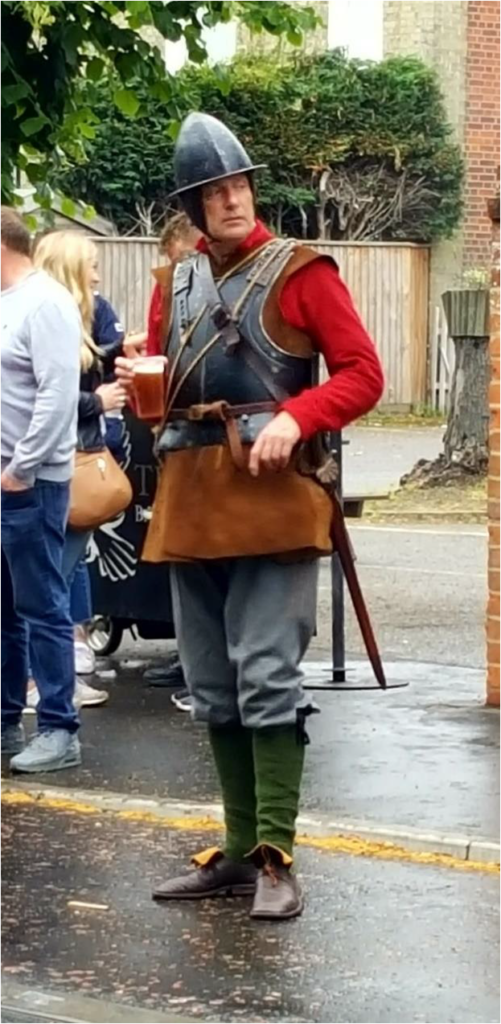 Well almost. My basic training was completed under the tutelage of the Officer i/c the pike division in the re-enactors' beer tent. What could possibly go wrong?
Well the only thing I can clearly remember about my 'finishing school' is that on exiting the beer tent, I unwisely took a short-cut to the toilet area where the chemi-karzis were all lined up. Sadly my hurdling technique left something to be desired and I left a few threads of posterior-area breeches on a barbed wire fence. My first war wound and I hadn't even left the campsite.
And so to battle. It's all a bit of a blur now – as then – but I can remember the spiky stubble in the field; the smoke and the shouting; not being able to pick our flag out from all the others being frantically waved around in the identity parade; and an all-encompassing feeling of not knowing what the b****y hell I was doing, or why. In all my battles since it's never got more authentic than that.
To coin another phrase, it was all over before I was ready. At the final whistle I was very hot, very thirsty and very tired. Moreover I didn't really know what had happened, let alone who'd won, as my helmet had slipped over my eyes at regular intervals. Back at the campsite I was looking forward to collapsing, which I did, spurning the lunatic-sounding invitation to participate in some energy sapping "RAWDON'S GAMES!". This proved to be a wise decision as said games involved a lot of running around.
What on earth had I done? But it was already too late to escape from the mad house. As they say the rest, like the real battle of Worcester, is history.
7
Roman Finds Group
Sue Willetts
I was able to attend part of a zoom conference on New Research on Finds from Roman Scotland and the North, on 16-17th October.
There were over 270 people attending this free event. The last session on Saturday morning was on Vindolanda and included talks on gaming boards, spindle whorls and leather remains including what seems to be a toy mouse.
I was very impressed and have joined the group which is £12.00 a year. https://www.romanfindsgroup.org.uk/membership
❖❖❖❖❖❖❖❖❖❖❖❖❖❖❖❖❖❖❖❖❖❖❖❖❖❖❖❖❖❖❖❖❖❖❖❖❖❖❖❖
With many thanks to this month's contributors:
Bill Bass, Roger Chapman, Eric Morgan, Bob Michel, Sue Willetts
❖❖❖❖❖❖❖❖❖❖❖❖❖❖❖❖❖❖❖❖❖❖❖❖❖❖❖❖❖❖❖❖❖❖❖❖❖❖❖❖
______________________________________________________________________________
Hendon and District Archaeological Society
Chairman Don Cooper 59, Potters Road, Barnet EN5 5HS (020 8440 4350)
e-mail: chairman@hadas.org.uk
Hon. Secretary Jo Nelhams 61 Potters Road, Barnet EN5 5HS (020 8449 7076)
e-mail: secretary@hadas.org.uk
Hon. Treasurer Roger Chapman, 50 Summerlee Ave, London N2 9QP (07855 304488)
e-mail: treasurer@hadas.org.uk
Membership Sec. Stephen Brunning 22 Goodwin Court, 52 Church Hill Road,
East Barnet EN4 8FH (0208 440 8421)
e-mail: membership@hadas.org.uk
Website at: www.hadas.org.uk
______________________________________________________________________________
8