No. 598 January 2021 Edited by Peter Pickering
______________________________________________________________________________
Wishing all our readers a Happy New Year for 2021.
HADAS DIARY – Forthcoming lectures and events
You will all be aware by now that, for the duration, our lectures are being held by Zoom, so that instead of coming to lovely historic Avenue House you have to click on various links on your boring computer in whatever boring room you keep it. What, I hear some of you ask, if I haven't got a computer, or it has succumbed to a virus of its own? Well, you have to wait until you receive your HADAS newsletter through the post, and hope that by the spring we shall be able to have proper meetings again. But in the meantime (and isn't it a mean time?) do keep in touch with your society – addresses at the end of this newsletter.
On Tuesday 12th January we shall have our Annual General Meeting followed by a talk by Dr Bly Straube, Senior Curator at Jamestown Settlement, Virginia, USA, entitled "Surprises from the Soil: Archaeological Discoveries at 17th century Jamestown, Virginia". All details were in the December newsletter. The meeting will be on Zoom from 7.15 for a 7.30 start, and we shall be sending out an invitation email with an instruction how to join on the day.
Virtually no other societies are holding physical meetings during this pandemic, and so our newsletters no longer include Eric Morgan's much-loved list. But we are not the only organisation to have a programme of talks online. It is well worth exploring what is on offer, and the terms on which non-members can have access – you usually have to book in advance, and sometimes to pay; some are recorded and can be seen at any time on YouTube. For instance, I know that the Society of Antiquaries have a varied programme of lectures on Zoom or YouTube free, and the Victorian Society have a lot on 'Crowdcast' at £5 each – I recently watched Stephen Brindle on Queen Victoria and the railways., and 'Liverpool, Mercantile City' should interest those of you who were on our Frodsham trip in 2017.
LAMAS lectures are online via Zoom and cost £2.50 for non-members, look out, among others, for Roger Chapman's talk on Clitterhouse Farm on 9th March 2021.
The Hertfordshire Association for Local History (www.halh.org.uk ) also have interesting talks on subjects from our neighbouring county.
In this year, the 550th anniversary of the battle of Barnet, the Barnet Museum and Local History Society will have several relevant Zoom lectures coming up contact www.barnetmuseum.co.uk/ for details.
1
HADAS November lecture by ZOOM

Don Cooper
The November lecture, which was actually a talk and tour, was given by Dr Jane Sidell, Inspector of Ancient Monuments for Historic England and an Honorary Lecturer at UCL. The title of her lecture was "London's Roman and Medieval Wall".
Jane opened her talk and tour with a map and description of the wall.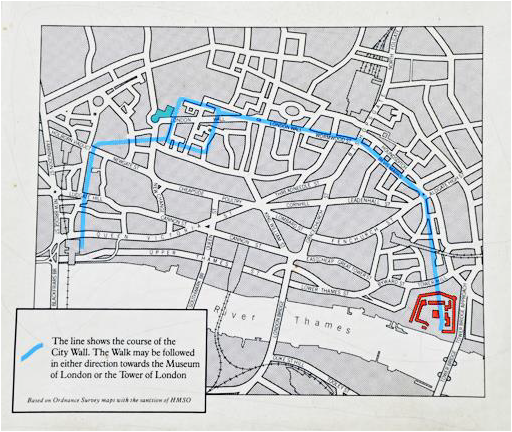 The map shows the outline of the inland Roman wall (the riverside wall was left for another day). The wall as 3.5kms long, built in AD190 -225. It was built of Kentish ragstone with Roman brick string courses. It is 7-9ft wide at ground level tapering up by steps as it rises, the height is uncertain ?16ft with a parapet and walkway at the top. It had an external V-shaped ditch 10-16ft wide and 4-6ft deep. There were at least 25 bastions from the later Roman period and the 13th century. The wall has been altered and heightened over the years.
Jane then took us on a virtual photographic tour of most of the remaining sections, pointing where they can be found and the alterations that have been made to them.
This photo, which I took in 2001, clearly shows the Roman brick string courses and above them the cruder Medieval addition. This part of the wall is outside Tower Bridge Station.
2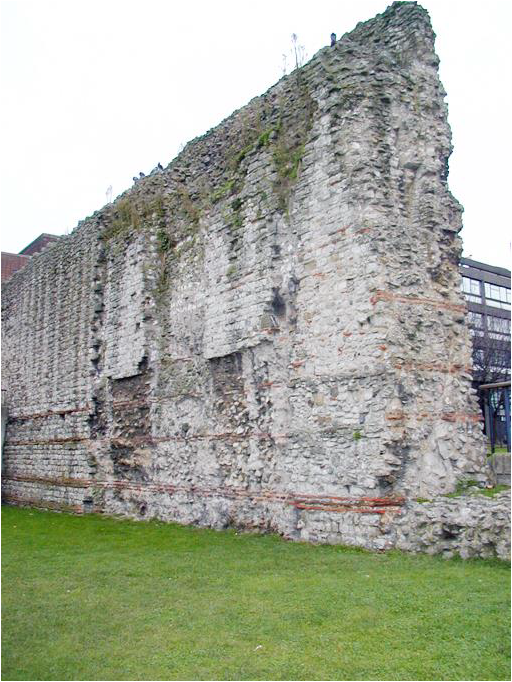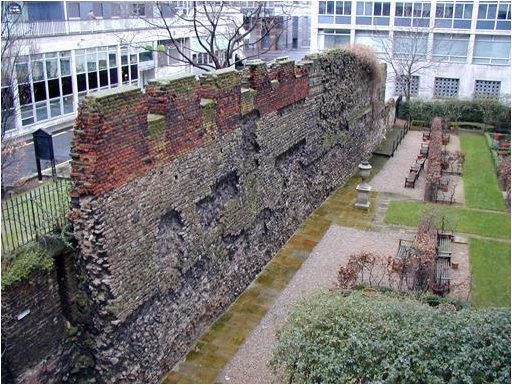 This intriguing part of the Roman and Medieval Wall is in St Alphage's garden on the appropriately named London Wall road. Looking at the photo the grey coloured part is Medieval and includes many repairs and alterations. The Roman part of the wall is now
3
buried below ground, while the crenelated red brick on the top is believed to date from 1471 during Edward IV's reign.
It was a fascinating "tour" and it is amazing how much has survived over the 1600 years since the departure of the Romans.
Stink pipes in Finchley
Dudley Miles
In 2009 I lived for a short time in Catford, and I was very intrigued by a giant pole in Springbank Road which is twice the height of the lamp posts. I could not imagine what purpose it could have. I finally learnt the answer when I listened to a very interesting LAMAS Zoom lecture in September by Stephanie Ostrich about the Earl's Sluice, a small south London river which is now a sewer. She said that the river could be followed along Albany Road by a row of three stink pipes (formally called sewer ventilation pipes), which convey noxious and flammable gases from the Earl's Main Sewer, which runs parallel to the former water course, up to a safe level above the street. I realised that the Catford pole must be a stink pipe, and my interest was further roused when I made my own discovery of one in Church Path in North Finchley, which I have walked along countless times without noticing it.
Stink pipes were one of a number of solutions proposed in the middle of the nineteenth century to the problem of the buildup of gases in sewers. The leading sanitary expert William Corfield, in his The Treatment and Utilization of Sewage of 1870, described the use of stink pipes in Liverpool. He recommended combining them with Archimedean screw pumps to draw the gas up and charcoal filters to clean the gas, but it seems unlikely that these refinements were installed in Finchley. He warned against setting light to the flammable gas, citing a case where it was piped to the furnace of a soap works in Southwark – the gas exploded and destroyed the furnace.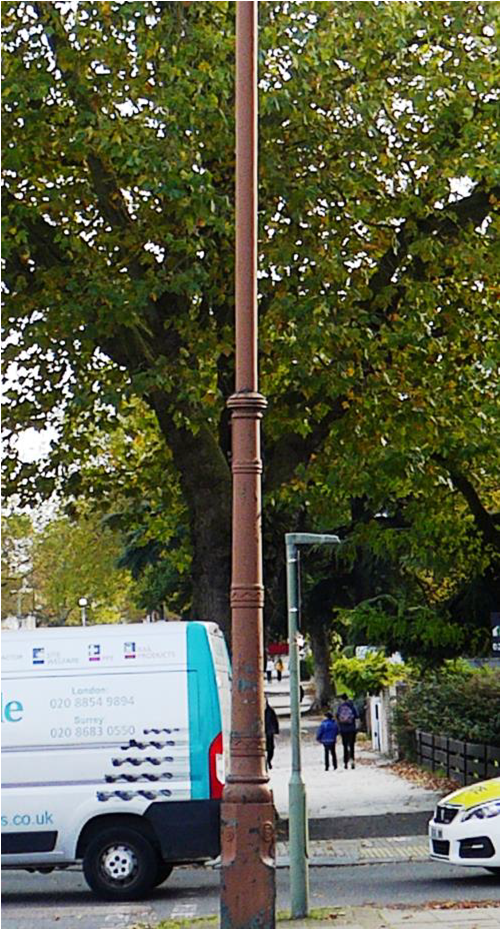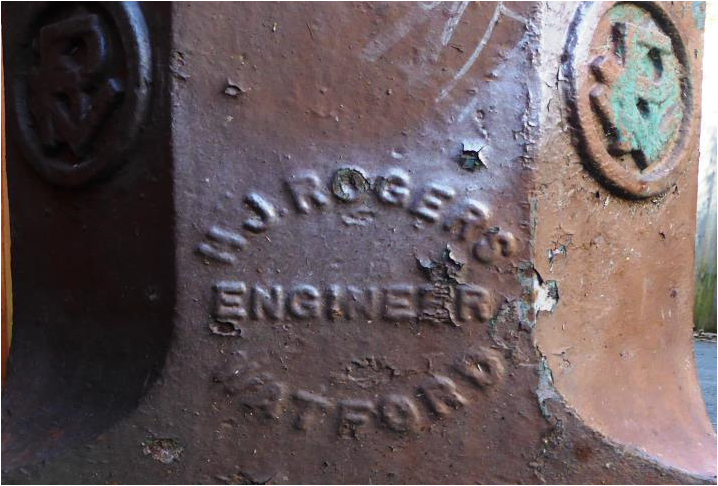 4
Some buildings, such as the Savoy Hotel, were so tall that it was not possible to erect a stink pipe which would carry the gas above the roof, and Joseph Webb proposed getting rid of the gas by burning it in sewer lamps, which would also provide street lighting. However, the flame often went out, filling the street with the smell of rotten eggs. In 1895 he found a solution by combining the sewer gas with town gas, and the only surviving sewer lamp is in Carting Lane at the side of the Savoy.
Stink pipes were later abandoned in favour of venting the gases through the roofs of houses. Most pipes have been removed over the past hundred years, but a considerable number still survive. Local authorities are responsible for their maintenance and some still serve their original purpose.
I have surveyed the area of the former Finchley District Council for stink pipes. (Finchley Local Board was replaced by Finchley District in 1895, which in turn became the Municipal Borough of Finchley in 1933 and was absorbed in the London Borough of Barnet in 1965.) I believe that I have found almost all of the surviving stink pipes. They are made of cast iron and most have peeling paint, but a few look well maintained. Many have lost their top part and some only survive as stubs. They all seem to date to the late nineteenth and early twentieth centuries, when sewerage was the responsibility of local authorities.
Almost all stink pipes in Finchley are inscribed with the name of the manufacturer, and two are inscribed 'Finchley District Council'. The pipes in Finchley were mainly made by Henry John Rogers, who seems to have had a monopoly until his death in 1910. In the 1911 Ordnance Survey maps for mid and north Finchley all his pipes are in roads which are shown on the maps, whereas pipes made by other manufacturers are in roads which are not shown, apart from two stink pipes manufactured by William E. Farrer Ltd in Nether Street, a road which dates to the medieval period. However, this company was only incorporated in 1909, the year before Rogers died. Born at Watford in 1846, he was trained at Crewe at the London and North Western Railway and then worked in the South African mining industry. Following his return to England, he bought an engineering works in Watford in 1885. His work was diverse, including gas compression and electrical machinery, and he was an inventor whose patents included several for the improvement of straining paper pulp.
After Rogers died, Finchley District Council used a variety of manufacturers until it ceased installing stink pipes, probably soon after the First World War as all its pipes were manufactured by companies which started trading before 1910. J. Gibb & Co Ltd manufactured stink pipes for Finchley and Friern Barnet councils; it was active from the 1900s to the 1930s and its name is often found on drain covers.
Location of stink pipes
Finchley District
Inscribed 'H. J. Rogers, Engineer, Watford'
• Church Path, near Woodside Park Road
• Durham Road
• East End Road near Stanley Road
• Elmfield Road
• Fairlawn Avenue
• Corner of Finchley High Road and Christchurch Avenue
• Finchley High Road near Oak Lane
• Friern Park
• Hall Street
5
• Hendon Avenue
• Corner of Hendon Lane and Crooked Usage
• Corner of Hendon Lane and Cyprus Road
• Holden Road near Laurel View
• Lansdowne Road (1)
• Lansdowne Road (2)
• Lichfield Grove
• Lincoln Road
• Long Lane near Cromwell Road
• Long Lane near Font Hills
• Long Lane near St Paul's Way
• Nether Street near The Grove
• Regents Park Road near North Crescent
• Squires Lane near Queens Avenue
• Torrington Park
• Woodside Grange Road
Inscribed 'J. Gibb & Co Ltd, London' (active between the 1900s and the 1930s)
• Windermere Avenue
• Friern Watch Avenue, also inscribed 'Finchley District Council'
• Hervey Close
• Ridgeview Road
Inscribed 'Wm E Farrer Ltd, Birmingham' (William E Farrer Ltd incorporated 1909)
• Nether Street near Coleridge Road
• Nether Street near Birkbeck Street

Ham Baker & Co Limited (incorporated 1901)
• Long Lane near Dukes Avenue, inscribed 'Ham Baker'
• Westbury Grove, inscribed 'Ham Baker & Co Limited, Engineers, Westminster'
Inscribed 'Broad & Co Ltd, No. 1, London' (incorporated 1896)
• Chalgrove Gardens
Inscribed 'Adams Hydraulics Ltd, York' (incorporated 1903)
• Gordon Road near Elm Park Road
Other
• Manor View, inscribed 'Finchley District Council'
• The Ridgeway, no inscription
• St Paul's Way, no inscription
• Wentworth Avenue, no inscription
• Courthouse Gardens, illegible inscription
The street map on the next page covers Finchley District, apart from two small areas which are off the map. It shows the district boundary and the location of the stink pipes.
6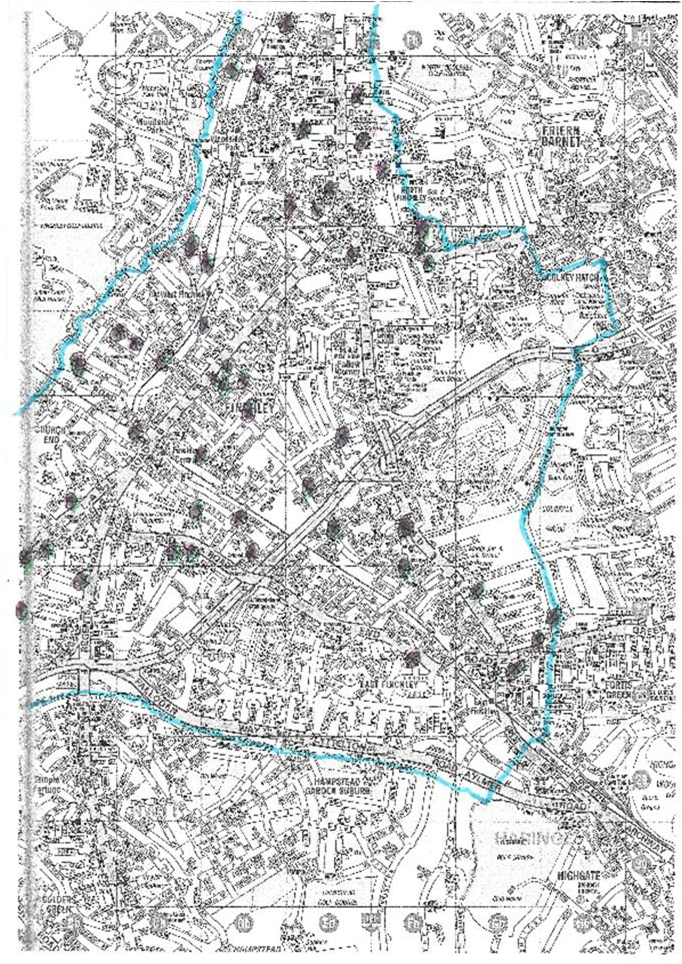 7
Friern Barnet Urban District
Inscribed 'J. Gibb & Co Ltd, London'
• Friern Park
• Ashurst Road, also inscribed 'Friern Barnet Urban District Council'
• Horsham Avenue, also inscribed 'Friern Barnet Urban District Council'
Other
• Hilton Avenue, behind fence and lower part not visible

Barnet Urban District
• Shelford Road, inscribed 'Broad & Co Ltd, London'
• Quinta Drive, no inscription
Hendon Urban District
• Corner of Finchley Road and Helenslea Avenue, plate with inscription missing?
• Finchley Road near Hayes Crescent, inscribed 'Ham Baker & Co Limited, Engineers, Westminster'
• Finchley Road near Helenslea Avenue, inscribed 'Ham Baker & Co Limited, Engineers, Westminster'
East Barnet Urban District
• Shaftesbury Avenue, inscribed 'Adams Hydraulics Ltd, York'
There are photographs of the pipes at https://commons.wikimedia.org/wiki/Category:Sewer_ventilation_pipes_in_the_London_Borough_of_Barnet.
Can anyone decipher the inscription on the Courthouse Gardens stink pipe at
https://commons.wikipedia.org/wiki/File:Stink_pipe,_North_Finchley,_Courthouse_Gardens,_illegible_inscription.jpg
Sources: Websites including Grace's Guide to British Industrial History and Companies House; The Godfrey Edition Old Ordnance Survey maps; The Victoria History of the County of Middlesex, volume VI, 1980; W. H. Corfield, A Digest of Facts Relating to the Treatment and Utilization of Sewage, 1870; Thames Water staff.
❖❖❖❖❖❖❖❖❖❖❖❖❖❖❖❖❖❖❖❖❖❖❖❖❖❖❖❖❖❖❖❖❖❖❖❖❖❖❖❖❖❖❖
With many thanks to this month's contributors: Don Cooper & Dudley Miles
______________________________________________________________________________
Hendon and District Archaeological Society
Chairman Don Cooper 59, Potters Road, Barnet EN5 5HS (020 8440 4350)
e-mail: chairman@hadas.org.uk
Hon. Secretary Jo Nelhams 61 Potters Road, Barnet EN5 5HS (020 8449 7076)
e-mail: secretary@hadas.org.uk
Hon. Treasurer Roger Chapman, 50 Summerlee Ave, London N2 9QP
(07855 304488) e-mail: treasurer@hadas.org.uk
Membership Sec. Stephen Brunning 22 Goodwin Court, 52 Church Hill Road,
East Barnet EN4 8FH (0208 440 8421) e-mail: membership@hadas.org.uk
Website at: www.hadas.org.uk
8