No. 599 February 2021 Edited by Andy Simpson
HADAS DIARY – Forthcoming lectures and events
This year's Dorothy Newbury Memorial Lecture will be on Tuesday 9th February at our normal time, 7:45 for 8:00 pm by Zoom. Our speaker will be Bob Evans, Chair of the Friends of the Newport Ship, and will cover The Construction of the Ship based on their ongoing research. HADAS visited the project during our South Wales trip in 2019 – see November 2019 newsletter.
Tuesday 9th March 2021**
Sarah Linney & Jack Russell
Thames Tideway Tunnel – Archaeological Presentation
Tuesday 13th April 2021**
Signe Hoffos
Lost City Churches
Tuesday 11th May 2021** Lee Prosser
Lee Prosser from Historical Royal Palaces will be speaking about Timber Framed Buildings with reference to the Barnet shop – Actual title to be advised.
Tuesday 8th June 2021
ANNUAL GENERAL MEETING
Tuesday 12th October 2021
Tuesday 9th November 2021
** Due to the COVID-19 pandemic, these lectures at least will be held online via ZOOM.
AGM notes
Jim Nelhams
Ably managed by our President, Harvey Sheldon, our delayed AGM took place using Zoom on Tuesday 12th January with some 33 members logging in. Full minutes will be circulated later.
The officers and committee members were re-elected all being willing to continue.
Unfortunately, there were no new nominations though there are vacancies on the committee.
It was noted that if HADAS is to survive, more people need to help with the organisation. Please think about this before our next AGM on Tuesday 8th June 2021.
1
Stink Pipes – the Story Continues!
The article on Stink Pipes in Finchley by Dudley Miles in the last issue of this newsletter was unfortunately actually an early draft which had some errors of detail. In particular, the statement that the pipes are maintained by local authorities, whereas they are actually maintained by your local water company, which varies from area to area. The list of pipes is also incomplete.
Dudley would like to appeal for photos of stink pipes in other parts of Barnet Borough for an expanded version, which will correct the wrong details, to appear in a future issue. Walking the streets searching for stink pipes would be good exercise in this time of lockdown. Please send photos to dudleyramiles@googlemail.com, with a photo of any inscription and the location of the pipe.
Peter Collins kindly reports a Ham Baker & Co Pipe in Islington, outside our Borough but an indication of the broad area that they supplied from their HQ in Westminster.
To get the Barnet ball rolling, your esteemed editor offers an example in a favourite lockdown stamping ground of his.
West Hendon Stink Pipe
Andy Simpson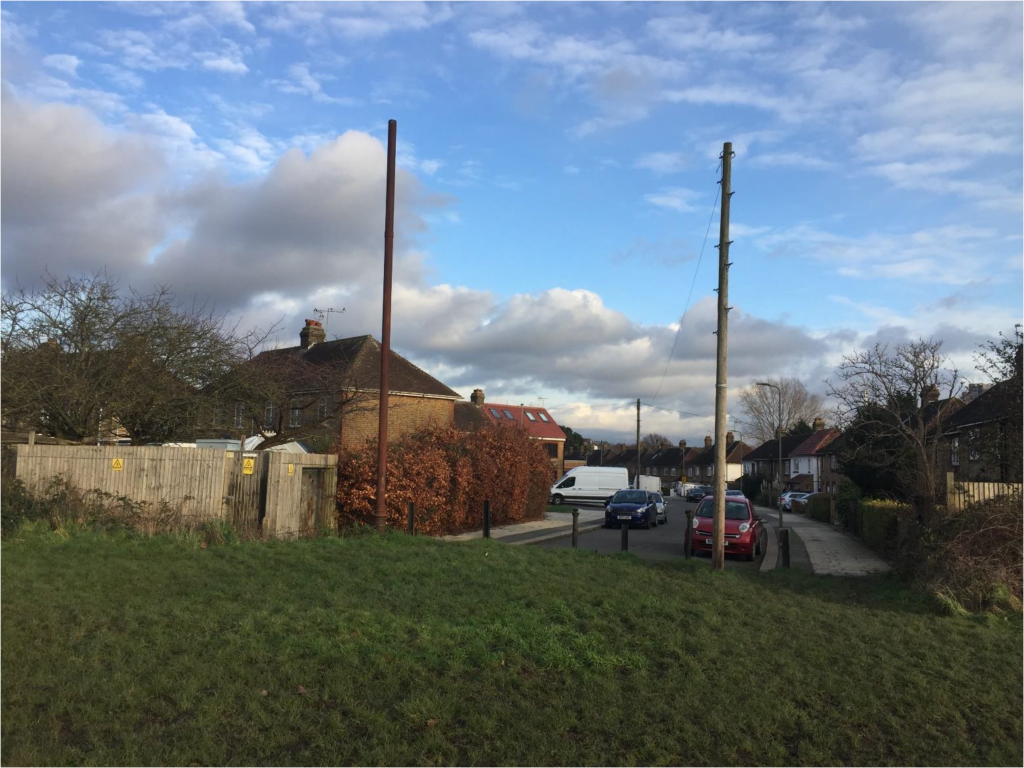 2
As mentioned earlier, I have noticed at least one stink pipe on my lockdown walks. It is situated at the very end of Fryent Grove, at the entrance to Silver Jubilee Park. This is right on the boundary of the former Hendon Urban District and Kingsbury areas, sitting on the line of the boundary hedge discussed in my 'On The Fringe – West Hendon Playing Fields' article in the July 2020 issue of this newsletter.
Despite the elaborate base, there are no obvious makers marks and it has clearly not been painted for decades. To the left of this photo taken 30 December 2020 is the site of the former Hendon Isolation Hospital. Between the pipe and telegraph pole are contrasting items of street furniture – two vintage cast iron bollards and four modern steel girder sections used to differentiate the park boundary.
It seems the former RCHME/National Monuments Record (now the Historic England Archive) refers to them as Sewer Ventilation or Ventilating Pipes or Columns; Search results: Sewer Ventilation Pipes | The National Archives
I keep wandering over the 'county line' into Kingsbury! Lots of lovely open space – Silver Jubilee Park as just glimpsed above, Roe Green, Fryent Country Park – all ideal lockdown walking venues for my 'permitted exercise'. Architectural delights of course include Kingsbury Old Church and its 'modern' Neighbour, and on the hill above Roe Green and by the crossroads, the wonderful 1920s-30s Trobridge houses and flats, some now in need of a lot of TLC. See Brent Council's From Cottages to Castles: A walk around Trobridge's Kingsbury [PDF].
And as the first of two street furniture companion pieces to the stink pipes in this issue…DUDLEY MILES goes looking for boundary markers!
Boundary markers
Barnet has many historic parish and local authority boundary markers, and they are designated as Heritage Assets by Barnet Council. Details and photographs are on the Local List;
https://www.barnet.gov.uk/planning-and-building/conservation-and-heritage/locally-listed-buildings#title-1.
Two of the best preserved are in Torrington Park in North Finchley, near Friary Road. They are made of cast iron and inscribed 'Finchley Parish 1864' and 'FBP [Friern Barnet Parish] 1871'. They are adjacent to a stink pipe made by H. J. Rogers, which is only two feet inside the Finchley boundary.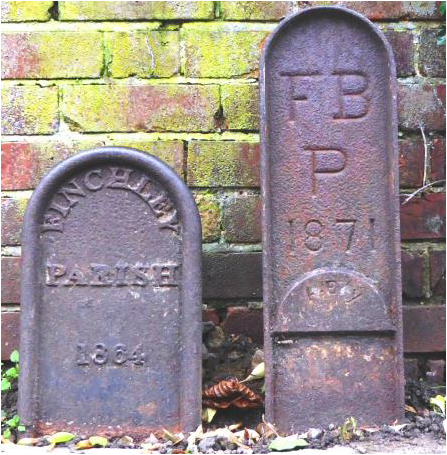 3
There are almost identical boundary markers on the corner of Woodhouse Road and Hilton Avenue, except that they are painted white and not in such good condition, while the Friern Barnet one is dated 1910. The Finchley plaque is designated by Historic England as a Grade II Listed Building (sic), but the Friern Barnet one is not considered worthy of the honour.
One other boundary marker in the borough is a Grade II Listed Building, being a stone one
adjacent to the fence of Ravenscroft Gardens in Chipping Barnet, opposite 1 Ravenscroft Park.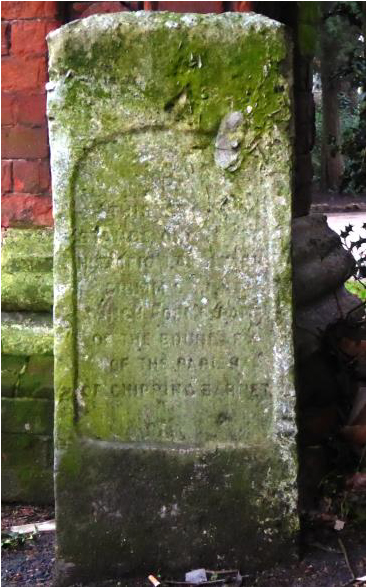 It has inscriptions on both sides which are now almost illegible, but Historic England has helpfully recorded them. One side reads: "This stone stands on the pre-historic landmark Grimsdyke, which forms part of the boundary of the Parish of Chipping Barnet".
The boundary ditch is no longer thought to be part of the Grimsdyke. The other side reads: "This stone was originally a boundary stone of the Whetstone and Highgate Turnpike Trust which built Barnet Hill about 1823". The Trust rebuilt Barnet Hill to reduce the gradient for horse carriages. Historic England states that the boundary marker is 19th century Portland Stone.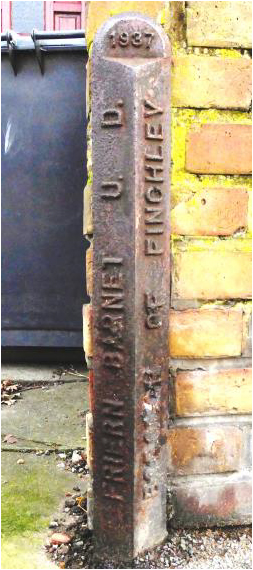 In the mid-1930s, there were changes to the local authority boundaries, and these were marked in 1937 with plaques jointly erected by Finchley and Friern Barnet, such as one shown here, which is at the junction of Woodhouse Road and Summers Lane.
54a Barnet High Street – a timber framed building, the dating game…
Bill Bass
54a High Street
Following on from the HADAS report in October's 2020 Newsletter we have received an Interim Statement on the Dendrochronological Analysis of the Oak Timbers from the Scientific Dating Team of Historic England (Martin Bridge and Cathy Tyers November 2020). Members may have seen from social media or the report shown on BBC London News of the probable felling date of the timbers of between AD 1330 – 1362. We can add a few more details from the statement as summarised from the document.
Samples were taken from 14 of the various timber elements in 54a High Street, with two samples being taken from one of the posts in order to maximise the ring sequence length from this timber. A process of 'cross matching', overlapping and sequencing produced a result of six timber series that were combined into a site master chronology of 79 years which was dated to the period AD 1249-1327. Some of the dated timber locations included post trusses, wallplates and a truss crown post. Various other samples were rejected having too few rings for reliable dating purposes.
Interpretation
The six dated series from 54a High Street represent a range of timber elements within the building, and appears to form a coherent group, most likely felled at the same time. The mean heartwood-sapwood boundary date of AD 1321 gives a likely felling date range for the group of AD 1330-62.
4
58 High Street
Samples were also taken from seven timbers in the carriageway on the south side of the Mitre Public House, 58 High Street. The samples had relatively short ring sequences and could not be reliably dated.
The statement gives details of the various tree-ring samples not reproduced here. Further work may be carried out to further refine the dating and at other locations.
Many thanks to Dr Jane Sidell (Historic England), Martin Bridge (UCL/ODL) and Cathy Tiers (Historic England).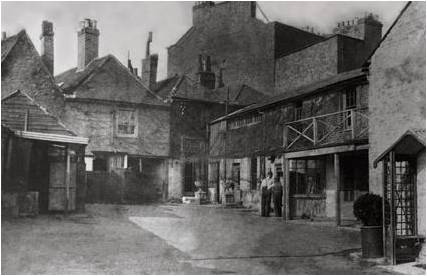 Nearby excavations
As mentioned in October's report HADAS dug a 12m x 2m trench in the backyard of 58 High Street (Mitre Inn) in 1989-1990 (BM89), it was an interesting dig where we had to use a 'jack-hammer' to open-up the tarmac and hard-core for the trench, which then partially collapsed when flooded by particularly heavy rain! There were a number of post-medieval structural footings, possible floors and dump layers. The dump layers contained a varied amount of ceramics including residual tile and pottery of Roman and medieval date. There was a fair amount of medieval pottery including some 'South Herts Greyware' dating to the 12th – 14th centuries. These dates appear to start overlapping with the dating of 54a High Street. As HADAS member Jennie Lee Cobban quotes "Chipping Barnet shop reveals medieval surprise – BBC News – It amuses me that when we were digging behind the Mitre next door and getting all excited about tiny sherds of medieval pottery a standing medieval building was looking down on us…"
5
Subsequent excavations in the area include those by Wessex Archaeology in 2003 and AOC Archaeology Group in 2005 (VWA 05). The AOC dig was more of an open-area excavation some 30m x 30m stretching behind 58 High St and The Mitre etc east towards Victors Way. The medieval sequence found medieval pottery in ditches, a post-hole was also associated with them, the features were dated to 1170-1350. The ditches were interpreted as boundary or enclosure ditches, marking the ownership of land or serving as an internal division within a larger plot.
Acknowledgement: Medieval and Post-Medieval activity at Victors Way, Barnet (Cat Edwards AOC) TLamas, Vol58, 2007.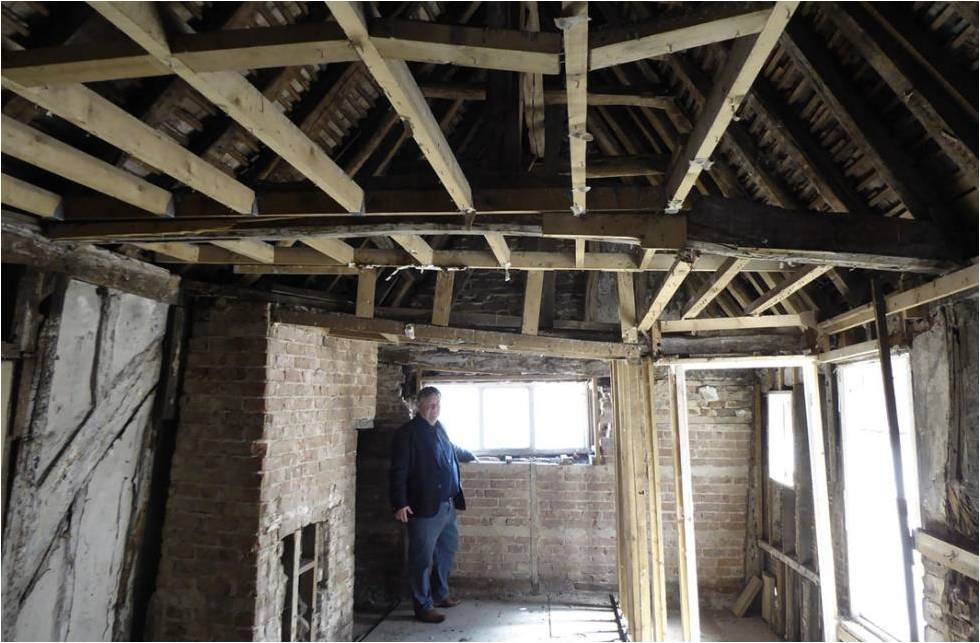 Break Shear House Evaluation
An evaluation took place at this larger site at 164 High Street, Barnet in October 2020 by Archaeology South-East (ASE). The site which is being redeveloped was interesting for its potential for post-medieval archaeology in the area, a gasworks and subsequent photo etching works had lain nearby, and for the possibility of medieval occupation along the High Street.
6
The evidence for medieval material here had looked unpromising due a previous geotechnical survey indicating a fair depth of disturbed ground and also other evaluations around this part of the High Street north of Barnet Church had been lacking in medieval archaeology.
ASE dug 6 trenches ranging from 10x2m to 15x2m finding a series of disturbed and dumped layers that included post-medieval pits in trenches 3, 4 and 5. In trench 5 (nearest to the High Street behind the shops) they also found part of a medieval ditch aligned north-south (1.10m wide) and a post-hole, these contained sherds of 'South Herts Greyware' rims, bases and body sherds typical of the local area as seen in 'The Mitre' dig above. The excavation shows there is medieval evidence for this part of the High Street and the continuing need to monitor planning applications here.
Acknowledgement: ASE, An Archaeological Evaluation 164 High Street, Barnet (Nov 2020).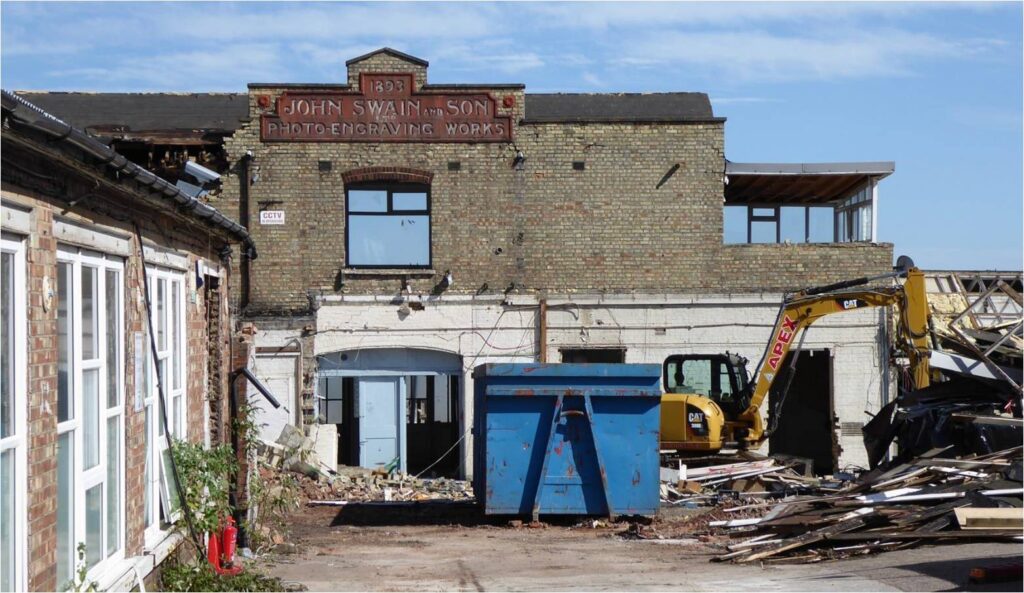 D-day + 50
Jim Nelhams
15th February 2021 is the 50th anniversary of the introduction of Decimal Currency in the UK and Ireland.
In 1847 a proposal was put forward for decimalisation of the pound, with the introduction of coins worth a tenth and a hundredth of a pound. As a consequence, a tenth of a pound coin, the florin or two shillings, was introduced to test public opinion, the first issued in 1849.
When I was at school, everybody learnt their 12 times table. Very useful it was too, since it related to our everyday currency with 12 pence to every shilling. Then came 15th February 1971, D-Day when we changed to Decimal Currency with 100 pence (p) to each pound to replace 240 (d, from the Roman denarius). The pound was also divided into 20 shillings (s) each of 12d. But that was not the end of changes to our coins and notes. In fact, every coin and all except one bank note has changed since 1971.
7
For a start, the 1/2 penny, penny, three-penny bit, sixpence and half crown were removed in 1971 having no equivalent new value. New low value bronze coins were introduced from D-day – 1/2p, 1p and 2p. The smallest of these ceased to be used in 1990, and 1p and 2p coins since 1992 have been made of copper plated steel.
The shilling and florin (2 shillings) continued as 5 and ten new pence. New coins of the same size and showing the new value had already been introduced in 1968. These coins remained in use until 1990 when they were replaced by smaller ones. A new coin worth 50p in the new currency or 10 shillings in the old was introduced in 1969 to replace the paper 10-shilling note. This new coin had 7 curved sides.
In 1982, a smaller 7-sided coin, the 20p, was introduced, followed in 1983 by a new, single metal one pound coin, enabling the paper £1 note to be discontinued in 1984. In 1997, a new circular, bi-metal coin worth £2 was introduced and the 50p was reduced in size.
The next change in 2012 was not so obvious – the composition of the 5p and 10p coins was changed to include some iron content. The most recent coinage change was the replacement of £1 coins by a twelve-sided bi-metalic coin in 2017, primarily because so many forged coins were in circulation.
From an archaeological view, coins are often found on digs, and give some dating evidence. However, recent 1p, 2p, 5p and 10p coins contain steel and they rust, so may not survive in the ground for too long in an identifiable form.
In any case, with the great increase in on-line shopping and credit/debit cards, how much longer will we need coins?
Bank Notes
In September of 2016, the Bank of England introduced a polymer £5 note, to be followed a year later by a £10 note. The £20 note came on the scene in 2020, and in February 2020, the Bank of England announced that the last paper note, worth £50, which was only introduced in 2011, would be replaced by smaller polymer version during 2021, on a date to be announced. The back of this new note will show the picture of Alan Turing. It must be said that the Bank of England £5 was not the first polymer note in the UK. That honour goes to the Northern Bank in Northern Ireland with a special issue in 2000 commemorating the space shuttle. Regular notes were introduced in Scotland in 2015 by the Royal Bank of Scotland and by Clydesdale Bank.
Language is always evolving, but some expressions take more time. Did spending a penny change to having a p? What do we make of half a pound of two-penny rice? In for a penny, in for a pound? I'm sure you can think of others.
At this time, we still use old measures for weight and distance and temperature, though the decimal versions are taught in schools and co-exist. And a litre of beer needs a lot more strength to lift.
Ultimately, decimalisation will only be complete when everything is decimal, including time. So here's to the ten hour day and the ten day week.
Orkney and its extraordinary archaeology
Melvyn Dresner
With the collapse in distance afforded by Zoom and Covid 19, on the 28th October 2020, I was able to attend Orkney Archaeology Society Annual General Meeting and talk by Caroline Wickham-Jones on the extraordinary archaeology, from the comfort of Barnet. As a regular volunteer at the Ness of Brodgar dig, which was cancelled in 2020, this was opportunity to catch up with Orkney archaeology. This year also saw the publication in November, of the Ness of Brodgar – As It Stands, edited by Nick Card, Mark Edmonds and Anne Mitchell. This brings together work on site since March 2003 at the world heritage site.
8
HADAS has a long association with Orkney archaeology, HADAS stalwart the late Daphne Lorimer was a leading light in Orkney archaeology, members have enjoyed long weekends visiting her there, and today the Daphne Lorimer Bursary, supports Masters students who otherwise could not raise the funds to study archaeology at University of the Highland and Islands in Kirkwall.
OAS was founded to educate the people of Orkney and beyond about the archaeology, heritage and people of Orkney from prehistory to the present.
This includes Newsletters, OAS Archaeology Review and regular talks such as on Norse Orkney, St Magnus Graffiti Project and the Ness of Brodgar and the use of scientific techniques. Like everywhere, the work of society has been impacted by Covid, moving online and cancellation of the digging season: however, the society's work goes.
After the AGM, Caroline Wickham-Jones gave her personal view of the extraordinary archaeology. Her experience goes back to student days on the 1970 Skara Brae dig. She places Orkney on a node of axis that shows how connected Orcadians would have been.
There is an abundance of archaeology sites within Orkney, including highly visible sites monuments and less obvious mounds around the Bay of Skaill. She notes a high degree of preservation, and often unusual details such as the Orkney Hood (c.AD 250-600), Neolithic figurines from Westray, containers with ochre and string from Skara Brae (c.3,200 BC) do give a few examples, such items can be seen in the museums in Orkney.
Big name archaeology and world archaeology, the likes of Gordon Childe and Colin Renfrew, means Orkney is known to many archaeologists as it is reference in many of the key texts of prehistory. Orkney is not only part of the history of archaeology, this is ongoing. The earliest explorers probably arrived 12,000 years ago after the last Ice Age, when Orkney was probably two larger islands rather than the collection of islands of today. Still lots to learn about changing societies in the Neolithic, the role of sites such as Ness of Brodgar, relationship with the wider world and detail of burial.
As well as Mesolithic and Neolithic, there is much to explore in the Bronze and Iron age. For the Pictish period such as the smithy site on Rousay, we begin to be able to match archaeology to the written record. For the Viking age, her focus turns to landscape, and Viking age such St Magnus Cathedral. She refers to the medieval and historic, and opportunities to examine political structures.
The archaeology of recent times includes wartime archaeology including the Ness Battery and Italian Chapel, and the sunken German fleet in Scapa Flow, and the Royal Oak.
Looking to the future, she reflected on the continuing importance of excavation, applied geoscience, combining approaches geoscience and oral science, building community through communication and social media, and the need for publication. She felt the gaps were in our record in the earliest communities, submerged and wartime material.
Links
Orkney Archaeology Society: https://orkneyarchaeologysociety.org.uk/
YouTube link to lecture: https://youtu.be/-F7eLivC7h8
Orcadian Bookshop: https://www.orcadian.co.uk/shop/
9
More Street Furniture…INDUSTRIAL ARCHAEOLOGY UNDERFOOT
by David Willoughby
When I was a child growing up in Pimlico in the early 1960s, I can clearly recall the flat-bed lorries laden with sacks of coal that pulled up outside the elegant
Cubitt stucco terraces. These sacks were emptied by burly men, wearing leather jerkins, through circular holes in the pavement into the coal cellars below. My memories of this were recently reawakened during a lecture on the history of Pimlico at Barnet Museum during which a slide of a circular cast iron coal hole cover (coal plate) was displayed on which was written, 'A Smellie Ironmonger, Rochester Row, Pimlico'. I was a little disappointed to discover some time later that 'Smellie' is in fact pronounced 'Smiley'.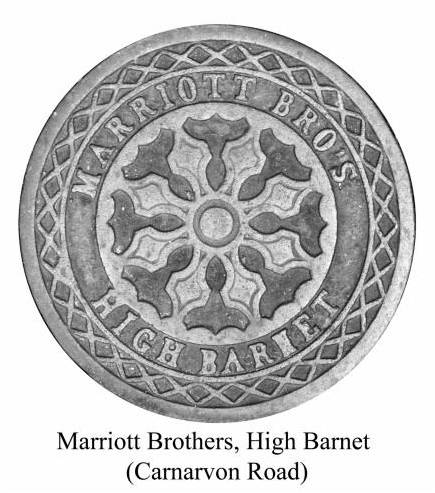 Nevertheless, I was sufficiently impressed by this example of ironworker's art decide to photograph as many coal plates as I could find before they succumbed to corrosion, wear or 'street improvements'. Coal plates are almost as old as the industrial revolution itself with at least one very early square, stone example to be found in Bath. These early stone examples were soon replaced by cast iron (but again square) plates.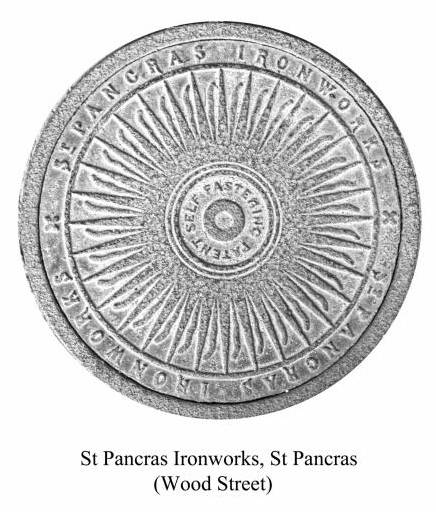 As the use of coal to heat buildings spread, round plates became more common. These plates were less prone to damage and loss through the hole into the coal cellar below. The castings were made from wooden moulds, often by local ironmongers and the intricacy and fineness of some of the designs are often very impressive. These patterned surfaces served a functional purpose in that they helped prevent pedestrians from slipping on what would otherwise have been a smooth cast iron surface.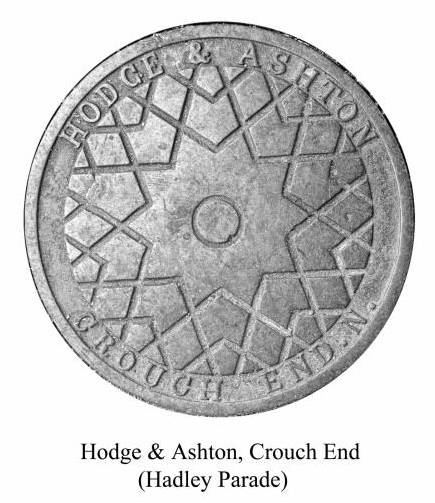 Although there appears almost to have been a manufacturer on every corner, substantial quantities of plates were also produced by large ironworks such as Hayward Brothers of Borough and St Pancras Ironworks (which were founded by the inventor Henry Bessemer). It is likely that at least some local ironmongers would have subcontracted the production of their own coal plates to these large ironworks.
10
Coal holes gradually fell into disuse as gas became an increasingly common mode of heating and the death knell came with the Clean Air Act of 1968 which restricted the types of solid fuels that could be used.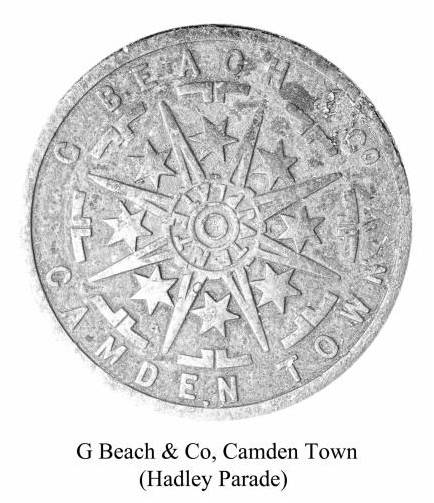 Coal plates vary from 12" to 24" in diameter and although thousands have been destroyed over the years there are surviving concentrations to be found in Bath, Belgravia, Bloomsbury, Brighton, Chelsea, Hampstead, Islington, Kensington, Marylebone and Pimlico.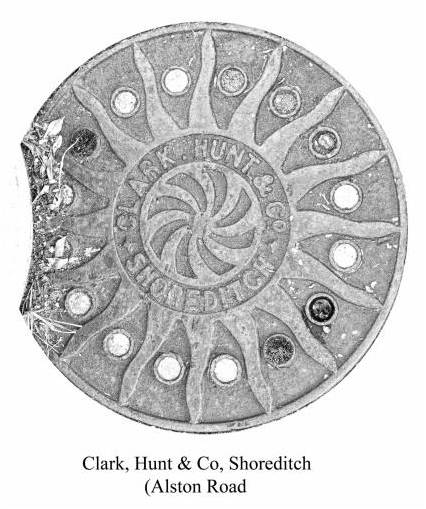 Although there is a filled-in coal hole outside the Red Lion, in Barnet High Street, I for a long time doubted that there were extant coal plates remaining in Barnet. However over the last few months I have chanced upon surviving examples in the High Barnet area. In Wood Street there are three examples of St Pancras Ironworks plates outside the doors of private houses (one of these plates is very corroded);
In Hadley Parade at the northern end if Barnet High Street there are two examples of plates made by Hodge and Ashton of Crouch End, with a plate of G. Beach & Co of Camden Town nearby; in Alston Road there is an example of a plate by Marriott Brothers of High Barnet, with an example of a plate by Clark, Hunt and Co. of Shoreditch adjacent; a Marriott Brothers' plate is also to be found nearby in Marriott Road. By far the greatest number of plates are in Salisbury and Carnarvon Roads where there are several examples of patterned plates not bearing any legend, also 'improved safety plates', an example each of a plate by Edwin Fenton of Mile End Road and Alfred Syer of Pentonville Road and three more Examples of Marriott Brothers' plates.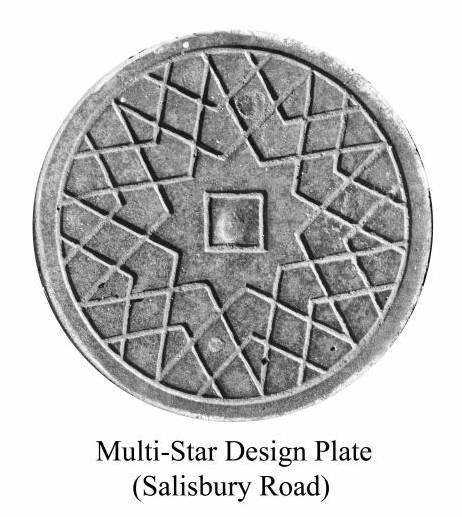 11
It is possible to roughly date some of these plates as the companies that supplied them were not in business for very long. Ashton and Hodge were declared bankrupt in July 1891, Edwin Fenton in March 1890 and Charles Henry and Henry James Marriott (trading as Marriott Brothers Builders and Contractors) in November 1882.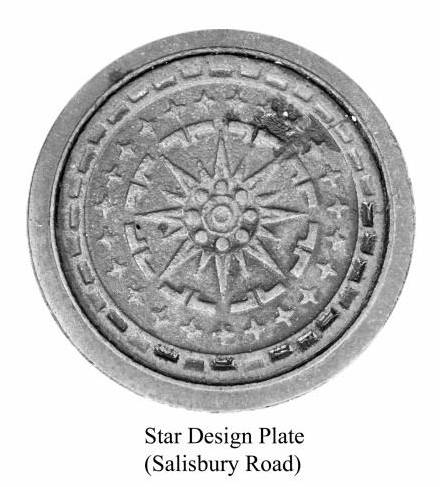 At the time of bankruptcy, the Marriott Brothers were trading from the High Barnet Works in Union Street and were resident at Greenhead Villa, Carnarvon Road, having previously resided in Tottenham. It is interesting to think that the one example of their plate in Carnarvon Road might be located outside their former residence. Also is it a coincidence that another example of their plate is to be found in Marriott Road? Perhaps the brothers built the houses in this road and it bears their name as a result? If anyone is aware of any coal plates in Barnet other than those mentioned, I would be glad to hear of their location.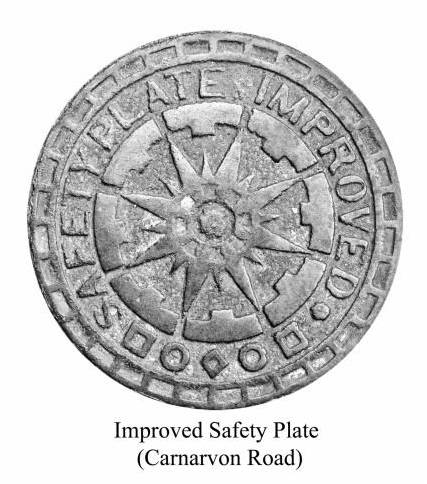 With many thanks to this month's contributors: Bill Bass; Melvyn Dresner; Dudley Miles; Jim Nelhams; David Willoughby.
______________________________________________________________________________
Hendon and District Archaeological Society
Chairman Don Cooper 59, Potters Road, Barnet EN5 5HS (020 8440 4350)
e-mail: chairman@hadas.org.uk
Hon. Secretary Jo Nelhams 61 Potters Road, Barnet EN5 5HS (020 8449 7076)
e-mail: secretary@hadas.org.uk
Hon. Treasurer Roger Chapman, 50 Summerlee Ave, London N2 9QP
(07855 304488) e-mail: treasurer@hadas.org.uk
Membership Sec. Stephen Brunning 22 Goodwin Court, 52 Church Hill Road,
East Barnet EN4 8FH (0208 440 8421) e-mail: membership@hadas.org.uk
Website at: www.hadas.org.uk
12