No. 600 March 2021 Edited by Deirdre Barrie
HADAS DIARY – Forthcoming lectures and events
Tuesday 9th March 2021**
Sarah Linney & Jack Russell
Thames Tideway Tunnel – Archaeological Presentation
Tuesday 13th April 2021**
Signe Hoffos
Lost City Churches
Tuesday 11th May 2021** Lee Prosser from Historical Royal Palaces
Against all the Odds: a surviving medieval building in Barnet High Street
A talk about timber-framed buildings, with reference to the Barnet shop.
Tuesday 8th June 2021**
ANNUAL GENERAL MEETING
Tuesday 12th October**
Vicky Baldwin
Looe: a Story of Sea, Sand and Sardines
Tuesday 9th November**
Sam Wilson
Battlefield Archaeology: Barnet
** Due to the COVID-19 pandemic, these lectures at least will be held online via ZOOM.
______________________________________________________________________________
Membership Renewal – by Stephen Brunning, Membership Secretary
The HADAS membership year runs from 1st April, so all memberships are now due for renewal, apart from those new members who have joined since January this year. I have enclosed a renewal form for those people who pay by cheque, and would ask that you return the form to me along with your remittance for the appropriate amount. Members who pay by standing order need take no action. The rates remain unchanged.
Anyone who thinks they should have had a membership renewal form or Standing Order form but hasn't received one, anyone who wants to make their membership under Gift Aid and hasn't already done so, or anyone who has any question at all about their membership, please contact me. (contact details on back page).
Many thanks.
1
Coach Tour
Micky Watkins
As you know we have to wait till next year to go on another lovely HADAS tour.
Meanwhile I think it would be fun to go somewhere together. We could us an ordinary touring company and book individually but find ourselves together with HADAS friends.
I suggest Shearings, which I believe Don has used and found satisfactory.
I have selected two tours, which I think we would enjoy:-
Delightful Weymouth and Dorset £449 + £69 for single rooms.
6 September 2021 5 nights.
Capital Edinburgh and Castle £299 + £129 for single rooms
13 September 2021 5 nights.
Deposit £1. At present there is some room on both these tours.
The pick-up- points are in Barnet High St, Enfield and Golders Green (with perhaps a £20 charge) and other places.
You can get details on www.shearings.com or get a brochure from 07109 249855.
I hope that one of these will appeal to you. If you think you will come, please would you let me. know your preferred tour so we can pick the favourite.
Email mickywatkins@gmail.com or phone 0208 455 8813
You have to do your own booking with Shearing. We must act as quickly as possible as Shearings has already sold out its Whitby and Scilly Isles tours.
I take no responsibility for anything that may happen, I just think it would be fun to tour with HADAS friends.
*****************************************************************************************
The Council for British Archaeology was founded soon after the war and represents us all, societies, professional organisations and individuals. HADAS has long been a member, as have several of our own members. For many years the CBA has organised a Festival of Archaeology in the summer with a programme of events. This year the Festival has to be different. Neil Redfern, who last year replaced the long-serving Mike Heyworth as Director, has written this article to tell us about it. Peter Pickering
Exploring local places CBA Festival of Archaeology 2021 – 17 July – 1 August

We were really pleased to announce the launch of the 2021 Festival of Archaeology at our AGM on 4th February. This year we have chosen the theme Exploring local places. We want it to be all about helping people discover the archaeology and heritage that is all around them. We want people to get out and explore their local places, to discover stories, sites, buildings, places, people and events that make our local communities so special. Yes, we are mindful that we may still be under some form of lockdown restrictions and social distancing, so the Festival will be a hybrid event with lots of self-guided and on-line activities, alongside our traditional on-the-ground events.
2
Help us celebrate local sites, stories and the people who lived and shaped our local places. Archaeology is a great tool to help do this through asking great questions about the places we live in: How have they changed and how do we use them today? Who lived and worked there in the past, and do we use them in the same way today? What can you see today that would have been in the landscape 10, 100 or even a 1,000 years ago?
You can get started by exploring where you live.
• Try our Local Explorer Bingo Challenge and see how many things you can find. This is a great activity to do on your daily walk.
• Take a wander down your local high street and think about how it has changed over time. This could make a great research project (don't forget social distancing).
• Discover Dig School and learn how you can use archaeology to find out about the people who lived on your doorstep. Dig School is a series of online workshops and activities ending with the opportunity to dig a test pit in your own back garden!
• Try out or make a self-guided walk and share with others.
• Got a question about an object, site, feature or simply curious about something unusual? Have it ready to get answers from archaeologists around the world on Ask An Archaeologist Day.
• Photo competition – take part in our photo completion on the theme of Local Heroes – we want images that capture the very essence of the places you live in and what makes them special to you. It could be a building, a place, a tree or garden, an archaeological site or feature, it could be people and friends and the places you meet – in a photograph, what defines the place where you live, work, like to visit or go to school?
• Share your archaeological experience as part of A Day In Archaeology.
• Watch out for our growing list of events and activities, and sign up for our regular updates via the Festival website.
Run your own event or activity
We are keen for our CBA Groups to host and run events and activities. This is key to growing our membership at national and local level, and in demonstrating to new members and participants just what we have to offer. The Festival is a great way to celebrate our love for all things archaeology and heritage. We were really pleased with last year's response in terms of the number of participants and reach (digital speak) of the activities and events.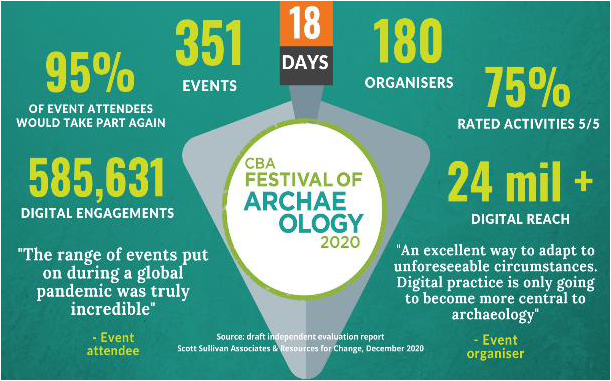 So please do have think about how you might like to celebrate your own favourite local place, and put on your own event for your community. Events will be listed on the Festival website from April. Find out more here. Event organisers can find out more information on this year's theme in the organisers' area of the website
3
If you can't wait until April, we still have a range of fantastic events and activities from the 2020 Festival that you can view at any time. Search the event listings at https://festival.archaeologyuk.org/find, or you can watch our highlights video of The CBA in 2020 – YouTube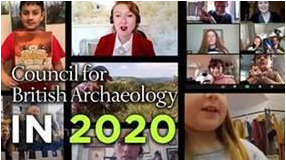 Neil Redfern, Executive Director, CBA
Surprises from the Soil
Jim Nelhams
This was the title of our January Zoom lecture, subtitled "Archaeological discoveries at 17th Century Jamestown, Virginia." The pandemic has shown us new and imaginative ways to use new technology. This lecture was a first for HADAS, since it was delivered by Dr Bly Straube from and in Virginia, our first transcontinental lecture.
Although there were some earlier North American settlements, they did not survive. Jamestown, first populated in 1607, became the first permanent English settlement in North America. The first group of settlers sponsored by the Virginia Company consisted of 104 men and one boy, with further ships arriving in the following years. Some were members of the gentry and brought high class articles and servants with them.
Their main objective was to find a way by water to the west and locate "riches" there without upsetting the native Indians.
The town is on what is now an island in the James River, connected to the mainland by a man-made causeway, though with rising water levels and subsidence, it is thought that the whole island may be underwater in 50 years. The expedition explored the river as far as some waterfalls, but could go no further by water. Natives occupied both banks with supplies of fresh water.
A triangular fort was built with bastions on each corner, and a later extension on one side. Excavations began in the fort area in 1994. To date, over 2 million artefacts have been found, some tiny. These include
some Bellarmine jugs and Surrey/Hampshire borderware, a Roman oil lamp, arms and armour (for protection against the natives, but also Spanish raiders) and some high-class clothing and implements.
Some of the best finds, mainly complete, were found in a well, preserved by anaerobic mud. These included a halberd and a pistol.
There was also a collection of clay pipes made by Robert Cotton in Jamestown from Virginia red clay, some embossed using a bookbinder's stamp, and personalised. The settlers learned from the natives how to cultivate tobacco, and it is from this that Virginia became known.
Good records of the settlement were kept so that a lot of the names are known, including George Percy, brother of Henry Percy, Duke of Northumberland, and Thomas West, 3rd Baron de la Warr, who arrived after the siege of 1609/10 with a bodyguard of 50 men. Probably best known from history lessons is a daughter of the local Indian chief named Pocahontas who married one of the settlers named John Rolfe.
Such was the smoothness of the presentation that it was easy to forget the distance between Bly and Finchley. Our thanks to David Willoughby for masterminding the technology.
4
Ken Carter, 1934-2021
Eric Morgan
Ken sadly died in January, aged 86, unfortunately a victim of Covid. He had been a HADAS member since 1997, attended lectures, came to Avenue House Quiz Nights, and went on at least one HADAS Long Weekend.
Ken lived most of his life in and around Hampstead or West Hampstead, including Maresfield Gardens (famous for Sigmund and Anna Freud's homes). His late wife, Wendy, ran a pet shop named "Animal Crackers" on Flask Walk, NW3. He then moved to Golders Green to live in one of the interestingly-named "Gothic Cottages", which is where I first knew him. After that, when things became too difficult for him, he moved to sheltered accommodation in East Finchley, before spending his last years in Porthleven, Cornwall, with his son.
After graduating from Oxford University, Ken opted to help children with learning difficulties from Burgess Hill, Hampstead. This led to teaching in various schools, including Pardes House Jewish School in Finchley, as well as private tuition in English, History and Economics. I remember him teaching at the Hampstead Garden Suburb Institute when it was still in the Garden Suburb. He later pursued a course to become a counsellor (therapist). Ken was into drama, classical music, art and literature, and was a member of the National Theatre, Barbican and Wigmore Hall. He wrote for "The Archer" (East Finchley's local paper) on music. He performed in many shows at the Hampstead Garden Suburb Theatre, and at the East Finchley Arts Festival, on which he also reported for "The Archer".
He was in various groups of the University of the Third Age, including History, Drama, Archaeology, Music and Art History. It was at the North West London Branch Group on Philosophy which was held at the Michael Sobel Centre in Golders Green Road, conveniently right opposite where he was living at the time, that I first met him. This was before I knew he was a member of HADAS like myself. He then went on to join the North London Branch of the U3A, where he ran a group on Shakespeare. (He had performed in some of his plays) as a Play Reading and Discussion Group.
He will be buried next to his wife, Wendy, in Highgate Cemetery. I found him a very approachable and knowledgeable man, who will surely be missed.
Volunteers to write-up lectures
Don Cooper
This is a plea for volunteers to write up our lectures for the HADAS newsletters. In this time of lockdown where Zoom is the only way we can listen to lectures, there are some members who do not have the facility to listen to Zoom. Post lockdown (which always seems to be on the horizon but not yet close!) there are also members who for one reason or another cannot attend Avenue House. All these members rely on the monthly newsletter for their summaries of the lectures. It would be great if we had a list of volunteers who would write up one lecture a year. If you can help, please pass your name to Jo Nelhams, so we know whom we can contact, Thank you.
2021 National Census
Jim Nelhams
The 2021 census is at the time of writing scheduled for Sunday 21st March, though in Scotland this has been deferred until next year.
In England and Wales, and separately for Scotland, a census has been held every ten years starting in 1801, except for 1941. The records of the England and Wales 1931 census were destroyed by fire in 1942.
Before 1841, people's names were not centrally recorded, though information might exist on paper in local records offices. 1841 contained minimal information, with more questions added in each subsequent census. Three new questions will be added this year.
5
For confidentiality, legal rules require that personal data is not published until 100 years after the census, with the 1921 records due to be released early in 2022. Partly filling the gap since 1911 is a register compiled in 1939 to produce identity cards for everybody at the start of WW2, and unlike the census, showing exact dates of birth. This register was kept updated for a number of years and used in 1948 to set up records for the new National Health Service, so it may show changes of name on marriage. Consistent with the 100-year rule, records are redacted from the online version if it is thought that the people concerned might be still alive.
Over recent years, images of the published census and registry records have been scanned and indexed so that the details are searchable online, proving a great help to family history researchers.
So how easy is it to find the records you want? Early censuses were compiled by enumerators visiting each address. These were people who could read and write, unlike most of the population. Having collected the information, it was collated onto sheets which were sent to a central location, ultimately reaching the National Archives. The records were all hand-written, and the ink may have faded. The enumerators wrote down names as they heard them. (I have found over 20 different spellings of my own surname.) Errors could occur during transcription, and there was further scope for error when the records were indexed for online searching.
In the 1911 census, it being deemed that most people could now read and write, the sheets were completed by the head of each house, though they sometimes used nicknames for their family members. You may be able to see your ancestor's signature.
Can all this help archaeology? It certainly provides historical data to help background research.
Looking at Avenue House in 1881, we see Henry C. Stephens with his wife and three children with a butler, housekeeper and four housemaids. No doubt there were also gardeners living elsewhere.
When looking at the dig in Burroughs Gardens, Hendon, I looked at the census sheets. They told how many houses existed and who lived there at each census, and the occupations gave information about the use of the houses. If you are building the history of an area, houses will only show in the census after they were built.
The questions for this year are shown at https://www.ons.gov.uk/census/censustransformationprogramme/questiondevelopment/census2021paperquestionnaires. Forms will be mailed to each household to be completed by the householder, either on paper to be posted back, or to be answered online. The response must be completed on Sunday 21st March.or as soon as possible after that date.
Welsh Harp water level lowered
Andy Simpson
During January and February 2021 the Canal and River Trust temporarily lowered the water level of the whole Welsh Harp Reservoir to permit inspection of the dam at the Wembley end of the reservoir. To quote their website:
'Third party consultants will be carrying out inspection works at the Brent Reservoir (Welsh Harp) from Monday 25 January until Friday 5 February 2021. (with refilling actually scheduled for 22 February). The inspection works will take place to the main dam head wall, side dam, valve house and upstream draw off culvert. To enable the inspections works to be carried out, the water in the reservoir has been lowered by approximately 1m'. The attached photos were all taken by the author of this note on Thursday 11 February 2021, and clearly show the original pre-reservoir course of the Silkstream north of Cool Oak Lane Bridge, as well as the area south of the bridge looking over towards Wembley where the River Brent
6
also enters the reservoir area. It was an excellent opportunity to get some idea of the original 'lie of the land' before the reservoir was first constructed in 1834-35.
It has also provided a splendid opportunity for local volunteers to remove hundreds of bags of accumulated litter and rubbish deposited by uncaring visitors to the site. It may be several years before the water is lowered to this level again.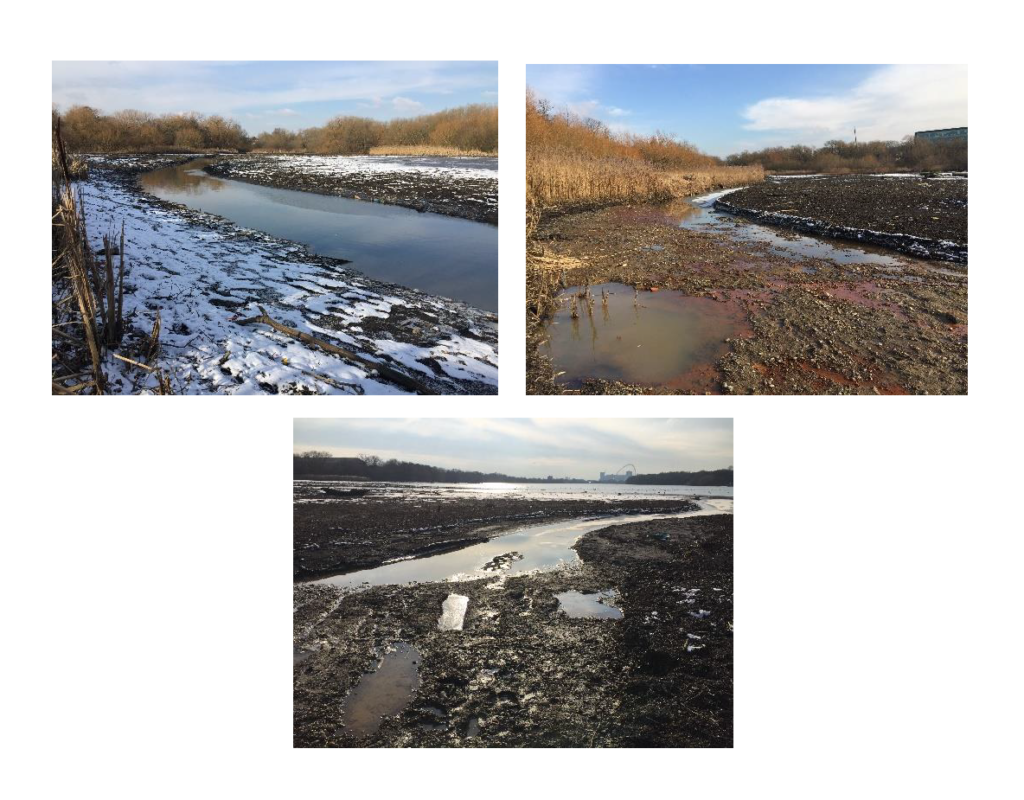 (Note – looking at a map, the boundary between Barnet and Brent is at the north east corner of the Welsh Harp, but the east-west part of the boundary is clearly not a straight line. In fact, it follows the original path of the River Brent. With the water lower, the boundary line can be seen.)
The Great Stink, London 1858
Stewart Wild
It's difficult to imagine living conditions in London only 170 years ago, when overcrowded cities were unhealthy places to live, disease was rife and the stench of horse manure and human waste was pervasive.
7
Deaths from sickness were at a level not seen since the Black Death. In London, with a population of three million, the problem was becoming a crisis. Thousands of homes still had stinking cesspits beneath them and in the poorest areas this vile effluent oozed up through the floorboards.
In 1847 the newly formed Metropolitan Commission of Sewers took action, banning all cesspits and stating that all privy refuse should be discharged in the sewers. This added to the waste from the water closets which had recently become popular among the city's richer residents.
However, the sewers were little more than storm drains, and so the new law simply meant that all human waste flowed straight into London's rivers and then into the Thames. As a result, a cholera epidemic (1848–49) killed over fourteen thousand Londoners and the smell over London got worse. Only essential commercial traffic continued to ply the river.
Toshers. In the 1850s and 1860s poor Londoners found a new source of income. Those hardy souls prepared to enter the sewer outfalls during low tide scoured the mud for old metal, coins, clothes and rags and anything else that could be sold later.
These sewer-hunters, or 'toshers', as they were known, always travelled in groups of three or four for safety, armed with a long rake which guarded against vermin, but which could also be used for pulling themselves out when they got stuck in the mud or sludge.
The venerable social reformer Henry Mayhew, in his London Labour and the London Poor (fourth volume, 1861) estimated that this unconventional trade was worth overall around £20,000 a year, a tidy sum to say the least.
Disraeli's eloquence
Then in 1858 a long very hot summer made the stench unbearable. Tons of chalk, lime and carbolic acid were tipped into the Thames but nothing could mask 'The Great Stink'. Sheets were hung on the riverside windows of the House of Commons and soaked in chloride of lime solution (bleach), to no avail. Prime Minister Benjamin Disraeli described the river as "a Stygian Pool reeking with ineffable and unbearable horror." MPs were forced to act.
Within eighteen days a bill was passed and the railway engineer Joseph Bazalgette (1819–91) was tasked with the vast job of building London's sewers, apparently on the recommendation of Isambard Kingdom Brunel, incidentally also of Huguenot descent.
Bazalgette's genius
Bazalgette and his team began work in 1859 and in the following nine years, and at a cost of £4.2 million (£500 million in today's money) they built four pumping stations, 82 miles of intercepting sewers parallel to the Thames and 1,100 miles of street sewers with outfalls at Barking and Crossness; much of this network is still in use today.
The Observer described Bazalgette's work as "the most extensive and wonderful feat of modern times". The system was officially opened by the Prince of Wales in 1865, although the whole project was not actually completed for another ten years.
The entire network was somewhat over-engineered, with sewer diameters far greater than was needed at the time, but Bazalgette's foresight together with the quality of the brickwork and sound Victorian engineering have meant that the system generally still works well today.
Bazalgette lived at 17 Hamilton Terrace, St John's Wood; he is commemorated by a blue plaque that was placed on the house in the 1970s. Towards the end of his life he moved south of the river, to a house in Arthur Road, Wimbledon, where he died, possibly from overwork, in 1891.
8
He is buried in nearby St Mary's Church in Wimbledon Village where there is a mausoleum to his memory. There is a second memorial on the Victoria Embankment, a major part of his subterranean achievements.
M
ore Boundary Markers
David Willoughby
Following on from Dudley Miles's excellent article on boundary markers in February's newsletter, here is a report from your northern correspondent. I am aware of four boundary markers of Barnet Urban District Council dated 1897 and made of caste iron located in Hadley and High Barnet. Considering their age and that they are made of iron, they are all remarkably good condition with only the merest hint of rust. Two are located close together on Old Fold Manor golf course and predate the course itself by some thirteen years. The second, which is hidden in undergrowth, is located on Hadley Green a little further south and close to the golf course boundary. The final marker is located at the bottom of Barnet Hill, close to the junction with Mays Lane.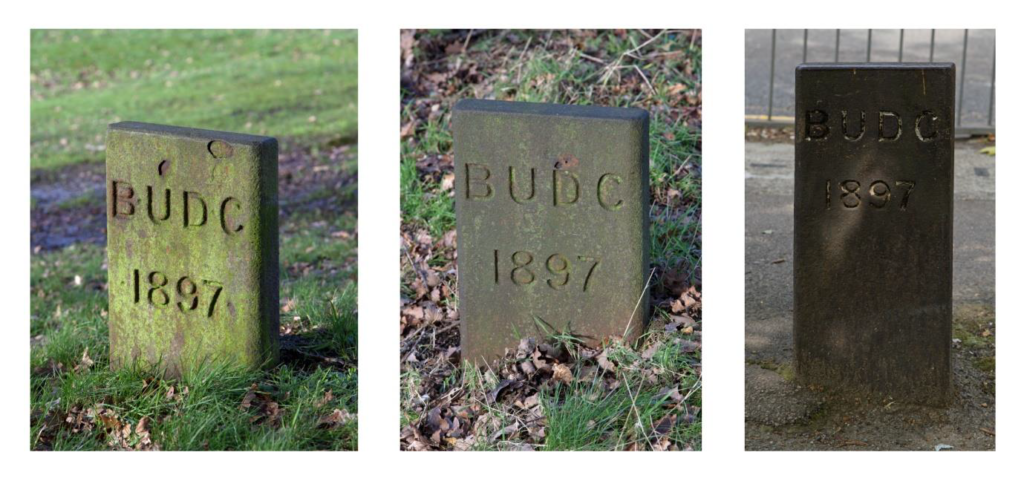 These four markers are dated three years after the formation of Barnet Urban District Council in 1894. The council area was extended subsequently over the years, and was abolished in 1965 when the area was combined with others to form the London Borough of Barnet. Very close to the boundary marker at Barnet Hill is a very different cast iron marker. This is extremely worn and indistinct. However, if enhanced using photographic software it clearly shows a coat of arms of two rampant animals bearing a shield. The coat of arms is not dissimilar to the royal coat of arms of the lion and the unicorn, and above each animal's head there does appear to be a fleur-de-lis-like motif and a crown above the shield itself. There is a pattern above the coat of arms but no text is discernible.
Surprise Discovery in West Sussex
Stewart Wild
Last summer, with a friend who lived nearby, I decided to explore what's left of the Wey and Arun Navigation south of Pulborough in West Sussex. In particular, I wanted to see if I could find the Hardham Tunnel, which carries the canal under the A29 and the main railway line to Arundel and the South Coast.
9
The 375-yard tunnel was completed in 1790 to connect with the Coldwatham Cut that linked meandering parts of the River Arun as part of the plan to provide a safe inland route for goods and supplies between London and the naval base at Portsmouth. This project was finally complete in 1823, long after the Napoleonic wars that made it necessary, and abandoned around thirty years later following the growth of the railways. What made my quest topical was that last year the tunnel was granted Grade II listed status following a campaign by Paul Messis, a local self-proclaimed "history buff".
No tunnel vision
I glimpsed the north portal just off the A29 on the edge of a Council roadworks depot; the south portal remained in the distance across muddy fields and hidden by undergrowth. However, the surprise came when we turned off the main road along a lane which led to the hamlet of Hardham, and which had once been the main route to London before the A29 took all the traffic away on a sort of bypass.
A small sign by the side of the lane showed an arrow and the words '12th-Century Frescoes'. Who could resist finding what this was all about? Fifty yards further on the little church of St Botolph came into view. We parked the car and approached the south door. Would it be open? Yes!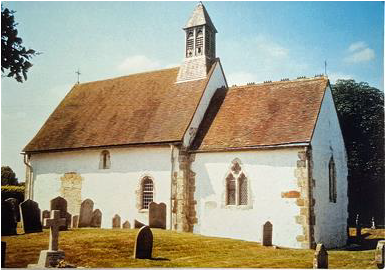 We were alone inside the church and gasped in astonishment: every bit of wall was covered in an array of frescoes featuring Apostles, St George and scenes from the Bible!
______________________________________________________________________________
Hardham is mentioned in the Domesday Book as Heridehem. St Botolph's church is well worth a visit apart from the frescoes and is Grade I listed.
It is a Saxon church dating from c.1050 AD, before the Conquest. Roman bricks and tiles can be seen in the outside walls (the site of a Roman camp/way station on Stane Street is less than half a mile away). The church was modified with more windows in the sixteenth century and in the nineteenth century a porch and a small bellcote were added; one bell is dated 1636.
St Botolph was born in East Anglia and lived in the seventh century (c.620–680 AD). He travelled to France and became a Benedictine monk. He returned to East Anglia and founded a monastery at Iken in Suffolk, near present-day Aldeburgh. He lived a simple life, caring for the poor, the sick and the hungry, and seems to have been revered as after his death dozens
10
of churches were dedicated to him; there are at least three in Sussex and four in London.
Incidentally, Boston in Lincolnshire is a contraction of 'Saint Botolph's town'.
St Botolph's unique frescoes
The wall paintings are in two sections, with an upper and a lower frieze, so to speak. The upper tier is in a much better state of preservation than the lower.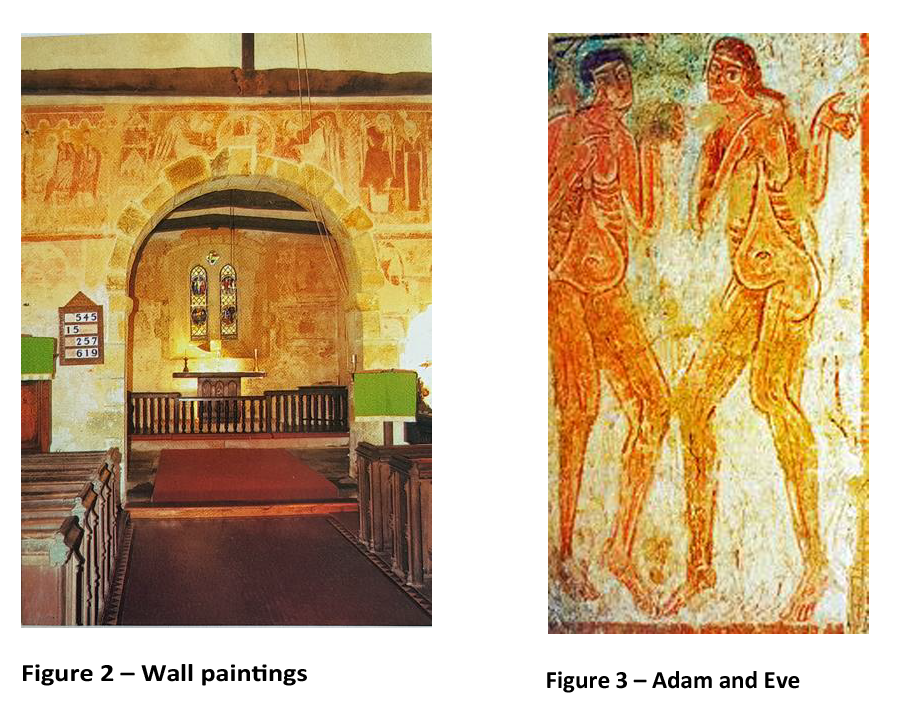 Some of the best and clearest figures are on the west wall of the chancel, featuring Adam and Eve receiving the forbidden fruit from the serpent, depicted as a wyvern. The north wall shows scenes from the life of St George. All the paintings can be illuminated by pressing a light switch.
The colours of pale brown/ochre/pink were no doubt much brighter many years ago. The paintings date from around 1100 AD and are amongst the earliest in the country. At some stage they were covered in plaster and were discovered/revealed in the 1860s. They have deteriorated since, despite conservation work by experts that was carried out in the 1980s and 1990s.
English Heritage are currently investigating the best means of stabilising the humidity in the church to prevent further deterioration. A booklet with a full description of the paintings is available in the church.
When life gets back to normal, a visit to the church can easily be combined with Bignor Roman Villa about five miles southwest, and Amberley Industrial Museum, about six miles to the south. Chichester and Fishbourne Roman Palace are also within striking distance.

CHAS (The Combined Hertfordshire Archaeological Societies) lectures
Lectures as part of the CHAS series need to be booked via Eventbrite. They are free, but there is a limit to the number of tickets available. New talks will be added as-and-when the details become available.
11
CHAS was formed in October 2020 to provide a platform for some of the archaeological groups in the county to be able to run some form of event during the covid-19 pandemic. The five societies involved are: The Welwyn Archaeological Society, The East Herts Archaeological Society, The North Herts Archaeological Society, The Norton Community Archaeology Group and the The South-West Herts Archaeological and Historical Society. Attendance at these meetings is free, but if you are not a member of one of the contributing groups, please consider joining. The usual worries about membership have been magnified by the pandemic.
Current Archaeology Live is online this year from 26-28 February with pre-recorded lectures. Logon via the website on the days. Leading archaeological experts from across the UK will share their latest thinking on all aspects of the past. Talks will then be uploaded to the Current Archaeology YouTube channel www.youtube.com/c/CurrentArchaeology on the weekend of 26-28 February. They will be available all weekend and can be watched in any order.
Film news
For subscribers to Netflix, the film The Dig based on the novel of the same name by John Preston about the excavations in 1939 at Sutton Hoo https://www.nationaltrust.org.uk/sutton-hoo is now available. For the rest of us, we will have to wait until cinemas re-open or other streaming services make it available.
************************************************************************
With many thanks to this month's contributors: Stephen Brunning; Don Cooper; Eric Morgan; Jim Nelhams; Peter Pickering; Neil Redfern; Andy Simpson; Stewart Wild; Susan Willetts; David Willoughby.
************************************************************************
Hendon & District Archaeological Society
Chairman Don Cooper 59, Potters Road, Barnet EN5 5HS (020 8440 4350)
e-mail: chairman@hadas.org.uk
Hon. Secretary Jo Nelhams 61 Potters Road, Barnet EN5 5HS (020 8449 7076)
e-mail: secretary@hadas.org.uk
Hon. Treasurer Roger Chapman, 50 Summerlee Ave, London N2 9QP
(07855 304488) e-mail: treasurer@hadas.org.uk
Membership Sec. Stephen Brunning 22 Goodwin Court, 52 Church Hill Road,
East Barnet EN4 8FH (0208 440 8421) e-mail: membership@hadas.org.uk
Website at: www.hadas.org.uk
______________________________________________________________________________
12