No. 602 – MAY 2021 – Edited by Dudley Miles
______________________________________________________________________________________________________________________________
HADAS DIARY – Forthcoming lectures and events
Due to the COVID-19 pandemic, until further notice lectures and the AGM will be held online via ZOOM, all starting at 8 pm. Apologies to those who are unable to see online lectures.
Tuesday 11th May 2021
Lee Prosser from Historic Royal Palaces
Against all the odds: a surviving medieval building in Barnet High Street.
A talk about timber-framed buildings, with reference to the Barnet Shop.
Tuesday 8th June 2021
ANNUAL GENERAL MEETING
Tuesday 12th October
Vicki Baldwin
Looe: a Story of Sea, Sand and Sardines
Tuesday 9th November
Sam Wilson
Battlefield Archaeology: Barnet 1471
HADAS gets up Steam
by Jim Nelhams
Before the coming of the railways, and the realisation that they could profitably carry passengers rather than the freight for which they were built, movement around the country was slow. Steam power changed all that, though steam engines died out on British Rail in the 1960s. Most HADAS members remember steam trains with some nostalgia, so our trips have tried to fill the gap.

Luckily, there are a number of "heritage" railways around the country operated by eager volunteers, including our own Andy Simpson. There are also several narrow-gauge railways which have appeared in our travels.
Our trip to Hereford in 2009 gave us quite a problem – finding somewhere interesting between the Roman town of Caerwent and our return points in London, and our choice of the Didcot Railway Centre was met with scepticism by some members. However, this proved more interesting than some had expected and included a ride on a seven-foot gauge third class "carriage" – actually a flat bed truck with benches, behind a replica engine as designed by Brunel. This triggered memories of the smell of the steam trains on long-ago holidays at the seaside.
Frances Radford was seen sponsoring the newly built engine, 60163 "Tornado", and Audrey Hooson was noted inspecting an old mail coach such as had provided a job for her father. In the end, all seemed happy.
Norfolk in 2010 saw a trip on the Mid Norfolk Railway from Dereham to Wymondham Abbey, with the added treat at Wymondham of watching the locomotive which had hauled us change from one end of the carriages to the other so it could also lead on its return journey. On this trip, we also visited the Forncett Steam Museum to see some static steam engines, very close to the tank museum we explored in 2018.
1
2011 took us to the Isle of Wight, where we booked a ride on the Isle of Wight Steam Railway from Smallbrook Junction to Havenstreet. Getting to Havenstreet from Sandown meant a trip on the Island Line, which runs trains between Shanklin and Ryde Pier. The train pictured right is quite unusual, a public railway running along a pier, and using red carriages originally used on the Northern Line from 1938. These trains are due to be replaced in May 2021 by larger refurbished London Underground carriages from the District Line, the first of which reached the island on 26th November 2020.
Our trip to Canterbury included a visit to Dungeness, which is the southern terminus of the Romney Hythe and Dymchurch Light Railway. We took a ride to New Romney. This 15-inch gauge railway using scaled down locomotives runs along the Kent coast for nearly 14 miles, providing a scheduled public service. For some children, it is their only way to get to school.
Once we arrived at New Romney, there was an opportunity to visit the large model railway layout at the station, and to admire several other RHDR locos. No more railways were scheduled into our trips until the visit to the East Anglia Transport Museum in 2018, where a miniature railway provided short rides. During this trip, we visited Bressingham Gardens – with standard and narrow-gauge railways. Only one of the narrow-gauge railways was operating, but it did give us a 20-minute ride out into the countryside.
Our visit to Swansea in 2019 included the National Waterfront Museum. Built on what was once a busy dockside, it is criss-crossed by railway tracks still in situ, some running through the Museum. One of their proudest exhibits is a replica of a Richard Trevithick engine designed in 1804, which sits on one of the tracks. This was not in steam when we called, but it does work.
We have also sampled several other forms of transport, but that's for another article.
Weymouth Tour
by Jim Nelhams

Micky Watkins sends the following message about the trip that she was hoping to organise.
"Unfortunately only six people have shown interest in this proposed Group Tour and this is not sufficient to constitute a group. So I have had to cancel the proposed tour. Perhaps some people would still like to go to Weymouth. Terry Dawson is booked to go on 6th September and if other people want to join him, Shearings still has vacancies in four double rooms. I am sure you could visit Dorchester and Poole by bus. I will not go myself as they have no single rooms and charge an additional £150 for a single person in a double room!"
2
1
00 Year Old Member
by Don Cooper
Jean Neal will be celebrating her 100th birthday on 29th April. She joined HADAS in 1975 and is a current member. She and Tim were strong supporters of HADAS. She worked at Bletchley Park and went on the Society's visit there in the 1990s and wrote a piece for the Newsletter. In 2019 she was awarded the Legion D'Honneur by the French Government for her work at Bletchley and the UK Government have now decided that she should be awarded the Defence Medal.
On behalf of the HADAS committee and members we wish her a very happy birthday.
History of Water Supply and Sewerage Management in Finchley

(1)

by Dudley Miles

Water supply
In the middle of the nineteenth century, the population of Finchley was rapidly expanding, and the water supply was inadequate and often contaminated, but in 1866 the vestry, always anxious to save money, declared that it was not necessary to do anything about it. However, in the same year The East Barnet Gas and Water Company was established by Act of Parliament. The Barnet Press for 11 September 1869 reported that the company was about to lay water mains in Whetstone, and landlords were urged to have their properties connected on the ground that the resulting reduction in fevers would result in a more regular payment of rents. By another Act of Parliament in 1872 the company became part of the Barnet District Gas and Water Company. Over the next thirty years, there were many complaints, such as one in 1881 that the water "was insufficient in quantity and too hard for domestic use". Supply was inadequate to meet the rapid expansion of the population. Another problem was that the extraction of water north of Barnet lowered the water table so much that local wells dried up, and at one stage the company had to buy water from the New River Company. In 1880, Henry 'Inky' Stephens installed his own water tower, which still survives, to supply Avenue House. Some houses were still being supplied by wells contaminated with sewage in the 1880s. In 1901 the district council complained that the water rate was too high, and the company justified it by saying that expensive deep boring had been necessary. (2)

The company changed its name to Barnet District Water Company in 1950 following the nationalisation of the gas industry. In 1960 it became part of the Lee Valley Water Company, and this in turn became part of Three Valleys Water plc in 1994. This company and its predecessors had been owned by the French multinational company Veolia since 1987, and it changed its name to Veolia Water Central Limited in 2009. Veolia sold the company in 2012, and it changed its name to Affinity Water Limited, which as of 2021 is owned by a consortium including the German Allianz Group. (3)

Sewerage
Unlike water supply, in Finchley sewerage was the responsibility of local government until the late twentieth century. Sewerage was a major problem in the mid-nineteenth century, and in 1867 complaints to the Home Secretary led to an enquiry. The inspector warned that Finchley was in poor sanitary condition with polluted streams and pools, and many houses were being built without sewers. A cholera outbreak led to the construction of sewers and tanks, but these were full within a year. The Public Health Act 1872 established sanitary authorities, and in 1874 several alternative sewerage schemes for the whole of Finchley Parish were submitted in a report to the Rural Sanitary Authority of Barnet Union, but the Finchley Vestry rejected all of them on the ground that there were conflicting scientific opinions on the best method of disposing of sewage, and it was best to see the results of experiments in other areas before proceeding. In 1878, the vestry appointed a Local Board (formally Finchley Local Board and Urban Sanitary Authority) to exercise local government powers in Finchley, and the Medical Officer of Health

_____________________________________________
(1) I thank Jim Chandler, Professor Emeritus of Local Governance at Sheffield Hallam University, Stephanie Ostrich, Southwark Council Borough Archaeologist, Hugh Petrie, Barnet Council Heritage Development Officer, and Thames Water staff, for helpful assistance and information.
(2) The Victoria History of the County of Middlesex, volume VI, 1980, p. 79; G. P. R. Lawrence, Village into Borough, 2nd ed. , Finchley Public Libraries Committee, 1964, pp. 21-23; Hansard, local and personal acts, HC Deb 10 August 1866 vol 184 c2166; Barnet District Gas and Water Act 1872; Stephens House and Gardens, The Water System
(3) Victoria History, p. 79; Affinity Water, Our history

3

of the new body reported in 1879 that little had changed since 1867. There were sewage farms in Strawberry Vale and Summers Lane, but it is uncertain what area they covered. (4)

Over the next few years, the Thames and Lea Conservancy Boards complained several times about the pollution of streams and watercourses in Finchley, and a number of sewerage schemes were proposed. In 1882 the Board recommended a parliamentary Private Bill for the sewerage and improvement of Finchley, but this was rejected by the ratepayers by 880 votes to 383. In an 1890 report, Francis Smythe, who became Surveyor and Inspector of Nuisances to the Board in the late 1880s, condemned the rejection as "penny wise and pound foolish", as a private Act would have saved great expense in the long run. A sewerage scheme proposed by the then Surveyor, G. W. Brumell, in 1883 encountered so much opposition that it was rejected in favour of his alternative, and in Smythe's view, inferior one. This was approved by the Local Government Board in 1884, together with a £60,000 loan to pay for it. The first contractor appointed went bankrupt, causing delay and extra expense, and work finally commenced on 30 March 1885. The Finchley Local Board had to apply for further loans totalling more than £24,000 to cover additional costs. According to Smythe, these were necessary mainly to cover costs not allowed for in the original estimate, such as easements and compensation to landowners for crossing their land. These expenses were high because most property owners demanded exorbitant sums for access to their land, and it was cheaper to pay up than to dispute them. (5) Even after its completion there were still many complaints, and sewerage featured in a long running dispute between Frederick Goodyear of North Finchley and Henry Stephens. In 1897 bacteriological treatment of sewage was introduced. (6)

In 1895 the Local Board was replaced by Finchley District Council (officially Finchley Urban District Council), which became the Municipal Borough of Finchley in 1933. It retained management of sewerage until responsibility was transferred to Middlesex County Council in 1938. Sewerage passed to the Greater London Council when the county council was abolished in 1965. The Water Act of 1973 removed sewerage from local authority control, and the Thames Water Authority took over; it became Thames Water plc on privatisation in 1989. (7)

Stink pipes
Stink pipes were a fascinating feature of nineteenth and early twentieth century sewerage management. Formally called sewer ventilation pipes or ventilating shafts, they prevented the build up of flammable and noxious gases in sewers. Many have been removed over the past hundred years, but a considerable number still survive. A few are designated as Grade II Listed Buildings, although none in the London Borough of Barnet. Stink pipes in Barnet are maintained by Thames Water. The surviving pipes in Finchley are made of iron and many have peeling paint, but a few look well maintained. Some have lost their top part and a number only survive as stubs, but intact ones continue to serve their original purpose. The modern method of getting rid of sewer gases is through pipes which run from toilet waste conduits and up the sides of houses.
I have surveyed the area of the former Finchley District Council for stink pipes and I believe that I have found almost all of the surviving ones.

_______________________________
(4) Victoria History, pp. 78-80; Village into Borough, pp. 21-22; The Sanitary Record, 3 January 1879, p. 16; History of Finchley Sewerage Schemes by Francis Smythe, Finchley Local Board Surveyor, report for the chairman and members of the Investigation Committee, 6 August 1890, pp. 1-2, 5, 9, ACC23520/2/1800, Barnet Council Local Studies and Archives
(5) History of Finchley Sewerage Schemes, pp. 1-21; The Sanitary Record, 15 December 1884, p. 268
(6) Victoria History, pp. 78-80
(7) Victoria History, p. 78-79; The Surveyor and Municipal and County Engineer, volume 88, 5 October 1957, p. 1037, describing the Middlesex County Council (Sewerage) Act 1938; Greater London Council, London Metropolitan Archives; Thames Water plc – Company Profile, Information, Business Description, History, Background Information

4

They date to the late nineteenth and early twentieth century, and the great majority are inscribed with the name of the manufacturer.

Henry John Rogers supplied most stink pipes until his death in 1910. In the 1911 Ordnance Survey maps for mid and north Finchley, all his pipes are in roads which are shown on the maps, whereas most pipes made by other manufacturers are in roads which are not shown.8 His pipes all have his logo, shown in the photograph on the next page.

Rogers was born at Watford in 1846. He trained as an engineer in Crewe at the London and North Western Railway and then worked in the South African mining industry. In 1885, after his return to England, he became a member of the Institution of Mechanical Engineers. In the same year he bought an engineering works in Watford which specialised in paper making, and he later took out several patents for improvements in the straining of paper pulp. His work was diverse, including carrying out major electrical machinery contracts, and shortly before he died he built a gas compression plant. (9)

The second most common stink pipes are inscribed 'J. Gibb & Co Ltd'. They are almost identical to the Rogers design, apart from using an angular style of zigzag decoration, whereas the zigzags on the Rogers pipes are shallower. Gibb's stink pipes are usually inscribed with the name of the council and the company also made pipes for Friern Barnet Urban District Council. They must have been manufactured after November 1904, when James Gibb & Co Limited was incorporated. Stink pipes made by other manufacturers have a simpler design, perhaps suggesting that they were made later.

The sewerage scheme of the late 1880s included ventilating shafts (stink pipes), and a list of excess expenses includes £109 6s for one in Whetstone. Smythe commented in his 1890 report: "The erection of ventilating shafts though a matter of time will eventually prove a boon to the District". (10) Installation probably ceased around the time of the First World War as all the surviving stink pipes were made by businesses which started trading before 1910.

Street ironware
Henry Rogers supplied storm drains and manhole covers in Victoria Park, which opened in 1902. There are also a few of his storm drains, manhole covers and fire hydrants in Finchley streets. James Gibb seems to have been the main early supplier of storm drains. Most are inscribed J. Gibb and Co Ltd, but ones with 'James Gibb & Co' are also common, and these must date to between the late 1880s and Gibb's incorporation in 1904. (11) He also supplied a few fire hydrants and manhole covers on pavements, but like the stink pipes they are all inscribed with the name of the limited company, dating them to after 1904. The only Gibb manhole covers I have seen in a road are in a quiet cul de sac, perhaps because those in busier roads could not stand up to a century of traffic. Gibb's name is found on street ironwork outside Finchley, and a storm drain made by James Gibb & Co for Southgate Local Board is dated 1893. (12)

Some circular manhole covers in Finchley were made by A. C. Woodrow & Co. of 34 High Holborn. Most are inscribed FUDC for 'Finchley Urban District Council'; a few have 'Borough of Finchley', so must date to after 1933, when Finchley became a municipal borough. These manhole covers are either inscribed 'SEWERAGE' or 'SURFACE WATER'.13 Alexander Charles Woodrow born was in 1894 and his business is first recorded in 1923. (14) The most common manhole covers, which are triangular with rounded corners, are inscribed 'Broad & Co. Ltd' and 'Borough of Finchley'. (15) There are also storm drains manufactured by Woodrow and Broad.

___________________________________
(8) Mid Finchley 1911 and North Finchley 1911, Old Ordnance Survey Maps, The Godfrey Edition
(9) Henry John Rogers, Grace's Guide to British Industrial History
(10) History of Finchley Sewerage Schemes, pp. 12, 19, 28
(11) Companies House ; James Gibb & Co, Grace's Guide. James Gibb and Co started trading in 1876 and the business incorporated as James Gibb and Co Limited on 30 November 1904, company number 82716. James Gibb died in 1930. The company ceased trading in 1984 and was dissolved on 18 April 1988.
(12) A storm drain in Brownlow Road, N11, is inscribed 'James Gibb & Co', 'Southgate Local Board' and '1893'.
(13) Most manhole covers inscribed 'FUDC' and 'SEWERAGE' or 'SURFACE WATER' have no manufacturer's name, but they are of a similar design as the Woodrow ones and probably also made by them.
(14) Alexander Charles Woodrow, Grace's Guide and A. C. Woodrow and Co, Grace's Guide
(15) Broad and Co was established 1882, incorporated in 1896 and was taken over by Travis Perkins in 1975. See Broad & Co, Grace's Guide and Travis Perkins, Grace's Guide.

5
Stink pipes in Finchley District
Inscribed 'H. J. Rogers, Engineer, Watford'
• Church Path, near Woodside Park Road
• Durham Road near Leicester Road
• East End Road near Stanley Road
• Elmfield Road
• Fairlawn Avenue
• Corner of Finchley High Road and Christchurch
Avenue
• Corner of Finchley High Road and Hertford Road
• Finchley High Road near Oak Lane
• Corner of Friern Park and Grove Road
• Hall Street
• Hendon Avenue near Hendon Lane
• Corner of Hendon Lane and Crooked Usage
• Corner of Hendon Lane and Cyprus Road
• Holden Road near Laurel View
• Lansdowne Road (1)
• Lansdowne Road (2)
• Lichfield Grove
• Lincoln Road
• Long Lane near Cromwell Road
• Long Lane near Font Hills
• Long Lane near St Paul's Way
• Lovers Walk west of the railway line, no inscription but has the Rogers logo and decoration
• Lovers Walk west of Ballards Lane, no inscription but has the Rogers logo and decoration
• Nether Street near The Grove
• Regents Park Road near North Crescent
• Squires Lane near Queens Avenue
• Torrington Park near Friary Road
• Corner of Woodhouse Road and Penstanton Avenue
• Woodside Grange Road near Grangeway
Inscribed 'J. Gibb & Co Ltd, London' and 'Finchley District Council'
• Windermere Avenue near East End Road
• Friern Watch Avenue near Finchley High Road
• Hervey Close
• Ridgeview Road near Woodside Lane (no council
inscription)
• Manor View
• Holmwood Gardens
• Penstanton Avenue, behind fence but has Gibb style
decoration
Inscribed 'Wm E Farrer Ltd, Birmingham' (William E Farrer Ltd incorporated 1909 (16)
• Nether Street near Coleridge Road
• Nether Street near Birkbeck Street
_________________________
(16) Companies House. See also William Edward Farrer, Grace's Guide.
6
Ham Baker & Co Limited (incorporated 1901 (17))
• Long Lane near Dukes Avenue, inscribed 'Ham Baker'
• Westbury Grove, inscribed 'Ham Baker & Co Limited, Engineers, Westminster'
Inscribed 'Broad & Co Ltd, No. 1, London'
• Chalgrove Gardens
Inscribed 'Adams Hydraulics Ltd, York' (incorporated 1903 (18))
• Gordon Road near Elm Park Road
Others
• The Ridgeway near St Paul's Way, no inscription
• The Ridgeway near Willow Way, no inscription
• St Paul's Way, no inscription
• Wentworth Avenue, no inscription
• Courthouse Gardens, illegible inscription
• Briarfield Avenue, illegible inscription
Some stink pipes in other Districts
Friern Barnet Urban District
Inscribed 'J. Gibb & Co Ltd, London' and 'Friern Barnet Urban District Council'
• Friern Park (no council inscription)
• Ashurst Road
• Horsham Avenue
• Bramber Road
• Chandos Avenue (photographed by Bill Bass)
Barnet Urban District
• Shelford Road, inscribed 'Broad & Co Ltd, London'
• Quinta Drive, no inscription
• Cherry Hill, no inscription
• Dale Close, inscribed 'A C Woodrow & Co, London'
• Raydean Road, inscribed 'JNS'
• Fairfield Way, no inscription (name plate missing?)
• County Gate, no inscription
• By Dollis Brook north of Horseshoe Lane, no inscription
Hendon Urban District
• Corner of Finchley Road and Helenslea Avenue, no inscription
• Finchley Road near Hayes Crescent, inscribed 'Ham Baker & Co
Limited, Engineers, Westminster'
• Finchley Road near Helenslea Avenue, inscribed 'Ham Baker &
Co Limited, Engineers, Westminster'
• Fryent Grove, no inscription (photographed by Andy Simpson)
• Brookfield Avenue/Wise Lane, no inscription
East Barnet Urban District
• Shaftesbury Avenue, inscribed 'Adams Hydraulics Ltd, York'
(photographed by Don Cooper)
See here for photographs of stink pipes.
_________________
(17) Companies House. See also Ham, Baker and Co, Grace's Guide
(18) Companies House. See also Adams-Hydraulics, Grace's Guide
7
This map covers Finchley District, apart from two small areas which are off the map. It shows the district boundary and the location of stink pipes.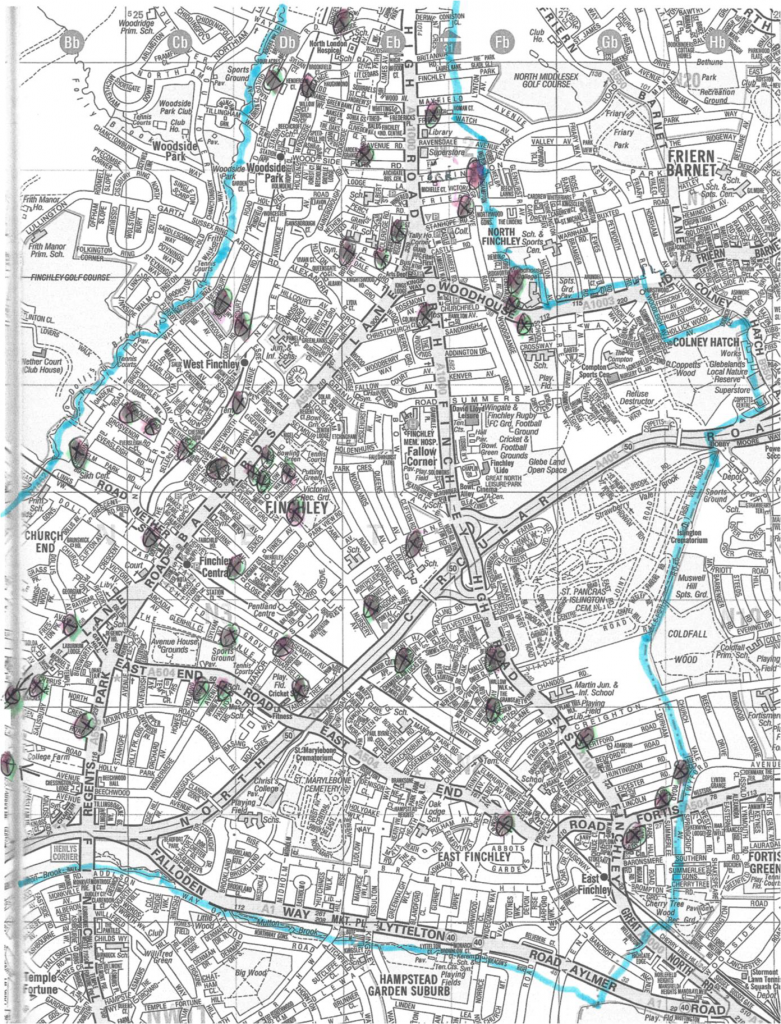 8
Missing stink pipe
by Stewart Wild
There is one Finchley stink pipe missing, both literally and figuratively. There used to be one at the end of my road, in Regents Park Road (outside Zizzi restaurant) opposite Cyprus Road. About nine or ten years ago a vehicle mounted the kerb and collided with it. Being made of cast iron, the pipe fractured about four feet above the ground, and the top part of the pipe was left lying on the pavement for several days.
Council workmen came and removed the broken pipe, and taped up the remaining stump. A few days later they returned to remove the stump and the only remaining evidence now of the pipe's former existence is a pavement slab that is different from the rest.
I am surprised that Stewart does not mention noticing a stink from the stump! Ed.
Thames Tideway archaeology
by Melvyn Dresner
Jack Russell, Lead Archaeologist for the Tideway project, gave HADAS members on the 9th March 2021 an insight into archaeology uncovered in advance of the Thames Tideway – the super sewer being built under the Thames. He said the super sewer was designed to stop the frequent pollution of the river Thames, and he explained that the system has not been fundamentally altered since Sir Joseph Bazalgette's system from the 1860s, even though the population was 2 million people when it was built, and the 2019 population was 8.8 million, with projection of 16 million by 2160.
The super sewer under construction is 25 kilometres long, 7.2 metres wide, 31 to 66 metres deep with a peak capacity of 1.6 million cubic metres. Archaeology has been investigated throughout its length at various locations including drive sites (for launching the 7.8 m diameter tunnel boring machines, e.g. Kirtling Street and Chambers Wharf) and intercept sites (Barn Elms). He explained that as well as creating a new sewer the project would create new public places next to the Thames, would move 3.3 million tonnes of material by water along the river, and support local jobs and apprentices, including for ex-offenders. The tunnel is being bored through London Clay, Thanet Sands and Chalk, as well as alluvium.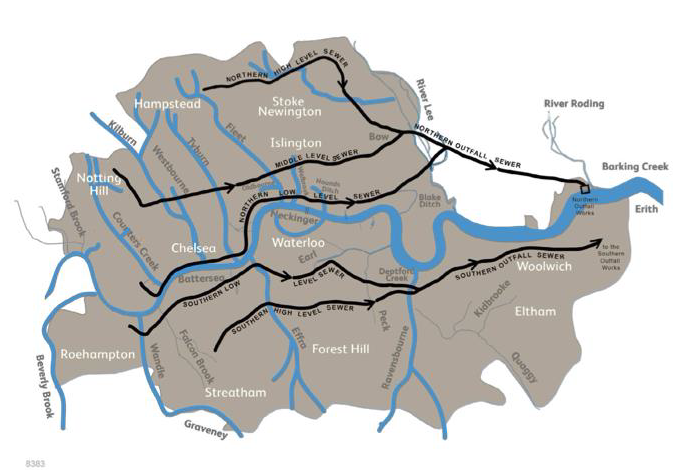 9
Kirtling Street
Kirtling Street is one of the three main drive sites. It is located next to Battersea Power Station and is the largest site on the project, the tunnel shaft diameter is the same as St Paul's Cathedral. This is the mid-point on the tunnel. An acoustic shed was built over the site to protect the local community from construction noise. Finds in the alluvium include part of a human skull and fish traps. The fish traps were made from re-used building timbers dating to the 10th century AD.
The geo-archaeological profile provides information on how the environment and flora change over several thousand years, which will be very useful to understand how the local environment changes over time such as tree species. Above these layers was found a dry dock, built out of a barge. This included a well made out of barrel. The barrel came from Finland and was used to transport pitch.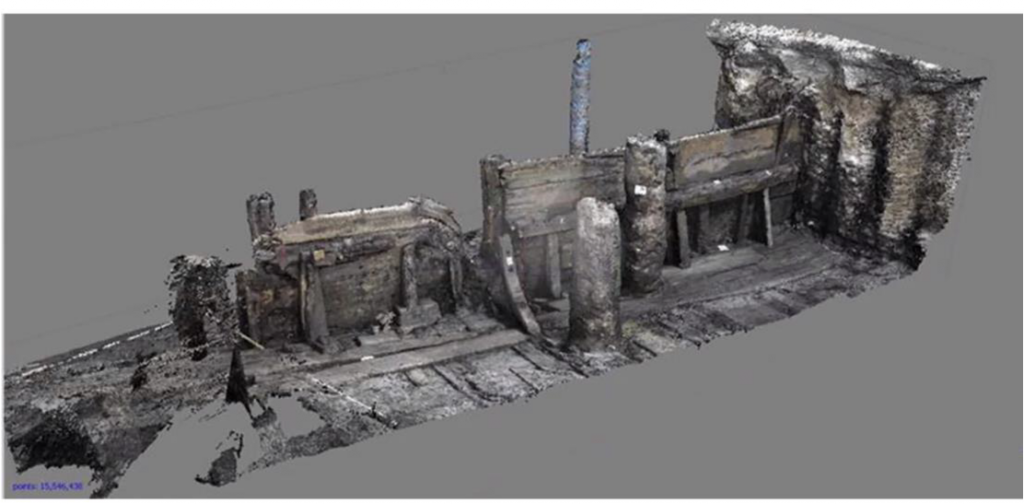 10
Chambers Wharf
Chambers Wharf in Bermondsey in south east London is home to the 'booted man', a medieval skeleton found during archaeological excavation works. Chambers Wharf is one of the three drive sites for tunnel boring. In the medieval period this would have been a marsh. A key feature on site is the Bermondsey Wall (13th century).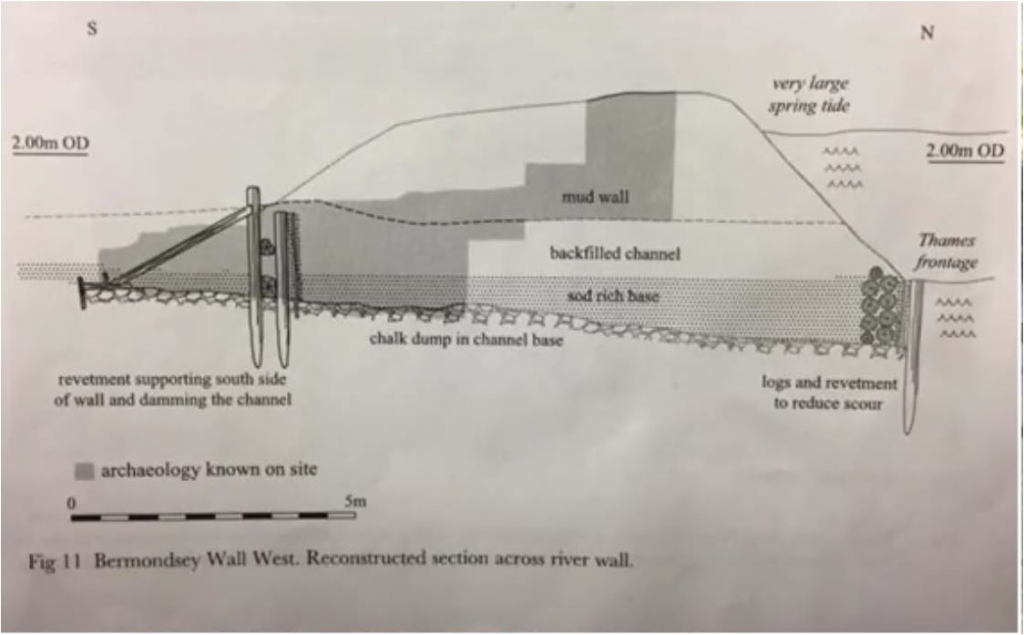 As this is foreshore archaeology, older features are more inland and new features are closer to the river channel. These include 17th century quays and 18th century revetments made from ship timbers, as well as elaborate carved structural timbers. Human remains were found, of a booted man. He had a broken nose and foot, and had cord marks in his teeth. His boots were Italian and filled with moss, part of their water-proofing. As a pair of 15th century thigh high boots they are unique find in being a pair! For more, see The mystery of the medieval man in the mud | Museum of London.
11
Barn Elms
The final site presented was in west London, next to the Beverley Brook at Barns Elms. This was where the Tideway intercepts with West Putney combined sewer outflow. Here the archaeologists discovered an Iron Age village with five roundhouses dating to 500 to 200 BC. Evidence was found for coin minting and there are images of Apollo and a rutting bull. Lipid analysis is under way and wood is being analysed and conserved at the Mary Rose Trust. Around 75% of the archaeology is preserved wood. This site has much still to tell us about the Iron Age, and work continues.
Wars of the Roses stamp issue
by Jim Nelhams
The Royal Mail are releasing a special issue of stamps on 4th May, the 550th anniversary of the Battle of Tewkesbury. Images were released to the internet as we went to press.
Other Battles in the set:
Bosworth
Tewkesbury
Edgecote Moor (sic)
Towton
Wakefield
Northampton
First Battle of St Albans
❖❖❖❖❖❖❖❖❖❖❖❖❖❖❖❖❖❖❖❖❖❖❖❖❖❖❖❖❖❖❖❖❖❖❖❖❖❖❖❖
With many thanks to this month's contributors:
Don Cooper, Melvyn Dresner, Dudley Miles, Jim Nelhams, Stewart Wild
❖❖❖❖❖❖❖❖❖❖❖❖❖❖❖❖❖❖❖❖❖❖❖❖❖❖❖❖❖❖❖❖❖❖❖❖❖❖❖❖
Hendon and District Archaeological Society
Chairman Don Cooper 59, Potters Road, Barnet, Herts. EN5 5HS
(020 8440 4350) e-mail: chairman@hadas.org.uk
Hon. Secretary Jo Nelhams 61 Potters Road Barnet EN5 5HS
(020 8449 7076) e-mail: secretary@hadas.org.uk
Hon. Treasurer Roger Chapman 50 Summerlee Ave, London N2 9QP
(07855 304488) e-mail: treasurer@hadas.org.uk
Membership Sec. Stephen Brunning, Flat 22 Goodwin Court, 52 Church Hill Road,
East Barnet EN4 8FH1 (020 8440 8421)
e-mail: membership@hadas.org.uk
Web site: www.hadas.org.uk
12