No. 603 June 2021 Edited by Melvyn Dresner
HADAS DIARY – Forthcoming lectures and events
Due to the COVID-19 pandemic, until further notice lectures and the AGM will be held online via ZOOM, all starting at 8 pm. Apologies to those who are unable to see online lectures.
Tuesday 8th June 2021
ANNUAL GENERAL MEETING
Tuesday 12th October
Vicki Baldwin
Looe: a Story of Sea, Sand and Sardines
Tuesday 9th November
Sam Wilson
Battlefield Archaeology: Barnet 1471
______________________________________________________________________________________________________________________________
Lost City Churches -Lecture by Signe Hoffos in April 2021
Sue Willetts
This was an informative, entertaining and well-illustrated talk which explained the factors which have led to the loss of many Anglican churches and chapels which once existed in the square mile of the City of London. These losses have taken place over the last 1000 years and have been due to neglect, fires, the dissolution of monasteries and nunneries, iconoclasm during the Reformation, being subsumed / merged with other churches. Losses have been caused by demolition due to the need for street widening and the ever-present pressure for land for housing / business premises. There have been unavoidable losses of churches due to damage during the two World Wars as well as planned losses to cut down the numbers of active Anglican churches, the subject of Lord Templeman's report in 1994 for the Bishop of London. This report led to the re-forming of a support group – The Friends of The City Churches that same year whose aim has been to keep about 20 or so churches open on different days for 4 hours a week and organise walks and talks.
Using evidence from maps such as the Copperplate map of 1559, with its probably realistic representations, the Agas woodcut map (first printed in 1561 and a bird's eye view showing the shapes of churches) as well as church and civic records, it has been estimated that there were some 110 parish churches (Church of England) as well as other civic and private chapels in the City in 1666. The Great Fire that year saw the loss of 80 of these, though some 51 were rebuilt under the direction of Sir Christopher Wren. As the Friend's website explains, today there are 42 places of worship as well as nine towers and standing remains of lost churches. All 51 buildings appear in the National Heritage List for England, fully 38 recognised as Grade I listed. A map available online shows 48 religious buildings, their names and location and includes Jewin Welsh Church, City Temple (URC), St. Ethelreda's Chapel (RC) and Bevis Marks Synagogue. These city churches show an extraordinary range of
1
architectural history from Norman times (the choir of St. Bartholomew-the-Great) through to St. Katherine Cree of the 1630s, to Wren's masterpieces and Hawksmoor's St. Mary Woolnoth – for more details see the FCC Church Finder (london-city-churches.org.uk) where there are images and more information.
Further sources of information are contemporary accounts such as John Stow's 16th century survey, maps in the form of panoramas, one of which is Visscher's map of 1616. The Ordnance survey map of 1873, ward maps of the 18th century, document seals with images, drawings and paintings especially by professional artists / architects, old guide books, LAMAS records, have all helped build up our knowledge of lost / altered / rebuilt churches. The damage caused by bombing in the Second World War provided an opportunity to excavate sites such as St. St. Giles' Cripplegate and St. Bride's – the latter had surviving Roman levels. The loss of one church destroyed apart from its tower in the Blitz, St Augustine's and St Faith's Church on Watling Street has a touching story, in that the Rector's cat, taken in as a stray in 1939 and named Faith survived with her kitten which she had taken for safety to the basement several days before the bomb hit.
One unusual example of a rebuild – but not in London – is that of St Mary Aldermanbury, near London Wall, destroyed by the Great Fire, rebuilt by Wren, then gutted by the Blitz in 1940, leaving only the walls standing. The remains were taken Fulton Missouri and erected in the grounds of The National Churchill Museum, Westminster College as a memorial to Winston Churchill.
The recent work in the Barbican area with new high walks (a great improvement on the old ones) has been able to respect the remains of St.Alphage. In another instance a spire from a city church has ended up in Sydenham and a tower from All Hallows, Lombard Street has been transplanted to Twickenham!
Signe's talk was so interesting / packed with information it will have encouraged HADAS members to look out for (and visit when possible) some of the remaining city churches / towers. In addition, there are tiled plaques on walls to find indicating sites of lost churches and some gardens (often with City of London information boards) which survive as remnants of graveyards.
Useful Links included in the article:
http://www.london-city-churches.org.uk/index.html
https://commons.wikimedia.org/wiki/File:Copperplate_Map,_Museum_of_London_1.jpg
https://mapoflondon.uvic.ca/map.htm
http://www.london-city-churches.org.uk/churchfinder.html
https://en.wikipedia.org/wiki/Visscher_panorama
https://www.stgilesnewsite.co.uk/history/
http://www.purr-n-fur.org.uk/famous/faith.html
https://www.nationalchurchillmuseum.org/church-of-st-mary-history.html
St Alphage London Wall: Church Ruins In The Middle Of Moorgate
2
A bit of a mystery
Don Cooper
On my daily Covid-19 walk I came across a plaque/post set in the pavement on Barnet Hill (A1000) just north of the bridge that takes the underground tube into High Barnet Station. It is by the corner of Barnet Hill and Fairfield Way.
This cast metal post, set in the pavement, appears to refer to Barnet Urban District Council and a date of 1897.
According to the archives Barnet Urban District Council was created by the Local Government Act in 1894. Over the years, its size and shape were expanded until it was abolished in 1965.

The plaque is listed on Barnet's Local Heritage List (July 2019) under the following entry:
"Reference HT00915
Significance: Historical Interest
Selection principles: Landmark Qualities, age, and rarity.
Description: A cast metal post that bears coat of arms with animal supporters (perhaps a stag and a lion) but hard to identify shield, probably turnpike trust, whose boundary eame (sic) Urban District and parish boundary."
The coat of arms has completely disappeared, although the letters and numbers (BUDC & 1897) are deeply engraved. I can find no evidence of a relevant turnpike trust. The Barnet Urban District Council initial boundaries were established in 1894 and consisted of parts of the parishes of Chipping Barnet, Hadley and South Mimms Urban. Over the following years various adjustments, mostly enlargements, to the boundaries took place. It is possible that the metal post refers to a boundary marker from that period.
However, Mark Littlefield posted a photo from 1956 on the Facebook site "Barnet – A trip down memory lane" https://www.facebook.com/groups/144875765529910/
and there appears to be no sign of the metal post (see below):
3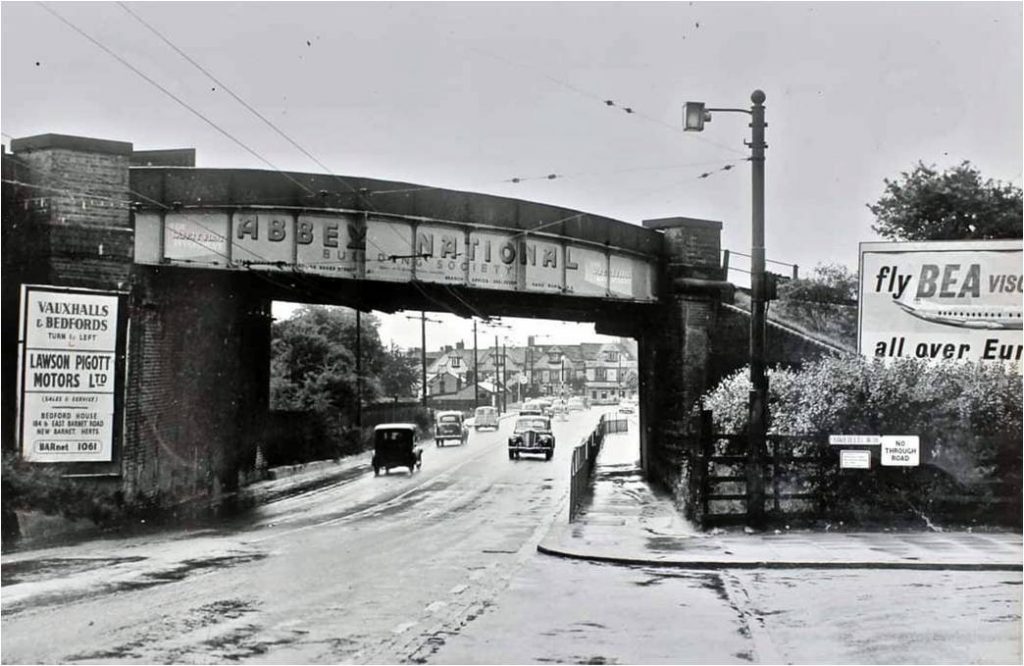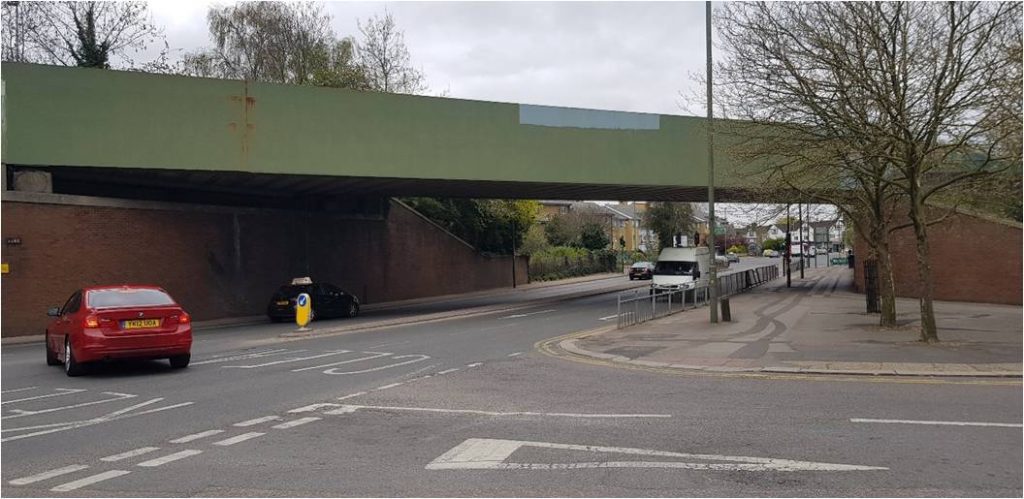 So where was the plaque/metal post in 1956 and why was it put in that particular spot? Please let me know if you can shed any light on this mystery. My email address and telephone are on the last page of this newsletter.
4
Market Place East Finchley – Uncovering its past
Roger Chapman
The Council for British Archaeology (CBA )Festival of Archaeology is being held in July this year and HADAS will be part of it with a test pit project in Market Place, East Finchley
The site.
The site is located off Market Place in East Finchley, London, N2.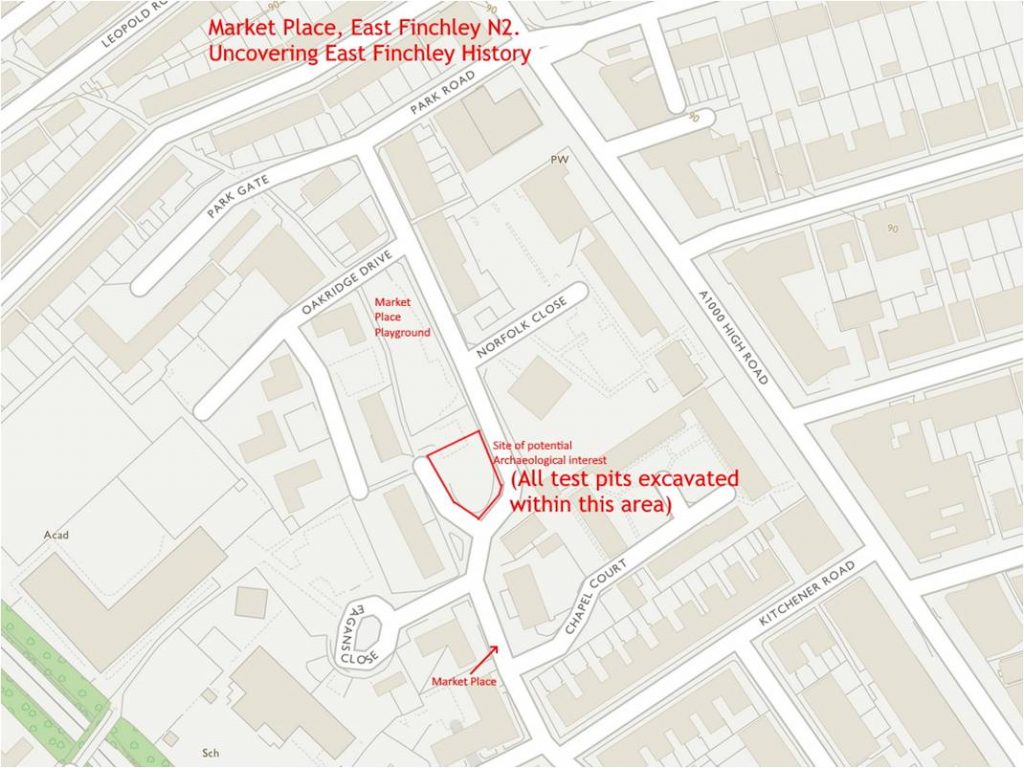 Site Description
Market place is used as a children's playground. Part of the site – that part in which it is proposed to dig the test pits in – is currently a grassed area with a shrub surround and some benches. (see photograph below).
The site abuts Park Road/Market Place on its southern and eastern side and lies opposite Norfolk Close. To its West lies residential properties and Eagans Close which gives access to both Holy Trinity Primary School and the Archer Academy – a secondary school. Lying along the western boundary is The Walks part of an historic walkway through East Finchley which follows the boundary line between what was Finchley Wood/Common and the first settlement of East End, probably through encroachment.
5
Project Aims.
• Contribute to a better understanding of the historical character of the settlement of Market Place and wider East Finchley.
• Identify potential areas for future archaeological investigation.
• Encourage residents of the East Finchley area, particularly younger generations, to engage in their local historic environment and learn aspects of the culture and heritage of the area.
• Introduce locals to archaeological techniques and skills, via excavation of a series of test pits, finds washing and sorting.
• Develop and promote such participation by local groups for future outreach purposes.
Methodology
The test pits will be excavated using the method employed by the CORS (Currently Occupied Rural Settlement) project run by the late lamented Access Cambridge Archaeology unit of Cambridge University. This involves investigating currently-inhabited settlements with 1m2 test pits. A maximum of 3 such test pits will be excavated during the weekend.

The advantage of such small excavations is that each one can be completed quickly and cause minimal disturbance. This is a small open space plot subject to public use.

Why choose this site?
Historically, as noted above, The Walks, which abuts this site, is an historic series of footways which runs parallel to the High Road (Great North Road) and originally denoted the boundary between Finchley Wood/Common and the early settlement known as East End.
6
Barnet Councils pocket history notes that:
"The Market Place takes its name from a large pig market which started around the 1660s. By the end of the 18th century Finchley's pig market was the largest in Middlesex, with market days on Wednesday and Thursday. Pig drovers from as far away as Shropshire would sell the pigs to London butchers or to local farmers. Deals were done at houses with names like The Sow and Pigs. It was said that the pigs were fed on grain that had been used for distilling gin. The highwayman Jack Sheppard was held at The George Inn, after his arrest, disguised as a butcher.
In the 1840s the market had decreased in importance and was only held on Mondays. By the 1890s there were only auctions every few months. However the pig tradition continued and in 1955 25 pigs were kept around Prospect Place and at the Fuel Land Allotments. Prospect Place was built during the 1820s and Chapel Street took its name from the Congregational chapel on the main road. By the 1930s the area was considered in need as many of the houses were small and not suitable for living in.
On 15 November 1940 the area was heavily bombed during the Blitz. Many of the houses were destroyed. In the early 1960s three 11-storey flats were built, the first being opened in April 1960 by Margaret Thatcher, then MP for Finchley. In 1927 Burton's Bakeries built a large bakery on The Walks which by the 1930s was the Merry Miller and Clarks Bakery during the 1960s. It closed after a fire in the early 1980s." 1

Historic mapping also indicates that the area to be tested was occupied.
The 1893 ordnance Survey map overlaid on a modern satellite photograph clearly indicates a range of buildings used to lie under the site. The question is "How far back was this site first developed? It is hoped that these test pits will give us clearer evidence to begin to answer this question.
_____________________________________________________
1 https://www.barnet.gov.uk/libraries-old/local-studies-and-archives/pocket-histories/finchley-friern-barnet-and-totteridge/hog
7
A photograph, believed to be taken at the turn of the 20th century indicates a post office/shops with residential above occupying part of the site – see photograph below. 2
The 1863 OS map also indicates the site was developed. (See below) 3
In earlier mapping the Tithe and Enclosure plans are less clear.
Want to be Involved?
Further details of the time that the dig will operate will be given in the next newsletter. We are already in touch with one member of the public who lived in one of the buildings we are hoping to explore and he remembers a water pump in the backyard.
_____________________________________
2 Photo courtesy of the East Finchley History Project
3 All OS maps reproduced with thanks from National Library of Scotland online records. https://maps.nls.uk/
8
If you are interested in being involved in excavating on the weekend, helping to wash finds or explain to the public what we are doing, please drop Roger Chapman an email. roger.chapman99@btinternet.com
Note about our Printer: Our newsletter printer, Iain Bryson, still operates out of East Finchley and it was his grandfather who opened the Market Place playground when he was an Alderman of Finchley Urban District.


Spot the (Ball) Clay Pipe
Andy Simpson
In early May 2021 work finally started on the replanning of the small triangular Colindale Park site (Colindale Park NGR is TQ2150 8980), sited in Colindale Avenue opposite Colindale tube station and lying between the cutting for the southbound Northern Line towards Brent Cross and Golders Green and the former British Newspaper Library site, now covered by flats. In 1754 the area was a meadow recorded in a surviving field book and map associated with the upcoming sale of the Manor of Hendon as Dock Field, and by 1923 as Colindale rapidly developed, was a 'recreation ground'.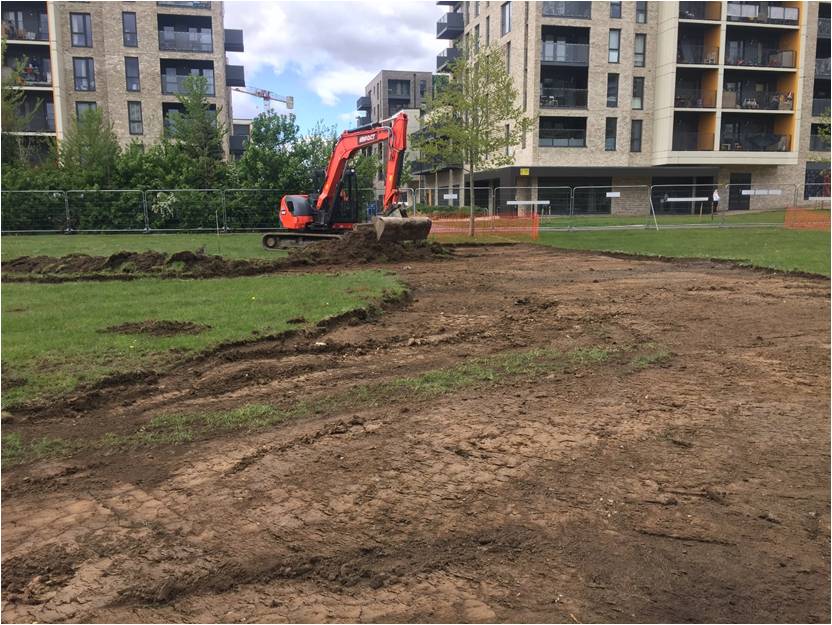 Your reporter has been keeping an eye open for any archaeology – little could be expected here as the site was heavily disturbed by the construction of at least two, possibly four, public air raid shelters which were grubbed out some 40 years ago leaving four sizable hollows in a line to show their position.
In 2010, former resident Ken Hunter recalled them in the 1950s…
Colindale Park was of course our proper playground although unlike the Police College play area we did not have a nice shiny metal slide, only swings, see-saws and a rather dubious sand-pit…
The grass covered air raid shelters, semi-buried in a long line in the park, provided ideal grandstands for the obligatory summer-time cricket matches and doubled up as 'BMX' type runs for our bikes from the top end near the park keepers hut down to the water fountain at the end of Sheaveshill Avenue. All now gone of course even the wire fence and gates which were locked at night to keep us out but which presented only a minor challenge to surmount if we wanted to finish playing…
9
See More Early Days In Colindale – a nostalgic memory of Colindale (francisfrith.com)
Another former local resident, Brian Down, recalled to the author in May 2021
Sorry but I can't remember how many air raid shelters there were, certainly several, possibly three or four. I do remember that there was an L-shaped wall at one end which protected the entrance, sealed up, and they had a round metal tube, probably 18 to 24 inches diameter protruding from the top of each mound with a hinged metal cover over them. It was a few inches off the tube so we could peer through the gap and saw there was a metal ladder inside. Would have loved to open the cover but unfortunately it had a "leg" welded to the cover opposite the hinge with the lower end of that welded to the tube. The mounds were possibly 20+ feet long…
Between them extensive turf stripping for the new park features has revealed what looks like a length of cinder path – and, dear reader, a nice length of clay pipe stem – can you find it in the accompanying photograph? Clue – look for the blue plastic! Sadly it was just out of hand/twig reach beyond the security fence…
By 16 May most of the necessary turf stripping had been completed, with one other piece of clay pipe stem visible, but also unreachable, close to the path paralleling the railway cutting.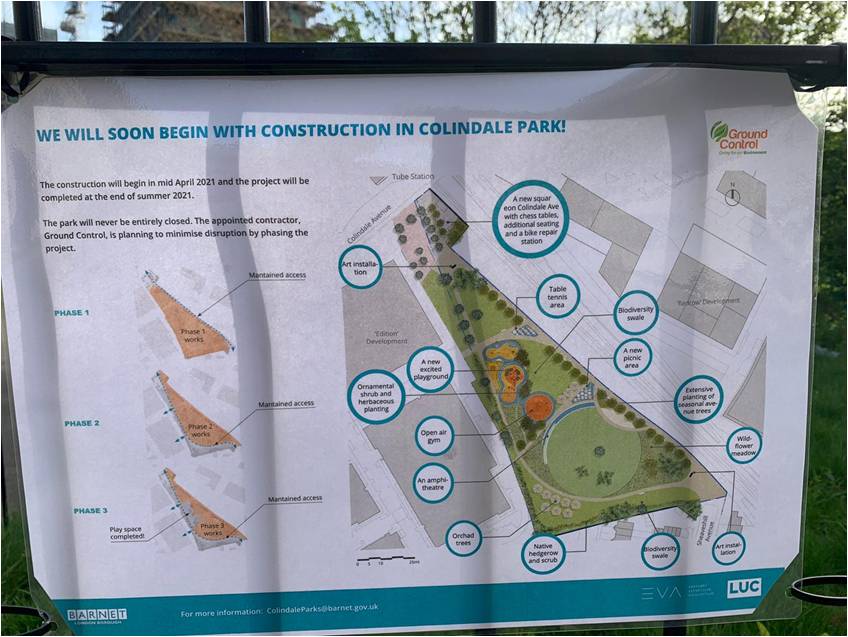 The area later occupied by the park can be seen in two 1921 aerial photographs, beyond the end of Sheaveshill Avenue, and the line of trees running across the site of the future park survives in part today;
EPW006178 ENGLAND (1921). The Titanine Works on Sheaveshill Avenue, Colindale, 1921 | Britain From Above
EPW006300 ENGLAND (1921). British Museum Repository and Colindale Hospital, Colindale, 1921 | Britain From Above
10
These views just predate construction of the London Electric Railway, later the Northern Line beyond Golders Green and Hendon – the three-mile Hendon Central to Edgware section opening on 18 August 1924. Land had been purchased in late 1921, and construction work on this section had commenced in November 1922 by contractors the Foundation Company. Press photographs taken in the Colindale area in January 1923 show narrow gauge steam locomotives hard at work hauling trains of tip wagons full of spoil. The later Titanine Paints factory site is now covered by modern housing.
One in the collection of the London Transport Museum shows the area of Colindale Park to the left;
b/w glass neg, Construction work at Colindale by Topical Press, 12 Jan 1923 | London Transport Museum (ltmuseum.co.uk)
Stripping turf for the remodelling showed around 6-8 inches of dark humic topsoil below the turf, overlying clay subsoil. This was noticeably disturbed along the edge nearest the path paralleling the railway cutting, with clusters of fairly modern disturbance containing brick fragments, modern whiteware sherds and bottle/window glass. A relic of Dock Field – or, Spot the clay pipe stem!

11
❖❖❖❖❖❖❖❖❖❖❖❖❖❖❖❖❖❖❖❖❖❖❖❖❖❖❖❖❖❖❖❖❖❖❖❖❖❖❖❖
With many thanks to this month's contributors:
Sue Willetts, Don Cooper, Roger Chapman and Andy Simpson
❖❖❖❖❖❖❖❖❖❖❖❖❖❖❖❖❖❖❖❖❖❖❖❖❖❖❖❖❖❖❖❖❖❖❖❖❖❖❖❖
Editors needed
Jim Nelhams
During the lockdown, we have managed to maintain a full newsletter each month and hope that the contents have been of interest. There have been no outings, which normally contribute some 20 pages in total over the winter, nor have we had Eric Morgan's monthly list of "Other Societies" events. My thanks to those who have contributed over the months.
We have a rota of editors who put together the newsletters, but as we all get older, several have chosen to retire and our list of names to cover the 12 months is now down to 10 people.
Can you help?
It is not an onerous task, merely collating the articles which are sent in by various contributors and laying them out before they go to our printer. You do not need to write anything yourself, although that would be welcome.
If you feel you might like to get involved, please talk to Jim or Jo Nelhams (contact info below).
Hendon and District Archaeological Society
Chairman Don Cooper 59, Potters Road, Barnet, Herts. EN5 5HS
(020 8440 4350) e-mail: chairman@hadas.org.uk
Hon. Secretary           Jo Nelhams   61 Potters Road, Barnet EN5 5HS  
                                    (020 8449 7076) e-mail:  secretary@hadas.org.uk
Hon. Treasurer          Roger Chapman 50 Summerlee Ave, London N2 9QP
                                    (07855 304488)   e-mail: treasurer@hadas.org.uk
Membership Sec.       Stephen Brunning, Flat 22 Goodwin Court, 52 Church Hill Road,
                                    East Barnet EN4 8FH1 (020 8440 8421) 
                                    e-mail: membership@hadas.org.uk
Web site:                    www.hadas.org.uk
12