No. 604 July 2021 Edited by Paul Jackson


HADAS DIARY – Forthcoming lectures and events
Due to the COVID-19 pandemic, until further notice lectures will be held online via ZOOM, all starting at 8 pm. Apologies to those who are unable to see online lectures.
Tuesday 12th October
Vicki Baldwin
Looe: a Story of Sea, Sand and Sardines

Tuesday 9th November
Sam Wilson
Battlefield Archaeology: Barnet 1471
HADAS 2021 AGM Jo Nelhams
The AGM for 2021 took place using Zoom on Tuesday June 8th at 8pm. It was most encouraging to have 40 members linked in and apologies were received from another 12 members. We are sorry to the members who were unable to participate, but we hope that next year will be different and that we will be able to meet in person again. On the plus side, there were others that had moved away to other areas of the country, who have remained members and were able to link in.
The Chairman, Don Cooper opened the meeting by welcoming those who had linked in. The meeting was chaired by our President, Harvey Sheldon.
The Chairman Don Cooper, Vice Chairman Peter Pickering, Treasurer Roger Chapman and Membership Secretary Stephen Brunning were prepared to stand again and were unanimously returned to office. Jo Nelhams the Secretary for 13 years has stood down from her position and that post is now vacant. Committee members Bill Bass, Robin Densem, Melvyn Dresner, Eric Morgan, Jim Nelhams, David Willoughby, Susan Willetts plus Jo Nelhams who is to remain a member of the Committee and new nominee Susan Loveday were all elected unanimously.
The chairman concluded the meeting with an apology for the problems there had been with the email system with some members not receiving forwarded information.
Following the meeting our President gave a lecture centring on Highgate Wood.
1
Report of AGM lecture on the Highgate Roman kilns by Harvey Sheldon
Peter Pickering
As in previous years, Harvey Sheldon gave us a talk following the AGM. Its centrepiece was the pottery in Highgate Woods, which he dug fifty years ago, but it ranged very widely, from Roman procurators to the Bishop of London (who hunted there), by way of Mortimer Wheeler and early modern navies. Harvey produced some thought-provoking speculations on aspects of the economic life of Roman London.
In Highgate Woods a dozen kilns were found; the pottery functioned from 60 to 140 AD, that is, from very soon after the Roman conquest, but intermittently, in four phases. Some five types of ware were produced, mainly grey in colour (because the kilns were fired for reduction, not oxidation, which would have produced red pottery). Highgate Woods have been managed by coppicing, from early times until recently (the Corporation of London saved them from being sold by the Church Commissioners for development in the 1880s). Harvey's theory is that the trees were harvested seriously at intervals; that there was then enough wood left over to be utilised for firing kilns with local clay. The Highgate pottery would not have been unique: London, like similarly important towns throughout the empire, was surrounded by many woods, which very probably had other potteries in them. Highgate is special only because Highgate Wood has not been lost to development. Digs in London have unearthed far more greyware (two-thirds indeed of all the coarse ware found) than could have been made at the Highgate site alone, so there must have been other kiln sites.
The procurator comes in because he was the Emperor's top financial officer, who would have had oversight of imperial property. The men who made the pots may well have been retired soldiers – they would have had the necessary skills because the Roman army undertook such tasks in-house. The impressive tomb of Julius Classicianus, an early procurator who died in London, as well as the ubiquity of tiles stamped P P Br (procurator of the province of Britannia) demonstrates how important his office was, and a writing tablet showing the slave of an imperial slave spending large sums to buy a female slave of his own indicates the status of the bureaucracy.
And why Mortimer Wheeler and why the navvies? Well, Mortimer Wheeler found people to look and do some recording as so much of London was redeveloped between the wars without care being taken to preserve antiquities, and navies because until the nineteenth century they required phenomenal amounts of wood for shipbuilding.
For those of you who missed (or would like to see again) Harvey Sheldon's excellent lecture on the Highgate Roman kilns, given after the AGM the recording is now available on the HADAS YouTube channel at the following link: https://youtu.be/MkyjpbQgNv0
Unfortunately, this is restricted to members only.
Council for British Archaeology Festival 2021

Bill Bass
A reminder that HADAS as part of the CBA Festival of Archaeology will be digging 3 or so test-pits at Market Place, East Finchley on July 17-18th. Members are welcome to dig, process finds onsite, explain to the locals/public about what we do or just visit. We will be onsite 9.30am – approx 4.30pm each day. Details are in the June 2021 edition of the HADAS Newsletter. For further details please contact Bill Bass bill_bass@yahoo.com or Roger Chapman roger.chapman99@btinternet.com
NB. For more details on the Festival https://festival.archaeologyuk.org/ and other events see their website and search for events by area. https://festival.archaeologyuk.org/find
2
Identifying a Rare Surviving Relic from Finchley's Wartime Civil Defence Stephen Sowerby
The author retains a keen interest in Wartime and Cold War civil defence structures and is always alert to defensive structures within the urban landscape. Having been aware of a squat concrete structure on the green space outside Brook Farm allotments on Whetstone High Road for several years, suspicion eventually got the better of him and he took a closer inspection of the building. Upon examination, the building was clearly a protected structure almost certainly relating to Wartime civil defence activity. Being a long-time member of Subterranea Britannica the author had a good understanding of civil defence structures and the compact size and scale of the building did not suggest it was an above ground public air-raid shelter, which were typically long and narrow.
This shelter's design was characteristic of an Air Raid Warden's post as constructed in the lead-up to the Second World War by the Air Raid Precautions (ARP) organisation. Wardens' posts were typically built from concrete and brick to protect the occupants from flak and falling debris. The post has a side entrance passageway with metal escape hatch built into the opposite rear wall to provide a means of escape should falling debris block the external door. The passageway, which has a door leading to the control room, provided further blast protection to the Wardens inside.
The control room would have been sparsely kitted out with the post's operational sector map on the wall to plot fires and dropped bombs – sectors were no more than half a mile apart in built up areas. Two small air vents are externally visible which would presumably have facilitated electric and telephone cabling into the building. The control room would have had at least one telephone to facilitate two-way communication between the ARP Central Control Room (CCR) operating for this post from the basement of the Town Hall of the then Municipal Borough of Finchley at Avenue House. The CCR received reports from the various wardens' posts during an air raid to prioritise and coordinate the Borough's emergency response services. Wardens' posts were manned 24 hours a day during Wartime and would have been able to utilise messengers on bicycles or motorbikes should telephone lines have become inoperable.
Whilst the author's theorising was all good and well, he really needed to have his hypothesis confirmed by documentary evidence, in which regards he asked the Borough Archivist, Hugh Petrie, if the civil defence records of the London Borough of Finchley confirmed the existence of a warden's post at the location. Whilst the Archivist was initially unable to verify the post from the records, further research resulted in the following findings, which are quoted here in full:
In July 1963 permission was sought by Finchley Borough Council from the Home Office to have the post on Brook Farm Open Space and Arden Fields demolished, as per your description, and that permission was granted. Between the end of the war and that point, the post had been occupied by the Brook Farm Allotments Association. The council got the permission sought, but then they decided to consult the Allotments Association about the matter (November 1963). Following this in April 1964, the post was not demolished, and rented to the Allotment Association. When it ceased to be used by the allotments I could not find out – but it may have been quite recently (in the last 30 years or so).
There were above ground shelters constructed at Brook Farm on the list August 1939 and I wonder if this was converted to a Warden's Post sometime between 1940 – 1945. (Maybe a new purpose build post was constructed during the same period.)
3
The author is therefore satisfied that the archival records confirm the structure is an ARP Warden's post which survived post-war demolition (the fate of most posts) due to its utilisation by the adjacent Brook Farm allotments and being on Council-owned land. The fact that it has become a dumping ground for fly-tipping has helped keep the vandals out.
As regards the future of the building, the author requested that it be accepted onto the Borough's local list of heritage assets which was accepted by the local list committee in May 2021. The author next intends to get the building cleared of rubbish, a metal gate installed, and an explanatory board put on the building explaining exactly what it is. Whilst the building is certainly of no aesthetic value it must have been witness to some incredible Wartime stories and does not deserve to be neglected and forgotten – notwithstanding its rarity. Perhaps the most remarkable aspect of the building's remarkable post-war survival is that it has been hidden in plain sight for so long.
Councillor Stephen Sowerby MA, Heritage & Design Champion, London Borough of Barnet
GOLDERS GREEN STEAM …and a coin hoard!

Andy Simpson
A recent restoration of a classic industrial steam locomotive has a surprising connection to Golders Green.
In 1888, the well-known Hunslet Engine Company of Leeds produced their works number 469, a 22-ton, six-wheeled (0-6-0) tank locomotive. It was produced for Manchester Ship Canal contractors Messrs. T.A.Walker for use in the construction of the 36-mile long canal, built between 1887 and 1893, and was originally named 'Liverpool'. It was sold to another firm of civil engineering contractors, Messrs. Price, Wills & Reeves in 1898, who named it 'Hastings' as one of seven contractor's locomotives used in the construction of the building of the four-mile long South Eastern and Chatham Railway's Bexhill West branch line which opened on 1 June 1902 – the beginning of a very
4
nomadic career around much of England! See Hunslet Works No 469 No 15 Hastings 0-6-0ST – Preserved British Steam Locomotives
Hastings No. 469 Built in 1888 by Hunslet | East Essex Locomotive Preservation Society (essexsteam.org.uk)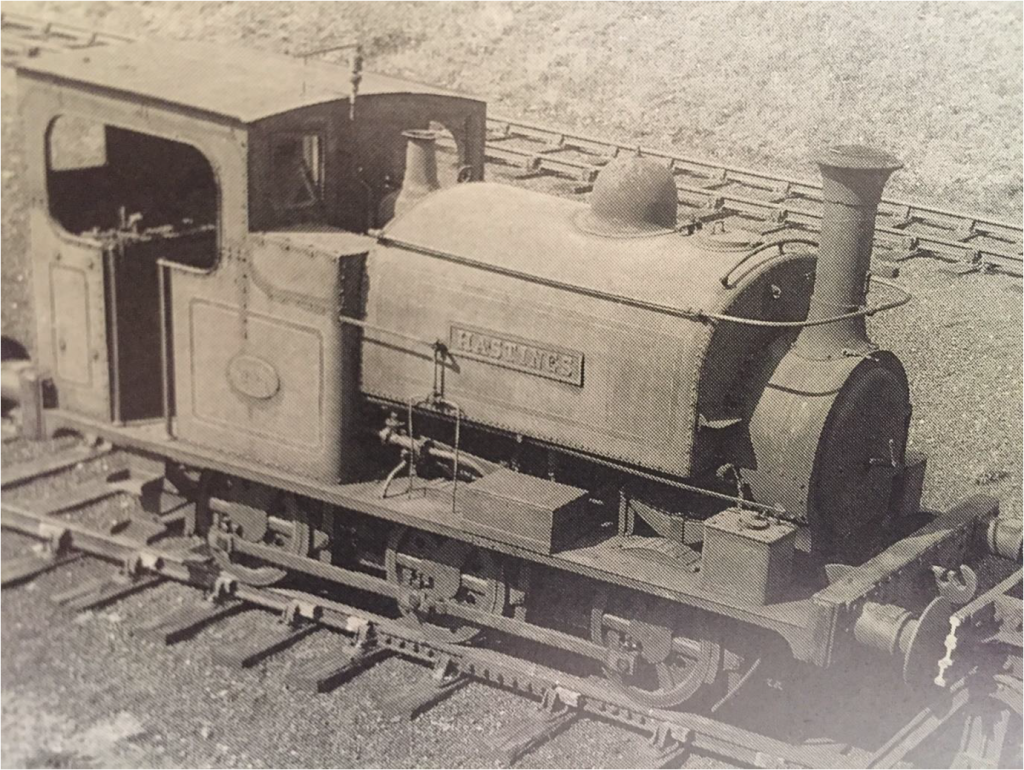 During its time with this firm, around 1905, it was used in the construction of the new Underground Depot at Golders Green, which still stands and is in full use today. The Charing Cross, Euston and Hampstead Railway Company 'Hampstead Tube' line extension through to Golders Green (later the London Electric Railway, and now part of the Northern Line branch to Edgware) was given Parliamentary approval on the 18th November 1902 and the full line opened on Saturday 22 June 1907; the extensive depot itself was built by contractors Bott & Stennett, with work erecting the 600ft long car sheds underway by March 1905 on land purchased from the Ecclesiastical Commissioners in October 1904, which since 1886 had formed part of the Hodford Dairy Farm, formerly Golders Green Farm. Photographs show that by April 1907 the depot contained the new rolling stock for the line but some tracklaying was still continuing using a steam crane. The new stock was delivered, by road, between September 1906 and March 1907, with trial running from May 1907. After withdrawal in the late 1920s, the body of one of these American-built 'gate stock' tube cars survived for many years in use as part of a private dwelling in Edgwarebury Lane, north of Edgware, where it was recorded by renowned transport photographer Fred Ivey.
5
From around late 1906 'Hastings' was used in the construction of Brooklands Motor Circuit, Surrey – the world's first purpose-built banked racing circuit, opened on 17th June 1907. This major project involved the use of six locomotives plus ten steam cranes, one steam digger, seven miles of temporary track and 1,500 labourers to build the 4,730-yard long circuit, along with using up the entire personal fortune of its builder, the Honourable Hugh Locke King.
A further use was in the construction of Immingham Docks, which opened in July 1912. It was also used at the War Department's giant Clipstone Training Camp near Mansfield in Nottinghamshire, which opened in May 1915, and from later in 1915 at the steel manufacturing works of the Park Gate Iron and Steel Co, Rotherham.
In 1935, it moved to Sproxton Ironstone quarry on the Leicestershire/Lincolnshire border, also operated by the Park Gate Iron & Steel Company Ltd, where it worked quarry lines linked to a six-mile long branch line built by the Great Northern Railway, latterly as the standby locomotive until withdrawal in 1957, when it was stored out of use at the end of a siding by August 1960. Loco Preservation – (1) Industrials at Tenterden (irsociety.co.uk)
The former Sproxton Quarry has some archaeological interest as well as being of geological interest for its Middle Jurassic Lincolnshire Limestone deposits, which make it a site of Special Scientific Interest. In June 1961, a hoard of 174 bronze coins was uncovered during ironstone quarrying to the north-east of the village. The hoard ranges from Constantine I to Constantine II, circa AD306-340.
When the quarry railways closed on 18 October 1963 to be replaced by lorries, 'Hastings' was purchased for £250 (equivalent to around £3660 in 2021 prices) for preservation by early preservation pioneers, the Kent and East Sussex Railway later that year, arriving at their Tenterden HQ on 2nd January 1964 courtesy of a Watford – based road haulier with the hope of prompt use. In the event it steamed there only once, on April 18 1965 – owing to the poor condition of its boiler. By mid-1968 it was in original K&ESR blue livery and carried their fleet number 15. Restoration was started in 1975 but it left the line in 1978, passing to a succession of private owners. It is the one of the oldest surviving standard gauge engines built by Hunslet.
(The oldest survivor, 'Trym' of 1883 spent many years in Colindale and will feature in a future article…)
After leaving Tenterden in May 1978 and passing to Resco (Railways) based at Woolwich Industrial Estate as one of a succession of private owners who undertook gradual restoration, including being based at the Mangapps Farm Railway Museum in Burnham on Crouch, Essex from 2002, until purchase by the current owner, Mike Hart, in 2017 who initially based at the Elsecar Heritage Railway, near Barnsley, South Yorkshire, from 7th March 2018; by August the following year it was at Weybourne on the North Norfolk Railway for boiler work.
In 2021 full restoration was finally completed at the Statfold Barn Railway near Tamworth, Staffordshire, where it arrived in May 2020, and where it moved under its own steam for the first time since 1965 on 8 May 2021. It ran in public on the short demonstration line there over the weekend of 12-13 June 2021.
6
Newsletters

Jo Nelhams
Thank you to all members who have contributed many interesting articles during the unprecedented months we have all experienced recently. In past years we have had the articles from the HADAS trips to include, which have been a large part of many newsletters. However, we have had some most interesting and informative articles, which have been noticed and appreciated by many members. The Newsletters are yours, so please keep on submitting any articles, large or small, of interests of yours or places you visit.
Thanks must also go to all those who volunteer as editors each month. They are also part of the team of people who help keep the monthly production of the Newsletters, which keeps the Society in touch with all the members. They have been very important for a number of members who do not have access to the internet.
Editors needed

Jim Nelhams
During the lockdown, we have managed to maintain a full newsletter each month and hope that the contents have been of interest. There have been no outings, which normally contribute some 20 pages in total over the winter, nor have we had Eric Morgan's monthly list of "Other Societies" events. My thanks to those who have contributed over the months.
We have a rota of editors who put together the newsletters, but as we all get older, several have chosen to retire and our list of names to cover the 12 months is now down to 10 people.
Can you help? It is not an onerous task, merely collating the articles which are sent in by various contributors and laying them out before they go to our printer. You do not need to write anything yourself, although that would be welcome.
If you feel you might like to get involved, please talk to Jim or Jo Nelhams (contact info below)
New £50 Note

Jim Nelhams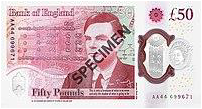 7
The latest polymer bank note – for £50 – came into circulation on 23rd June 2021. As a result, the £20 and £50 paper notes can only be used up to 30th September 2022, though most banks and the Post Office will accept them beyond that date.
The reverse of the new note features Alan Turing of code breaking fame and it came into circulation on his birthday (born 1912). The old note showed engineers Boulton and Watt.
For more information, see https://www.bankofengland.co.uk/banknotes/polymer-50-pound-note
❖❖❖❖❖❖❖❖❖❖❖❖❖❖❖❖❖❖❖❖❖❖❖❖❖❖❖❖❖❖❖❖❖❖❖❖❖❖❖❖❖❖❖❖❖❖❖❖❖❖❖❖❖
With many thanks to this month's contributors:
Bill Bass, Jim Nelhams, Jo Nelhams, Peter Pickering, Andy Simpson, Stephen Sowerby
❖❖❖❖❖❖❖❖❖❖❖❖❖❖❖❖❖❖❖❖❖❖❖❖❖❖❖❖❖❖❖❖❖❖❖❖❖❖❖❖❖❖❖❖❖❖❖❖❖❖❖❖❖
Hendon and District Archaeological Society
Chairman Don Cooper 59, Potters Road, Barnet, Herts. EN5 5HS
(020 8440 4350) e-mail: chairman@hadas.org.uk
Hon. Secretary Vacancy e-mail: secretary@hadas.org.uk
Hon. Treasurer Roger Chapman 50 Summerlee Ave, London N2 9QP
(07855 304488) e-mail: treasurer@hadas.org.uk
Membership Sec. Stephen Brunning, Flat 22 Goodwin Court, 52 Church Hill Road,
East Barnet EN4 8FH1 (020 8440 8421)
e-mail: membership@hadas.org.uk
Web site: www.hadas.org.uk
8