No. 605 August 2021 Edited by Jim Nelhams
HADAS DIARY – Forthcoming lectures and events
Due to the COVID-19 pandemic, until further notice lectures will be held online via ZOOM, all starting at 8 pm. Apologies to those who are unable to see online lectures.
Tuesday 12th October
Vicki Baldwin
Looe: a Story of Sea, Sand and Sardines
Tuesday 9th November
Sam Wilson
Battlefield Archaeology: Barnet 1471
Membership Renewals – a reminder. Stephen Brunning.
Many thanks to everyone who has already paid their subscription. If you intend to renew this year and have not yet done so, I would be grateful to receive payment by 15th September 2021 at the following rates: £15 (Full), £5 (each additional member at the same address), and £6 (student). My address is on the last page of this newsletter.
I should like to remind people that Rule 3(b) of the HADAS constitution states that: "any member whose subscription shall be six months in arrears shall be deemed to have ceased to be a member".
It is not necessary to return the renewal form enclosed with the March newsletter. A piece of paper with your name, postal address, telephone number and email address (if applicable) will suffice. I will then be able check the details we hold are still correct. If you have not already done so, it would also be helpful if you could indicate your willingness to receive the newsletter by email. This helps to keep our costs to a minimum. Thank you.
Newsletters
Although HADAS has not had monthly newsletters since its foundation, we have been active for 60 years and this milestone is reflected in our updated logo. Thanks to Don Cooper for producing this.
And how things have changed. Overleaf you will find the first page of our very first newsletter from October 1969. In recent years, we have been able to add colour photos, and using computers, have made the output more readable.
1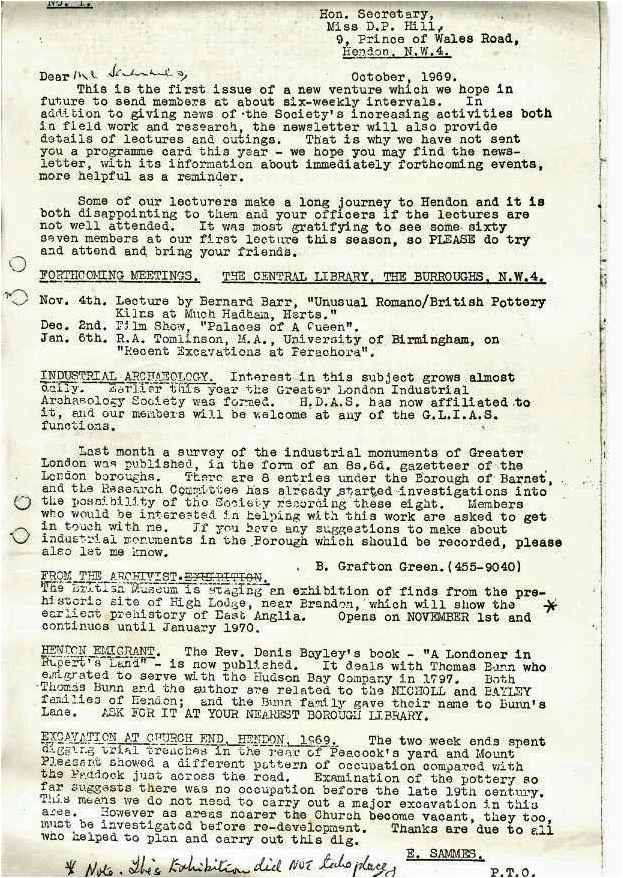 Thank goodness we no longer rely on duplicators.
2
Canterbury Cathedral Stained Glass
Recent news has brought information about the stained glass windows at Canterbury Cathedral, the oldest Cathedral in the country.
Canterbury Cathedral contains over 1,200 square metres of stained glass depicting inspirational stories of men and women, including one of England's largest collections of early medieval stained glass.
A series of panels depicting the Ancestors of Christ is over one of the cathedral's entrances. It was thought for centuries that they were made by master craftsmen in the 13th century.
The art historian Prof Madeline Caviness suggested in the 1980s that some of the panels were earlier than previously believed because they were stylistically different. That suspicion has now been confirmed by a team of researchers from University College London (UCL), who built a hand held device called a "windolyser" to solve the mystery. It can be used on location and doesn't damage the glass, shinimg a beam on to the surface – which causes the material in the glass to radiate. This radiation contains the glass's chemical fingerprint – from which the researchers were able to work out its age. The analysis indicates that some of them may date back to the mid-1100s.
This predates the fire of 1174 which destroyed large parts of the Cathedral, and the murder of Thomas Beckett in 1170.
Opening Up
Although places are opening up, most local societies have either been using Zoom or have no meetings of any sort. It is hoped that this will change soon and Eric Morgan's monthly list of Local Society Events will return to the columns of this newsletter.
Some larger locations have re-opened and are available for visits though to restrict numbers for social distancing reasons, booking may be required. The wearing of masks may be requested.
At Tate Britain
One of Britain's greatest artists, J.M.W. Turner lived and worked at the peak of the industrial revolution. Steam replaced sail; machine-power replaced manpower; political and social reforms transformed society.
Many artists ignored these changes but Turner faced up to these new challenges. This exhibition will show how he transformed the way he painted to better capture this new world. Although primarily a landscape painter, many of his paintings reflect the changes of his time.
The exhibition "Turner's Modern World" has been open at Tate Britain since last October, but closes this year on 12th September. It is open every day from 10:00 am to 6:00 pm.
3
Admission is by ticket only and Tate recommend advance booking. Tickets are £22 though the website adds "concessions available".


The Havering Hoard
Another exhibition closing shortly displays the finds discovered in Havering in 2018. Weapons including axe heads, spearheads, fragments of swords, daggers and knives, alongside some other unusual objects rarely found in the UK, make up a total of 453 bronze objects dating between c.900 and c.800 BC that will be on display as part of the exhibition at the Museum of Docklands.
Admission is free but tickets must be pre-booked. Easy access to the Museum is from Docklands Light Railway stations.
The exhibition closes on 22nd August.
Paddington Bear at the British Library (recommended by Ted)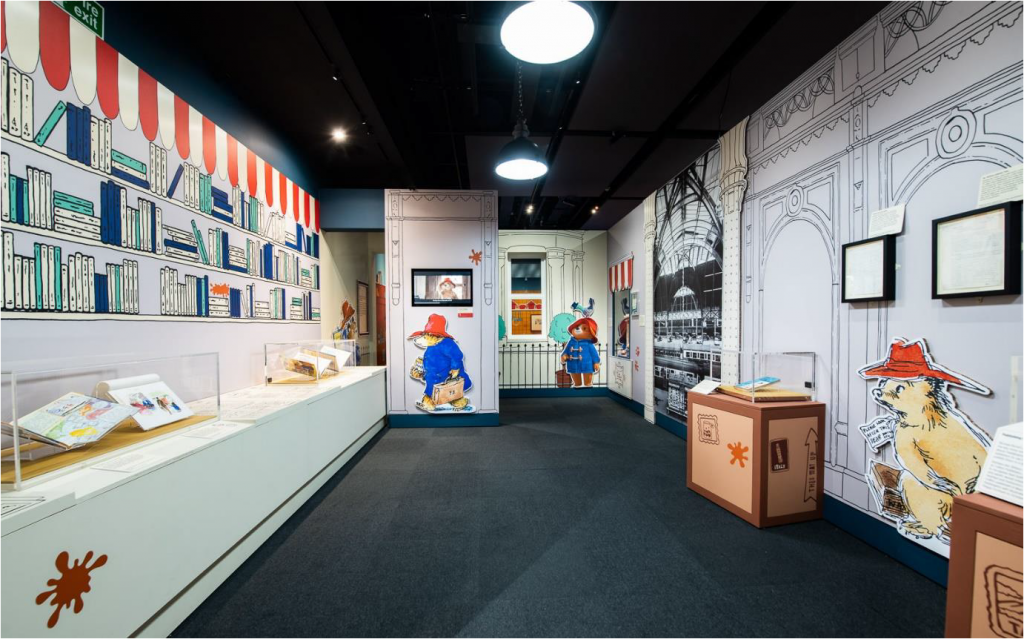 (9 July – 31 October 2021) is a family-friendly exhibition celebrating one of the world's most beloved fictional bears over 60 years on from when he was first published by HarperCollins Children's Books in 1958.
Visitors will journey through Paddington's creation and arrival in the UK from Peru, finding a home with a new family, and his exciting adventures in London and beyond. The exhibition
4
will also explore how author Michael Bond took inspiration from his own life and family in creating Paddington.
The exhibition has activities for visitors to practise their hard stares, take their own self 'pawtrait' and follow the trail of marmalade left by Paddington, as well as a special printed guide for families. Two local primary schools in Camden – Argyle Primary School and Edith Neville Primary School – have been working with the Library since November 2020 to create new content for display in the exhibition for all visitors to enjoy.
Paddington is a timeless and universal story of desire for home, acceptance and a sense of belonging, which appeals to all ages. Featuring books, documents, film clips and original illustrations.
All tickets must be pre-booked.
Families of at least one adult and one paying child receive a 20% discount. Seniors and concession are half-price Mondays-Wednesdays excluding school and public holidays.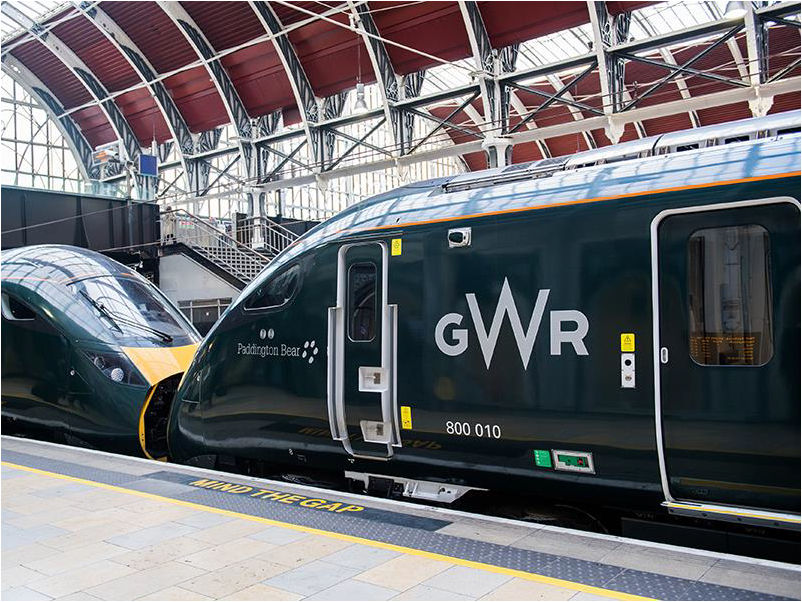 HADAS dig at Market Place, Each Finchley
This dig took place on the weekend of 17th/18th July during the CBA Festival of Archaeology. It gave us an opportunity to publicise archaeology in general and HADAS in particular. A report on the dig itself will appear in a later newsletter.
As part of preparation for the dig Roger Chapman, our treasurer produced a large number of display boards giving information about the area and the dig, and these were displayed in a public area close to the dig itself. Luckily the weather was kind – no rain or strong winds.
For those unable to attend, Roger's short history of the area follows this note.
5
The dig also made the July edition of "The Archer", a free monthly newspaper based in the area. See
http://www.the-archer.co.uk/archive/2021/2021JulArcher.pdf (on Page 12) and no doubt further information will be in the August edition.
**************************************************************************************************************************************
Market Place, (Hogmarket) East Finchley
A short history
The Walks which run along the edge of Market Place playground and continue south to East Finchley underground station and north to the North Circular and beyond lies on the boundary of the historic Finchley Common.
The common along the parish of Finchley's eastern side was a remnant of the woodland which once covered most of northern Middlesex and southern Hertfordshire; known as Finchley wood until the 17th century and later notorious for its highwaymen, it still contained more than a quarter of the parish in 1816. East End and Parkgate, mentioned respectively in 1365 and 1375, together formed a scattered hamlet where East End Road met the Great North Road (now the High Road) at the exit from Hornsey Park. (Hornsey Park was the Bishop of London's Hunting Park in the 12th/13th century whose boundary included the northern edge of Cherry tree Wood and extended to Kenwood, Highgate Wood and Lyttleton Playing Fields in Hampstead Garden Suburb). East Finchley was named East End, Finchley until approximately the 1870s.

The High Road was built through the Hunting Park probably during the late 13th century or the 14th. The hamlet of East End grew up during the 14th century at the exit of the road from Hornsey Park, but it is uncertain whether High Road then followed its current route across the Common, as it did by the 16th century, or whether it followed East End Road through Church End and along Ballards Lane to Whetstone.
Minor roads grew up along the edge of the common. Bow Lane, named from its shape, existed at Fallow Corner south of East End by 1814. Farther south there was a settlement at Cuckolds Haven (roughly around the area of the Grange Estate) by 1678, linked by causeways before 1814, the respective roads being named Red Lion Hill by 1821, Oak Lane by c. 1867, and King Street by 1920. Farther south the Hogmarket developed into Market Place, so named by 1897, and Park Road, named by 1920, while Prospect Place was built in 1825 to link the settlement with East End Road.
Droving and especially the trade in pigs stimulated the growth of the hamlet, which spread unevenly along the edge of the common, at Cuckolds Haven (by c. 1677) and the Hogmarket (by 1709). Several cottages were built on the waste at Bush Causey at the eastern end of East End Road in 1716 and two at the Bull Lane (now Church Lane) end of Long Lane in 1726. The latter, which had become five cottages, were conveyed in 1776 to a bricklayer, who presumably was to carry out more building. Prospect House was built in 1721 and Oak Lodge in Oak Lane existed as three tenements in 1749, united by 1766 and probably rebuilt by 1780.
6
Oak Lodge gave its name to the school that has now relocated to Heath View off East End Road.
East End itself was a poor area, appalling near-by middle-class residents with its drunkards, 'godless persons', and general lack of moral restraint. Prospect Place linked the Hogmarket to East End Road from 1825 and cottages had been built along it by 1841; there were 20 by 1869. The reputation for drunkenness and bad behaviour spilled over into the 20th century as the next couple of newspaper cuttings illustrate.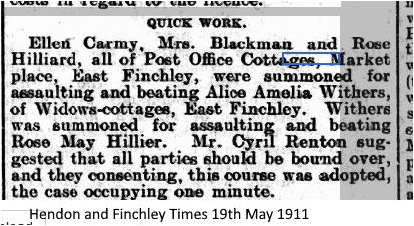 Finchley common's main claim to fame was as a haunt of highwaymen. It featured in literature from Tom Jones to Lord Lytton's Paul Clifford and in the mostly fabulous exploits of Jack Sheppard and Dick Turpin. Sheppard was captured in 1724 at a farmhouse and brought to an alehouse on the common which may have been the George at the Hogmarket or the Hog Driver.
The First East Finchley Community Festival
There is a long-standing debate about when the first East Finchley Community festival took place. Many people suggest it was in the mid-1970s. However, evidence now shows that it is a little bit older than that. The first festival took place in September 1774 two years before the American War of Independence in the reign of George III. It was held on the site of the Hog
7
Market which is where Kitchener and Beresford Roads now stand. The event was mired in controversy and broken up by the police because, according to one newspaper, several illegal activities including "bear baiting, raffling and other unlawful diversions practised…" were taking place.
A different spin was placed on events by the Public Advertiser. This newspaper carried a fuller report of the events that took place. The report says that Hand bills had been 'stuck up' and distributed at Highgate, Finchley and adjacent villages giving notice that on Monday and Tuesday a "fair would be held at Finchley, when men would run for sacks and women for Holland Smocks, etc. and where all sorts of toys and good gingerbread would be sold." Smock Races were common in the 17th to early 19th centuries. The idea was simple enough "sturdy country lasses competed in a footrace along a set course, the prize being a smock of fine linen." Smocks, or shifts, were the basic all-purpose undergarment of the time for women of every class, worn beneath stays and gowns for day and often also to bed at night.
According to the Public Advertiser the 'promised diversions took place' but a gentleman of Finchley notified a Justice of Peace at Muswell Hill who issued orders that the High Constable of Finsbury Division, a Mr. Hurford, should suppress the affair. Thirty constables were dispatched and put an end to the event "by knocking down the gingerbread stalls and taking some old women into custody…" The women were later discharged by the magistrates, pleading "what was very true, their extreme poverty."
More on Pigs and the Common
Finchley common became increasingly important in the economy of the area during the two centuries before its enclosure in 1816, as animals were turned on to it to preserve the hay and as the woodland cover was cleared. Many owners pastured animals on their own land only after the hay crop had been gathered. Pig farmers were especially dependent on the common, those fined for fattening pigs in 1705 including Jonathan Roberts of East End and Thomas Odell, whose son John (died 1762) was one of the leading hog-dealers in England. Most of Odell's property, including a Bibbesworth farm, was leasehold but his wealth lay in his pigs, as shown by the cluster of his buildings around the Hogmarket. He left £4,350 in legacies, besides gifts to the poor. A hog-butcher from London acquired property on the edge of the common in 1747 and another Finchley pig-dealer, Thomas Wattnall, acquired property at Brownswell from Jonathan Roberts's heir in 1775.
There was no charter for Finchley's pig market, which grew up at East End on the edge of the common where drovers rested. Several pig-dealers lived nearby, often maintaining public houses like the George and the Hog Driver or Sow and Pigs. By 1717 a customary market was held on Wednesdays and Thursdays for pigs brought from most parts of England and Wales. At the Hogmarket at the end of the 18th century hogs from Shropshire were sold to butchers to be fattened on the discarded grain and other products of the London distilling and brewing industry.
A mention of the market occurs in E.W. Brayley's "Beauties of England and Wales" 1810. "Hogs are kept in considerable numbers but chiefly by malt distillers for who they are purchased lean at a large market held on Finchley Common and to which they are brought from Shropshire and other distant counties."
The size of the market can be seen from the next newspaper cutting, and this is one of many to mention pig sales of 3000 or more at the Hog Market.
8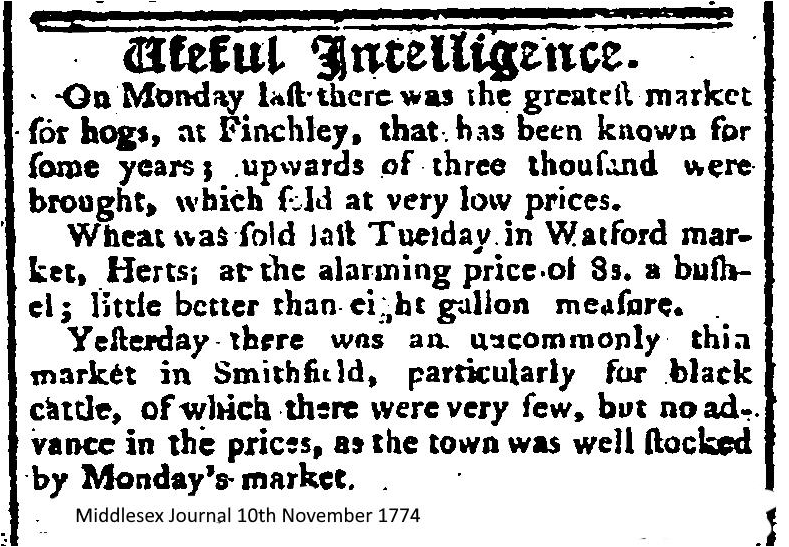 Finchley Common was the great market, both for the butchers who bought 'fat' and for the distillery feeders who bought the 'lean stores'. Finchley was the selling point for those coming from the Midland counties – Yorkshire, Lincolnshire, Leicestershire, Berks, and Shropshire – while the counties to the Northeast of London – Norfolk, Suffolk, and Essex – sent their breeds to Romford Market after the harvest. At market they were sorted into sizes by the salesmen (the distillers wanted them at about 15 months, and they needed too many each to be able to buy all the same breed) and sent them to various feeders. In 1813 the average buying price was about 55s and they sold fat according to weight and quality in about 18-26 weeks' time for between £4 – £5.

When the common was enclosed (1816) a small piece of land was allotted to the bishop for occasional use as a pig market, most of the animals being kept in piggeries surrounding the George inn. During the 19th century housing crowded around the market and there were problems over drainage and slaughterhouses. The market, still much frequented by London butchers, was held on Mondays in 1845 but was extinct by 1869. But pigs keep cropping up locally. In 1955 25 Pigs were kept around Prospect Place and at the Fuel Land Allotments along the High Road.
9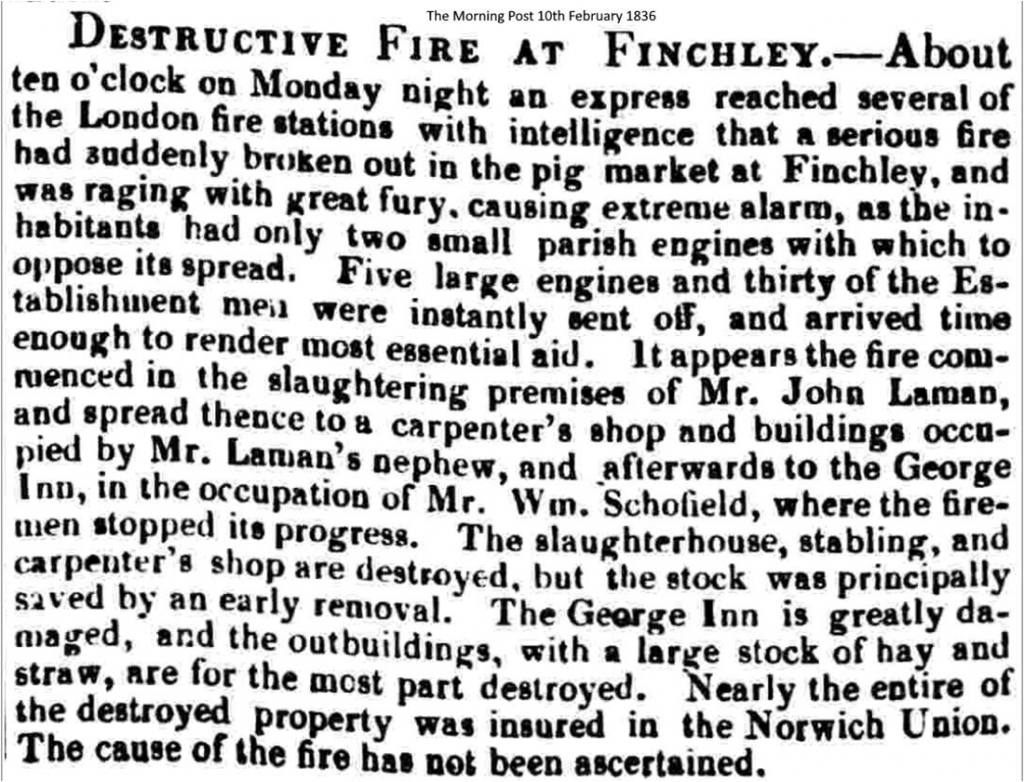 Clark's Bakery (Merry Millers)
Clark's Bakeries, used to occupy the site of New Ash Close. They moved to Market Place from Upper Holloway and opened in 1927 as Burton's Bakeries on the site of an old house in the Walks, Park Road. The name was changed to Merry Miller Bakeries in the early 1930s and, after Rank's had taken it over in 1961, to Clark's Bakeries in 1963. The premises were extended in 1934 and 1961 and 200 people were employed there in 1977. They closed in the 1980's.
EAST FINCHLEY COMPREHENSIVE DEVELOPMENT SCHEME
The area around Market Place was heavily bombed during the night of 15/16th November 1940 when a large bomb fell causing more serious damage and casualties than any other local bomb. Eleven people were killed in the raid. The Auxiliary Fire Service at Leaver and Hemblings garage in the High Road was put out of action and water and gas mains were ruptured with the result that the High Road became impassable. At least 10 nearby roads were blocked by debris. The doors of the post office in Market Place were blown off and the manager of Philips off licence at 145 High Road declared that 91 bottles of wine and spirits were destroyed.
After ten years of waiting Finchley Council were able to announce that they were going to press ahead with the necessary compulsory purchase orders from June 1951, and by July 1951 a layout had been designed. This extended the area of redevelopment beyond the High Road and the bombed areas around Market Place and Chapel Street across to Prospect Place and Aveton Road put forward by J G Bryson; the council had put forward a clearance order for Prospect Place and Aveton road in 1948 and after some revision it was accepted.
10
Borings on the site of The George PH gardens were made in March 1955. Nine acres of the district, around Chapel Street and Prospect Place, were ear marked In September 1956 and the Middlesex County Council decided that the area should retain its small shops and pubs, The George, and The Duke of Cambridge.
At the time there were about 302 people in the area, and it was envisaged that the development would more than double the number of people to 650 by completion of the project in 1966. Originally there was to be a community centre on the site of the Post Office sorting office (the sorting office being used as a community centre until the time a new building could be constructed). Many of the shops and the planned community centre were never realized, but the blocking of Prospect Place railway bridge did.
The East Finchley Comprehensive Development Scheme officially opened in October 1957, with the opening of Chapel Court. Demolition work started in Prospect place in 1958 with the destruction of 1 to 17, Gilpins Cottages, as well as 27 and 65 Market Place. Prospect Ring development was opened in April 1960 by the Local Government Minister Henry Brooke. The first to move in were Mr J Price, with his wife Dorothy and daughter 14-year-old Janet. They had lived at George Cottage, in Market Place, which did not have a bathroom, and was adjacent to The George Public House.
Market Place Playground
When was the playground first set out? We are not entirely sure. Throughout known history it does not appear that the current tarmacked playground area has ever been developed. It has remained clear. Some early OS maps hint that there might have been a circular pond on it – possibly for watering pigs?
We do know that there was a playground on the site before the second world war with personal testimony from 1935. If you have more information on this, or indeed on any aspect of the history of the site and surrounding area then please do let us know.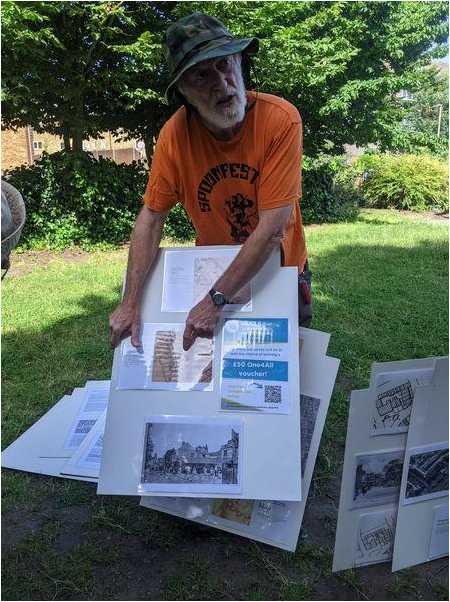 11
****************************************************************************************************************
With many thanks to this month's contributors:
Steve Brunning, Roger Chapman, Jim Nelhams
****************************************************************************************************************
Hendon and District Archaeological Society
Chairman Don Cooper 59, Potters Road, Barnet, EN5 5HS
(020 8440 4350) e-mail: chairman@hadas.org.uk
Hon. Secretary Vacancy
e-mail: secretary@hadas.org.uk
Hon. Treasurer Roger Chapman 50 Summerlee Ave, London N2 9QP
(07855 304488) e-mail: treasurer@hadas.org.uk
Membership Sec. Stephen Brunning, Flat 22 Goodwin Court, 52 Church Hill Road,
East Barnet EN4 8FH1 (020 8440 8421)
e-mail: membership@hadas.org.uk
Web site: www.hadas.org.uk
12