No. 608 November 2021 Edited by Sue Willetts
HADAS DIARY – Forthcoming lectures and events
Due to the COVID-19 pandemic, until further notice lectures will be held online via ZOOM, all starting at 8 pm. Apologies to those who are unable to see online lectures. We will be sending out an invitation email with instructions about how to join on the day of each talk. Keep an eye open for them!
Tuesday 9th November – The Gask Ridge – recent work at Rome's Northernmost frontier. Lecture by Dr Birgitta Hoffman. This frontier system is the earliest Roman land frontier in Britain, built in the 70s or 80's AD, 40 years before Hadrian's Wall and 60 years before the Antonine Wall. The Lecturer is one of two Directors of the Roman Gask Project, now an Independent Research Organisation based in Manchester.
This replaces the lecture previously arranged on Battlefield Archaeology: Barnet 1471 which the lecturer Sam Wilson has had to cancel for family reasons.
The Burroughs – place name
by Christopher Sparey-Green
HADAS members will no doubt be interested in the proposed development in Hendon on the Middlesex University Campus, adjacent to Church End, the site of the HADAS excavations in the 1970s (A Hamlet in Hendon, The archaeology and History of Church End, from excavations at Church Terrace 1973-74, HADAS Finds Group, 2014). Leaving aside considerations of the nature of the proposed development and the objections to this, the following is simply to draw attention to the archaeological potential of the area.
The Church End report highlighted the importance of the area and the longevity of activity on this prominent hill, the defensive potential of which was emphasised in another HADAS publication (A Place in Time, Pamela Taylor ed., 1989, HADAS, p. 35). Topographic considerations are emphasised by the place-name of the 'Burrows' on the first edition Ordnance Survey map and the use of this term for a defended site or earthwork on the early 25 inch maps.
In the area of the Hendon War memorial junction, on the west of the hilltop, there was the site of Buroughs Farm and Boroughs Lodge, the early settlement towards Church End collectively 'The Burroughs'. Furthermore, the series of early estate maps reproduced in 'A Hamlet' (Fig 28) show the existence of an L-shaped pond adjacent to the Church End Farm, this still extant in 1937, such ponds elsewhere the remnants of moated sites. Finally, a walk-over of the adjacent park within the University grounds, once the gardens of Hendon Grove, suggests the existence of a much denuded but substantial earthwork along its northern, downhill side. A potential westward continuation can be seen in the northern boundary of St Joseph's Convent and, beyond the Watford Way, in the one-time curving boundary of the Burroughs Lodge, now lost under pre-war housing. There are some serious implications for the archaeology of the area under consideration for development and scope for further research and investigation by HADAS.
1
Barnet Medieval Festival by Don Cooper
Barnet Medieval Festival took place on 11th & 12th September 2021 at Barnet Elizabethans Rugby Football Ground. The belated celebration was for 550th anniversary of the Battle of Barnet which fell on 14th April 2021. The weather was fair and warm. There was a large attendance on both days both re-enactors and visitors as you can see from the photo below.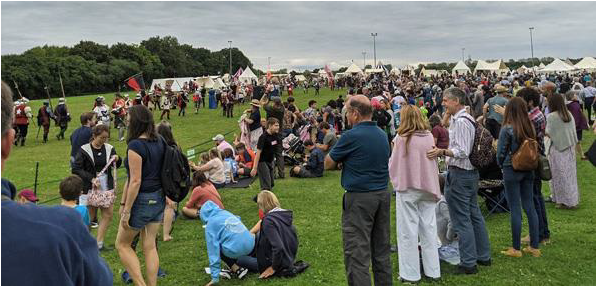 HADAS manned a stall there on both days and we were kept busy with lots of public interest.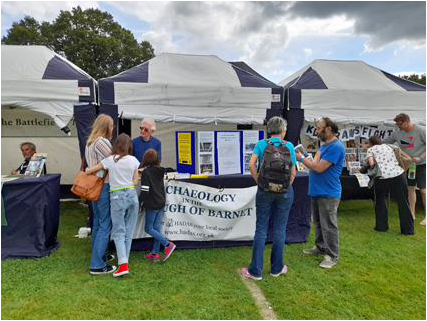 2
As well as asking about HADAS and what we do, the two main topics of interest were (1) the recent discovery that 54a Barnet High Street is dated by dendrochronology to the mid-14thc and what was going to happen to it (2) the proposed Hendon Hub, which is contentious for the local Hendon residents.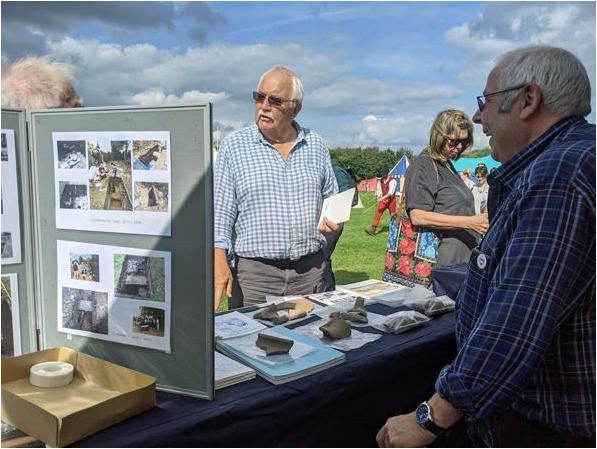 We gave out lots of HADAS membership application forms in the hope that it will bring in some new members.
I would like to thank the members who came along in support and those committee members who helped to man the stall especially Melvyn Dresner who was with me for the whole two days.
Battle of Barnet Arrowheads and Earl of Warwick Seal

by Bill Bas

s


display at Barnet Museum

This remarkable collection of six arrowheads and a seal of the Earl of Warwick are currently on display at Barnet Museum. The objects are part of the British Museum collection and have been used by them as part of several European exhibitions and latterly at the National History Museum in Ottawa, Canada, the exhibition was called 'Medieval Europe: Power and Legacy'.

Since then, Barnet Museum has negotiated for the finds to be shown in their home town. These are displayed along with several other objects from Barnet's battlefield collection including 3 lead cannonballs, a purse bar, a coin of 1468 and a decorated strap-end.

The arrowheads were bought on behalf of the British Museum from a Mr John Doubleday in 1851. Unfortunately, apart from the British Museum's acquisitions register which states 'These were all found on the battle-field at Barnet' (1471) there is no further location spot or provenance. They do however date to the late 15th century, made of iron, they range from narrow-barbed to more flared or broadhead barbed types. They compare well with other known surviving arrowheads and with contemporary paintings and documents. They are also a similar form to those recovered from Towton battlefield (1461) and others from the British Museum and Museum of London.

3

The seal was originally donated to the British Library in 1774, then to the British Museum in the 1830s. It was donated by Mrs Victoria Kynaston whose ancestor Sir Roger Kynaston (1430-1495) fought at the Battle of Barnet on behalf of Edward IV and was said to have recovered the seal from the Earl of Warwick's body. It is 9.60cm in diameter, cast in brass with a loop at the bottom and has a Latin inscription and image of a mounted knight with sword and shield.

4

5

The display at Barnet Museum is well worth a visit and if the finds are correct, show that there is the possibility of finding more objects to pinpoint the actual battle location.


Sources:
Much of the information above is taken from The Journal of Barnet Museum & Local History Society, Vol 5 (2021) Hilary Harrison.

The Barnet battlefield project 2015-2018, University of Huddersfield.

The British Museum collection website, images and information.
https://www.britishmuseum.org/collection/search?keyword=battle&keyword=barnet&view=grid&sort=object_name__asc&page=1
Events for your diary
It would be wise to check and confirm the details with the particular society before travelling to these events


Thursday 4 November – online event -HISTORY DAY
History Day is a day of online interactive events for students, researchers & history enthusiasts to explore library, museum, archive and history collections across the UK & beyond.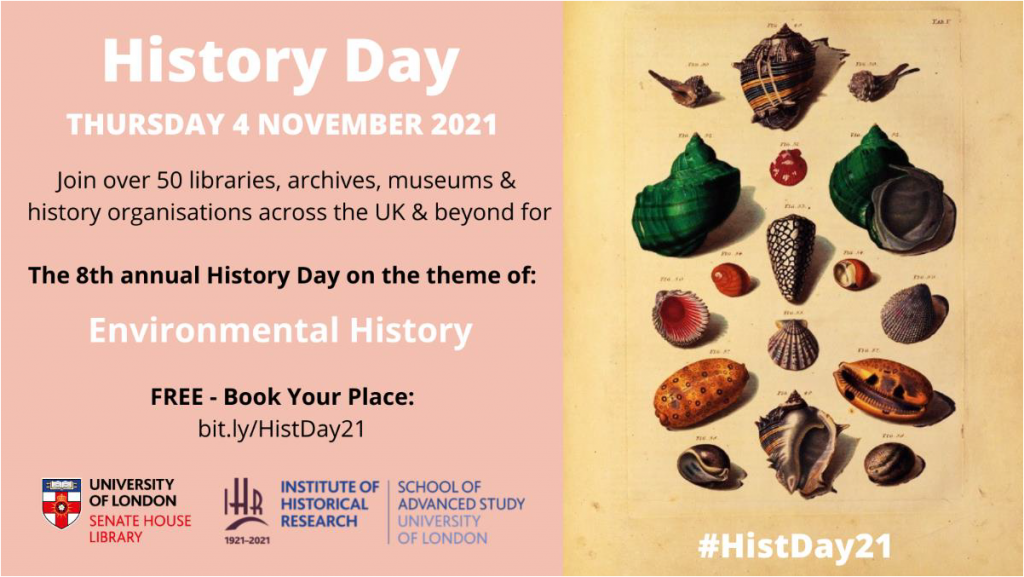 This year the theme is environmental history and will explore collections that capture the experiences of ordinary people, collectors and scientists, looking at nature, landscape, climate change and much more. Over 50 libraries, museums, archives and history organisations across the UK and beyond will come together online to share collections and resources. Join us and collaborators across the globe to explore these collections with two interactive sessions, a lunchtime livestream and a wide variety of content featured in our Discover Collections Gallery. To book use the following link – https://sas.sym-online.com/registrationforms/ihrbooking_42478/done/ For more information, go to the History Collections website and make sure to follow the hashtag #HistDay21 on social media.
6
Monday 8th Nov at 6pm – 7.30pm. London Archaeological Forum will be hosted as usual by CBA London, Free to attend, online by Zoom There will be 4 presentations.
Holywell Priory (Shoreditch) – Matt Edmonds, Pre-Construct Archaeology, on the findings of recent excavations that revealed a medieval priory church and the extensive associated cemetery. Black Death and minorities – Dr Rebecca Redfern, Museum of London, on the results of a large research project examining the skeletal remains from cemeteries used during the Black Death. Blossom Street – Alison Telfer, MOLA, on excavations just north of Spitalfields that included late Iron Age horse remains, Roman burials, medieval walls linked to the St Mary Spital precinct, Tudor ovens, and remains from 17th to 19th century buildings fronting Norton Folgate. Arch-I-Scan – Prof Penelope Allison, University of Leicester, on the project to use automated recording and machine learning for cataloguing and collating millions of Roman ceramic tableware remains, a new approach that will enable the investigation of eating and drinking practices, rather than just production and trade.
To reserve your place, go to the Eventbrite page https://www.eventbrite.co.uk/e/london-archaeological-forum-with-cba-london-tickets-194305000487 and click on the box at the top marked 'Tickets'. All those booking will be sent the Zoom link via email a few days before the LAF. Any questions about this event to: Becky Wallower: becky.wallower@dial.pipex.com.
Sat 13th November from 9.45am to 4.00pm. LAMAS Conference to be held online via Zoom
This year's theme is 'London Overcomes: Resilience and Recovery in the History of the Capital'. Further details on their website at http://www.lamas.org.uk/conferences/local-history.html
The programme is as follows:
10.15 – 10.45 -Session 1 'Lost angels of a ruin'd paradise', Dr Peter Coles
11.00 – 11.30 -Session 2 'Casualty Services and Civil Defence within London', Nathan Hazlehurst
11.30 – 11.45: Tea break
11.45 – 12.15: Session 3 'Shamefaced No More: Pauper Letter Writers, Resilience and the Workhouse
Experience in Poplar and Bethnal Green, ca.1860-1890', Dr Peter Jones & Professor Steven King
12.30 – 13.00: Session 4 'The Brentford Flood of 1841', Val Bott
13.00 – 13.45: Lunch break
13.45 – 14.15: News and Updates from Local Societies
14.15 – 15.00: Keynote Lecture: 'Modernist Visions vs. Reality in Postwar Rebuilding', Dr Catherine Flinn
14.45 – 15.00: Tea break
15.00 – 15.30: Session 5 'Who hid the Cheapside Hoard?', Dr Rosemary Weinstein
15.45 – 16.00: LAMAS Publication Awards for 2019/20 and 2020/21
To book a ticket go to Eventbrite. https://www.eventbrite.co.uk/e/lamas-local-history-conference-london-overcomes-tickets-177950172757
Other Groups
London and Middlesex Archaeological Society (LAMAS) Tues 9 Nov. 6.30 pm. The Enfield Archaeological Society & Elsyng Tudor Royal Palace. Talk by Martin Dearne (EAS) Fieldwork research Director held on Zoom. Book at www.lamas.org.uk/Lectures.html
7
Mill Hill Historical Society Wed 10 Nov Secret London 2.30 pm. Talk by Mike Beach. Trinity Church, The Broadway, London NW7 3TB. www.millhill-hs.org.uk
Ruislip, Northwood and Eastcote Local History Society Mon 15 Nov Lost rivers of London. 8.15 pm. Talk by Dr. Tom Bolton held online. Check website www.rnelh.org.uk for login closer to the date.
Friern Barnet & District Local History Society website or telephone 020 8368 8314 Wed 24 Nov Beautiful Britain talk by David Berguer 8.00 pm North Middlesex Golf Club, The Manor House, Friern Barnet Lane, N20 0NL Please arrive early (7.45 pm) as checking in will take longer than usual due to new restrictions. Refreshments can be purchased at the Club Bar. £2.00 for non-members.
Finchley Society Thurs 25 Nov Green update talk by Peter Hale (Chair of Environment and Transport Committee) & Paul Salman (same committee) – 7.30 pm Drawing Room, Avenue House, 17 East End Rd, N3 3QE. Non-members £2.00 at the door. Also on Zoom. Visit www.finchleysociety.org.uk for Zoom link

Museums
Science Museum, Exhibition Road, SW7 2DD Open Wednesday to Sunday, 10.00–18.00 Free exhibition Ancient Greeks: Science and Wisdom 17 Nov. 2021 to 5 June 2022. Ticket required.

British Museum Peru: a journey in time. From 11 Nov. 2021 – 20 Feb. 2022. Adults from £15, Members and under 16s free. The exhibition will include ceramics, precious metals, textiles and ritual paraphernalia from the BM as well as loans from Peru.
______________________________________________________________________________________________________________________________________
With many thanks to this month's contributors: Bill Bass, Don Cooper, Eric Morgan, Christopher Sparey-Green
______________________________________________________________________________________________________________________________________

Hendon and District Archaeological Society
Chairman Don Cooper 59, Potters Road, Barnet EN5 5HS (020 8440 4350)
e-mail: chairman@hadas.org.uk
Hon. Secretary Vacancy
e-mail: secretary@hadas.org.uk
Hon. Treasurer Roger Chapman, 50 Summerlee Ave, London N2 9QP (07855 304488)
e-mail: treasurer@hadas.org.uk
Membership Sec Stephen Brunning 2 Goodwin Court, 52 Church Hill Road, East Barnet
EN4 8FH (0208 440 8421) Please note new flat number
e-mail: membership@hadas.org.uk
Join the HADAS email discussion group via the website at: www.hadas.org.uk
______________________________________________________________________________________________________________________________________
8