No. 610 JANUARY 2022 Edited by Jim Nelhams
______________________________________________________________________________________________________________________________________
A Happy New Year to all our readers. Let's hope 2022 proves better than the last couple of years. In 2019, my twenty-twenty vision did not prove very good.
HADAS DIARY – Forthcoming lectures and events
Due to the COVID-19 pandemic, until further notice lectures will be held online via ZOOM starting at 8.00pm (except February). Apologies to those who are unable to see online lectures. We will be sending out an invitation email with instructions about how to join on the day of each talk. Keep an eye open for them!
We hope to get back to face-to-face lectures soon. See next page.
Tuesday 11th January 2022
Alan Turton – The Mary Rose.
Tuesday 8th February 2022. The Dorothy Newbury Memorial Lecture (2.30pm).
Jacqui Pearce (MOLA) – The Consul's china: Regency period finds from America Square, London.
Tuesday 8th March 2022
Dr Martin Dearne (EAS) – Monarchs, Courtiers, Technocrats and Kitchen Boys; Bringing Elsyng Palace to Life.
Tuesday 12th April 2022
Dr Martin Bates (University of Wales Trinity Saint David) – London in the Ice Age: changing environments and human activity.
Tuesday 10th May 2022
James Wright – The Folklore and Archaeology of Historic Buildings.
Tuesday 14th June 2022
ANNUAL GENERAL MEETING
Tuesday 11th October 2022
Dr Martin Bridge (UCL) – Tree-ring dating, and what it tells us about the old Barnet shop.

Tuesday 8th November 2022
Nick Card – Building the Ness of Brodgar.
Our thanks to Stephen Brunning for assembling this varied list of lectures for 2022.
______________________________________________________________________________________________________________________________________
1
Possible social get-together in February 2022
Don Cooper
As the February lecture is an afternoon lecture by Jacqui Pearce, we are hoping to combine it with an "afternoon tea" at Avenue House. We have tentatively booked the room for 2.00pm to 4.00pm on Tuesday, February 8th, 2022. This event will be free to HADAS members.
The event is subject to whatever Covid rules are in force at the time. There may be a restriction on numbers attending.
If you wish to attend this social (the lecture will be on ZOOM as well) please let me know by the 20th of January. It will be first come first served. Please use my contact details from the end of this newsletter.
58th Annual Conference of London Archaeologists
After some deliberation LAMAS's Archaeology Committee has decided to continue with the initiative established last year of holding the annual conference via Zoom, and it will be held online on Saturday 19 March 2022. The programme will probably include a mix of live and recorded contributions which may be subject to change but is expected to follow the order listed below. Tickets for this event will be available via Eventbrite, (www.eventbrite.co.uk) priced at £15. Details on how to book tickets for the conference can be found on the LAMAS website.
Morning session: Recent Work
10.45am Set-up and Chairman's Opening Remarks including presentation of the 2021 Ralph Merrifield Award – Harvey Sheldon, LAMAS Chairman
11.00am The Alfred statue at Trinity Church Square, Southwark – Chris Constable, London Borough of Southwark
11.20am Excavations at St Lawrence's Church, Brentford – Alex Blanks, MOLA
11.40am Morning break
12.00pm The Roman cemetery at Great Suffolk Street – Ireneo Grosso, Pre-Construct Archaeology
12.20pm Building Bankside: preliminary interpretations on recent excavations along Park Street – Sian Anthony, AOC Archaeology Group
12.40pm Excavations in Southwark Street – Antonietta Lerz, MOLA
1.00pm Lunch break
Afternoon session: The archaeology of High Speed 2
2.00pm HS2 historic environment strategy: an overview of results to date – John Halsted and Emma Hopla, HS2/Atkins
2.30pm The archaeology of the Dews Farm Area, Hillingdon – lain Williamson, Fusion
3.00pm The Iron Age Potin Hoard, Hillingdon – Emma Tetlow, SCS
3.30pm Afternoon break
4.00pm Excavations at St Mary's, Stoke Mandeville ,Buckinghamshire – Guy Hunt, L-AP Archaeology
4.30pm Excavations at St James's Gardens, Euston – Louise Fowler, MOLA

5.00pm CLOSE
2
Our East Finchley dig
Janet Mortimer
So HADAS did it again. We picked the hottest days of the year for our dig at East Finchley. The hard core who braved the beating sun on both days were the Sunday morning Avenue House stalwarts, Roger, Bill, Andy, Melvyn, Peter Nicholson, Eric and myself, ably aided and abetted by Sue Trackman. Jim Nelhams and Geraldine Missig both made a handsome contribution to the digging and the fine weather and end of Lockdown restrictions saw many other HADAS members come to visit, including Peter Pickering, Stuart, Dudley, Sue L, Terry and Harriet and, of course, Don. We also had the welcome addition of some new members who made a valuable contribution.
Due to the local newspaper, The Archer, publicising the event, together with posters we had put up the weekend before, we also had a steady stream of locals coming along to see what we were up to. Most stayed to chat and watch and seemed to be very interested in the proceedings. There were a number of small boys wearing dinosaur tee shirts who were obviously expecting a lot more than we could deliver. One asked me if we had found any fossils, so I regretfully had to say no, but showed him instead the finds tray. He looked at it with disdain and asked, "What are you collecting that rubbish for?" This is of course a question we often ask ourselves on Sunday mornings when sorting through the finds. We also had a prospective archaeology student who had travelled down from Hoddesdon to see her first dig, and even a chap dressed as a pirate. Why he was dressed as a pirate we will never know as, being the polite folk we are, no-one wanted to ask him!
By the end of the first day, we had got down a few feet, through layers of topsoil, clinker and sand and, to be honest, hadn't found very much…until shortly before we were due to pack up when we hit a very rich context full of pottery, glass and other treasures. So, with the prospect of a good day ahead, we packed up for the night. Being in a public place and, possibly frequented at night by a different set of locals (judging by the amount of beer cans and dog-ends laying around)), we had to temporarily back-fill the trenches for fear of finding a prostrate body in the hole the next day.
The next day was very productive. Not only were there many more pottery and glass finds, but we also found a floor level in both of the test pits, which will hopefully prove to be part of the cottages that we were looking for. Melvyn and I convinced ourselves that we had also found evidence of the hog market that had also been on that site when a tooth and a butchered bone turned up, but this idea was quickly dispelled by bones expert, Geraldine, who advised it was sheep rather than pig. Perhaps evidence of butchery, but more likely the remains of someone's Sunday dinner!
One of our best finds was an intact glass bottle, engraved Kutnows Powders. Further research showed that this was a cure-all remedy from the beginning of the 20th Century which treated everything from gout to haemorrhoids, Sadly, it was empty, or we may have found a cure for Covid! See article by Stewart Wild in Newsletter 606 – September 2021.
So, it was a very enjoyable and interesting dig, which I believe was enjoyed by all who participated and came to watch.


Report of a lecture by Dr Lee Prosser
Melvyn Dresner
Dr Lee Prosser recounts discoveries about the newly identified 14th Century shop or inn (the oldest of either in Greater London) hidden in plain sight in Barnet High Street
Dr Prosser is Curator – Historic Buildings at Historic Royal Palaces, the charitable Trust which cares for the Tower of London, Hampton Court Palace, the State Apartments at Kensington Palace, Kew Palace, the Banqueting House at Whitehall and Hillsborough Castle, Belfast and a Fellow of the Society of Antiquaries and a committee member of the Vernacular Architecture Group.
3
You may remember the recent discovery at the end of 2020 of the oldest shop or inn in Greater London, in Barnet High Street, with much of the 14th century woodwork intact in a former cosmetic shop and upstairs beauty parlour (Chudy's). This was discovered during investigatory work prior to a proposal to convert to a florist and flat. This was featured on BBC London News in December 2020. As part of our online lecture series HADAS members were given a virtual tour by Lee Prosser of this amazing survival from the 14th century. The building was Grade II listed as possible 17th century.
Dr Prosser explained that chunkiness of the timber and the joinery immediately suggests medieval. The shop is located in the heart of medieval Barnet, on the High Street, south of Barnet Church, close to the Mitre – described as a 17th century coaching inn. This shop or inn is much earlier dated to 1330 – 1362. Prosser took us through the steps to piece this mystery together. The drawing below (Fig. 3) was prepared by Sherry Bates, Director, Bates Zambelli Ltd, who were responsible for the building conservation and design for the new use of the site that revealed this hidden gem (Fig. 1), which shows a remarkable amount of timber that survives in the structure (Fig.2), the reflected ceiling also by Bates (Fig. 4) shows how the four-bay structure was squeezed into the plot.
4
The rear view shows the roof shape (Fig. 5) is medieval in appearance, with roof beams of medieval style (Fig. 6).
The upper floor was divided into two chambers. It's the roof joinery that is most useful diagnostically as its subject to slower change and includes a classic medieval crown post roof (Fig. 7). The crown post supports a crown purlin that is supporting beams above the post. The crown post is truncated, and the chimney is worked in between the timbers. The notches in the joist are the remains of the jetty (Fig. 8.), as the upper floors would have projected into the street above the ground floor, making best use of the narrow plot.
The original jetty was dislodged so the ground floor was flush with upper floors. The crown post would have been visible from lower floors. In Essex, these posts would have been decorated, in Hertfordshire they are not decorated as is the case here. These posts are typical from 13th century to circa 1540. Maybe even more surprisingly were not only the structural timbers but also surface treatments also survive. These includes lime wash (Fig. 9.) and wattle and daub (Fig.10.).
5
The fill between the structural timbers are lathes of thin timber woven and nailed in open basket and filled with daub. There are examples elsewhere, but this is not a typical medieval fill. Other fills are shown on site as fragments in the end wall including pegged timbers, slender timbers pushed in between and nailed. Fig. 11 shows the wall, and in Fig. 12 timbers are highlighted in red, medieval fill fragments in blue and slender timbers in green.
In the Fig.13, we can see a surviving medieval nail and Fig.14 shows a splayed and table scarf joint, which is also known by its French name, Trait de Jupiter, as it looks like a bolt of lightning. These joints were used in the 14th century.
The shop or inn would have been on lands of the Abbey of St Albans. In the 14th century, the plan below (Fig.15.) shows their land holdings.
The Abbots below may have been involved in commissioning the inn or shop.
6
Richard of Wallingford (1326–1335) was famous for building the most complex astronomical clock in Britain at the time, (the clock was destroyed during reformation in 1539) and despite suffering leprosy or similar, Richard was Abbot when earliest trees identified in the building were felled.
Michael of Mentmore (1335–1349)
Thomas de la Mare (1349–1396)
John de la Moote (1396–1401) credited with building Barnet Church, St John the Baptist.
This all indicates a 14th century construction. However, it's through dendrochronology we can be more precise and certain.
Dendrochronology
Dendrochronology is the scientific method of dating tree rings to the exact year they were formed. Dr Martin Bridge of the Institute of Archaeology, University College London was appointed by Historic England, the public body that looks after England's historic environment, to undertake the analysis. The photos below show Dr Bridge (Fig.16.) collecting samples shown below (Fig.17).
He was able to date when the trees were felled, which was between 1330 and 1362.
It was also possible to analyse the visibility of the roof timbers and how these were painted. We can see red, yellow, black and other surface treatments preserved. (Fig. 18.). Dr Andrea Kirkham is a leading expert in conservation of wall paintings and painted interiors in historic buildings. According to Dr Kirkham's draft analysis the roof was open from the lower floors from construction to around 1550. The bays were not painted until around 1500. At this stage, they were painted yellow. After 1550, they were painted red – this was at the time that the ceiling was first put in place to the collars. After 1600, the bays were painted black, after 1650, they were painted white. After 1700, the ceiling was to the eaves, with battens for textiles or wall papers. After 1750, evidence for wallpaper, a specific wallpaper for 1836 (Fig. 19) identified behind the chimney which was built after the wallpaper was applied.
7
The jetty which would have been visible to the street was painted orange and then black in the 16th century. The image below (Fig.20.) shows how the shop/inn may have looked and more a detailed plan of the ground floor (Fig.21.).
A preliminary look at adjacent buildings suggests this could be part of a larger building with parts surviving. Mostly likely use of the building was as an Inn.
The building has much more to reveal. One element discovered was a window from the medieval period in the void Fig. 22.), with a reconstructed drawing (Fig. 23.) and beer bottles from under the floorboard (Fig. 24.).
These finds support the case for this being London's oldest surviving inn or shop. Historic England will now need to update their listing.
Photos by Dr Lee Prosser, architectural drawings by Sherry Bates.
8
Links
https://www.barnetsociety.org.uk/rambles-round-barnet/high-barnet-s-claim-to-london-s-oldest-timber-structure
https://www.bbc.co.uk/news/uk-england-london-55347261
https://www.ucl.ac.uk/archaeology/news/2021/jan/martin-bridge-helps-reveal-north-londons-medieval-past
https://www.linkedin.com/in/sherry-bates-25433913/detail/recent-activity/
https://historicengland.org.uk/listing/the-list/list-entry/1359071
Another Stink Pipe?
Picture from Hugh Petrie via Dudley Miles "Courtesy of Barnet Local Studies" following our Stink Pipe articles. Probably laying a sewer in Finchley area.
9
Covid Variants and the Greek Alphabet
Jim Nelhams
Those of you with a knowledge of the Greek alphabet may have been confused by an apparent jump between Delta and Omicron. What about all the other letters. So here is a full list. The names have been allocated by the World Health Organisation but were not first decided until the end of May 2021 so do not follow the date of first discovery.
Orthodox Christmas – 7th January 2022
Why is Orthodox Christmas different than Catholic?
The difference between Orthodox and Catholic Christmas is quite simply an issue about dates. Many Orthodox Christians around the world celebrate Christmas Day on or near January 7. This is because their churches use a different calendar to figure out when their holidays are. Therefore, while the West celebrates the birth of Christ on the 25th December (according to the Gregorian Calendar), the Orthodox Church, in accordance with the Julian Calendar, celebrate Christmas on the 7th January.
10
This is the same change that governs the UK tax year end.
It all began in 1582 when Pope Gregory XIII ordered a change of calendar from the Julian (named after Julius Caesar), which had been in use since 42 BC. The Julian calendar, which consisted of eleven months of 30 or 31 days and a 28-day February (extended to 29 days every fourth year), was actually quite accurate. After centuries, though, even a small inaccuracy like this adds up. By the 1500s it had put the Julian calendar behind the solar calendar by 10 days. However, the British did not make the change in 1582, so there was a difference of 10 days between the calendar in Britain and the rest of Europe. By 1752 the difference had increased to 11 days (one calendar had a leap year in 1600, the other did not). Even the British realised that something must be done and they changed to the Gregorian calendar in that year.
Until 1752 the tax year in Great Britain started on 25th March, old New Year's Day. In order to ensure no loss of tax revenue, the Treasury decided that the taxation year which started on 25th March 1752 would be of the usual length (365 days) and therefore it would end on 4th April, the following tax year beginning on 5th April.
The next difficulty was that 1800 was not a leap year in the new Gregorian calendar but would have been in the old Julian system. Therefore the Treasury moved the year start again from 5th to 6th of April, and this date has remained unchanged ever since.
Chinese New Year – 1st February 2022
Chinese New Year, or the Spring Festival, is the most important celebration observed in China, with cultural and historic significance. The festival signals the beginning of spring, and the start of a new year according to the Chinese lunar calendar.
The Chinese New Year date changes each year. Chinese Lunar Year begins at sunset on the day of the second New Moon following the winter solstice (21st December). It always falls between January 21 and February 20 and is determined by the Chinese lunar calendar. Each year follows one of the 12 characters in the Chinese zodiac.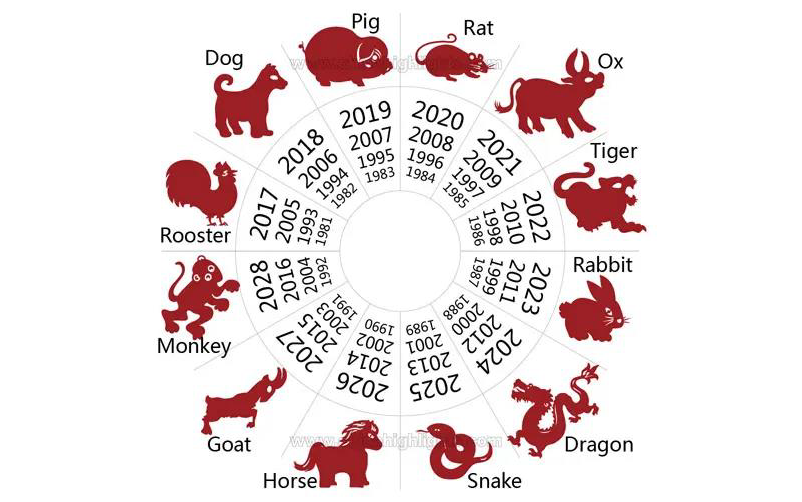 The current year has been the year of the Ox and the new year is the year of the Tiger. It was also a year symbolised by the tiger in 1950, 1962, 1974, 1986, 1998 and 2010.
11
Acknowledgements
With many thanks to this month's contributors: Don Cooper, Melvyn Dresner, Stephen Brunning,
Melvyn Dresner, Dudley Miles, Janet Mortimer, Jim Nelhams
______________________________________________________________________________________________________________________________________
Hendon and District Archaeological Society
Chairman Don Cooper 59, Potters Road, Barnet EN5 5HS (020 8440 4350)
e-mail: chairman@hadas.org.uk
Hon. Secretary Vacancy
e-mail: secretary@hadas.org.uk
Hon. Treasurer Roger Chapman, 50 Summerlee Ave. London N2 9QP (07855 304488)
e-mail: treasurer@hadas.org.uk
Membership Sec Stephen Brunning 2 Goodwin Court, 52 Church Hill Road, East Barnet
EN4 8FH (0208 440 8421) Please note new flat number
e-mail: membership@hadas.org.uk
Join the HADAS email discussion group via the website at: www.hadas.org.uk
______________________________________________________________________________________________________________________________________
12