Number 615 June 2022 Edited by Dudley Miles
HADAS DIARY – Forthcoming lectures and events
Due to the COVID-19 pandemic, until further notice lectures will be held online via Zoom (apart from the AGM lecture), all starting at 8 pm, although we do hope to get back to face to face lectures soon. We are exploring an option that could allow face to face meetings with an option to view lectures on Zoom. This partly depends upon the broadband quality at Avenue House. As ever, our apologies to those who are unable to see online lectures. We will be sending out an invitation email with instructions about how to join on the day of each talk, so please keep an eye on your inbox.
Tuesday 14th June
Annual General Meeting.
Followed by Melvyn Dresner on the Clitterhouse Farm project
THIS IS A FACE-TO-FACE MEETING.
Tuesday 11 October
Dr Martin Bridge (UCL) Tree-ring dating and what it tells us about the old Barnet Shop.
Tuesday 8th November
Nick Card. Building the Ness of Brodgar
______________________________________________________________________________________________________________________________
Market Place, East Finchley MTP21 excavation
Bill Bass and Tim Curtis
Notes on the glass finds
Below, Tim expands on the glass finds mostly found in context 203. There seems to be a fairly close correlation of the later 19th century dating of the glass to the equivalent pottery finds in the same context. Please see Newsletter March 2022, 612 for further information.
Glass
The glass collection included 262 fragments of window and vessel types. Many sherds were of bottles of varying colours – green/brown/aqua, wine, medicine and other bottles. Also represented were bowls and jars and other forms, also lids, bottle stoppers and such like.
Some notable glass vessel examples include small find 15 – embossed R.W (R. Whites?) on a Hamilton bottle. Small find 16 was the complete Kutnow's Powder bottle (Newsletter 606).
1
several co-joining sherds of a rectangular bottle embossed with lettering 'VENOS LIGHTNING COUGH CURE' (post 1898).
There was little evidence of pre-Victorian glassware, the majority being modern machine-made types. The earliest dateable type of bottle was the R. Whites egg-shaped Hamilton bottle, patented in 1814. However, this bottle must post-date 1845 when R. Whites started trading.
Other trade-marked bottle fragments found provide further dating evidence in different contexts. In context 203, Kutnow's Powder – 1880's, Camp coffee – 1885. In context 105, fragment marked "MALTED" "RAC…". This is Horlicks Malted Milk, by Racine, Wisconsin, Trademark 1887. In context 202, 2 conjoining BOVRIL fragments. Trademark 1889. In context 203, fragment marked "RIMME" is probably Rimmel. The company started in 1834, but this fragment is much later than that date.
The latest of all was a fragment marked U G B (United Glass Bottle Manufacturers), which started trading in 1913, in context 203. This therefore indicates a possible earliest date for when context 203 was sealed below context 202.
The plain window glass fragments demonstrated 3 thicknesses of glass, c.1.5mm (20 fragments), c.2.5mm (12 fragments) and c.3mm (11 fragments). Fragments with floral, ribbed or circle decoration were generally thicker, from 3.75mm to 9mm.
2
3
The HADAS lecture report
Don Cooper
Folklore and archaeology of historic buildings
For our last lecture of the 2021/22 series on Tuesday 10th May via ZOOM, Dr James Wright gave us an excellent talk on "Folklore and archaeology of historic buildings". In his talk he set out to explore and dispel a number of urban myths associated with historic fortified homes and churches. Guides to these types of buildings often perpetuate stories that don't necessarily stand up to archaeological examination.
One story often told is that there was/is a tunnel from normally a high-status building to facilitate the occupants to "escape" to a local pub or other suitable building. However, Dr Wright pointed out that there is little or no archaeological evidence for these tunnels existing. Any so-called tunnels were sewerage outlets or service tunnels in big houses for servants to get discreetly from kitchen to dining room without disturbing the family or their guests.
Another often quoted myth is that the spiral staircases were built in a clockwise manner to disadvantage any enemies that might climb them. The theory is based on the premise that swordsmen are normally right-handed and would therefore be hindered in movement. Dr Wright said that from his research (a) 30% of spiral staircases were built in an anti-clockwise direction (b) most castles were not defensive but were high-status buildings where the owners were "showing off" their wealth. The spiral staircases led mainly to owners' family apartments.
Spiral staircases are sometimes known as Kerr staircases.
The Kerr family in Scotland were reputed to have built their castles with anti-clockwise stairs because they were predominantly left-handed. The warlike Kerr were trained to use their weapons with left hands. The Scottish poet James Hogg (1770 to 1835) wrote:
"but the Kerrs were aye the deadliest foes
That e'er to Englishmen were known
For they were all bred left-handed men
And defence against them there was none."
Analysis shows this to be untrue as research reveals that the family's left-handedness was of a lower proportion than in other similar families.
An interesting myth was that gouges or grooves on churches were formed by archers sharpening the arrows on the stones of the fabric of a church. Dr Wright has examined this myth which he says seems to be based on Edward lll's effort in 1363 to improve the quality of his archers. However, he says, some are in places outside the influence of the king, some are inside churches which would have been desecrated, especially if it was being done to add spiritual help in battle. Portable hone stones, which are commonly found in archaeological excavations, would make sharpening arrows more reliable. Additionally, the shape of the gouges or grooves does not correspond to the type of arrow points used.
In questions at the end of his talk, he was asked about the myth that effigies of the "great and the good" found in churches with their legs crossed indicated that they fought as knights in
4
the Crusades. Examination of the lives of some of the effigies reveals that most of them never went on the Crusades. It is suggested that the leg crossing was so that the people would be ready to rise on Judgement Day.
Dr Wright presented compelling evidence that these myths were just that, myths. He was thanked for his thought-provoking talk.
The HADAS lecture report
Melvyn Dresner
London in the Ice Age: changing environments and human activity
Professor Martin Bates of the University of Wales Trinity Saint David recently delivered a HADAS lecture on Palaeolithic environments and archaeology in the former and current Thames basin.
Martin provided members with a flavour of the prehistoric Thames from the mudbanks of the estuary through central London up to Colne Valley. He covered over 1 million years in less than 1 hour from the earliest human occupation to the prehistoric but recognizable Thames of the last 10,000 years (Holocene). He provided a geological, environmental and human context for this time span; explaining how we investigate the Palaeolithic record of the Thames and evidence of human occupation in the river sands and gravels.
Geology is the fundamental basis for understanding the human experience over this time period. He presented the Sumbler (1996) bedrock map from the British Geological Survey. Chalk preserves bones better than clay deposit. Over the period we've had 10 warm periods and 10 cold periods, where people adapted to or left Britain. Geological evidence for cold and warm periods is found in glacial and fluvial deposits such as those found under Finchley end moraine (glacial).
These can be broadly split into three time periods in relation to the Thames. River system from about 1 million to 500,000 years (fluvial), glacial deposits representing the maximum extent of the ice reaching north London and Essex about 450,000 years ago, and the modern course of the Thames.
Glacial sediments include boulders and unsorted material. Fluvial deposits – cold climate and warm periods finer grain material. Cold period (periglacial) abraded and warm weather (similar to today) in a single channel.
Rivers terraces formed through down cutting during warm periods as the land rose, the south-east has risen by about 50 metres over last 500,000 years. The down cutting goes through the coarse materials left during the cold fluvial deposits and down to bedrock. During glacial periods, the rivers abrade and eventual stop flowing. Over fluctuations in temperature a series of river terraces have formed within the London basin where we can find evidence for human activity. This includes exposed but uneroded interglacial and glacial deposits.
Sites can be 30 to 50 metres below ground. We find deposits using geophysics, drilling, digging with machines and sieving. Tests pits and larger trenches follow. Machines are replaced by human diggers once human deposits are identified.
5
Pre-Anglian Thames
He explained that the pre-Anglian Thames can be identified in deposits (Kesgrave sands and gravels), orientated towards north-east East Anglia, roughly towards Norwich, with a potential branch draining North Wales to where the Fen basin is currently. This early Thames had 10 or 15 river terraces.
Happisburgh in the mouth of the Thames around 900,000 years ago. Insects, snails and pollen, pine cones, and mammoth molar (tooth) were found. Warm inter-glacial. Evidence for humans include struck flakes and footprints. Made by a group of adults and children, possible Homo erectus. Another example from the lower ancestral Thames is a flake from Westcliffe High School for Girls.
This river system around 450,000 years ago was overtaken by ice, forcing the Thames southwards.
Post-Anglian Thames
This is composed of four terraces broadly parallel to the Thames.
Swanscombe, highest river terrace, Boyne Hill, so the oldest of the modern Thames. Sand and gravel extracting. Most sites found early, repeat digging every generation due to paucity of sites.
10 or 12 metres of sand and gravel covering a long period. You can check the Wymer archive for more information, see references below. This cover relatively simple cores, flakes and flake tools classed as Clactonian and later handaxes, mostly points and "Acheulian" cores, flakes and flake tools, as well as hominid skull fragments. Very rare find.
Ebbsfleet Valley, lake deposit, sunk, so surface is like a skate-board park. Straight tusk elephant (420,000 years ago) and scatter of flints suggesting human butchery, from this scavenged elephant.
Last interglacial absence of humans. We have sites for this time at Royal Oak portal, Paddington, bison and reindeer, predators. 90,000 and 80,000 years ago with no human evidence. Late glacial, and long blades have been found in Thames Valley including at Three Ways Wharf, Uxbridge, where bones (including reindeer) and flint (refits included) have been found.
Conclusion
Martin concludes that Palaeolithic archaeology has gone through a golden period since Boxgrove in the 1980s. We need to understand landscape change and geology to interpret Palaeolithic archaeology. It is expensive to conduct and our understanding has changed drastically over the last 40 years, due to new dating techniques and archaeological methods. We are still at infancy in locating new Palaeolithic sites, few Palaeolithic archaeologists are being trained due to lack of big sites. New planning laws maybe be harmful, and there is a need to educate specialists and wider public. Exciting new projects such as Lower Thames Crossing, Ebbsfleet Peninsula development and A12 road widening in Essex all cross important sites.
6
Bedrock Map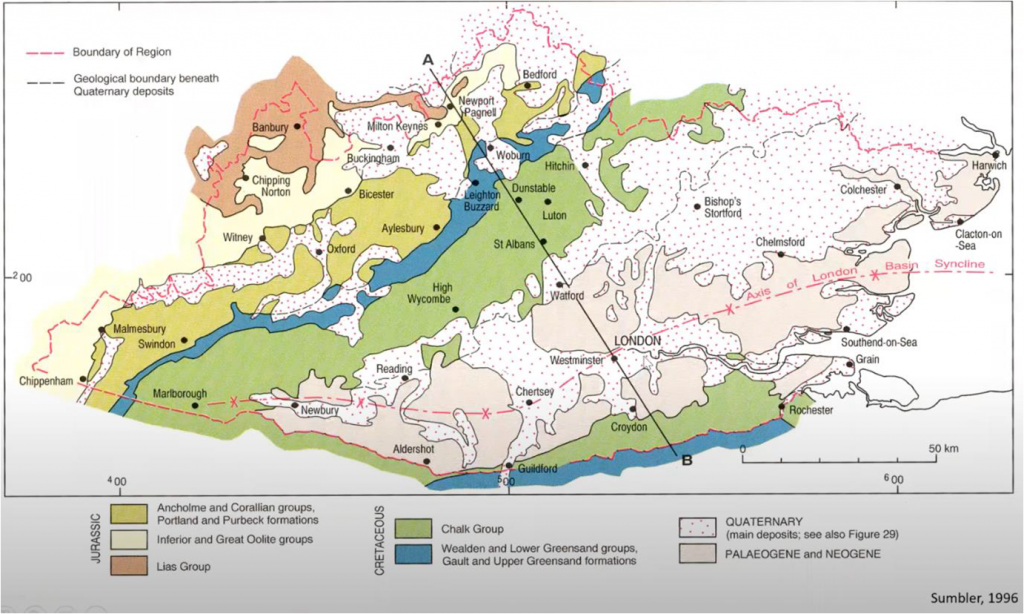 Glacial and fluvial deposits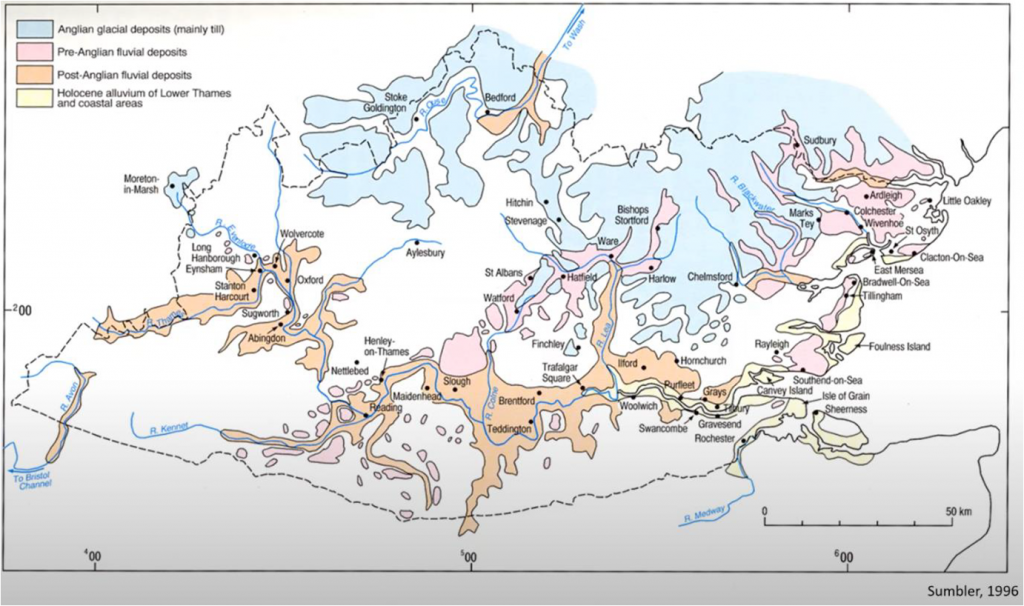 7
Pre-Anglian Thames (Sumbler 1996)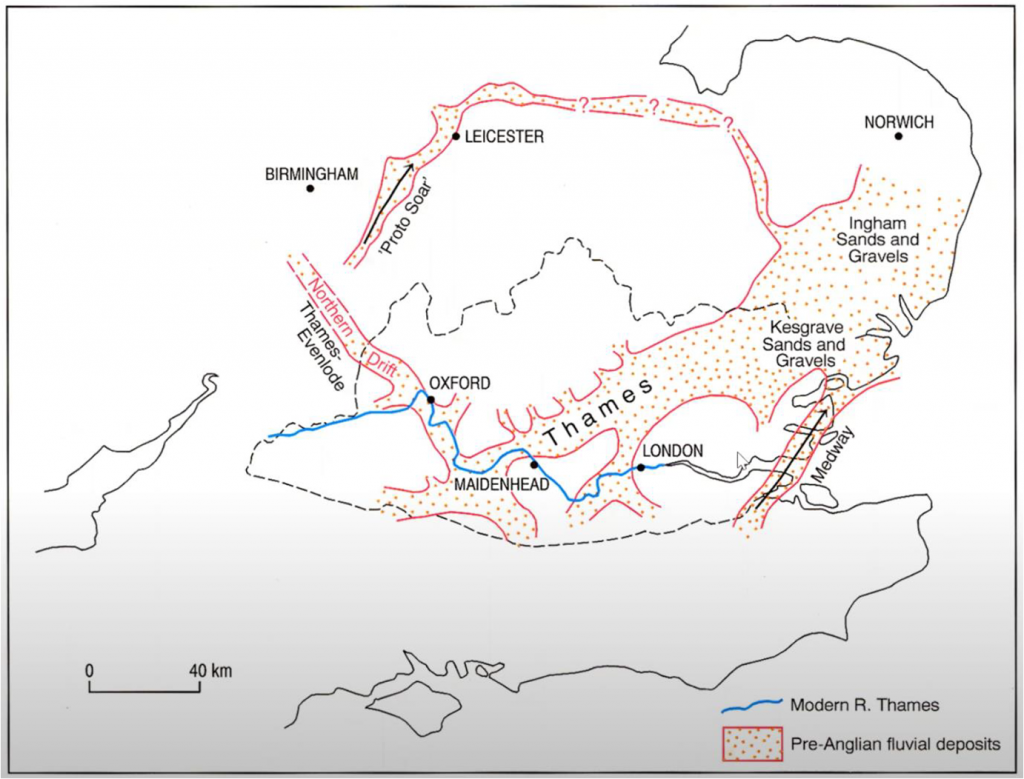 Anglian Ice Sheet around 450,000 years ago (Sumbler 1996)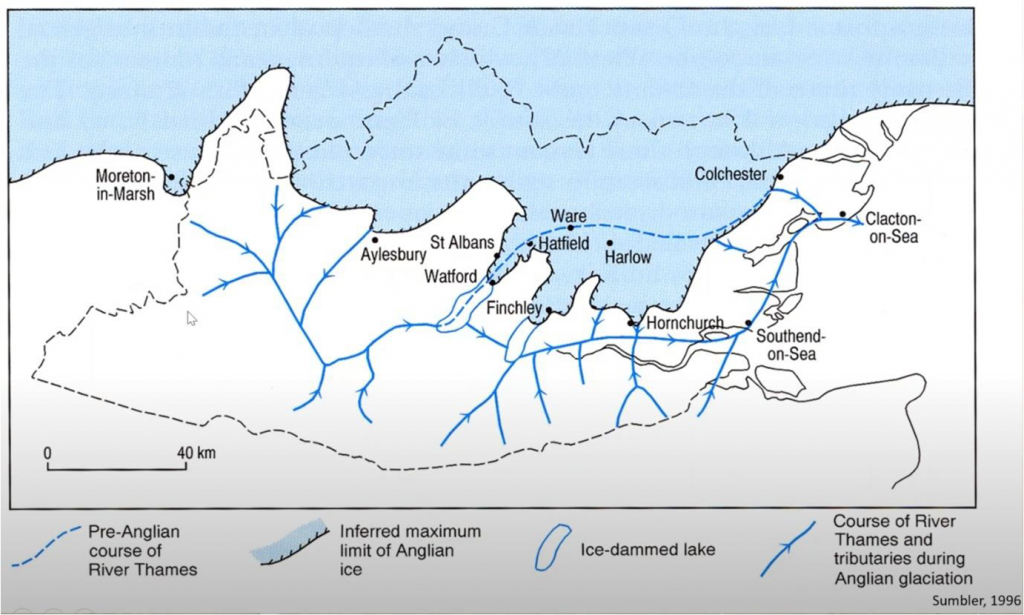 8
Lower Palaeolithic and time of the early Thames (Cohen et al, 2012)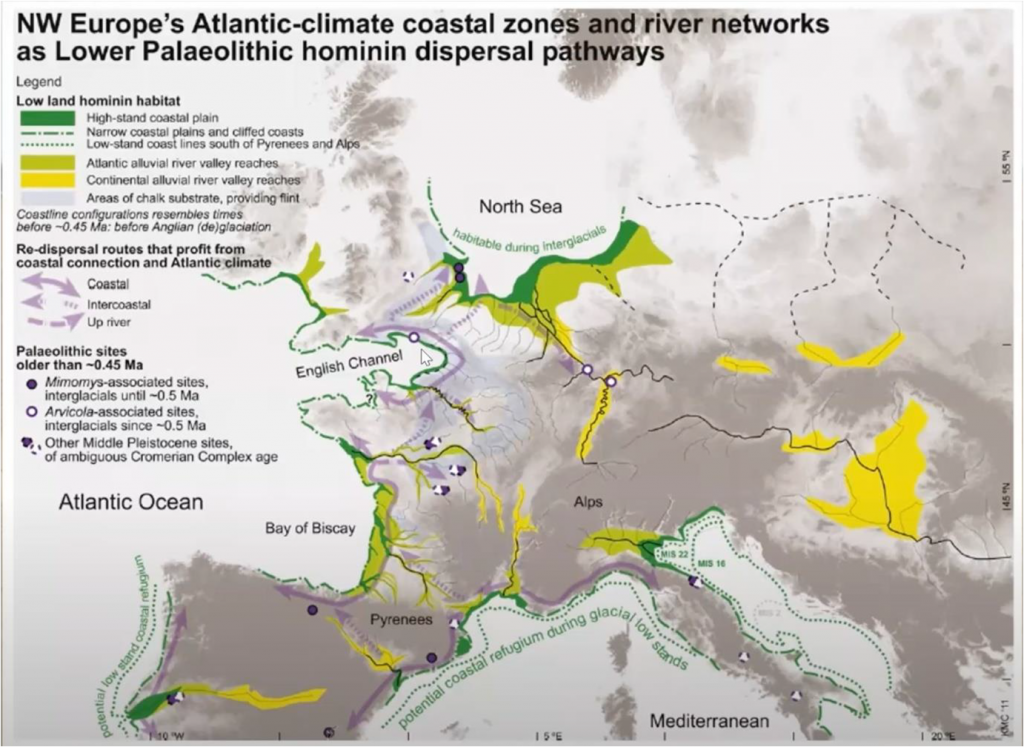 Useful References
Cohen, K. M., MacDonald, K., Joordens, J. C. A., Roebroeks, W., & Gibbard, P. L. (2012). The earliest occupation of north-west Europe: a coastal perspective. Quaternary International, 271, 70–83. https://doi.org/10.1016/J.QUAINT.2011.11.003
Lorraine Mepham (2008) The J J Wymer Archive [data-set]. York: Archaeology Data Service (distributor) https://doi.org/10.5284/1000062
Sumbler. M.G. et al, London and the Thames Valley. Fourth edition 1996, British Geological Survey.
Æthelwold Ætheling, nephew of Alfred the Great
Dudley Miles
Æthelwold and his brother Æthelhelm (who died young) were the sons of Æthelred I, King of Wessex. This made them æthelings, princes of the royal dynasty eligible for the throne, but when their father died in 871 fighting a Danish Viking invasion, they were infants, and Æthelred's younger brother Alfred the Great became king. However, his nephews had strong supporters, who may have been relatives of their mother. In the preamble to his will, Alfred described fierce arguments over his own father's will. Alfred was accused of seizing the whole of a major bequest which should have been shared with his nephews. He asked his leading
9
magnates to adjudicate, and not surprisingly they decided in his favour. His will bequeathed vast estates to his eldest son Edward and almost nothing to Æthelwold.
As the son of Alfred's elder brother, Æthelwold had a strong claim to the throne, but Alfred was determined that he would be succeeded by his own son. He promoted men who could be relied on to support Edward, gave him experience of leadership in battles against the Vikings, and may have made him a sub-king. When Alfred died in 899, Edward was in an overwhelmingly strong position, with the support of the great majority of the West Saxon magnates.
Æthelwold nevertheless made a bid for the throne. According to the Anglo-Saxon Chronicle, which is biased against him, he abducted a nun without the permission of King Edward. Her identity is not known, but historians think that this was the Chronicle's version of a politically important marriage. Æthelwold made a stand at Wimborne Minster, symbolically important as his father's burial place, and declared that "he would live or die there". However, he was unable to get sufficient support to meet Edward in battle, and he abandoned his consort and fled to Viking-controlled Northumbria, where he was accepted as king and had his own coins minted. In 901 he sailed with a fleet to Essex, where he was also accepted as king.
The following year Æthelwold persuaded the East Anglian Danes to attack Edward's territory in Wessex and Mercia. Edward retaliated with a raid on East Anglia, but when he withdrew the men of Kent lingered. They met the East Anglian Danes in battle on 13 December 902. The Danes were victorious but suffered heavy losses, including the death of Æthelwold, which ended the challenge to Edward's rule.
Other societies' events
Eric Morgan
Please check with the society or organisation before setting out in case of any changes or cancellations.
Wednesday 8th June, 8 pm. Hornsey Historical Society. On Zoom. Terry's Magical Theatre Tour. Talk by Terry Davis. Please email hornseyhistoricalchairman@gmail.com for link.
10
Thursday 9th June, 7.30 pm. Keats Community Library, Keats Grove (corner of Heath Hurst Road) NW3. Under Kenwood. Talk by Neil Titley. On the celebrities who have lived in Hampstead, with some lively anecdotes about the eccentric and characterful clientele of the legendary Magdala pub. Tickets £10 from the library or online at www.wegottickets.com.
Friday 10 June, 7 pm. Enfield Archaeological Society. Talk on Zoom. Manor House to School: Recent Research on Enfield Palace. By Ian K. Jones (Chair). Giving an update on his continuing researches into the history and architectural development of this now almost vanished building, the site of which is now occupied by Pearsons. To obtain link for meeting, please visit www.enfarchsoc.org.
Saturday 11th June, 12.15 pm. British Association for Local History. Conway Hall, Red Lion Square, WC1. A G Mand Annual Lecture on The Middle Ages, given by Dr. Janina Ramirez. For link please visit www.balh.org.uk/events.
Saturday 11th June, 12-5 pm. Highgate Festival. Pond Square and South Grove, Highgate Village, N6. Lots of stalls incl. Highgate Society, and Highgate Literary and Scientific Institute. Also craft and food stalls and music stage.
Saturday 11th and Sunday 12th June, 10.30 am-5 pm. Barnet Medieval Festival. Barnet RFG Ground and Playing Fields, end of Byng Road, Barnet, EN5. Lots of stalls incl. HADAS, Barnet Mus. and Loc. Hist. Soc., Barnet Society, Battlefields Trust. Battle Re-enactments. Food and drink stalls. For more info. please visit www.barnetmedievalfestival.org.
Monday 13th June, 9am-6 pm. Society of Antiquaries joint meeting with Royal Society of Chemistry. Conference. Advances in Isotope Ratio and Related Analyses for Mapping Migrations from Prehistory to the Viking Age. Details please visit www.rsc.org/events.
Monday 13th June, 3 pm. Barnet Museum and Local History Society. St John the Baptist Church, Chipping Barnet, corner High St./Wood St., Barnet, EN5 4BW. London Docks. Talk by John Lynch. Please visit www.barnetmuseum.co.uk.
Tuesday 14th June, 6 pm. Gresham College at Museum of London. Inigo Jones and the Architecture of Necessity. Talk by Simon Thurley (Provost). On his domestic buildings. Ticket required. Register at www.gresham.ac.uk and view online. Please visit www.gres.hm/inigo-jones. Free.
Friday 17th June, 7 pm. COLAS. Syon Abbey Re-visited; Reconstructing Late Medieval England's Wealthiest Nunnery. Talk by Bob Cowie. By zoom. Please book via Eventbrite. Visit www.colas.org.uk. HADAS may send out the details to its members to book.
Saturday 18th June. Barnet Physic Well. Cnr, Well Approach/Pepys Cres. Barnet. Open Day.
Sunday 19th June, 12-6 pm. East Finchley Festival. Cherry Tree Wood, East Finchley, N2. (Entrance off High Rd, opp. Tube Stn.) Lots of stalls incl. Finchley Soc., Friends of Cherry Tree Wood (run by HADAS' Roger Chapman), North London U3A. Also craft and food stalls. Music stage.
Wednesday 22nd June, 7.45 pm Friern Barnet and District Local History Society, North Middlesex Golf Club, The Manor House, Friern Barnet Lane, N20 0NL. Amy, wonderful
11
12
Amy (Amy Johnson).Talk by David Keen (RAF Museum) Please visit www.friern-barnethistory.org.uk and click on programme, or phone 020 8368 8314 for up-to-date details. (David Berguer, Chair). Non-members £2. Bar available.
Friday 24 June, 2-3.30 pm. Society of Antiquaries. Intertwined Histories Panel Session International. Currently on zoom. Please visit www.sal.org.uk/events for dates and bookings. Free but donations accepted.
Thursday 30th June, 7.30 pm. Finchley Society. Drawing Room, Avenue (Stephens) House, 17 East End Rd N3 3QE. Annual General Meeting. Non-members £2 at the door. Also on zoom. Please visit www.finchleysociety.org.uk. Also to register for zoom link. Refreshments in interval.
______________________________________________________________________________________________________________________________
With thanks for newsletter contributions this month to: Bill Bass, Don Cooper, Tim Curtis, Melvyn Dresner, Dudley Miles, Eric Morgan
______________________________________________________________________________________________________________________________
Hendon and District Archaeological Society
Chairman Don Cooper 59, Potters Road, Barnet, Herts. EN5 5HS
Tel: 020 8440 4350. E-mail: chairman@hadas.org.uk
Hon. Secretary Janet Mortimer 34 Cloister Road, Childs Hill, London NW2 2NP
Tel: 07449 978121. E-mail: secretary@hadas.org.uk
Hon. Treasurer Roger Chapman 50 Summerlee Ave, London N2 9QP
Tel: 07855 304488. E-mail: treasurer@hadas.org.uk
Membership Secretary Stephen Brunning, Flat 22 Goodwin Court, 52
Church Hill Road, East Barnet EN4 8FH1
Tel: 020 8440 8421. E-mail: membership@hadas.org.uk
Web site www.hadas.org.uk
12