Number 563 FEBRUARY 2018 Edited by Andy Simpson
HADAS DIARY – LECTURE PROGRAMME 2018
Tuesday 13 February at 8pm Dr Matthew Symonds. 'Protecting the Roman Empire:
understanding fortlets and frontiers'.
The Roman army enjoys an enviable reputation as an instrument of waging war, but as the modern
world reminds us, an enduring victory requires far more than simply winning battles. When it came
to suppressing insurgencies, or deterring the depredations of bandits, the army frequently deployed small groups of infantry and cavalry based in fortlets. This remarkable installation type has never previously been studied in detail, and shows a new side to the Roman army. Rather than displaying the aggressive uniformity for which the Roman military is famous, individual fortlets were usually bespoke installations tailored to local needs. Examining fortlet use in north-west Europe helps explain the differing designs of the Empire's most famous artificial frontier systems, including Hadrian's Wall and the Upper German and Raetian limites. The archaeological evidence will be integrated with documentary sources, which disclose the gritty reality of life in a Roman fortlet.
Tuesday 13 March at 8pm; Dr. Roger Tomlin Roman London's First Voices;
Roman writing-tablets from Bloomberg, London
Tuesday 10 April 2018 at 8pm: Stuart Cakebread The Greater London Historical
Environment Record
Tuesday 8 May 2018 at 8pm: Mark Smith The archaeology of World War One
Tuesday 12 June 2018 at 8pm; ANNUAL GENERAL MEETING
Tuesday 9th October at 8pm: Gabriel Moshenka Unrolling Egyptian mummies in
Victorian London (Gabe is well known to HADAS through his help with various
fieldwork projects)
Tuesday 13 November 2018: TO BE CONFIRMED
Lectures are held at Stephens House & Gardens (Avenue House), 17 East End Road, Finchley, N3
3QE, and start promptly at 8 pm, with coffee/tea afterwards. Non-members admission: £2; Buses
13, 125, 143, 326, 382 & 460 pass nearby and Finchley Central station (Northern Line), is a 5-10
minute walk away.
1
Honour for HADAS member Don Cooper
We are pleased to announce that Jacqui Pearce has been elected as President of the Society for Post-Medieval Archaeology (SPMA). Jacqui, who is a HADAS member, also teaches our course on finds processing, which is run at Stephens House (formerly Avenue House) every Wednesday evening during term time. Jacqui's day job is as a Senior Finds Specialist with Museum of London Archaeology (MOLA) working on finds from excavations in London. Jacqui is also the author of many books on the artefacts of the Post-Medieval period. We wish her well in her new (additional!) role.
Joanna Corden
Sad news from James Corden – his wife Joanna M Corden, formerly archivist at London Borough of Barnet and The Royal Society, passed away on 16 December 2017, aged 70, a month after suffering a severe stroke. She was born in Bologna on 5 August 1947 and had only just retired. She always enjoyed HADAS and history in general; she leaves a family.
November Lecture – The Hunting of Hephzibah Jim Nelhams
Faced with the late withdrawal of our booked speaker, I offered to fill in and update HADAS on the Story of Hephzibah.
In newsletter 418, January 2006, I noted how we had discovered Hephzibah WILLOWS, Jo's half great aunt. Hephzibah was the daughter of Jo's great grandfather, William Willows, from his first marriage, and was born late in 1842 in Cambridgeshire. Her existence does not seem to have been known to later generations, and she may not have had any contact with her father after he re-married.
By 2006, we had found that Hephzibah had married, had two children, Ethel and Sidney, and in 1881 the family was living near Wakefield in Yorkshire. But there the track went cold.
In newsletter 475, October 2010, I was able to give an update. The story had moved on when we found that Hephzibah and her family emigrated to Australia in 1883. Ethel married a gentleman named Jesse Dyer in 1903 and lived to the age of 95. We found her grandson, Norman, and during a trip to Australia met and stayed with him. When we visited his cousin Duncan, we found that Duncan had a photograph of Hephzibah. We also found Hephzibah's grave.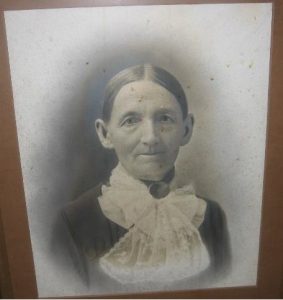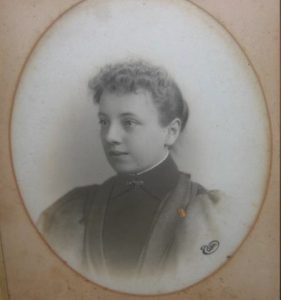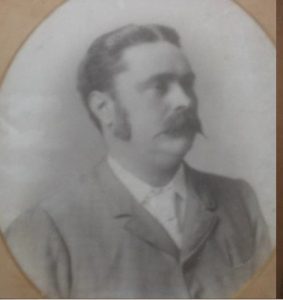 Photos of Hephzibah, Ethel and Jesse Dyer taken about 1905
At this point, Norman and Duncan knew the origin of their great grandmother, Hephzibah, but had no information about their grandfather Jesse. We still had work to do. The lecture gave me the opportunity to illustrate the wide variety of information about ordinary people, a lot of it available online or in local archives.
The story moves on. Matching information from Jesse's death certificate showed that he came from a village called Hailey, just to the north of Witney in Oxfordshire. His father, William Dyer, was a farmer with several other sons, eldest Robert, and a daughter. On a visit to the churchyard in Hailey, we found seven family graves. Robert had a daughter named Ada Frances, so with those unusual names, I started to trace her line. In 1898, Ada Frances (also known as Ada Fanny) married Ernest John Chandler, a tailor from Derbyshire, at the church in Hailey.
How they met, we do not know, but their first son was born a year later in Bromley, and in 1901 they had settled in Southall, Middlesex.
By the 1911 census, they had moved to Ealing and had five more children. Two of the brothers died in a motor cycle accident in Inverness in 1929, so I found myself looking at Robert Storer Chandler. The records show that Robert married in 1925 and had three children, Monica, Robert Hugh and Rosemary. At this point, loud bells were ringing, so I had Jo check my entries and conclusions. All looked correct.
Then in 1959, Robert Hugh Chandler married Patricia Ann Willows at the registry office in Ealing. The couple had two daughters.
We started in the Cambridgeshire village of Coton, traced Hephzibah, daughter of William Willows, via Wakefield to Australia where her daughter Ethel married Jesse Dyer. Jesse came from the Oxfordshire village of Hailey. Jesse's brother's great grandson, Robert Hugh Chandler married Patricia Ann Willows in Ealing in 1959. And Patricia Ann Willows was the great granddaughter of William Willows from his second marriage, and Jo's sister.
Thus Robert's and Patricia's two children were related to Norman in Australia both through their mother and their father.
Excavations at Hendon School, Golders Rise, Hendon, London, NW4 2HP.
Site Code: GDR17, NGR TQ 23610 89011, June 2017. Bill Bass
This is a report on excavations and student outreach involving HADAS and University College London's Institute of Archaeology (IoA). Following on from previous work at the school between 2006 and 2012, it was decided to revive the project to give another set of school students an experience of archaeology and the disciplines that go with it, together with a history of the area. It also gave an opportunity for students of the IoA to gain additional practical archaeological and teaching practice, and it gave HADAS a further chance to find out more about the Roman and Medieval material that was found here in the previous digs mentioned below.
Emma Densham (IoA) organised a timetable of various archaeological activities with the school and liaised with her fellow students on supervision of the school pupils with the aim of showing the pupils (Year 10 mainly) details of the techniques of archaeology such as – What is archaeology? Why are we digging here? How to excavate/record sites, finds processing and similar themes. For further background information on the IoA/student perspective please see the article featuring Emma Densham in September's 2017 HADAS Newsletter (Archaeology Today – A student view).
HADAS supplied volunteers from the Fieldwork Team who helped supervise and excavate. We also provided the tools and material for the dig.
Dig background
Previous digs at Hendon School include – 2006 (HDS06), 2007 (HDS06), 2008 (HDS06), 2009 (HDS06), 2010 (HDS06), 2011 (HDS06), 2012 (HDS06). These have been reported in HADAS Newsletters and in the dig archive.
But a brief recap; some of the trenches have contained small amounts of Roman pottery, most have had a fair scattering of medieval pottery – fairly substantial in some cases, there is always an amount of post-medieval pottery and building material.
In most cases the pottery sherds are small in nature and abraded/worn possibly found in a plough soil, none have so far been associated with a feature – pit, ditch or gulley etc.
There are known pockets of Saxon and Medieval occupation in The Burroughs and Church End areas of Hendon. Does Brent Street and Bell Lane near to Hendon School represent a further medieval hamlet, the finds of which are found along the northern boundary of Hendon School playing field? Usually at these sites there is a scattering or background 'noise' of Roman material, is there an occupation site in the area?
John Norden (1548-1625), cartographer to Elizabeth I built a substantial structure – Hendon House. The gardens and orchards stretched eastwards, the house was just beyond the vicinity of the current school building, but the gardens stretched onto land occupied by the school and playing field.
Archaeology
For the 2017 campaign a 6m x 2m trench (trench 1) was laid along the northern boundary of the playing field adjacent to the tall chain-link 'catch fencing', a further two 0.50cm x 2m test-pits were excavated just to the west of the main trench.
Trench 1.
The turf and topsoil, was approx 30-40cm in depth from the 61.70 OD level. The brown silty/sand and clay layer context [100/101] produced a wide mixture of finds including modern to Roman in date. They were composed of pottery, small amounts of tobacco pipe, building materials – brick/tile, glass, iron, pre and post decimal coins, some animal bone and modern plastics/tin-cans etc.
Pottery included Transfer Printed wares (TPW) 1780-1900, Post-Medieval Redwares (PMR) 1580-1900, small amounts of Tin-glazed wares (TGW) 1570-1746 and Borderwares 1550-1700, Stoneware sherds of both the German and English varieties were noted – a part of a jar was inscribed "HARTLEY LONDON" 18th or 19th centuries.
Medieval pottery consisted of varieties of early (1050-1200) and coarse (1170-1350) South Herts wares (SHER), Coarse Border Wares (CBW) (1270-1500). A total of 17 sherds of medieval pottery were recovered from context [100/101] in the form of rims, body sherds and bases. They were mainly small sherds and abraded.
Several sherds of Roman pot were identified, notably a body sherd of Colour-Coated Beaker from Trier (50-400AD), 4 sherds of red slip ware possibly OXRC (270-400), a rim of grey fabric with red-brown coating of possible industrial use was noted. A total of 11 sherds of Roman pottery were recorded from this context.
The clay tobacco pipe included bowls or part bowls of types AO15 1660-1680 and AO25 1700-1770. Coins from context [100] included four decimal types of ½p to 2p. Recovered from [101] were pre-decimal coins of ¼d 1933, ½d 1905-1927 some others illegible, and 21 decimal coins of ½ to 20p.
Context [102] lay beneath [100/101], it was a yellow-brown sandy clay approx 20cm thick. Again a rather mixed layer of medieval and post-medieval pot, clay tobacco pipe, building material – mostly roof tile (much was discarded on site, some samples were kept), small amounts of glass and iron.
The post-medieval pottery was similar to that found in [100/101].
Of the medieval pot there were 14 body sherds including SHER in fine and flinty fabric, Early SHER (ESHER) 1050-1200, CBW and London ware LOND (1080-1350).
In the north-west side of Trench 1 a shallow depression was recorded [104], it was filled with a dark grey/brown clay with pebbles, it was 1.20m in dia and approx 10cm deep. The nature of this feature was uncertain with no dating evidence.
The mottled yellow-brown sandy clay was reached at approx 60cm below the turf, a 'sondage' (small inspection trench) was dug in the east of Trench 1 to confirm that this was the natural clay.
Trench 2
Trench 2 was placed 6m west of trench 1 and was 0.50m (E-W) x 2.00m (N-S). The turf level was 61.88OD
The top-soil [200] was essentially the same as trench 1 containing clinker, coal and chalk fragments and other 'modern' material. There were small amounts of pottery – PMR, English Stoneware, TGW(D), Post-Medieval Black Glazed ware 1580-1700 (PMBL). Also noted were building material, glass and fragments of clay tobacco pipe.
Beneath [200] was [201] which was similar to [101] as described above, including small amounts of Raeren Stoneware 1480-1610, Frechen Stoneware 1550-1700, Metropolitan Slipware 1500-1800, White Salt-Glazed ware (SWSG) 1720-1780, Red Border wares 1550-1900 and PMRs. One sherd of medieval SHER 1170-1350 was noted.
Other finds from [201] were minor amounts of building materials, glass and iron nails
Trench 3
Trench 3 was 1.00m west of trench 2 and of similar dimensions, it was started but not finished and was backfilled and not formally recorded. It would have been similar to trench 2, being used to give pupils a chance to excavate.
Trenches 2 and 3 were not fully excavated to the natural clay.
Discussion
In trench 1 below the turf and topsoil was context [102] which by the finds was a disturbed layer either through the levelling for the playing field or previous plough action, allotments or similar. Unfortunately there was no evidence of 'features' – pits, post-holes, ditches and so forth that could relate to the post-medieval or earlier periods. But the medieval and Roman finds once again point to possible occupation in the area. The 2017 dig is fairly similar to that of 2008 where a same size trench was dug several metres to the west where there were similar disturbed contexts. Compared to those trenches dug in 2011 and 2012 some metres to the east (the NE corner of the playing field), these trenches had a more substantial medieval content in a perhaps more 'secure' less disturbed layers.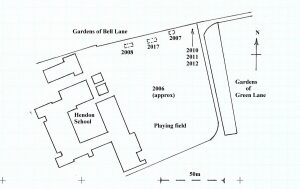 So the origin of the Roman and medieval material is still a mystery and as mentioned in previous Hendon School reports perhaps there was a settlement in the Brent Street/Bell Lane junction, ribbon development along Bell Lane or similar. At the time of writing (December 2017) the school was proposing to rebuild some classrooms along the NW side of the playing field which may be a further opportunity to add to the picture. The school students over a couple of weeks were involved in the archaeology, ranging from history of the area, excavation, surveying, finds washing and processing and so forth. Members of HADAS (some new to practical archaeology) and UCL students also gained experience from the various disciplines.
Map showing the approximate position of the trenches and their year, 2009 (not shown here) was along the eastern border.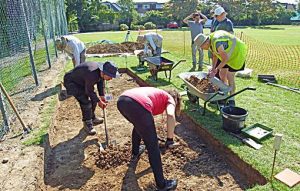 HADAS hard at work in hot and sunny conditions in trench 1, looking east. (Vicki Baldwin)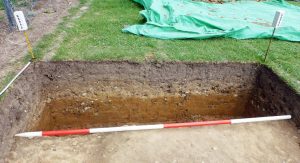 The eastern end of trench 1 showing contexts 100/101, 102 and the natural clay layer at the bottom.
Acknowledgements:
Emma Densham and the UCL/IoA students.
HADAS Fieldwork Team. Teachers and students of Hendon School. Caretakers and ground staff of Hendon School. Jacqui Pearce (finds identification).
Hadas Frodsham trip – Day 4 Jim Nelhams
After visiting the Roman city of Chester with its Cathedral dating from 11th Century, Thursday saw us in Liverpool, a young city, with two major Cathedrals both consecrated in the 20th Century, and both with unique features. As Kevin notes, the Catholic Cathedral has its own underground car park. The Anglican Cathedral illustrates probably the largest and smallest designs of George Gilbert Scott. The size of the largest is evident, but the smallest is an iconic telephone box to one side of the main nave. Is this the only cathedral with a telephone box inside? For the familiar red telephone box was also designed by Gilbert Scott, winning a competition in 1924, and some of them are now listed by Heritage England.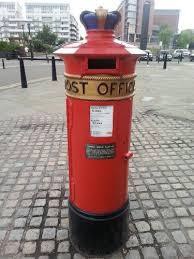 And close to our pick-up point at the Albert Dock stands a "Liverpool Special" letter box. Only seven of these boxes, installed in 1863, were made, and just the one remains in public use though not in its original location. Their erection followed a long battle with Post Office management in London. They were built because in Liverpool but not London, it was permitted to post newspapers as well as letters. This caused the boxes to fill, with a number of complaints from the police that they were regularly overflowing.
A Street Called Hope Kevin McSharry
On the penultimate day of the HADAS long trip, based at Frodsham in Cheshire, we visited the great port city of Liverpool. A dry sunny day we had of it which made for a leisurely relaxing visit.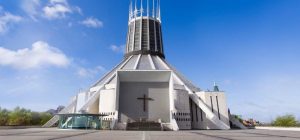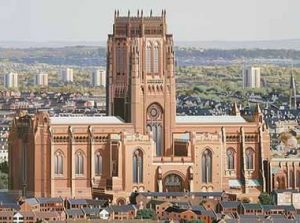 Catholic Metropolitan Cathedral of Christ the King Anglican Cathedral of The Risen Christ
Our first two stops took in the two great icons of this city: its cathedrals, which stand at either end of the ecumenically sounding Hope Street; the Catholic Metropolitan Cathedral of Christ the King and the Anglican Cathedral also dedicated to the Christ – the Risen Christ. Architecturally, the cathedrals could not be more different: the Catholic – modern and futuristic and the Anglican Gothic, traditional, and massive.
The Metropolitan (Catholic) is circular in plan but conical in shape. The approach to the main entrance is from a spacious piazza and up a broad and steep majestic flight of steps. We lesser mortals chose not the majestic approach but that which was via a lift in the cathedral underground car park. Which other cathedral in the British Isles, nay the world boasts an underground car park? The focus of the circular interior is the sanctuary and altar, with the tower above it.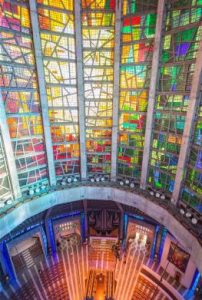 Inside Cathedral of Christ the King
The benches are concentric to the sanctuary allowing for an unobstructed view of the altar. Around the perimeter of the interior is a series of chapels. The whole interior is suffused by beautiful lines of light, blue being dominant, reflecting the colours of the stained glass designed by John Piper and Patrick Reyntiens. The cathedral was designed by Sir Frederick Gibberd and built between 1962 and 1967. The structure we see today which is stunning, is not that which was originally intended by the distinguished architect, Edwin Lutyens. Cost prevented the Lutyens design seeing the light of day. What there is of Lutyens is the impressive crypt.
The Anglican Cathedral is in complete contrast to the Catholic Cathedral but by golly is it impressive. Liverpool Cathedral is a magnificent, traditional gothic structure. The interior is solemn, imposing and majestic with columns soaring to a distant roof. The sheer size is breath-taking. The statistics exemplify: the largest in Britain, fifth largest in the world. Giles Gilbert Scott, of that illustrious family of architects, designed the cathedral but died before its completion which took 74 years – 1904 to 1978 with the Metropolitan cathedral taking just five.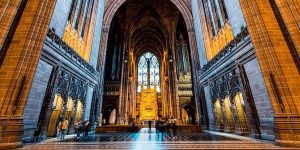 Inside the Anglican Cathedral of The Risen Christ
The two cathedrals need to be visited together, as it were, which the Hadassians did. Our visit heralded a wonderful visit to this great city.
More in Liverpool Brenda Pershouse
There is much more to see in Liverpool. As well as the two majestic Cathedrals and three major museums and art galleries, there is St George's Hall.
This is one of the great Victorian classical buildings, a masterpiece of the young architect Harvey Lonsdale Elmes, who began work on it in 1842. It is classical Greek design. The enormous hall is very elaborately decorated from floor to ceiling. There are Corinthian columns, stained glass windows and a row of marble statues the length of the hall.
From there, I continued walking to find the Cavern quarter. In Matthew Street is a sculpture made by the very talented Tommy Steele of Eleanor Rigby. Four sculptured heads of the Beatles are displayed above a shop doorway, and John Lennon leans against the wall outside the famous Cavern Club. A life-size group of the four stands near the Liver Building – yet another tourist attraction in this interesting city.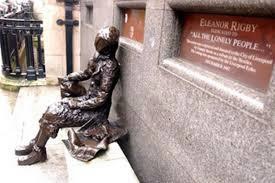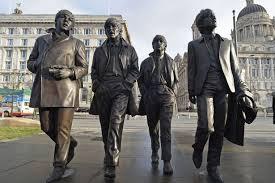 Chester Vintage Transport Andy Simpson
Naturally the chance was taken to visit the redeveloped site of the former Chester tram depot opposite the railway station. Although now replaced by student accommodation since the ill-advised privatisation of the former Chester City Council owned bus company a few years ago which led to overnight chaos from the replacement private operator, the 3ft 6in gauge depot track fan, last used on 15th February 1930, has been carefully preserved at the front (Tramway Street) and rear (Car Street) of the site; the Car St track is shown in the photo below, with Station Road and the former GWR station visible at the rear of the shot. Electric trams first ran in public service in Chester on 6th April 1903; the small fleet of eighteen trams ran virtually unaltered until the shabby and run-down small open-top four wheeled tramcars were replaced by Chester Corporation motorbuses. One or two wall rosettes for supporting the overhead wires remain visible in the city centre, especially Northgate St and Westgate St.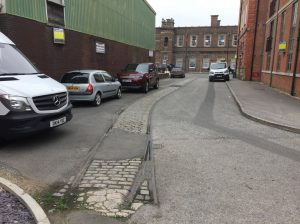 Other 'vintage' transport encountered in Chester was the replica WW1-era London General Omnibus Co B- Type bus operated by Chester Heritage Tours – www.ChesterHeritageTours.co.uk , starting by the collection of Roman columns displayed in Northgate Street. It is quite a good replica, albeit with non-prototypical windscreens added for driver comfort, and is built on the chassis of a 1964 Bedford SB5 coach chassis originally delivered to Wessex Coaches in Bristol and one of three rebuilt in its present form in 1982 in Cornwall – photo below at Northgate Street. These tours began in June 2005. Some 2,500 of the original rugged and reliable B-type were built, and ran in London 1910-1927; many were used in France in WW1 for troop transport, and as field ambulances and even carrier pigeon lofts. Originals can be seen at the LT Museum Covent Garden and Acton Depot sites, and there is another – 'Old Bill' – in the collection of the Imperial War Museum.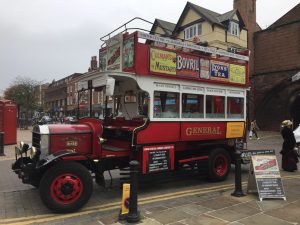 Other Societies' Events Eric Morgan
Friday 16th February 7pm COLAS St Olave's Hall, Mark Lane, EC3R 7BB Uncivilised Genes, Human Evolution & The Urban Paradox Presidential Address by Gustav Milne Preceded by AGM Wine & Nibbles to follow. Visitors £3 Drawing on what Archaeological evidence reveals about Palaeolithic & Mesolithic diets, as on anthropological studies of contemporary Hunter-Gatherer Societies. Book out.
Friday 16th February, 7.30pm Wembley History Society English Martyrs' Hall, Chalkhill Road Wembley HA9 9EW (Top of Blackbird Hill, adj. to church) John Betjeman's London – Talk by Colin Oaks Visitors £3.
Monday 19th February 8.15pm Ruislip, Northwood & Eastcote Local History Society St Martins Church Hall Eastcote Road, Ruislip – One Thames or Two? The Archaeology of London's River Talk by Jon Cotton.
Thursday 22nd February 2.30pm Finchley Society Drawing Room, Avenue House (Stephens House) 17, East End Road N3 3QE Hawthorn Dene- Its Role in Local and National History Talk by Frank Kelsall Non-members £2 Please Note Start Time.
Thursday 1st March, 8pm Pinner Local History Society Village Hall, Chapel Lane Car Park, Pinner HA5 1AB Pinner's Old Roads- Paths, Tracks, Travellers & Tarmac Research Group presentation by members. Visitors £2.00
Wednesday 7th March 6pm Gresham College At Museum of London 150, London Wall, EC2Y 5HN Palace, Park & Square; St James's The Birth of the West End. Talk by Simon Thurley on the Buildings From A Court Quarter To the New West End Free.
Monday 12th March 3pm Barnet Museum & Local History Society Church House, Wood St, Barnet (opposite Museum) Barnet War Memorials and Heroes Talk by Martin Russell Visitors £2.
Wednesday 14th March 2.30pm Mill Hill Historical Society Trinity Church, The Broadway, NW7 Royal Medicine Through The Ages Talk by Dr Barry Walsh Preceded by A.G.M.
Friday 16th March 7.30pm Wembley History Society Address as February. The Olympic Way Story Talk by Philip Grant (Brent Archives) Visitors £3.
Wednesday 28th March, 7.45pm Friern Barnet& District Local History Society North Middx Golf Club, The Manor House, Friern Barnet Lane, N20 0NL How Women Got the Vote Talk by Barry Hall Visitors £2. Refreshments and Bar. CORRECTION – The date of the February talk was shown as 25th; should be 28th.
Thursday 29th March, 8pm Finchley Society Drawing Room, Avenue House The Barnet Society Talk by Robin Bishop and Discussion. Visitors £2.
With thanks for newsletter contributions this month to; Bill Bass; Don Cooper; James Corden; Kevin McSharry; Eric Morgan; Jim Nelhams; Brenda Pershouse.
Hendon and District Archaeological Society
Chairman Don Cooper 59, Potters Road, Barnet, Herts. EN5 5HS (020 8440 4350)
e-mail: chairman@hadas.org.uk
Hon. Secretary Jo Nelhams 61 Potters Road Barnet EN5 5HS (020 8449 7076)
e-mail: secretary@hadas.org.uk
Hon. Treasurer Jim Nelhams 61 Potters Road Barnet EN5 5HS (020 8449 7076)
e-mail: treasurer@hadas.org.uk
Membership Sec. Stephen Brunning, 1, Reddings Close, Mill Hill, London
NW7 4JL (020 8959 6419) e-mail: membership@hadas.org.uk
Web site: www.hadas.org.uk
Discussion Group; http://groups.google.com/group/hadas-archaeology