HADAS DIARY – LECTURE AND EVENTS PROGRAMME 2019
Tuesday 12th March 2019: Lost and Found: The Rediscovery of Roman London – by John Clark
John Clark was Curator of the Medieval Collections of the Museum of London for many years. He
retired in 2009, but retains his connection with the museum as Curator Emeritus. While studying
the history and archaeology of medieval London, he became interested in the way medieval
Londoners interpreted the past of their own city, for they had no knowledge of what we call 'Roman
London'. They believed London was much older than Rome, and that its city walls and ancient
buildings had been erected by legendary British kings like Belinus and Lud.
In his talk John will consider how historians began to question this story in the 16th century. With
access to classical texts rediscovered during the Renaissance, and with the natives of the newly
discovered Americas as models for an understanding of the 'Ancient Britons' described by Julius
Caesar, they were better placed to recognise the nature of Roman Londinium. After the Great Fire
of 1666, building works revealed remains of Roman London, and they were recorded, collected and
discussed by antiquaries like John Conyers, John Woodward and William Stukeley, setting the
scene for the work by London archaeologists that continues today.
Tuesday 9th April 2019: The CITiZAN Project by Gustav Milne
Tuesday 14th May 2019 50 years of recording London's Industrial Heritage by Professor David
Perrett
Tuesday 11th June 2019. ANNUAL GENERAL MEETING
HADAS 2019 Long Trip. Monday 23rd to Friday 27th September 2019
We have booked the hotel for our long trip in 2019. Details will follow in due course.
The hotel is: Best Western Aberavon Beach Hotel, Aberavon Beach, Port Talbot, SA12 6QP
Tuesday 8th October 2019: From Crosse & Blackwell to Crossrail – MOLA excavations at
Tottenham Court Road 2009–10 by Lyn Blackmore
Tuesday 12th November 2019: Shene and Syon: a royal and monastic landscape revealed by
Bob Cowie
Lectures are held at Stephens House & Gardens (Avenue House), 17 East End Road, Finchley, N3
3QE, and start promptly at 8 pm, with coffee/tea afterwards. Non-members admission: £2; Buses
13, 125, 143, 326 & 460 pass nearby and Finchley Central station (Northern Line), is a 5-10
minute walk away.
Change of dates for Lectures
Following the consultation to members in the January Newsletter regarding the dates of the lectures,
there will be no change, as the response was not sufficient to make any meaningful decision.
Jo Nelhams (Secretary)
September Trip Jim Nelhams
This will take place from Monday 23rd to Friday 27th September. We will be based at the Best
Western Aberavon Beach Hotel on the east side of Swansea Bay in an area not previously visited by
a long HADAS outing.
The cost will be £535 per person in a single room, and £485 per person sharing a double or twin
room. We have provisionally booked the same number of rooms that we used in Brome in 2018, but
that can be changed. To secure your booking, we need a deposit of £150 by Friday 15th March, with
the balance to be paid by 15th July. Payment can be made by cheque to HADAS (my address is on
the back page of this newsletter), or by direct transfer to our account at CAFBANK, sort code 40-
52-40 account number 00007253. If you have any problems with payment. Please talk to us to see if
we can help.
We do not restrict these trips to members, so if you want to bring a friend, that is fine.
Our previous trips have been written up in our newsletters so you can read about them.
If you are not sure what they involve, please give me or Jo a call and we can talk to you about them.
(020 8449 7076)
Membership Renewals Stephen Brunning
The HADAS membership year runs from 1st April to 31st March, and so all members who pay
by cheque will now be required to renew (except those people who have joined since January
this year).
Members who pay their subscription by standing order need take no action.
Please therefore find enclosed a renewal form, and I would ask that you fill it in and return it
to me, along with the appropriate amount as soon as possible. The current rates and where to
send your payment are on the form. Many thanks.
If the renewal form is not enclosed and you require one, please contact me (details on back page).
February Lecture
Unfortunately, on 12th February Jon Cotton was ill and unable to give his talk on "Prehistory in
London" which would have been the Dorothy Newbury Memorial Lecture. Luckily HADAS
Committee member Roger Chapman stepped in at short notice, and spoke to us about the history of
Clitterhouse Farm and the digs carried out there, illustrating his talk with slides.
HADAS 2018 – Brome Trip (final day) Jim Nelhams
It's Friday and time to go home. Farewell to those travelling under their own steam. Cases loaded
and off we go. First stop Lavenham, which I'm sure some people will have visited previously
before making our way to Sudbury. Day one included a visit to Constable's church and Flatford
Mill. Another artist – Thomas Gainsborough – to check in Sudbury.
Lavenham Guildhall Audrey Hooson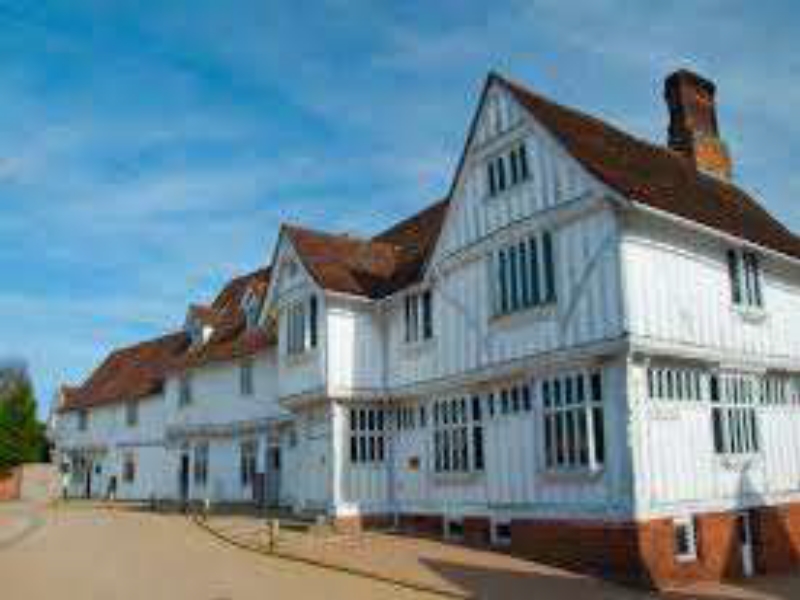 The Guildhall of Corpus Christi, built in 1529-30, with two adjoining properties forms the south
side of Lavenham's market place. There are still many impressive lime-washed houses in the
village although the medieval exteriors front more modern adapted homes.
The prosperity of the village was based on the production of woollen cloth, particularly blue
woollen broadcloth. The Merchant Guilds were originally formed for mutual assistance to the
members and to raise funds for a Catholic Priest's duties and to ensure suitable burials, they also
organised social activities and the celebration of saints. During the boom years of c1460-1530 they
were active in controlling the manufacture and sale of textiles and contributed to the building of the
impressive church of St. Peter and St. Paul which was built in stages from c1486-1525. Religious
guilds were dissolved in 1547 during the Protestant Reformation and the Guildhall became parish
property.
The carving and decoration of the exterior were obviously intended to impress and show the wealth
of the guild, and it is one of the few buildings to remain in its original state. There have been
several changes of use since the building ceased to be the Guildhall, all requiring modification to
the interior. From pre-1655-1787 it became the bridewell or house of correction, from 1655-1836 a
workhouse and from 1833-1836 there was a lock-up and mortuary at the back of the garden. The
only furniture currently on display is an interesting mural cupboard dated 1647 with a curved top,
on loan from the V&A.
In 1946 following a period of neglect and unsuitable restoration, the Guildhall and adjoining
buildings were given to the Lavenham Preservation Committee by the owner, Sir William Quilter,
and later after a campaign to provide the necessary £4,000 endowment, accepted by the National
Trust. The Guildhall is again used as a community building.
During our visit there was an exhibition, 'Lavenham Guildhall, the stories of the village through
time'. The organisers had selected previous residents and researched their stories. The person that I
found of appalling interest was Ann Baker. As a child Ann was a prisoner in the Cosford Union
Workhouse in nearby Somer, living in harsh conditions. She ran away and was sentenced to three
years hard labour for embezzling goods. In 1785 now aged only 12 she ran away again, was caught
and tried at Bury St Edmunds court.
Judged an incorrigible rogue, Ann was sentenced to seven years transportation to Australia. The
convict ship "Neptune" did not leave until 1797, and the interval was spent in the Lavenham
bridewell. Conditions in the ships were very harsh and around 26% of the convicts died during the
159 days of the journey. Our guide was very pleased to tell us that Ann had descendants, who on a
visit from Australia had seen the exhibition and provided more information.
The gardens behind the three buildings have been combined and planted with dye plants and teasels
that would have been used in Lavenham's Tudor cloth industry. A wall hanging inspired by this
local textile industry and using natural dyes, has been designed and made by the Lavenham Guild of
Weavers, Spinners and Dyers whose members regularly demonstrate their craft at the Guildhall, is
on long term loan and showed how bright the better cloths may have been.
Little Hall, Lavenham Stewart Wild
Our next visit was to the fascinating Little Hall, one of Simon Jenkins' England's Thousand Best
Houses. This jettied timber-frame gem dates mostly from the 1450s.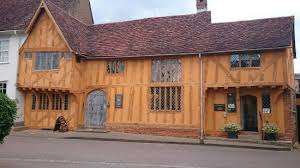 Overlooking Lavenham's Market Place, and close to the Guildhall, the building was in all
probability built for a family of clothiers, wealthy from the wool industry of the 14th and 15th
centuries, and later 'modernised' in Tudor times with a hearth, chimney, an upper floor over the
central hall, and glazed windows.
It has been owned and loved since 1974 by the Suffolk Building Preservation Trust, and open to the
public as a unique museum for over forty years, run entirely by a team of volunteers who kindly
facilitated our own private visit.
At its core is a typical hall house of the period, with a great hall rising to the roof and two jettied
wings for private and service purposes. The great crown post with its supporting beam which
dominates the dormitory upstairs is evidence of the original hall and was revealed during restoration
of the house after World War II.
The house has had a chequered history, for as the cloth trade declined in the 18th and 19th
centuries, so Little Hall also fell upon hard times. No longer a wealthy family home, it was divided
into six tenements housing labourers in a variety of trades.
In 1924 the property was rescued by a pair of identical twin brothers, Colonel Thomas and Major
Robert Gayer-Anderson (born 1881) whose plan was to provide accommodation for their widowed
mother and use as their home when they were not on active service with the Army. In fact, it took
them nearly thirty years to bring the house back to a single comfortable dwelling of the 1950s.
Robert Gayer-Anderson became an Egyptologist of distinction and was given the honorary title of
Pasha by King Farouk for his services to Egypt. Much of his collection of antiquities has been
donated to museums in London, Oxford and Cairo, but lesser pieces of art and sculpture remain in
the house. He died in 1945.
During WWII his brother the Colonel was local Home Guard Commander and Chief Billeting
Officer for Lavenham and himself took in six boys evacuated from war-torn London. Evidence of
their presence can still be seen in the upstairs dormitory. Some of the boys have remained in touch
with the Trust over the years and have returned to visit.
On the Colonel's death in 1960 the brothers left the house to be used as a hostel for art students
from The Slade, where their sister had studied, and from Kingston Art School in Surrey where their
friend Reginald Brill (1902–74) was the Principal.
Before and after his retirement Brill lived in the house and was the Warden. He was a prolific artist
and some of his work, and that of his students, remains on display to this day. Under the terms of
the Gayer-Anderson Bequest the house passed eventually to The Suffolk Building Preservation
Trust.
To round off the visit, we admired the delightful gardens at the rear, planned along Tudor lines with
a traditional English walled garden
.
Lavenham Church Harriet Sogbodjor
The church of St Peter and St Paul Lavenham is Grade 1 listed and is considered the finest example
of late Perpendicular Gothic. There was probably a church on the site in the Anglo-Saxon period,
but nothing from that period remains. The oldest part of the current church is the chancel which was
built around 1340, around which the current spectacular gothic church has been extended.
Following the Black Death, Lavenham and the surrounding area grew rich due to the wool trade.
The 14th century church was altered several times, reflecting the increased wealth of its community.
One example of this was the eastern vestry, which was added in 1440. The church was
reconstructed again between 1485 -1525. It was one of the last churches completed before the
Reformation, the work being funded by wealthy local merchants who continued to pay for its
upkeep.
Donors included the 13th Earl of Cambridge, the Branchs and De Veres. Thomas Spring, a cloth
merchant whose mark appears over 30 times on the outside of the building, contributed vast
amounts for the development of the church in his lifetime and following his death in June 1523. He
is buried within a tomb in an elaborate parclose in the church. After his death his widow ensured the
completion of the steeple and the South chapel with funds left in his will for this purpose. The tower
was designed by a mason, John Clerk and built between 1486-1495, with further work funded by
money left in Thomas Spring's will.
The nave, aisles and clerestories were designed by John Wastrell. Features include a painted rood
screen from 1330-40 and an octagonal font, also from the 16th century. There is a church clock
without an external dial. There are late medieval stalls in the chancel, and misericords with a range
of unusual carvings. Another carved parclose contains the tomb of John Pouder who died in 1520.
On the north wall of the chancel there is the Copinger Memorial, which depicts the family of
parents and children, including skulls representing their children who had already died.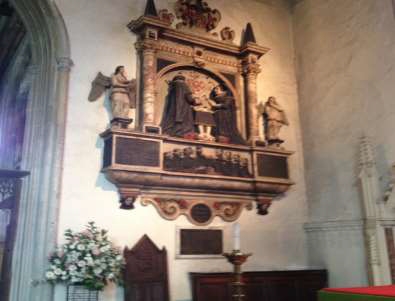 There are few brasses in the church and nearly all pre-reformation ones are lost. There is an unusual
brass of a swaddled baby and an inscription in Latin commemorating a 10-day old baby Clopton,
who died in 1631 born to Sir Symond D'Ewes, Lord of the Manor. There are also beautiful stainedglass
windows, in the decorated style, depicting scenes from the bible and angels. One window
depicts several nativity stories from St Luke's Gospel. The west window, below the tower, shows
scenes from the gospels of St Peter and St Paul. This was restored following destruction by a WW2
bomb.
This huge fascinating church, in a small picturesque town, reflects the increasing prosperity of this
area of Suffolk and was a delight to visit.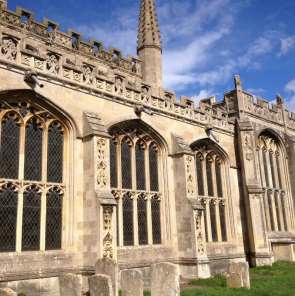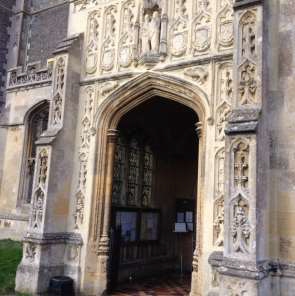 Gainsborough's House Ken Sutherland-Thomas
The last day of our excursion around Historic East Anglia saw us visiting the town of Sudbury and
in particular Thomas Gainsborough's house.
Thomas Gainsborough is one of the great figures of British and world art history. In the words of
Sir Joshua Reynolds, "the name of Gainsborough will be transmitted to posterity in the history of
art". Gainsborough is renowned not only in his advancements of portraiture to a higher level, but
also for being one of the founders of the British school of landscape painting.
Gainsborough's house and gardens are situated in Gainsborough Street, just off Market Hill,
where there is a statue of the great man. The house, of late medieval origin, was re-modelled by
John Gainsborough (father of Thomas) after he purchased it in 1722. John put in the addition of
an elegant brick façade.
Thomas Gainsborough was baptised in Sudbury at the Independent Meeting House in 1727 as the
ninth child of John and Mary, and lived in the house until around 1740, when he came to London to
engage in the career of an artist. He returned to Sudbury between 1949 and 1752.
The house today is split over three floors, and there is a small but beautiful garden, the centrepiece
of which is a mulberry tree reputed to be over 400 years old.
On the ground floor of the house there is an exhibition on Gainsborough focusing on his life,
while the upstairs rooms focus on his art. The upstairs rooms are not large, but together with the
halls and staircase are full of portraits of the Gainsborough family and works of the artist. Some
of his landscapes are displayed. When it comes to landscapes, it is said that 'Nature was his
teacher'.
The house also has room for changing exhibitions by other artists and there is a well-stocked
shop.
After some free time to explore Sudbury, the group re-convened for afternoon tea and cake
at the local community cafe, where we were welcomed and refreshed for the remaining
journey home.
Wrap up Jim Nelhams
So that completes another trip. Our thanks are due to those members who have contributed to our
newsletter – Vicki Baldwin, Deirdre Barrie, Jean Bayne, Collette Carlton, Don Cooper, Dudley
Miles, Peter Pickering, Andy Simpson, Harriet Sogbodjor, Ken Sutherland-Thomas, Liz Tucker,
Micky Watkins. Stewart Wild and Simon Williams – with their own styles and with their own
viewpoints.
Thanks also to Galleon Coaches and Paul Holdstock, our driver, for a smooth drive (avoiding low
bridges) – yes there are some in East Anglia. Planning is well under way for 2019 as noted
elsewhere in this newsletter.
Battle of Barnet Exhibition Deirdre Barrie
Don't miss Barnet Museum's exhibition about the Battle of Barnet, which can be found on the
right-hand side, near the back of the Spires Shopping Centre in High Barnet. The banners of all the
leading participants, "the victors and vanquished" are displayed, with details of their families and
how they fared in the battle and afterwards.
On the back wall is a lively painting of the battle by Agnes Allen, who painted it in 1971 to mark
the 500th anniversary of the battle.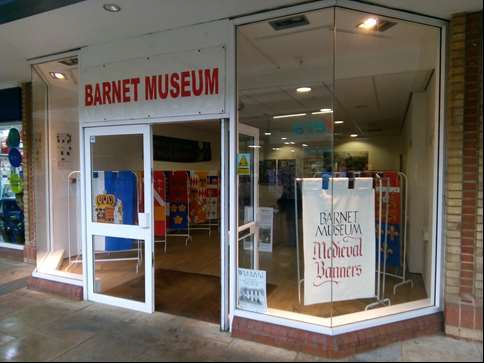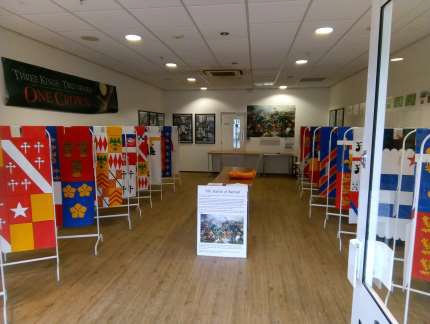 Bulletin boards give details of the many films, stage and TV dramas devoted to the period, as well
as the search for a true likeness of "Warwick the Kingmaker". (There seems to be only one, on the
Richard Beauchamp funerary monument at the Collegiate Church of St Mary, Warwick).
Website: http://www.barnetmuseum.co.uk
Layers of London (Information taken from their website) Sue Willetts
Layers of London is a new project which brings together, for the first time, a significant collection
of digitised historic maps, photos and other information provided by key partners across London.
The partners include: the British Library, The London Metropolitan Archives, Historic England,
The National Archives, MOLA (Museum of London Archaeology) and a wide range of national and
local archives, institutions and community groups.
The website allows you to interact with, and contribute to, many different 'layers' of London's
history from the Romans to the present day. These layers include historic maps, images of
buildings, films as well as information about people who have lived and worked in London over the
centuries.
A major element of this project is to work with the public at borough level and city-wide, through
crowd-sourcing, volunteer, schools and internship programmes. Everyone is invited to contribute
material to the project by uploading materials relating to the history of any place in London. This
may be an old photograph, a collection of transcribed letters, a recorded interview, a video, or the
results of local research project. You don't need our permission to do this, just create an account and
start contributing! Browsing the map will give you a good idea of what sort of content works best.
All content contributed to Layers of London is under a Creative Commons Licence, encouraging
respectful collaboration and sharing.
If you need it, we can offer support, equipment, training and collaborative volunteer programmes to
support you enriching the map. Anybody interested in getting involved and finding out about
volunteer and collaborative opportunities on the project should subscribe to our monthly newsletter
for updates: We hope that Layers of London will launch new local heritage projects across the 32
boroughs of London and we would love to hear from you if you have ideas to share.
Advance notice of a conference:
Medieval port of London: The Docklands History Group are holding a conference at the
Museum of London, 150 London Wall, EC27 5HN on 18th May from 10 am – 5.30 pm. Price
range is £10.00 – £35.00 – See the Dockland History Group Website or contact them directly for
more information Docklands.History.Group@r1.technology-trust-news.org
E v e n t d e s c r i p t i o n
Museum of London – forthcoming exhibition
Beasts of London opens on Friday 5 April 2019 and explores the fascinating role animals have
played in shaping the capital. Be guided through time, from the Roman era through Medieval London
and right up to present day, narrated by the beasts themselves. Discover how animals – from lions and
elephants, to horses, rats and pigeons – have shaped the city and its beastly history. Step into an
immersive tour through London's history, narrated by the animals who once lived here.
Voicing some of the animals who once roamed the city are a host of household names and include:
Brian Blessed, Pam Ferris, Nish Kumar, Stephen Mangan, Angellica Bell and Joe Pasquale.
Inspired by objects in the collection and created in partnership with the Guildhall School of Music &
Drama, Beasts of London will be a fully interactive digital installation using video projection
mapping. Tickets are on sale now.
The National Archives: Cold War Season from 4 April – 9 November
April 2019 sees the launch of a Cold War season, including a new exhibition Protect and Survive:
Britain's Cold War Revealed, offering a fascinating look into life in Britain during the turbulent
Cold War era. The season will include a series of late openings, talks and panel discussions, film
screenings, creative workshops and family activities exploring the reality of life in Britain under the
persistent threat of nuclear attack.
Sign up to the mailing list to receive news and updates about the season, along with advance
booking for events.
Advance notice: Festival of Archaeology 2019
It is pleasing to hear that following a year off in 2018, the 2019 Festival of Archaeology will take
place from 13 – 28 July and will form part of the 75th anniversary of the Council for British
Archaeology.
The new website includes online registration guides and publicity materials
OTHER SOCIETIES' EVENTS Compiled by Eric Morgan
(6th April item added by Sue Willetts)
Friday 8th March, Enfield Archaeological Society, Jubilee Hall, 2 Parsonage Lane/ Junction Chase
Side, Enfield EN2 OAJ, Romans to Saxons, results of St Martin's-in the-Fields, Trafalgar Square,
Talk by Alison Telfer (MoLA). Visitors £1.50, refreshments, sales and information from 7.30 pm.
Wednesday 3rd April, 6.00 pm Gresham College at the Museum of London, 150 London Wall,
EC2Y 5HN. Crown, Country and the Struggle for Supremacy. Talk by Simon Thurley. Free.
On how the changing balance of power and wealth between the aristocracy and the monarchy from
the 16th to the 19th centuries has influenced today's national cultural landscape of art and
architecture.
Wednesday 3rd April, 6.00 pm, Docklands History Group. Museum of London Docklands, No 1
Warehouse, West India Quay, Hertsmere Road, Canary Wharf E14 4AL. Riverine/Riverside
Archaeology. Talk by Jane Sidell (MOLA) £2.
Thursday 4th April, 2.00 pm. Pinner Local History Society, Village Hall, Chapel Lane car park,
Pinner HA5 1AB. Headstone Manor – the History of the House and the Recent Discoveries.
Talk by Pat Clarke (LAMAS). Visitors £3.
Friday 5th April 7.45 pm Enfield Archaeological Society, address as above. The Excavations and
Fieldwork of Enfield Archaeology Society 2018. Talk by Dr Martin Dearne (EAS), preceded by
AGM. Visitors £1.50, refreshments as above.
Saturday 6th April Bethlem Museum of the Mind 2.00 – 3.00 Talk entitled The Archaeology of
Melancholy by James Dixon at Bethlem Royal Hospital, Monks Orchard Road, Beckenham, BR3
3BX Free. Tickets available via https://museumofthemind.org.uk/whats-on/event-info/thearcheology-
of-melancholy The speaker (co-editor of the journal Post-Medieval Archaeology) will
consider an alternative approach to understanding the past, present, and future of people, things and
places. This event includes a walk of the grounds. James Dixon is a dedicated art-archaeology
researcher with interests including 'visual archaeologies' and aesthetics, public art, archaeology and
performance, and the incorporation of artistic practice in archaeology.
Monday 8th April, 3.00 pm. Barnet Museum's Local History Society, St John the Baptist, Barnet
Church, The High St/Wood St, Barnet, EN5 4BW. The Second Battle of St Albans, 1461 –
Margaret of Anjou's Triumph. Talk by Harvey Watson. Visitors £2. Please NOTE, speaker for 11th
March is Terence Atkins.
Wednesday 10th April, 7.45 pm. Hornsey Historical Society, Union Church Hall, corner of Ferme
Park Rd/Weston Park, N8 9PX. Brief History of Finsbury Park and Stroud Green. Talk by Mark
Aston. Visitors £2, refreshments, sales and information, 7.30 pm.
Wednesday 10th April, 6.00 pm. Gresham College at the Museum of London, 150 London Wall,
EC2Y 5HN. The Natural Environment of Tudor London. Talk by Professor Carolyn Roberts. Free.
Part of Gresham 500, offering a "virtual walk" around the City with Sir Thomas Gresham, with
contemporary maps, paintings and writings.
Monday 15th April, 8.00 pm, Enfield Society, Jubilee Hall, 2 Parsonage Lane Junction Chase Side,
Enfield EN2 OAJ. The History of Broomfield House, talk by Ivor Evans, visitors £1. Together with
Exhibition, Hidden Treasures Revealed, Broomfield House and Park, at Dugdale Centre, Museum
of Enfield, 39 London Road, Enfield EN2 6DS, until Monday 22nd April. Contains Contains prints,
phots, maps, paintings and artefacts.
Wednesday 24th April, 7.45 pm. Friern Barnet & District Local History Society, North Middlesex
Golf Club, The Manor House, Friern Barnet Lane, N20 0NL.The History of Shopping in London.
Talk by Diane Bursten. Visitors £2. Refreshments.
Thursday 25th April, 7.30 pm. Finchley Society. Drawing Room, Avenue House, (Stephens
House) 17 East End Road, N3 3QE. Finchley Origins – Part 1: From a Forest to a Common. Talk
by Hugh Petrie (Barnet Archivist). Visitors £2. Please NOTE time.
Friday 26th April, 7.00 pm. COLAS, St Olave's Hall, Mark Lane, EC2 EC3R 7NB. The Trowel
Blazers: Women in Archaeology in London. Talk by Sadie Watson (MOLA). Visitors £3. Light
refreshments afterwards.
Also Saturday 27th and Sunday 28th April, 11 am – 5.00 pm, LT Museum Depot, W3 Open
Weekend. Admission £12, Concessions £10.
Tuesday 30th April, 11.30 am, Mill Hill Historical Society – Visit to the London Transport Depot,
Acton Town. 118-120 Gunnersbury Lane, W3 9BQ. Tour of London Transport Posters and Artwork
Cost = members£5.50, Non-members £7.50. Meet 11.20 am for the 11.30 am tour, at Depot. To
book by Friday 29th March. Please send cheque and S.A.E to Julia Haynes, 38 Marion Road, Mill
Hill London NW7 4AN. Cheques to be made payable to Mill Hill Historical Society.
Contact: Julia Haynes on 020 8906 0563.or email julia@yahoo.co.uk For electronic replies, please
supply your email address. Otherwise, give your name, telephone number and number of places
required, or book on line at www.mill-hs.org.uk, but send cheque.
With big thanks to this month's contributors;
Stephen Brunning; Audrey Hooson; Eric Morgan; Jim Nelhams; Harriet Sogbodjor;
Ken Sutherland-Thomas, Stewart Wild and Sue Willetts.
Hendon and District Archaeological Society
Chairman: Don Cooper, 59 Potters Road, Barnet, Herts. EN5 5HS (020 8440 4350)
e-mail: chairman@hadas.org.uk
Hon. Secretary: Jo Nelhams, 61 Potters Road Barnet EN5 5HS (020 8449 7076)
e-mail: secretary@hadas.org.uk
Hon. Treasurer: Jim Nelhams, 61 Potters Road Barnet EN5 5HS (020 8449 7076)
e-mail: treasurer@hadas.org.uk
Membership Sec: Stephen Brunning, Flat 22 Goodwin Court, 52 Church Hill Road,
East Barnet EN4 8FH1 (020 8440 8421) e-mail: membership@hadas.org.uk
Join the HADAS email discussion group via the website at: www.hadas.org.uk
——————————————————————————————————-