Number 581 August 2019  Edited by Jim Nelhams
HADAS DIARY – LECTURE AND EVENTS PROGRAMME 2019
Tuesday 8th October 2019: From Crosse & Blackwell to Crossrail – MOLA excavations at Tottenham Court Road 2009 to 2010. Lecture by Lyn Blackmore.
Tuesday 12th November 2019: Shene and Syon: A Royal and Monastic Landscape Revealed. Lecture by Bob Cowie.
Sunday 1st December 2019: HADAS Christmas Lunch at Avenue House. 12:30 – 4 p.m. including full Christmas dinner. Price and booking form will follow.
Lectures start at 7.45 for 8.00pm in the Drawing Room, Avenue House, 17 East End Road, Finchley N3 3QE. Buses 13, 125, 143, 326 & 460 pass close by, and it is five to ten minutes' walk from Finchley Central Station (Northern Line). Tea/coffee and biscuits follow the talk.
Membership Renewals – a reminder. Stephen Brunning.
Many thanks to those who have already paid their subscription. If you intend to renew this year and have not yet done so, I would be grateful to receive payment by 15th September 2019 at the following rates: £15 (Full), £5 (each additional member at the same address), and £6 (student). My address is on the last page of this newsletter.
It is not necessary to return the renewal form enclosed with the March newsletter. A piece of paper with your name, postal address, telephone number and email address (if applicable) will suffice. I will then be able check the details we hold are still correct. If not already done so, it would also be helpful if you could indicate your willingness to receive the newsletter by email. This helps to keep our costs to a minimum. Thank you.
—————————————————————————————————————————
Day trip by Barnet Museum & Local History Society:
Saturday, 21st September 2019 Visit to the "Mary Rose" in Portsmouth by coach. Cost £38 for adults and £15 for children (5-18) and students.
Depart Barnet Everyman at 08.15. Leave Portsmouth: c.5pm, arrive back in Barnet c.7.15pm
These trips get booked up quickly, so if you want to go don't delay.
Friends of members are also welcome. To book, phone Dennis Bird 020 8449 0705
Trip to Leicester
Mill Hill Historical Society have a trip to Leicester on Wednesday 4th September. This will include
visits to the King Richard III Visitor Centre and the Cathedral. Meet the coach at Hartley Hall,
Hartley Avenue, Mill Hill, NW7 2HX, at 8:50 am. Coach will leave Leicester at 5:00 pm.
To book, please phone Julia Haynes on 020 8906 0563 or email haynes.julia@yahoo.co.uk.
Cost for non-members £40. Please check as may be fully booked. Last booking date – 5th August.
Silchester Peter Pickering
I went recently to Silchester with the Herculaneum Society to visit this summer's dig, directed by
Professor Michael Fulford, who took us round and told us what is happening. It was lovely weather,
and the tents of the student diggers were scattered over the fields; just as things used to be before
almost all archaeology was hurriedly undertaken in advance of development.
Over many years Reading University have been re-excavating the Roman city, which was the subject
of a monumental campaign by the Society of Antiquaries at the end of the nineteenth century. This
year they are continuing the work on the baths which they started last year. They are uncovering the
walls the Antiquaries found and studying the stratigraphy in a way that was not possible over a
century ago. It is clear that though the Antiquaries' plans were very accurate, and they tried to
understand the sequence of events, they did not appreciate how complicated the site was, and how
very frequently the people of Calleva Atrebatum changed or 'improved' their bath building.
Examining carefully the Antiquaries' spoil (all was actually backfilled – which is what Reading
University are doing in their turn) contributes to the discovery of many small finds – including last
year for instance a gold ring – presumably lost by a user of the baths (the area currently being worked
on contains particularly objects likely to have belonged to women and children). Besides the dig
itself we saw people working on finds – one woman was extracting with tweezers tiny pieces of
charcoal from a heap of what looked like grains of sand.
Before we went to the site we had spent time in Reading Museum, where there is a large collection
of the finds from the Antiquaries' and other early work at Silchester, rather spoilt for us by a problem
the Museum are having with the lighting in the room. And we finished the day with tea and cakes in
the mediaeval church at the entrance to the site.
High Barnet Archaeological Round-up Bill Bass
A summary of recent archaeological activity in the High Barnet area.
70 High Street
Archaeological Solutions Ltd conducted an evaluation here finding walls, floors, pits and ditches
dating to the 18th and 19th centuries. It appears that building of an 18th structure has mostly removed
any medieval evidence. Further 'site-watching' will be carried out when foundations are cut for the
new development.
46-48 High Street
This site is somewhat south of 70 High Street and also within an Archaeological Priority Area, is the
subject of a 'site-watching' condition by Headland Archaeology to check any ground interventions
here.
Former Marie Foster Home, Wood Street
This extensive site is being completely redeveloped for a replacement Marie Foster Home, MOLA
(Museum of London Archaeology) has conducted an Archaeological Evaluation with a number of
trenches across the site, with a report to follow.
In 1993 HADAS conducted a dig at the adjacent former Victoria Maternity Hospital finding a ditch
with medieval pottery which aligned with Wood Street, this ditch would have continued into the
Marie Foster Home grounds.
Service trenches
For the past few months a number of service trenches – water, gas, digital cabling etc have been dug
around High Barnet. Recently a number of trenches have appeared in the High Street. In the spoil
some finds were noted and recovered they consisted of some large animal bone with butchery marks,
tobacco-pipe1700-1770 in date and post-medieval pottery (see photo). These finds were from a
trench near 93 High Street, Barnet.
Hadley Green gates
The Gates on Hadley Green Road which are Grade II Listed have been temporarily removed under
archaeological supervision due to extensive works here to repair a collapsed sewer. The works
involve digging a 12m vertical hole then 'tunnelling' in 14m to enable the repairs.
The Ted Sammes Clay Pipe Collection Andy Simpson
Like all good archaeological units and societies, HADAS has material in long-term store that invites
further study beyond that originally done possibly 30-40 years ago as our collective knowledge of the
subject and area gradually increases, a case in point being the current evening class re-evaluation of
the Mitre High Barnet dig of 1989/90 archive that is making society greybeards such as myself who
were on the original dig feel their age!
Another group of finds currently undergoing re-evaluation is the large collection of mainly local clay
pipes seemingly inherited from HADAS stalwart and benefactor, the late Ted Sammes. For many
years these were boxed up in the HADAS 'back room' at Avenue House and were checked and some
re-bagged some ten years ago. However, there was a problem – there was little indication of their
actual source or context, just a mysterious sequential number marked on the individual envelopes.
Happily however, a recent search of general clay pipe paperwork in our main cellar workroom and
store revealed the original ?1970s master list of over 150 individual clay pipes or small groups
thereof. They are listed with the individual sequential number, usually found on the original brown
envelopes/grease proof paper bags within which they were first put, a note of any visible decoration
or maker's marks, and a very general indication of the finds spot – sometimes a street or general
area, very occasionally an actual numbered address, sometimes a finder's or householder's name,
and sadly many with no identifiable location at all, and almost never any actual date of finding or
archaeological context, which makes the interpretation even more of a challenge. I have been
through site files, past newsletters and research committee minutes but as yet have found no other
sources of information other than what is written on the envelopes or in the master list.
However, the Sunday morning usual suspects, in particular Bill Bass, Tim Curtiss, Dudley Miles,
Janet Mortimer and Peter Nicholson (and your scribe) have cracked on and pored over the A to Z as
well as the old faithful Atkinson and Oswald clay pipe identification templates (Type AO27 dated
1780-1820 being particularly prevalent in this collection) and more recent guides to clay pipe
recording to produce a detailed record more in keeping with current MOLA standards, as well as rebagging
all the pipes with new labels.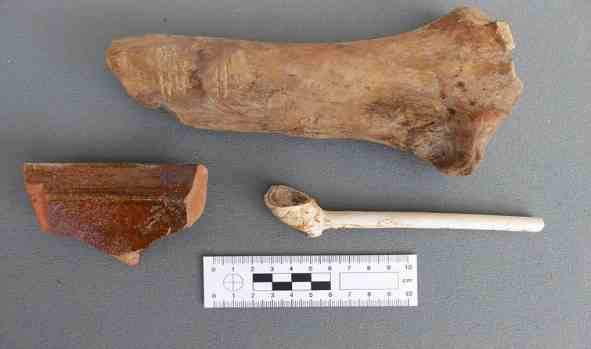 There is a good range of dates covered from the 1640s to around 1900, with some noticeable
geographical concentrations, probably reflecting the residential areas of HADAS members and
friends at the time, including 17th century fragments from Annesley Avenue in Colindale, plus 18th –
19th century examples from Finchley, including East End Road and Avenue House, two or three
sites around Temple Fortune, and Hammers Lane, Mill Hill, along with a few late examples from
Staples Corner near Brent Cross.
One particularly nice group from the Temple Fortune area also includes seventeenth century
examples and some nice trade tokens and coins of a later date. There is also a stray clay pipe from
Portsmouth!
Recording is a week or two away from completion, and I hope to produce a more detailed overview
in due course.
The Royal Albert Hall Jim Nelhams
Friday 19th July 2019 saw the First Night of the 2019 Promenade concerts, the first of 75 concerts
ending with the Last Night on Saturday 14th September. This is the 125th season.
Most of the concerts are now held in the Royal Albert Hall (a Grade I listed building), on Kensington
Gore on the south side of Hyde Park. All are broadcast live on BBC Radio 3 and this year, 24 are
shown on BBC Television.
Although individual promenade concerts had taken place before, the first full series was set up by
impresario Robert Newman and called "Mr Robert Newman's Promenade Concerts". Mr Newman
received financial backing from surgeon George Cathcart on condition that Henry Wood be selected
as the series conductor.
Concerts were based at The Queen's Hall in Langham Place, next to where now stands the BBC
Broadcasting House. When Newman died in 1927, the BBC took over running the concerts, though
they relinquished this duty during WW2. In 1941, the Queen's Hall was destroyed in an air raid, and
concerts were moved to The Royal Albert Hall where they have continued every summer since.
The year 1851 saw the Great Exhibition in Hyde Park, running for some five and a half months.
Among the organisers and promoters was Price Albert, Queen Victoria's consort. The Exhibition was
a great success in promoting Britain as a world leader in technology and made a profit of £186,000.
It was visited by over 6 million people, equivalent to one-third of the UK population at the time.
An area south of the exhibition site was purchased (and nicknamed Albertopolis) and on this was
built the Victoria and Albert Museum, the Science Museum and the Natural History Museum. At the
north of the area, a concert hall was built, originally to be named the Central Hall of Arts and
Sciences (appropriate since one theme of the Proms this year, the 50th Anniversary of the first moon
landing, is about space,) but the name was changed when Queen Victoria laid the foundation stone to
the Royal Albert Hall. Across the road in the park, a statue of Prince Albert surveys the front of the
hall.
The Hall opened on 29th March 1871 with a concert which included some music written by Prince
Albert himself. When the concert to celebrate the centenary of the opening took place in 1971, it
started with the same music. Jo and I, as members of the BBC Choral Society, (since renamed the
BBC Symphony Chorus) were on stage for this concert.
Apart from musical performances, the Hall has seen many uses including boxing, tennis, ice skating,
opera (in the round!), award ceremonies, and the annual British Legion ceremony preceding
Armistice Sunday.
The Hall offers tours lasting about 1 hour for £13.75, though if HADAS was to raise a group of 15+,
this would reduce to £11.00. Tours must be pre-booked. (Contact me if you are interested in a tour).
Barnet Physic Well
Barnet Physic Well is a mineral water spring which was thought to have therapeutic qualities. It was
popular from the later seventeenth century through the eighteenth century, and its visitors included
Samuel Pepys, who wrote about the visit in his diary.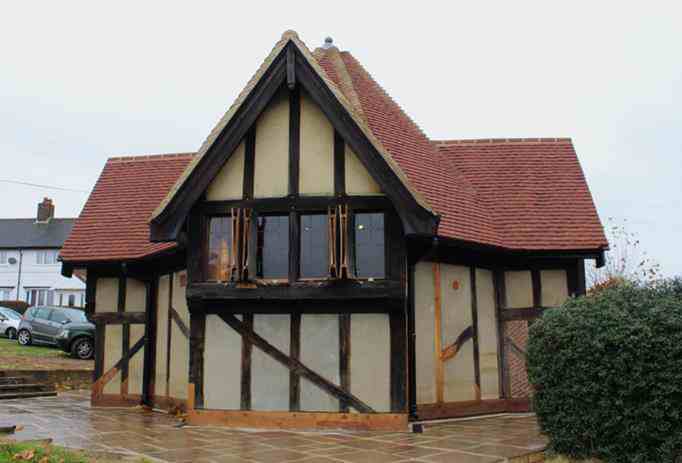 In 2018, it underwent extensive refurbishment work to the mock-Tudor wellhouse. It was officially
reopened on 20 November 2018. The work was paid for by Barnet Council, Historic England and the
Heritage of London Trust.
Volunteers from Barnet Museum run public openings of Barnet Physic Well monthly, giving
everyone free access to this little-known part of Barnet's heritage.
Please be aware that the Physic Well is in a relatively small room underground and is reached by
steep stone steps. The physic well is on the corner of Well Approach and Pepys Crescent For satnav,
use EN5 3DY. It is not far from Barnet General Hospital.
The next Physic Well opening is on Saturday 17th August. Come any time between 2pm and 4pm.
Free entry. Further 2019 dates (all Saturdays) are 21st September, 19th October and 16th November.
Memorial to Major John Cartright
Hadas newsletter 573 (December 2018) featured an article about the memorial to Major Cartright in
the churchyard at St Mary-at-Finchley. The memorial fell into disrepair and was on the Historic
England "at risk" register.
Restoration work was undertaken with £79,000 funding from Historic England, and some
crowdfunding launched by the church.
Restoration has recently been completed and the memorial was dedicated by the Rector of St Maryat-
Finchley, the Rev. Philip Davison. It looks very fine and pristine. Major Cartwright is portrayed
wearing his wig.
Afternoon Course for over-75s.
Tuesday 20th August 2;30 pm – 5:30 pm, at Museum of London Archive and Research Centre,
46 Eagle Wharf Road, N1 7ED.
Join Jacqui Pearce, for a skills workshop on pottery identification exclusively for older Londoners
aged over 75. Jacqui is a Hadas member and runs our Wednesday evening course at Avenue House
and masterminds the publication of the course research.
Jacqui is a Senior Finds Specialist at MOLA and an expert in medieval and later ceramics, glass and
clay tobacco pipes. Learn about the different types of pottery discovered in the UK, how to identify
and record them and find out how they were made. Explore sherds from Roman Londinium to pieces
of contemporary ceramics and get hands-on experience with archaeological material. Support from
Photographs from David Coates of the Finchley Society.
City Bridge Trust allows places on this workshop to be free of charge but places must be booked in
advance.
For further enquiries, please contact wrathouse@mola.org.uk or call 020 7410 2207. Tea, coffee
and biscuits will be provided.
Other Societies Eric Morgan
MEETINGS / TALKS
Tuesday 13th August, 7:45pm. Amateur Geological Society at Finchley Baptist Church Hall, 6 East
End Road, N3 3QL (corner of Stanhope Avenue). Members' evening with various talks.
Wednesday 4th September, 6:00 pm. Docklands History Group at Docklands Museum, Canary
Wharf, E14 4AL. Talk by David Gibson – Thames Sailing Barges – A history and a future
Wednesday 4th September, 7:30 pm. London, Westminster and Middlesex Family History Society,
St Paul's Centre 102A Church Street, Enfield, EN2 6AR. Talk by Joe Studman – The History of
Enfield's Markets, Fairs and Festivals.
Monday 9th September, 3:00 pm. Barnet Museum and Local History Society in St John the Baptist
Church, Wood Street, Barnet, EN5 4BW. Talk by David Berguer – Holidays by rail. Visitors £2.
Tuesday 10th September, 7:45pm. Amateur Geological Society as above. Talk by Richard Puchner,
FRS – Sinkholes.
Friday 13th September, 7:45 pm. Enfield Archaeological Society at 2 Parsonage Lane, (junction
with Chase Side), Enfield, EN2 0AJ. Talk by Caroline Raynor – St James' Gardens excavations and
the HS2 Project. Visitors £1.50.
Wednesday 18th September, 7:30 pm. Willesden Local History Society, St Mary's Church Hall,
Neasden Lane, NW10 2TS. Talk by Camilla Churchill from Brent Archive – Brent 2020, Borough of
Culture.
Wednesday 25th September, 7:45 pm. Friern Barnet and District Local History Society, North
Middlesex Golf Club, Friern Barnet Lane, N20 0NL. Talk by Carol Harris – Ernest Shackleton and
the Endurance Expedition. Visitors £2.
Thursday 26th September, 7:30 pm. Finchley Society, Drawing Room, Avenue House. Talk by
Peter Cox (U3A) – The State of the High Street, covering the development of retail outlets in East
Finchley, Muswell Hill, North Finchley and Church End. Visitors £2.
WALKS
Wednesday 28th August, 6:00 pm. LAMAS – walk led by Eliott Wragg in either Wapping or
Rotherhithe, exact details to be confirmed. £10 for members, £12.50 for non-members. This walk
will explore the history and features of the foreshore. Visitors without a PLA licence should not pick
things up to take away, they can point out things of interest and ask Eliott about them.
Wednesday 28th August 6.30pm – Highgate Wood – Meet at the café by the information hut.
Entrances from Archway Road or Muswell Hill Road. A Historical Walk – there were 3 Roman
pottery kilns in the wood.
OPEN DAYS
Monday 26th August. Markfield Beam Engine & Museum, Markfield Park, Markfield Road N15 4AB.
Steam Day. www.mbeam.org . Tel: 07923 459020 for more info. Engine Steaming times 12:30pm to
1:15pm, 2:00 pm to 2:45pm, 3:30 pm to 4.15pm
Sunday 1st September 11:00 am – 3:00 pm. COLAS "Totally Thames" at Fulham Palace. Day of
family archaeology. Guided foreshore visits. Display stalls.
Saturday 7th September 10:30 – 2:30 pm. Hornsey Historical Society, Old School House,136
Tottenham Lane, (corner Rokesly Avenue), N8 7EL. Local History Surgery, giving advice/help
with local history research. Helpful if you first email hornseyhistoricalsurgery@gmail.com.
Saturday 7th September 11:00 am – 2:30 pm. Enfield Transport Circle – St Paul's Centre 102A
Church Street, Enfield, EN2 6AR. A good variety of stalls, selling all kinds of transport books,
photo's, DVD's, maps, timetables, tickets and other memorabilia. Light refreshments available.
Sunday 15th September 12:00 am – 5:30 pm. Queens Park Open day, Chevening Road, NW6. Lots
of stalls including Willesden Local History Society.
Saturday/ Sunday 21st/22nd September. London Open House weekend. Put it in your diary.
Programme will be published on 20th August. Includes Markfield Beam Engine on both days – see
26th August.
Saturday/Sunday 28th/29th September, 11:00 am – 5:00 pm. London Transport Museum, Acton
Depot. 118-120, Gunnersbury Lane, Acton, W3 9BQ. Focus on railway termini. £12 (con. 10).

With many thanks to this month's contributors:
Bill Bass, Stephen Brunning, Eric Morgan, Peter Pickering and Andy Simpson
Hendon and District Archaeological Society
Chairman Don Cooper 59, Potters Road, Barnet EN5 5HS (020 8440 4350)
e-mail: chairman@hadas.org.uk
Hon. Secretary Jo Nelhams 61 Potters Road Barnet EN5 5HS (020 8449 7076)
e-mail: secretary@hadas.org.uk
Hon. Treasurer Roger Chapman 50 Summerlee Ave, London N2 9QP (07855 304488)
e-mail: treasurer@hadas.org.uk
Membership Sec. Stephen Brunning 22 Goodwin Ct, 52 Church Hill Rd,
East Barnet EN4 8FH mob: 07534 646852 e-mail: membership@hadas.org.uk