No. 569                                   AUGUST 2018          Edited by Jim Nelhams
_________________________________________________________________________________________________________________________
HADAS DIARY – Forthcoming lectures and events
Thursday September 13th – Quiz at Avenue House – 7:30 – £15 including a cooked supper.
HADAS regularly fields a team. Contact Stephen Brunning if you would like to be involved.
September 17th – 21st – Long trip to East Anglia staying in Brome.
Wednesday 3rd October – Finds Group Course recommences.
Tuesday 9th October 2018: Unrolling Egyptian Mummies in Victorian London by Gabriel Moshenska, Senior Lecturer in Public Archaeology, UCL
 Thursday October 11th – Quiz at Avenue House – 7:30 – £15 including a cooked supper.
HADAS regularly fields a team. Contact Stephen Brunning if you would like to be involved.
Until 12th October – Bluecoats in the City – FREE Exhibition at Museum of London. Article below.
Until 28th October – "Roman Dead" at London Docklands Museum. See following article Throughout October – Huguenot Month – Information below.
Tuesday 13th November 2018: The Rose – Shakespeare's Secret Playhouse – a film made by Suzanne Marie Taylor, Anthony Lewis and Siegffried Loew-Walker. The documentary film will be introduced by one of the filmmakers, Anthony Lewis. The film's highlight is HADAS member Suzanne Marie Taylor's interview with one of the world's greatest and most respected actors – Ian McKellen, who speaks about his own personal experience during the 1989 Save the Rose Campaign when the Rose was partially excavated by the Museum of London. The film was premiered at Canada House on February 2nd 2017.
Sunday 9th December – HADAS Christmas Lunch at Avenue House. 12:30 – 4 p.m. £30 including full Christmas dinner. Application form to follow.
Lectures start at 7.45 for 8.00pm in the Drawing Room, Avenue House, 17 East End Road, Finchley N3
3QE. Buses 13, 143, 326 & 460 pass close by, and it is five to ten minutes' walk from Finchley Central Station (Northern Line). Tea/coffee and biscuits follow the talk. .
ROMAN DEAD – Exhibition at London Docklands Museum
Piecing together burials and beliefs in Roman London                                                             Deirdre Barrie
This compact exhibition at the London Docklands Museum is well worth a visit. Not only are there the expected skeletons and cremated remains of over 30 Roman Londoners, but a great deal of other interesting material.
It was the discovery of a huge stone coffin in Harper Road, Southwark which inspired this exhibition. The coffin was for the burial of a wealthy woman – costly, because no local stone is available. Most cremations use only pottery vessels, but higher status cremations have lead or glass vessels.
The burials and cremations in London demonstrate the diversity of the local population, who came to London from all over the Empire. One gravestone commemorates a man who came from the modern city of Arezzo, in Italy. Another third century tombstone was set up in memory of Marciana, a ten-year-old girl. and hints at her origin being from the Rhine or Danube area. Roman gravestones are often discovered reused in later buildings.
Burials had to be outside the central city, and there would also have been tombs beside roads leading there. (Think of the tombs lining the Appian Way). However, babies or newborns were sometimes buried near threshholds or under the floors of buildings.
I was intrigued by a mass of clumped, corroded soil enclosing a pair of Roman sandals. The X-ray photograph beside it showed clearly the outline of the soles by their studs, and beside that was a shiny, new reconstruction of similar sandals.
The millefiori glass dish found in Prescot Street, near Aldgate was worth more than a year's wages for a Roman army officer. Its patterned glass was once brilliantly coloured red and blue, but after 2000 years has faded.
Entry to the exhibition is free, but donations are welcome. Minimum visitor age: 8.
Website:  https://www.museumoflondon.org.uk/museum–london–docklands/whats–on/exhibitions/roman–dead
Open until 28th October 2018; open 10 am-6pm. The Docklands Museum entrance is two minutes' walk from West India Quay Station. Access is good, wheelchairs are provided, but there are cobbles outside the entrance.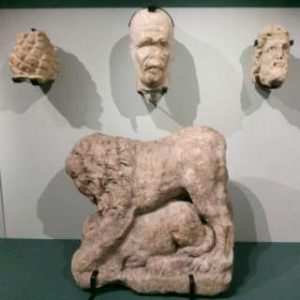 Tomb fragments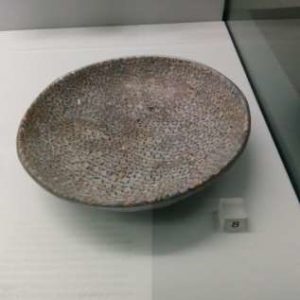 Millefiori glass dish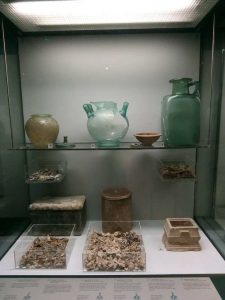 Cremations and vessels
Huguenot Month Launches in Spitalfields
October is Huguenot Month!  Huguenots of Spitalfields have a packed programme of events to celebrate these extraordinary, creative and talented people.
Huguenots were French Protestant refugees who fled persecution during the 16th to 18th centuries, many of whom settled in London. They contributed their skills to many fields, including silkweaving, furniture design, spinning and dyeing, silversmithing, clock making and jewellery.
Highlights include:
 Take a step back in time – Visit the unique and atmospheric 'still-life drama' of Dennis Severs' House – a beautiful Georgian house in Folgate Street.
Enjoy a Georgian-Style 'Back in Time for Dinner' 
Find out how to trace your Huguenot ancestors
Hear how Queen Anne's ladies- in- waiting prepared for her dazzling candlelit birthday ball, at the Townhouse in Fournier Street.
Hear Dan Cruickshank talk about Queen Mary II, and enjoy a gin and tonic.
Take a room-by-room tour of a Georgian house in Spitalfields to eavesdrop on those living and working in the kitchen, parlour, bed chamber and garret.
Come along to a 'Skills Day' for all the family : Try craft activities from collage and embroidery to paper making and plant dyes,  admire and buy the work of talented artisans including textile art, stained glass and jewellery, inspired by Huguenot skills.
Saturday 20th October, in the Crypt of Christ Church and Hanbury Hall Spitalfields, 11am to 4pm.
For full programme visit: http://www.huguenotsofspitalfields.org/walks–events.html
Contact: Charlie de Wet at info@huguenotsofspitalfields.org or telephone 020 7247 0367.
Huguenot Month is supported by the City of London Corporation as part of their initiative, 'Women: Work and Power.'
Huguenots of Spitalfields is a registered charity (no. 1151801) promoting public understanding of Huguenot heritage and culture in Spitalfields and beyond.
*********
Bluecoats in the City: 350 Years of Christ's Hospital      Jim Nelhams Museum of London until 12th October
Explore the history of the 'Bluecoat School' in London in this small free display.
In 1546, the former buildings and church of Greyfriars monastery in Newgate Street were given to the City of London for the benefit of the poor, elderly and sick. The buildings were used to establish Christ's Hospital; founded in 1552 for the education of poor children. The School became known as the 'Bluecoat School' because of its distinctive uniform of navy coats and yellow stockings.
Two pupils in normal uniform in the cloisters which adjoin the quadrangle.
Painting of the old school in Newgate Street.  The tower of Christ Church is on the right.
After 350 years in London, the School moved to the market town of Horsham in 1902, but its strong bonds to the City of London remain. Since opening, Christ's Hospital has educated, lodged, fed and clothed more than 65,000 children. Today the School continues its mission to advance the education of children, mainly for the benefit of those whose families are in social, financial or other specific need. Although officially a public school, over 80% of the pupils do not pay the full fees, with some 15% paying nothing.
This new display delves into the history behind the School's creation, its iconic uniform, historic practices, charitable benefactors, and some of its famous pupils including Charles Lamb and Samuel Taylor Coleridge.
The original site was on Newgate Street close to the Old Bailey. When the school moved to Horsham, the site was used by the Post Office. The church of Christ Church Greyfriars was used by the school pupils among others, but total attendances declined after 1902. The church was badly damaged in the blitz in December 1940, though has not been fully demolished. Part of the old churchyard became "Postman's Park".
The school site is now occupied by Bank of America Merrill Lynch and in 2017, they sponsored a sculpture to commemorate their predecessors on the site.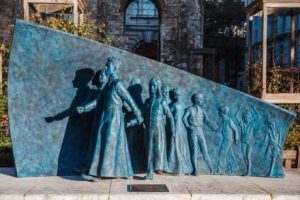 Sculpture erected  in 2017 at junction of Newgate Street and King Edward Street with ruins of Christ Church in the background.
The school has a strong musical tradition and boasts a large marching band, well used since pupils march from their boarding houses to lunch on most days. The band has played at lunchtime for Lord's test matches, and at Twickenham for rugby internationals. It takes part each year in The Lord Mayor's Show. In addition, parts of the school march through the City of London to a church service marking St Matthew's Day (21st September). Should you choose to visit the museum on this day, you will be able to see the march. (Check the times.)
The school also boasts its own railway station on the line between Horsham and Arundel, and had a steam locomotive in the Southern Railway "Schools" class carrying its name – 30913 "Christ's Hospital".
Akiva School                                                                                                                           Jim Nelhams
Members will be aware that, as a charity, we include education in our remit. This is not just the education of ourselves, it includes the wider public. Over the years, we have had much contact with schools in the borough, and have carried out digs with some of them.
Akiva School is a Jewish school in East End Lane on the site of the medieval Bibsworth Manor and a few hundred yards from Avenue House. Back in November 2017, we received an email from one of the teachers at the school asking if there was any way the children could be involved in an archaeology project or if somebody could talk to them about archaeology.
There have been previous digs on the school site and it is a Scheduled Ancient Monument. School security is tight. A dig within the school was not therefore practical.
This year, when we planned a dig near the water tower in Stephens House and Gardens, I contacted the school to see if, with this dig, we might help them, though for insurance reasons, having the children dig was not possible.
During the dig, the six classes in years 3, 4 and 5 (ages 8-10) were all given a half-hour presentation on archaeology and Avenue House before visiting the dig to see what we had done, some of the finds and some of our equipment. They also used measuring tapes and the dumpy level. Some 170 children were included.
Appreciative feedback has been received from the school.
A full report on the dig will appear in a later newsletter.
Wallingford and Dorchester Abbey                                                                                                 Don Cooper
This was a coach outing with the Barnet Museum and Local History Society (BM&LHS) to Wallingford and Dorchester Abbey on Saturday, 23rd June 2018. The coach with 44 eager passengers set off at 08.30 from the layby outside the BP garage on the Great North Road. It was a lovely sunny day.
On arrival at Wallingford we were "set free" to do our own thing. Wallingford is a pretty town by the banks of the Thames in Oxfordshire. It has a long history. In 1066 William the Conqueror came to Wallingford to cross the Thames with his army to negotiate terms for the surrender of the kingdom. The following year he ordered the building of a royal castle. It became the third great royal castle on the Thames after the Tower of London and Windsor Castle. The castle remained the main source of the wealth of Wallingford right up to the end of the Civil
War when Charles II ordered it to surrender to Cromwell. Cromwell ordered and paid for the castle's demolition. There is little left of the castle, but it was lovely to walk along the bank of the Thames and marvel at how large the castle had been.
A stroll around the town with its market square and three lovely churches was thirsty work and a pint and sandwich at one of the many pubs was welcome.
The museum at Wallingford deserves a special mention for both good and bad reasons. The bad is it charges £5 entrance fee (although we were told we could come back as many times as we liked during the next year!). The good is that is it jam-packed with items from the area and from every period. It especially has memorabilia of Agatha Christie who lived in Wallingford with her archaeologist husband.
Then it was back on the coach at 15.30 for the short ride to Dorchester Abbey. Dorchester on Thames as its name implies was a Roman town and the seat of a bishopric from AD634 when Pope Honorius had sent St Birinus to be its first bishop.
The bishopric was transferred to Lincoln in 1085. The abbey was founded in 1140 by the Augustinian canons although there are traces on the north side of Saxon masonry. The abbey is famous for its lead font, one of the few surviving lead fonts in England; its surviving effigies, especially the well-known "Swaggering Knight"; its Jesse Tree window; and an ornately carved sedilia and piscina dating from 1330. We were given a conducted tour by volunteer guides who were both knowledgeable and helpful.

At the end of the tour we were treated to a magnificent cream tea. A beautiful abbey well worth another visit.
Then it was back on the coach for the return to Barnet. It was a splendid day ably organised by Denis Bird.
OTHER SOCIETIES' EVENTS                                                                                      compiled by Eric Morgan
Sunday 5th August, 2:30 – Finchley Society – unveiling of information panel about Octavia Hill – Green Man Community Centre, Strawberry Vale, East Finchley, N2 9AB.
Until 28th August – Exhibition at British Library – "James Cook – the voyages" – £14 entry but concessions. Booking suggested. Daily times vary. Check www.bl.uk for more information.
Friday 7th September, 7:45 – Enfield Archaeological Society, Jubilee Hall Chase Side, Enfield, EN2 0AJ. Lecture "Exploring the Material Culture of Roman London" by Michael Marshall (MOLA). Visitors £1.
Saturday 8th September, 8:30 am. Barnet Museum and Local History Society. Coach trip to West Stow AngloSaxon Village and Bury St Edmunds. £25. Contact Dennis Bird, 020 8449 0705 for more information.
Monday 10th September, 3:00 – Barnet Museum & Local History Society. Church House, Wood Street, Barnet, EN5 4BW. Lecture "Miss Marjorie Honeybourne – an avid local historian" by Yasmine Webb. Visitors £2.
Thursday 13th September, 2:30 – London Parks & Gardens Trust. Tour of New Southgate Cemetery, Brunswick Park Road, N11 1JJ, led by Colin Barratt. £10.
Saturday 15th September, 10:30 – 4:00. Metroline Holloway Bus Garage, 37A Pemberton Gardens, N19 5RR. Open Day. Vehicle displays and Heritage vehicles. Admission by programme. Proceeds to charity.
Wednesday 19th September, 7:30. Willesden Local History Society. St Mary's Church Hall, Neasden Lane, NW10 2TS. "An Evening with Brent Archive" by an archive team member about resources available to local historians.
Saturday 22nd September, 11:00 – 4:00. Barnet Museum and Local History Society with Barnet 1471 Battlefields Society – St John the Baptist Church, Wood Street, Barnet EN5 4BW. Day conference including –
12:00 "Warwick & Edward IV" with questions at 1:00. By David Santuiste.  1:30 Lunch break
2:30 "Richard III, man or Myth". Gillian Gear memorial lecture by Alison Weir with questions. Tickets on door – £3, non-members £5.
Wednesday 26th September, 7:45. Friern Barnet & District Local History Society, North Middlesex Golf Club, Friern Barnet Lane, N20 0NL. "Hendon School Excavations" by Don Cooper (our chairman). Non-members £2.
Thursday 27th September 8:00. Finchley Society – Drawing Room, Avenue House, 17 East End Lane, N3
3QE. "The Story of London's Buses" – talk by Dr John Hodgson. Non-members £2. Refreshments at interval.
Saturday 6th October – 10:00 – 17:30 – London Archaeologist 50th Anniversary Conference at King's College London, Waterloo Campus, Stamford Street, SE1 9NH. Booking for non-members opens August. Book online or contact Becky Wallower on www.Londonarchaeologist.org.uk. £16.76
vvvvvvvvvvvvvvvvvvvvvvvvvvvvvvvvvvvvvvvvvvvvvvvv
With many thanks to this month's contributors:
Deirdre Barrie, Don Cooper, Eric Morgan
vvvvvvvvvvvvvvvvvvvvvvvvvvvvvvvvvvvvvvvvvvvvvvvvvvvv
Hendon and District Archaeological Society
            Chairman          Don Cooper 59, Potters Road, Barnet EN5 5HS  (020 8440 4350)
e-mail: chairman@hadas.org.uk
            Hon. Secretary Jo Nelhams   61 Potters Road Barnet EN5 5HS      (020 8449 7076)
e-mail: secretary@hadas.org.uk
            Hon. Treasurer Jim Nelhams 61 Potters Road Barnet EN5 5HS    (020 8449 7076)
e-mail: treasurer@hadas.org.uk
            Membership Sec. Stephen Brunning 22 Goodwin Court, 52 Church Hill Road,
East Barnet EN4 8FH  (0208 440 8421)       e-mail: membership@hadas.org.uk
Join the HADAS email discussion group via the website at:   www.hadas.org.uk