Number 568 July 2018 Edited by Mary Rawitzer
HADAS DIARY – PROGRAMME 2018
Monday 17th to Friday 21st September 2018: Trip to East Anglia is full. There is a waiting list.
Tuesday 9th October 2018: Unrolling Egyptian Mummies in Victorian London by Gabriel
Moshenska, Senior Lecturer in Public Archaeology, UCL
Tuesday 13th November 2018: The Rose – Shakespeare's Secret Playhouse – a film made by
Suzanne Marie Taylor, Anthony Lewis and Siegffried Loew-Walker. The documentary film will be
introduced by one of the filmmakers, Anthony Lewis. The film's highlight is HADAS member
Suzanne Marie Taylor's interview with one of the world's greatest and most respected actors – Ian
McKellen, who speaks about his own personal experience during the 1989 Save the Rose Campaign
when the Rose was partially excavated by the Museum of London. The film was premiered at
Canada House on February 2nd 2017.
Lectures start at 7.45 for 8.00pm in the Drawing Room, Avenue House, 17 East End Road, Finchley
N3 3QE. Buses 13, 143, 326 & 460 pass close by, and it is five to ten minutes' walk from Finchley
Central Station (Northern Line). Tea/coffee and biscuits follow the talk. .
———————————————————————————————————————————-
Annual General Meeting. Jo Nelhams (Hon. Secretary)
The AGM was held on Tuesday June 12th at 7.30 pm. It was attended by 39 members with apologies
from another 16 members.
The Constitution stipulates that the President should be appointed every 5 years and Harvey Sheldon
has accepted to continue for a further 5-year period for HADAS.
The officers remain unchanged as Chairman: Don Cooper, Vice Chairman: Peter Pickering,
Treasurer: Jim Nelhams, Secretary: Jo Nelhams, Membership Secretary: Stephen Brunning. Seven
Committee members were willing to continue to serve: Bill Bass, Roger Chapman, Robin Densem,
Melvyn Dresner, Eric Morgan, Andrew Selkirk and Sue Willetts.
Vicki Baldwin was thanked for her service on the HADAS Committee. Vicki is moving to Cornwall
shortly and will be missed on the Committee and as a regular with the Sunday morning group and as
a digger. We wish her well.
Unfortunately we had no more volunteers willing to give time to being on the Committee – more
members are very much needed.
The Treasurer gave notice that he will retire from his office at the AGM in 2019 after 15 years, so
please give this some serious thought and let the Committee know if you could be interested.
The AGM was followed by a presentation by Jacqui Pearce, a follow-up from last year's AGM
presentation on the work of HADAS's Finds Group. It was very detailed and extremely informative
as the finds had a story to tell about the changes in people's domestic lives through time. Those not
at the AGM missed a treat! A more detailed account will appear separately.
Thank you to all the members who came along to the meeting.
HADAS has a vacancy
As mentioned in the AGM report above, Jim Nelhams, who has been Honorary Treasurer of HADAS
for the last 14 years, has said that he will not be seeking re-election to that post at the 2019 AGM.
The Honorary Treasurer is one of the most important officers of the society. Jim has kindly offered
to shadow his replacement and explain the ins and outs of the Treasurer's task.
If you would like to be considered for this honorary post please get in touch with either Jim or Don –
contact details at the back of this newsletter.
_______________________________________________________________________________
Membership Subscriptions Stephen Brunning (Membership Secretary)
Subscriptions for 2018/19 were due on 1st April. Many thanks to everyone who has already paid.
If you intend to renew, but have not yet done so, please send a cheque by 1st September to my
NEW ADDRESS as stated on the back page of this Newsletter. The old address in Mill Hill quoted
on the renewal form that was sent out in March should be ignored. Many thanks, Stephen.
________________________________________________________________________________
We have all been inundated with privacy policies recently. You will be pleased to know that
HADAS has one too and we publish it as follows:
The Hendon and District Archaeology Society (HADAS) personal data policy
May 2018
HADAS is committed to protecting your personal information, it's your information, it's personal
and we respect that. Our privacy policy gives you detailed information on when and why we collect
your personal information, how we use it and how we keep it secure.
Who we are and what we do:
The Hendon and District Archaeology Society (HADAS) is a registered charity in England and
Wales (charity no. 269949). Our web site is www.hadas.org.uk . Our purpose is the advancement of
archaeological and historical research and education for the public benefit with particular reference
to the archaeology and history of the London Borough of Barnet. Our members help us to achieve
this by paying an annual subscription which we use to further our purpose.
The personal data we hold and how we collect it
We collect personal data when a new member completes the information on the membership form.
This includes the member's name, address, phone number, email address and payment details,
including any Gift Aid declaration as well as stated archaeological skills. If during membership a
member tells us of any changes, we will hold the new details in place of the old ones.
We hold members' personal data for the following purposes:
 To keep a record of our members' subscriptions paid and other payments for trips and events
 To claim Gift Aid on subscriptions and donations
 To send our regular newsletter to members either by post or email
 To inform members about events, lectures and other activities
We do not share information with other members (other than the Committee), or with other
organisations except the Charity Commissioners for Trustee's details, the Inland Revenue for Gift
Aid and the newsletter printer for names, postal addresses and email addresses). Our newsletters are
deposited with the British Library.
Access to your personal information
You can request to see, amend or delete the current personal information that HADAS holds about
you. We cannot delete archived information. If you ask us to delete all the current personal
information that HADAS holds then we will not be able to provide you with the benefits of
membership.
How we protect your information
Members' information is stored on virus-checked computers and files are exchanged via Dropbox.
How long will we hold your personal information?
If you ask us to delete your details, resign, or your membership subscription remains unpaid for 12
months after it becomes due, we will remove you from the membership list and will not contact you
in the future (unless you contact us to ask us to resume contact with you.
We keep records (Gift Aid) as long as required to comply with statutory requirements. In most cases
this will be for 6 years from the end of the tax year you resigned.
The Silver Caesars at Waddesdon Manor Audrey Hooson
On display at a Waddesdon Manor until July 22nd is 'The Silver Caesars: A Renaissance Mystery'.
Known as the Aldobrandini Tazze, these twelve Renaissance standing cups each consist of an
intricately engraved dish showing a very selective version of the important events in the lives of each
Caesar, derived from the work of Roman historian Suetonius (written in the early second century
AD). Each has a statuette of the Caesar in the centre and a later added foot.
For those interested in the work of Renaissance goldsmiths the exhibition is important. However the
detailed engraved scenes are fascinating in themselves and also for the not always flattering
depictions of the Caesars.
The mystery is where they were made and for whom, as well as their history since then. There is a
very good booklet with excellent photographs to help with the stories.
The exhibition finishes on July 22nd, so there is still time to get there.
For more details see: https://www.waddesdon.org.uk/whats-on/
Barnet Medieval Festival Don Cooper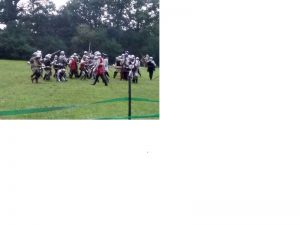 HADAS had a stall at the Barnet Medieval Festival which took place at Barnet's Rugby Football
ground in Byng Road on Saturday 9th and Sunday 10th June 2018. The weather was sunny and hot for
the two days.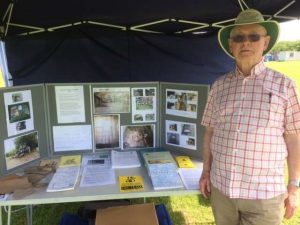 Re-enactors of the Battle of Barnet and the 2nd Battle of St Albans were out in force and re-fought
the battles with great gusto on both days to the enjoyment of the huge crowd.
There was a lot of interest in HADAS and the event certainly brought HADAS to local people's
attention, who may not have heard of us before. Thanks to all who manned the stall and helped in
any way.
Abbey Road, Barking, Archaeological Excavation Robin Densem
Your correspondent went to visit the public open day in June 2018, having seen this publicity poster: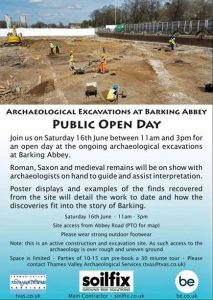 There were perhaps twenty visitors on site when I arrived around 11.30am. I was delighted to see Jo
and Jim Nelhams there. We joined a group of perhaps seven other visitors, including people from
other archaeological societies, while other parties were simultaneously being shown around the site.
We were conducted around the excavations by one of five or so Thames Valley Archaeological
Services (TVAS) archaeologists who were on site. TVAS is a commercial archaeological company
that has been commissioned to carry out the archaeological investigation of the site, in advance of its
redevelopment.
The historical background is that: "Barking Abbey was founded by Erkenwald, later Bishop of
London, in about AD 666 on a site possibly between the River Roding and its western tributary, the
Back River. It was dedicated to St Mary and St Ethelburga. In about AD 870 it was destroyed by the
Danes and not restored until about AD 965. Following its restoration it became one of the greatest
nunneries of England, the Abbess having precedence over all the other abbesses. The present ruins
date to the 12th century, when the abbey was rebuilt. Further alterations and rebuilding were
carried out in the early to mid 13th century. In 1377, the Abbey estate was devastated by floods, from
which it never fully recovered. The Abbey was suppressed in 1539, during the Dissolution of the
Monasteries, and dismantled in 1541." (Historic England Barking Abbey: List Summary Entry
https://historicengland.org.uk/listing/the-list/list-entry/1003581 accessed 16th June 2018).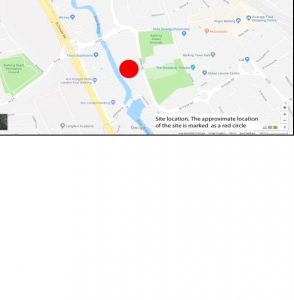 As it was the week-end, no archaeological excavation work was actually being carried out. Gravel
paths bounded by site fencing had been laid out to enable safe and easy access (the gravel paths had
been laid over areas where archaeological excavation had been concluded).
The large 1.28ha (3.16 acres) site is proposed for redevelopment for housing, to provide blocks of
apartments. The former buildings of a late 20th century retail park (Abbey Retail Park) had been
demolished, and an archaeological evaluation (trial trenching) had been carried out on site by TVAS
in September 2015 (Hull G 2016 Abbey Retail Park (South), Abbey Road, Barking, London Borough
of Barking and Dagenham: An Archaeological Evaluation. Thames Valley Archaeological Services
report http://tvas.co.uk/reports/pdf/ARE15-191evreport.pdf ) (accessed 16th June 2018).
Our archaeologist explained that there had been a history of previous archaeological work by other
organisations on the site, and this had not been published in any detail. An interim report by Ken
MacGowan on the 1980s/1990s fieldwork on Barking Abbey was published in Current Archaeology
magazine no. 149 (1996).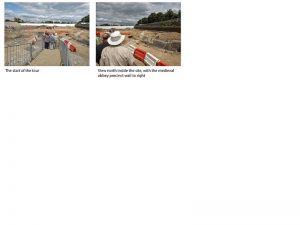 Planning consent for a residential development has been granted with archaeological planning
conditions for archaeological excavation in advance of redevelopment, including a requirement for
public access and engagement, hence the open day. The archaeological work is being carried out as
commercial archaeology, so is part of the planning and redevelopment process. The present work is
subsequent to the initial evaluation and is an archaeological excavation to achieve 'preservation by
record'. There are some fifteen archaeologists working on the site (on weekdays). The
archaeological excavation is to last for several more months.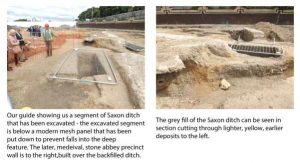 Our enthusiastic and knowledgeable guide was one of the TVAS site staff and had been a
professional archaeologist for around ten years and clearly enjoyed giving site tours. He said that
parties of schoolchildren had been visiting the site during the past week. (I think it is much easier to
achieve public access and engagement within commercial archaeology when this is required through
the planning process, as is the case for this site).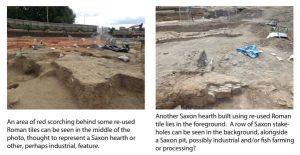 The site lies immediately west of and outside the scheduled extent of Barking Abbey that lies on the
opposite, east side, of Abbey Road – part of the abbey remains are laid out in the public park there.
The site lies to the east of and close to the present course of the River Roding.
From what I gathered (foolishly without making written notes at the time), the earliest deposits on
the site were natural sand and gravel overlain by alluvium (waterlain material) into which some
prehistoric features, pits and animal enclosures, had been cut. These prehistoric features hadn't been
recorded in the previous archaeological work on site and so are 'new'.
There had been some flooding over these prehistoric features in later prehistoric times and the
overlying alluvium developed into a palaeo-soil into which Saxon features had been cut. No Roman
features have been found, so far, but Saxon hearths found on the site contained re-used Roman tile,
so there had been Roman activity in the vicinity. This is emphasised by the past discovery of some
Roman tombstones from elsewhere in Barking.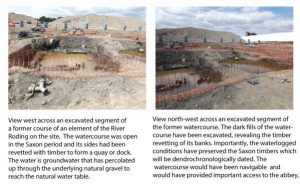 A major discovery on site was a silted up former branch of the River Roding, running north-south
within the site, near its western boundary. Both sides of the ancient watercourse had been exposed
and were revetted with timber posts and planks. The timbers would in due course be subject to
dendrochronological dating, and Saxon dates are expected. The timbers appear to represent a dock
and/or quay and would have served the abbey and its outer precinct within which it lay. It was
explained the course of the north-south River Roding has been migrating westwards over time, as its
former courses have silted up. It still flows today, immediately west of the site.
A north-south stone wall near and within the eastern boundary of the site was the western wall of the
inner precinct of the medieval abbey. The stone inner precinct wall had enclosed the medieval
abbey church and the 'core' abbey building, including the abbey church and cloisters, which lay
immediately east of the site, on the other side of Abbey Road. These remains lay within the modern
Abbey Park where a medieval monastic church, St Margaret's Barking, still stands within the park
and where other monastic structural remains are displayed.
Most of the redevelopment site was outside but immediately west of and adjacent to the (inner)
abbey precinct. So the site, lying in the outer precinct in the medieval period, would still have been
under the control of the abbey and could be expected to contain industrial and other nonecclesiastical
abbey functions. The branch of the River Roding that has been found on the site would
doubtless have serviced the abbey and its activities. Importantly, it seems possible that the Saxon
abbey church had stood on the visited site.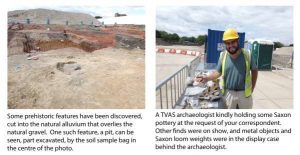 Finds included prehistoric pottery and struck flints, Saxon pottery and loom weights, and a rare metal
object thought to have been used as an incense burner.
The excavation will run for several more months. It is intended that a publication will be generated,
to include the results of previous archaeological investigations on the site.
Other groups were being conducted around the site as our tour ended, and as I was leaving the site
yet more visitors were coming in. It was great to be able to visit the site and see the excavations and
the finds, and to see the enthusiasm of the archaeologists on site.
Modern commercial archaeology (ie that funded by developers as part of the planning process) is the
successor to the former voluntary and/or publicly funded and perhaps erratic 'rescue archaeology'.
Rescue archaeology had been carried out in England from the middle of the twentieth century by
locally based amateurs and then with again locally based professional groups ('units') through to the
formalisation of commercial archaeology in 1990, with the publication of Department of the
Environment's Planning Policy Guidance 16 (PPG16) that year that came out in the wake of the
Rose Theatre and other site controversies in 1989.
The continuing preservation and investigation of the historic environment depends upon
archaeology and heritage continuing to be written into the local plans of local planning authorities
such as Barking and Dagenham, and the work of planning archaeologists such as those in the
Historic England Greater London Archaeology Advisory Service who are the nominated
archaeological advisors to most London Boroughs. An essential element is the Historic England
Greater London Historic Environment Record which collects and makes sites and monuments
information for Greater London available – no mean task!
OTHER SOCIETIES' EVENTS compiled by Eric Morgan
Tuesday 10th July 7.45 pm. Amateur Geological Society, Finchley Baptist Church Hall, East End Rd,
N3 3QL (opp. Avenue House): New Zealand Geology. Talk by Ros Mercer (Essex Rock Society.)
Monday 16th July, 8.50 am. Mill Hill Historical Society Coach Trip to Oxford. Morning explore
city pm: Blue Badge Guide walking tour. Cost £36 (members £34). Coach pick-up also 9am Hartley
Hall, Mill Hill Broadway NW7. Leave for home 5pm. To book: send cheque & sae to Julia Haynes
38 Marion Rd, Mill Hill, NW7 4AN (tel: 020 906 0563, e-mail: haynes.julia@yahoo.co.uk) or book
on-line: www.millhill-hs.org.uk.
Friday 20th July, 7 pm. COLAS , St Olave's Hall, Mark Lane, EC3R 7BB. Civil War London. David
Flintham talks on the dramatic 1640's, both civil and military. Visitors £3, light refreshments after.
Saturday 21st July, 11am-3pm. Enfield Archaeological Society. Open Day: Excavation, Elsyng
Palace, Forty Hall. At 1.30 & 2.30 talk by Mike Dewbrey on the latest finds. Limited places.
Book: www.enfieldpresents.co.uk or tel: 020 8807 6680. £3. See June Newsletter for more details.
Saturday 21st July, 1.30-3.30 Barnet 1471 Battlefields Society, St. John the Baptist Church, junction
High St/Wood St, Barnet EN5 4BW. Putting the Battle of Bosworth into the Landscape. Talk by
Richard Mackinder. Non-members £5. Refreshments.
Friday 27th July, 10am. Enfield Museum. Dugdale Centre, 1st Floor, 39 London Rd, Enfield EN12
6DS. Archives in Focus: Family History Sources for Enfield. Talk, John Clark (Local Studies).
£3. Advance booking advised: www.dugdalecentre.co.uk .
Sunday 29th July, 2pm. Enfield Society. Heritage Walk. Starting Southgate Station, travelling to
Southgate Green via side roads & footpaths. Free, but limited places. Book in advance, sending
details & sae to Heritage Walks, The Enfield Soc., Jubilee Hall, 2 Parsonage Lane, Enfield EN2 0AJ.
Tuesday 7th August. Camden History Society. Coach trip to Sandham Memorial Chapel & The
Vyne. (Stanley Spencer paintings/a Tudor house). Cost £35, or £25 NT members. Includes talk at
chapel. Price of mid-morning refreshments not included. Pick up: 8.30 Marks & Spencers, Camden
High St; 8.45 Waterstones, Hampstead High St; 9 am Swiss Cottage, outside Library. Send sae &
cheque for Camden History Society to Jean Archer, 91 Fitzjohn's Ave, London NW3 6NX.
Enquiries: 020 7435 5490.
Wednesday 8th August, 3.30 pm. LAMAS. Visit Painted Hall, Old Royal Naval College,
Greenwich. The conservation project will be nearly complete, allowing close-up access to the
ceiling, plus guided tour of paintings at 4pm. £12.50 (£10 members). Book (places limited).
Information/booking: Jane Sidells jane.sidells@btinternet.com.
Saturday 11th to Wednesday 15th & Saturday 25th to Wednesday 29th August. Copped Hall Trust
Archaeological Project: Field Schools 2018. Continuing investigation into the development of a
grand Tudor House, Copped Hall, near Epping, Essex. Two 5-day field schools. Suitable for people
already familiar with the basic techniques of archaeological excavation & recording seeking to
develop their skills. £100 (WEAG members £50). Also 14/15th, 18/19th & 21st/22nd July: Taster
Weekends. Also Sunday 26th August, 11am-4pm: Open Day. For more details and tickets:
www.coppedhalltrust.org.uk and www.ticketsource.co.uk/coppedhallevents.
Tuesday 14th August, 1-1.30pm. Museum of Enfield. Dugdale Centre, 1st Floor, 39 London Rd,
Enfield EN12 6DS. Boys & Girls Come Out to Play: Chase Farm School tapestry & cup remnant.
Talk, Joe Studman on the care of orphaned or deserted children in Victorian Enfield. Free.
Refreshments.
Tuesday 14th August, 7.45 pm. Amateur Geological Society (see 10th July above for address).
Members Evening. Short talks by members. Displays, photos, specimens, field trip reports.
Thursday 16th August, 10.20am for 10.30 start. Mill Hill Historical Society. Walking Tour of
Hampstead: art & architecture in Hampstead & Belsize Park. Anne-Marie Craven (Blue Badge
Guide). £12 (£10 members). Meet Hampstead Tube. Book by Wed. August 8th. Booking details as
for Society's 16th July coach trip above.
Sunday 19th August, 3.15-4pm. Forty Hall Estate, Forty Hill, Enfield EN2 9HA. Hidden Treasures:
a guided tour of Forty Hall portraits. Led by Joe Studman. The stories behind the paintings of the
people who lived at the Hall. £5. To book see Enfield Archaeological Soc. 21st July details above.
Thursday 23rd August, 6.30pm. LAMAS. Cannon Street Area for Foreshore Walk. Led by Eliott
Wragg (Thames Discovery Programme) to explore the history and features of the foreshore near
Cannon St. £12.50 (£10 members). Meet Cousin Lane Stairs, nr Banker pub, adjacent Cannon St
railway station. Booking required, details as LAMAS Wed. 8th August above.


With many thanks to this month's contributors:
Stephen Brunning, Don Cooper, Robin Densem, Audrey Hooson, Jo Nelhams

Hendon and District Archaeological Society
Chairman Don Cooper 59, Potters Road, Barnet EN5 5HS (020 8440 4350)
e-mail: chairman@hadas.org.uk
Hon. Secretary Jo Nelhams 61 Potters Road Barnet EN5 5HS (020 8449 7076)
e-mail: secretary@hadas.org.uk
Hon. Treasurer Jim Nelhams 61 Potters Road Barnet EN5 5HS (020 8449 7076)
e-mail: treasurer@hadas.org.uk
Membership Sec. Stephen Brunning 22 Goodwin Ct, 52 Church Hill Rd,
East Barnet EN4 8FH mob: 07534 646852 e-mail: membership@hadas.org.uk
Join the HADAS email discussion group via the website at: www.hadas.org.uk
————————————————————————————————————————-
The August 2018 Newsletter Editor will be:
JIM NELHAMS
Tel. 020 8449 7076
61 Potters Road
Barnet RN5 5HS
e-mail: jim_nelhams@hotmail.com
Copy to him by Wednesday August 18th please.
The August 2018 Newsletter Editor will be:
JIM NELHAMS
Tel. 020 8449 7076
61 Potters Road
Barnet RN5 5HS
e-mail: jim_nelhams@hotmail.com
Copy to him by Wednesday July 18th please